One of my favorite aspects of photographing a wedding is being able to hang out with my couple during their engagement session. I honestly don't consider engagement sessions to be "work" but rather a double date. It's a great opportunity for us to get to know our couples and for our couples to know us and our style of shooting. Also, I can't complain about going to the beach and enjoying gorgeous sunsets two to three times a week! Perks of being a So-Cal photographer. 😉 But read on to see the amazing Santa Monica Pier engagement photography sunset we have ever seen!
And speaking of gorgeous sunsets, OMG, Lucy and Alan's engagement session in Santa Monica is by far one of the BEST sunsets that I've seen. I kid you not, the sky was on fire!! It started off as an overcast day and then out of no where, hues of purple and then orange & magenta lit up the sky.
Starting at the Santa Monica Pier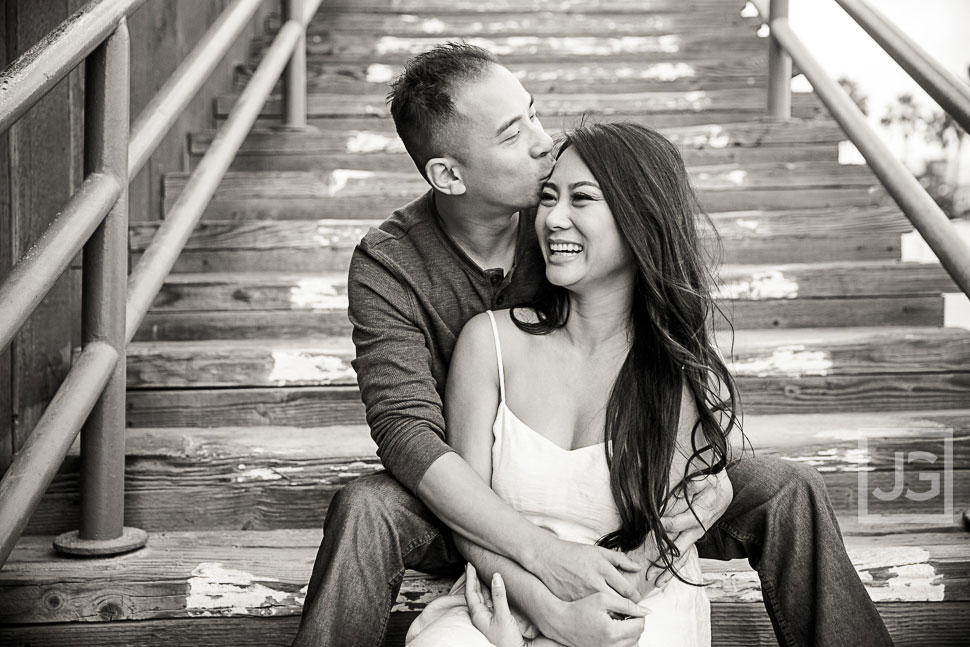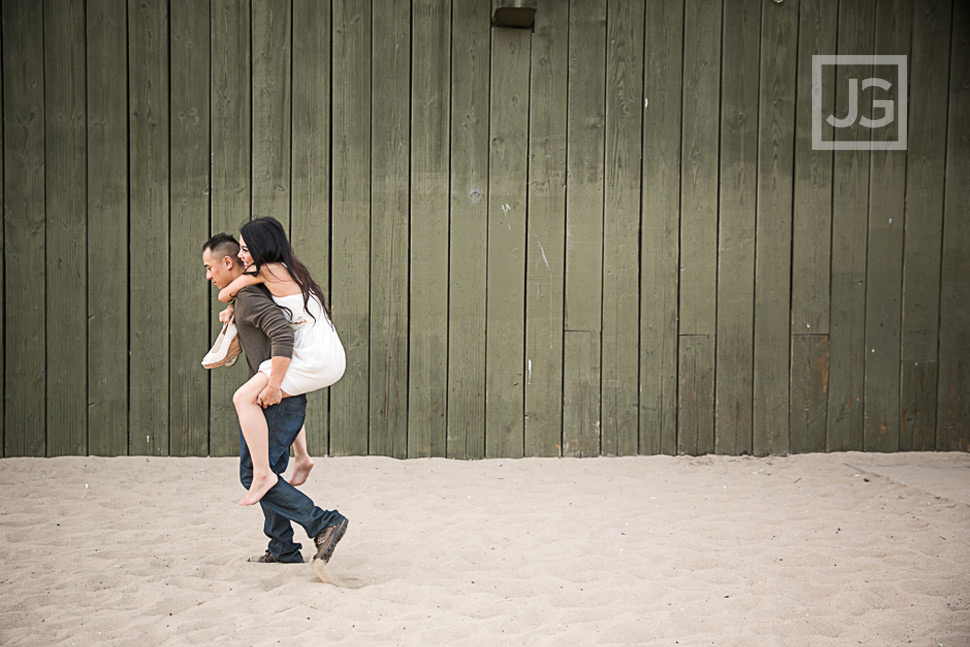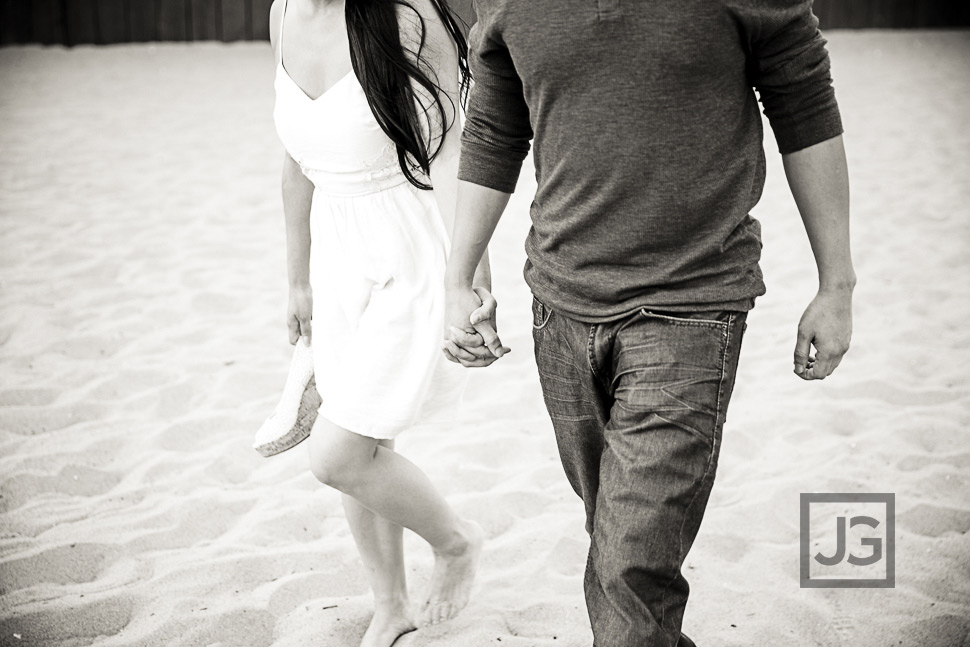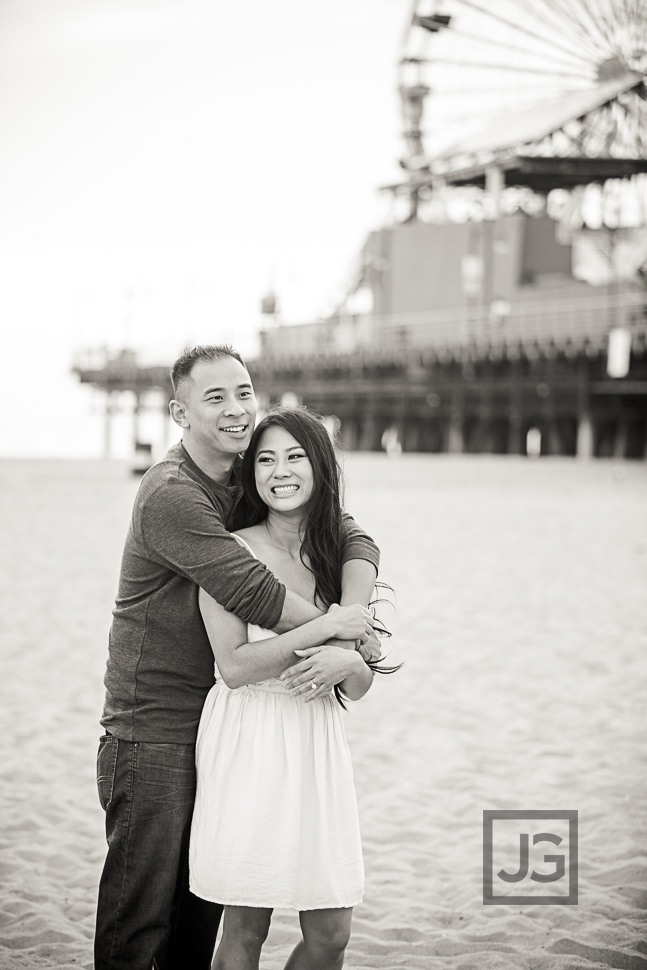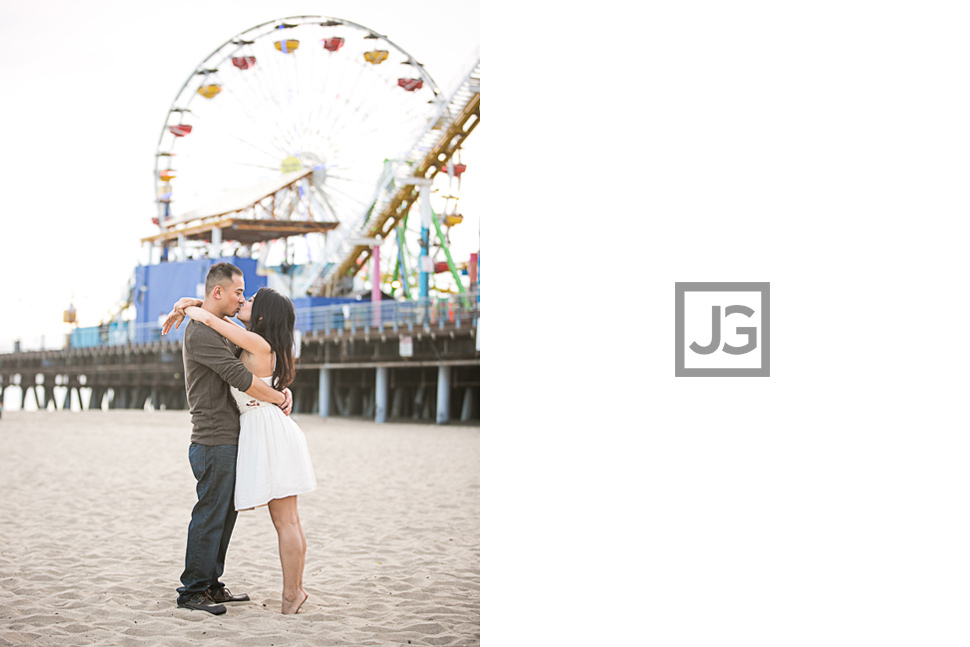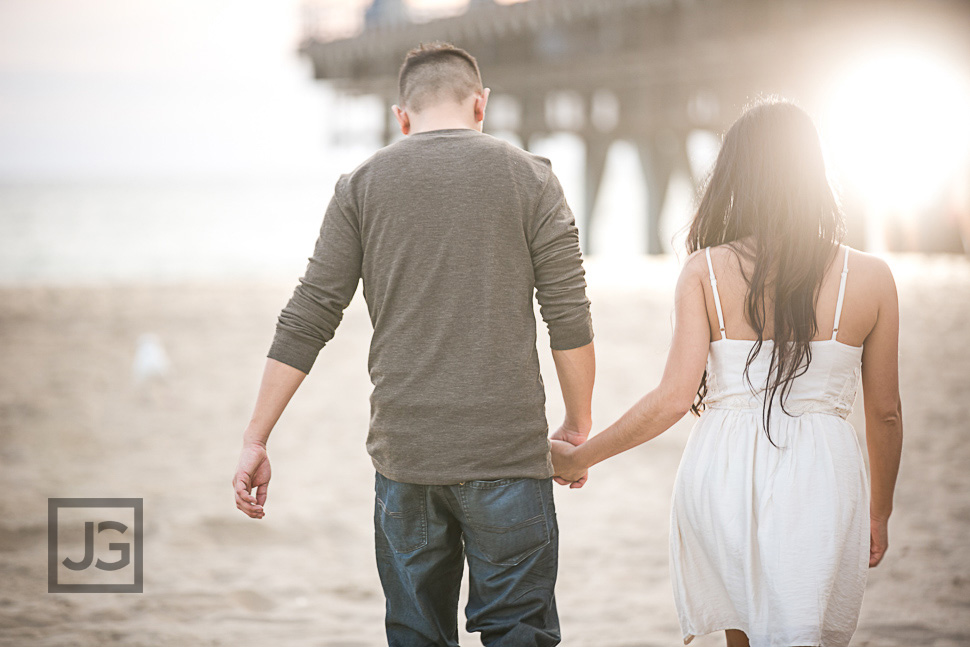 The Most Amazing Sunset ever at Santa Monica Beach
And this is how the most amazing sunset we've ever seen in Santa Monica unfolded with our couple. We actually thought we would have lost the sunset behind the clouds, but the sun bounced back up and was reflecting off the water (rare for us in Los Angeles). It reminded me of the reliable colors that tropical sunsets can bring.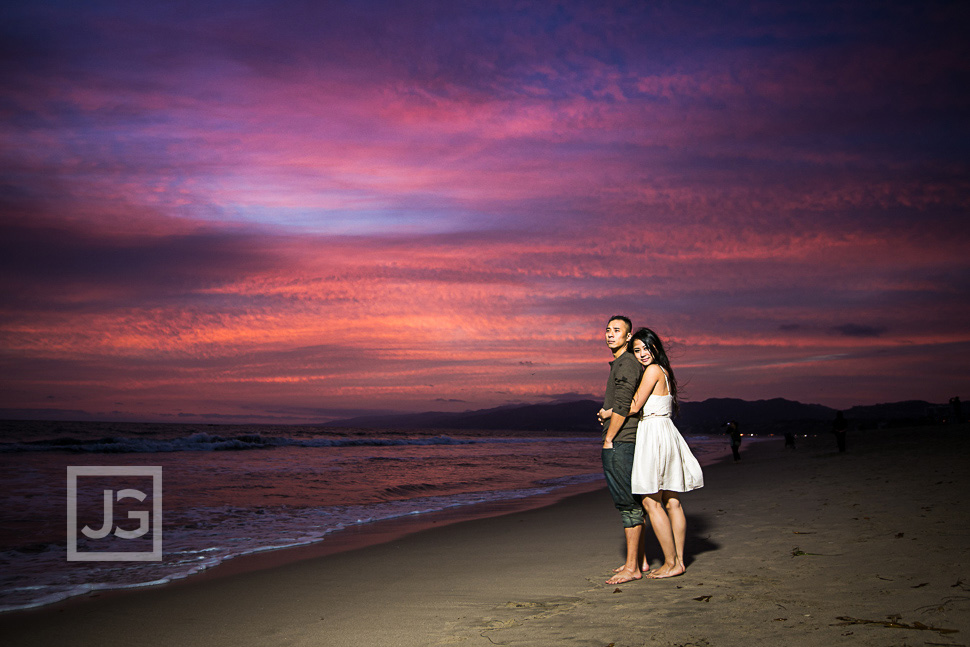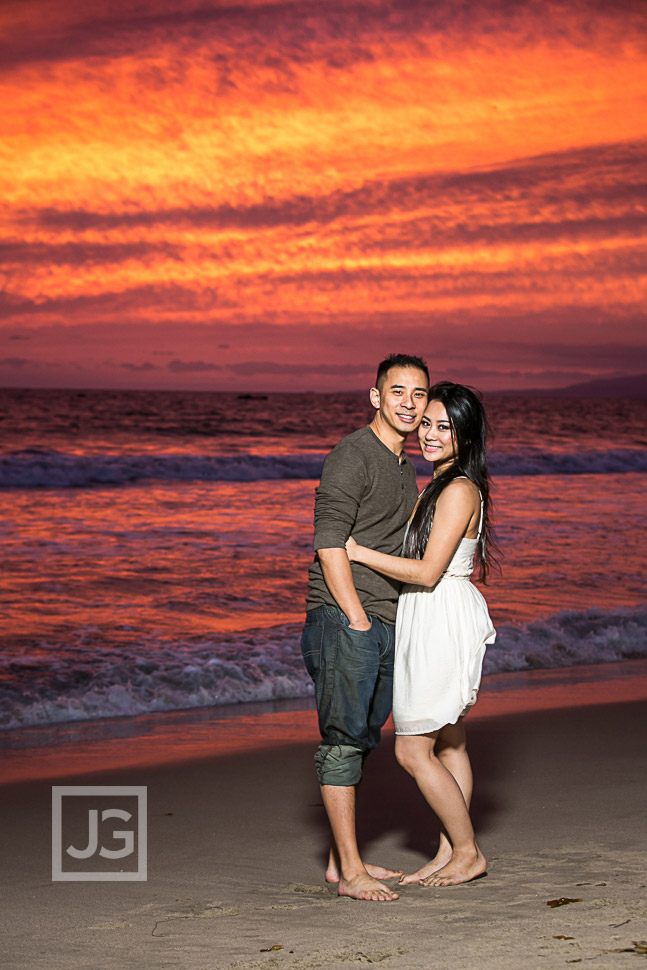 Note how the sunlight is bouncing off the water.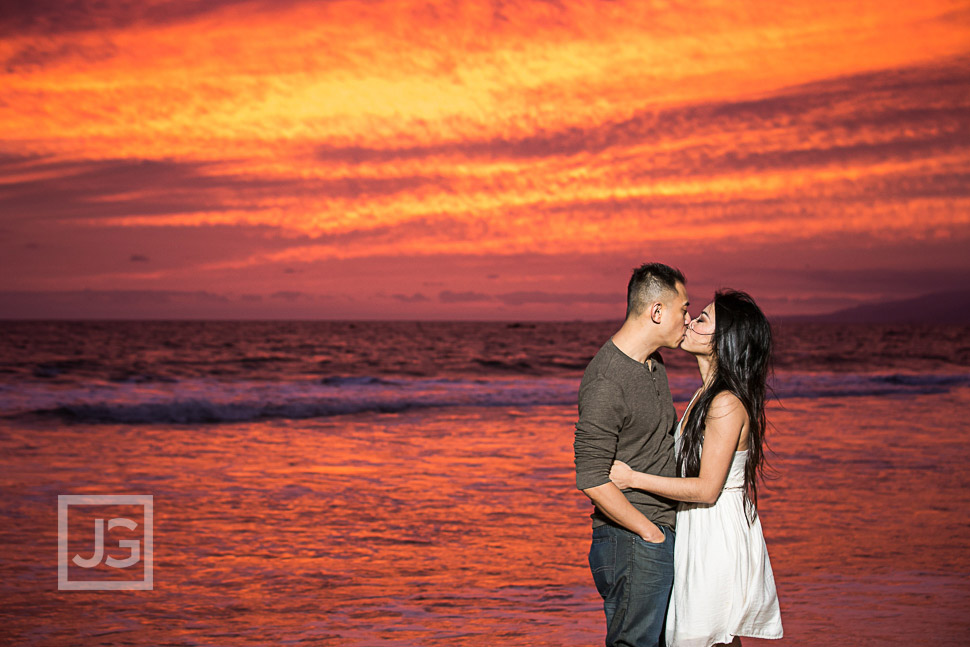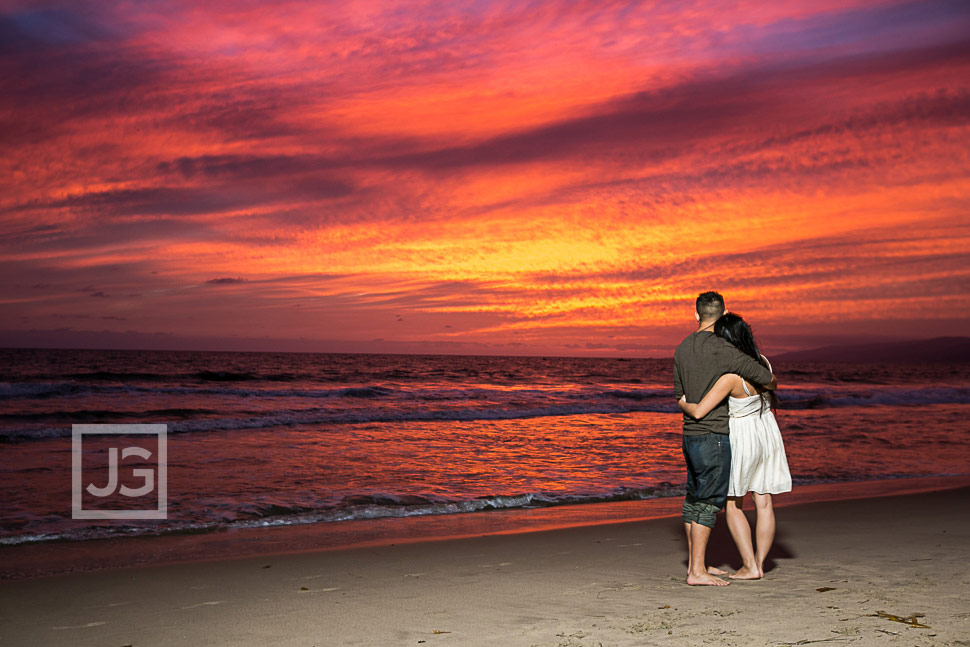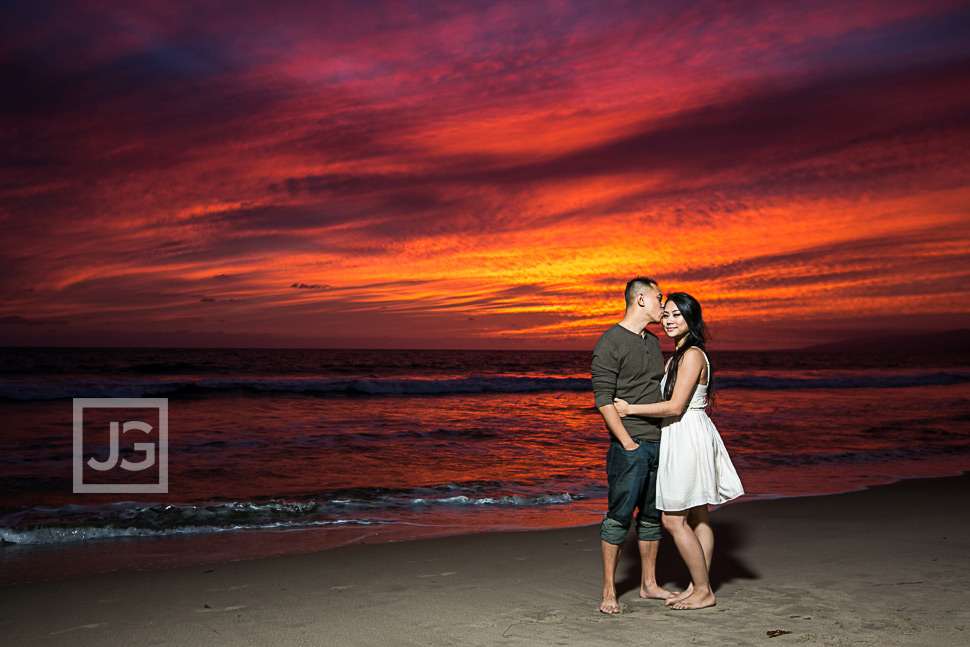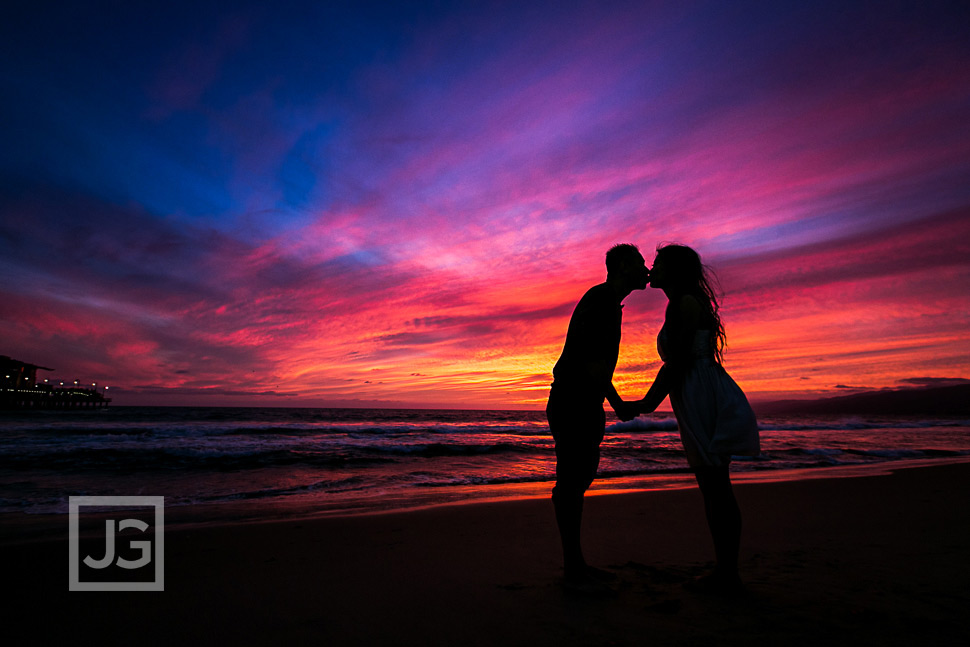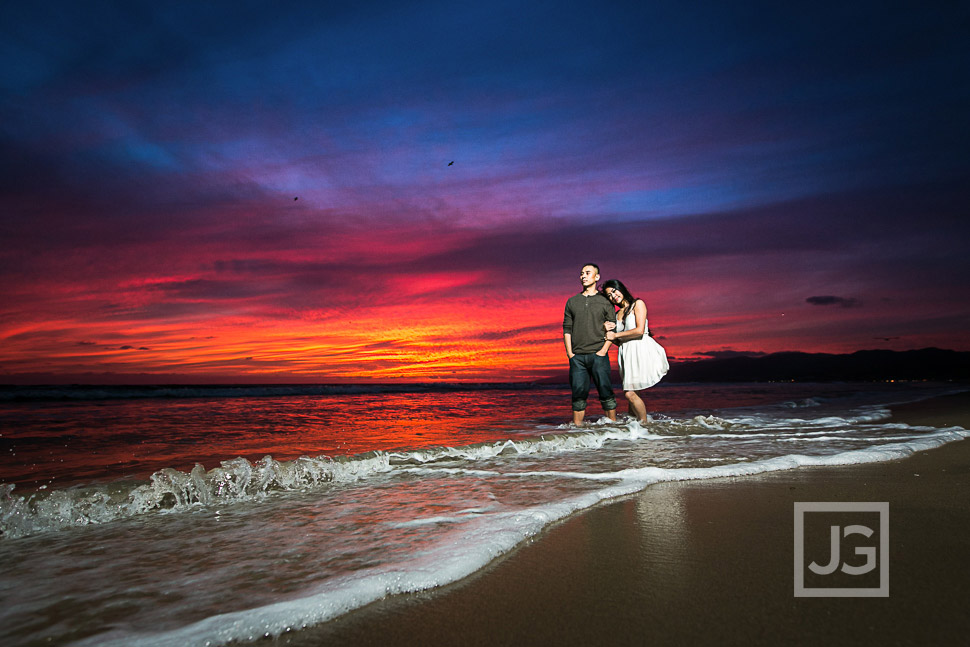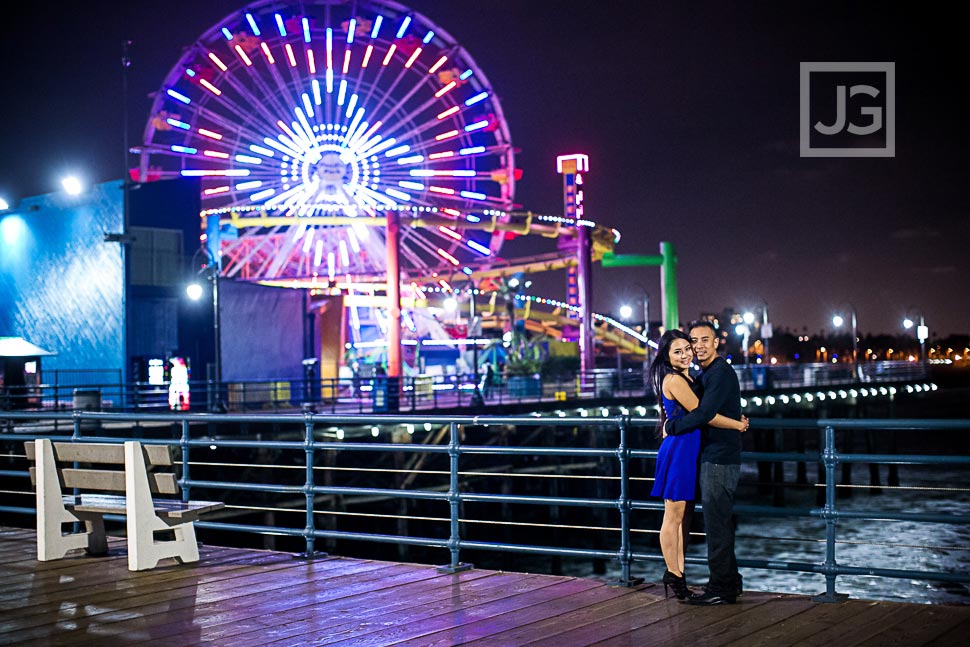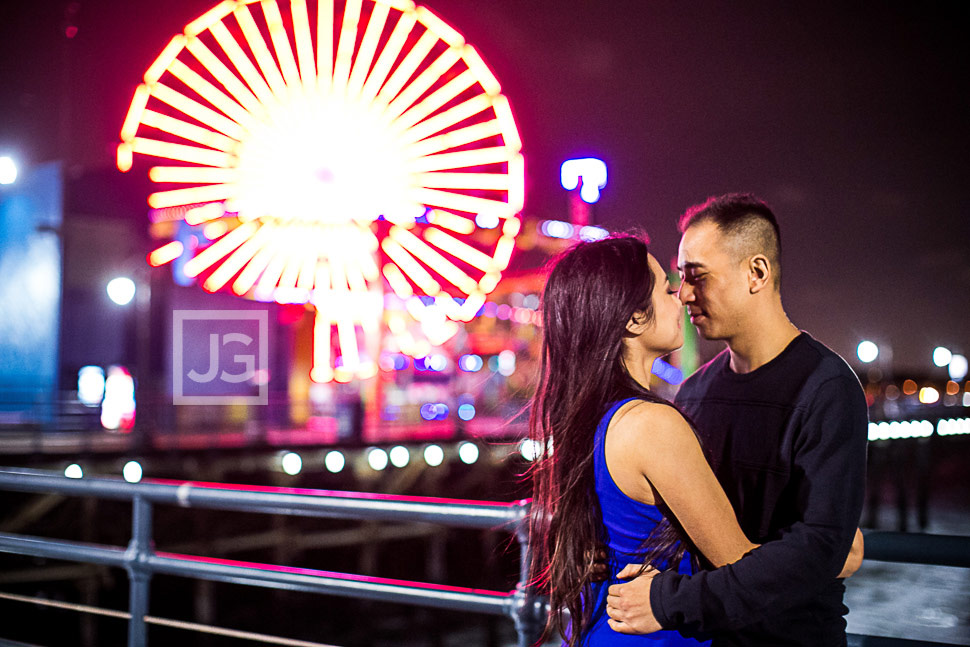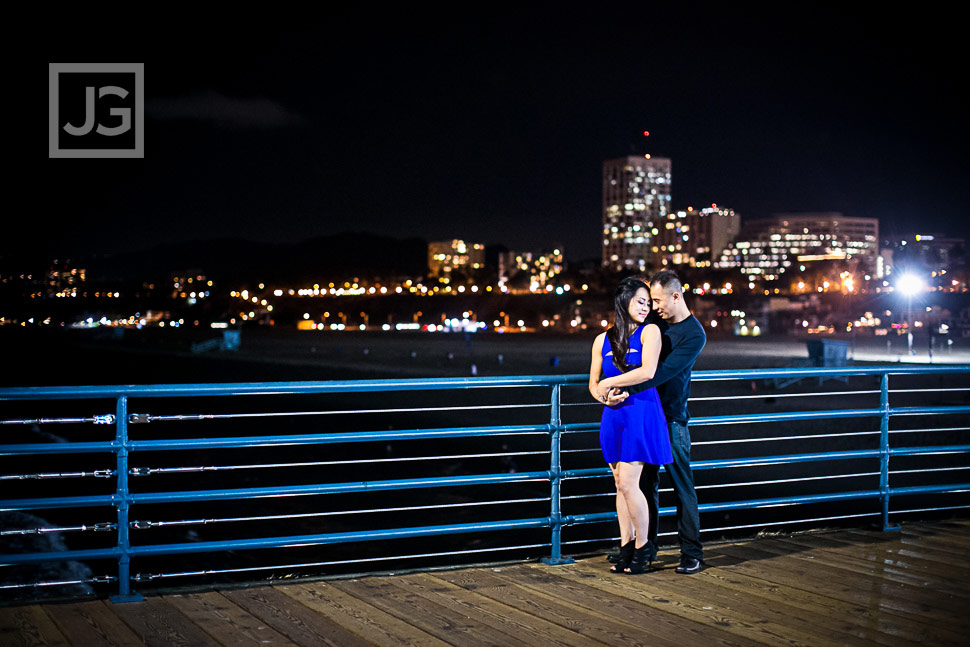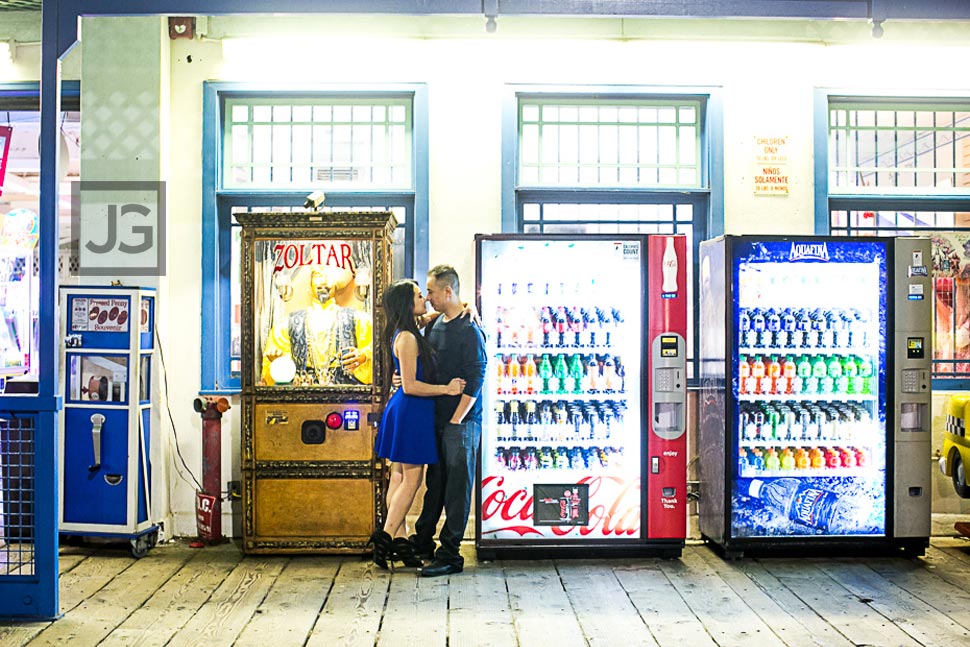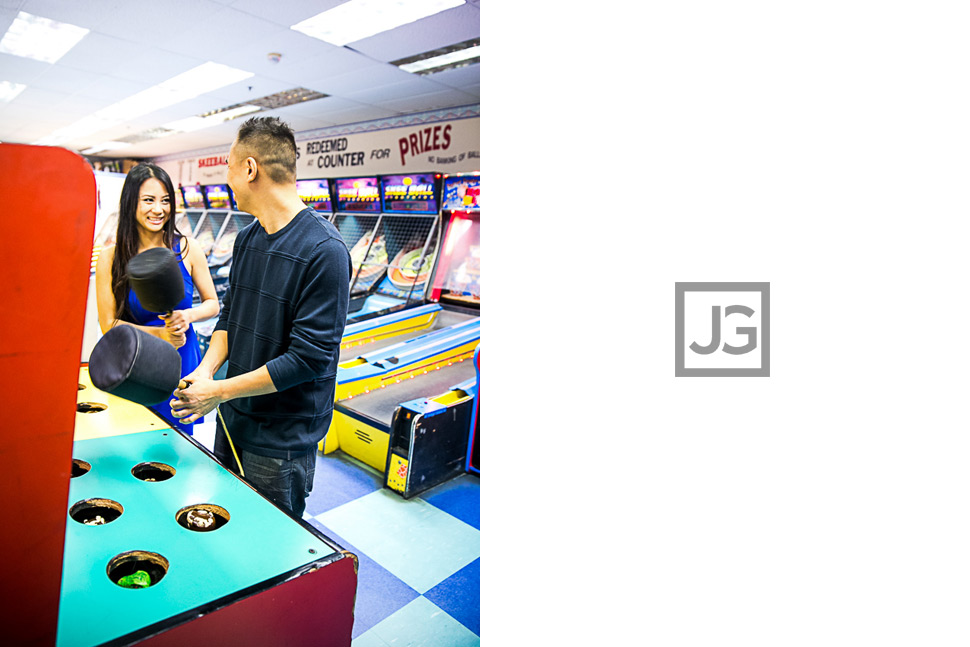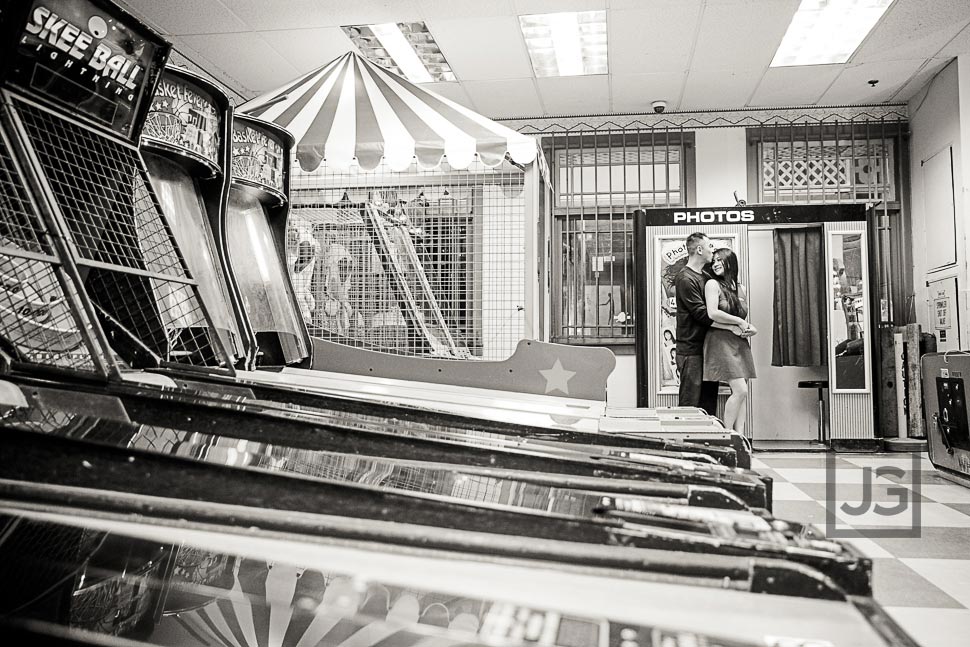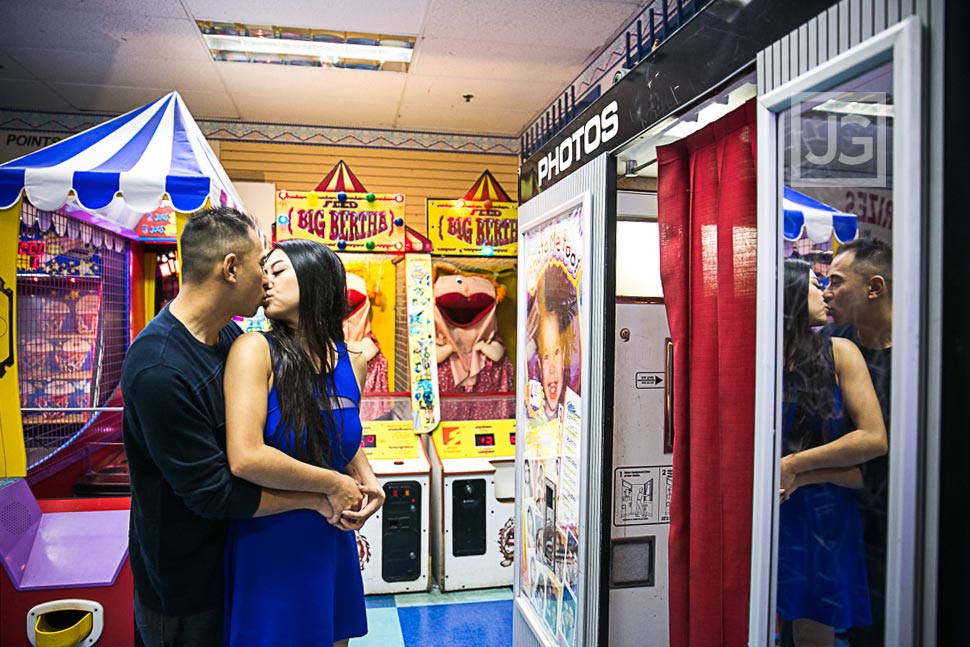 This article showcases Santa Monica Pier engagement photography during a most amazing sunset. It also shows our couple having fun playing games and doing activities around the Santa Monica Pier in Santa Monica Beach. Engagement photos at the pier is a specialty of ours, considering the crowds and other obstacles.
One thing to note about this specific shoot. I clearly remember the two photographers and their couples that were also lucky to be there for that spectacular sunset. And I saw them not actually capturing it in any meaningful way. One had no flash, but was shooting into the sunset (and not with a silhouette style pose). There was almost no way they were capturing the sunset. Another had an on-camera flash, but seemed to be having problems getting their exposure correct.
The point of this anecdote is that having a great location like the Santa Monica Pier only matters if your photographer has the skill and talent to capture it. Having the greatest sunset we've seen in over a decade of shooting doesn't mean it'll get captured. This is where experience and diligence matters. Experience, because we work hard and often to know our craft. Diligence, because we took the time to know our craft before promising to do it correctly. But enough of my little spiel.
Make sure to check into our Instagram, since it'll have more recent work we've done. For example, here's another amazing sunset we captured in Carlsbad:
If you are interested in booking us for an engagement photo session, please make sure to check out our engagement photography pricing page (for Los Angeles and Orange County).