Leslie-Anne and Reggie both have a love for acting and met (in an acting club) while they were attending undergrad at UC Berkeley.  They were often casted across from each other.  Ironically they had to "act in love" before they actually fell in love!!  After they both graduated from UC Berkley, Leslie-Anne continued with her acting career and has been casted in many TV shows (i.e. NCIS, Days of Our Lives, CSI: NY, 10 Things I Hate About You, etc.)  Reggie went on and got his MBA and is now a management consultant. So read on for our stylized and themed engagement photos in Los Angeles.
Leslie-Ann and Reggie are a modern couple living a modern lifestyle. This selection of images is aimed at capturing a contemporary look with techniques reminiscent of the 60's. Gavin and I had a great time hanging out with this lovely couple and we can't wait to do wedding photography at the beautiful Walt Disney Concert Hall.
I love themed and stylized engagement photography sessions!
A Rooftop Helipad in Downtown LA
We started on the rooftop helipad of their building in downtown Los Angeles. There are a lot more photos of that, but this is just the selection for the themed shoot (we shot our normal engagement photos, along with silly photos, etc.).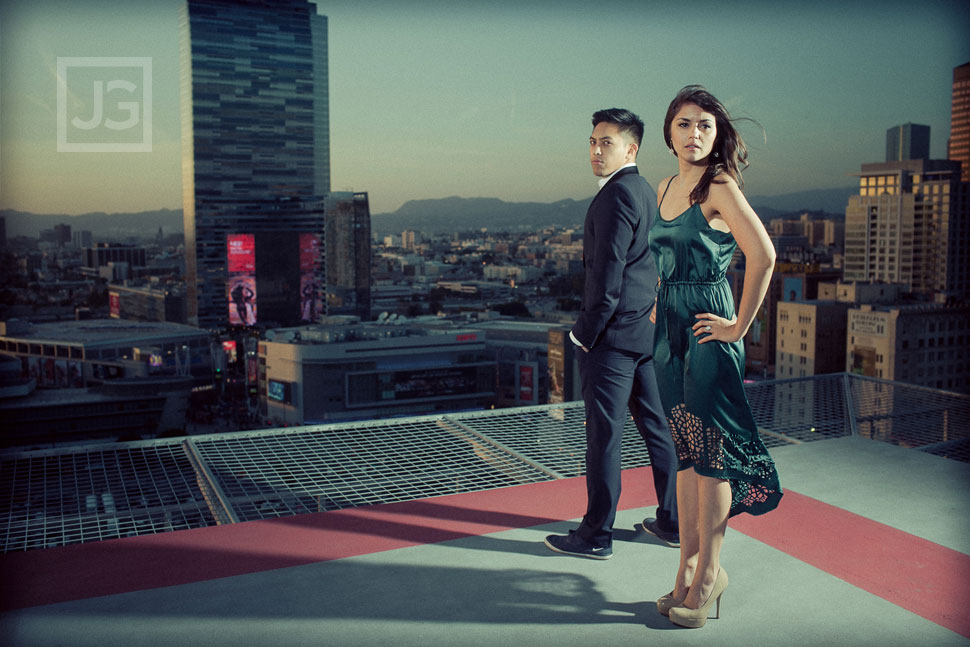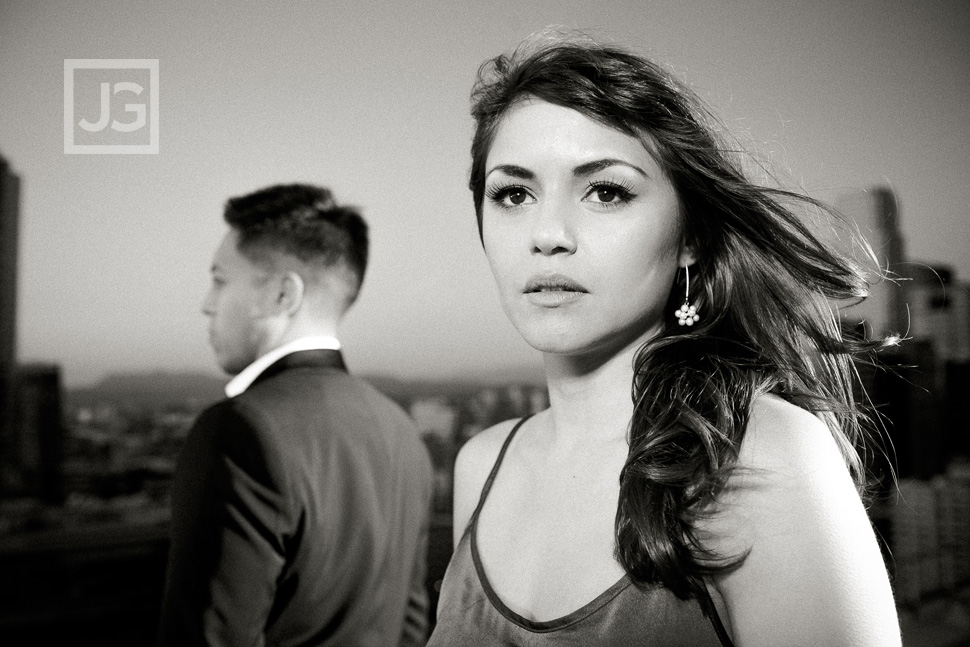 Engagement Photos in a Downtown Building
We then descended to their condo in that building on Hope St. We wanted to capture the theme of a marriage that is fashionably banal, that is in a state of tragic content. This is where being an actress and actor really pays off, since we wouldn't ask our everyday couples to do this (unless they really want to). We by default want our couples to be themselves, so it's fun doing some acting here and there.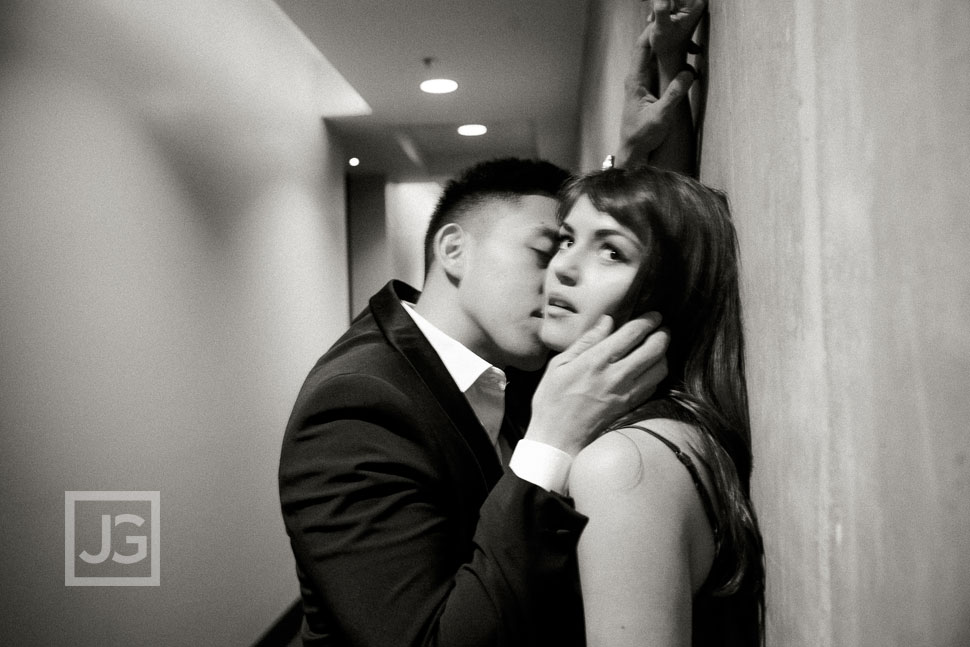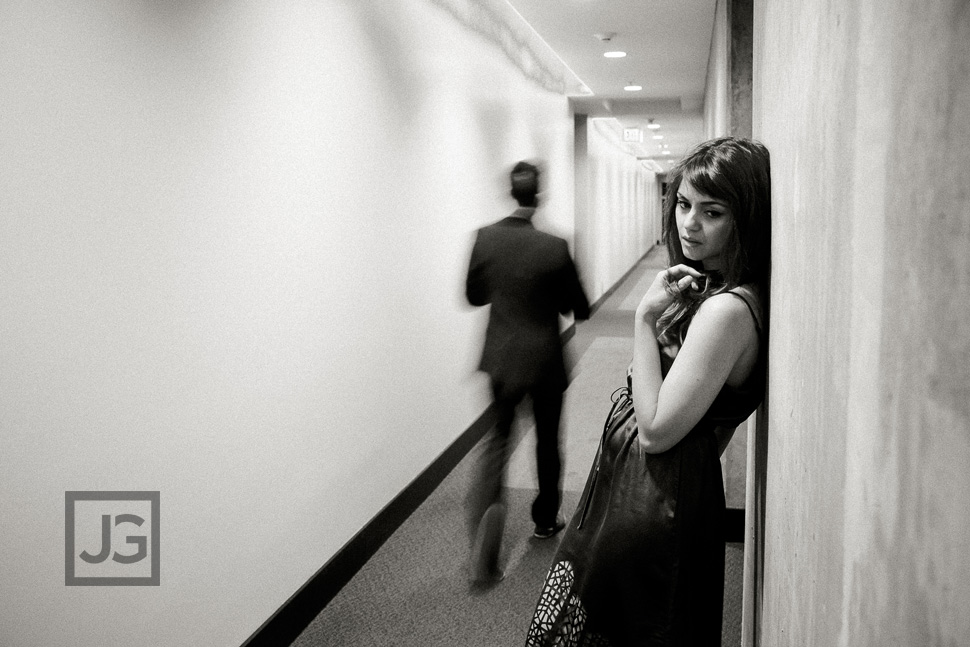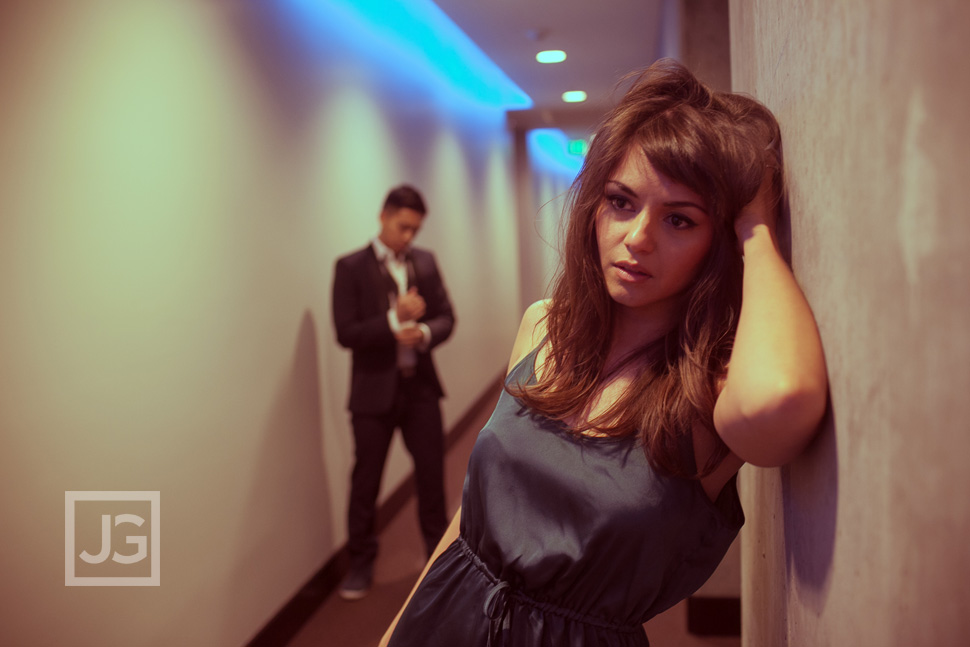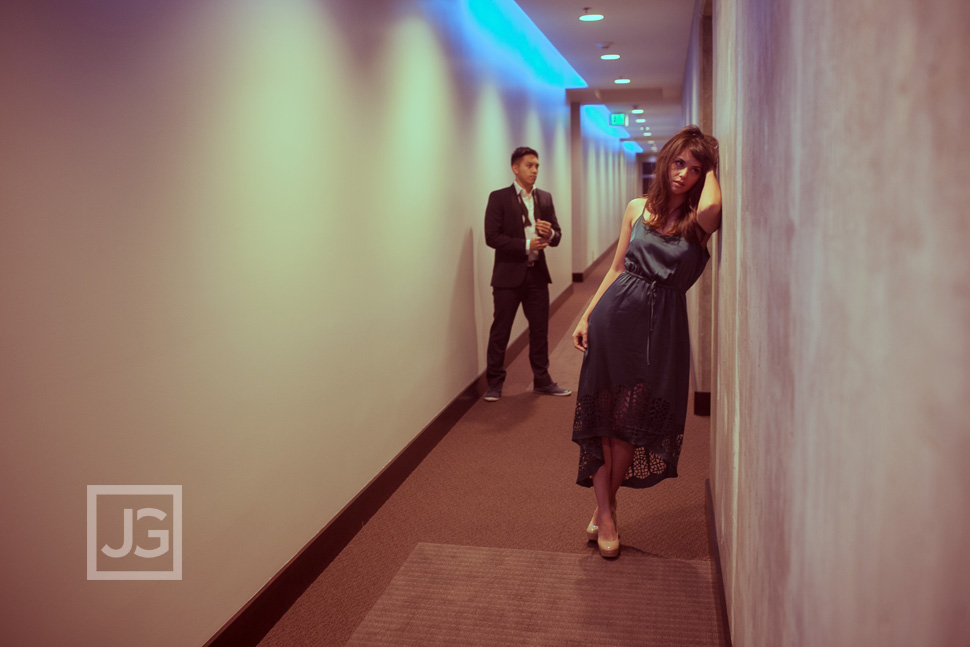 I love these engagement photos at the elevator. The lighting was fun to play with.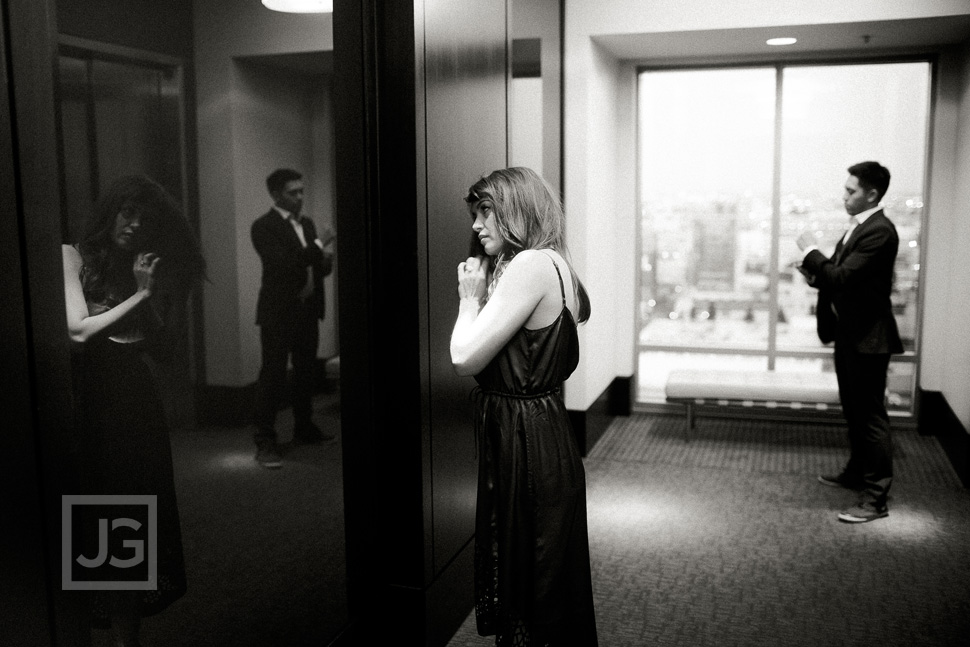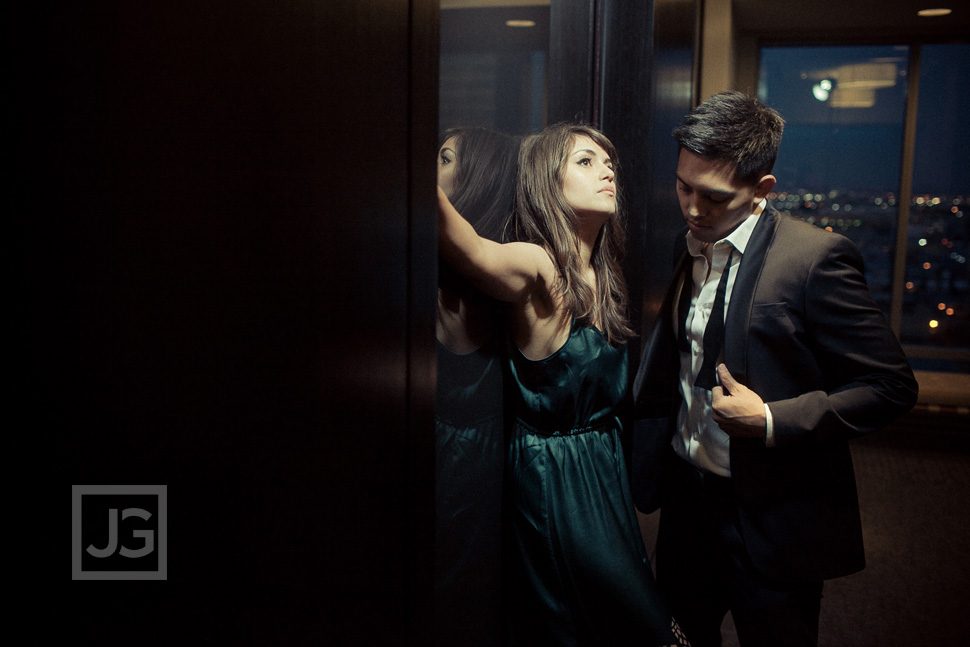 Engagement Photos in their Condo
Then we had them crash on the bed with a bottle of champagne. I love the theming and how they played along perfectly. We intentionally blurred the images (motion-blur) to age the images more.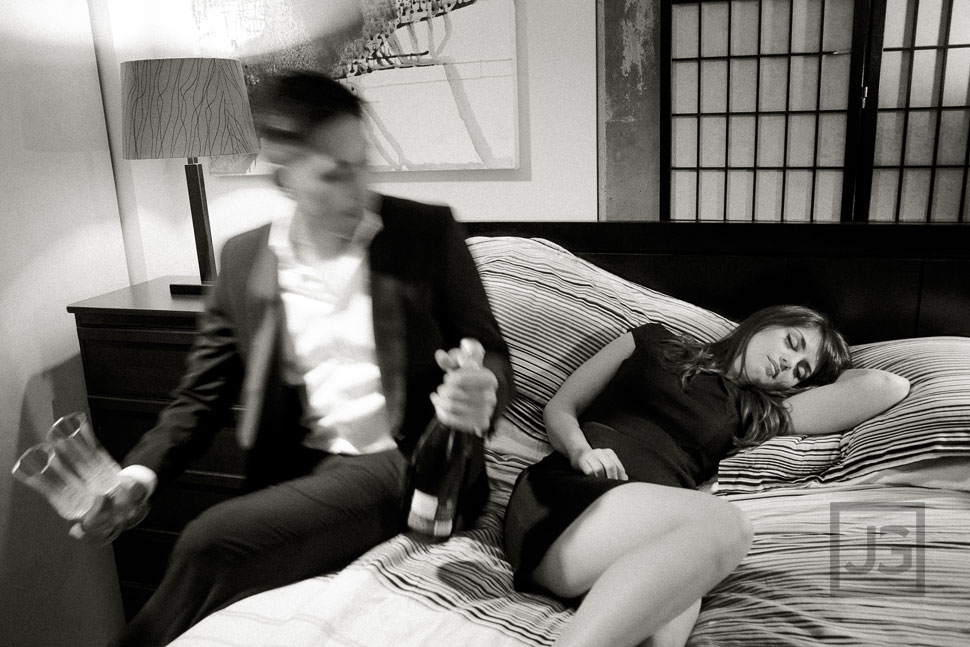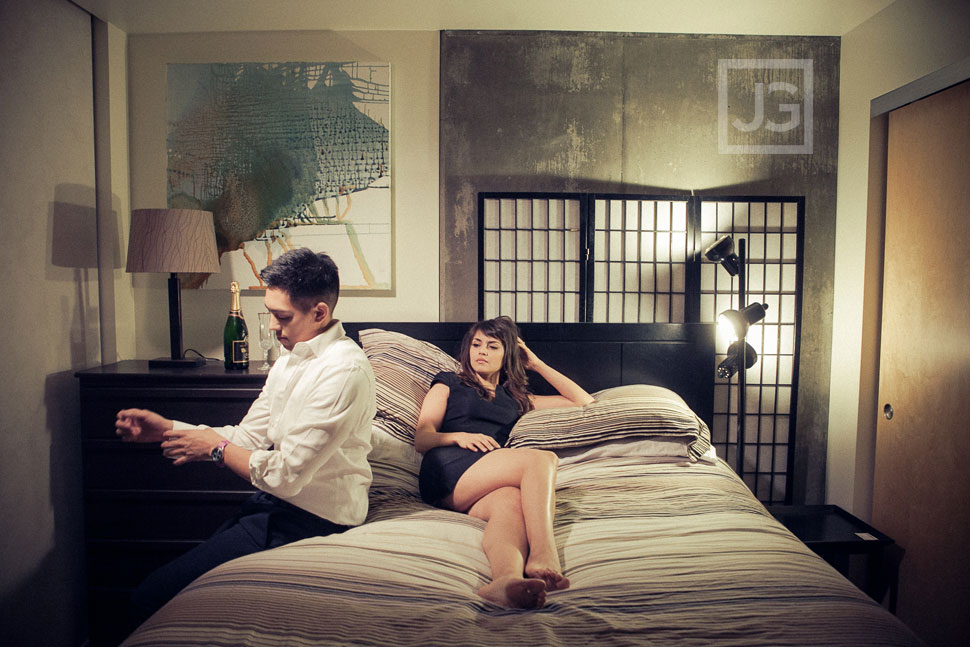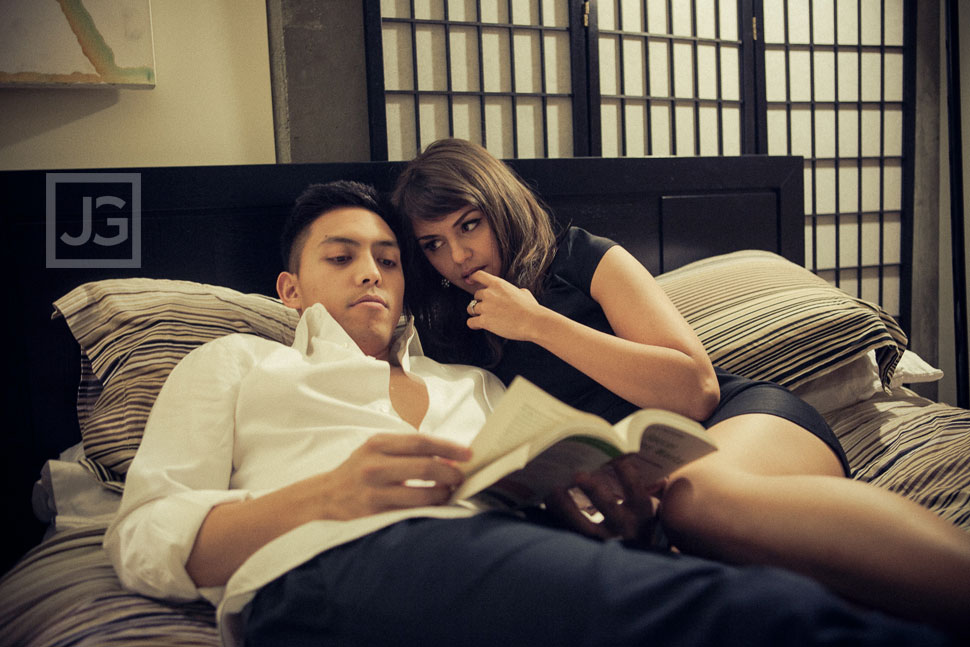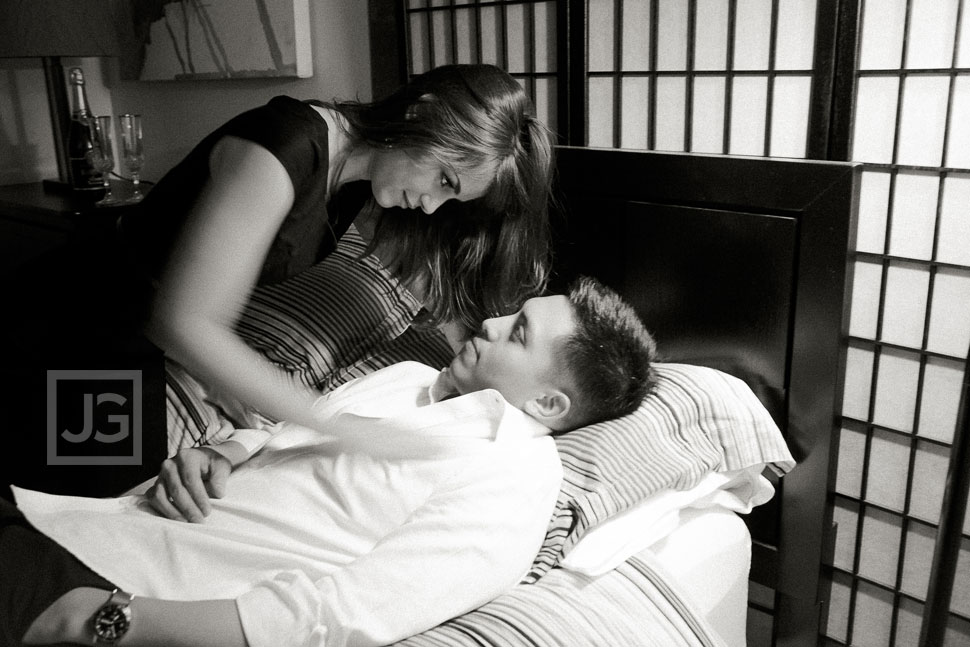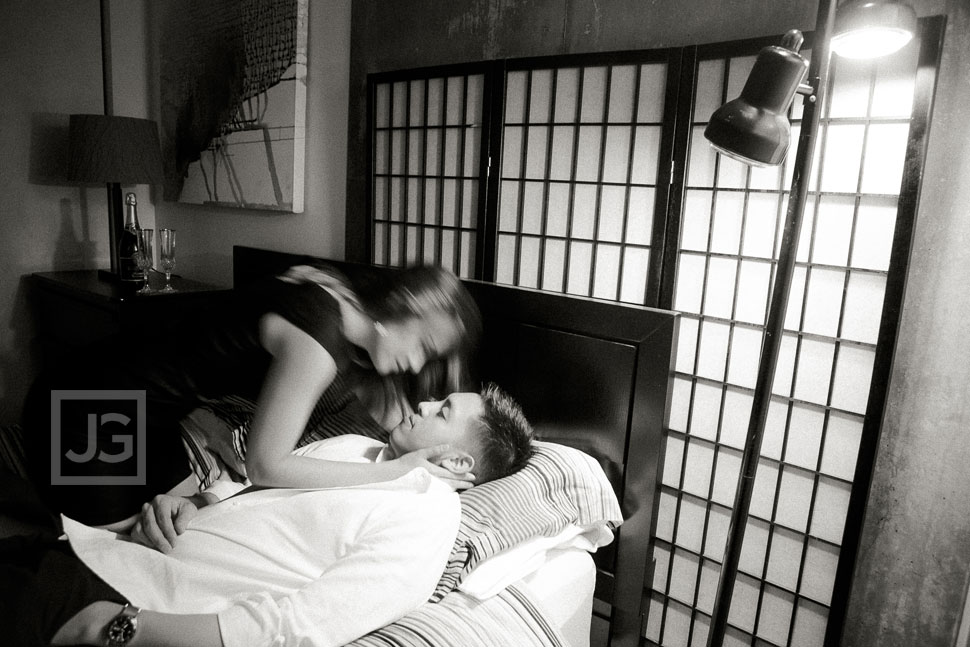 Poolside Engagement Photos
After that they changed clothes and hopped on down to the pool in matching attire.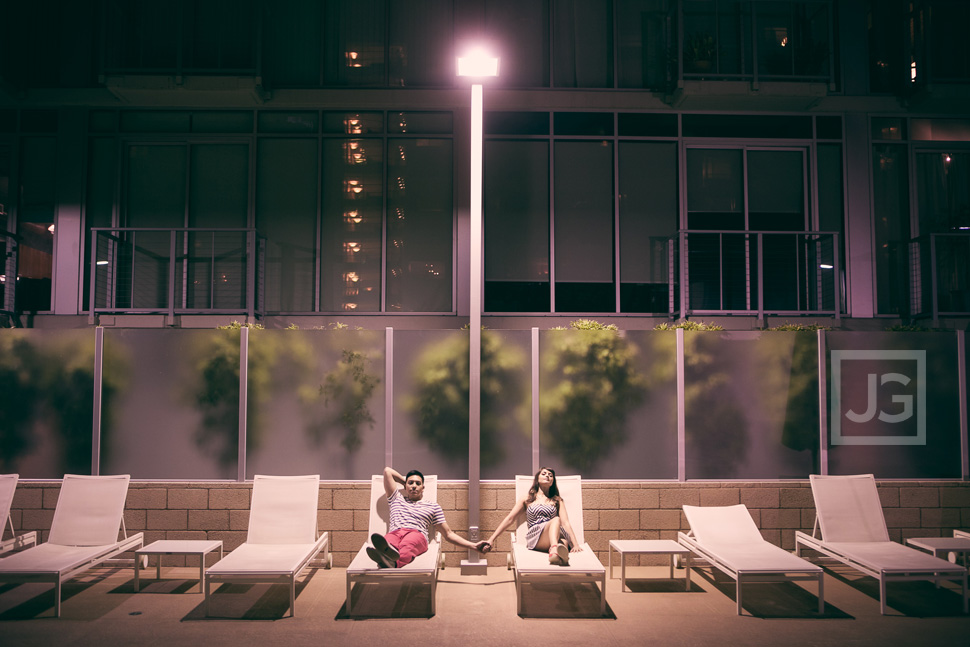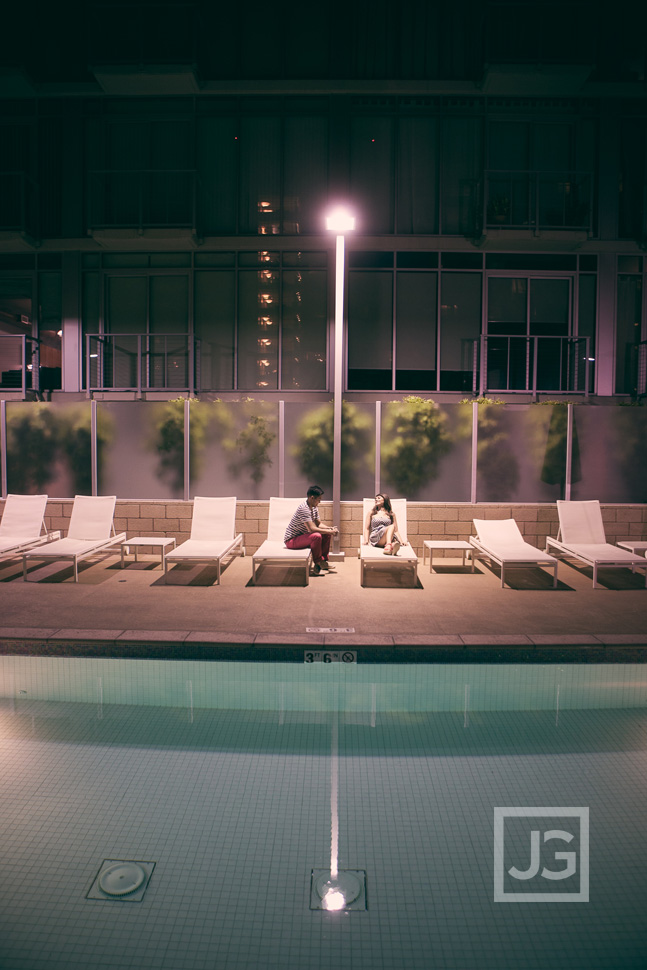 I love the noir look from the overhead light.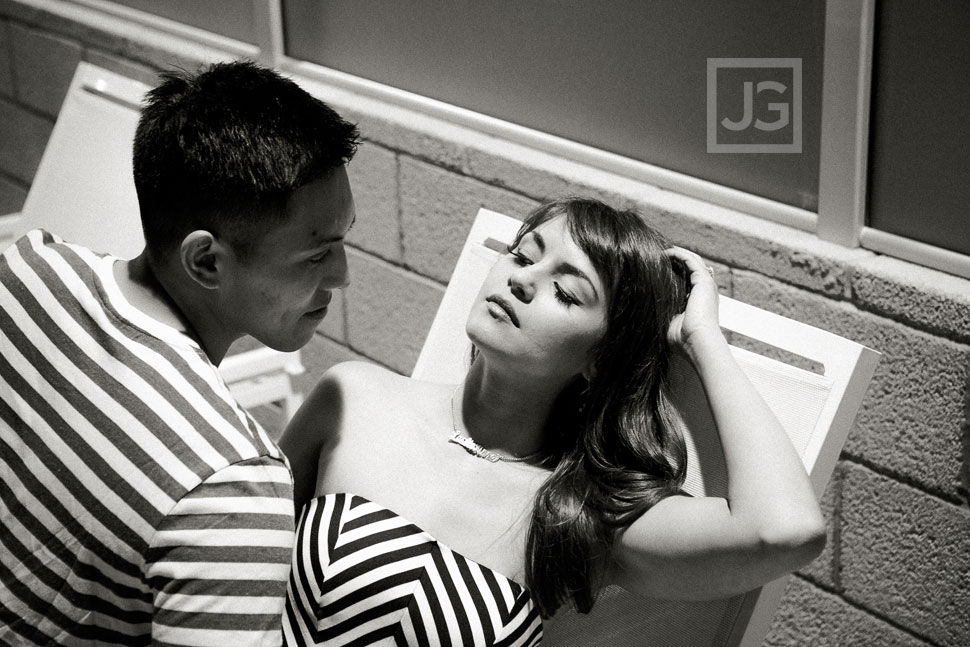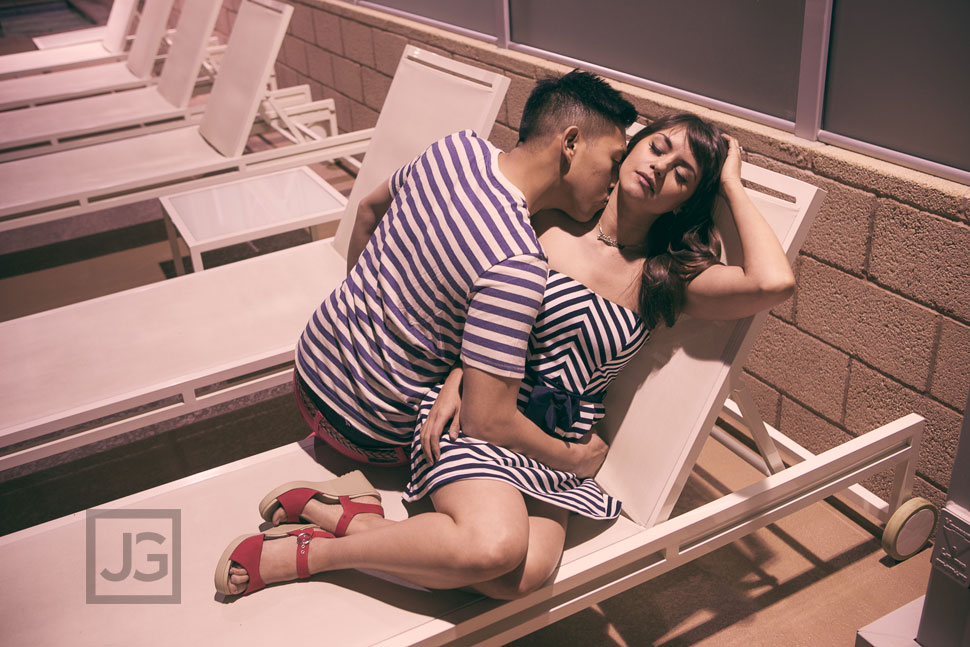 In the Kitchen
We used the clubhouse at the building for these photos, which worked perfectly for the theme and style of the engagement photo session.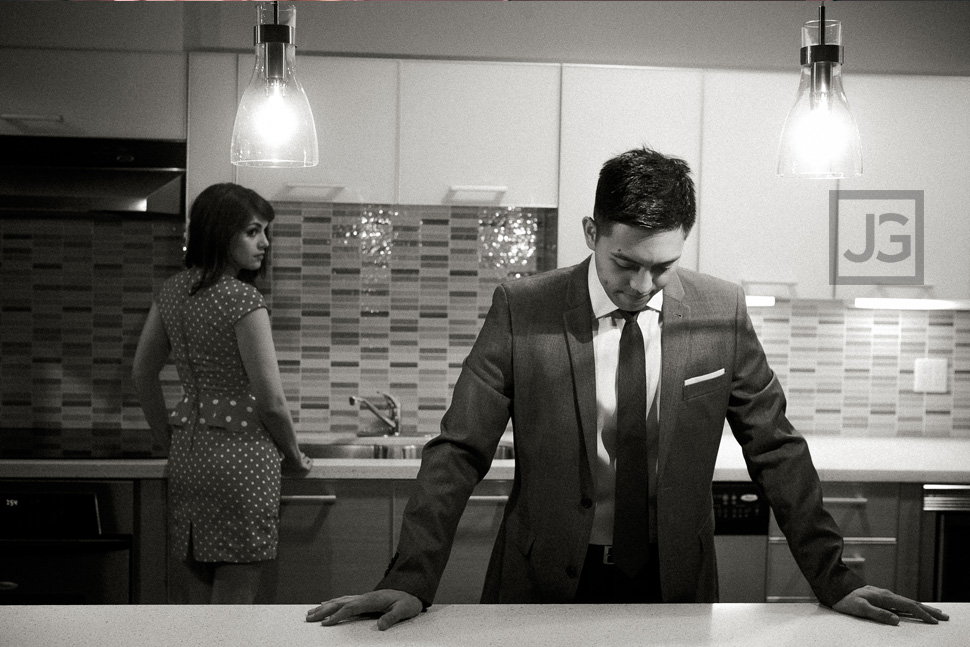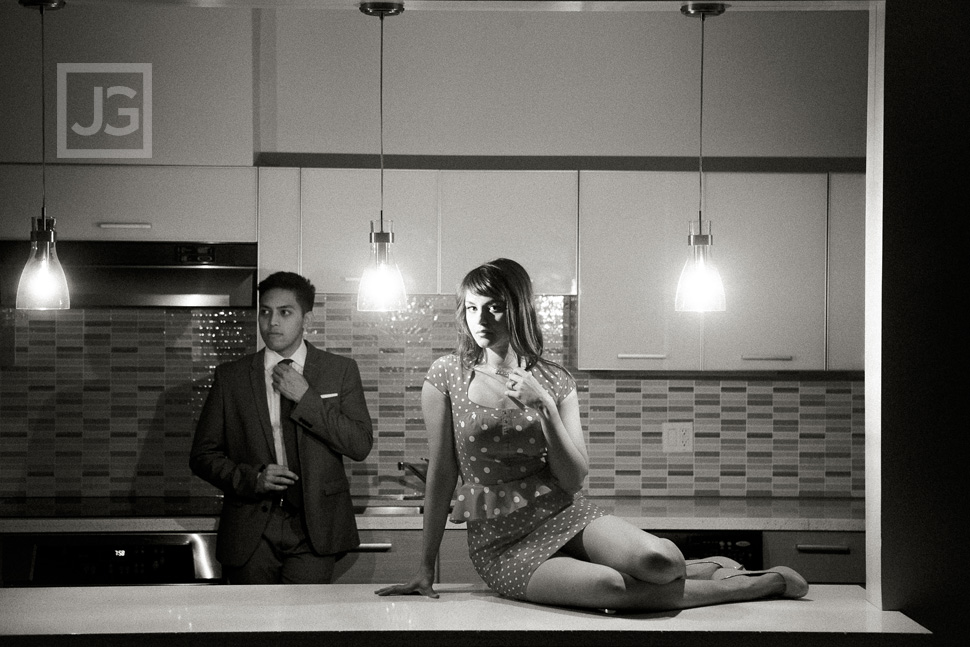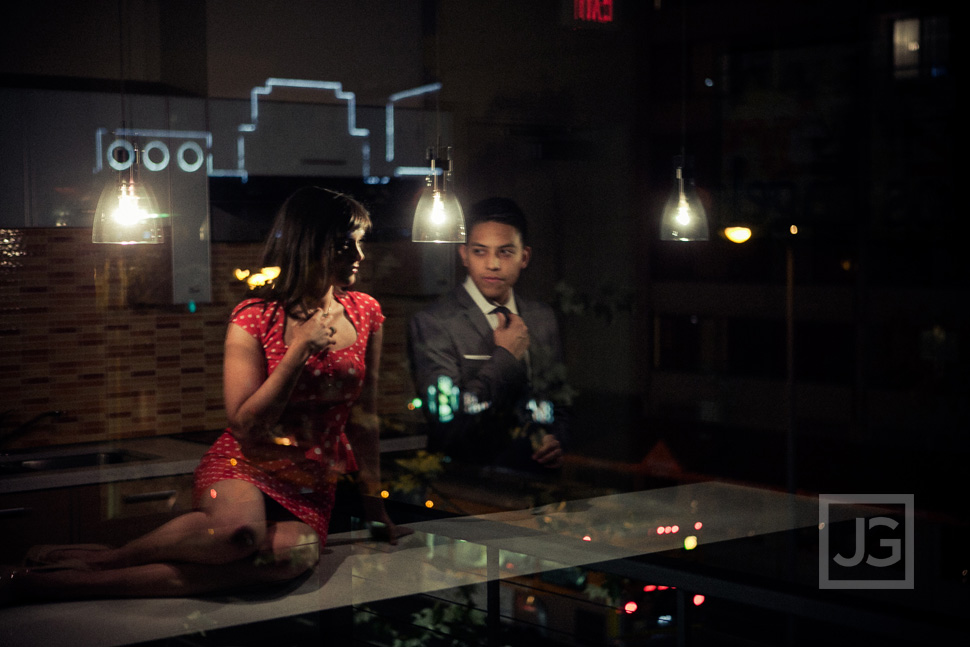 This is where the light made for noir-style lighting that worked amazingly with their stolid expressions.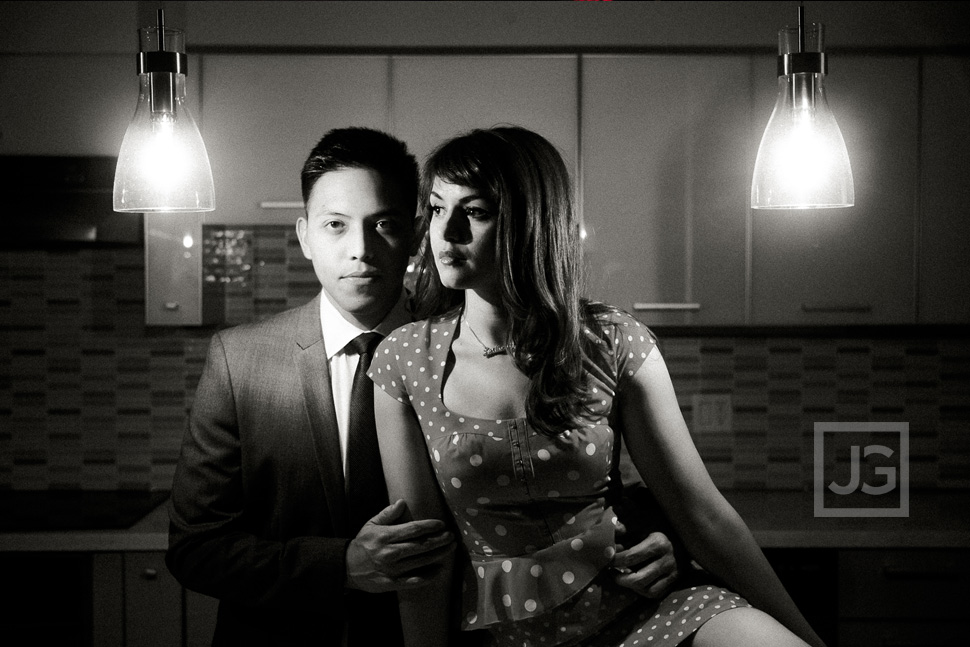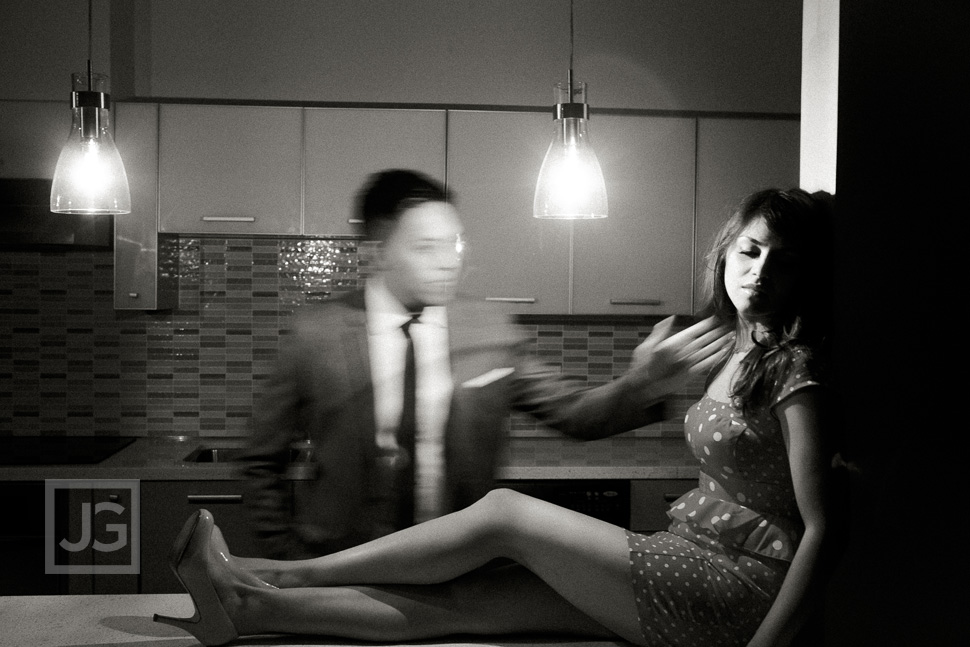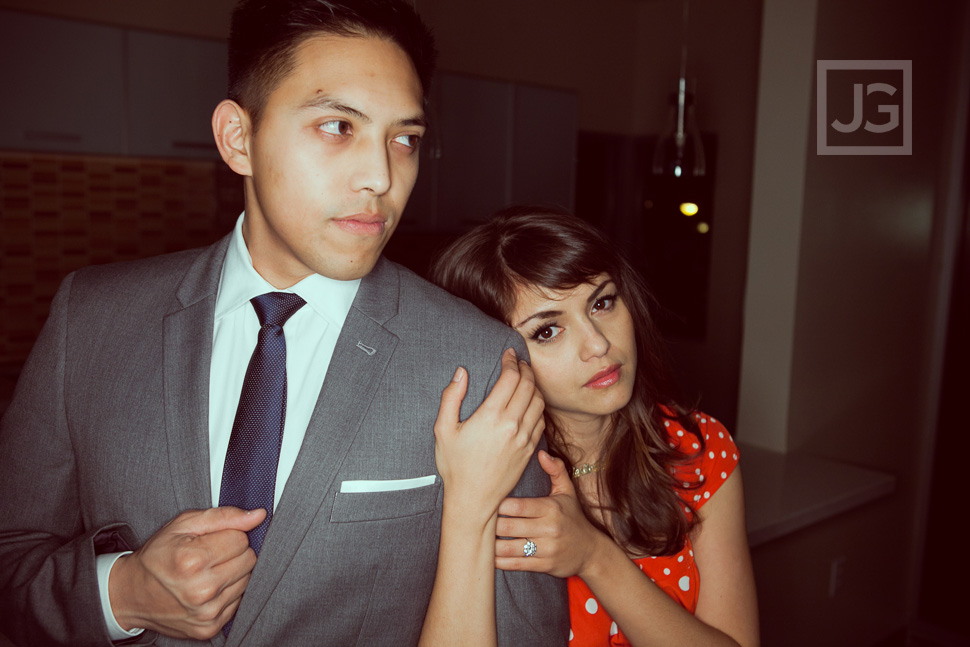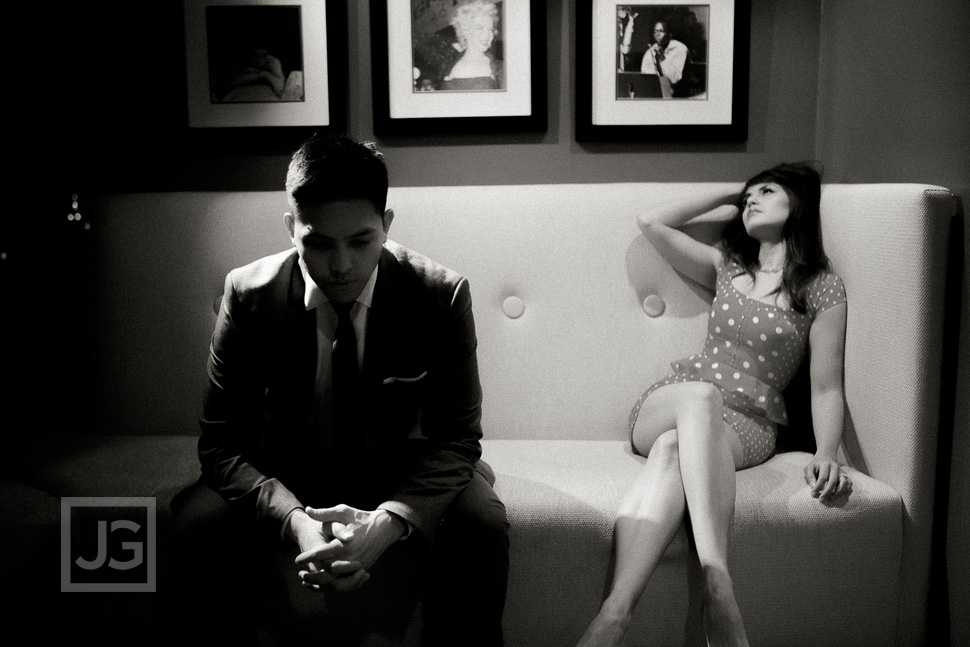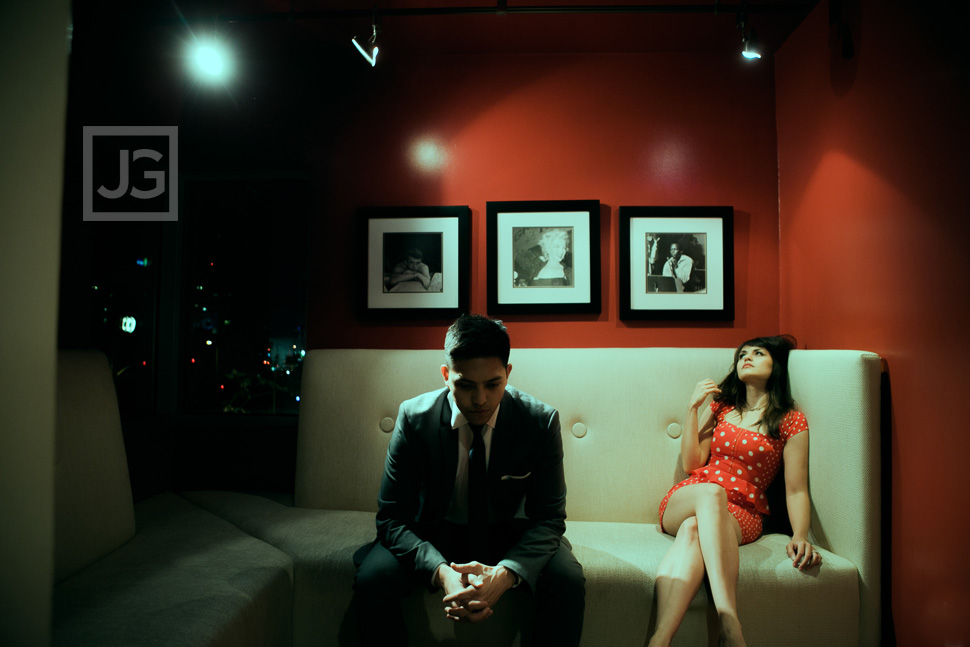 This themed and stylized engagement photo session takes place in downtown Los Angeles. We used a rooftop helipad that had sweeping views of the the Los Angeles skyline. We then used their condo building on Hope St. for more stylized engagement photos, including their condo, the pool, and the kitchen of the community area of the building. Many of the photos have a film and noir feel, with it leaning toward the 70s in look and feel.
If you are interested in booking us for an engagement photography portrait session, make sure to first see our Los Angeles engagement photo prices page.