In today's blog entry, Bugs Bunny and Minnie Mouse falls in love!!  LOL. You're probably wondering, "But how can that be!? Don't you mean Mickey and Minnie Mouse?"  Nope…  you read correctly, Bugs Bunny and Minnie Mouse meets and falls in love!!  Cindy (who works for Disney) and Chris (who works for Warner Bros Studio) met each other at "the Happiest Place on Earth" — Octoberfest!!   Hahaaha.  Both Cindy and Chris didn't really care much for beer (whhaaaat?), so their friends had to practically drag them to Octoberfest.  Little did they know that at this wonderful event they would meet their soul mate.  Isn't so strange how love finds you when  you least expect it? So read on to see some Santa Monica Pier engagement photos!
Baking Red Velvet Cupcakes at Home
When it comes to doing an engagement session, I always advise couples to pick themes (or locations) that would best reflect them as a couple. And for Cindy and Chris, it was baking!! Cindy loves to bake… and Chris (like myself) has never met a cupcake that he didn't like (especially the ones that Cindy makes). Matching aprons, a simple bouquet of Gerber Daisies, a cozy apartment to call home, and the best of it all… giggles and laughter that echo in their new place together.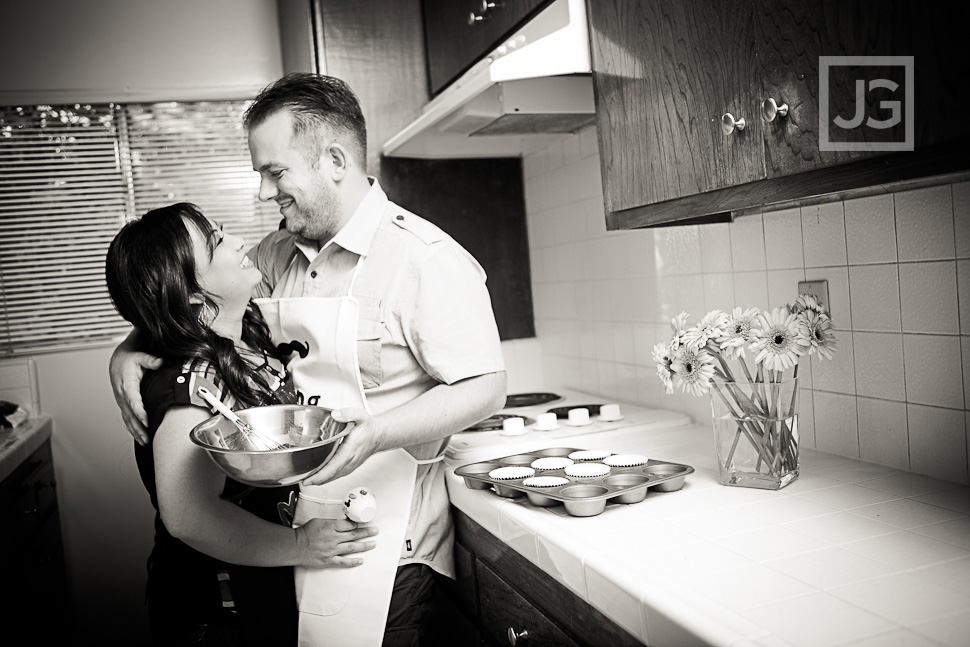 Red Velvet Cupcakes are my favorite!! It was so soft and moist!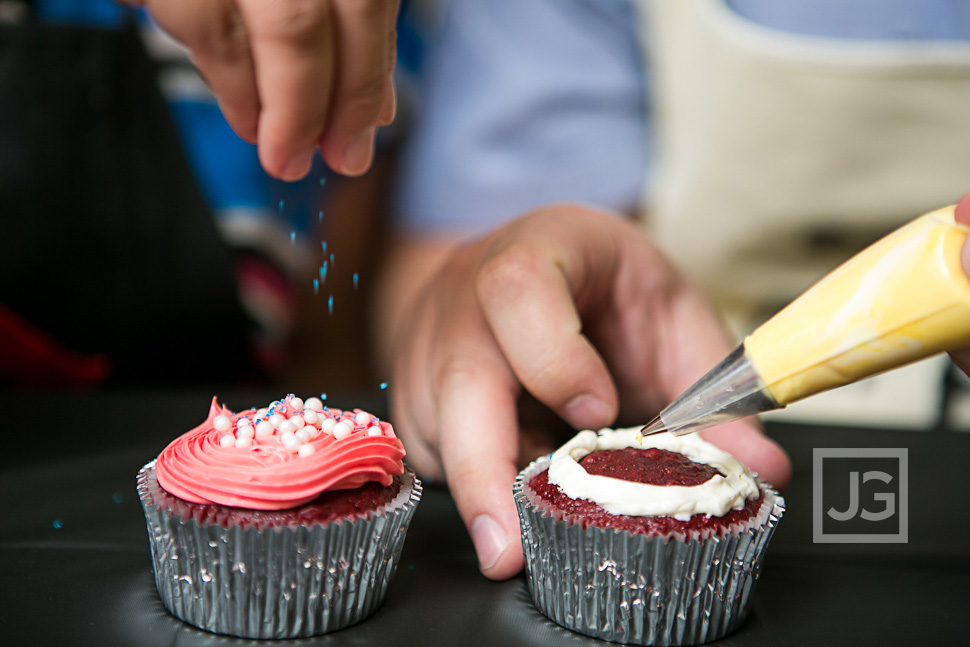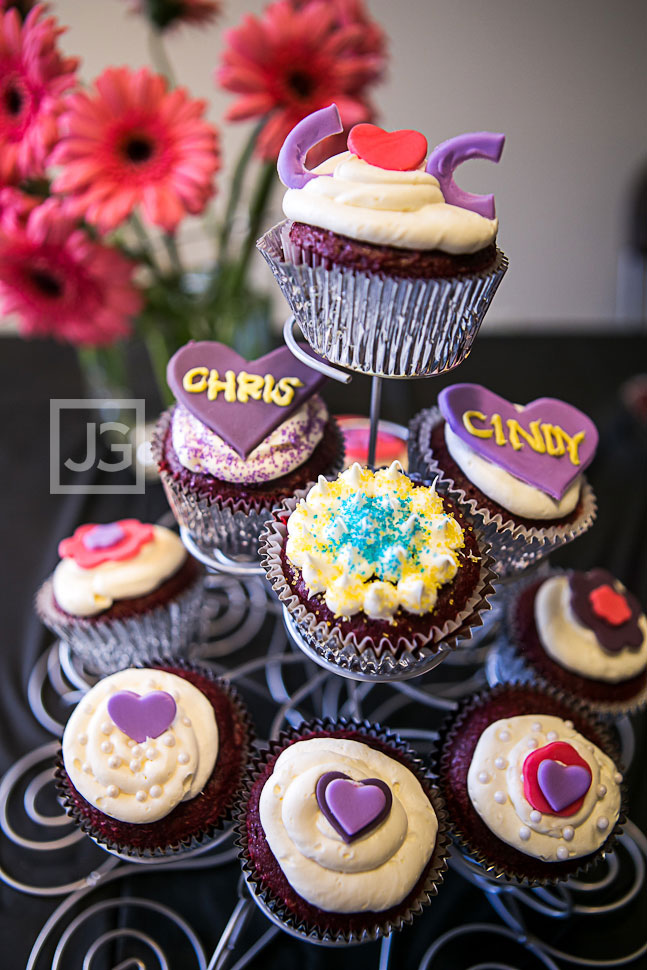 Santa Monica Pier Engagement Photos
Picnics on the beach are always the best!! I love the look of the sand of the beach and the pier in the background.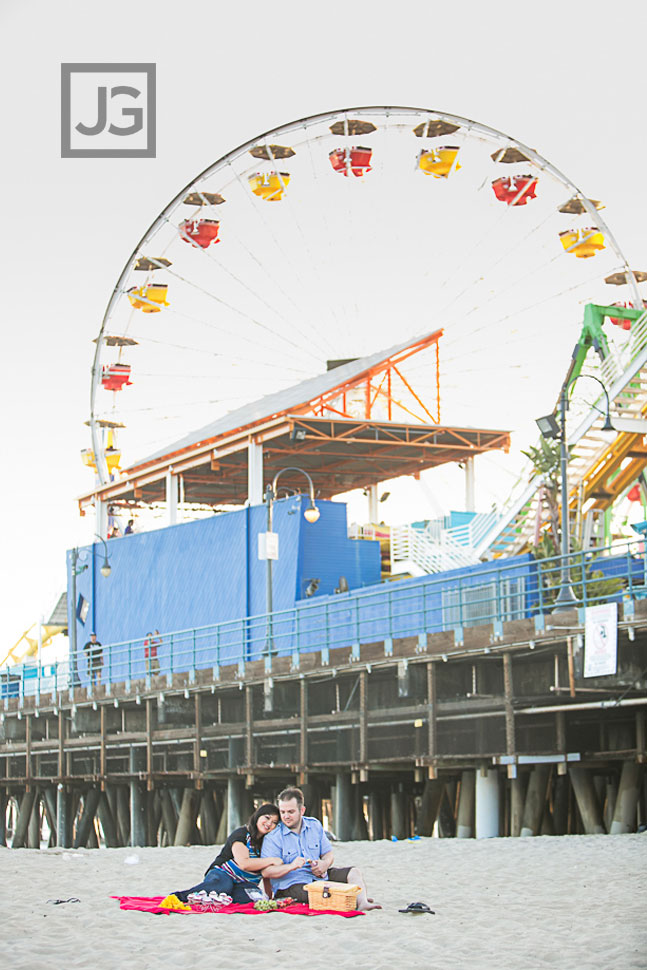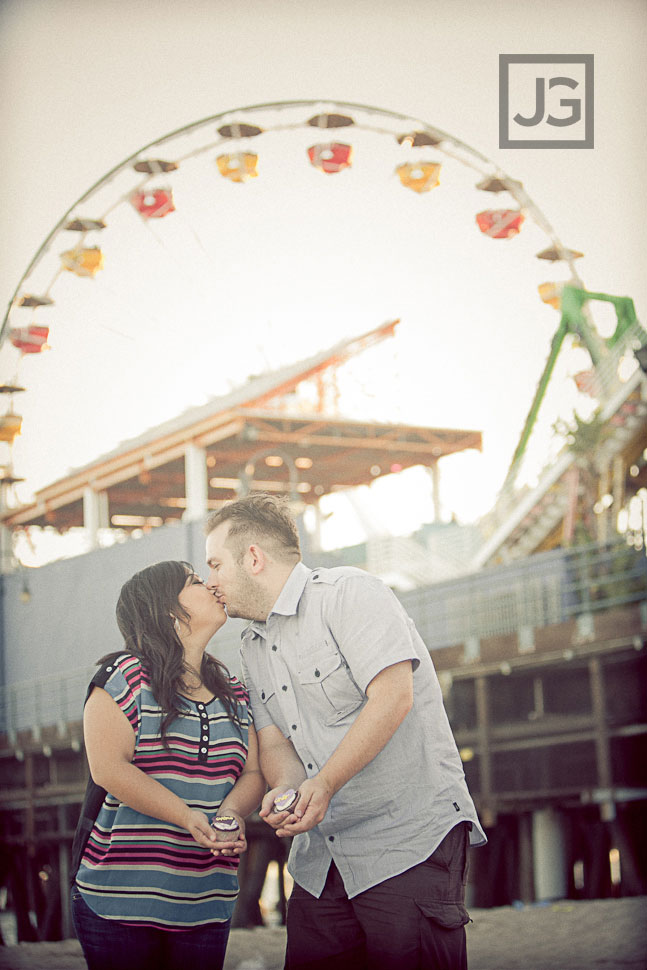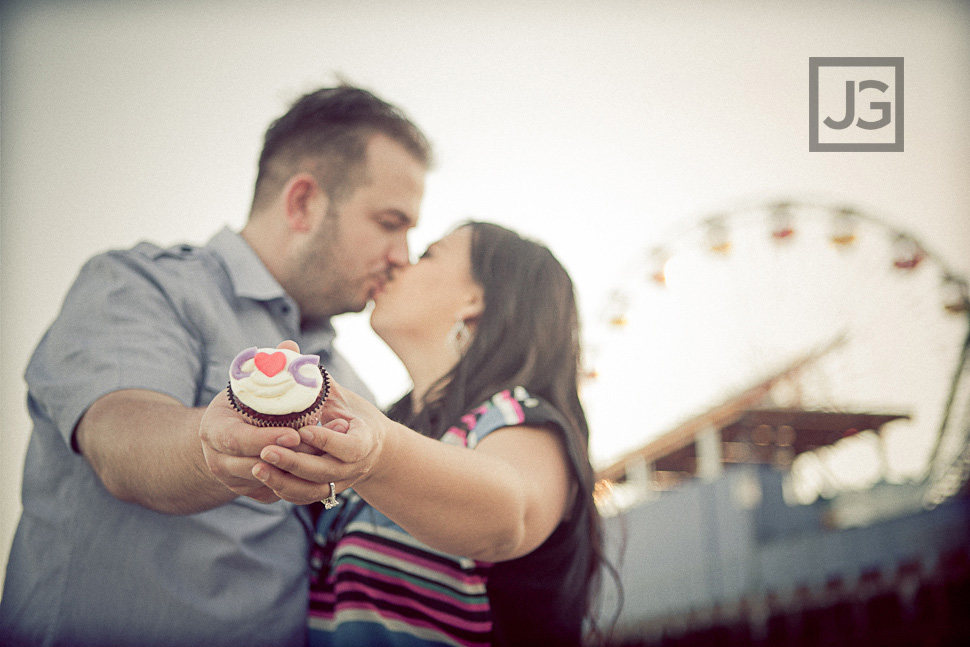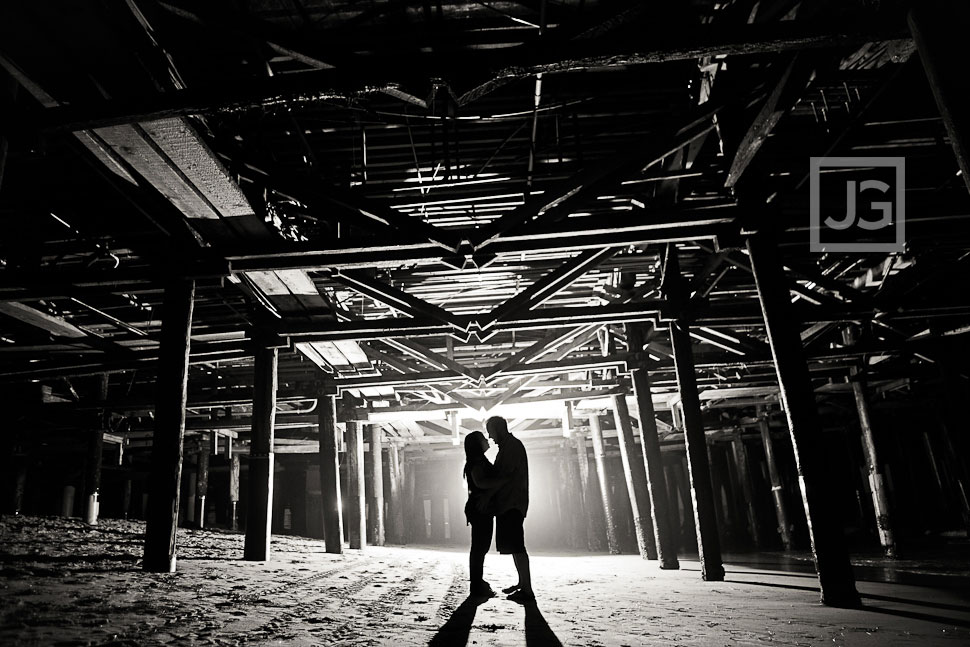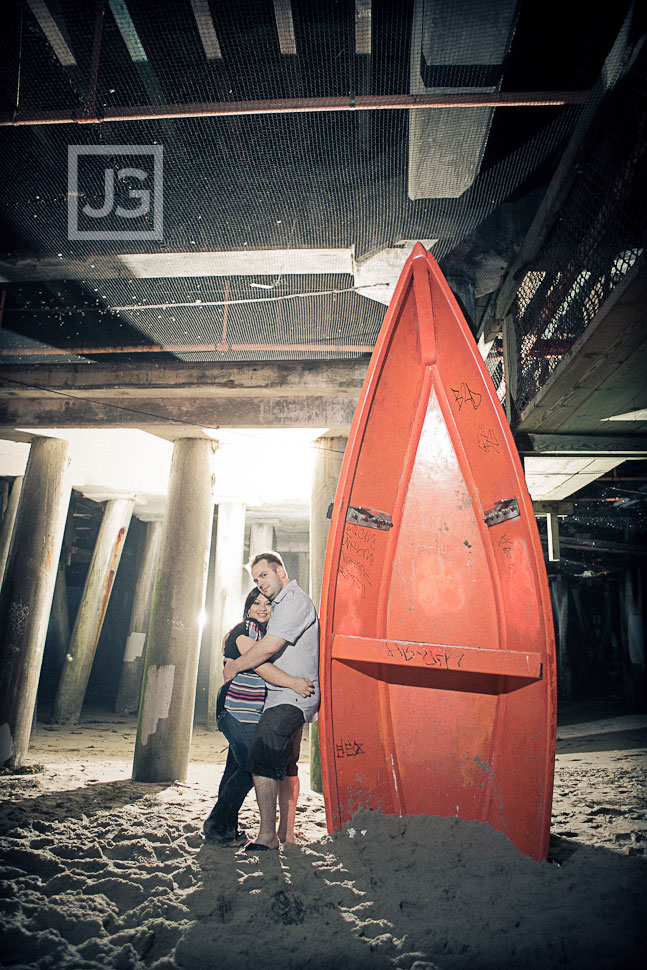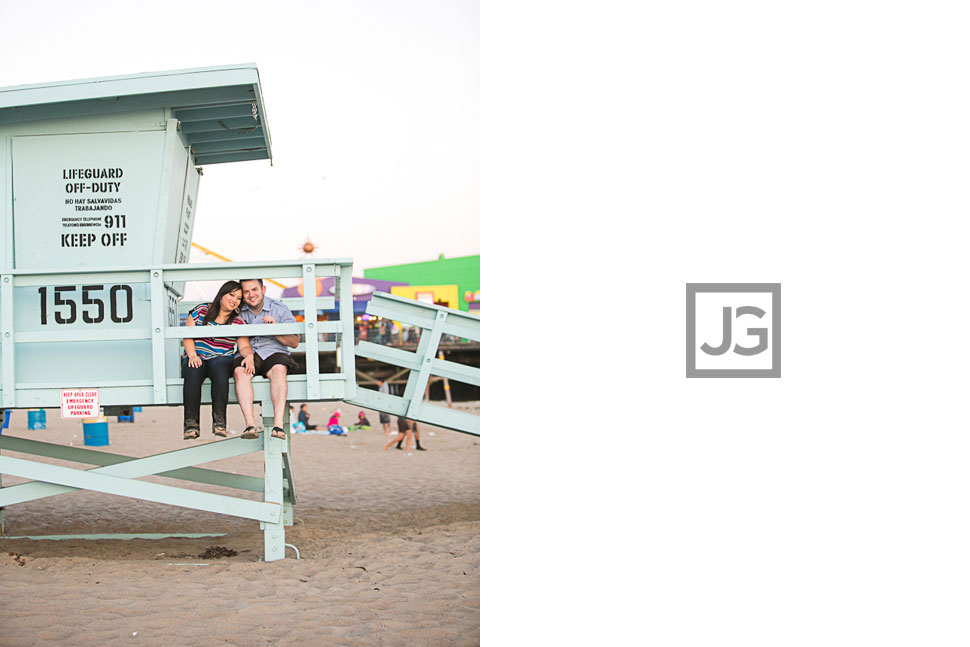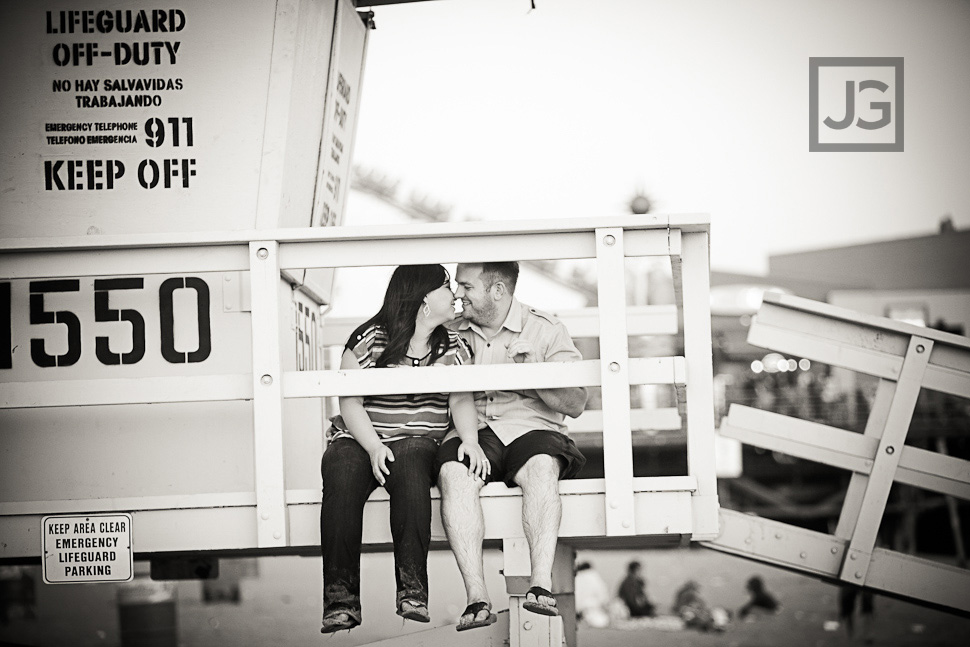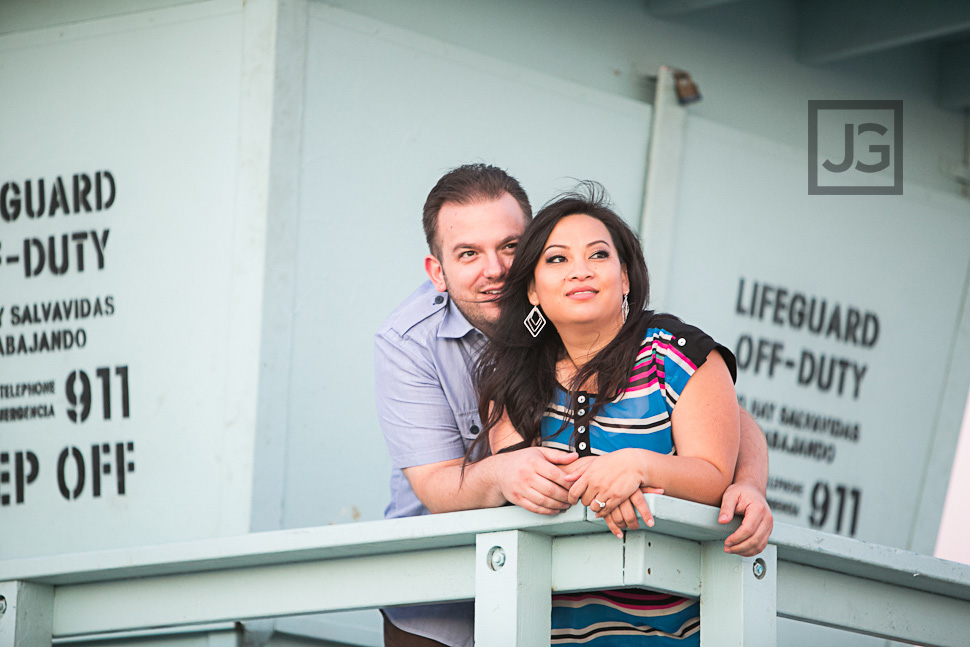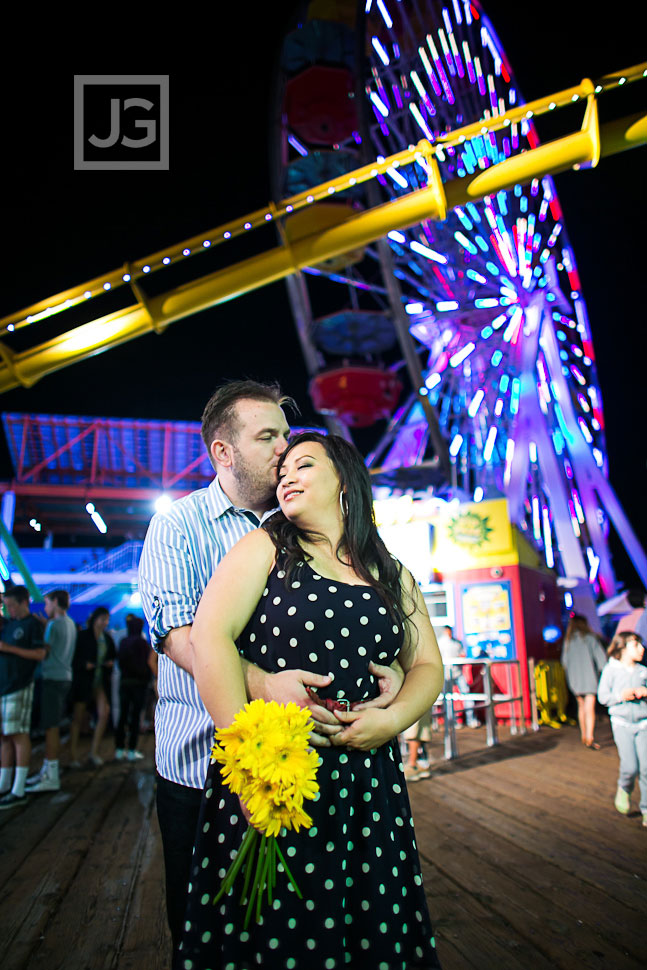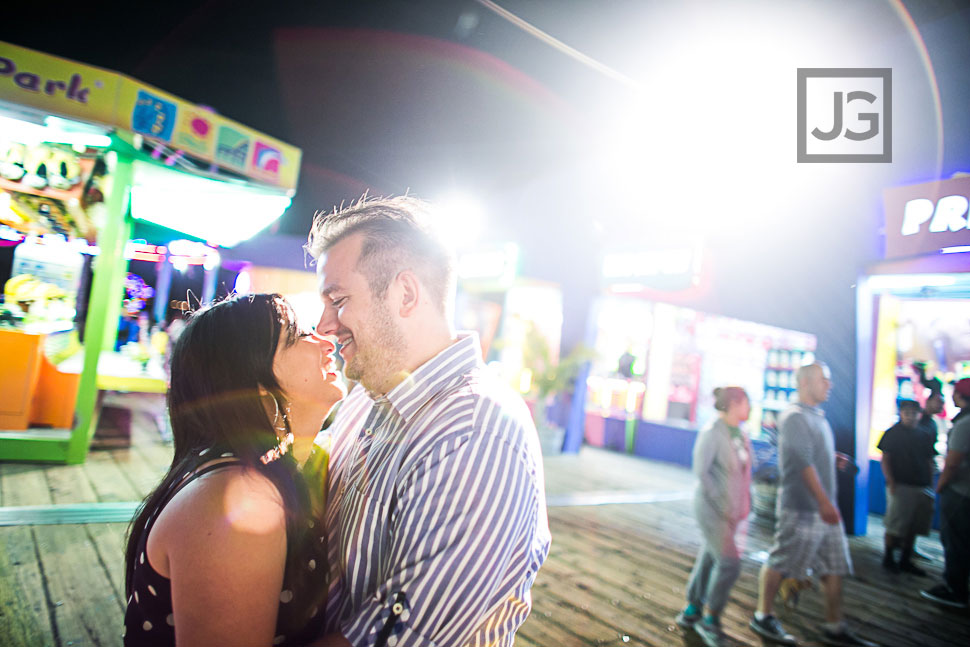 Yeah… I've been known to photo-bomb engagement pictures here and there!! LOL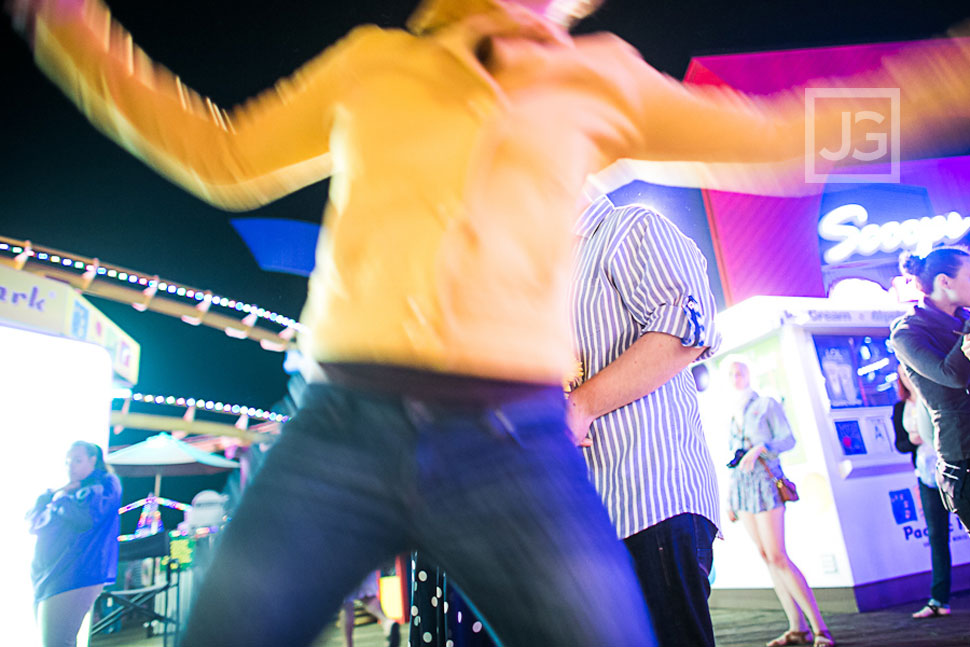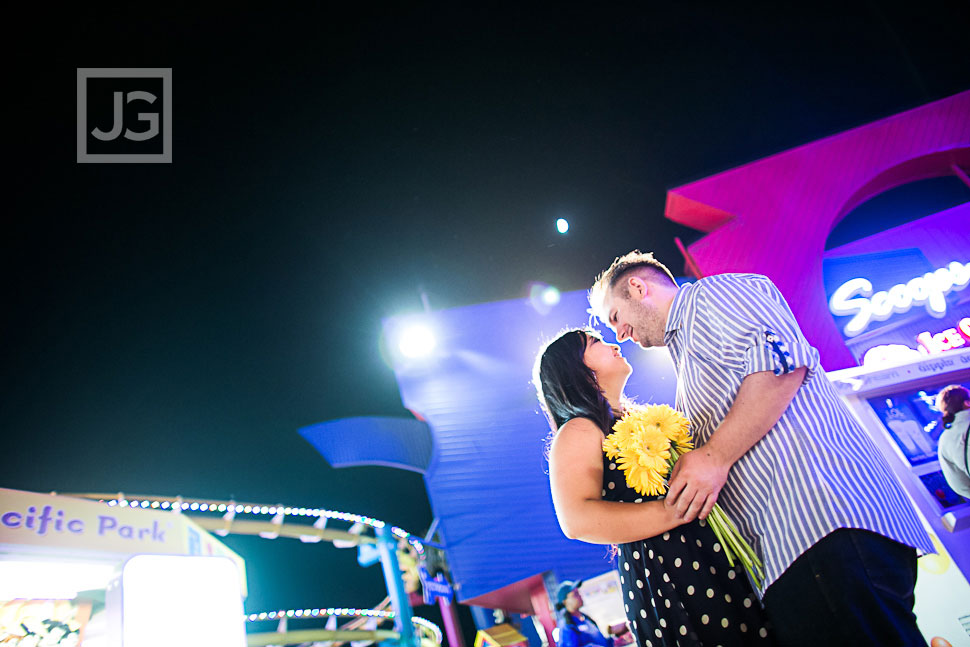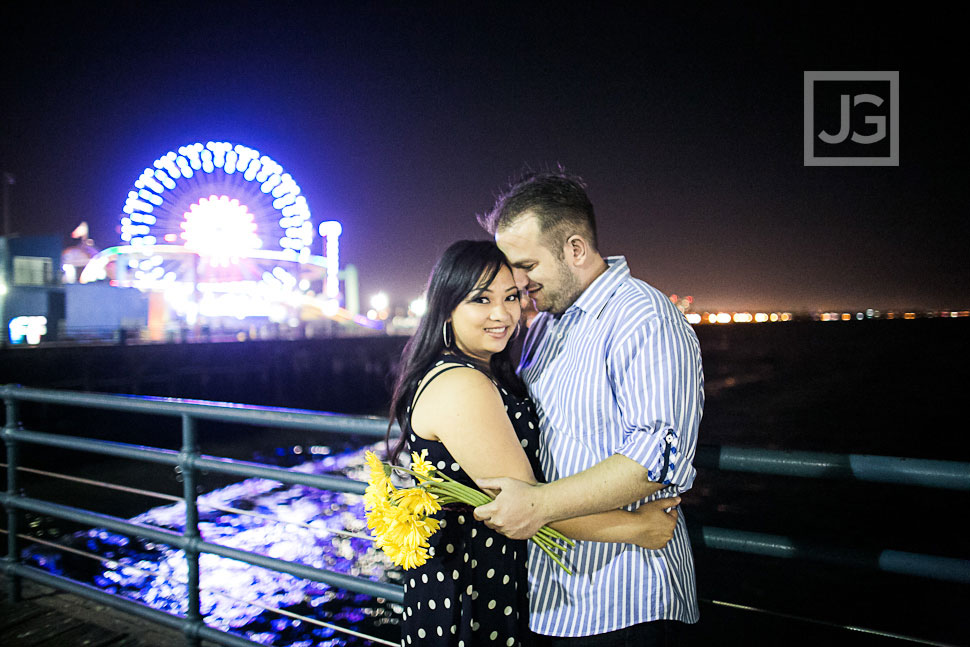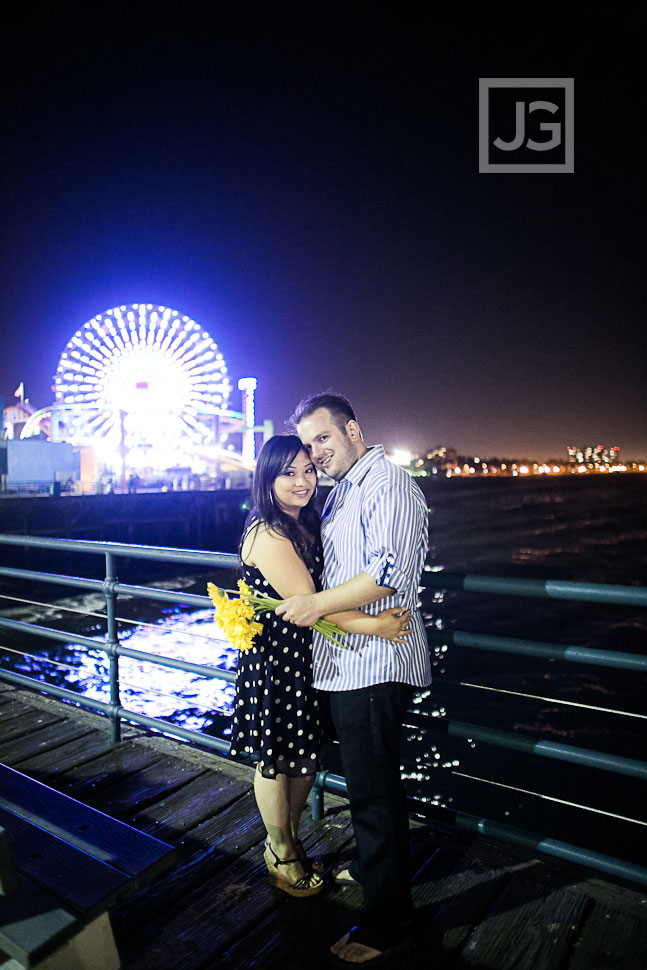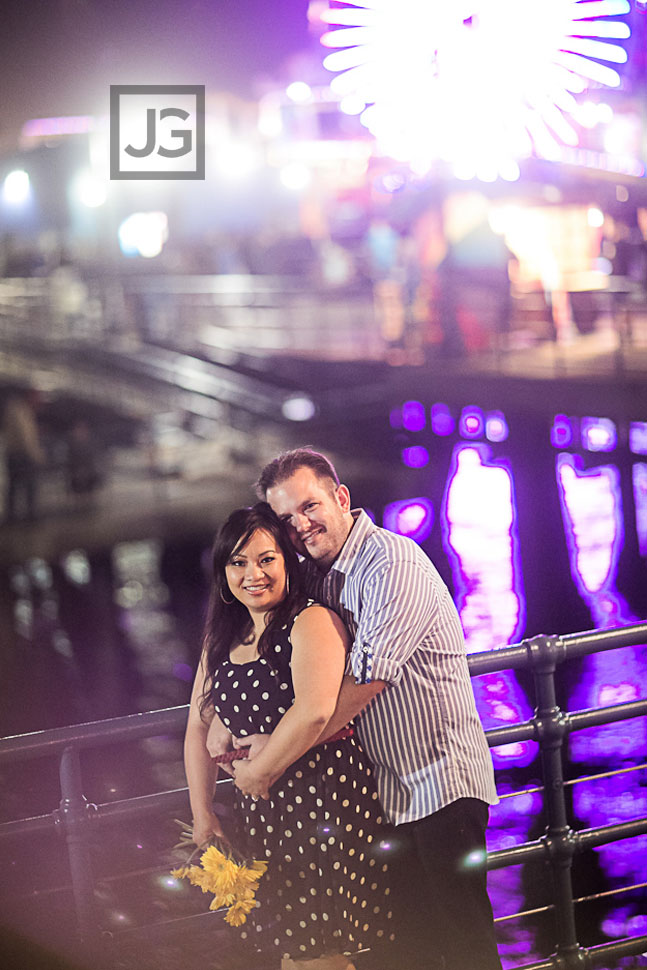 And some fun with Sparklers!
When we got back home, we played around with sparklers for a bit. It takes a bit of practice, timing, and most of all patience to nail down a sparkler shot. It's called lighting painting and it's not for the faint of heart!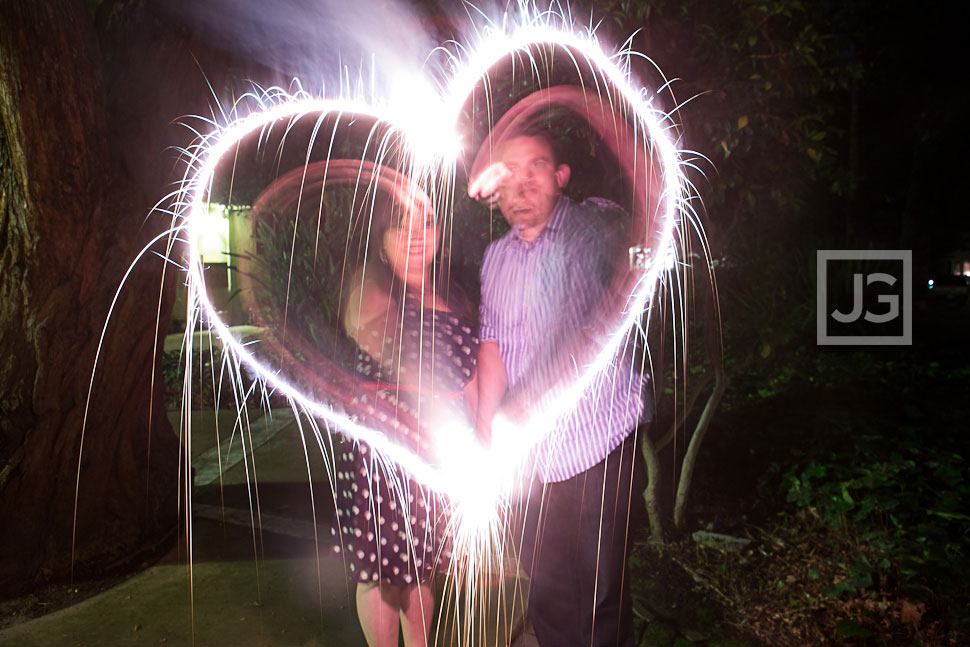 Tinkerbell definitely worked her magic in this one!! 😉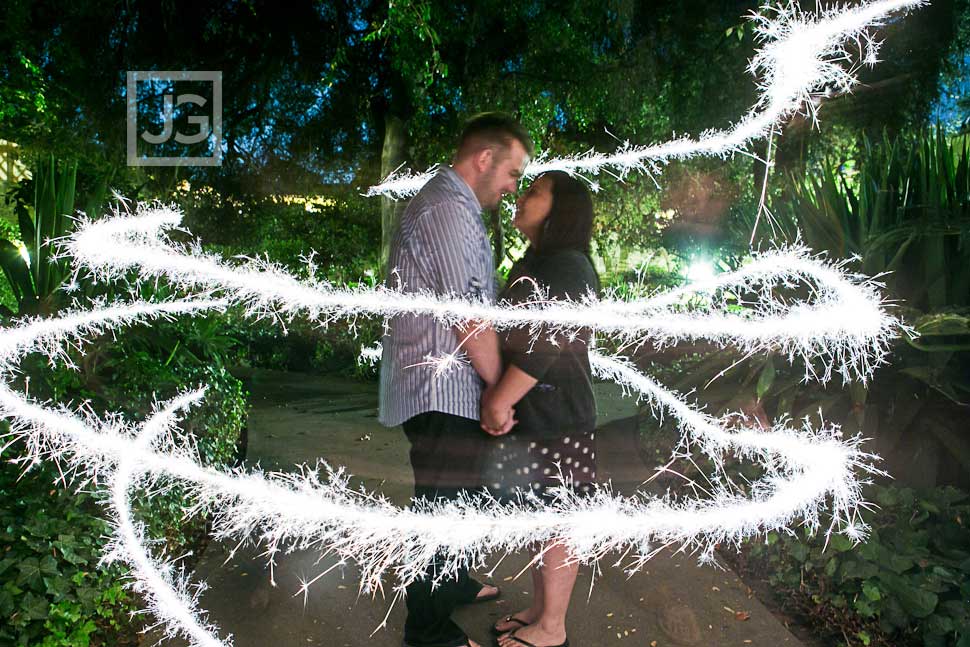 Congratulations Cindy and Chris!! We can't wait till your big day at the San Gabriel Hilton!
We started this engagement photography portrait session at their home with baking and cooking cupcakes. After that we headed to Santa Monica Beach to get engagement photos with the Santa Monica Pier. We captured the sunset over the sandy beach, with night photos on the pier with it lit up and all.
For more examples of engagement photos in Los Angeles, make sure to check out the rest of our wedding and engagement photography blog. We have been shooting in Santa Monica for many years now and the experience shows in the photos we capture with our couples. You can also keep up with more recent examples of our work on Instagram (@judyandgavin). For example, here's an engagement session we did where we were photobombed by a TON of seagulls!