Engagement shoots are always really, really fun and Shanine and Ron's engagement session in downtown LA was nothing short of FUN!!  They are a laid back and relaxed couple that loves downtown Los Angeles and city life (especially Ron), so we had an engagement shoot that would reflect that.  They currently live up in Oregon, but are having their wedding down here where they used to live.  Unfortunately, Judy and I were already booked on their wedding day (that bride had us locked in over a year ago), so I spent a little extra time doing some wedding photos in downtown Los Angeles at night.  One awesome thing about their shoot is it is the first shoot I used the new 5D Mark 3 on.  I'm a camera junkie, so I started pushing the limits right away (for you fellow photographers out there, I'll include some exif data on some of the later pics).  We started the engagement photography session at USC.  Shanine went to school there, but I think Ron was more of a fan that she was! So read on for more engagement photography in downtown Los Angeles.
USC Engagement Photography
Sorry if I wander into camera geek stuff more than Judy would, but I LOVE THIS CAMERA! This first shot is done almost completely in camera using Canon's new built in HDR feature (currently only for the 5Dmk3). I intentionally shot Tommy Trojan in the shade into a blue sky to see if it could pull it out. The 5D mark 3 did an amazing job, even though it's handheld with some of the starkest contrast you can get in a composition. Camera settings: HDR natural, +-3EV, shot handheld with image-align on.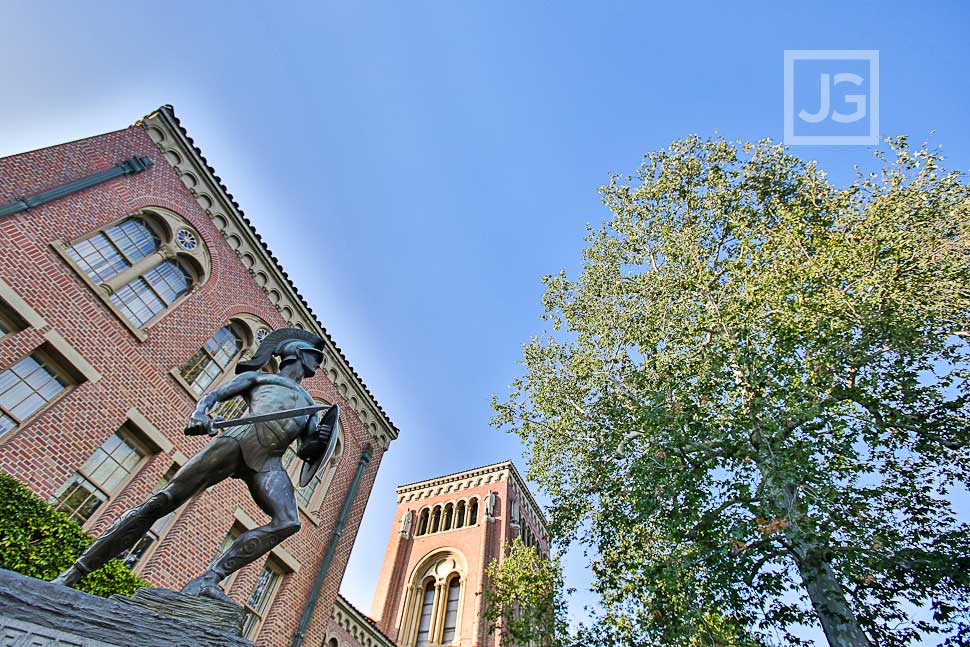 One thing about Shanine and Ron is that they are a very "natural" couple, where you can see the way they love each other very easily and obviously. It's really refreshing seeing that, especially since they have been together for over 8 years!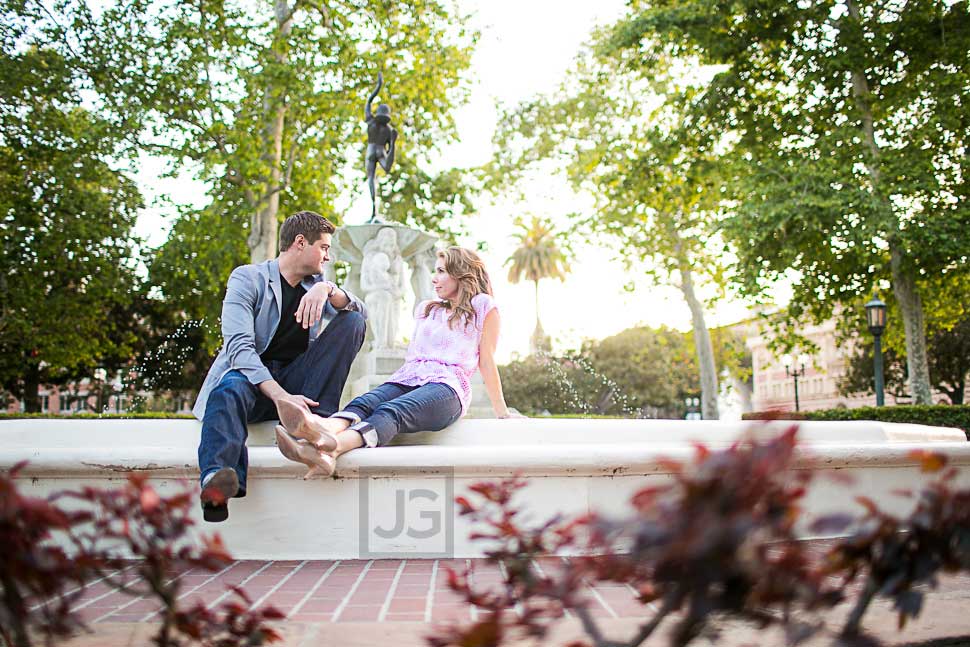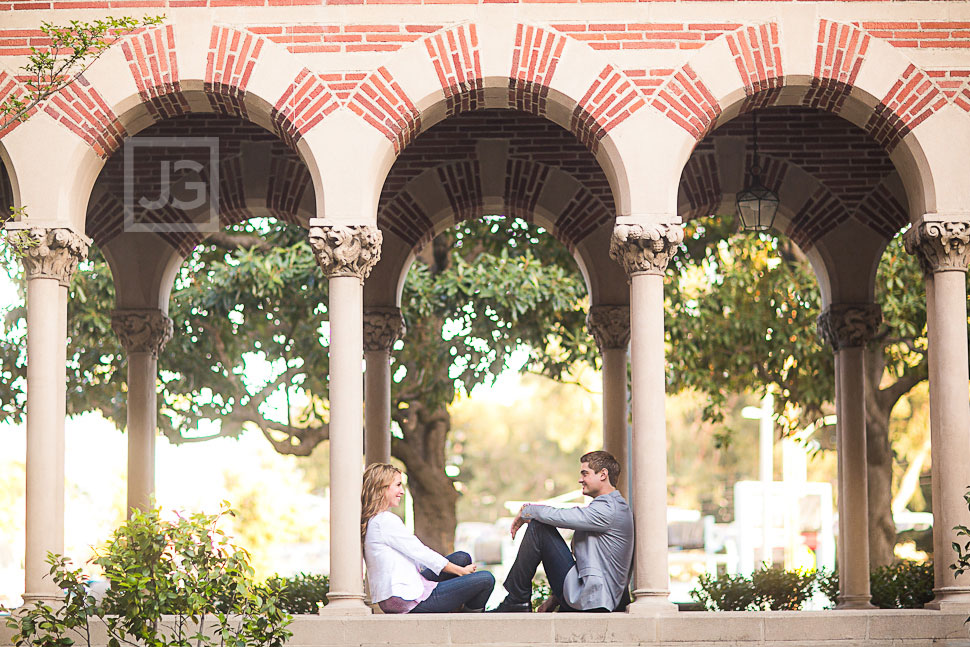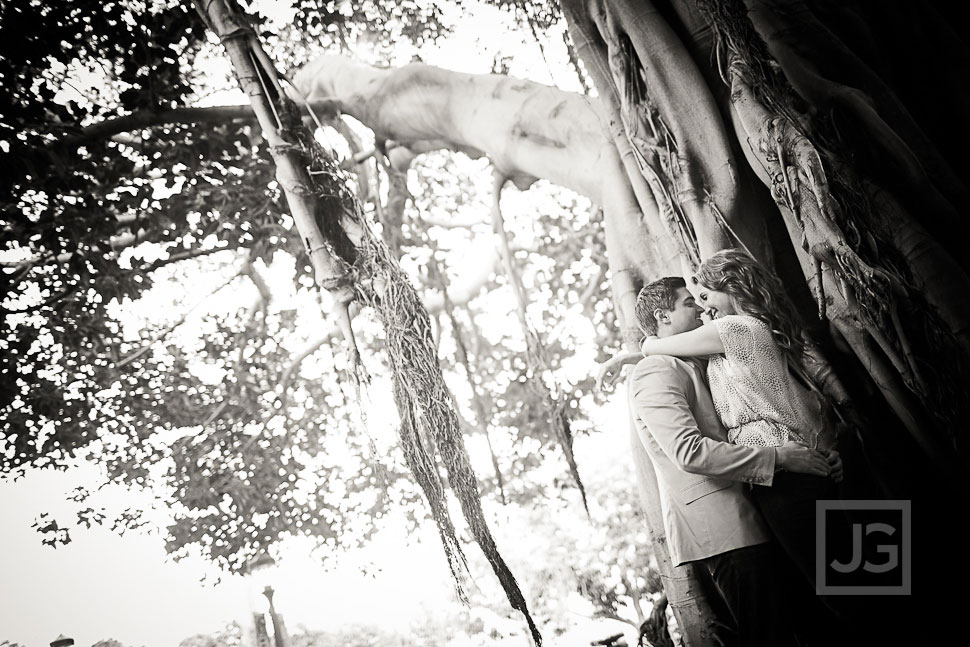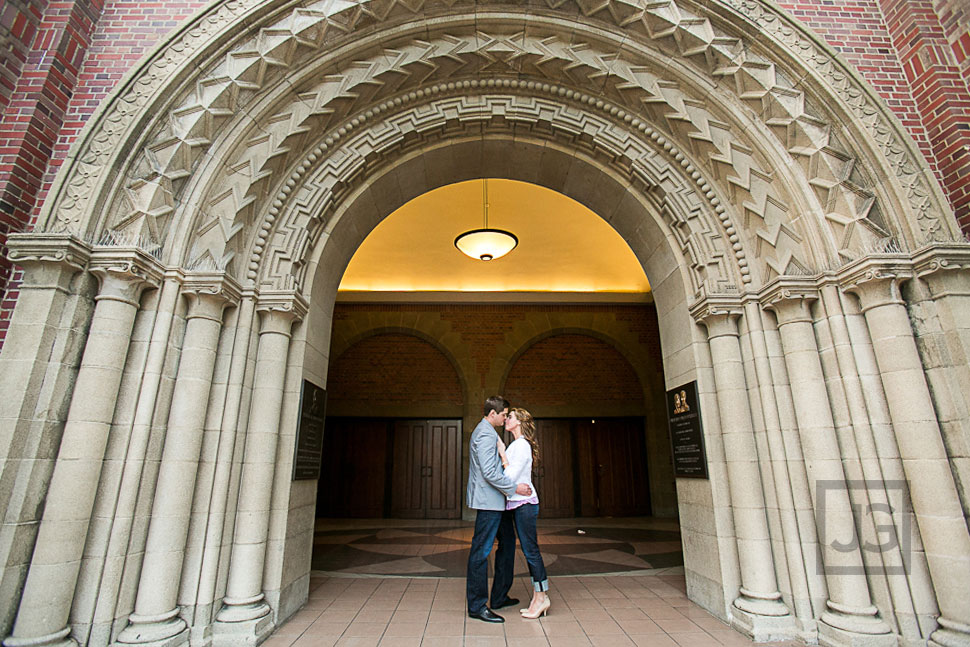 Downtown Los Angeles Engagement Photography
After a quick session at USC, we proceeded to downtown Los Angeles for the rest of the engagement photography session at night. I took this one pic candidly as we walked over to the Downtown LA JW Mariott for some drinks and appetizers (more drinks than apps it turns out). Camera nerd settings: f2.8, 1/60s, ISO6400 @16mm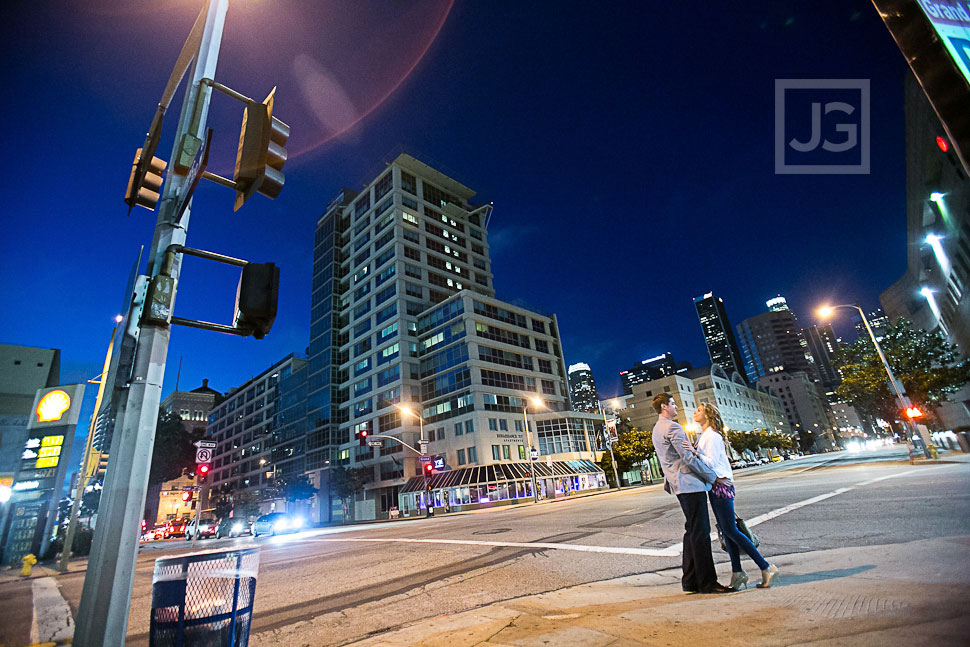 Ron used to live right down the street from LA Live, so we stopped at the JW Mariott hotel lounge area for a quickie break. Well, what was supposed to be a break turned into 5 drinks for me (since I have to work after all) and 7 drinks for Ron. Wow that guy can throw down! Needless to say they were preeeetttty loosened up for photos at this point. Disclaimer: Judy and I, as a rule, don't drink at weddings. Luckily, engagement shoots aren't weddings.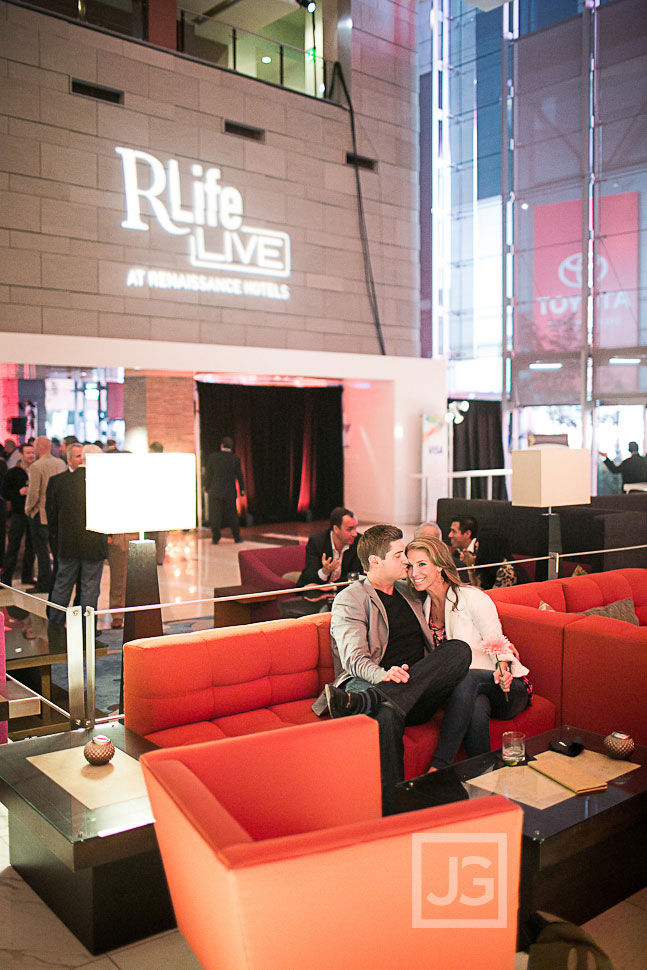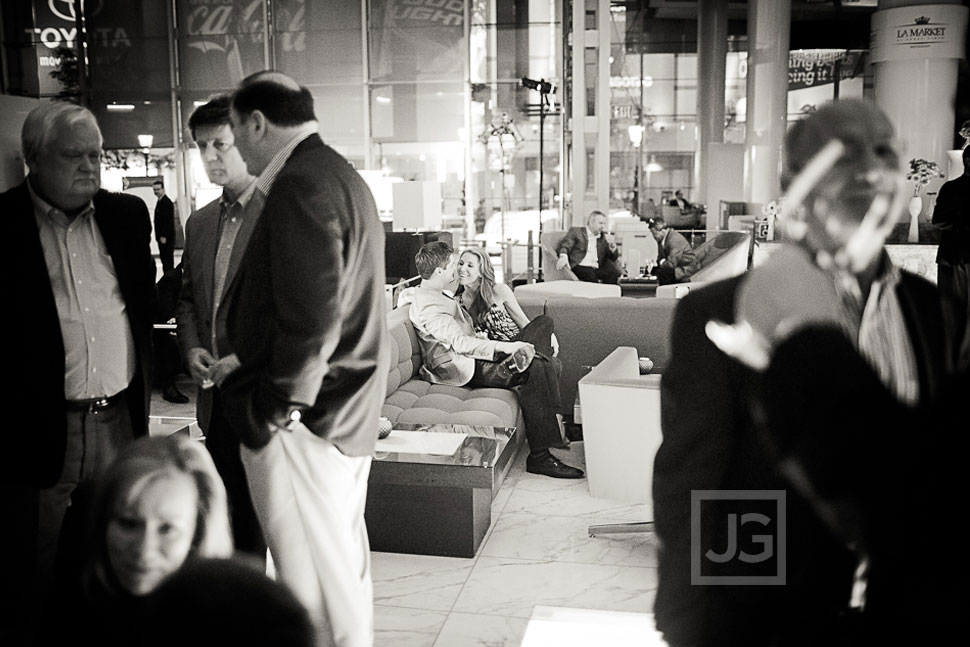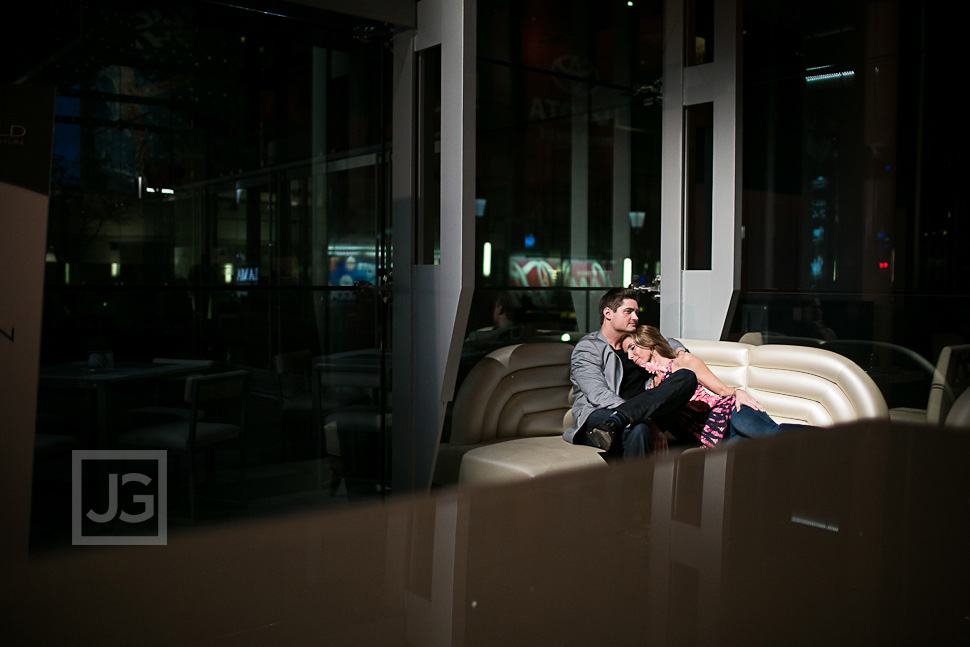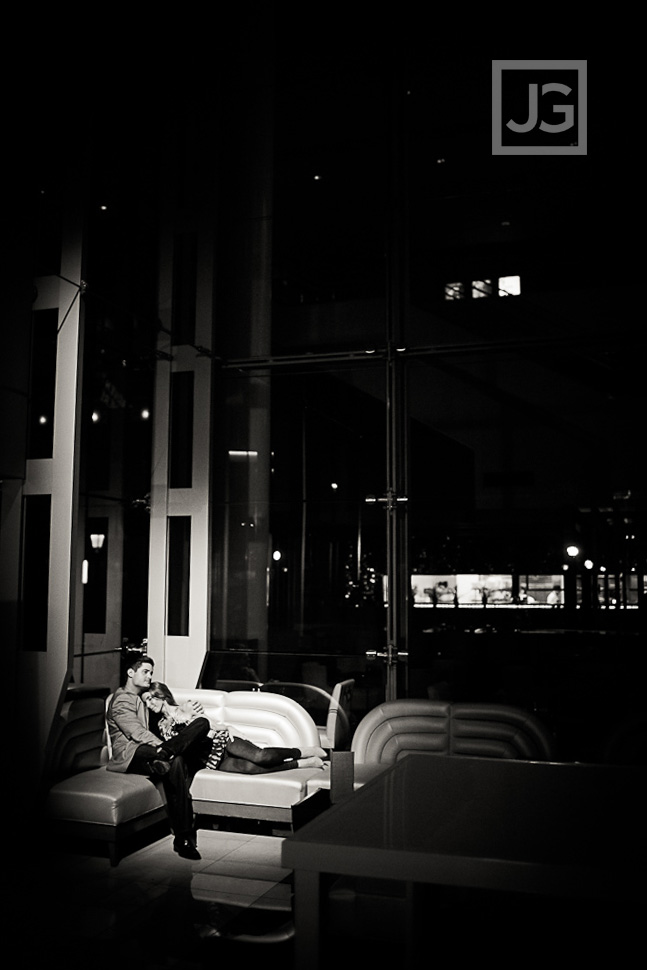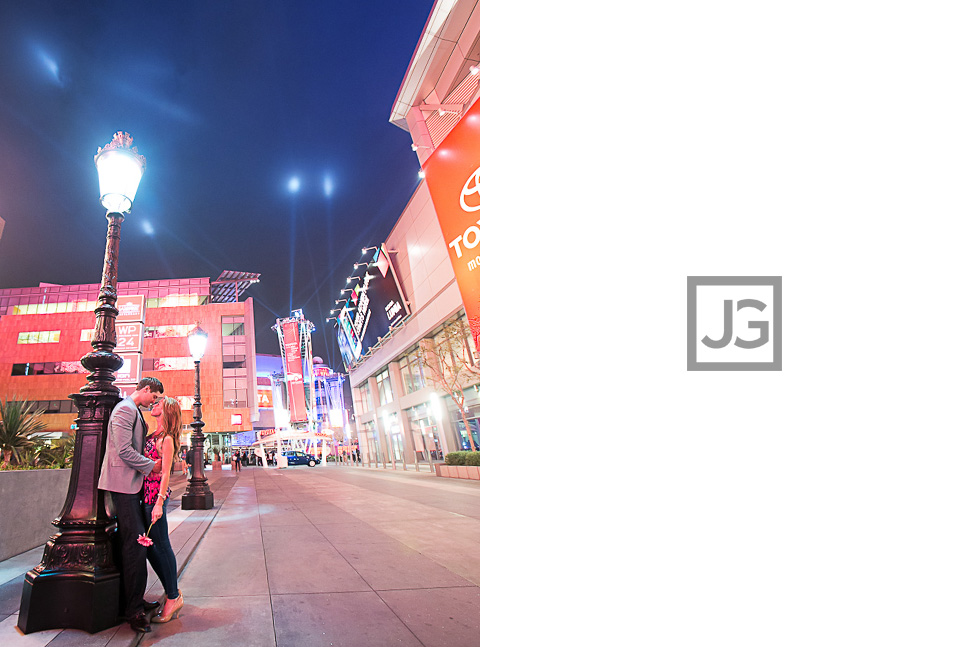 I love the look of downtown LA when the traffic dies down, people leave work for home, and this serene stillness floods the air in downtown. The lights says it's still alive, but the tranquility of the streets contrast that.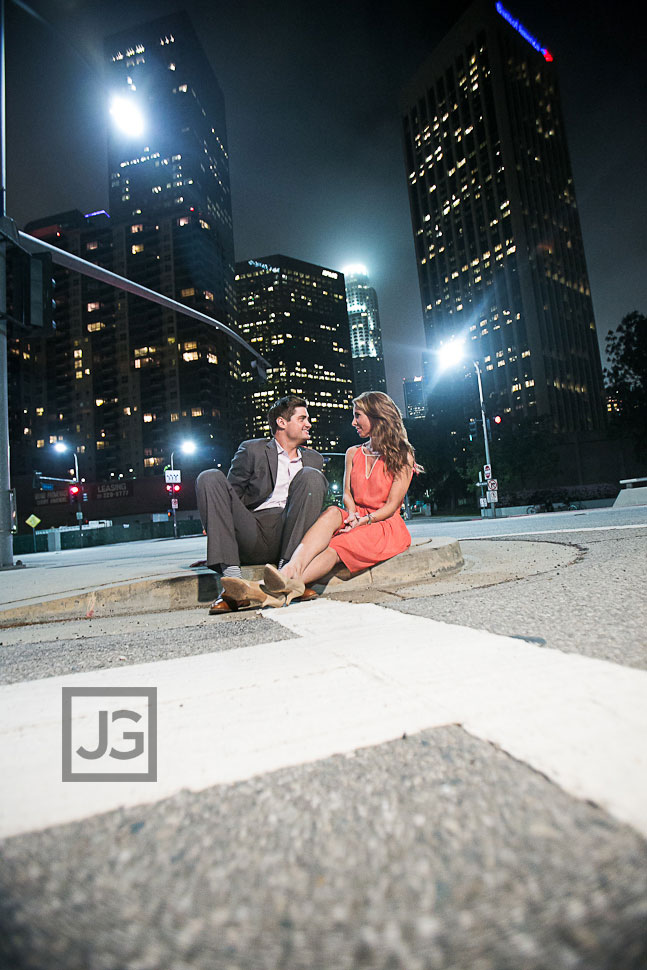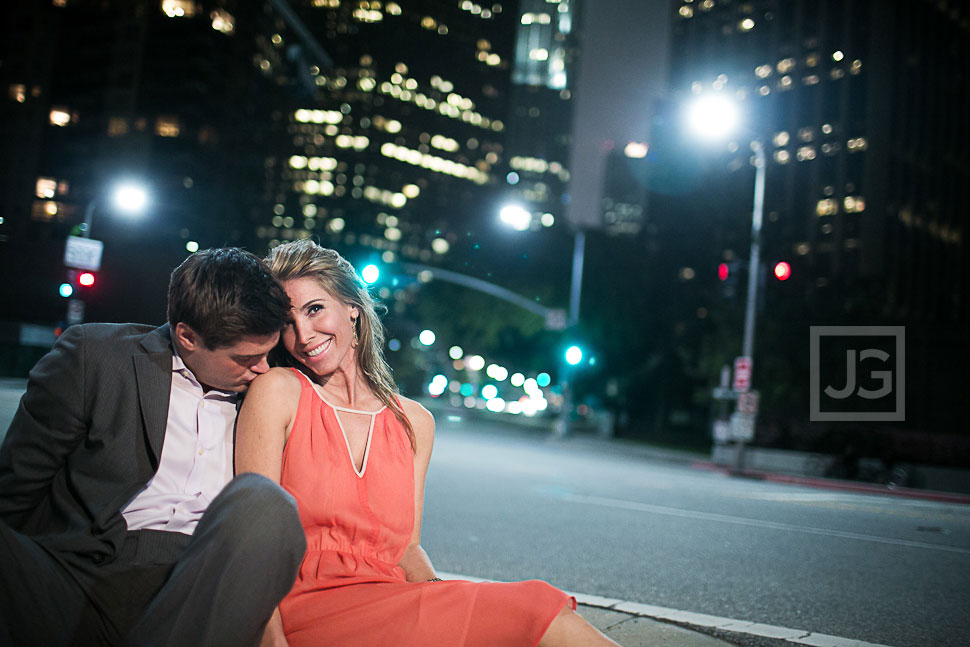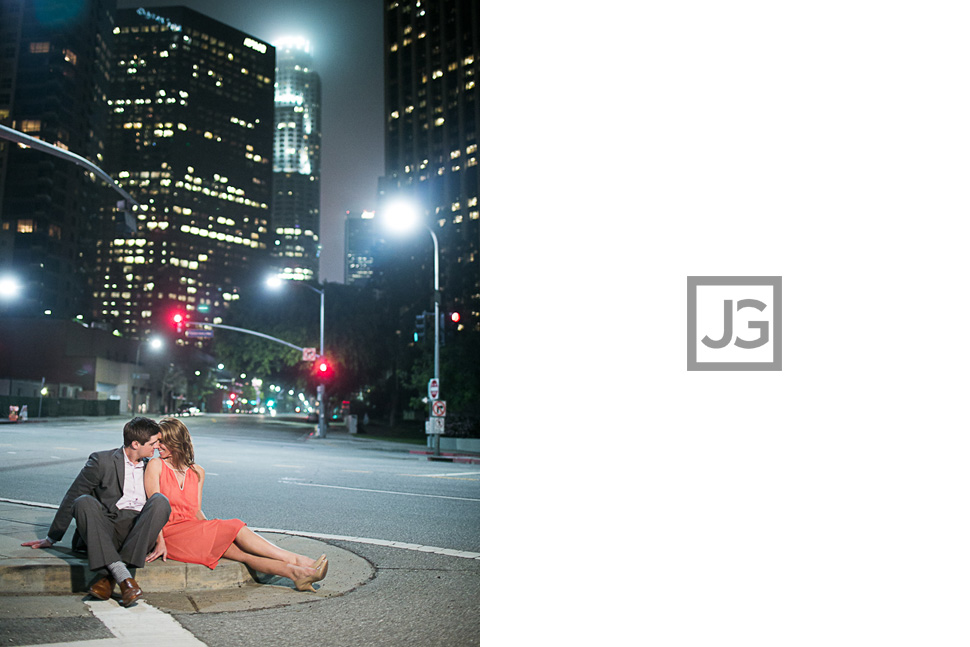 Walt Disney Concert Hall and More at Night
We hopped over to the Walt Disney Concert Hall for some quick photos, but they had already shut down their garden by this time. No worries, considering the amazing plethora of nooks to be discovered in Los Angeles at night.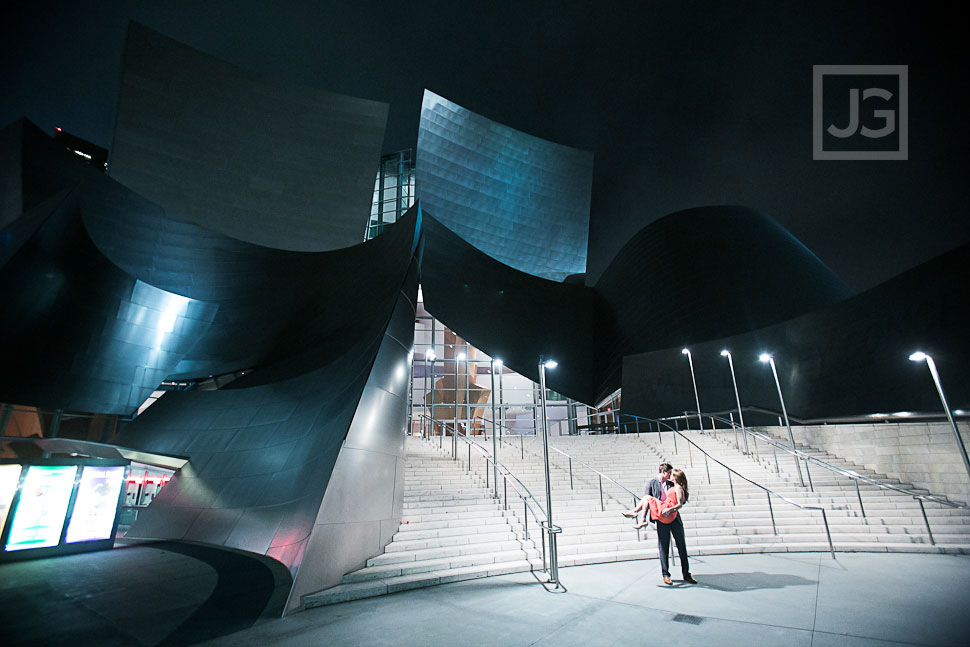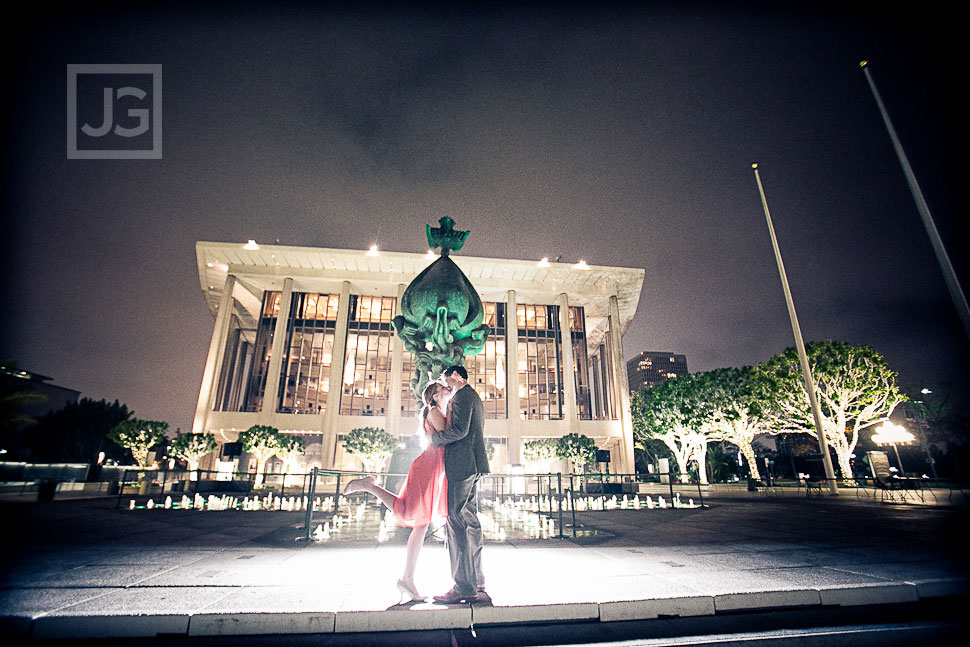 This next image was shot at ISO8000 (f2.8, 1/20s). Normally I don't use an f2.8 lens at night, so it was a joy getting to shoot really wide when I wanted to.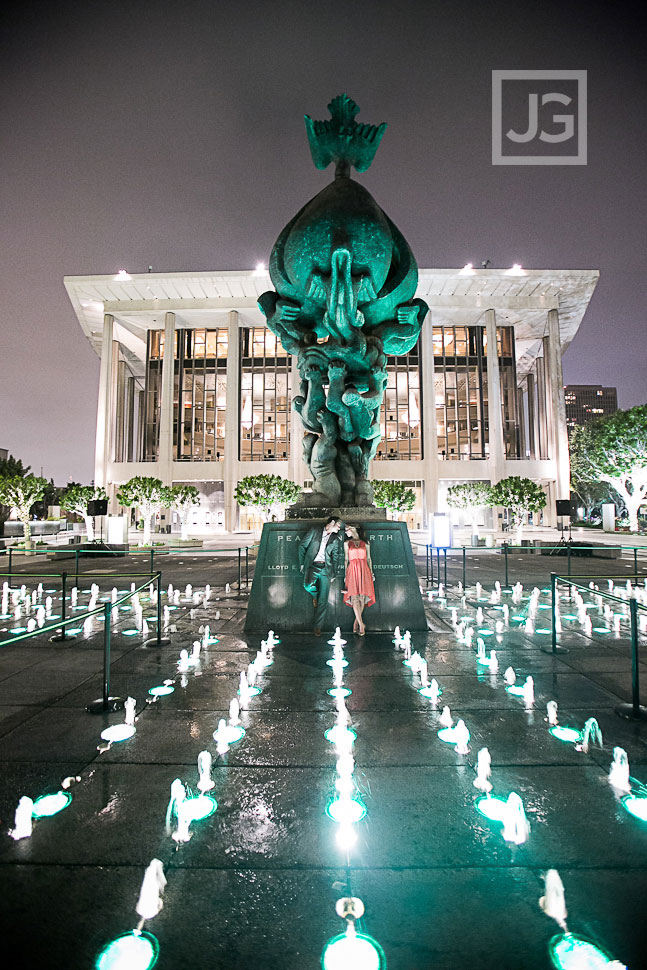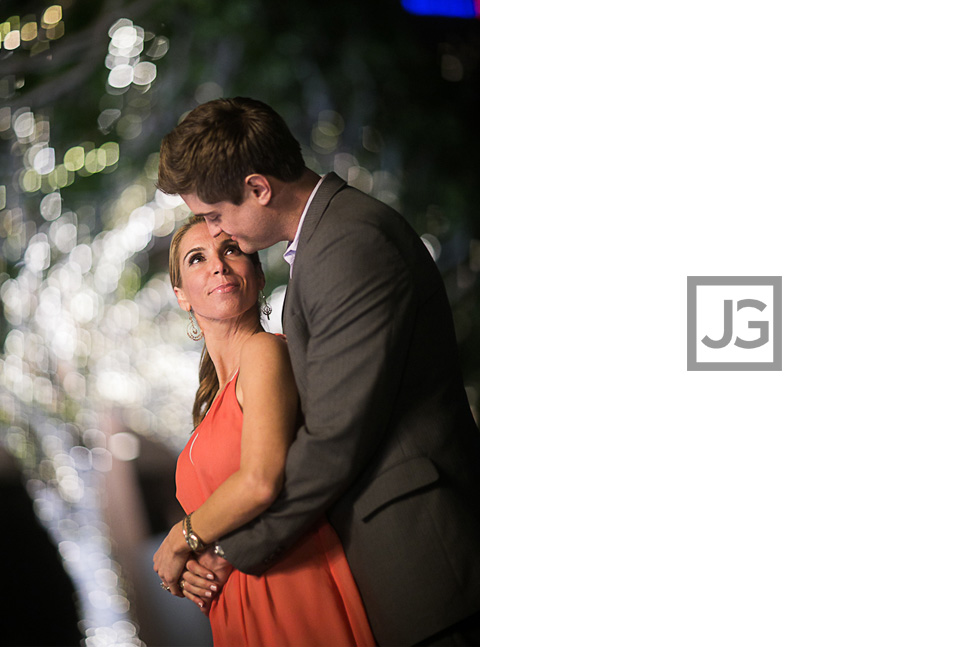 DWP Engagement Photos
That night had a nice layer of fog coming in. When life gives you lemons, I like to make Limoncello. Judy and I have always tried to use weather to our advantage.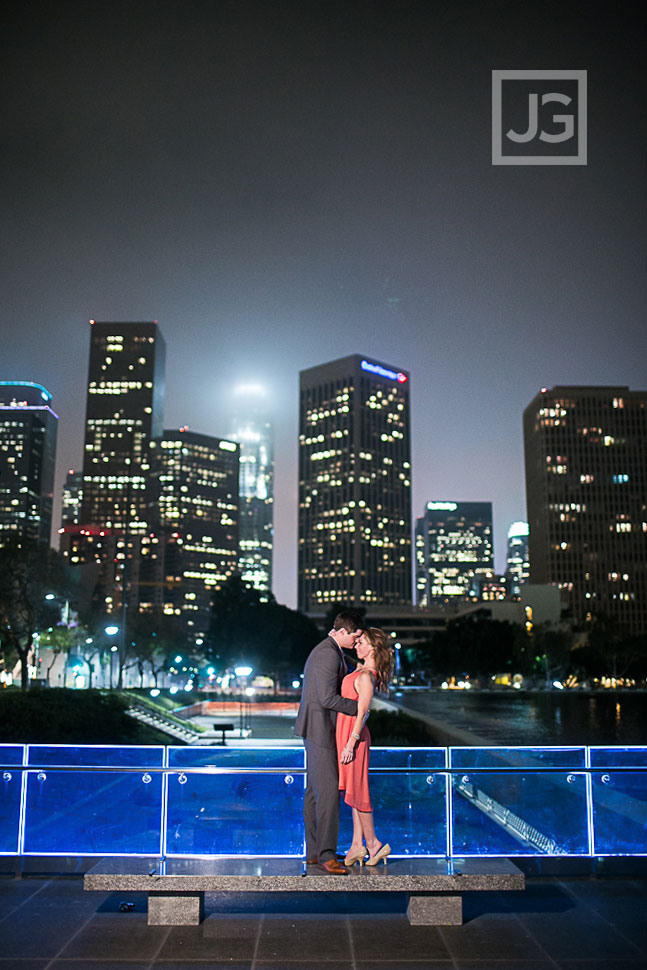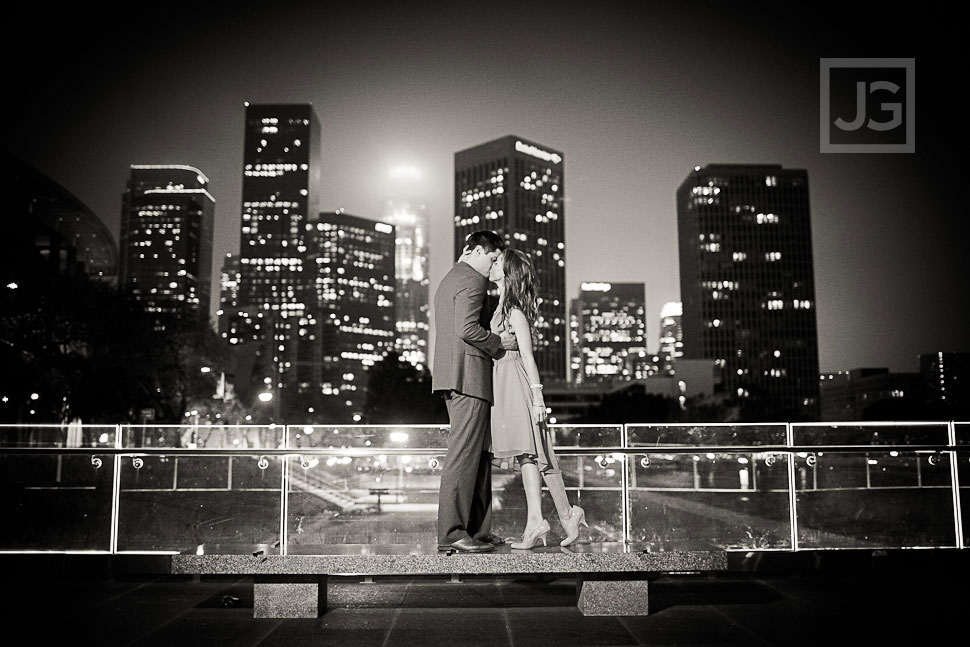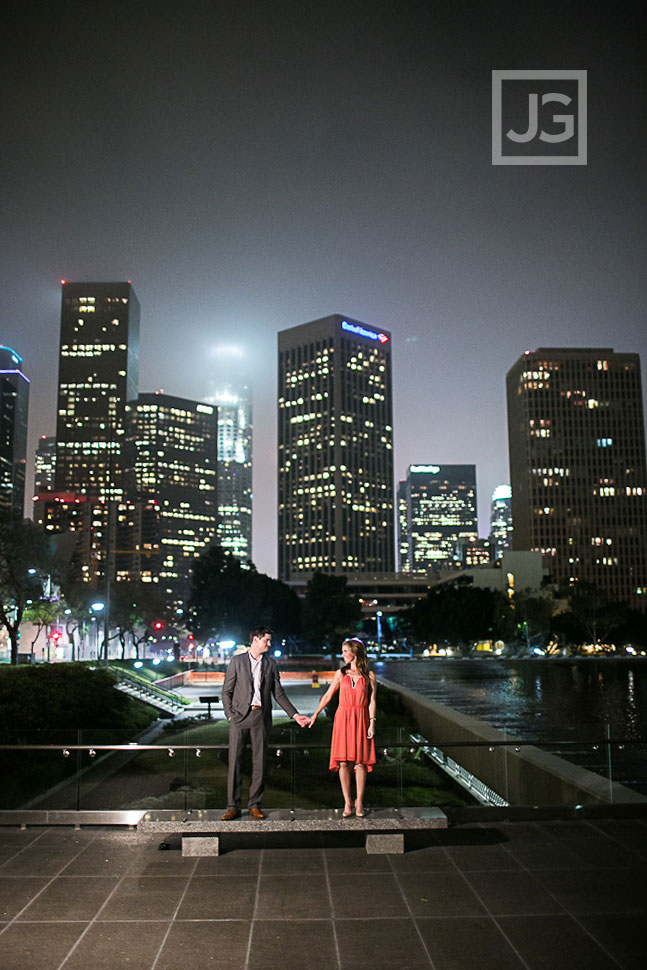 Water Fountain Engagement Photos
After this Shanine hopped into a gorgeous white gown to finish off the shoot.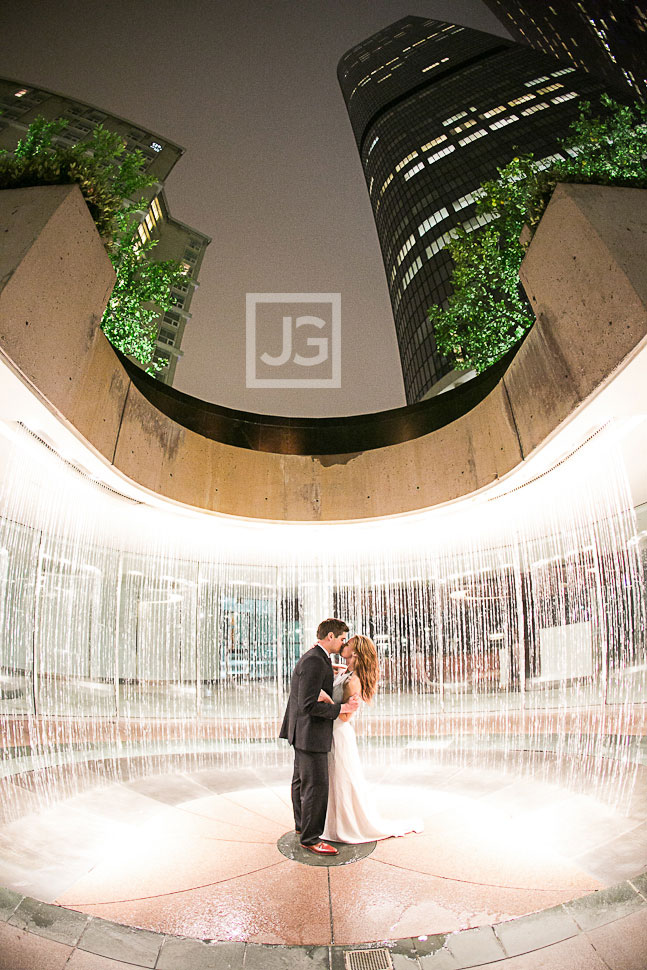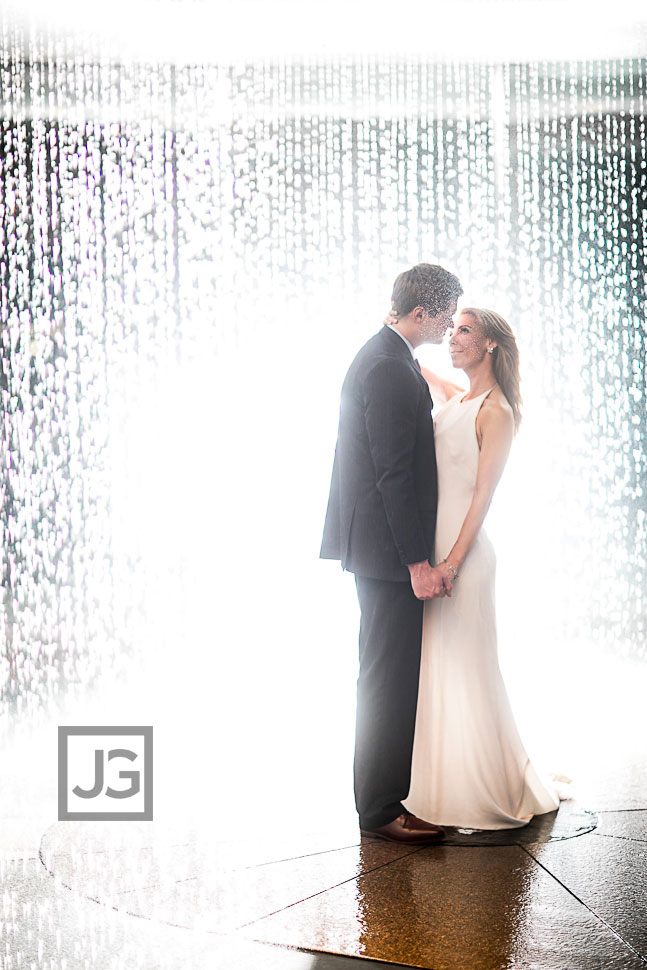 I think this is one of my more favorite images from the shoot. I see many different poses, statures, hugs, kisses, and mannerisms in my many couples. This one struck me, since I didn't have to ask them to be tender to each other in this way.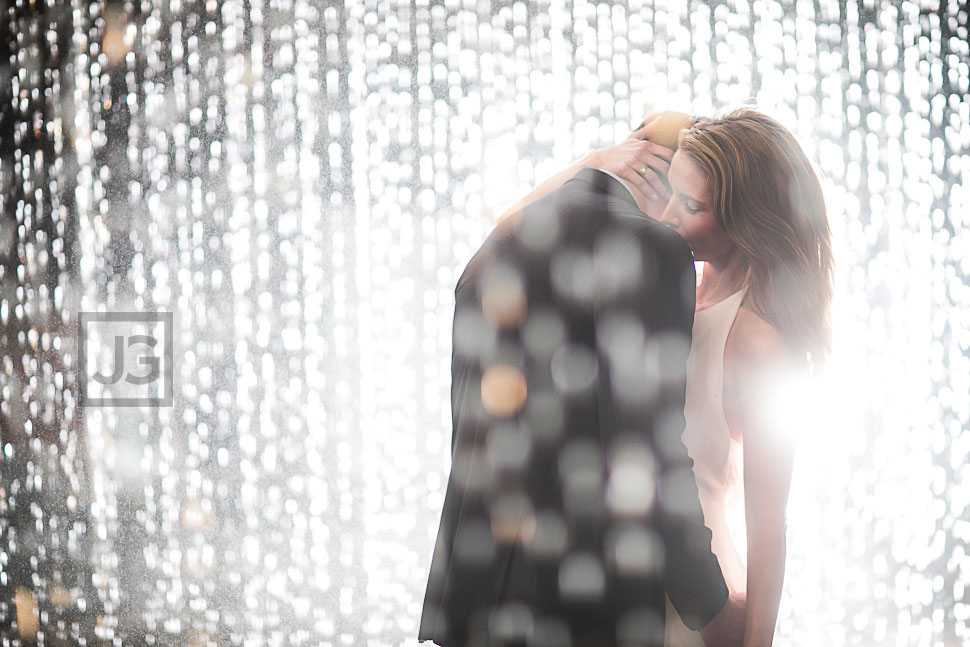 Ron works for Wells Fargo (he is a district manager up in Oregon, I believe), so we had to get a photo in front of his old workplace. This image really started pushing the limits of the camera. It's at ISO10,000 (yeah, really awesome) at f2.8 and 1/15s, handheld. The JPG compression for our blog doesn't do the image justice, so click here for a 100% crop of the center of the image (this sample is exported from Canon Photo Professional with no post-production at all). Btw at this point the new autofocus system of the 5Dmk3 has been dreamy to work with, nailing almost every single image in the lowest of light.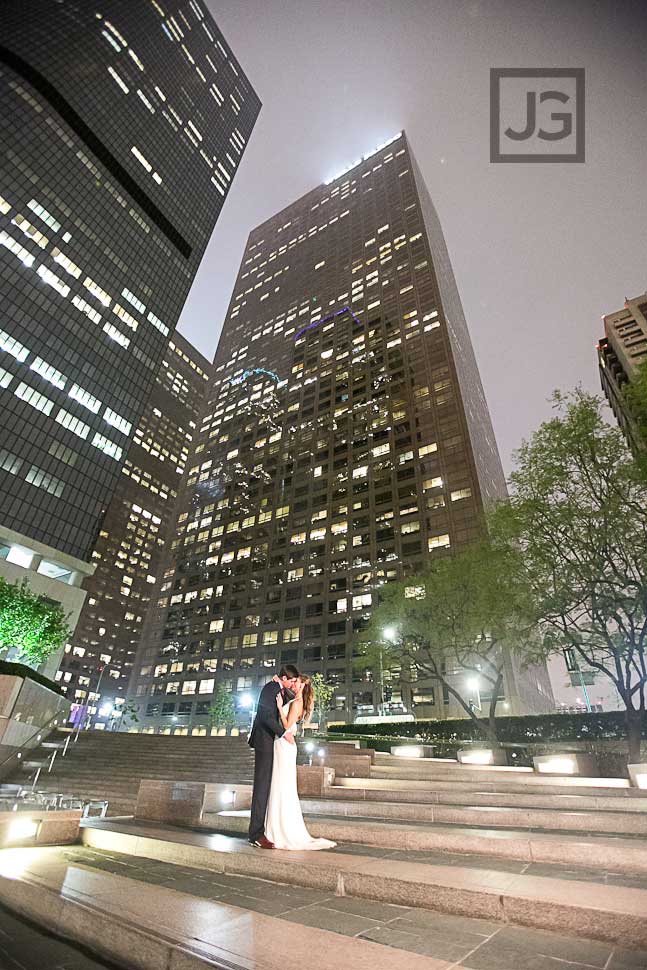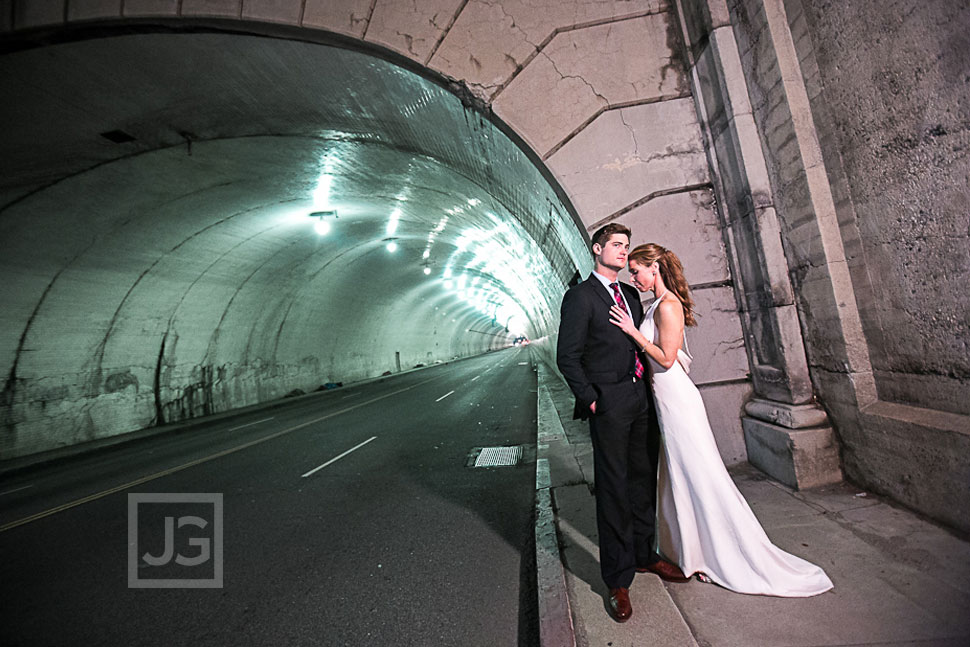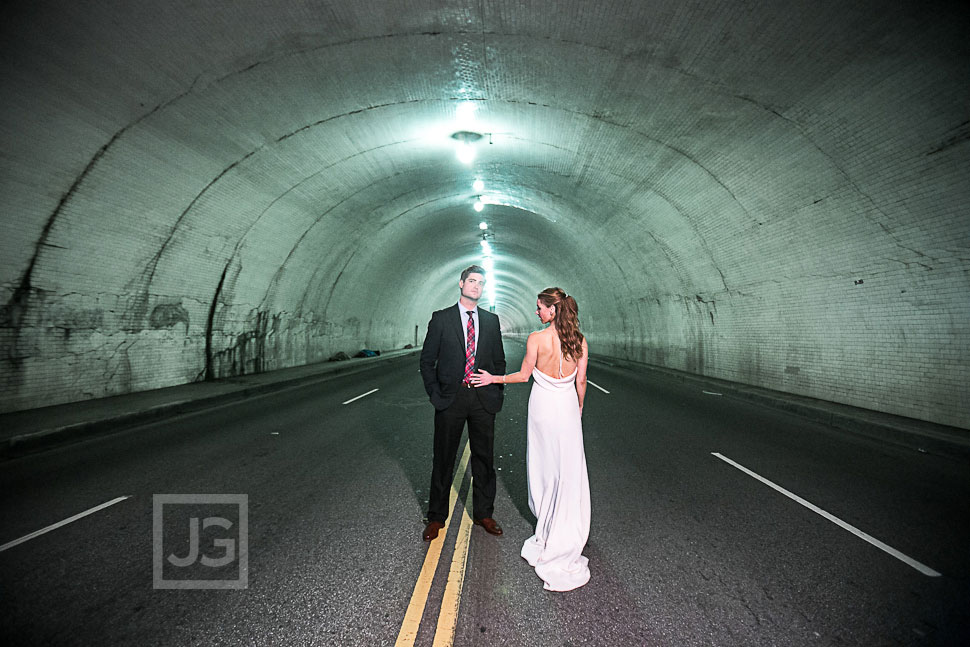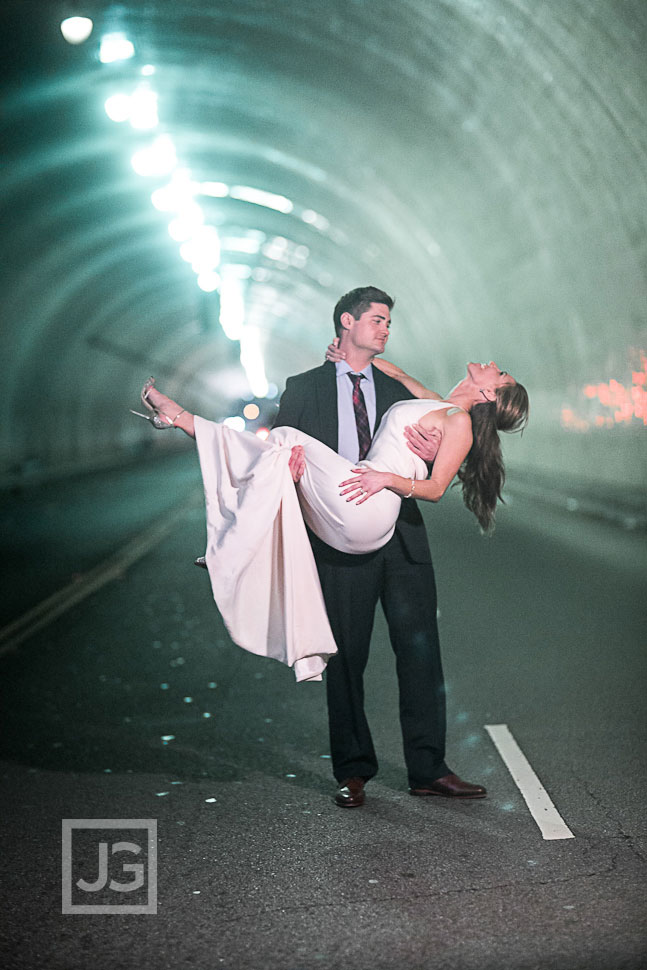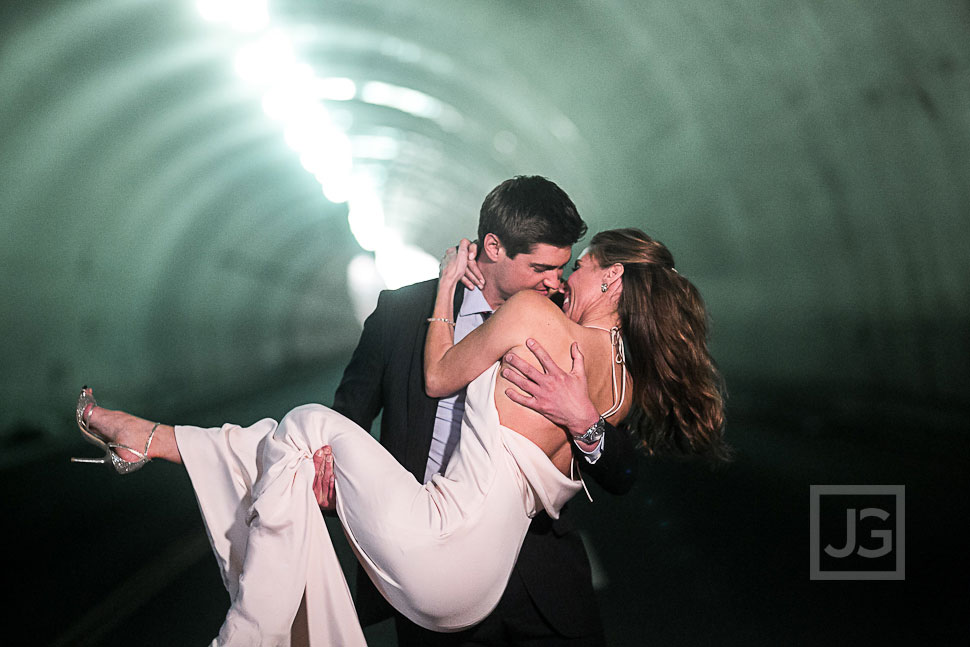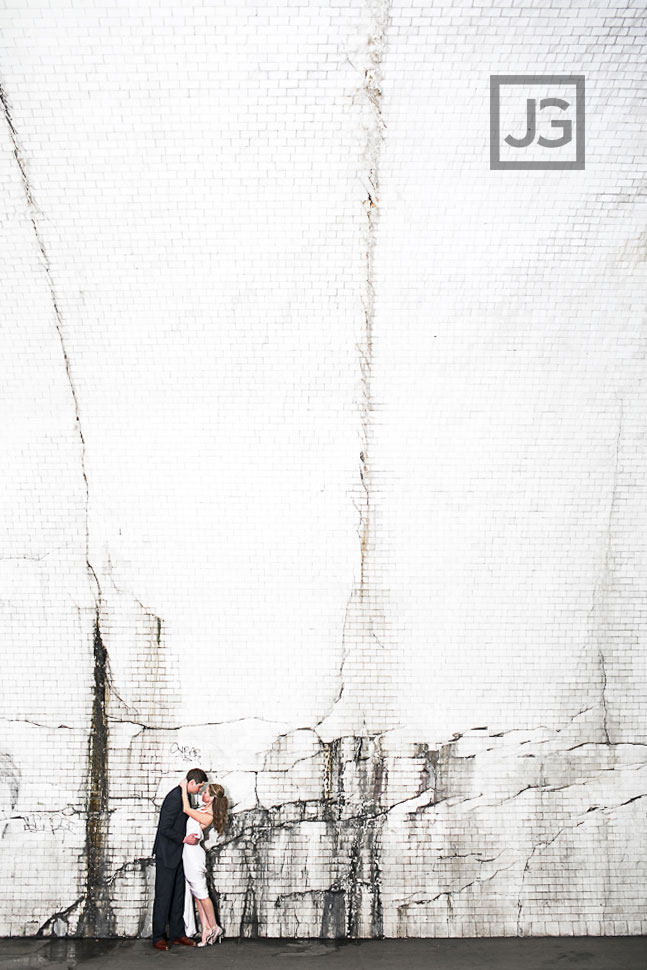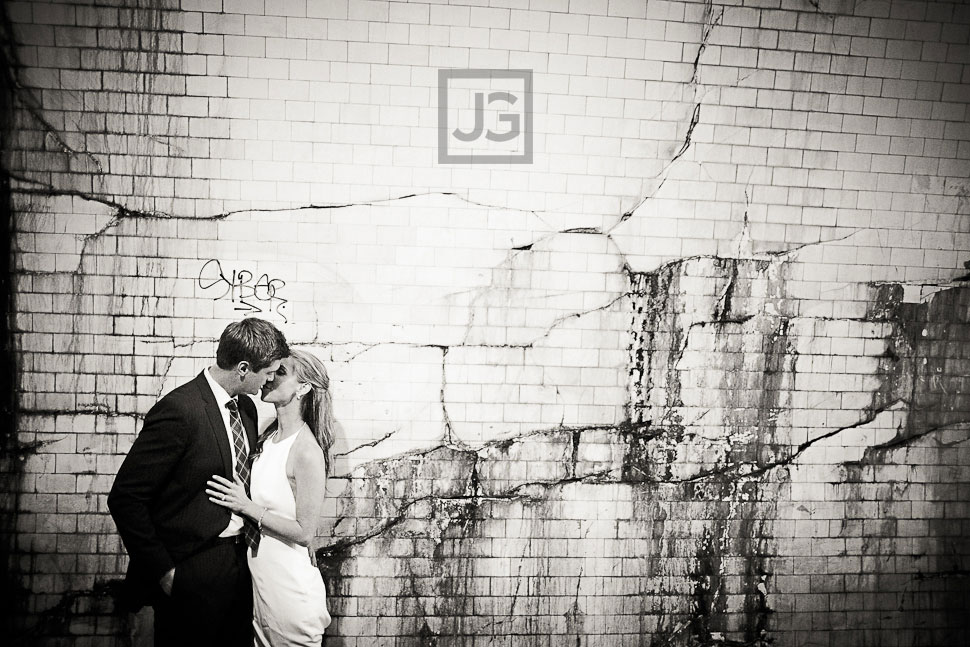 Wow that was an awesome time spent with good people.  It's a great start for our new cameras and a great start for the new photography that we can pull off because of it.
This article shows USC engagement photos, along with engagement photos in downtown Los Angeles. This includes the JW Marriott, The Walt Disney Concert Hall, the DWP building, and beautiful water fountains. We also shot at an underground tunnel.