I love doing wedding photography at Casa Del Mar in Santa Monica. The beautiful and luxurious Casa Del Mar has earned it's name "Hotel by the Sea" from it's awesome beach-front location. Having a wedding at Casa Del Mar, allows my couples to not only do wedding photography at Casa Del Mar, but they also have the option of doing wedding photography at Santa Monica Pier as well. One of my favorite areas to photograph at Casa Del Mar is it's grand stairwell in the Lobby. Photographing at Casa Del Mar allows us to create beautiful artistic and contemporary style of photographs.
Ayano and Tubasa had an initiate wedding at Shutters on the Beach and then a reception banquet at Casa Del Mar. Shutters on the Beach is Casa Del Mar's sister hotel. Usually, couples can only use one or other but never both wedding venues on the same day. It's awesome that Ayano and Tubasa tied the knot on a Monday and therefore they got the best of both worlds. Shutters on the Beach offers an outdoors beach front wedding ceremony and Casa Del Mar's Colonnade ballroom offers a classy and majestic ambiance.
Their wedding was definitely one of our favorites!!  They were such a fun, FUN group to be around and I can't get enough of their silliness!!  You'll see what I mean when you browse through their wedding pictures at Casa Del Mar.
Wedding Preparation at Casa del Mar
This is my first time seeing a black diamond and it's so beautiful!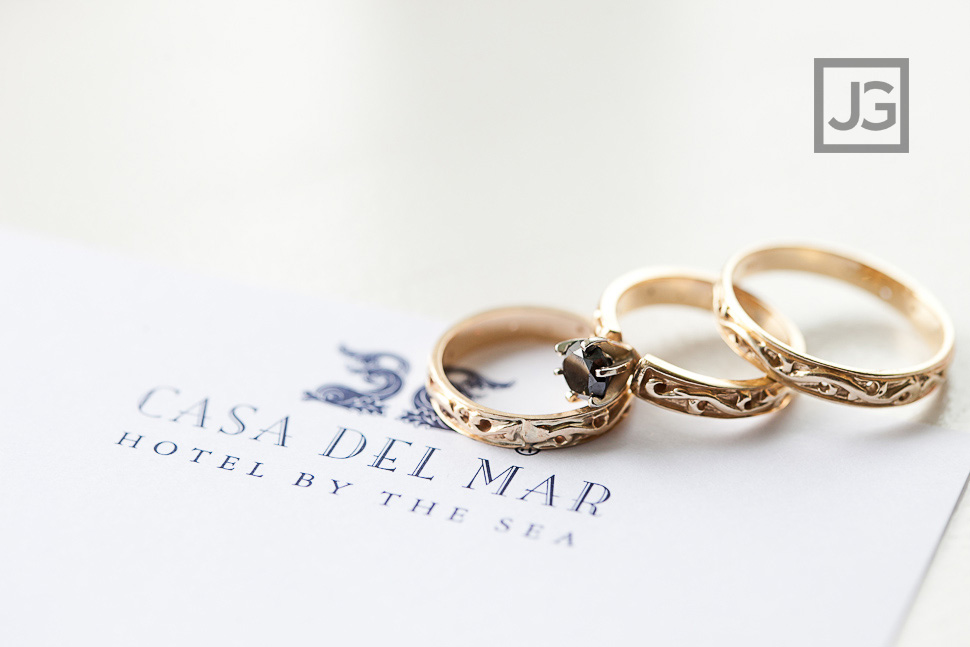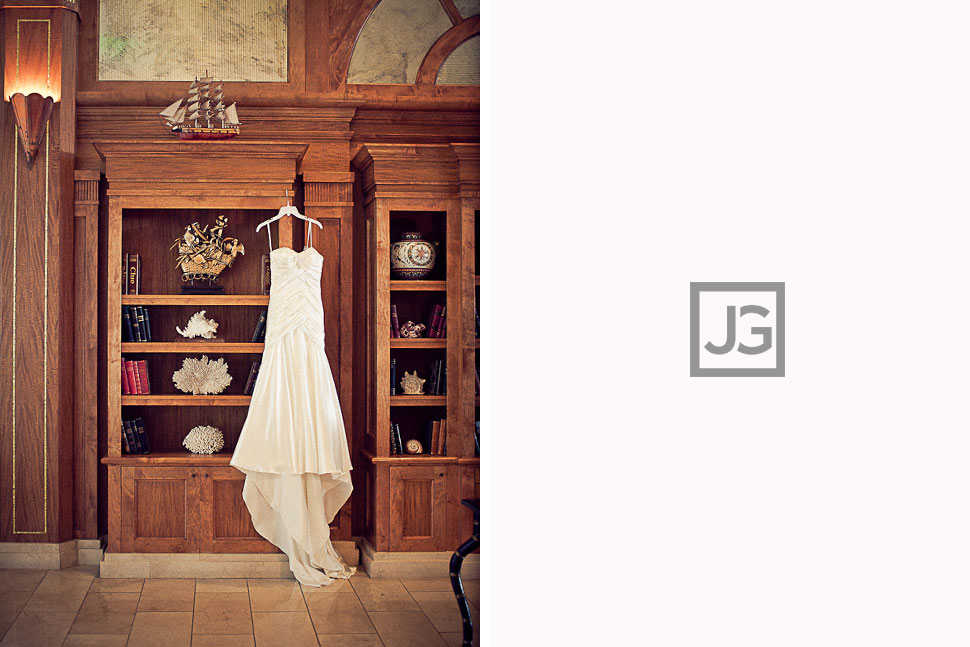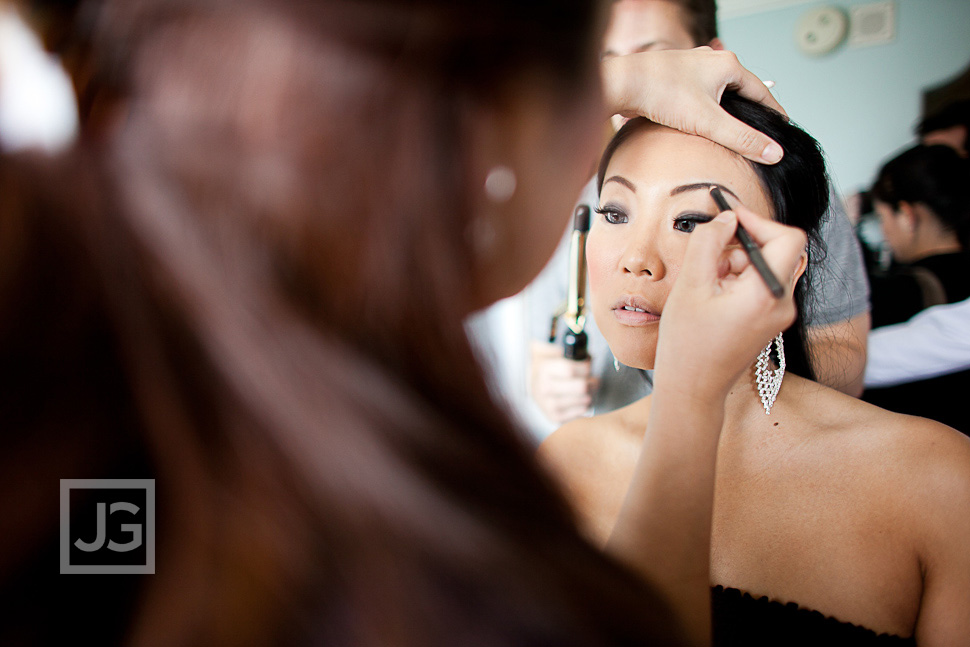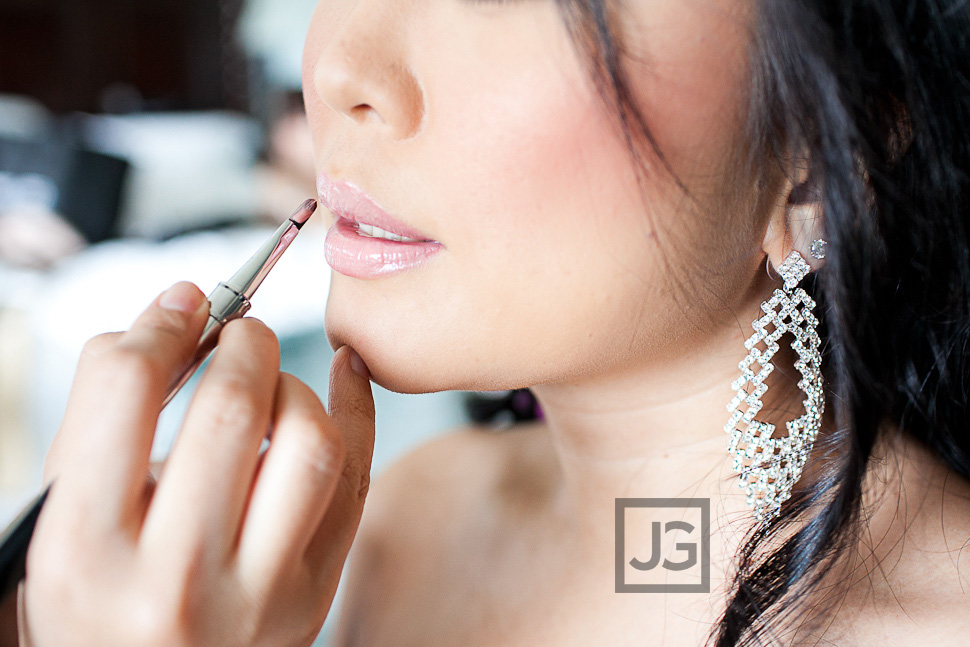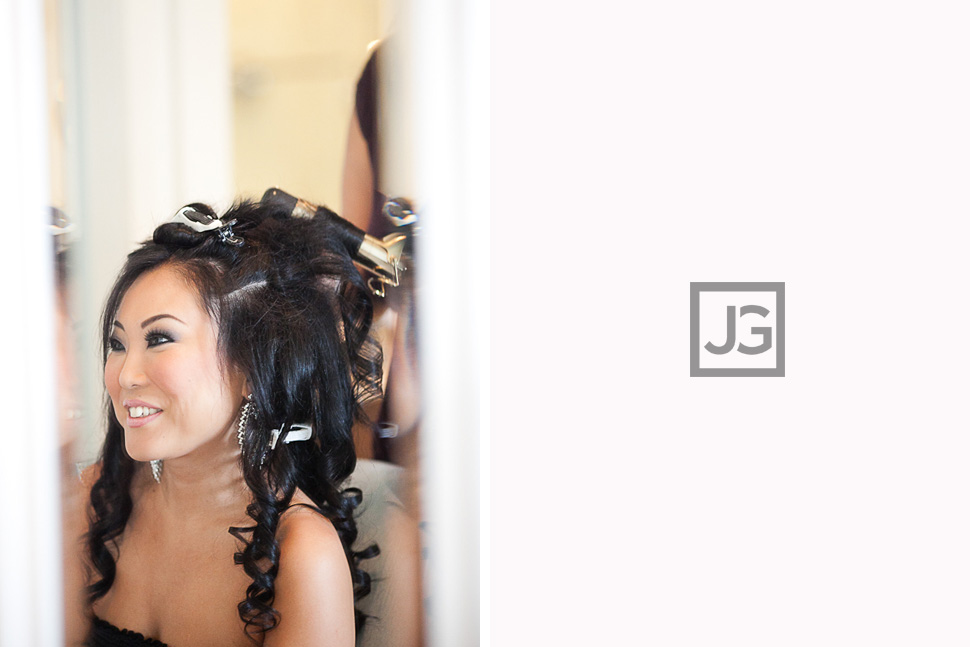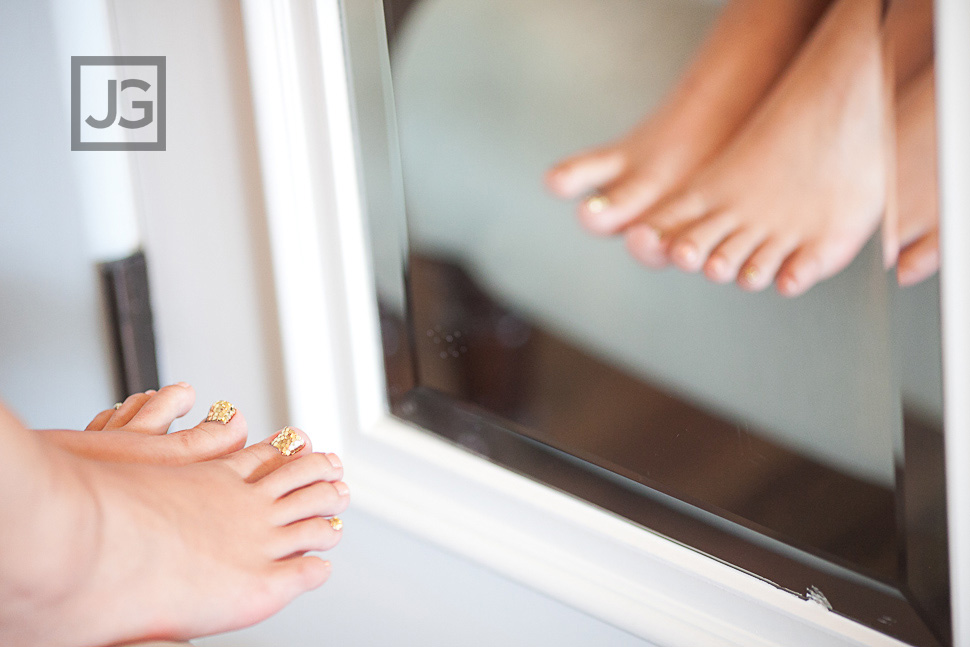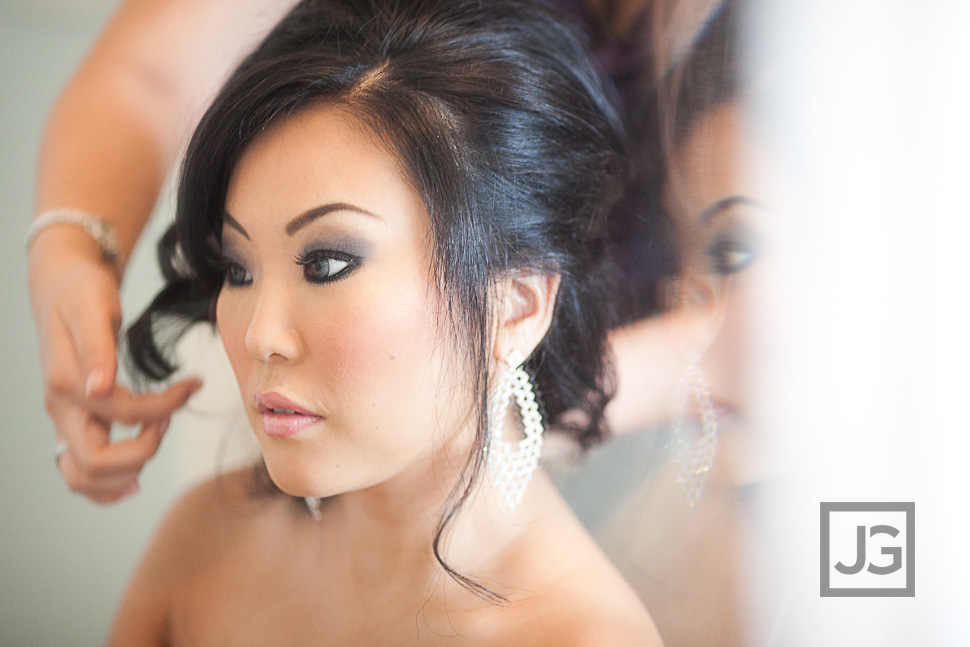 Tubasa is in the military and his groomsmen were all military boys as well. They all are such a ham!!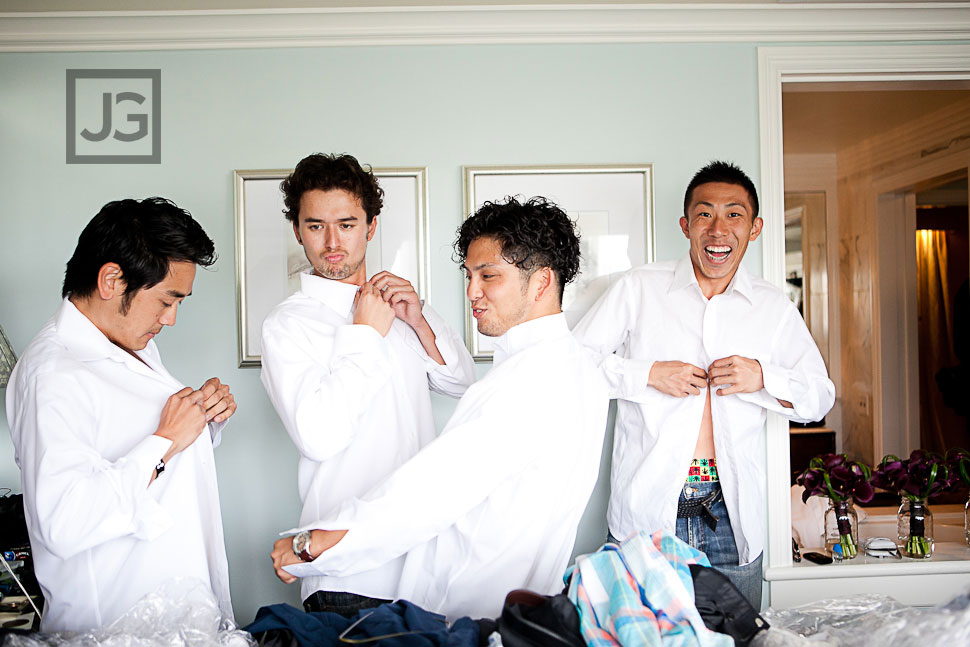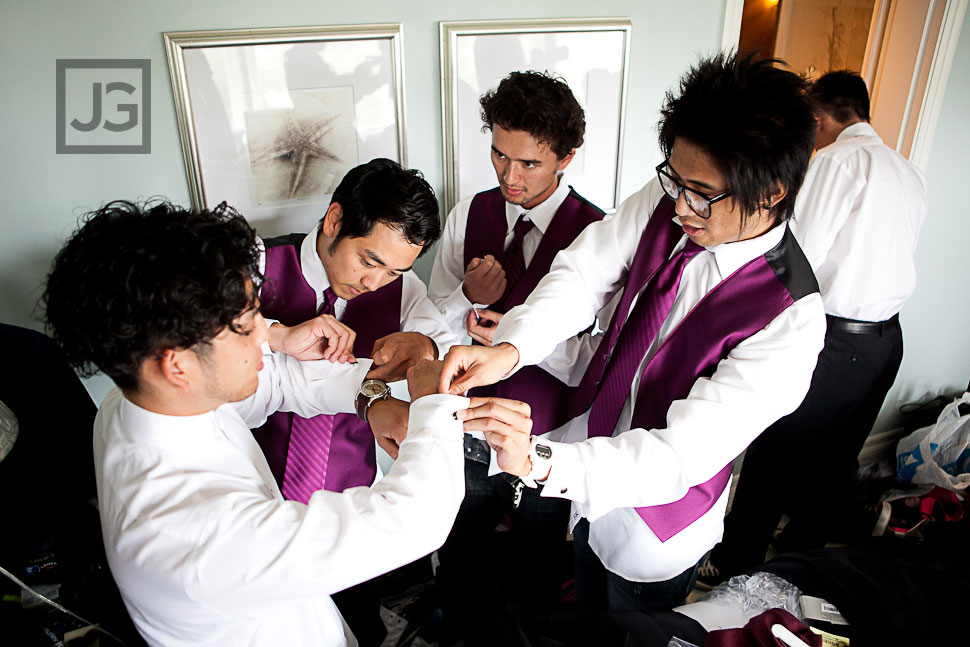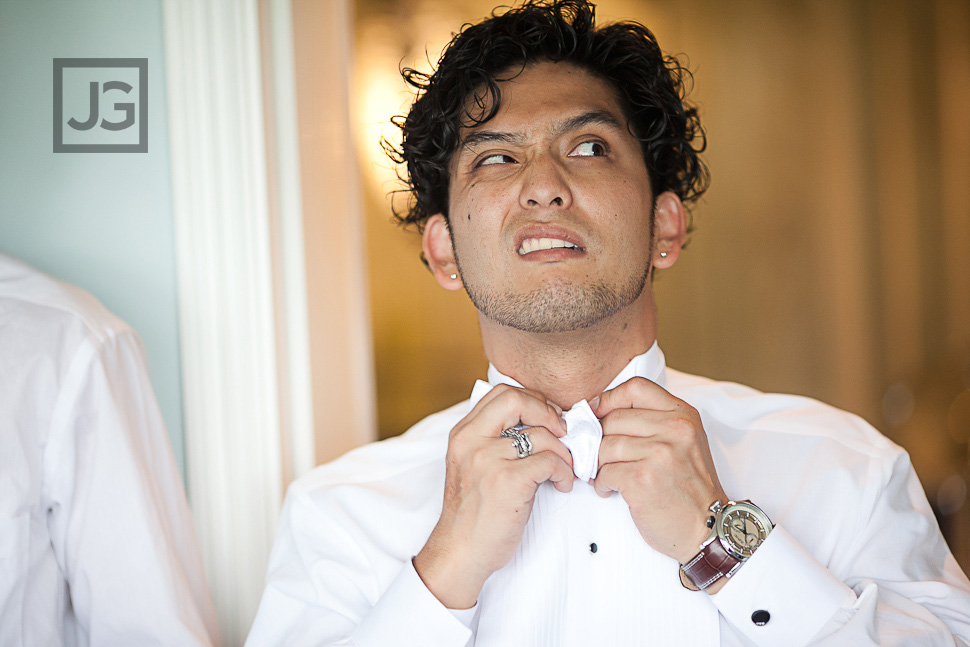 One minute they are nice and well-behaved…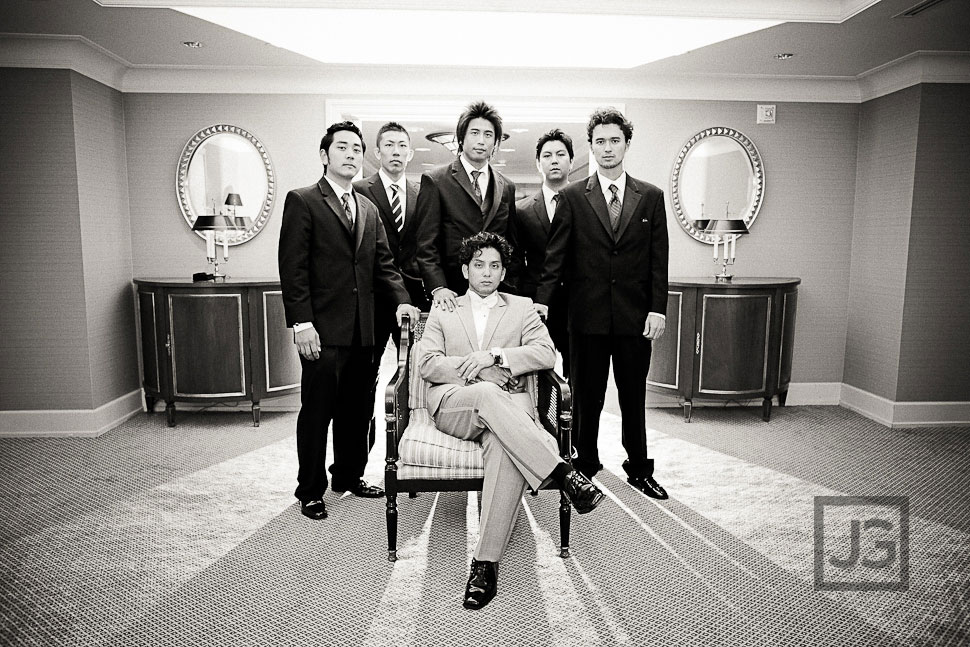 and the next minute… boys will be boys!! Poor Tubasa is being jumped here!! LOL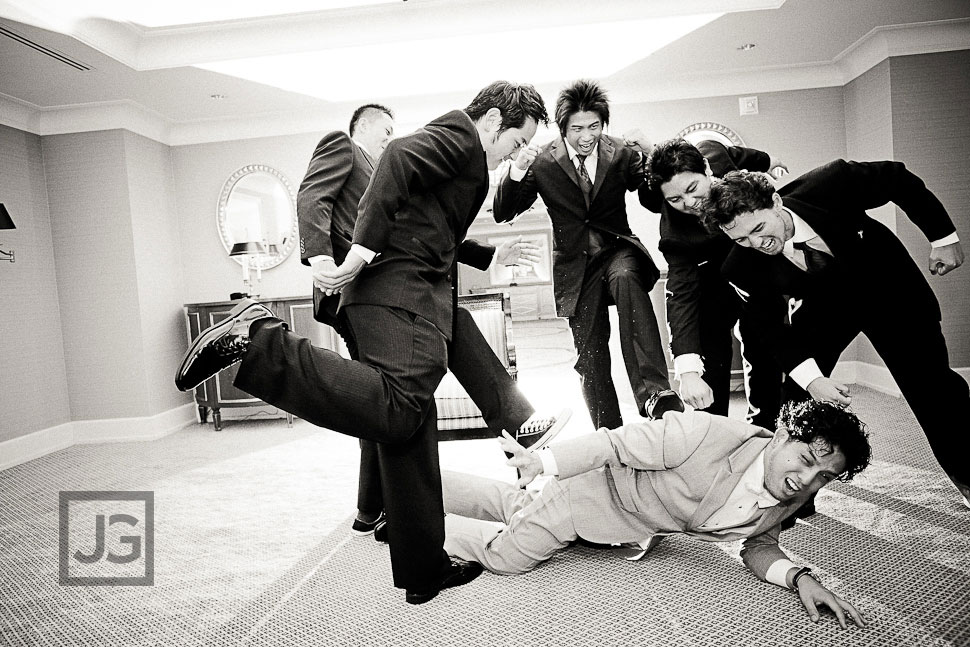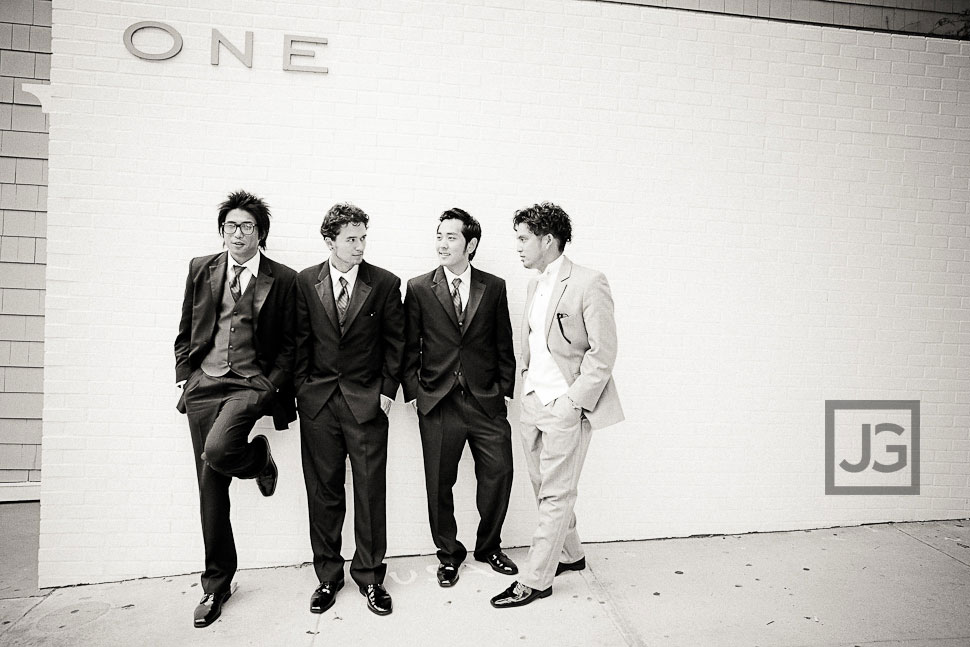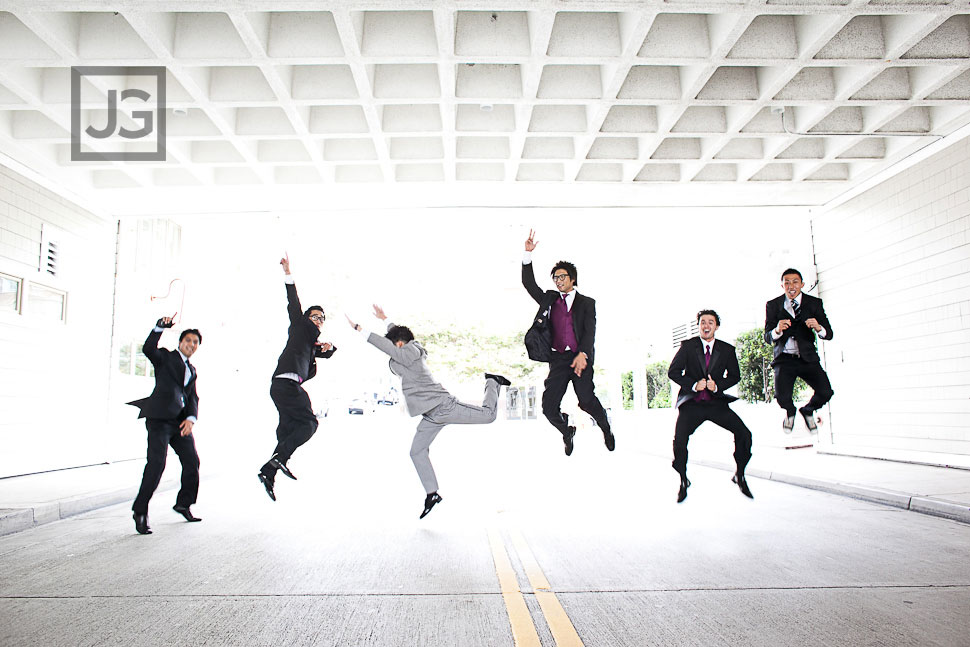 Tubasa got all the boys glasses! I love this picture of him "selling" the glasses on the black market! I'm tell you.. they're all goof-balls.


The awesome thing about our husband and wife team is that we are both lead photographers. Gavin can go with the boys to get their silly, goofy, portraits while I stay with the girls to make sure no moments are overlooked.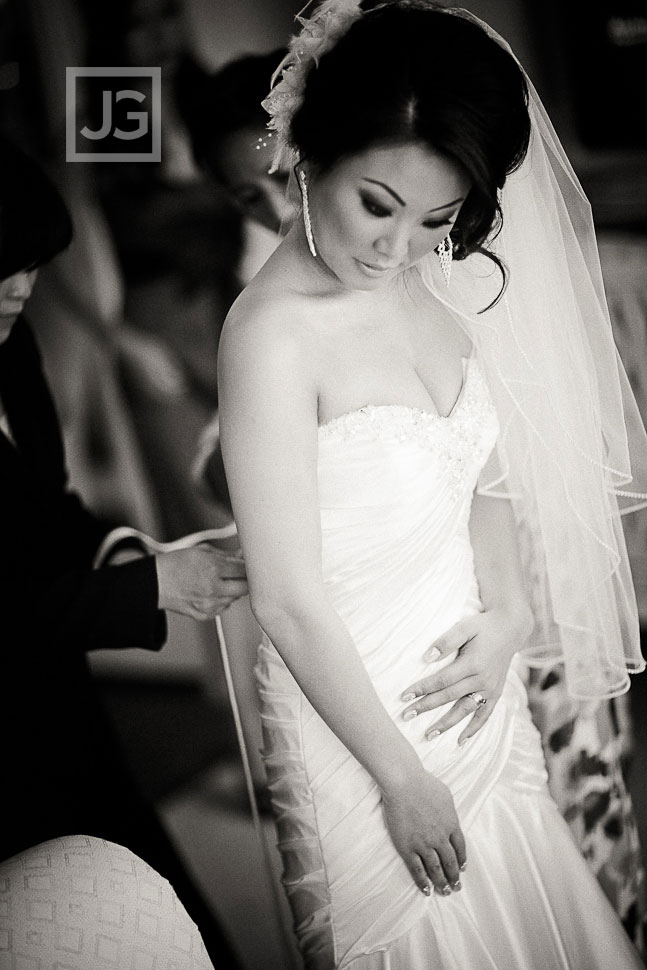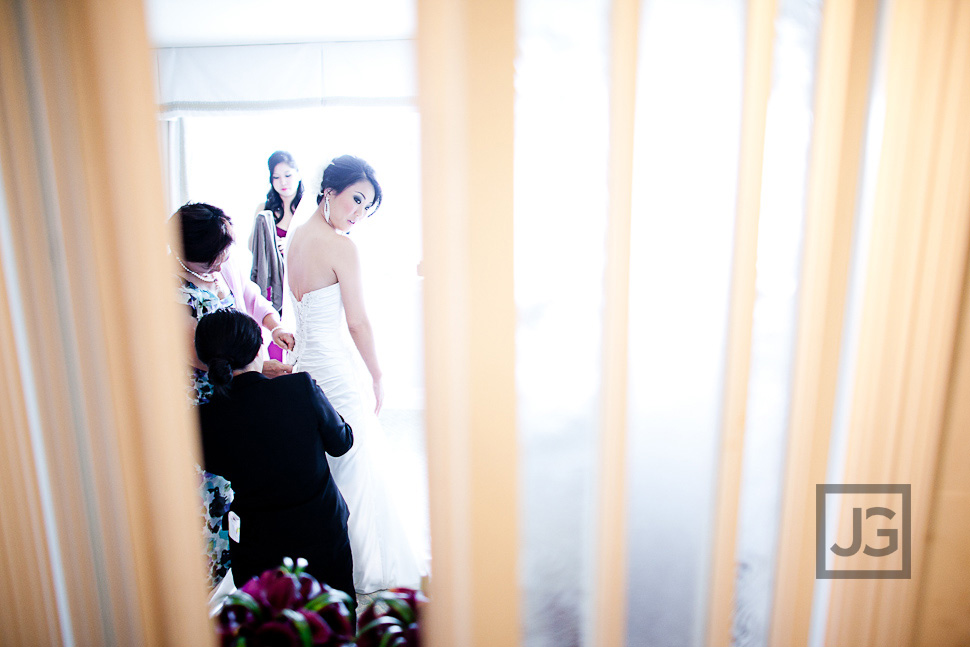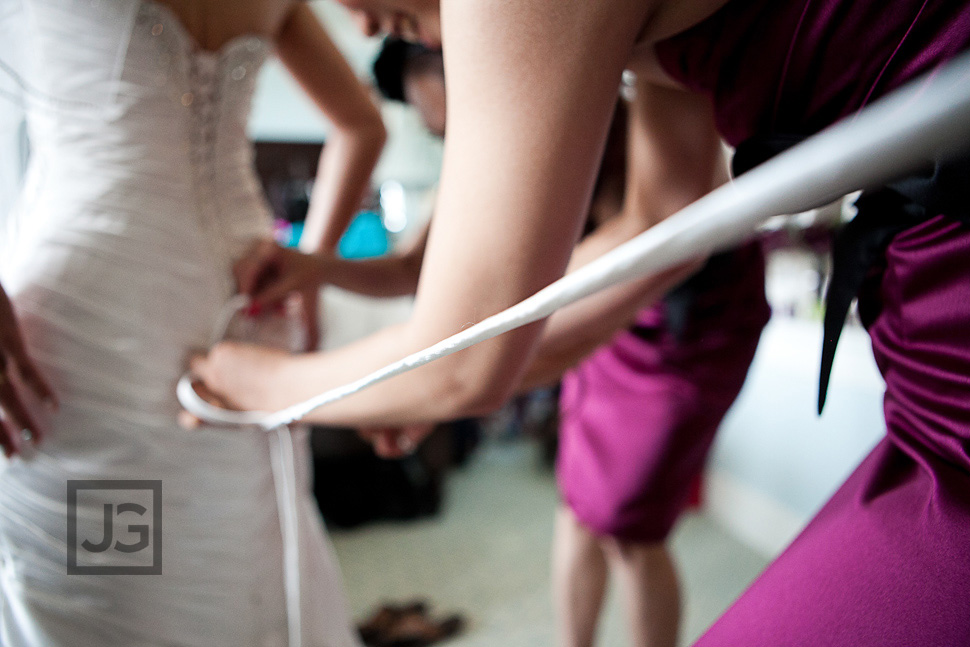 First Look at Casa del Mar
Ayano and Tubasa did their first look in Casa Del Mar's charming lobby.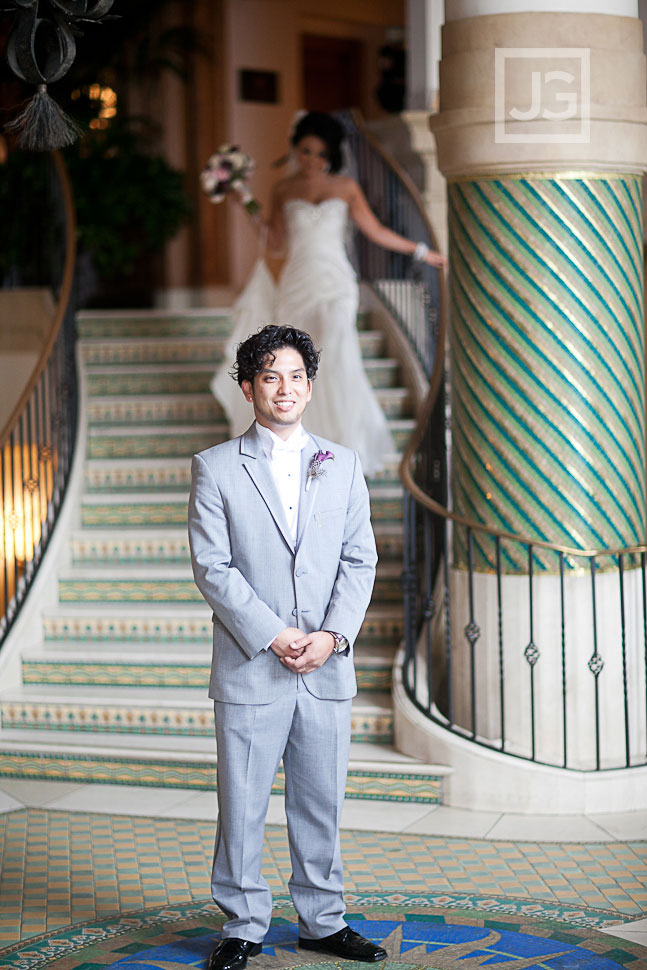 I absolutely LOVE it when my couples are fun and playful. Ayano pinched Tubasa's butt as she walked up to him. Haha
We photographed their bride and groom portrait session around Casa Del Mar and on the board walk.
Santa Monica Wedding Photography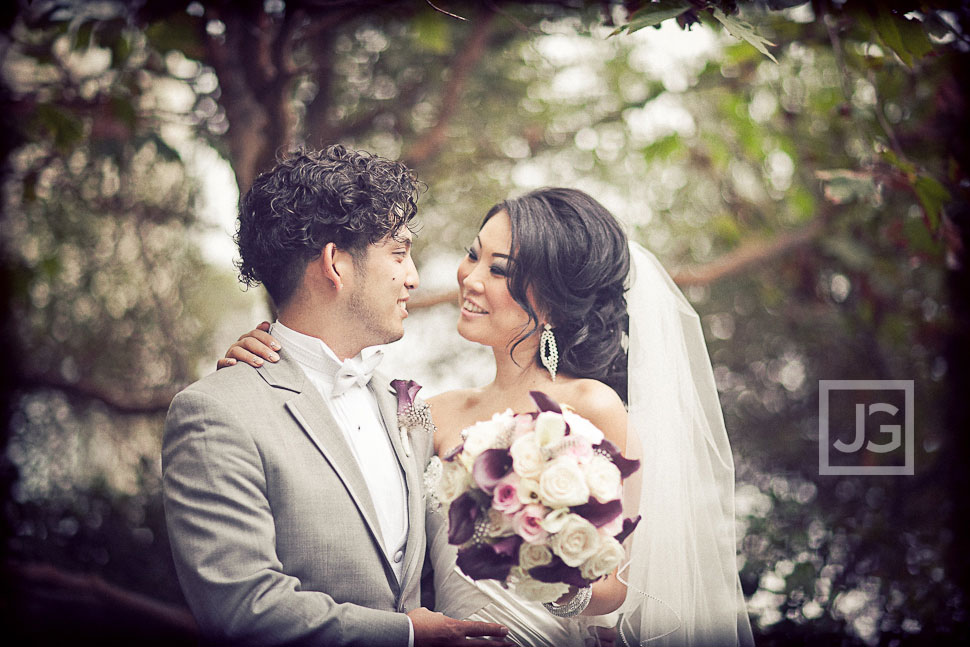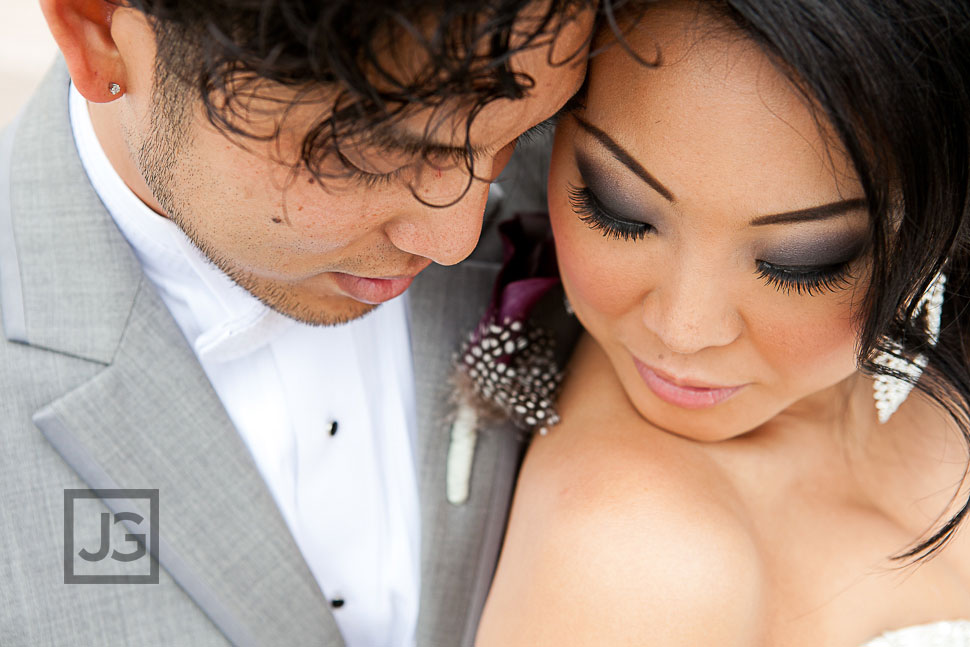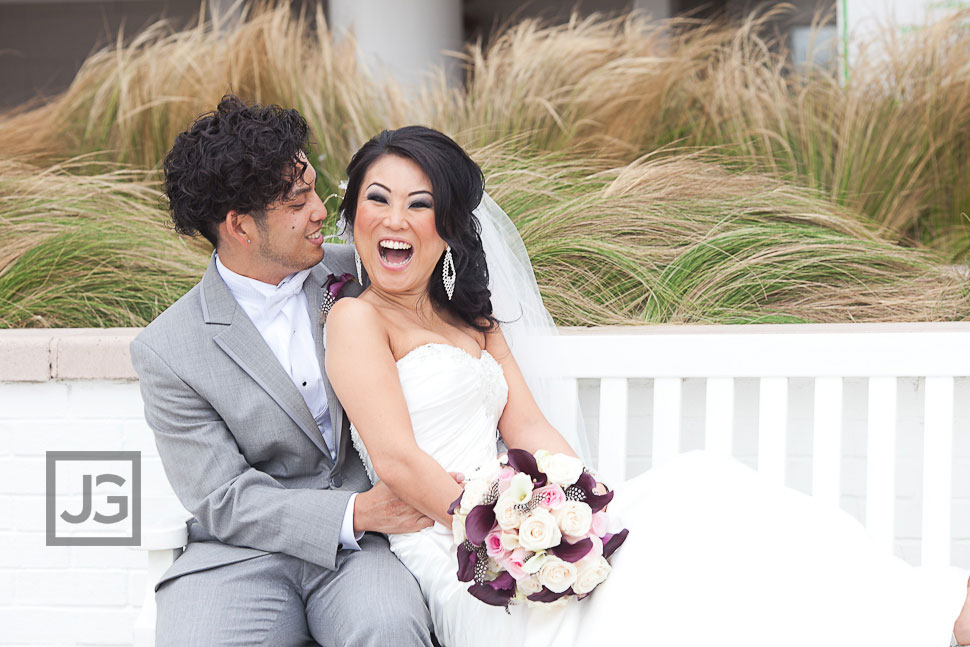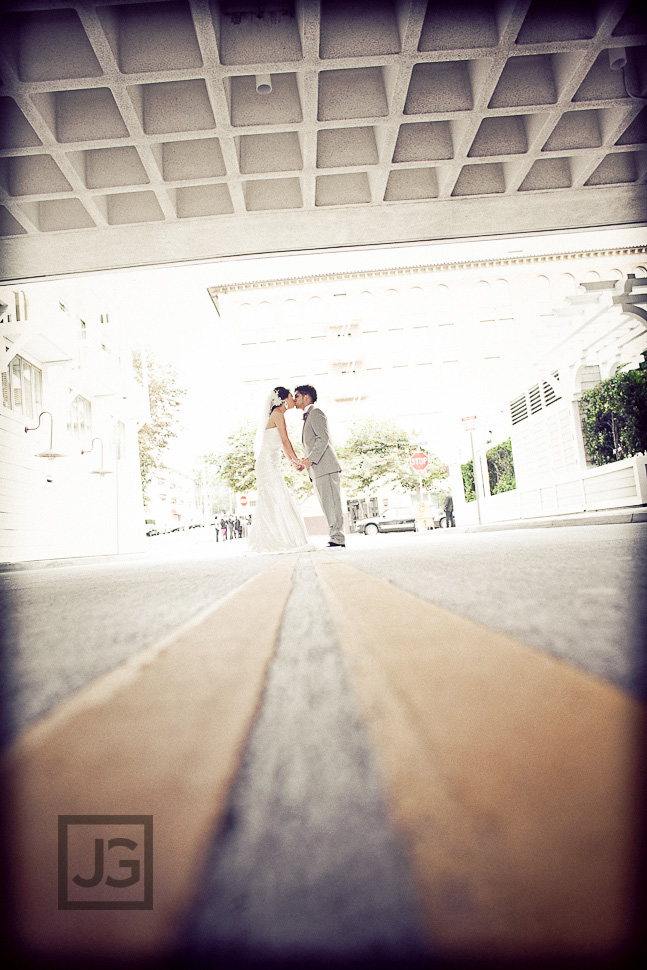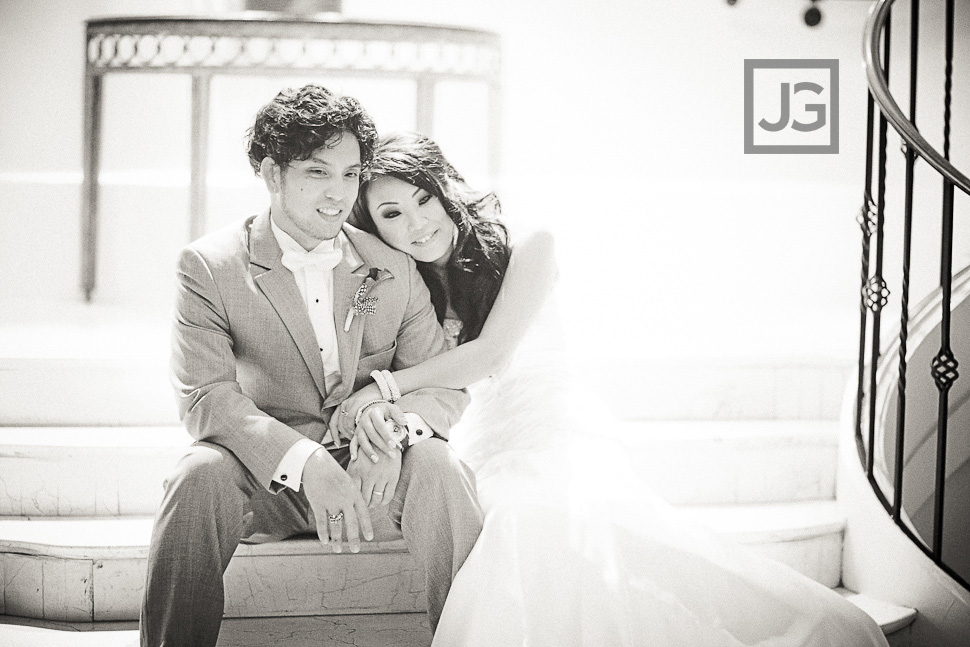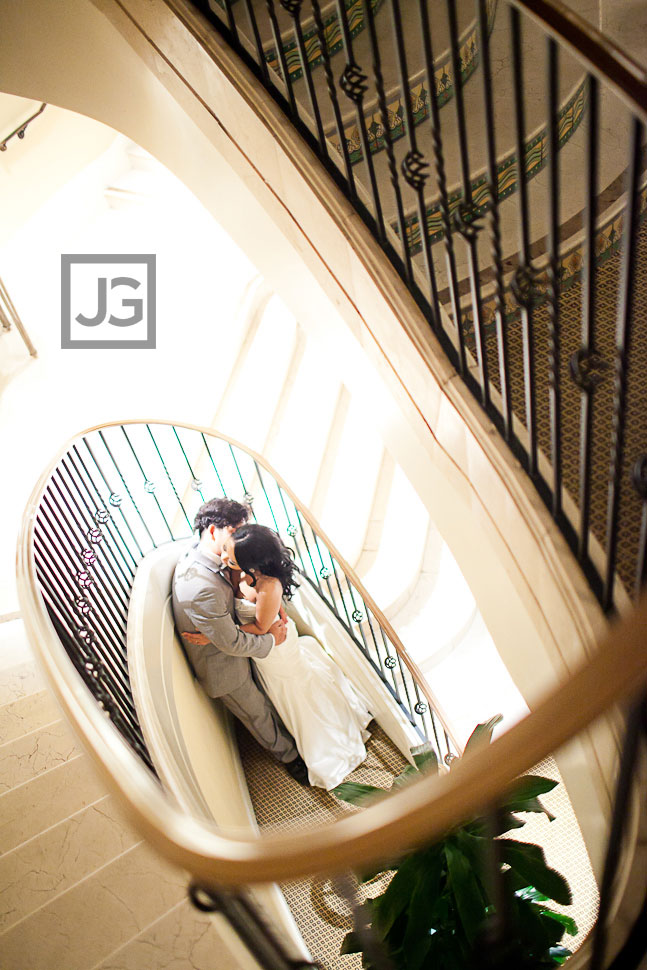 I love this group!!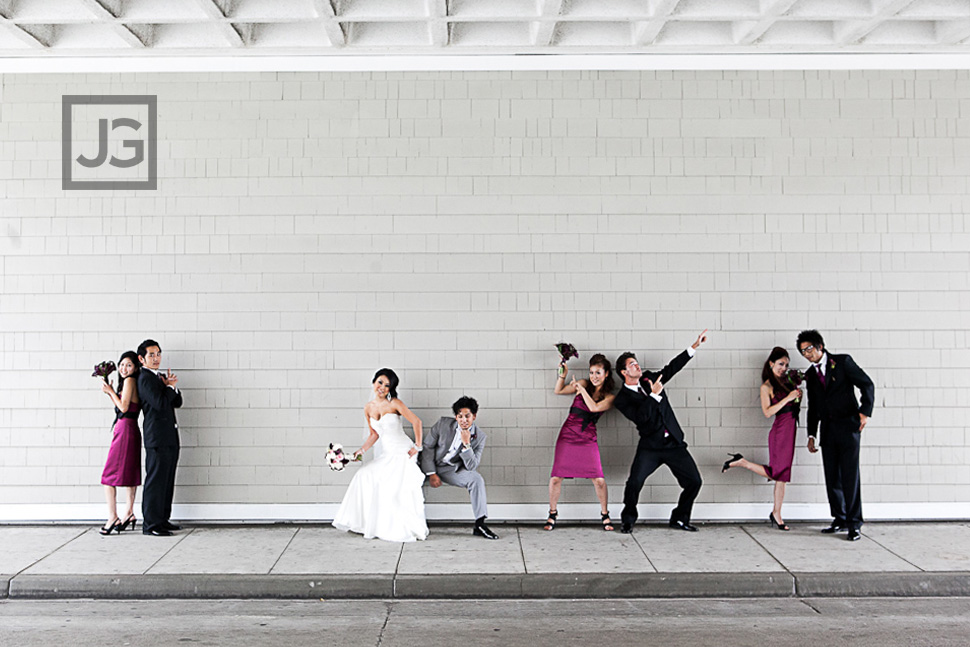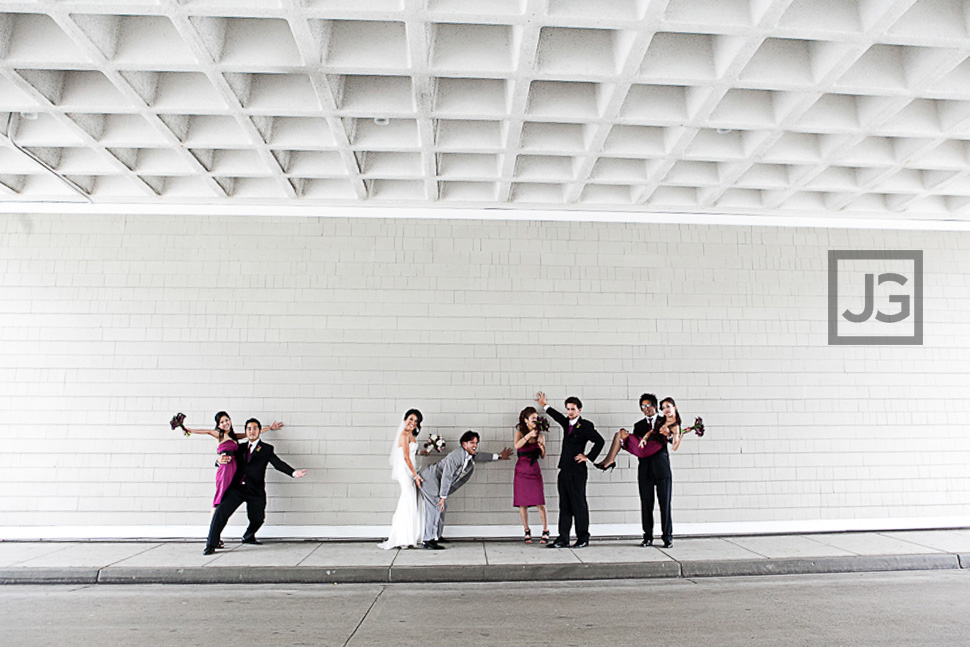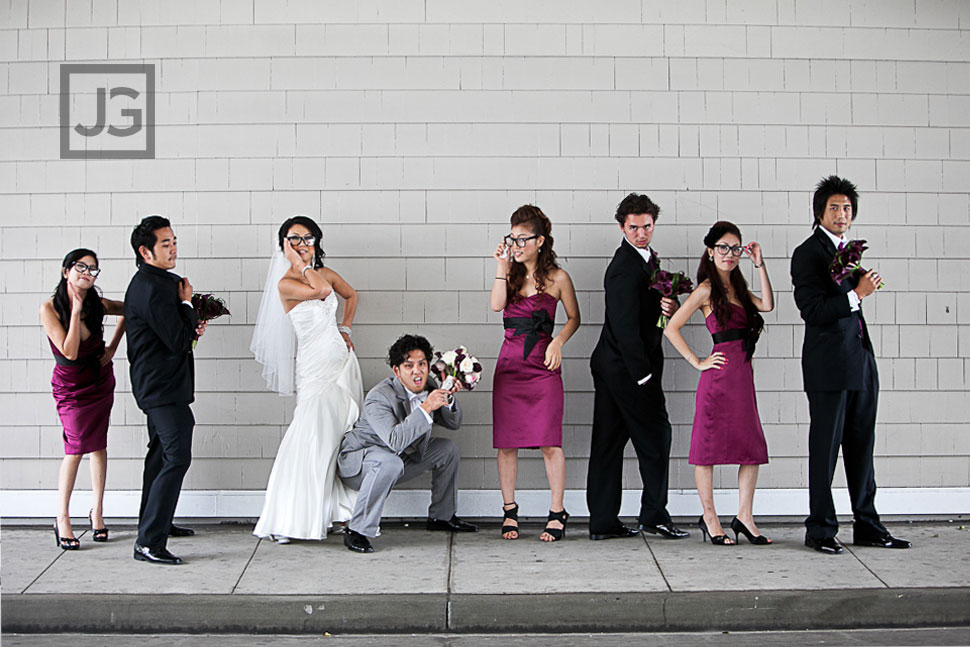 Shutters Wedding Ceremony
Because they had their wedding on a weekday, they were able to do the rarest of things. They had a Shutters wedding ceremony and a Casa del Mar wedding reception. This doesn't happen often, and almost never at all on a weekend.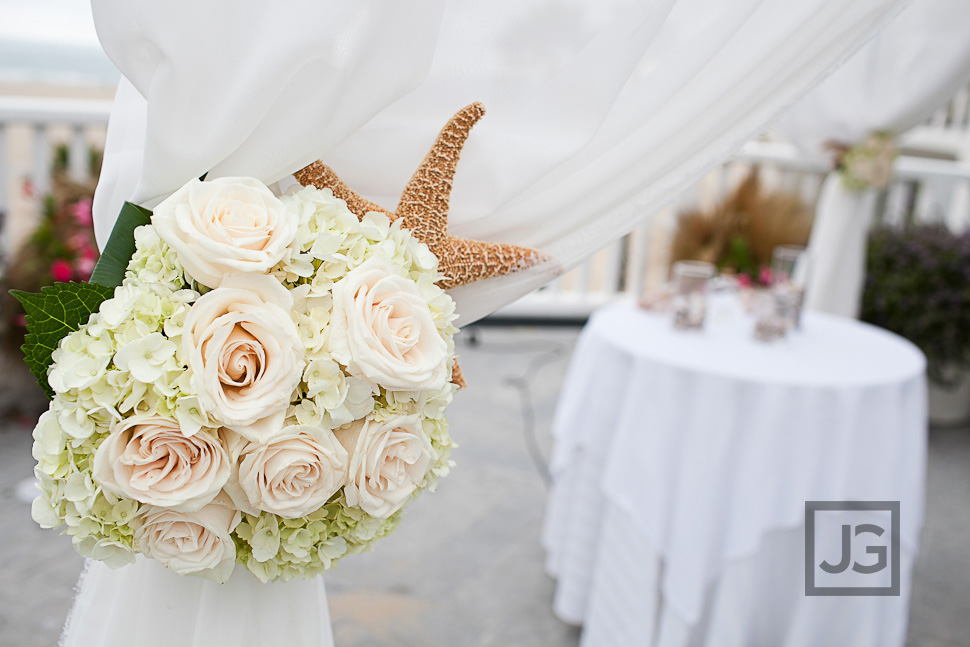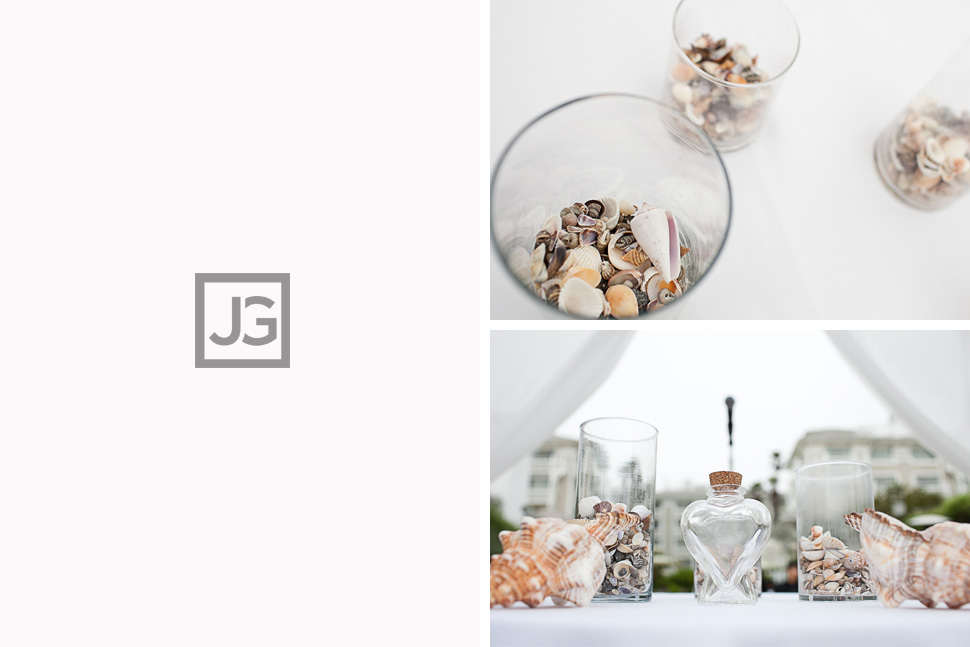 I can't tell if he's laughing or crying!! LOL, we think it's a little of both!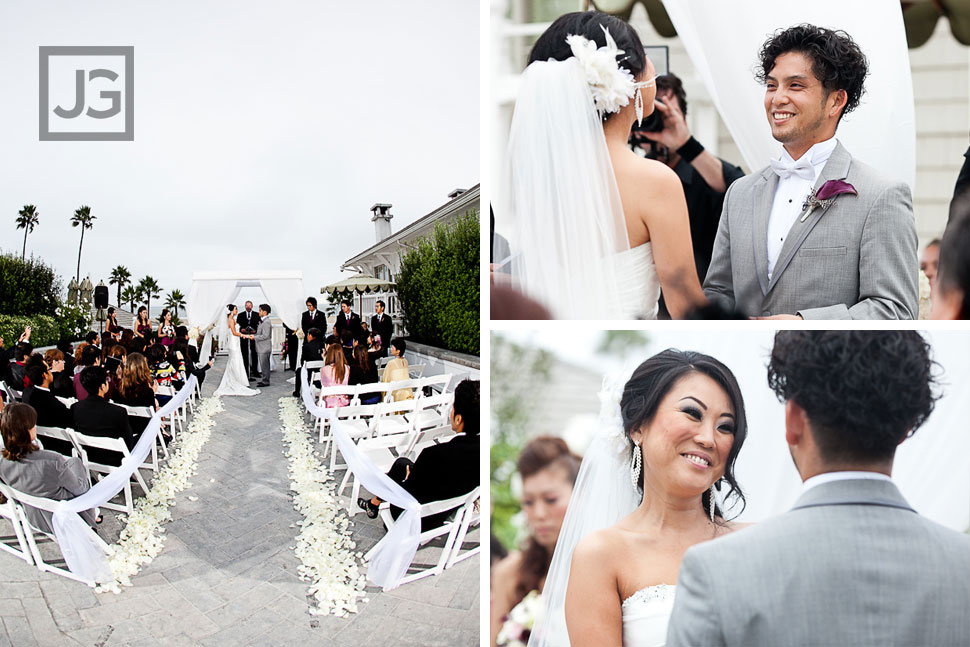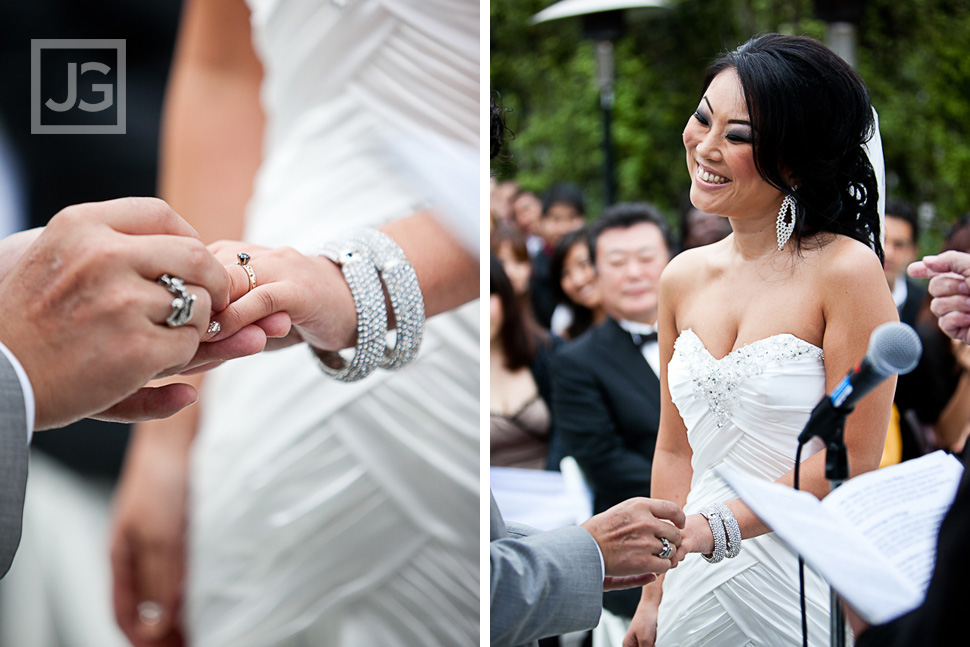 I thought it was really neat that they had a sand ceremony and used seashells to hold the sand! It goes so well with a beach wedding ceremony (at Shutters on the beach).

And the very first (of many) toasts of the evening!!

Casa del Mar Wedding Reception
I absolutely LOVE the lighting in this ballroom!!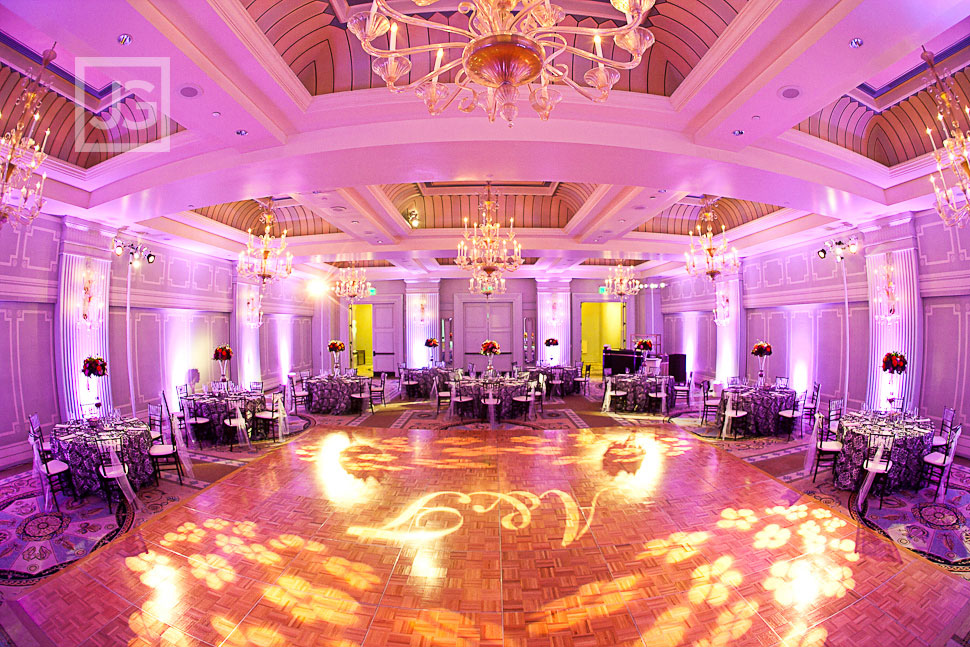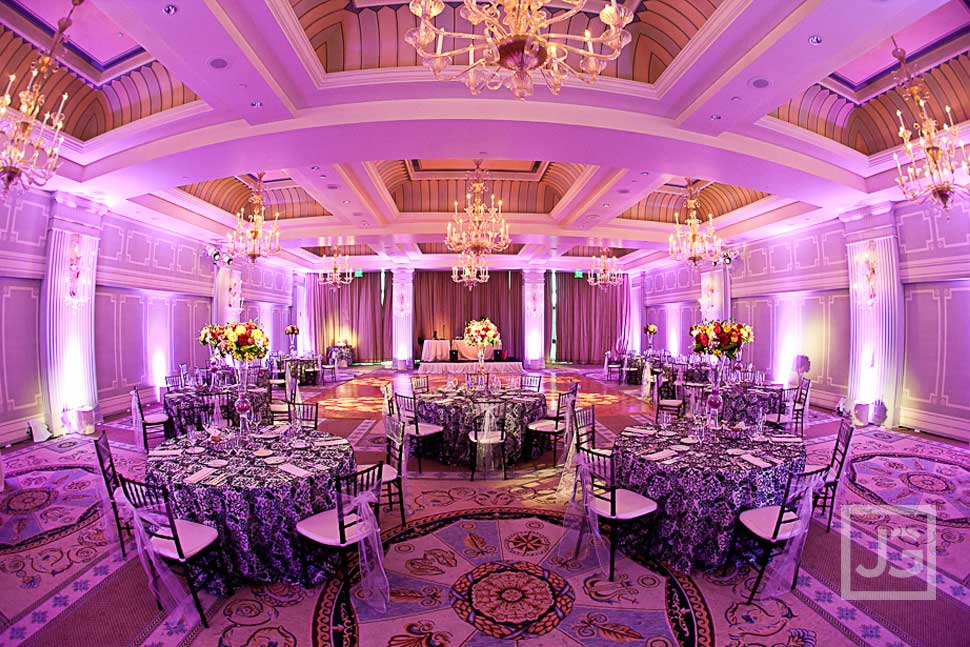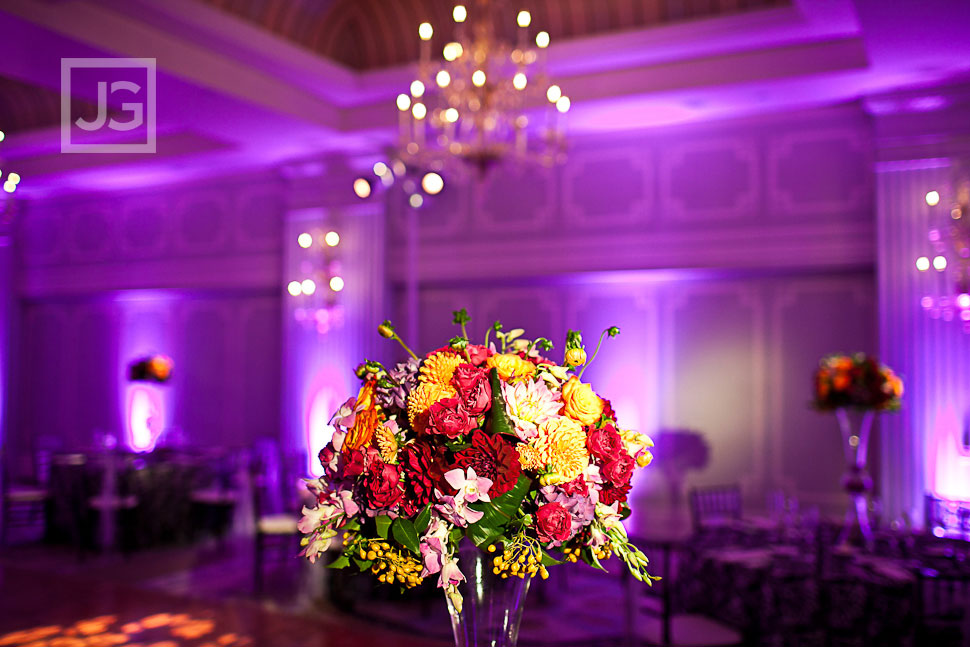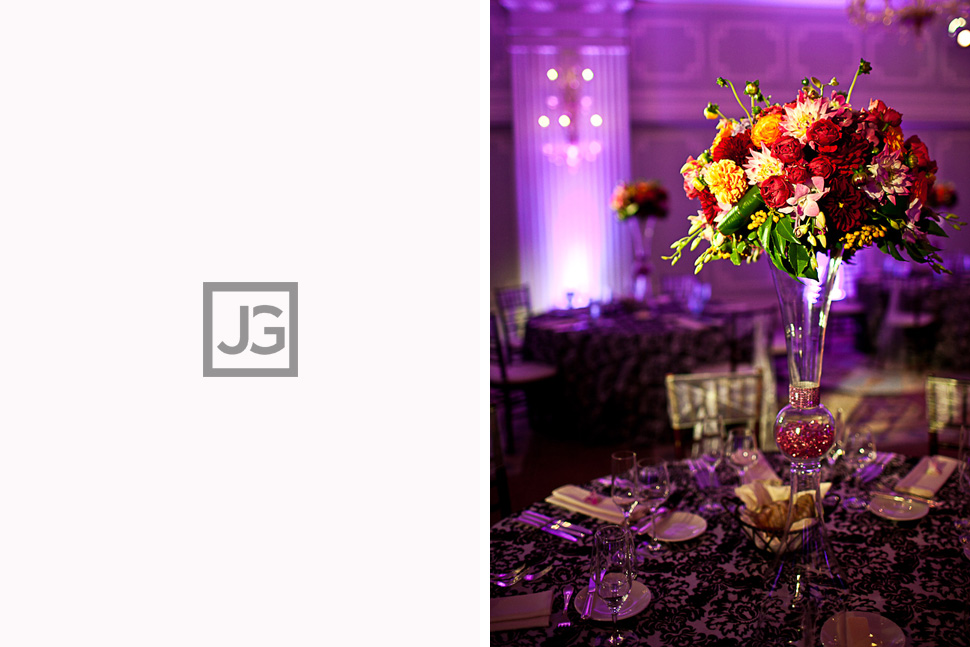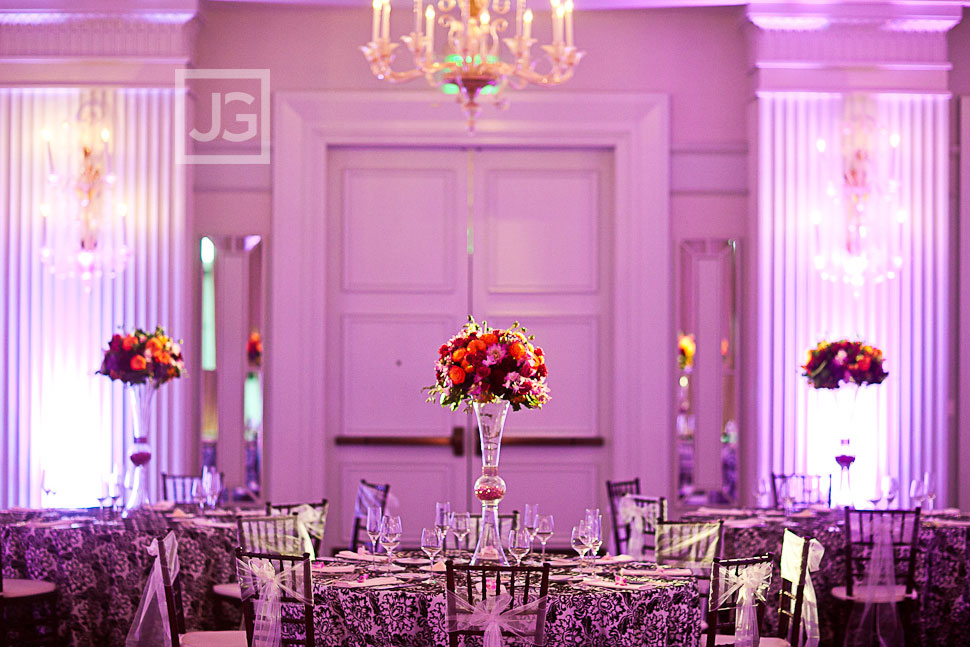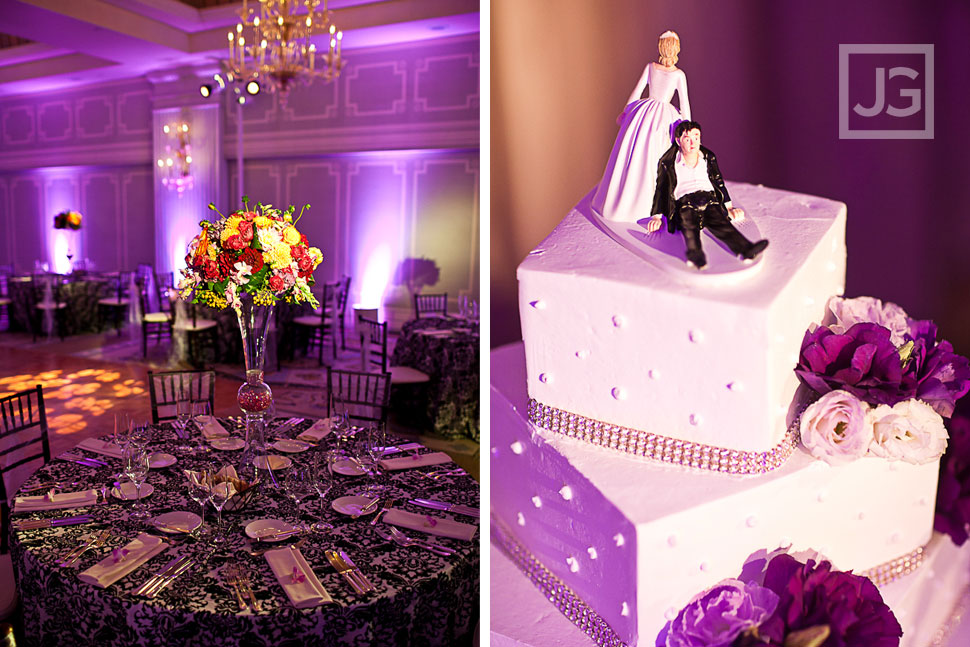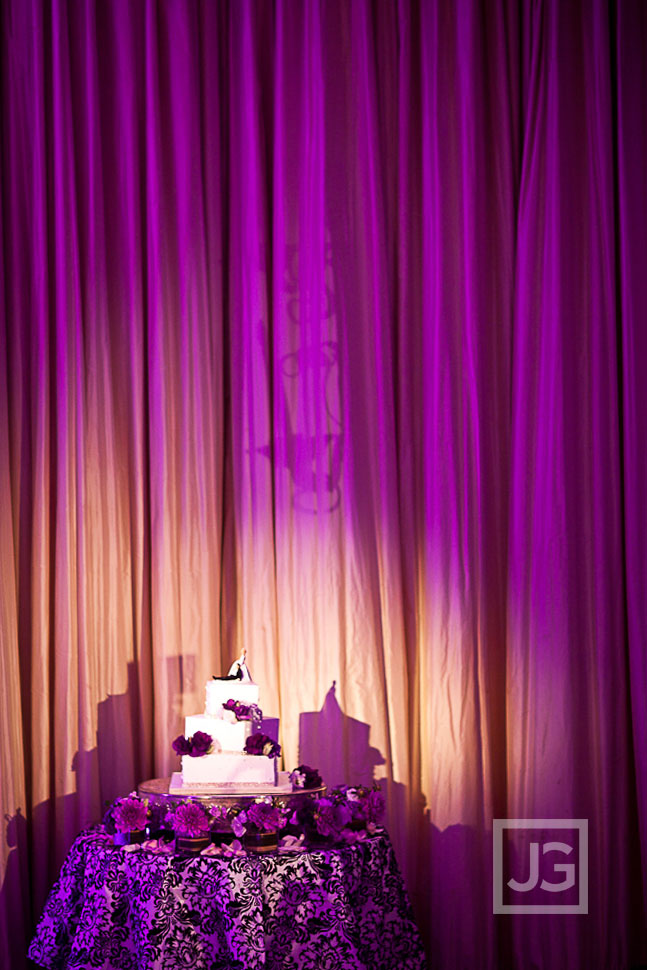 The catering staff at Casa Del Mar did a fantastic job!! I got the ribs and oh WOW it just melts in your mouth!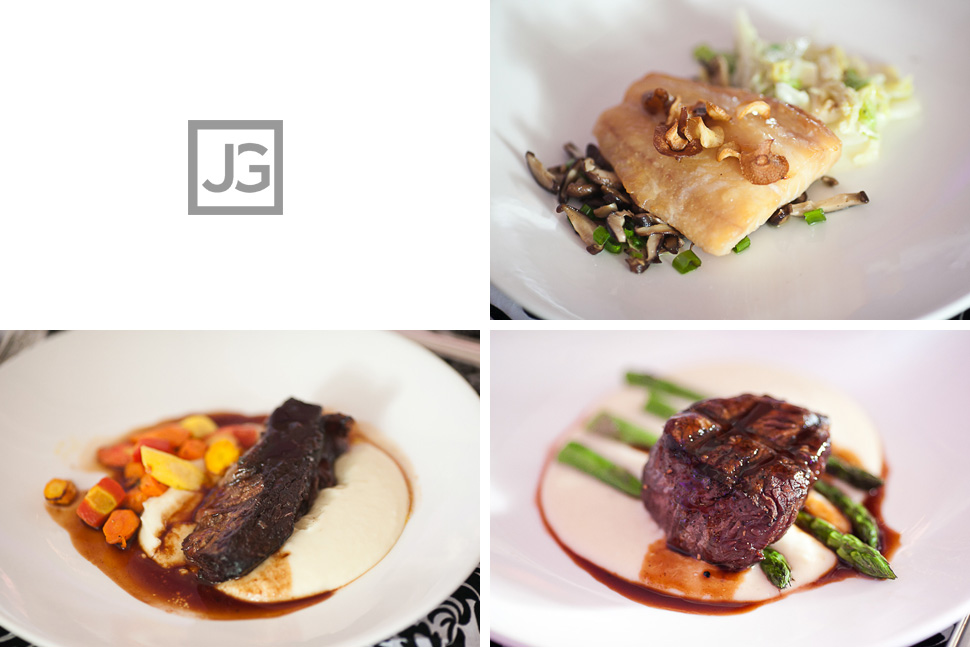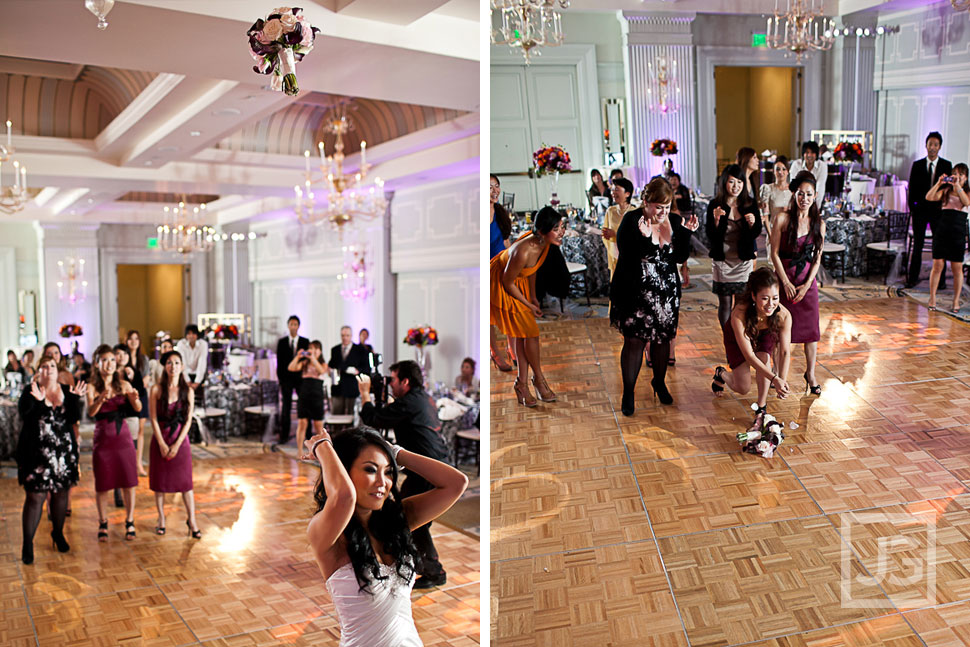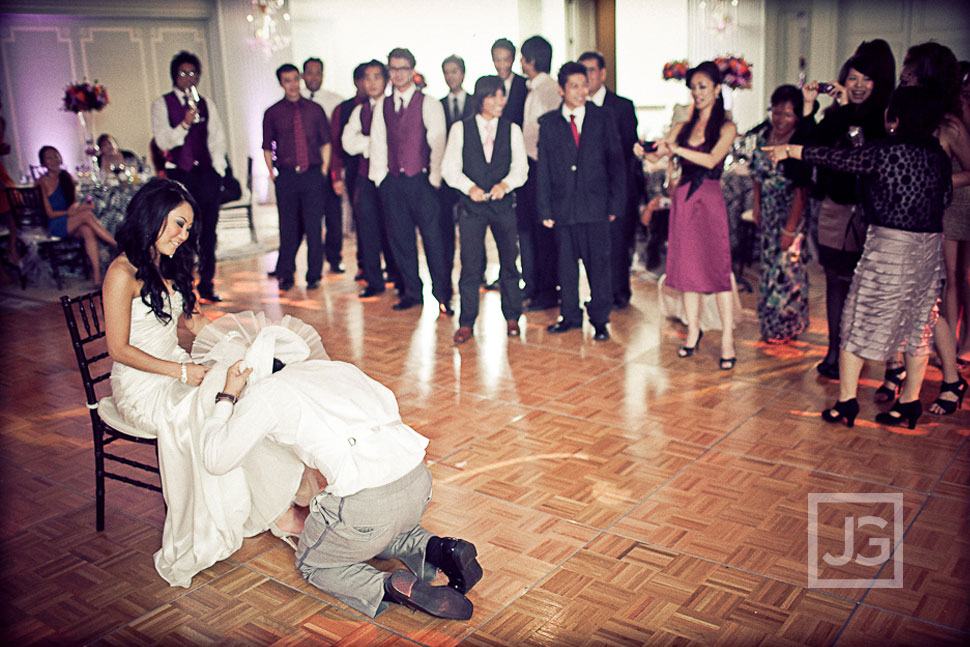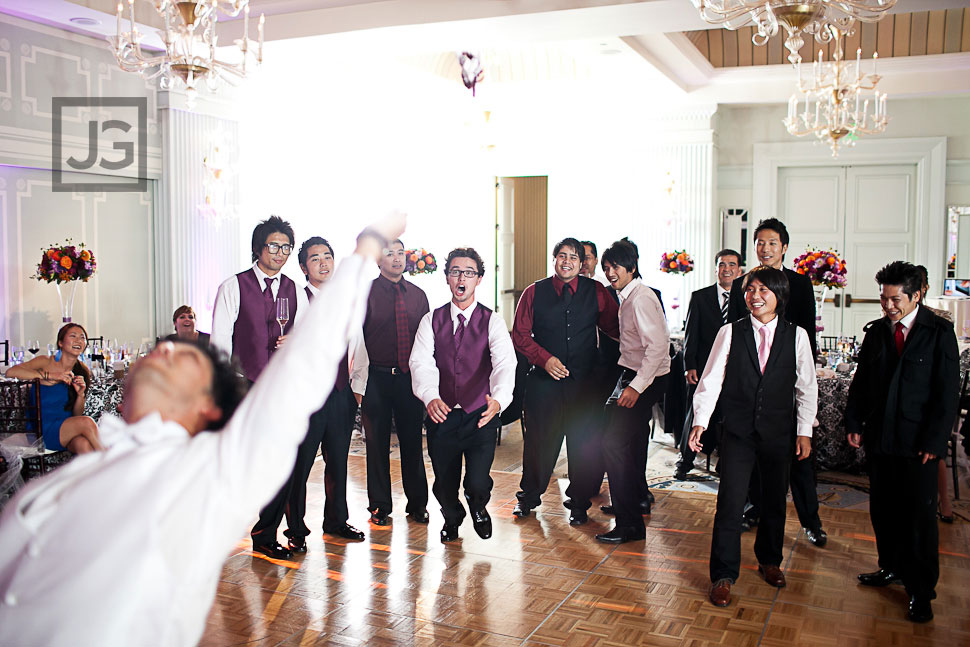 You know a wedding is gonna be FUN night when it starts with the bride and groom chillin' at the bar!! LOL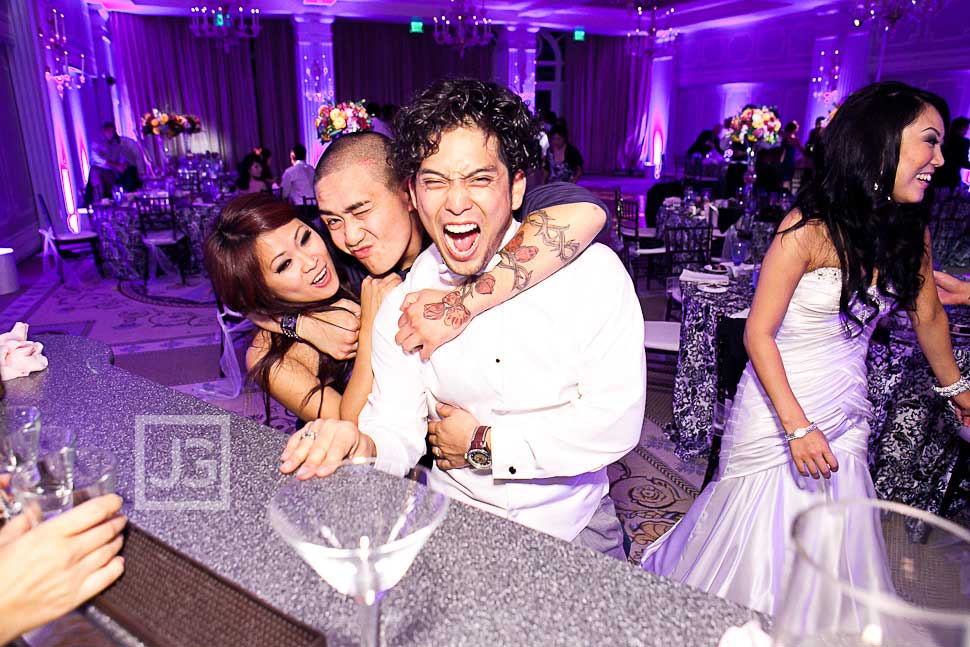 High five to shots!!!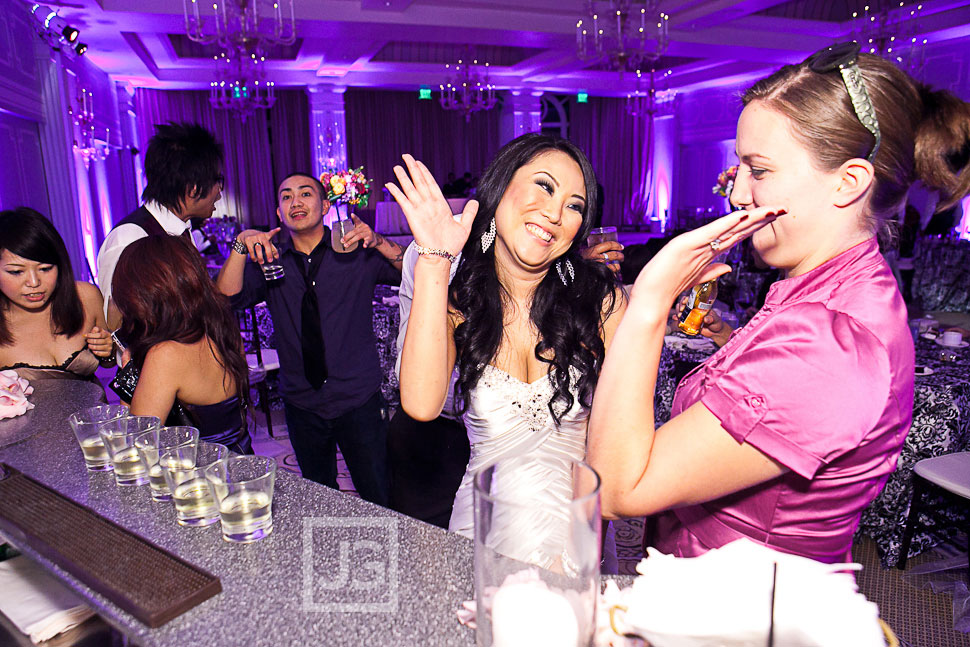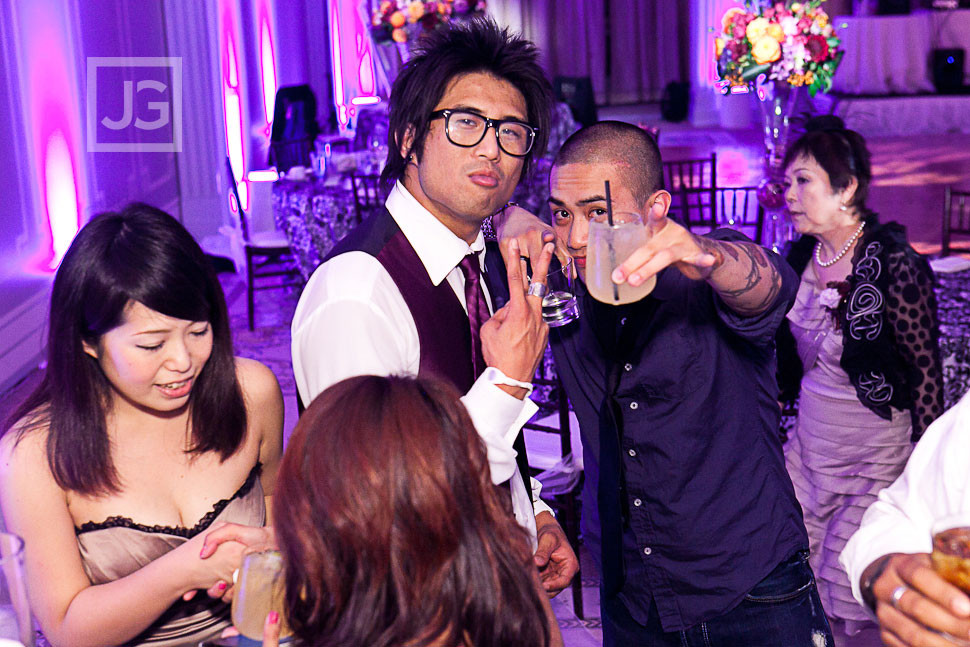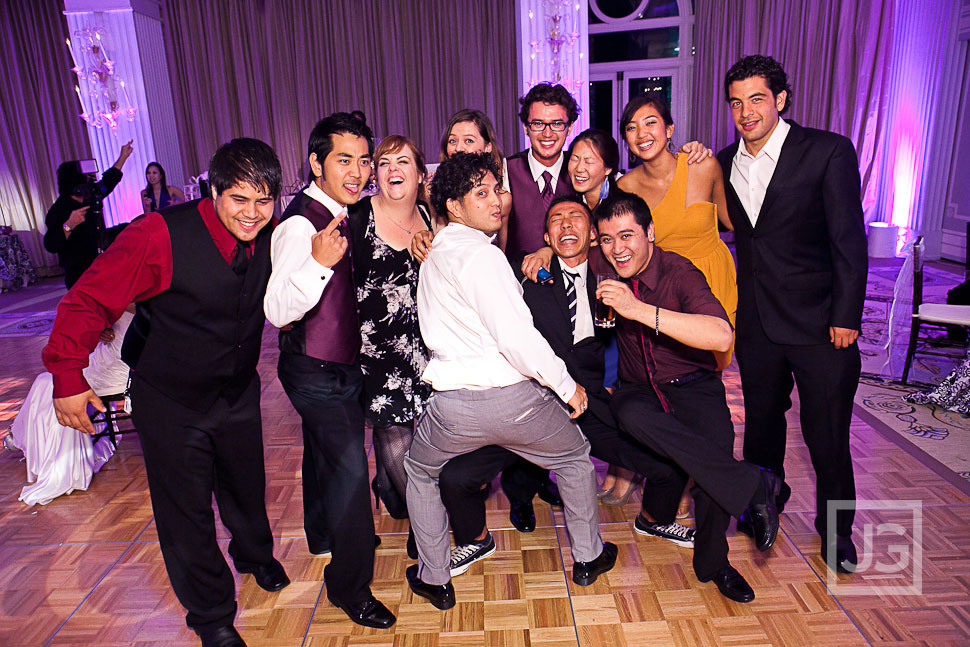 And here are the results of having one too many shoots!! Of course… we can't forget the lab-dances!!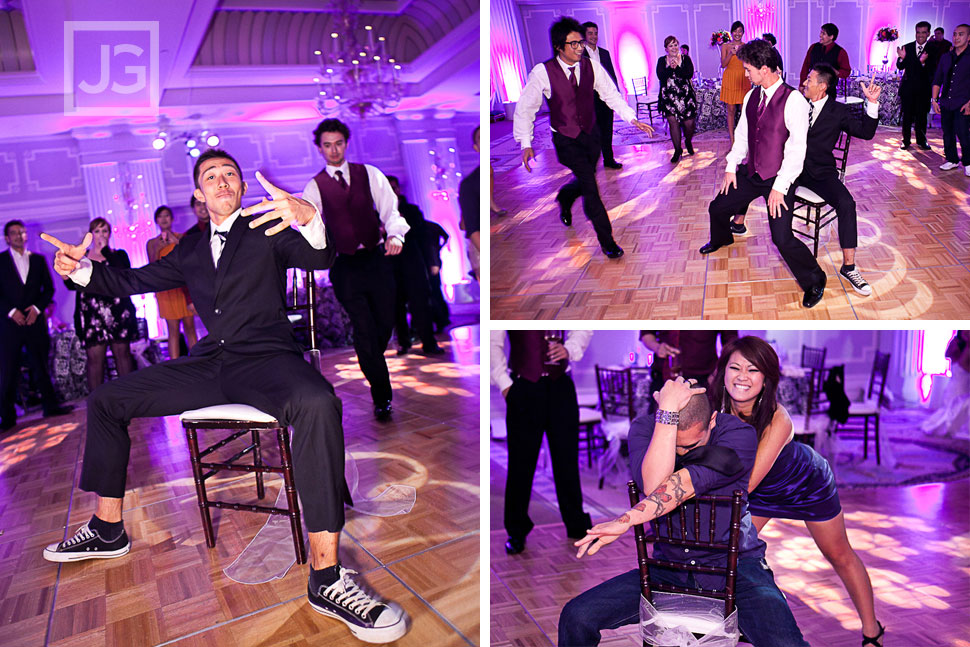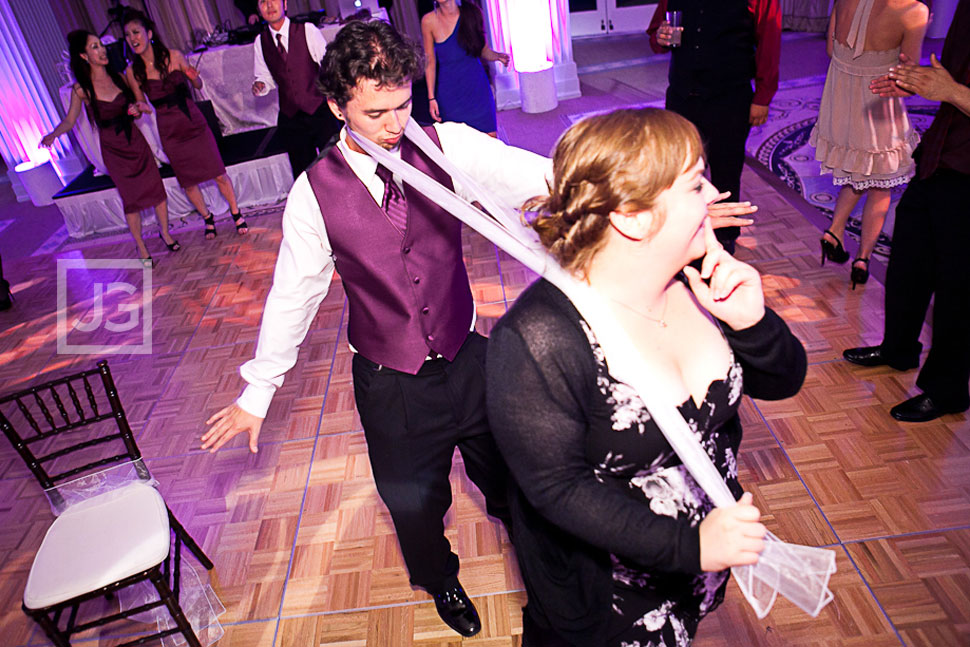 And I really don't know what's going on here!! Everybody is picking everybody up… literally!!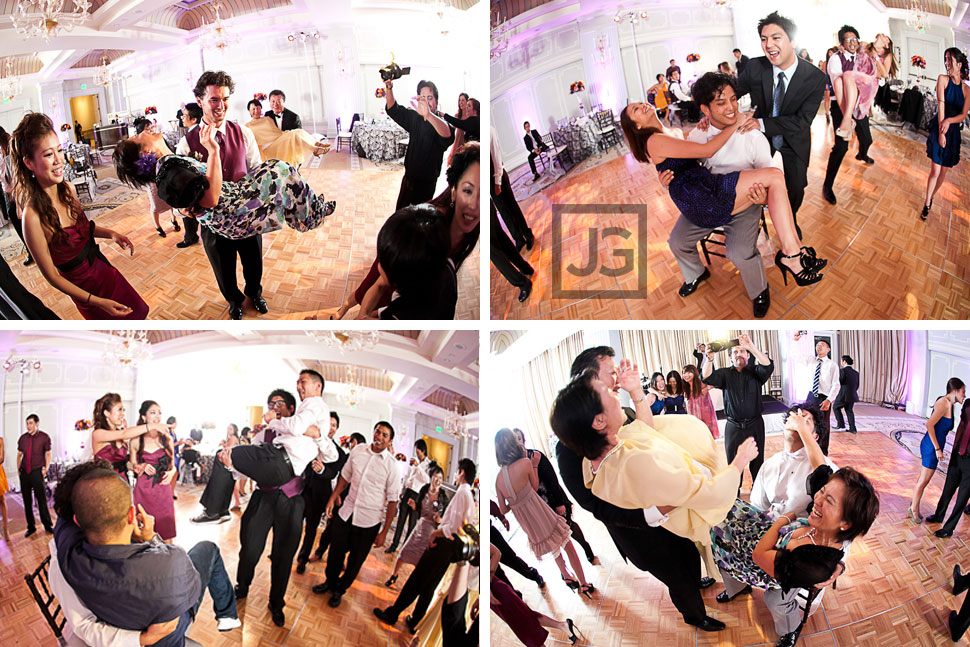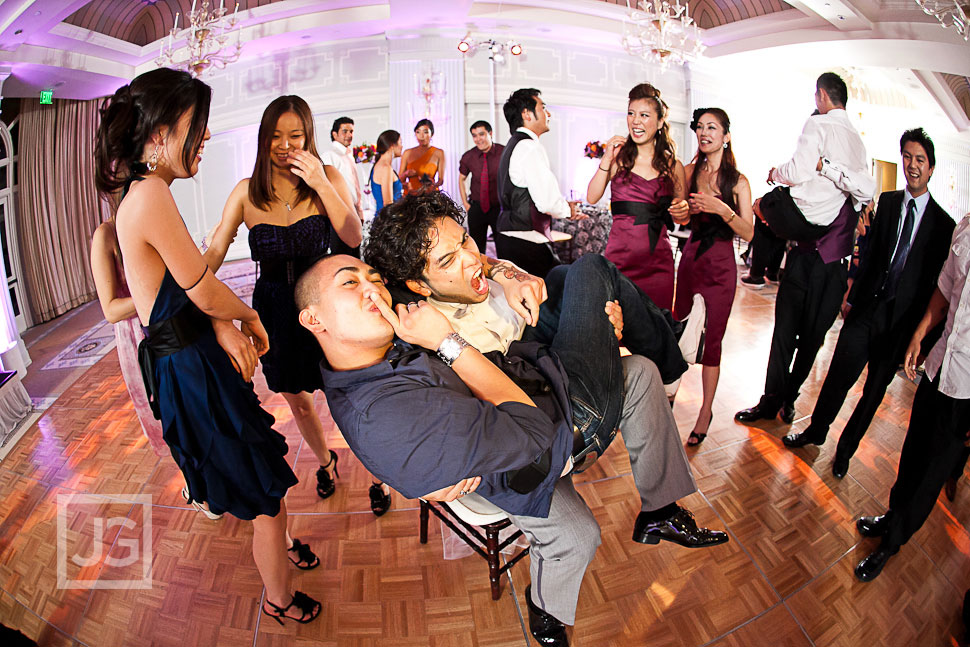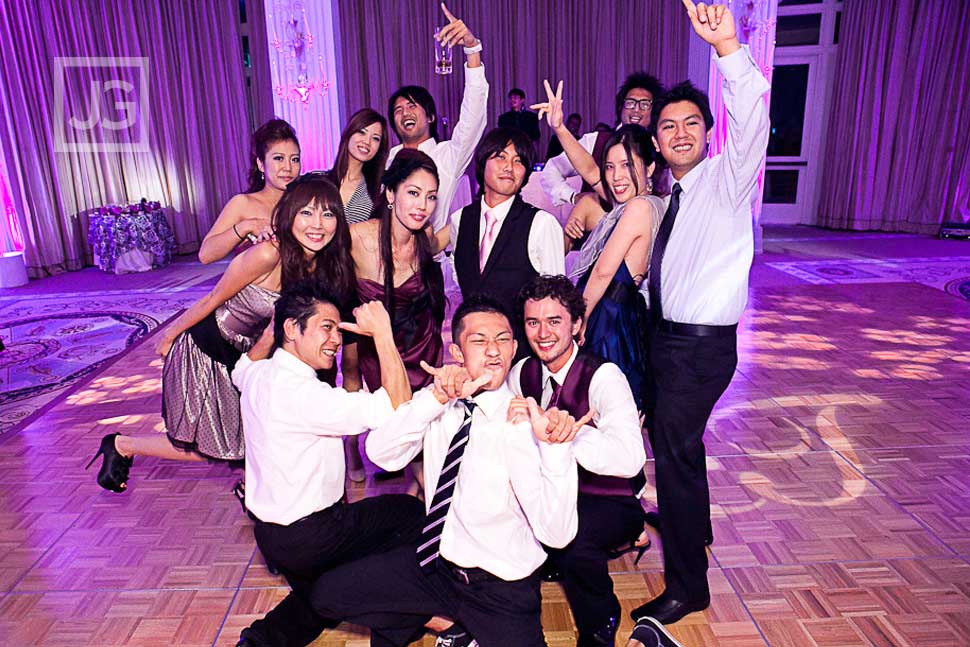 Casa del Mar Wedding Photography
As the reception came to an end, Gavin and I took Ayano and Tubasa out for some more wedding photography.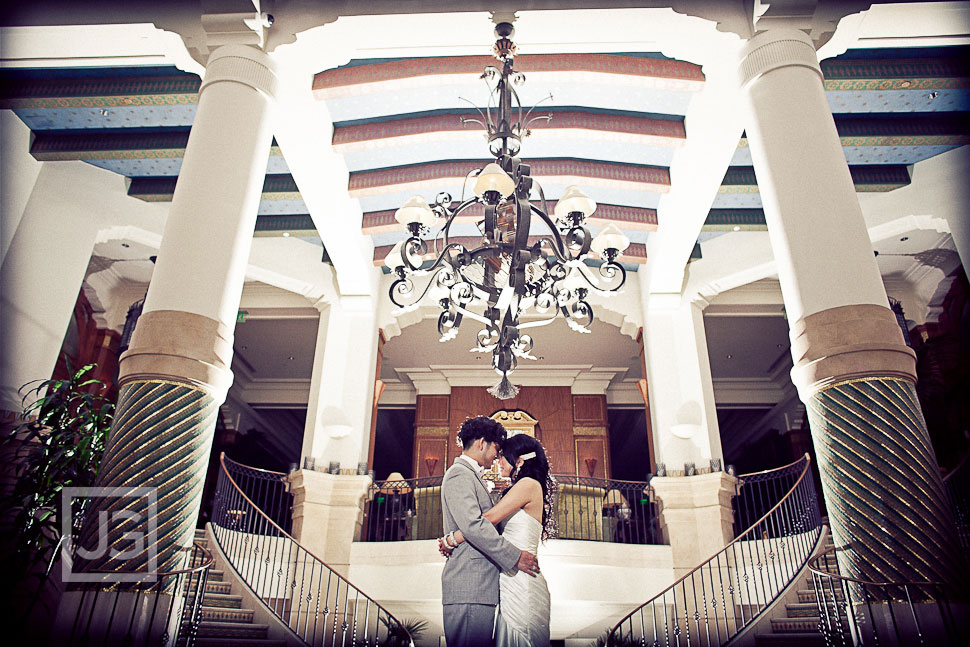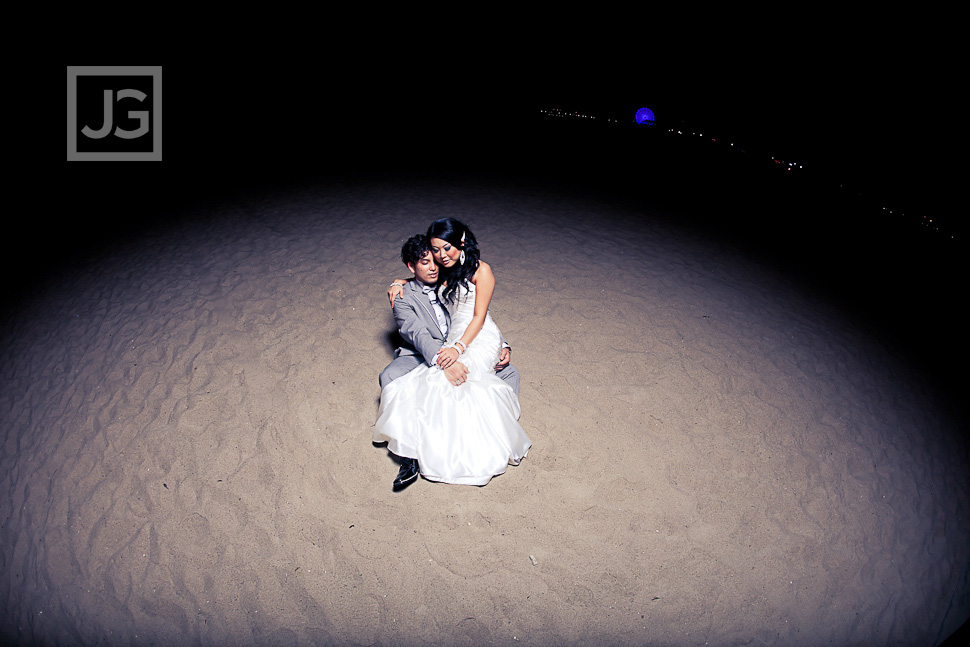 Like I mentioned earlier, Santa Monica pier is within sight of Casa Del Mar and glows beautifully at night. I would love to do a wedding at Casa Del Mar and then hop over to do more wedding photography at Santa Monica pier.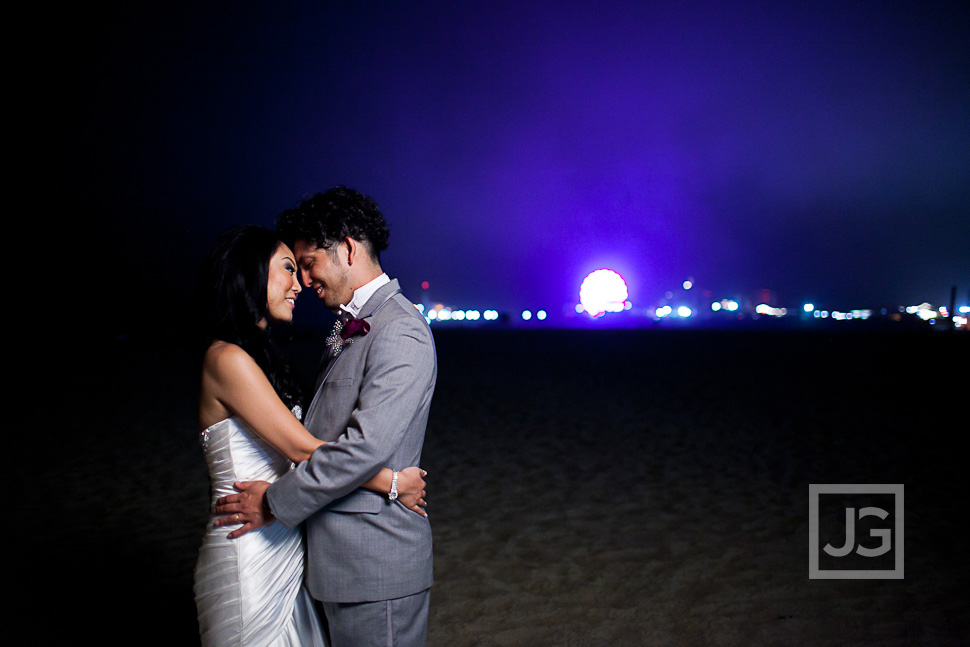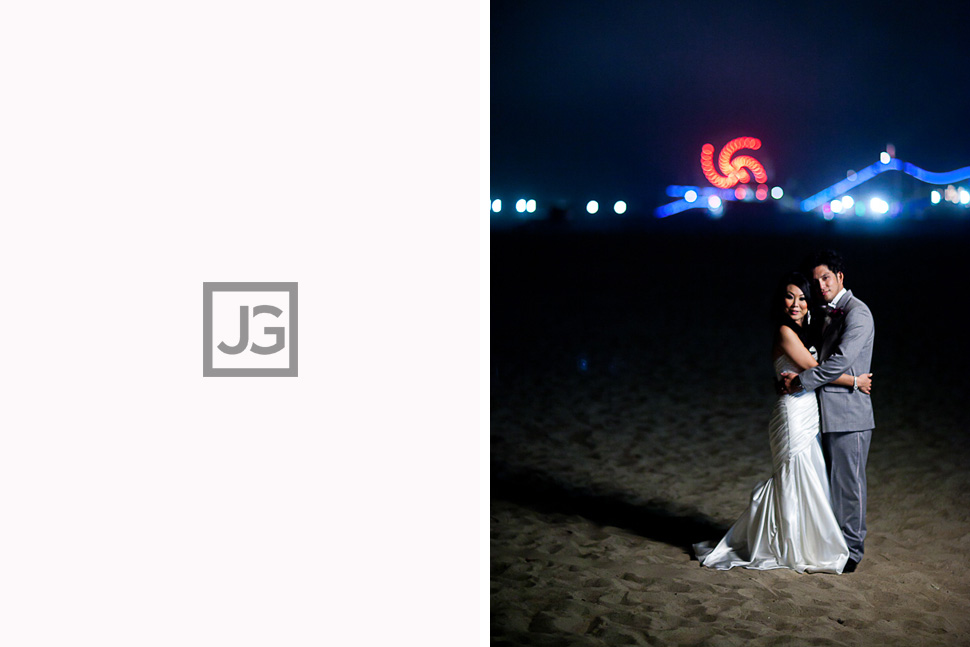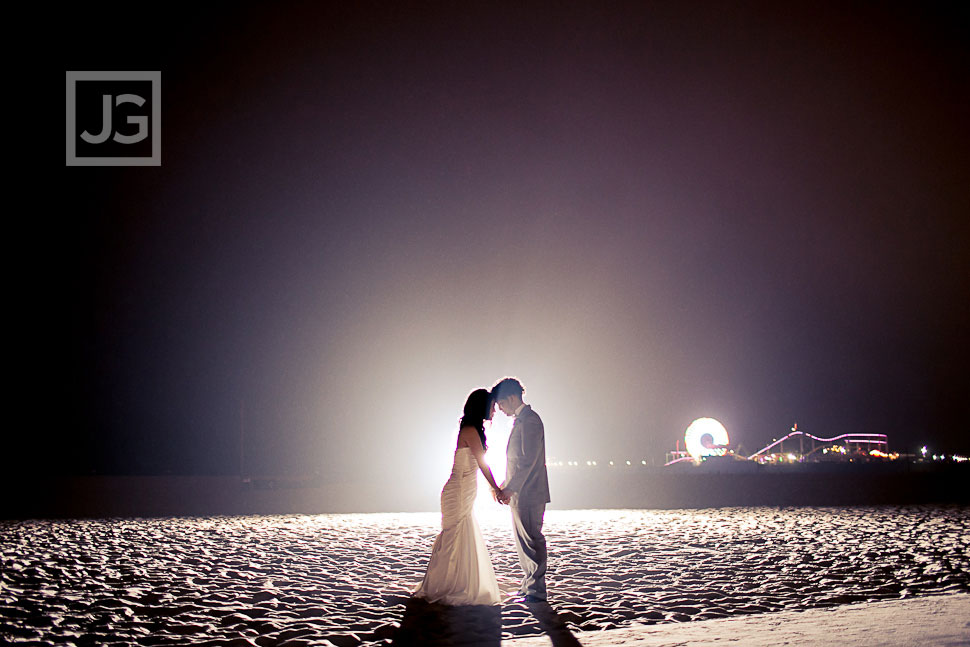 Congratulations to the newly weds!!  Thank you for having us as your Santa Monica Beach Wedding Photographers.  It was truly an honor to hang out with such a fun group and we wish you all the best!!  Cheers!
This article shows us doing Casa del Mar wedding photography in Santa Monica. We had the rare opportunity to do a wedding that was at both Shutters and Casa del Mar, two amazing resort locations on the Santa Monica Beach boardwalk.