Astrophotography with Megan + Dom
Joshua Tree is a special place for many people. It's alien. It's foreign. It's eerily scenic. But it's only a couple hours away from Los Angeles and Orange County. It's a timeless place. So when Megan and Dom decided that that they wanted their engagement photography session out in Joshua Tree, I got really excited. When they asked if I was able to capture the Milky Way (astrophotography) with them in the foreground, I got super excited. I LOVE the challenge of doing wide-field astrophotography (fairly technical and hard) with the compounded challenge of a wedding couple (technically amateur models). So here is my Joshua Tree engagement photography session, with some Milky Way photos to boot.
Here is what I'm talking about: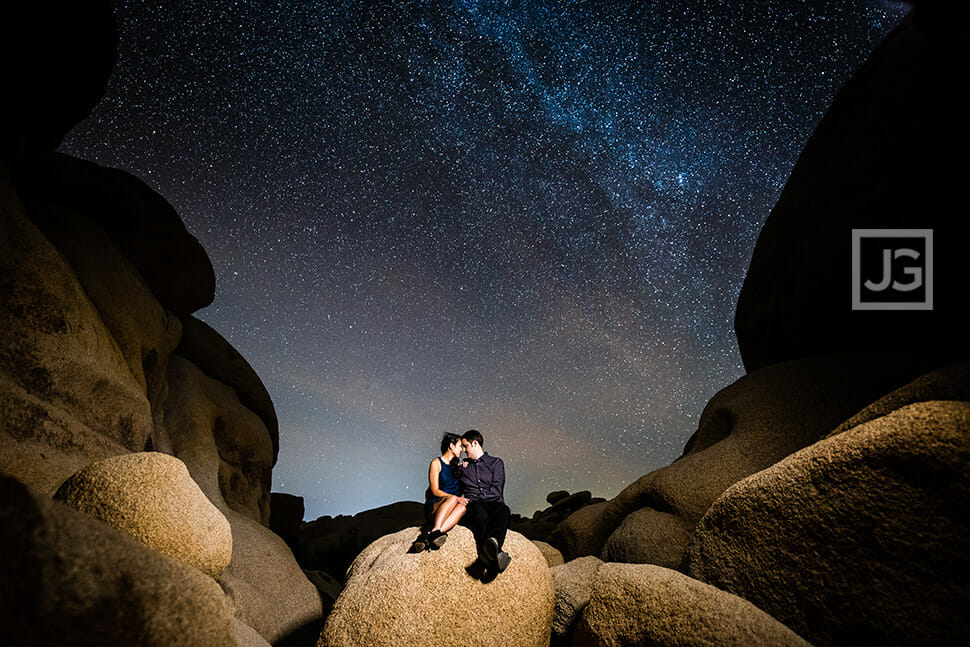 See!!!!! That's a single exposure by the way, which means I used no photoshop or altering of the image (only basic edits done in Lightroom). My couple held still for 20 seconds at a time to get these amazing photographs. Joshua Tree is an ideal location too, since it's far enough from Los Angeles to knock out a decent amount of light pollution (light pollution is the enemy of astrophotography). The glow you see on the bottom of the image is light pollution from Los Angeles and Palm Desert. Here is a timelapse of me getting those photos over the period of an hour:
Joshua Tree in daylight
So we started the session during the day, which was great getting them in a cactus patch with the sun at a perfect highlight position. These are natural light engagement photos, where shooting directly into the sun makes for naturally lower contrast and dreamy images.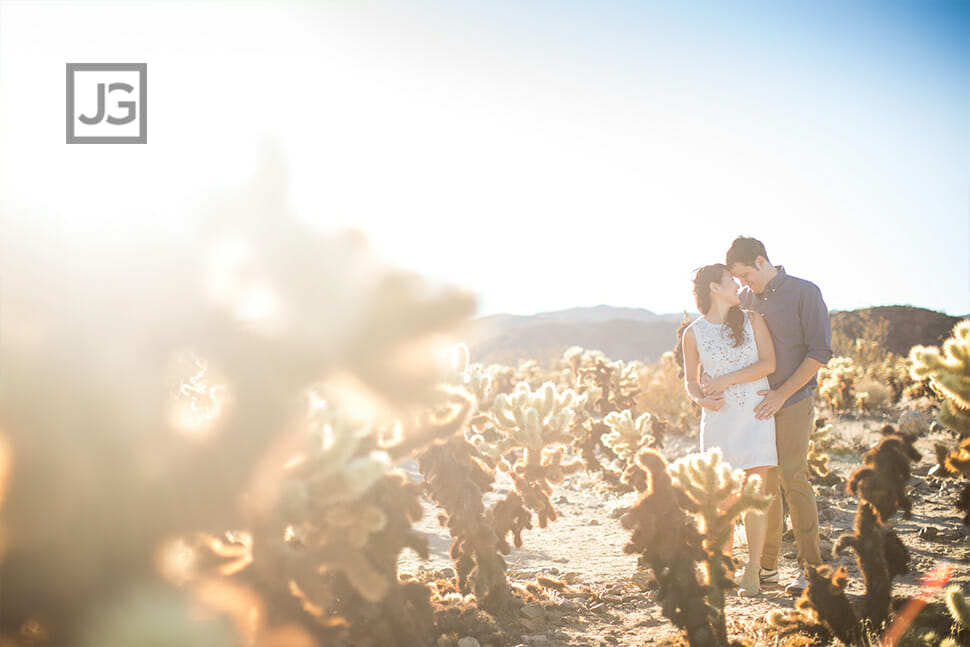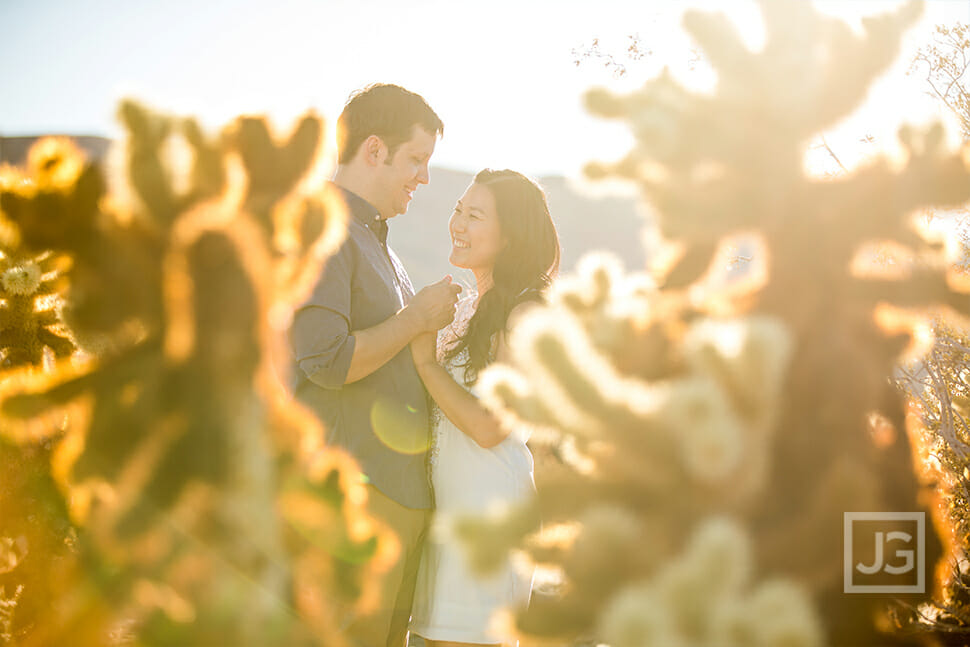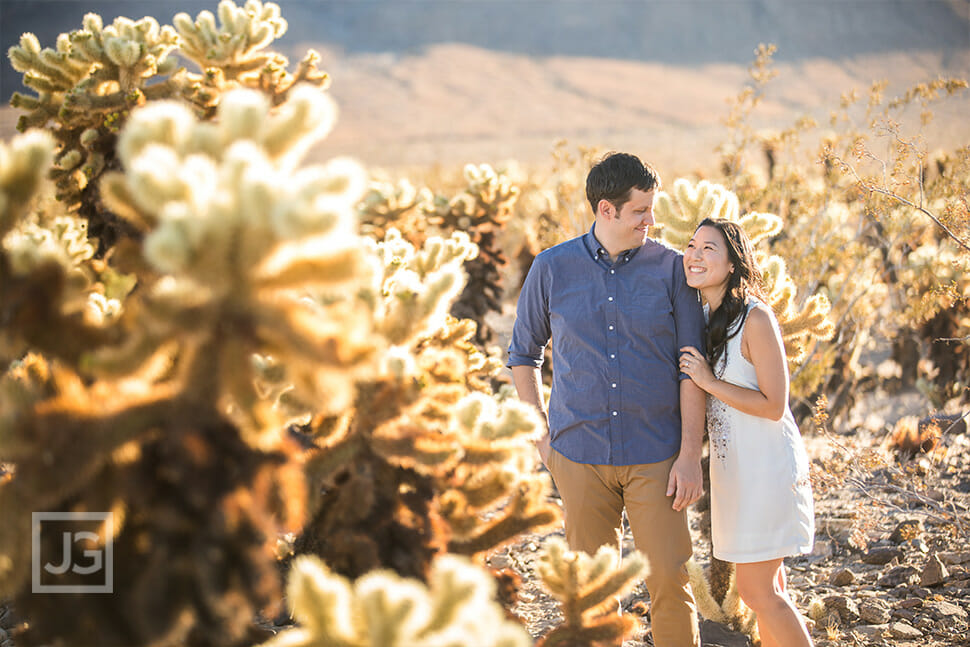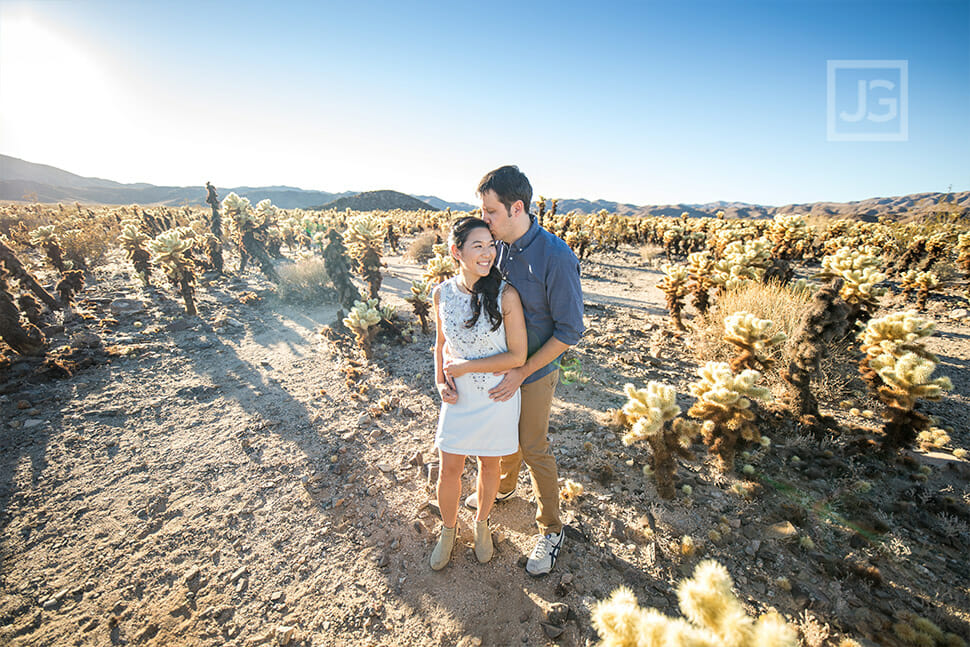 Then we moved on to one of the many rock formations that Joshua Tree has to offer. The texture of the rocks makes for a perfect Joshua Tree engagement photography backdrop.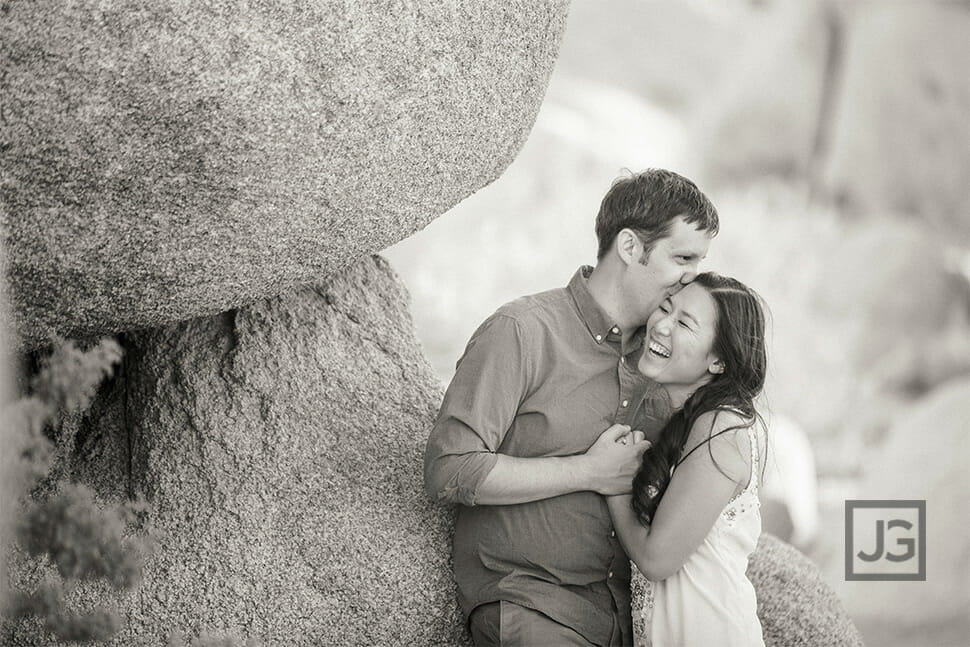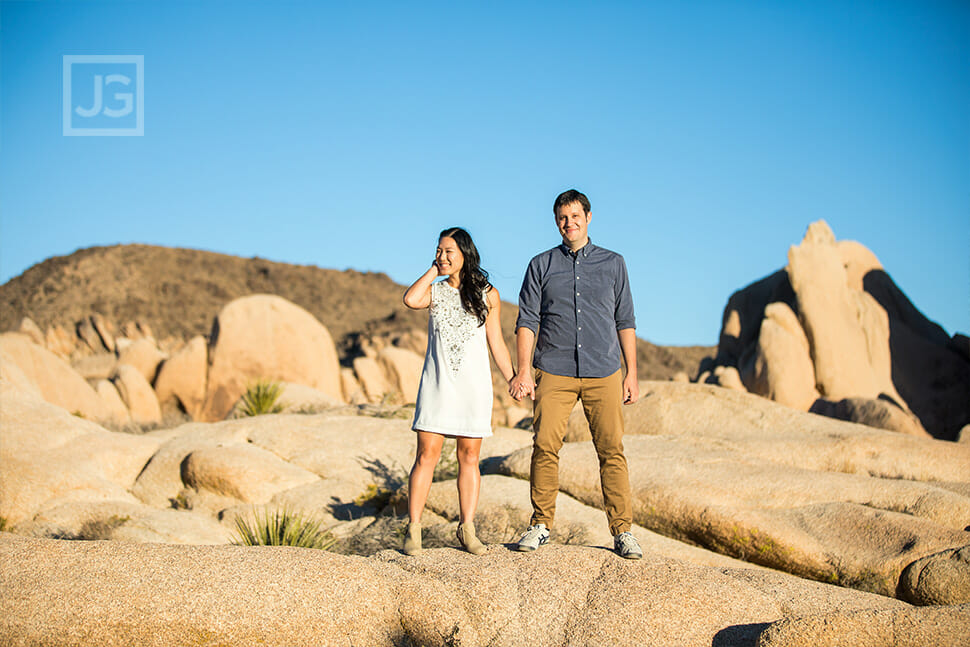 Sunset in Joshua Tree National Park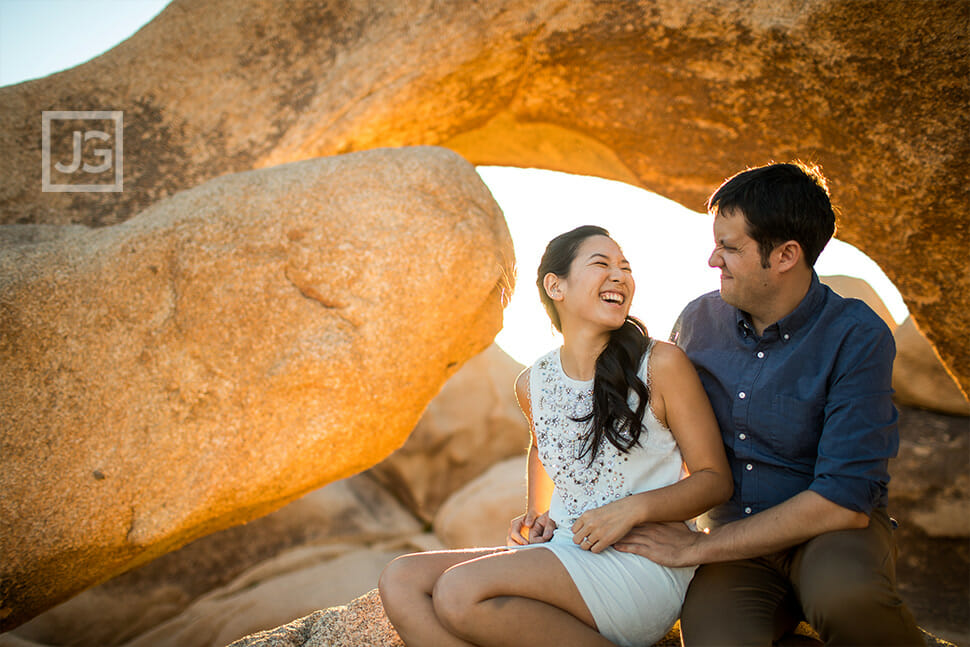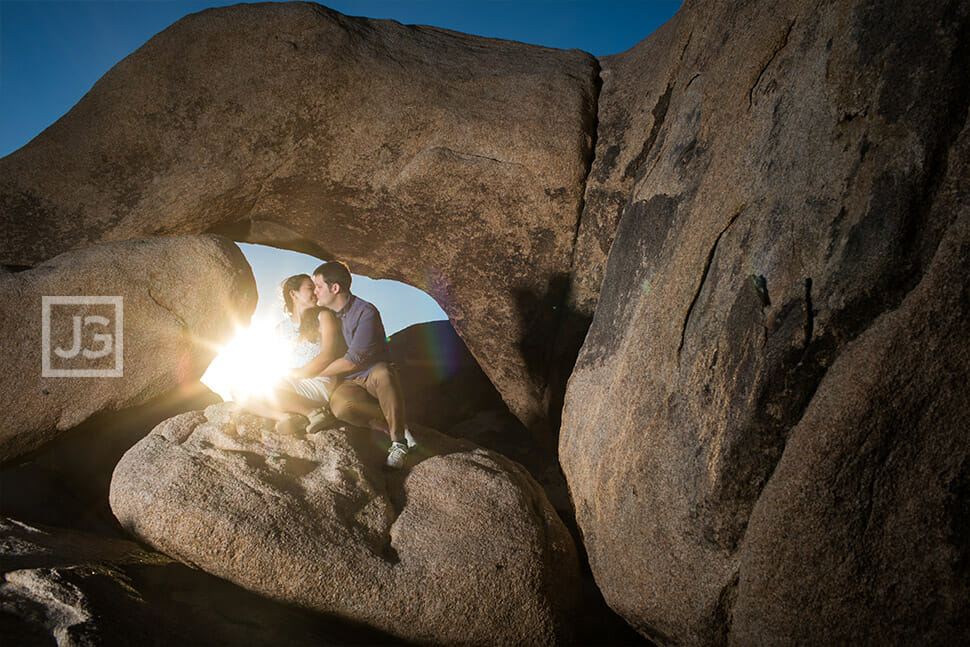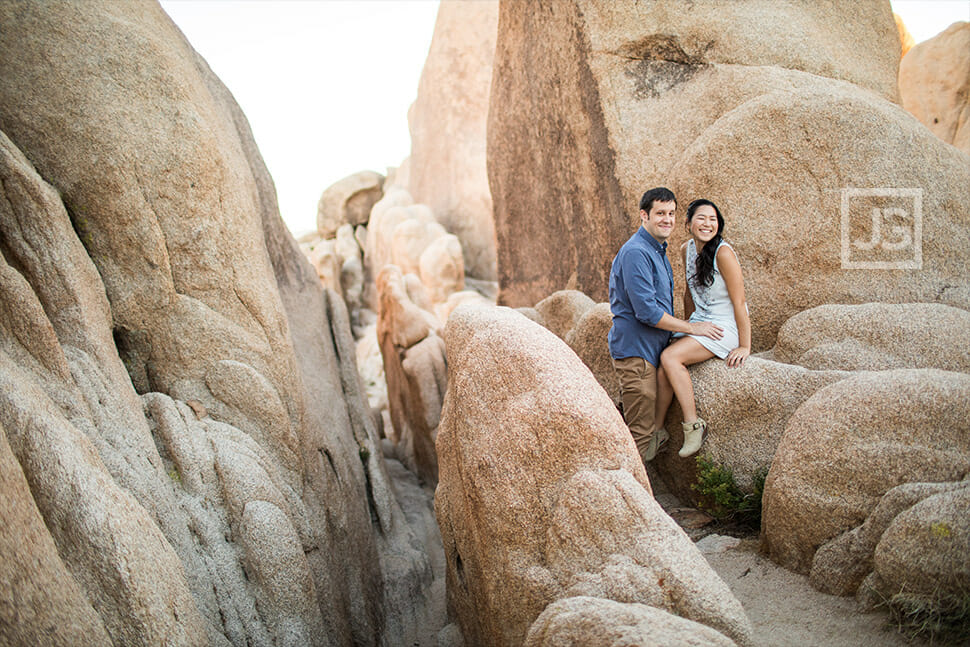 And next are some examples of strobed (off-camera) lighting being used to bring out the blue sky and control the light a little more.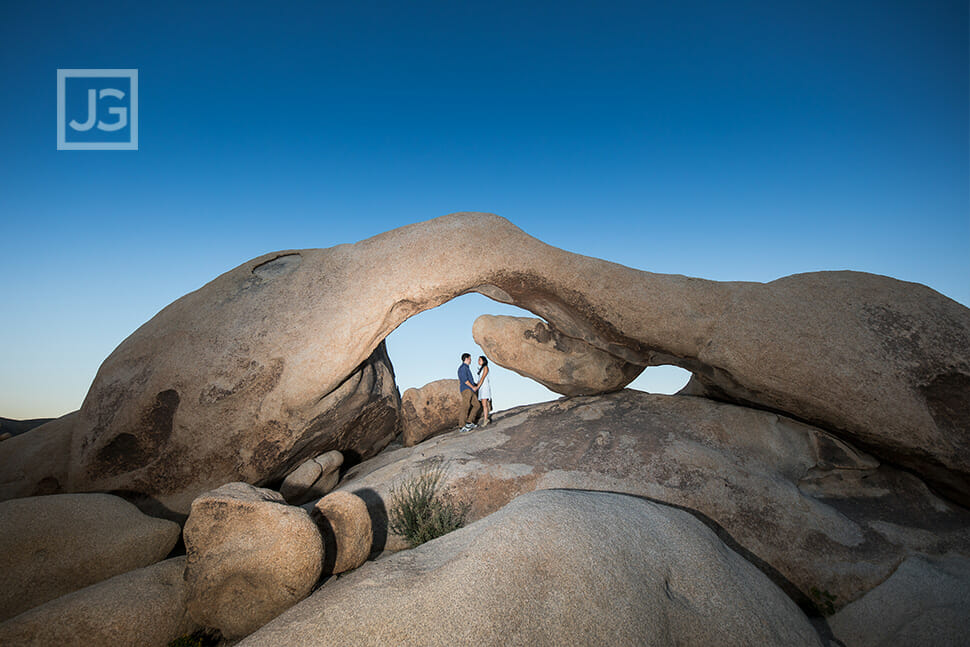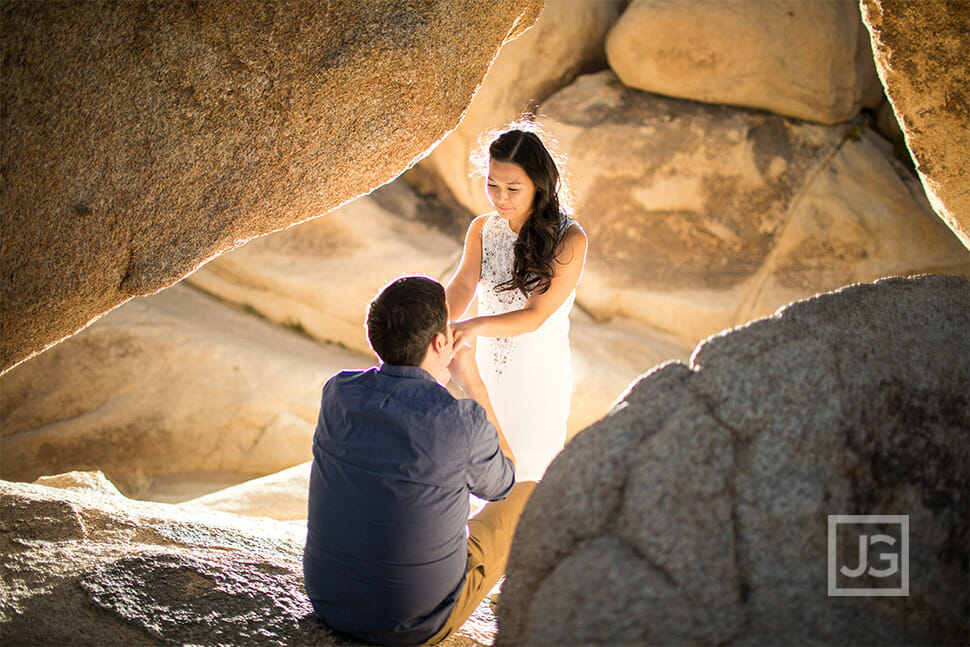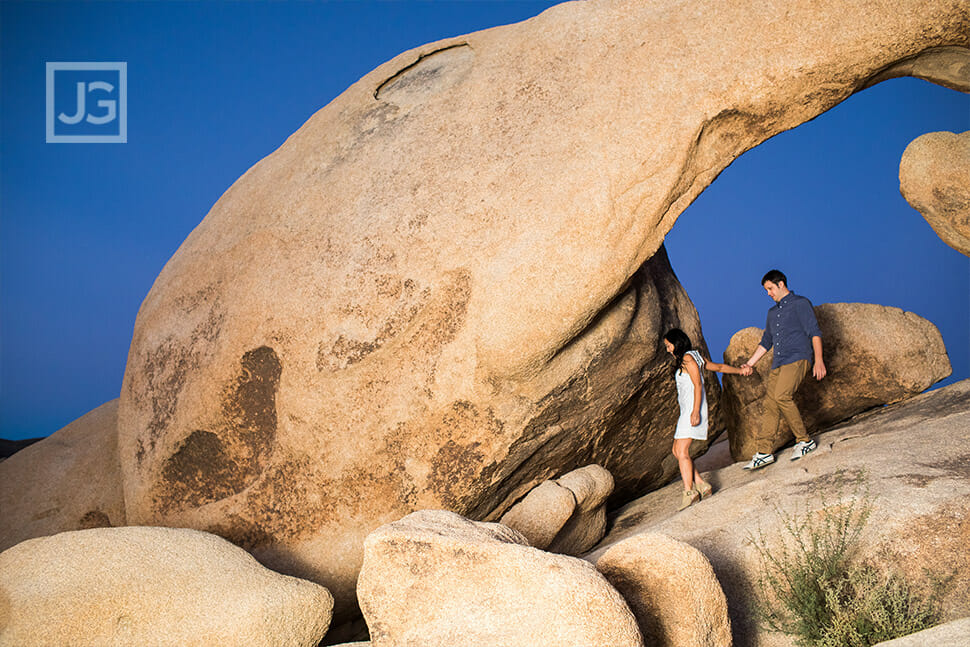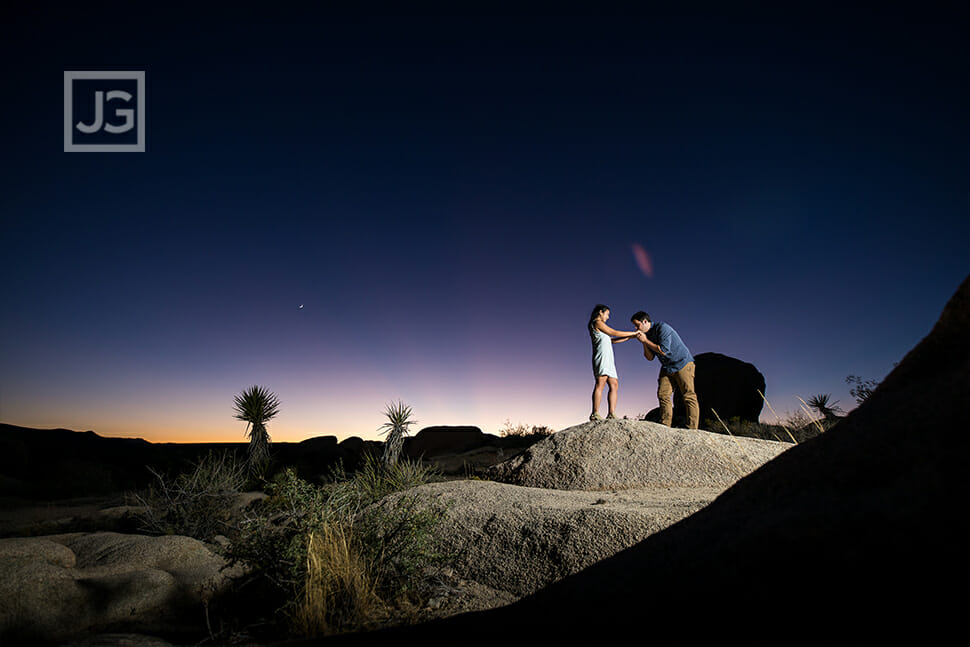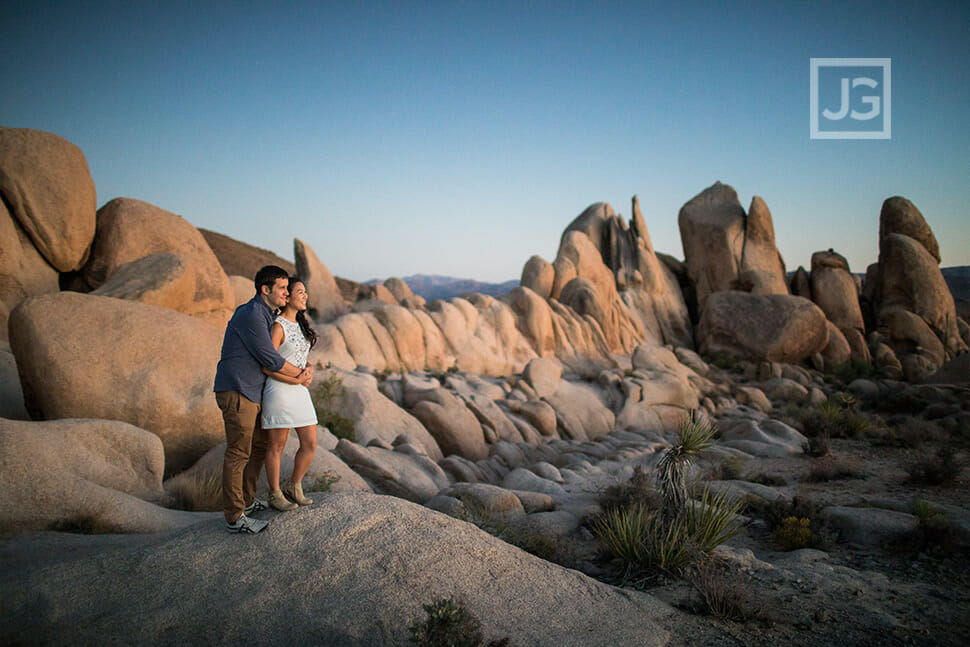 Joshua Tree at night
Here's a skull shaped rock … because skulls are cool … has nothing to do with a couple's love for each other…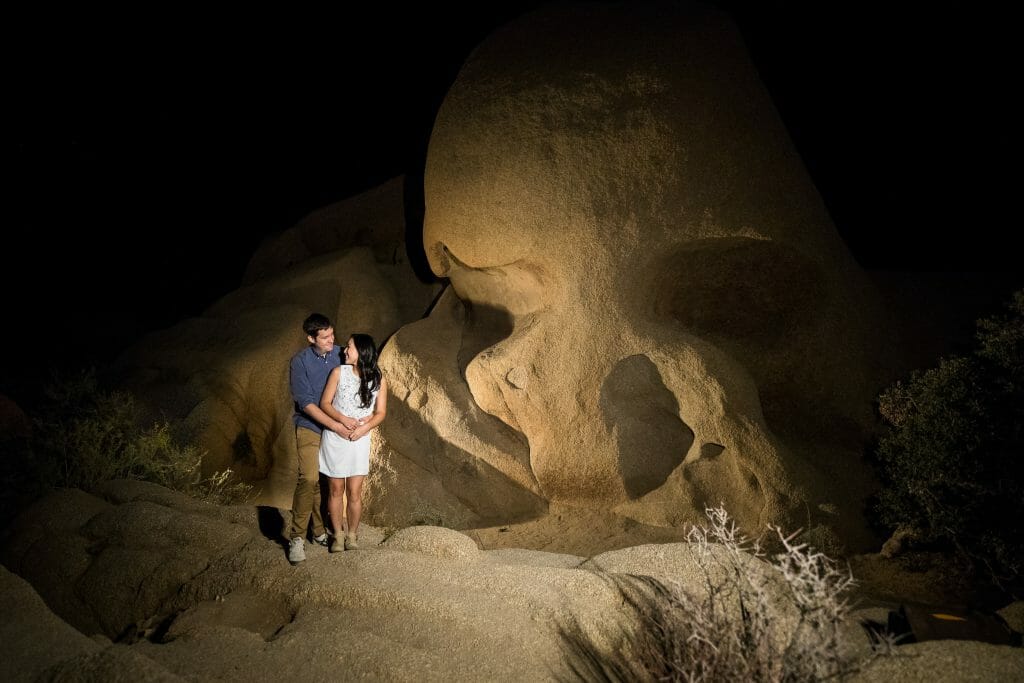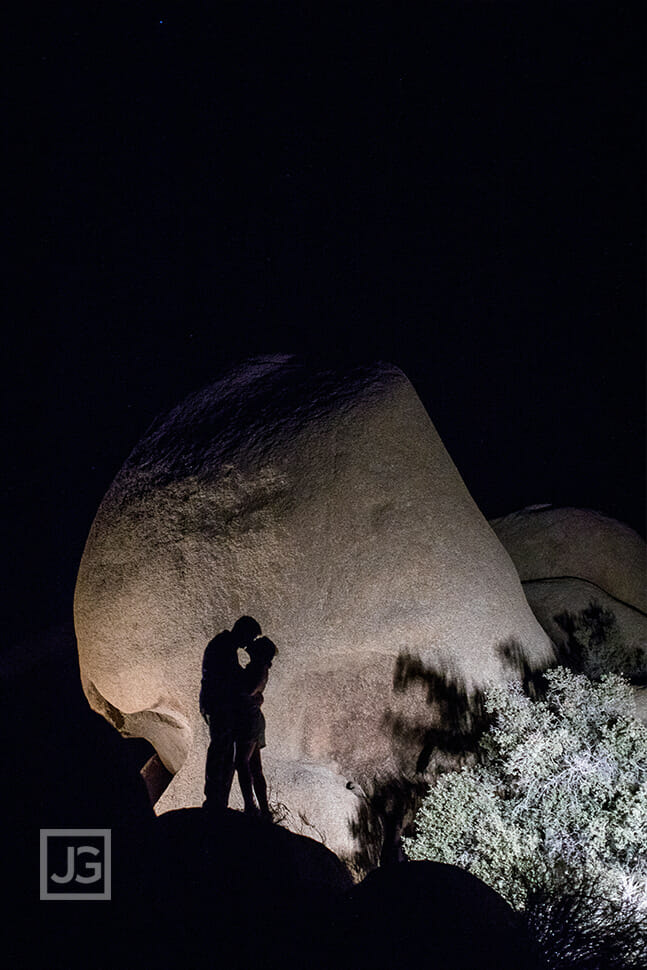 Milky Way in Joshua Tree (Engagement Photography)
Once the sky gets dark enough (we have to patiently wait for the setting sun and dusk to disappear completely), we proceeded with some Milky Way engagement photography with the stars and of course the Milky Way core. We used one of the natural arches of Joshua Tree as a foreground setting.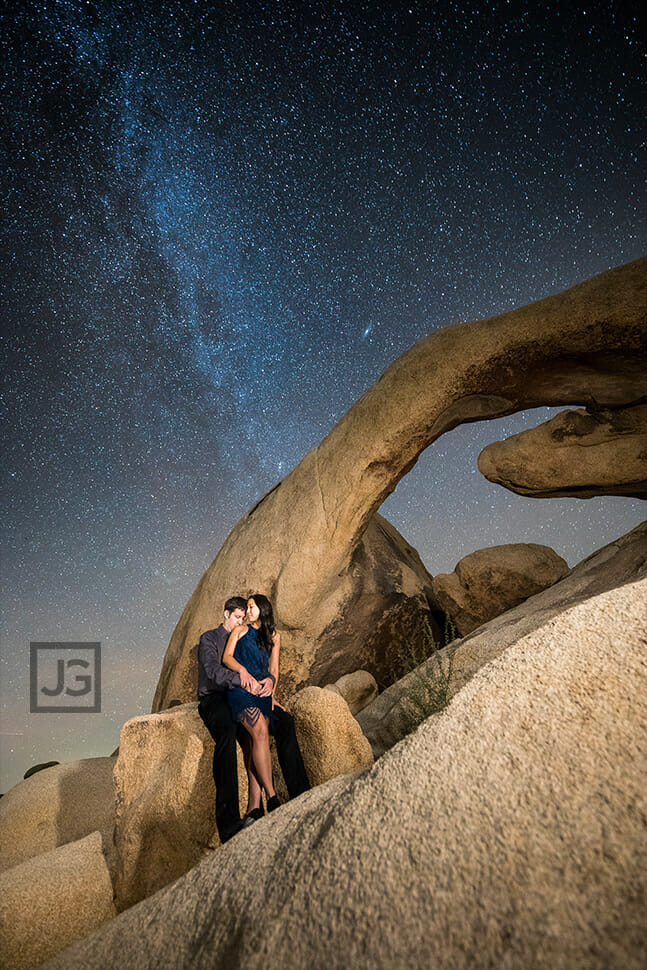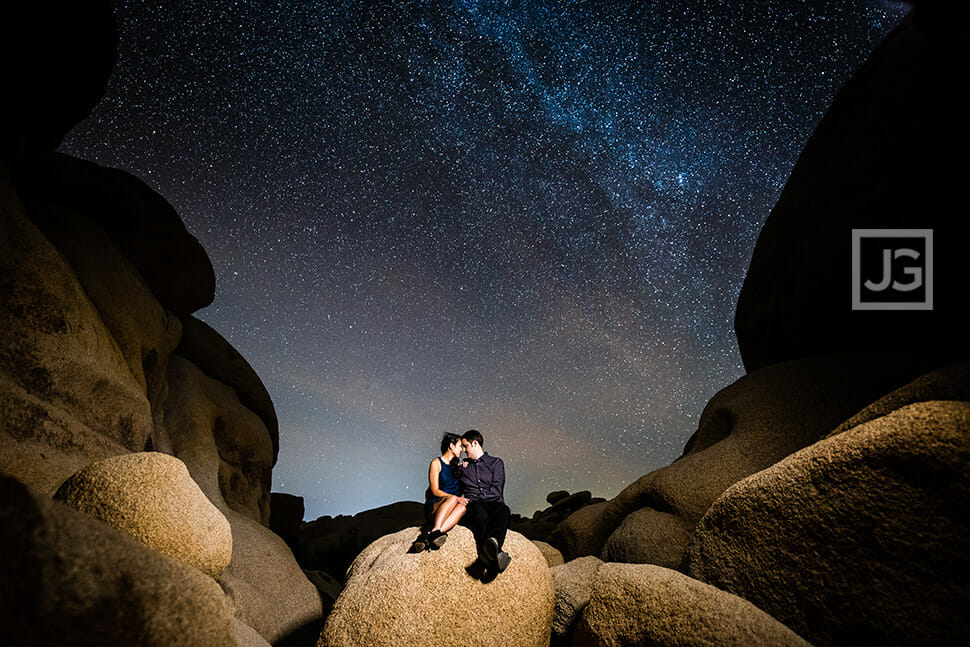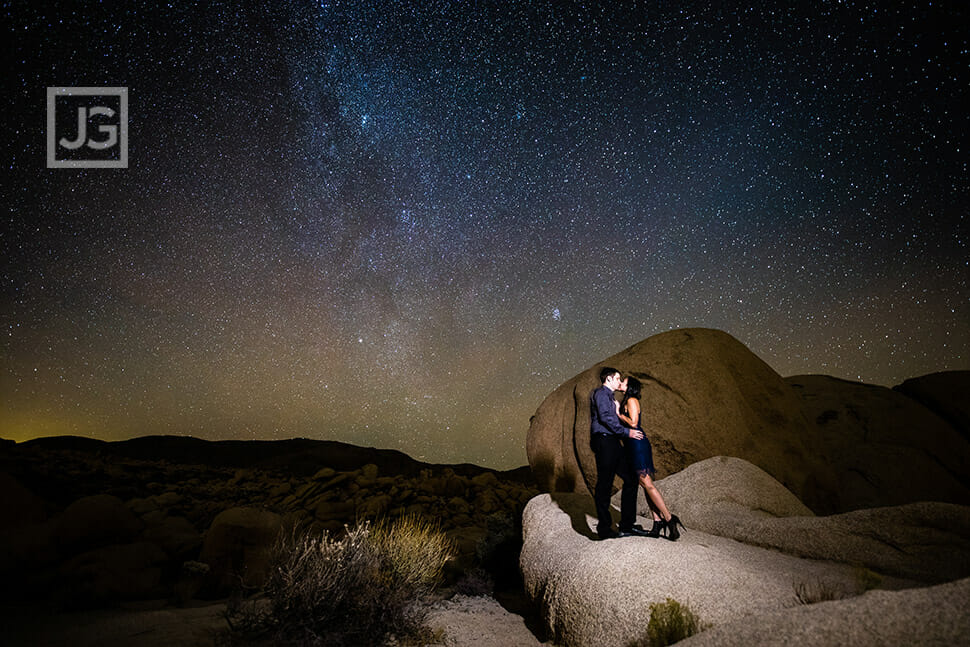 This is an example of Joshua Tree engagement photography (Milky Way astrophotography) with the stars at nighttime. It can also be considered a destination engagement photography location due to how remote it is. We specialize in this hard technique and style, delivering a once-in-a-lifetime backdrop for our wedding couples. You can see more examples here on our astrophotography tag page.