Have you ever attended a Persian wedding before? Every time we photograph a Persian wedding, it still catches us off guard as to how ornate and grand they tend to be. The elaborate floor spread at the ceremony (Sofreh) is always a sight to see, especially as a photographer. From the crystal decorations, the mirror of fate, and the many herbs, fruits, and pastries, I can't decide what I want to photography first! Haha. There are also many moments to capture, such as honey being fed to each other or sugar cones being ground above the couple's head to symbolize a sweet marriage. So read on to see our Fashion Island Hotel wedding photography…
And what a sweet couple they are!! After the awesome engagement session at the Greystone Mansion, Atousa and Rusteen took us out to dinner. It's a nice contrast eating beef ribs with someone versus seeing them on their wedding day! But from BBQ sauce to white-wedding dress, the common thread is the sincerity of their relationship. I guess it makes sense that they are a sweet couple, since Rusteen actually owns a soda pop and candy store, with his own flavors. I guess if he had a soda pop drink called "wedding day," it would be of honey and vanilla with a touch of saffron. =)
Their dream wedding was held at the Fashion Island Hotel in Newport Beach (Orange County). We once again had the pleasure of working with Persia Inc. Events by Sara. And special thanks to our good friend Doug Chan (of Furious Photographers) for coming along as my second shooter.
First Look at the Island Hotel
We started with a first look earlier in the day, which makes the rest of day much smoother (photographically speaking). Persian weddings tend to busy and grand, so it's easier on the wedding timeline. Also, there is a unique intimacy to seeing each other for the first time on your wedding day alone (aside from the ninja photographers hiding around those bushes).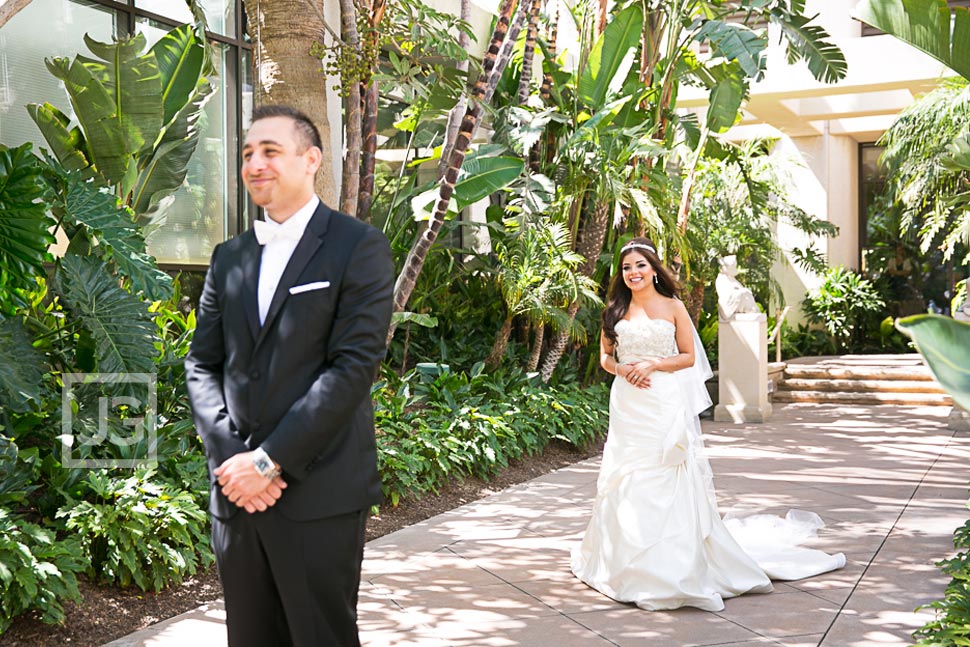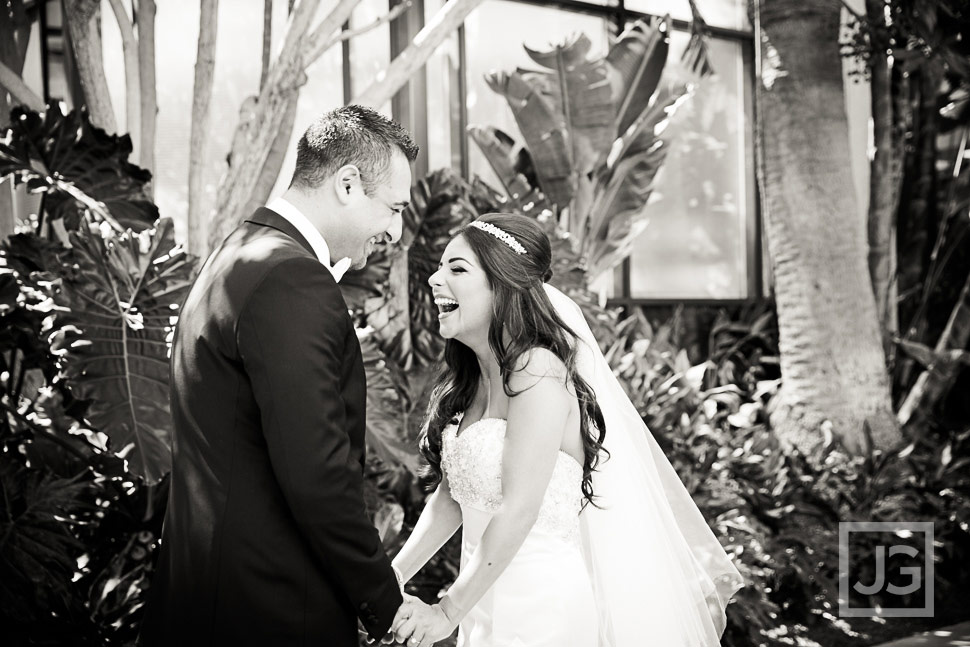 Fashion Island Hotel Wedding Photos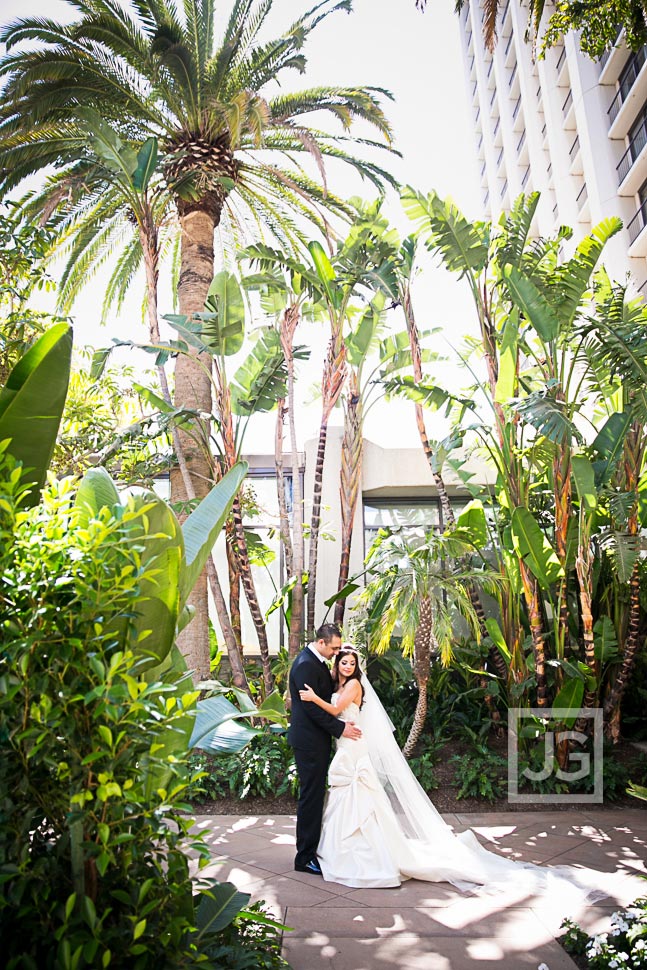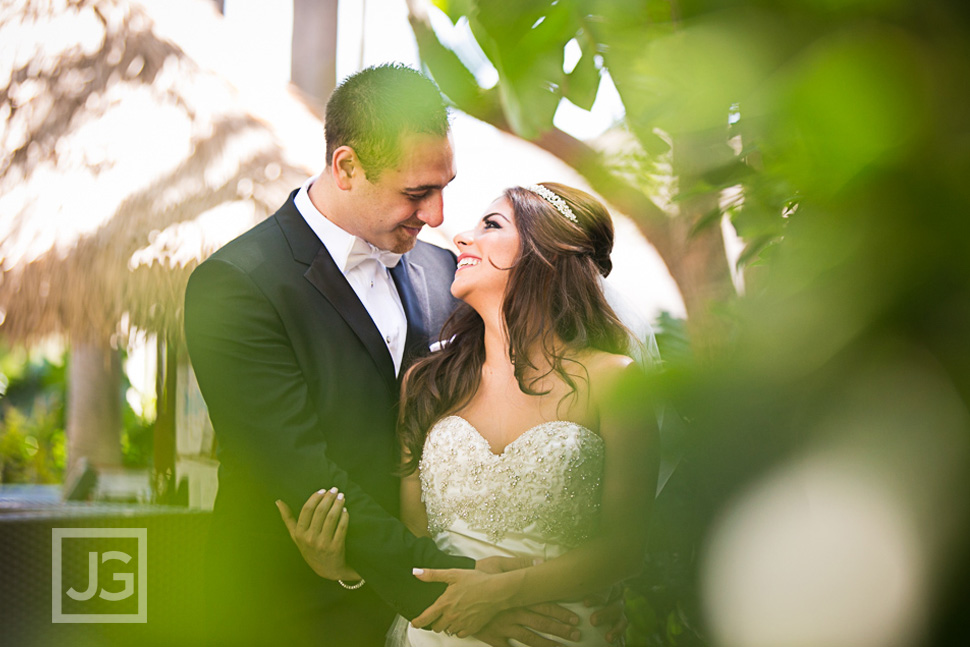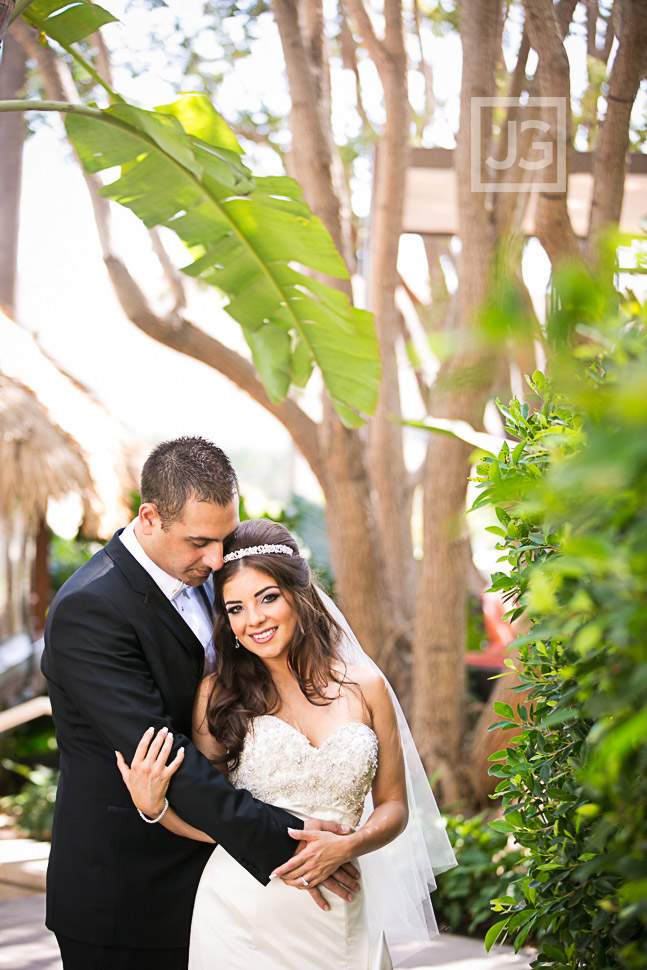 The Fashion Island Hotel is a luxurious resort in Orange County and one thing we always try to do is show off the location that our couples have chosen. So we thought blue skies and palm trees next to the pool set the tone quite nicely, resembling an "island" wedding.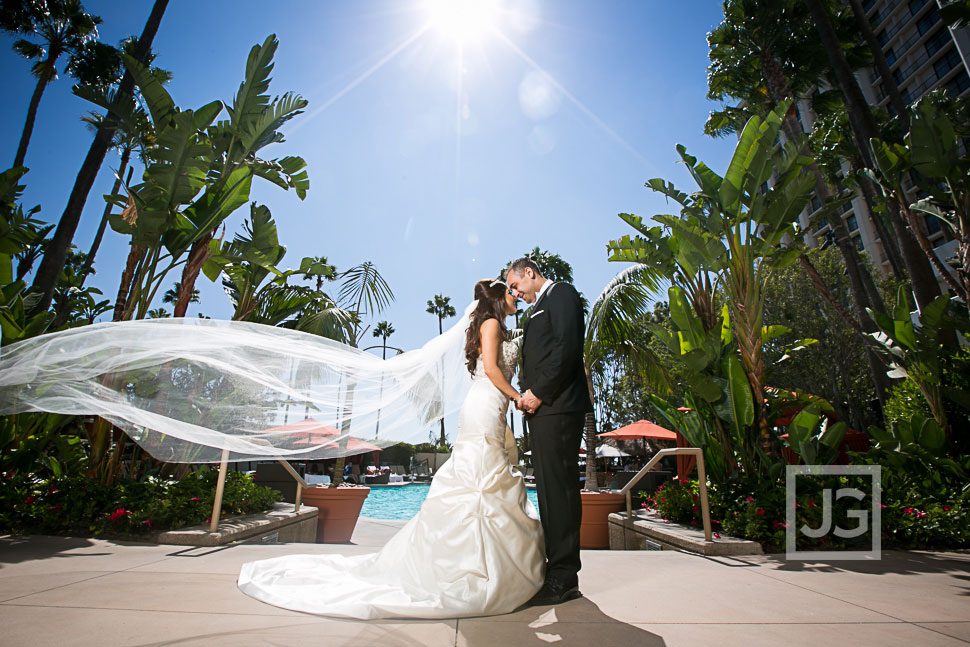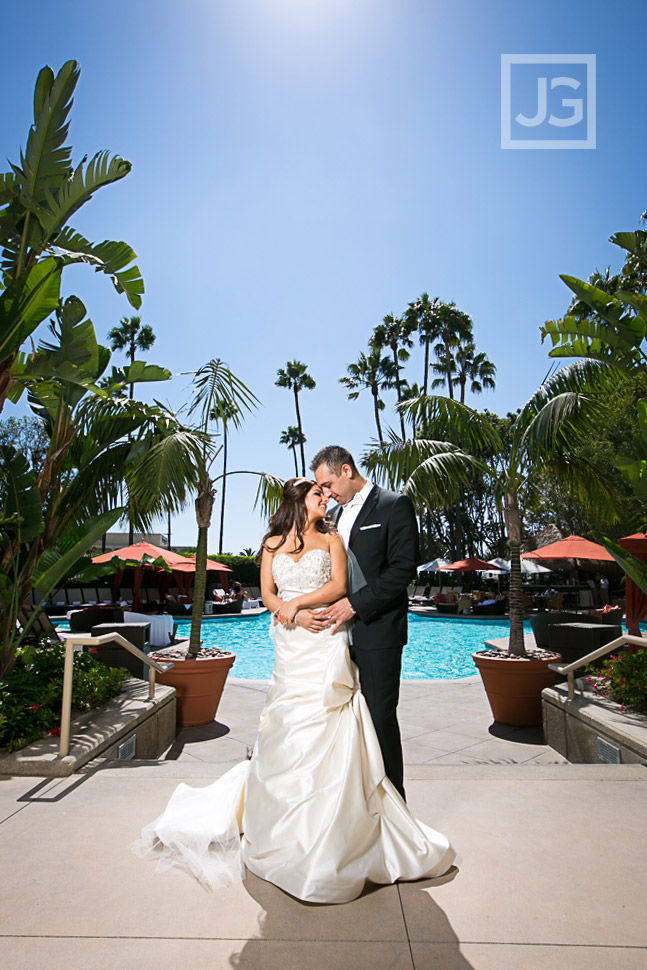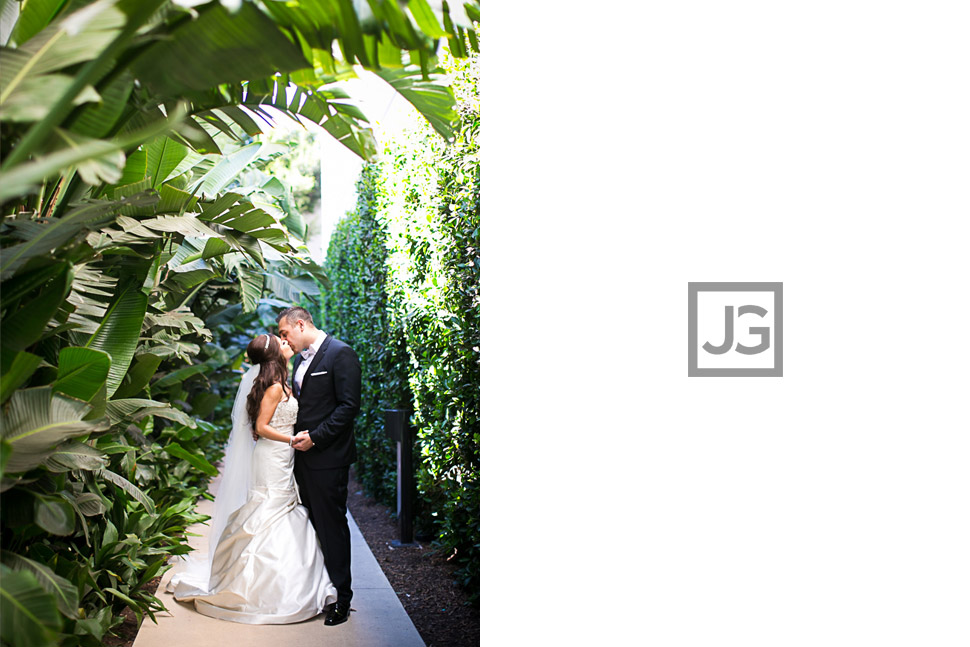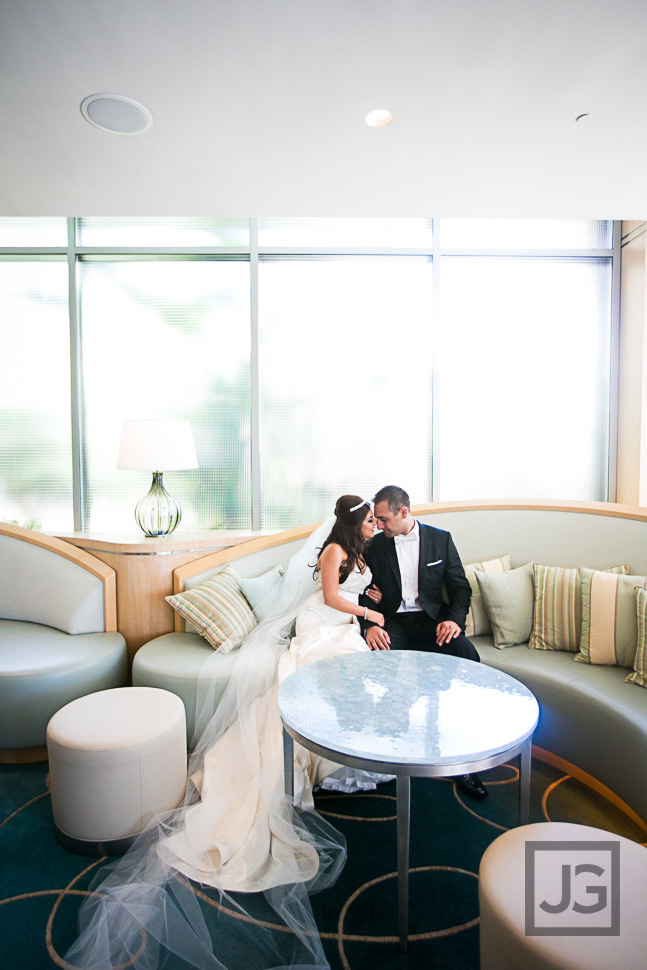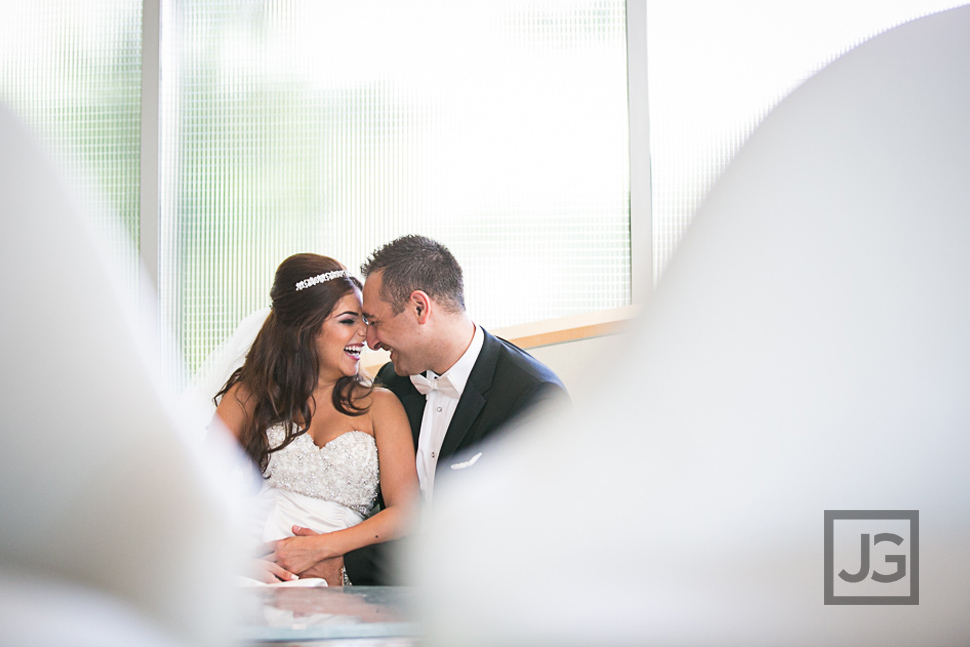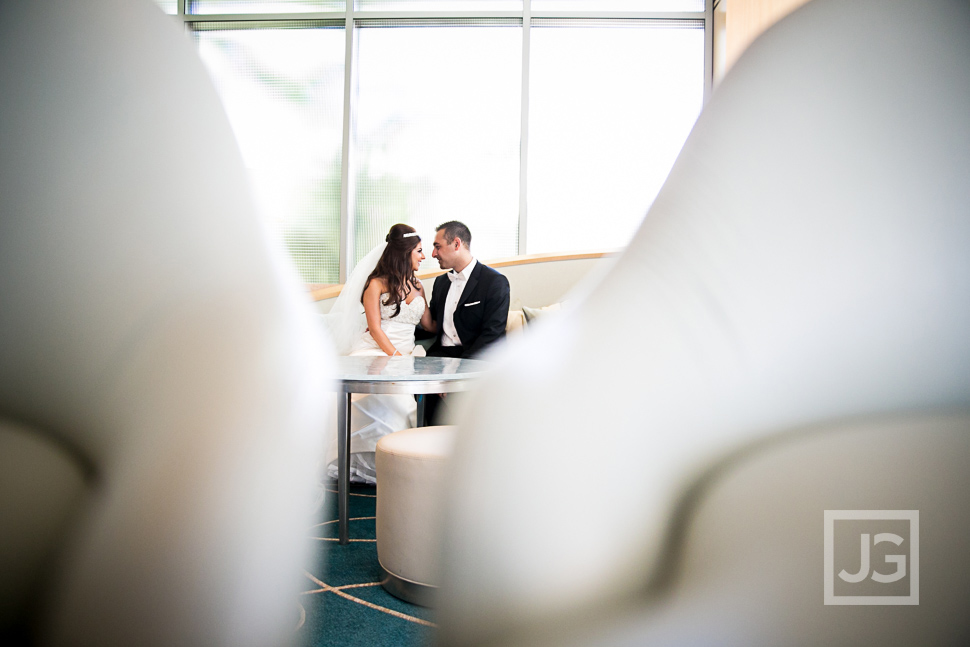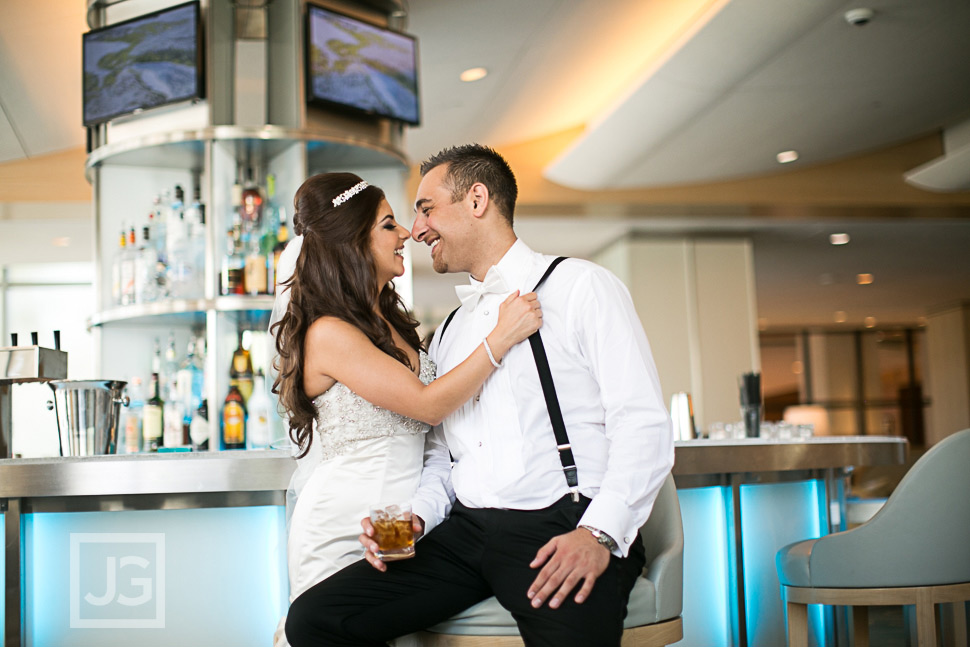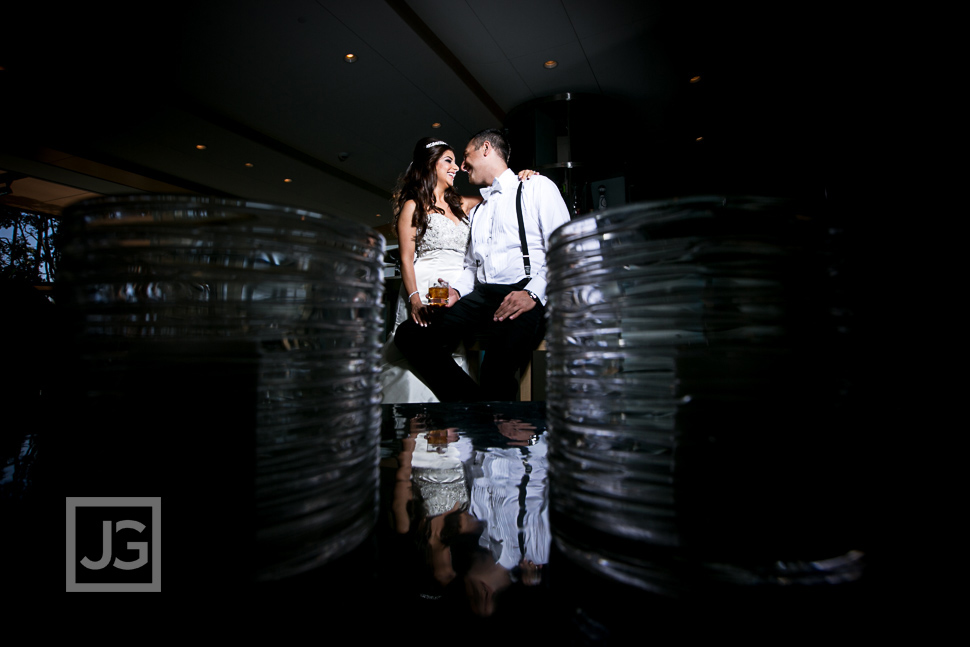 Bridal Party Photos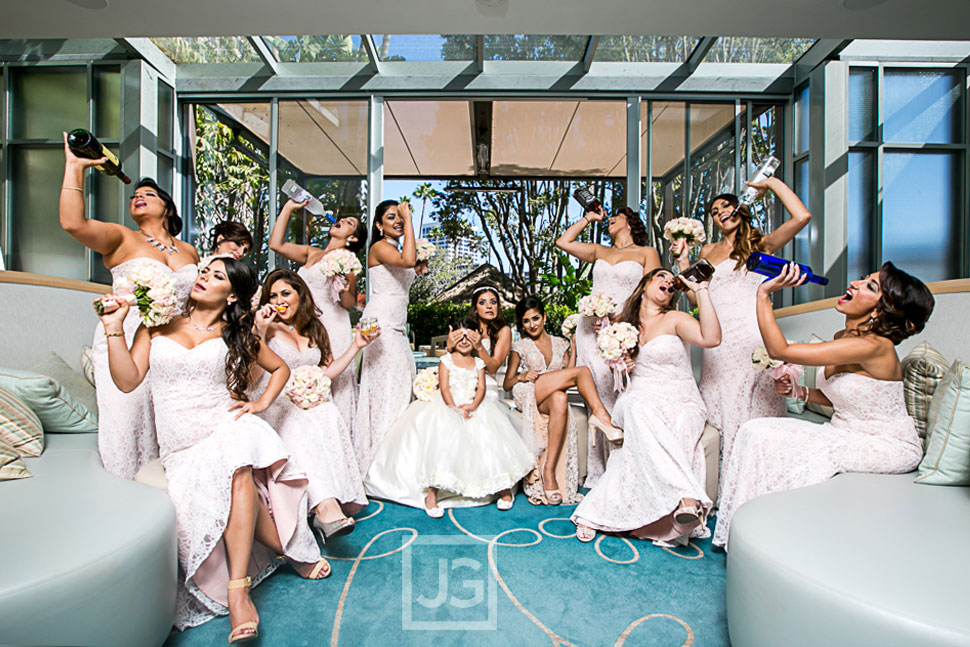 Persian Wedding Ceremony at the Island Hotel
So for those that aren't familiar with a Persian wedding ceremony, there is an elaborate and beautiful spread called a Sofreh, which contains many symbolic elements for the soon to be married couple. Each one that we see is gorgeously different, but they all contain the same traditions.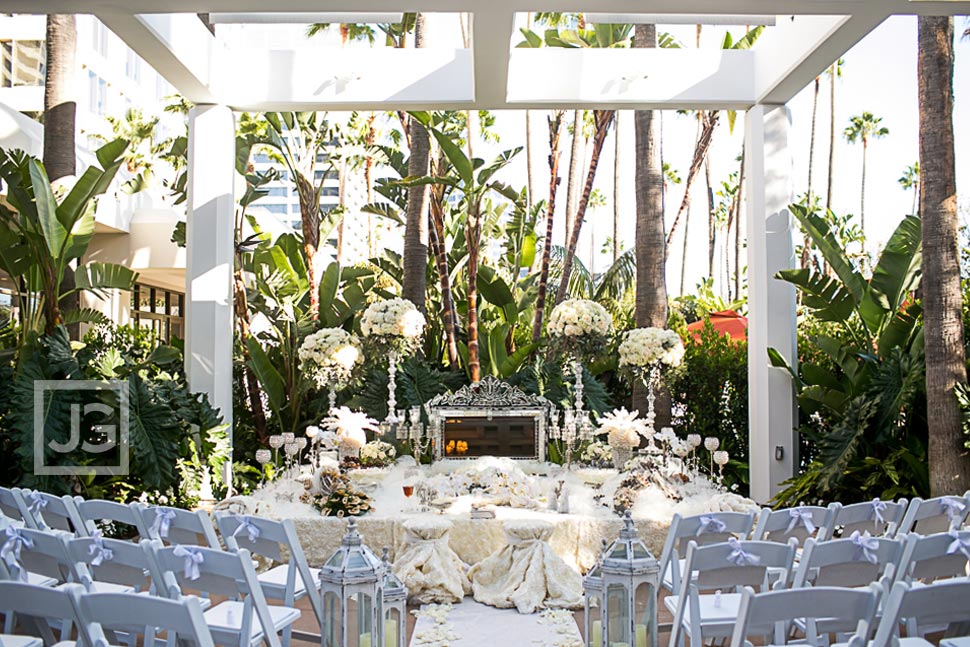 Here, one can see the variety of candies, fruits, and herbs (amazingly laid out in decorative patterns), along with honey in a glass.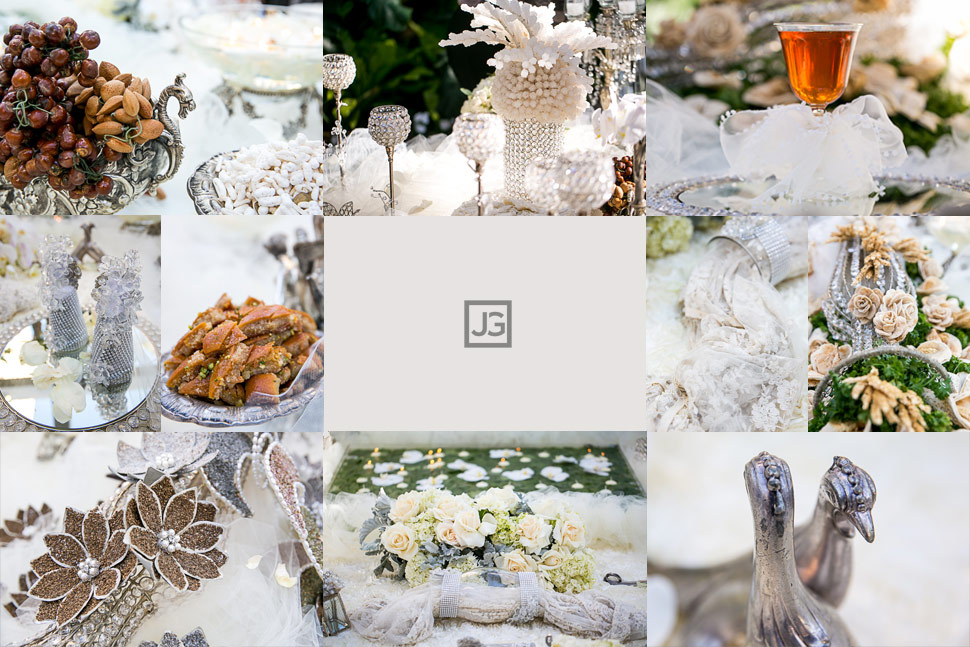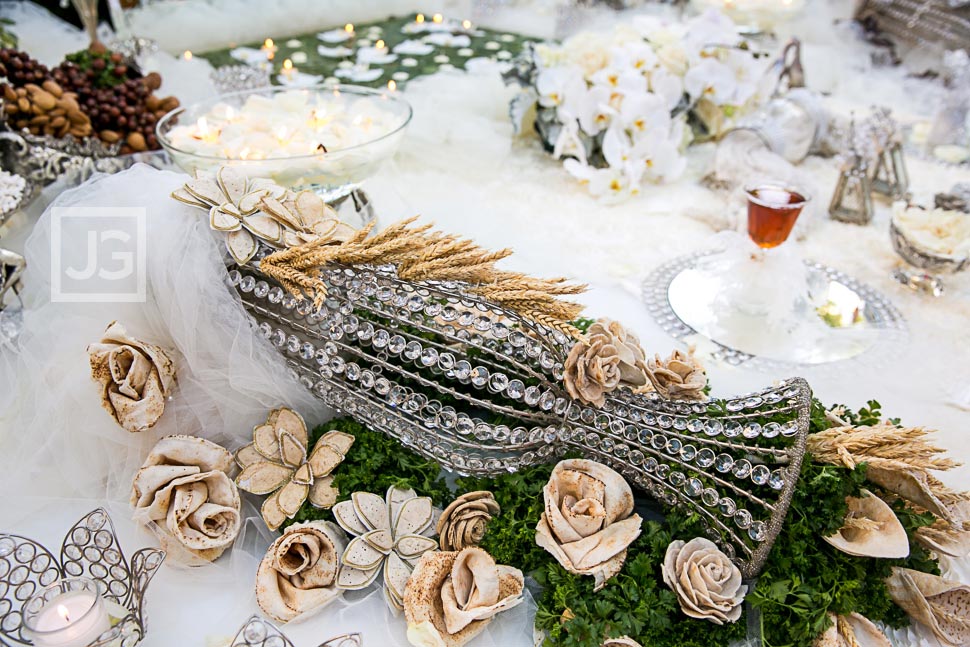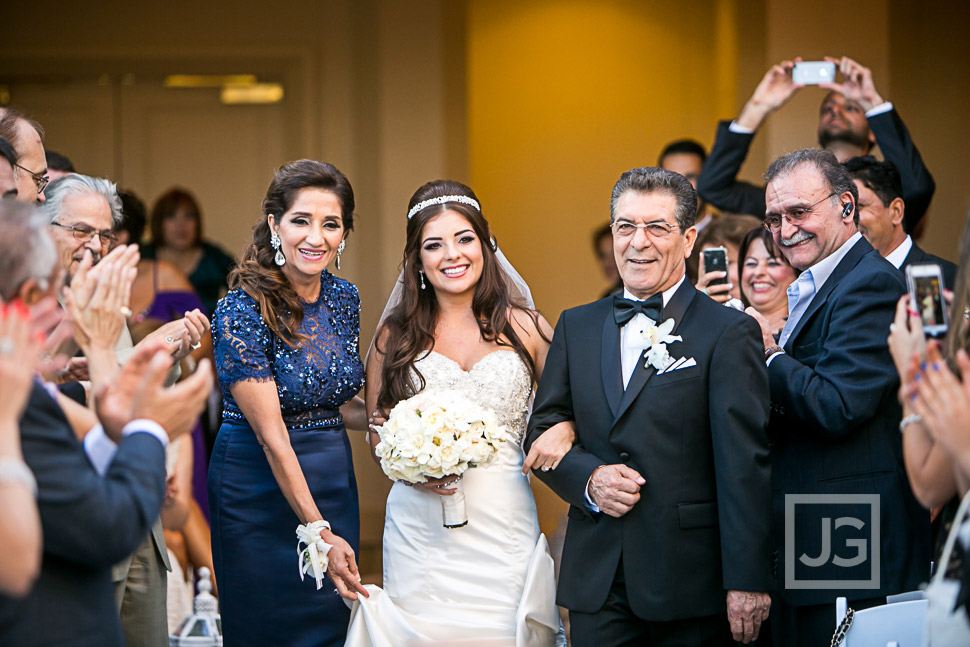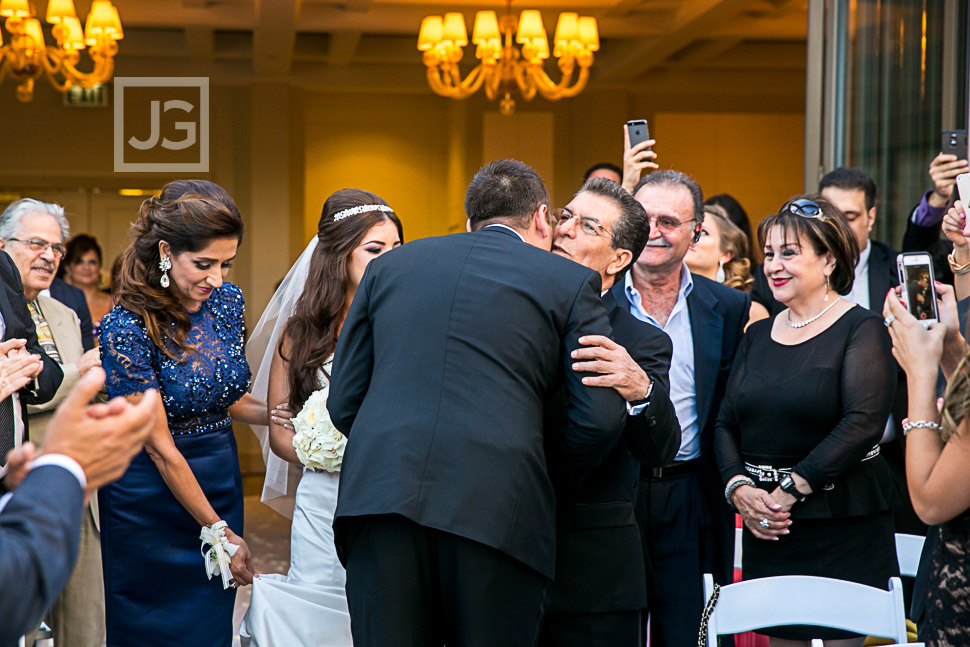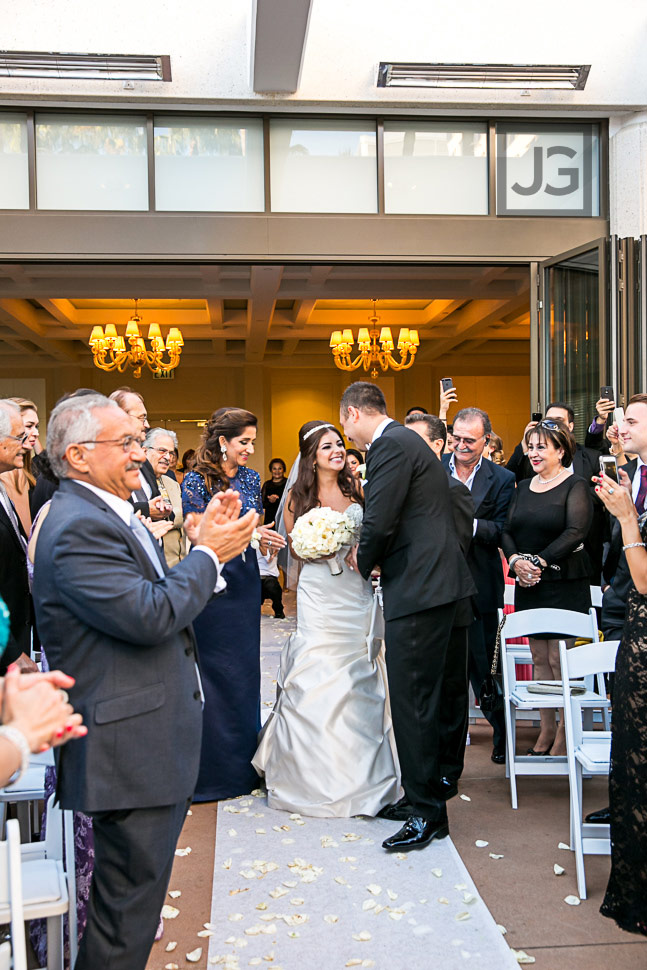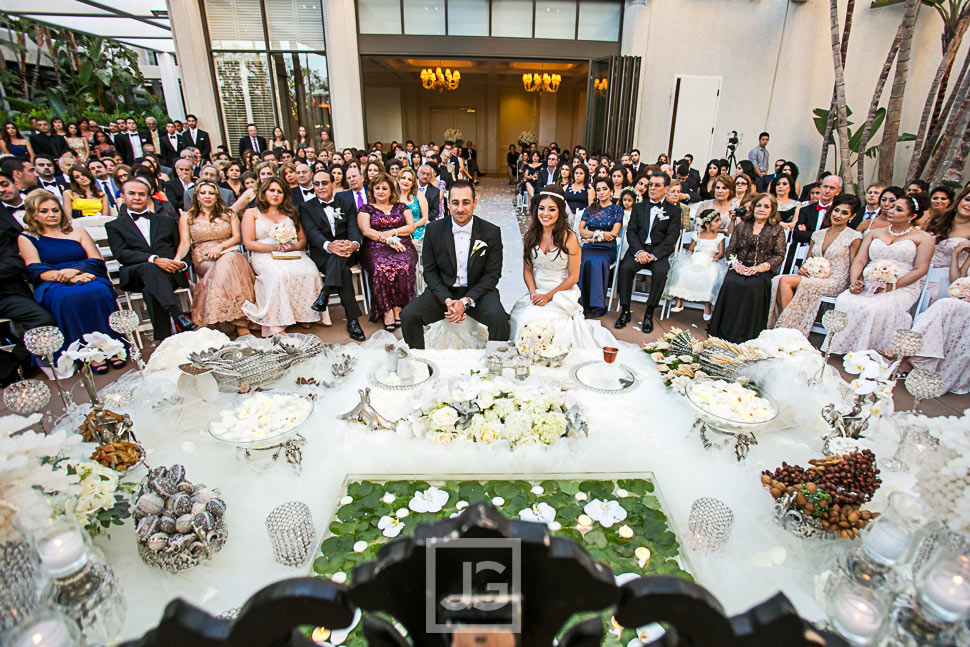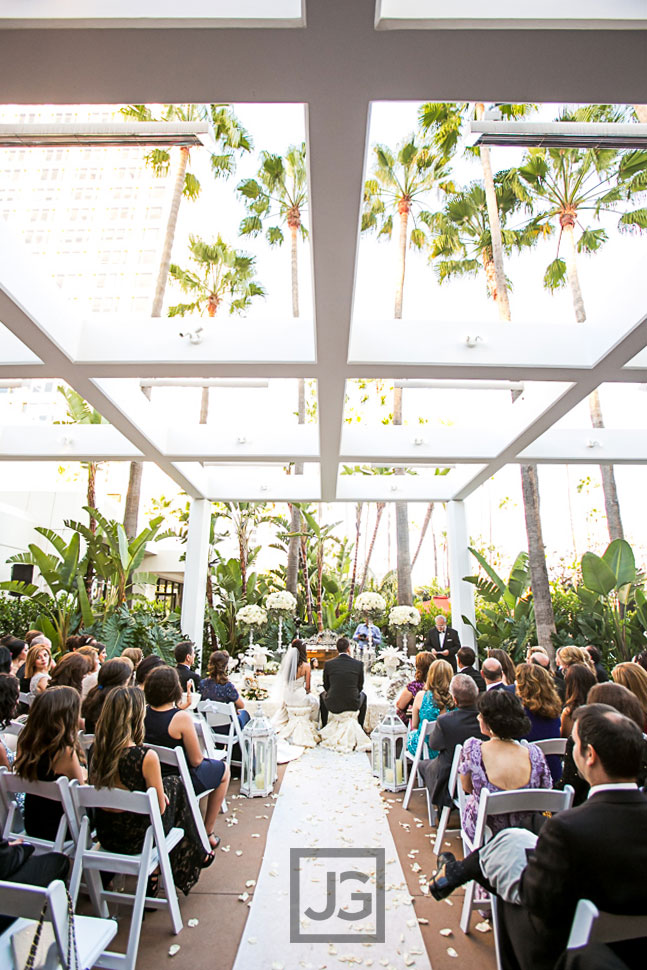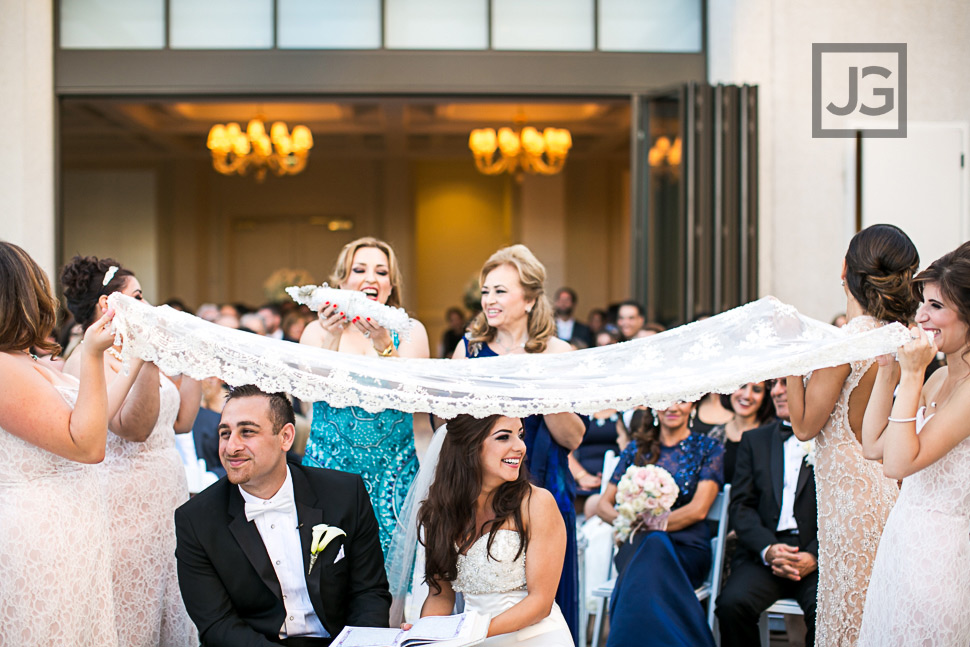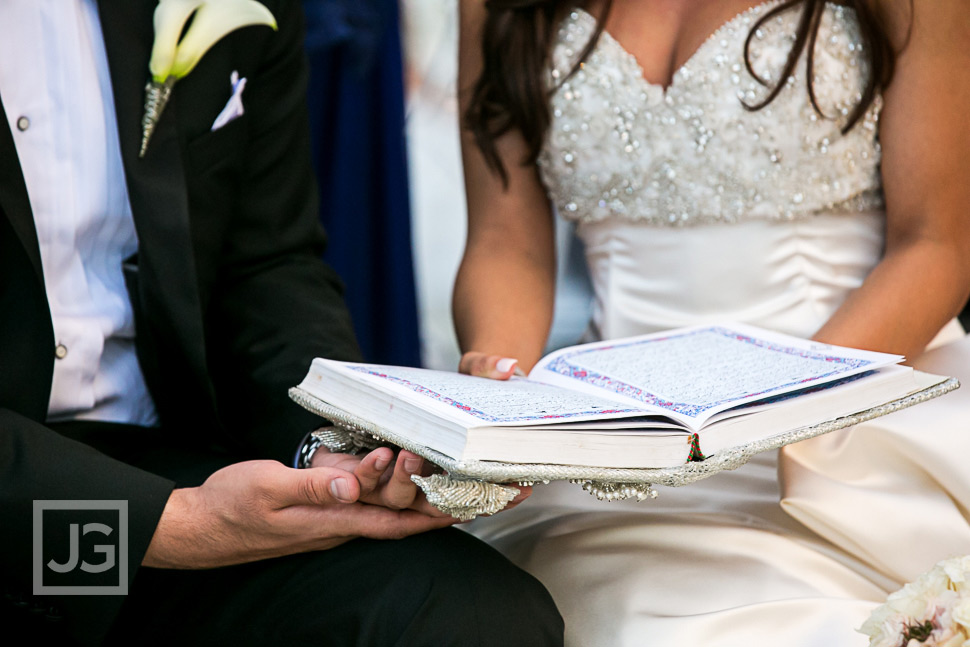 We love it when wedding ceremonies have moments of laughter, smiles, and happy tears.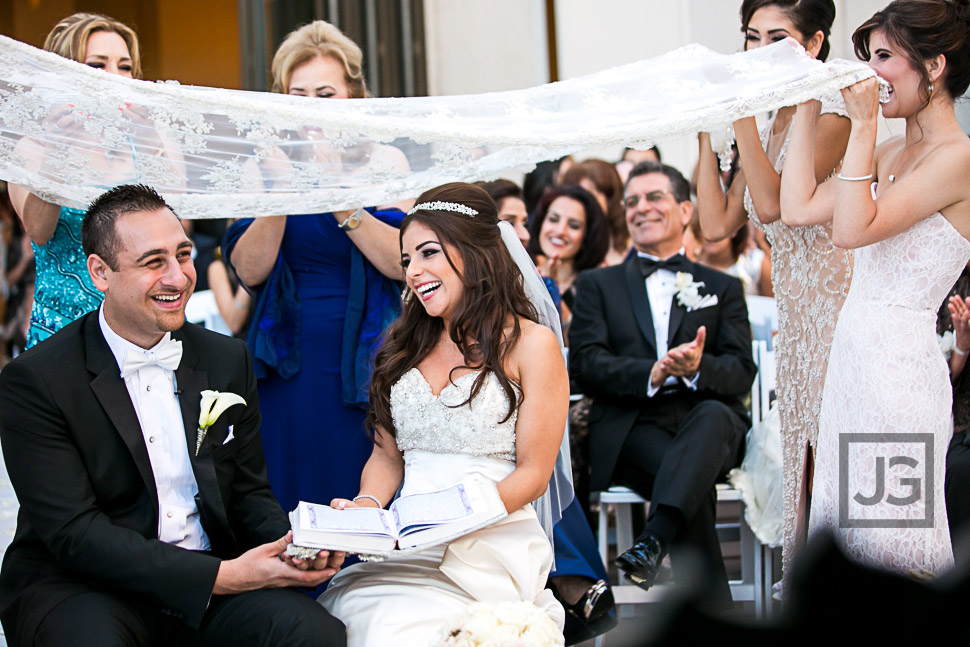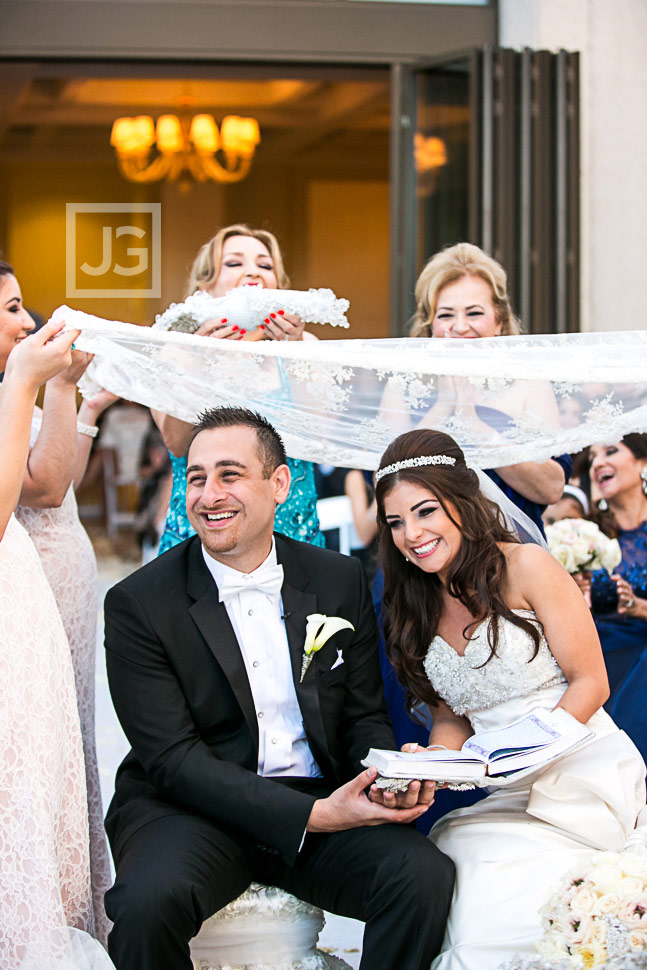 And here is where they share the sweetness of their marriage together…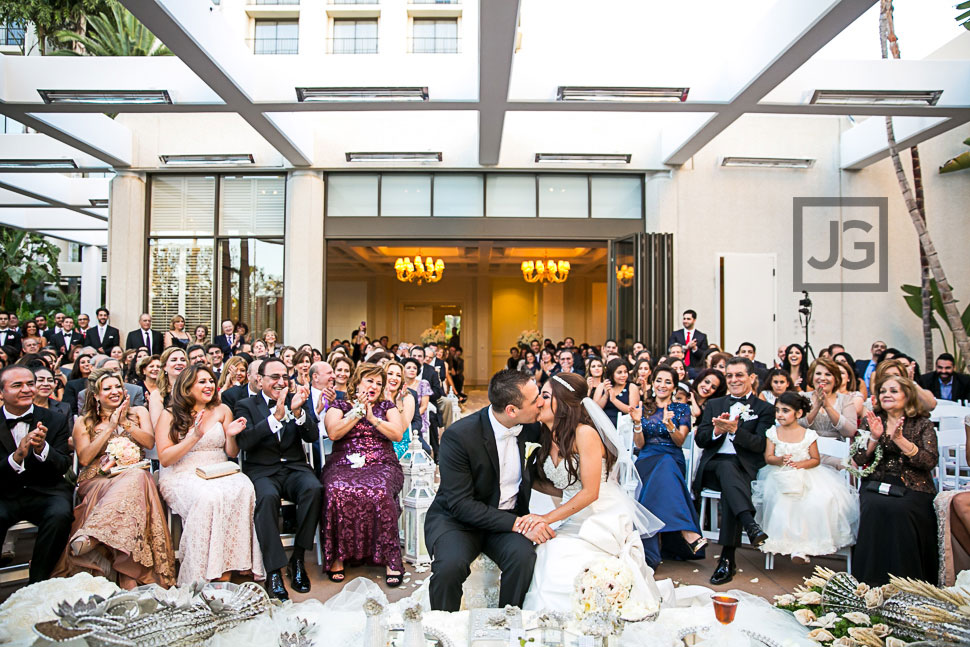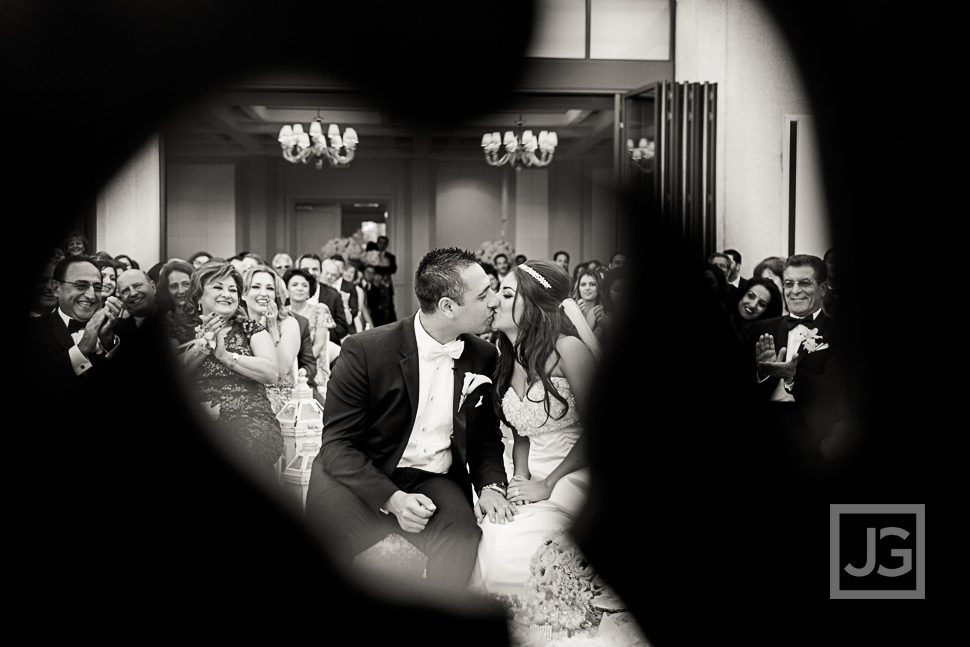 Island Hotel Reception
The Fashion Island Hotel boasts the largest ballroom in Newport Beach. That explains why it is popular for Persian weddings, since I don't think I've ever seen a small Persian wedding 🙂 This one was very well decorated, especially the flowers. The beautiful flowers were done by the talented Sako at Avant Garden. I absolutely love orchids!! =)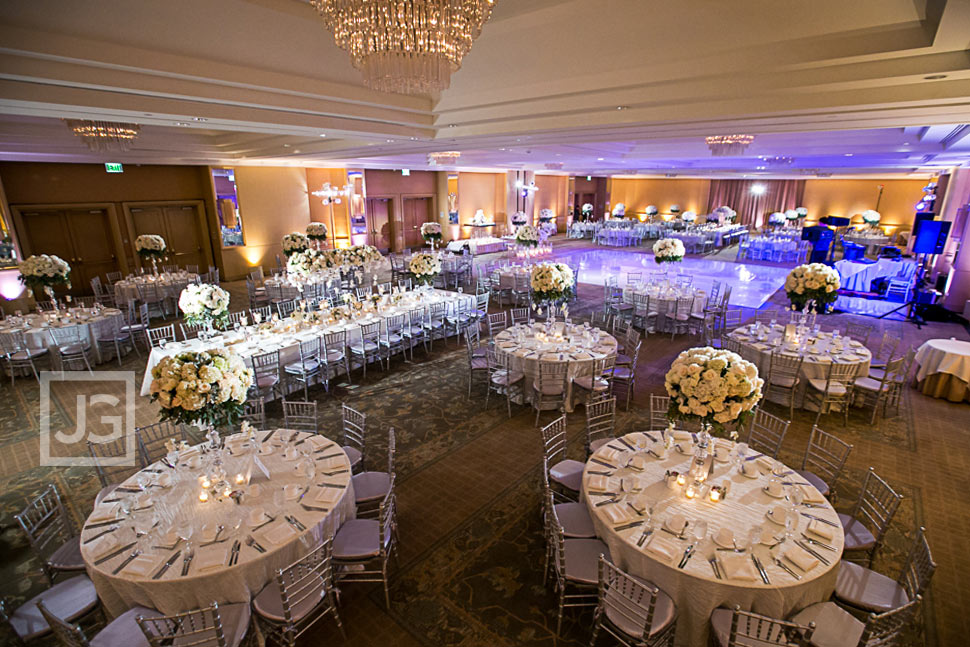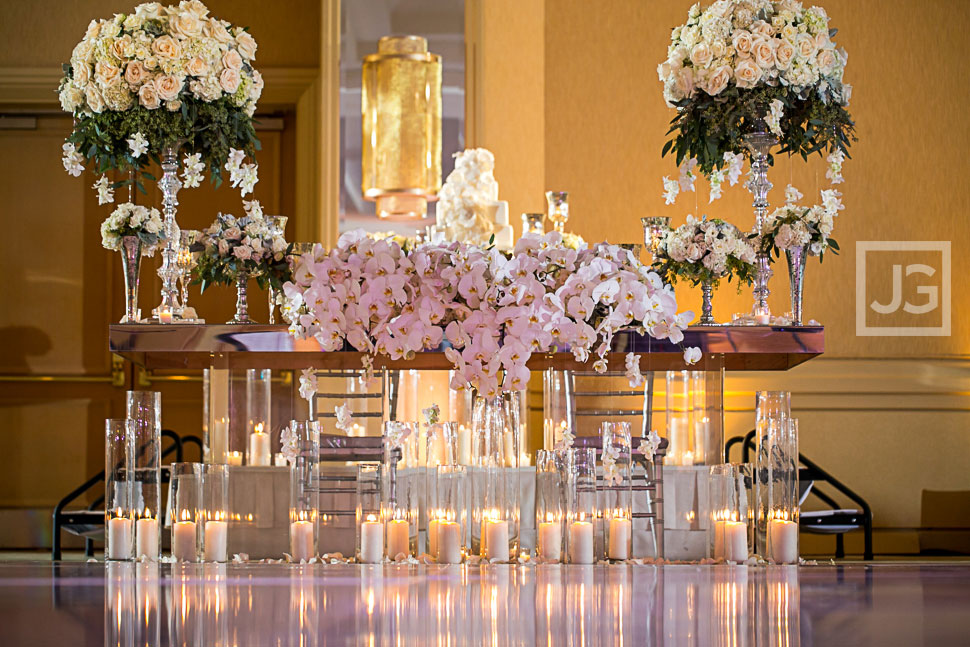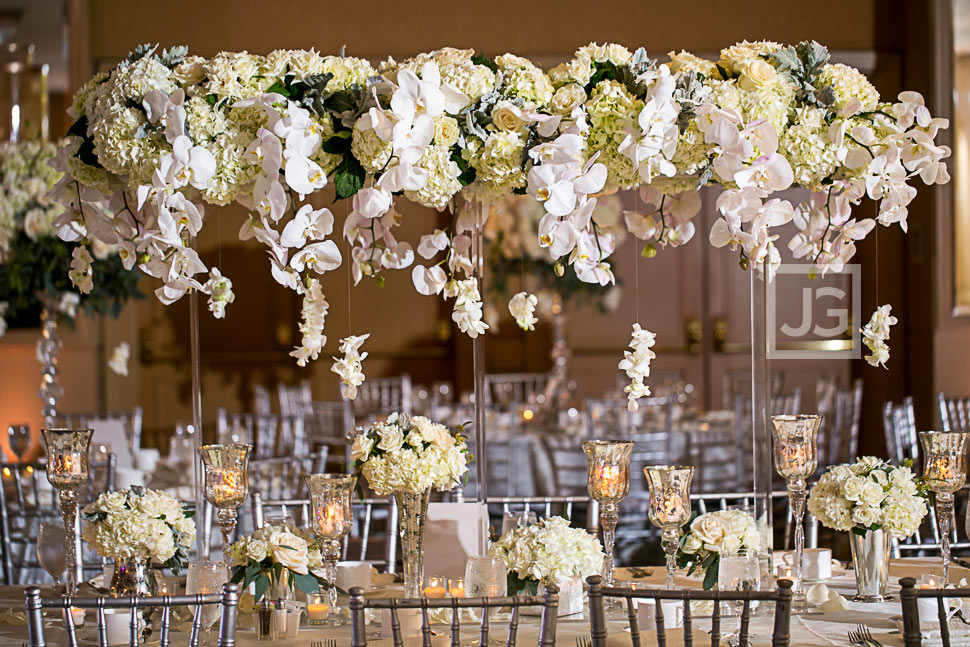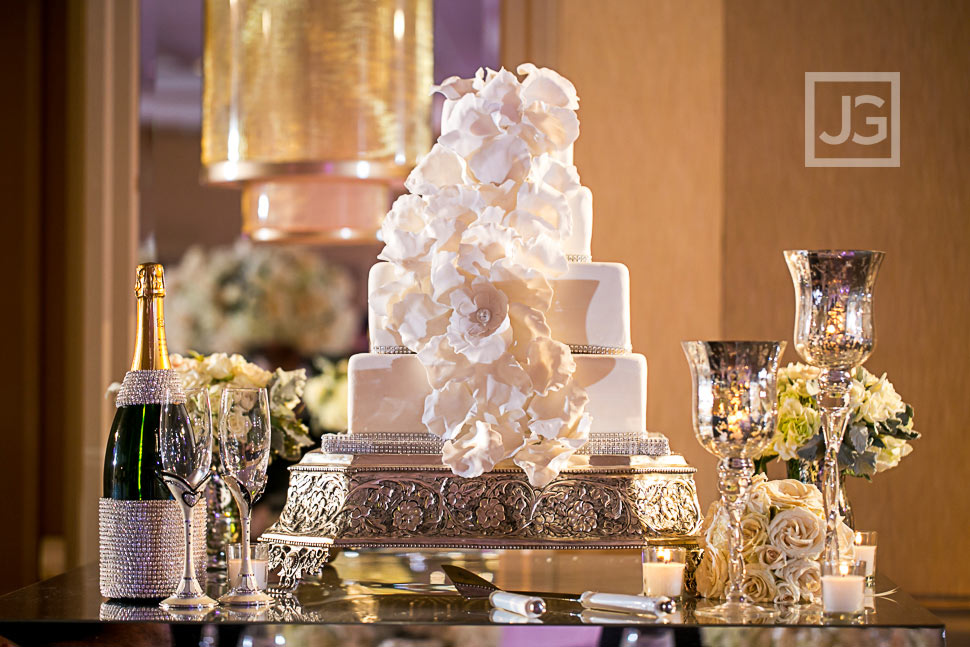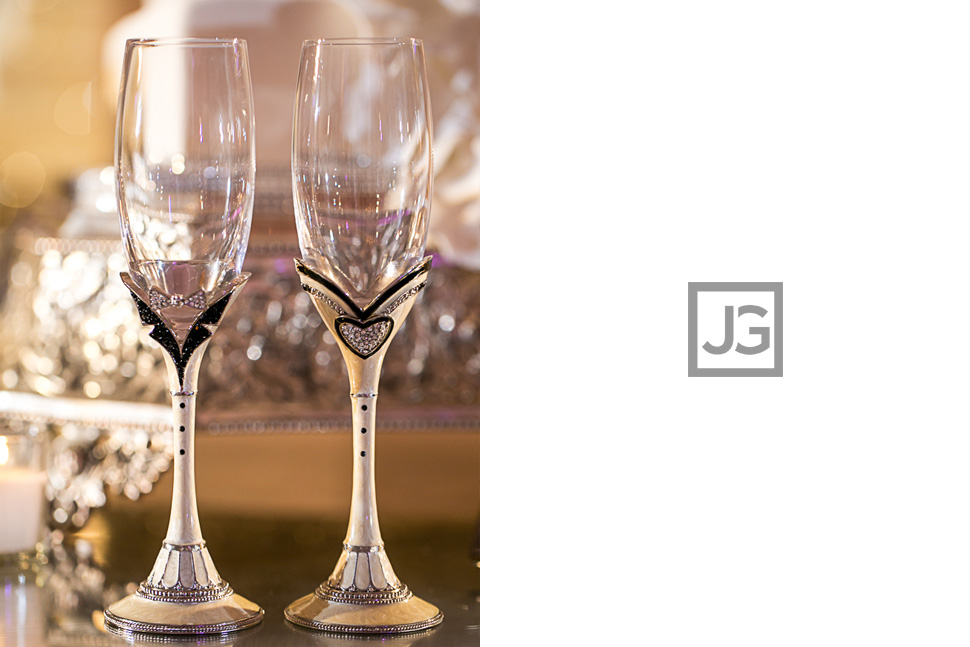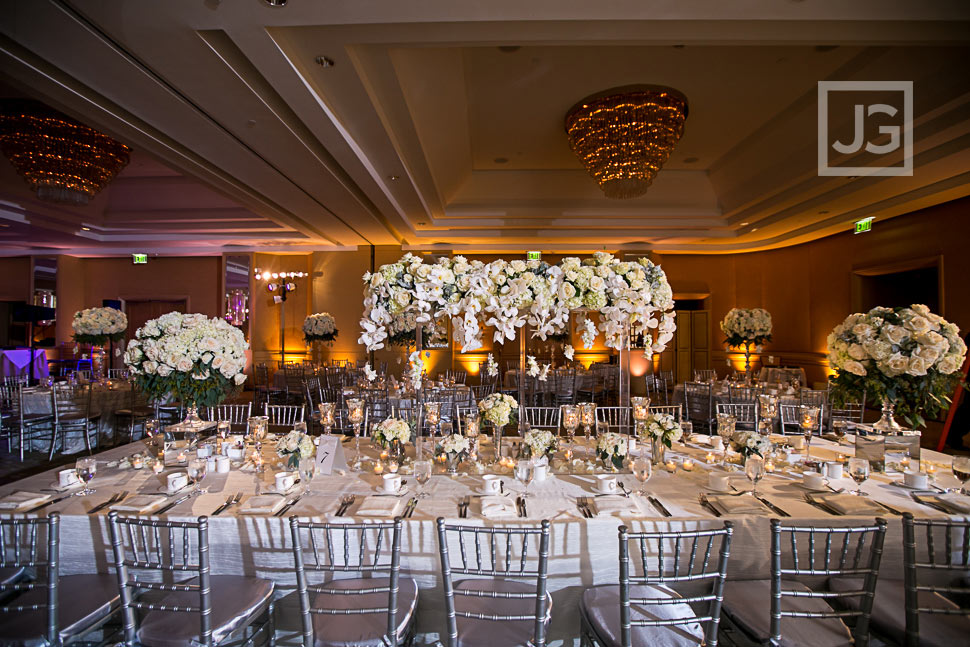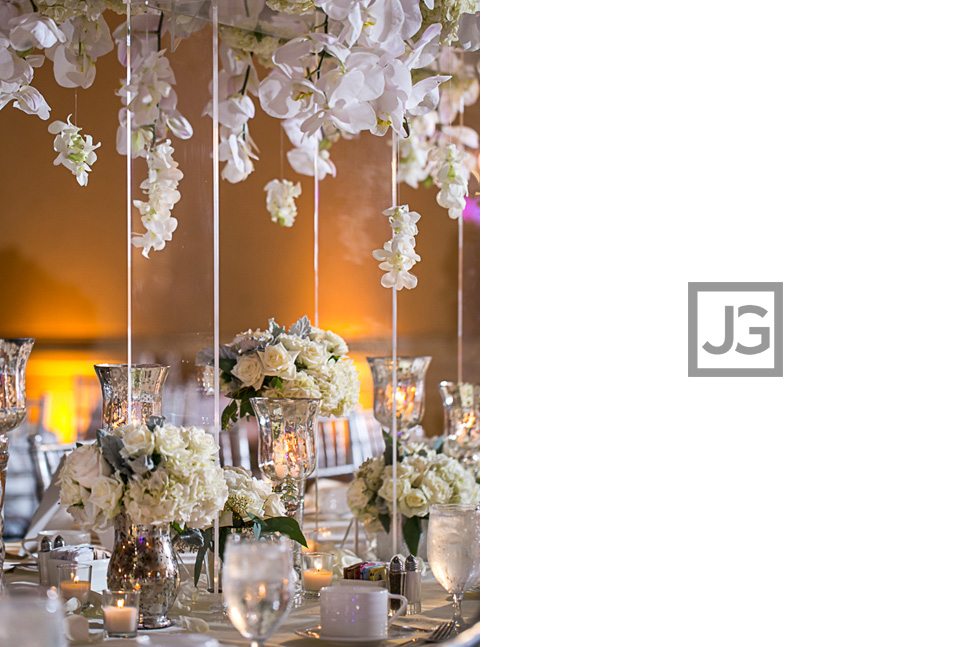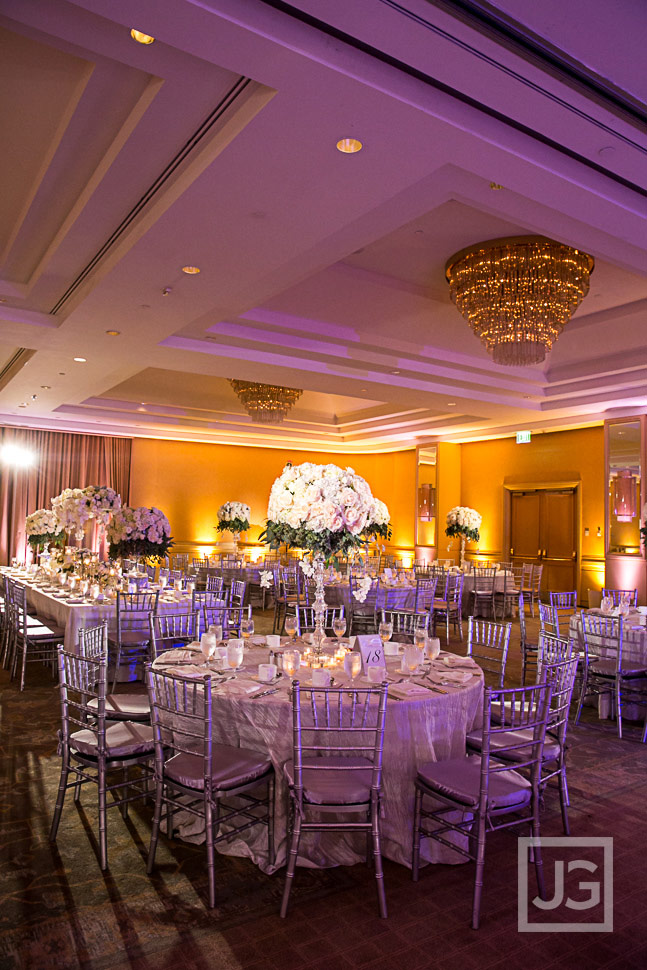 Reception Grand Entrance and First Dance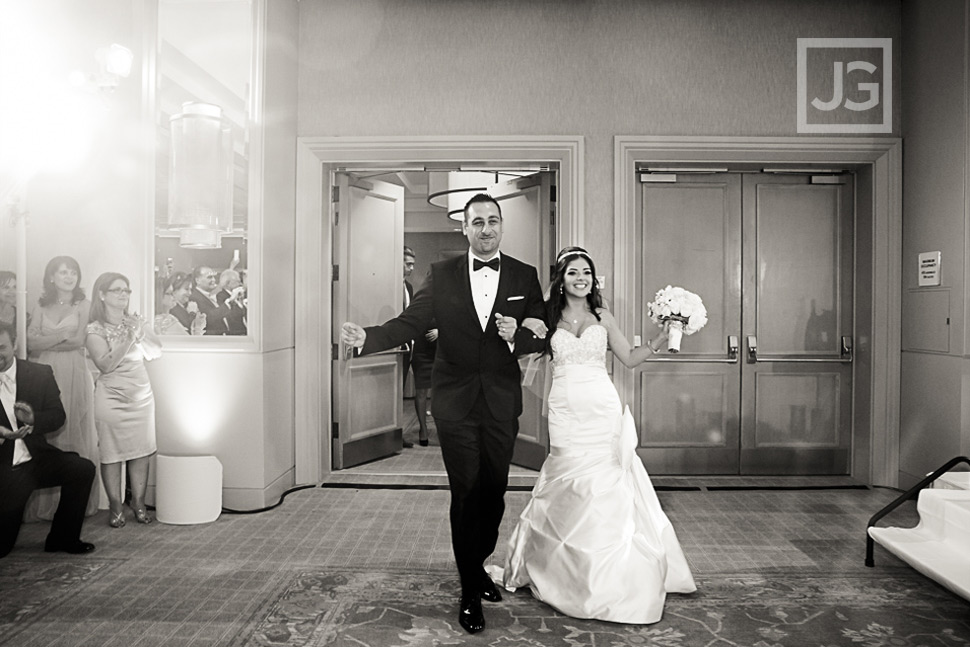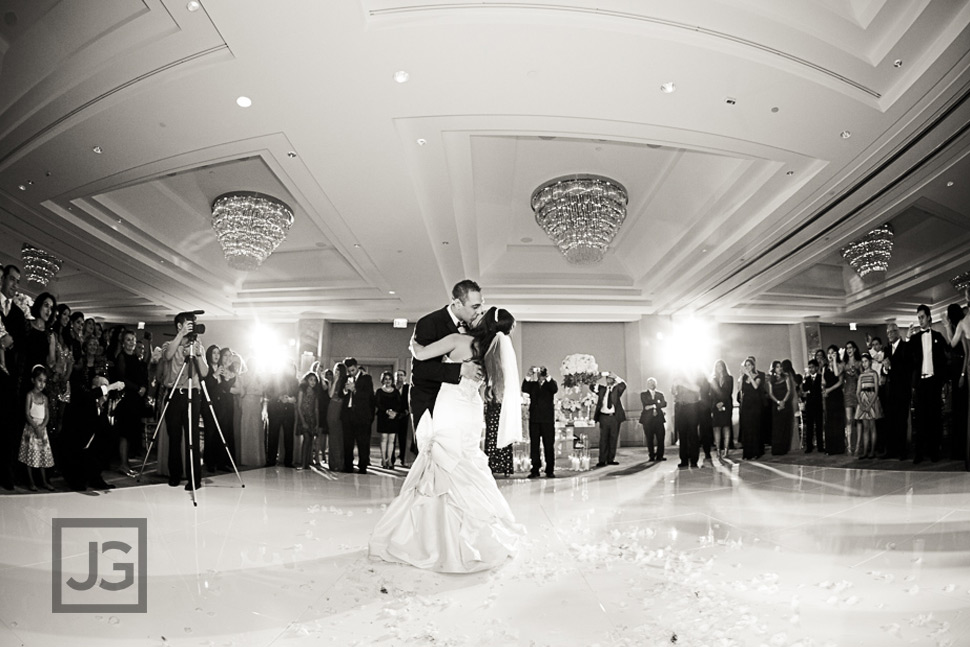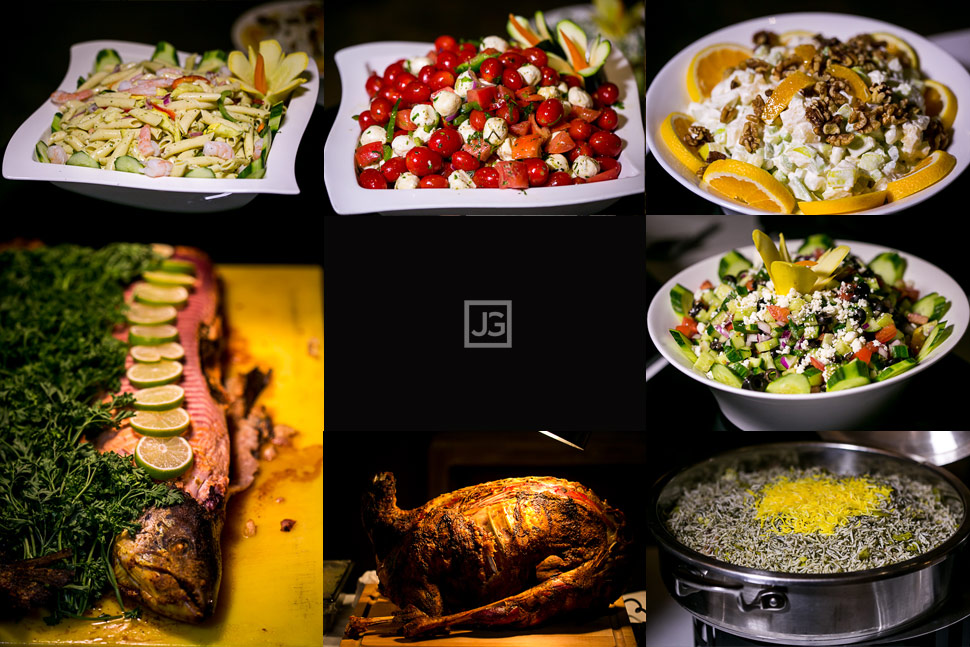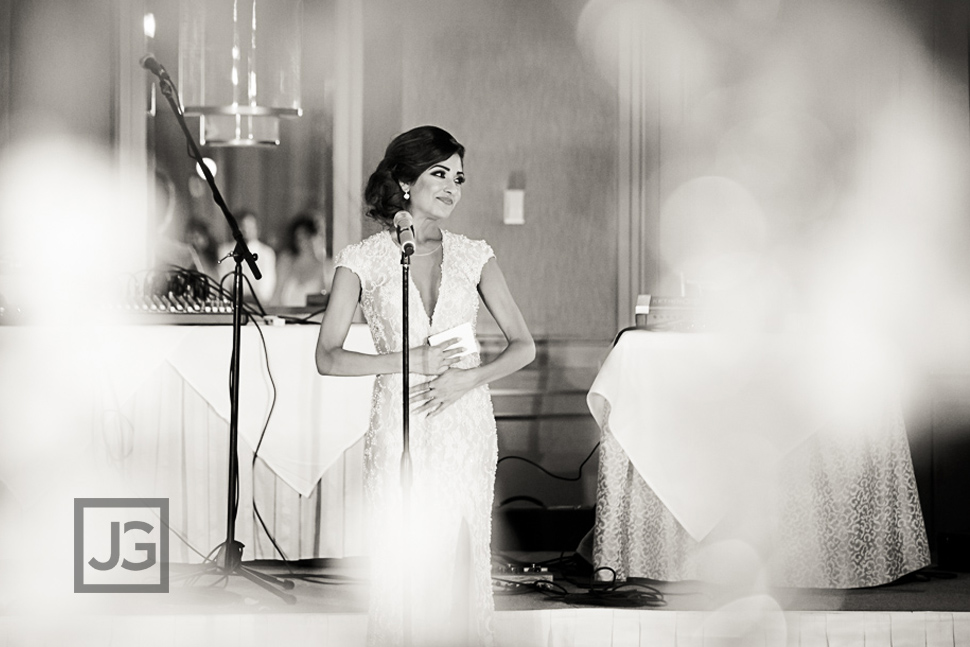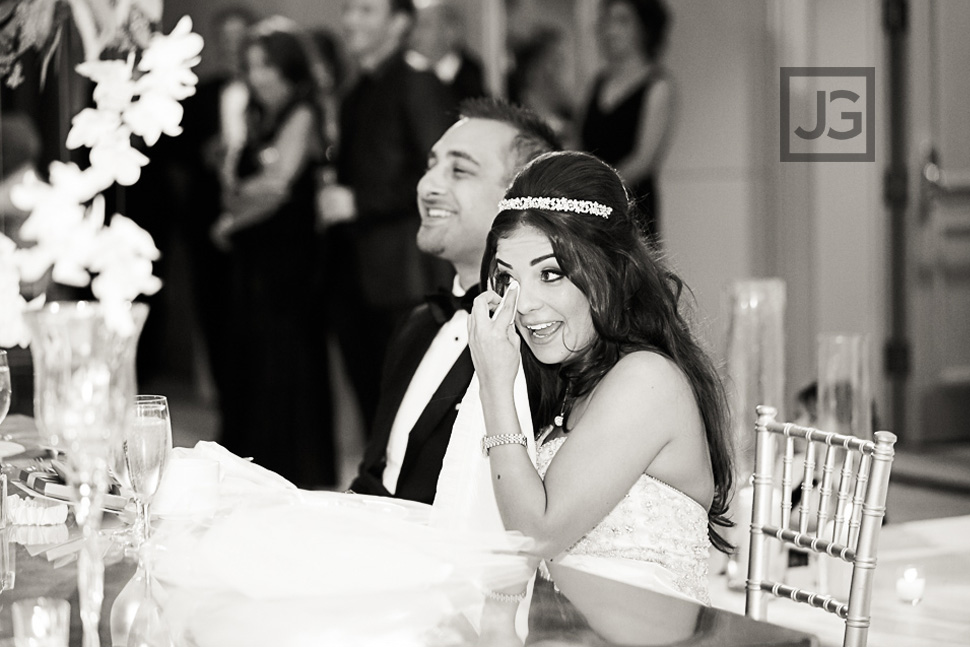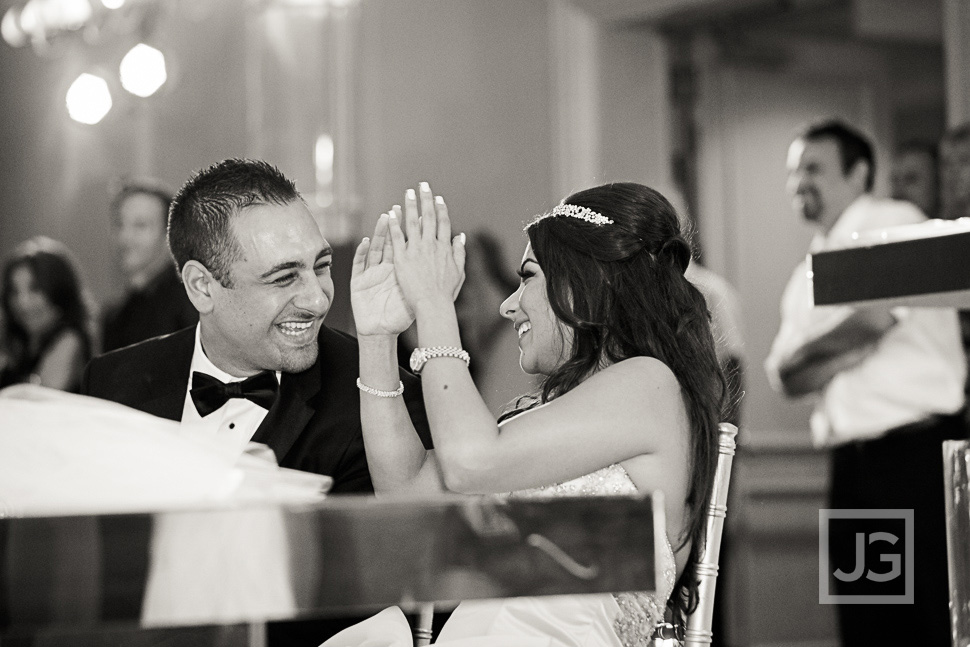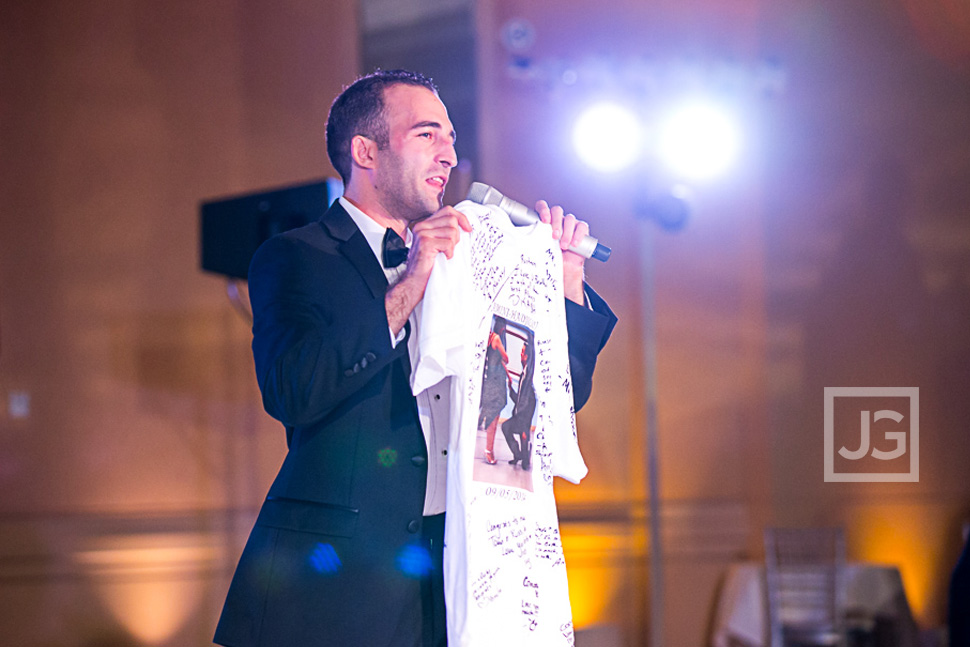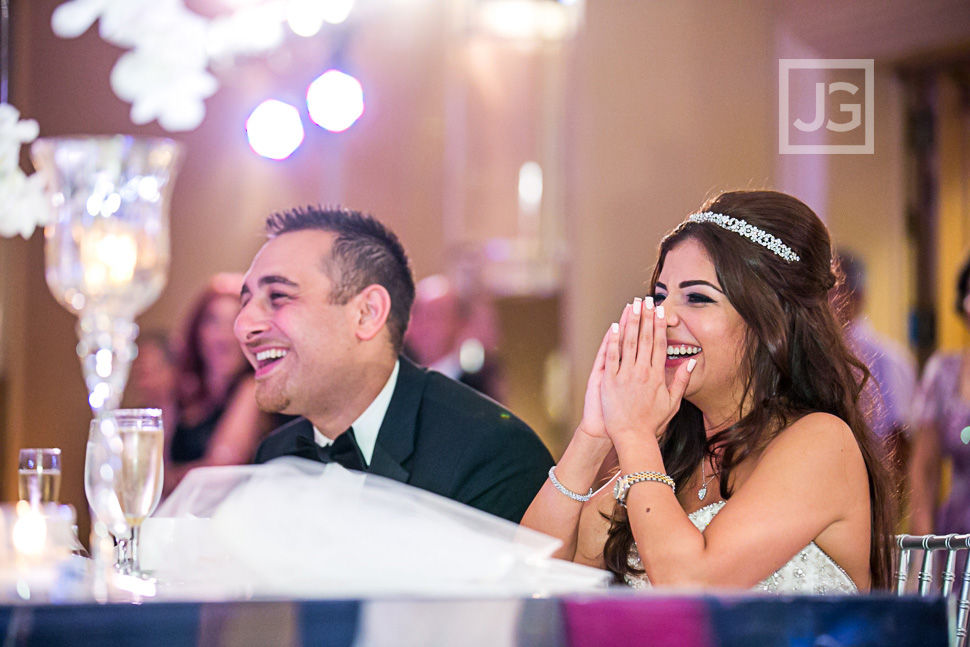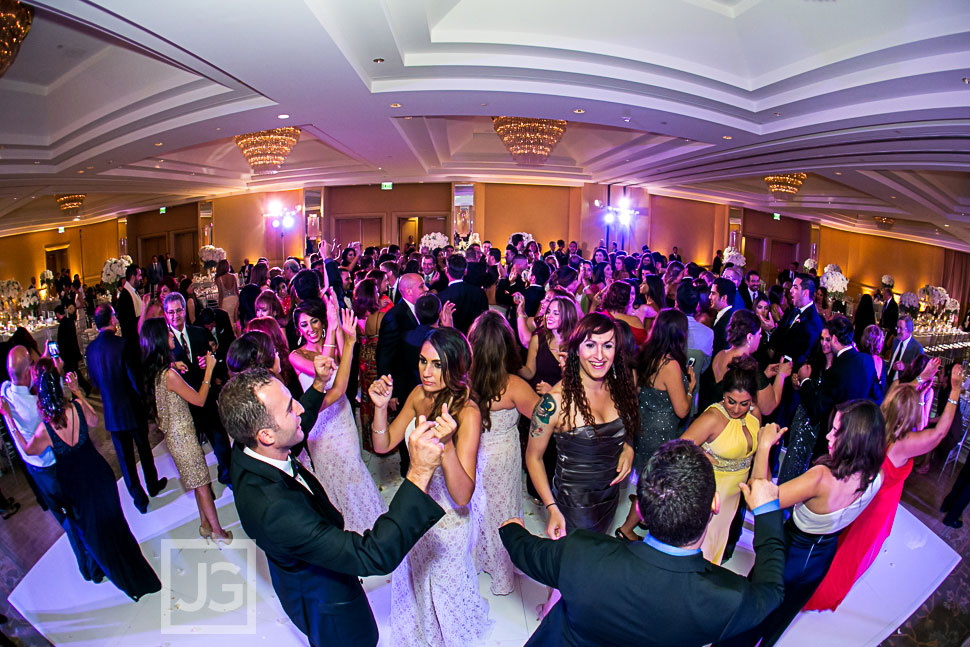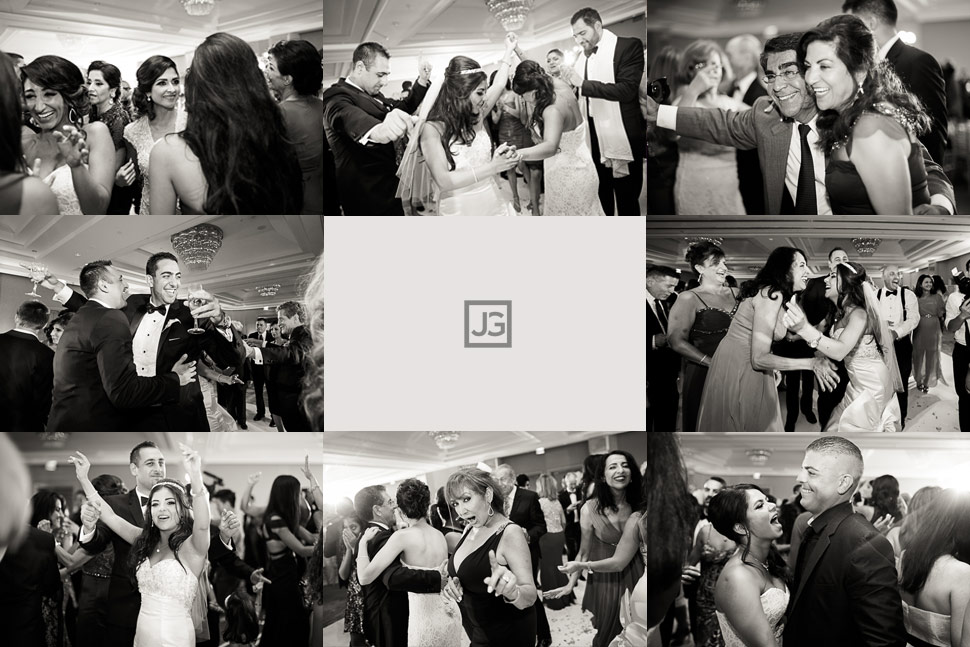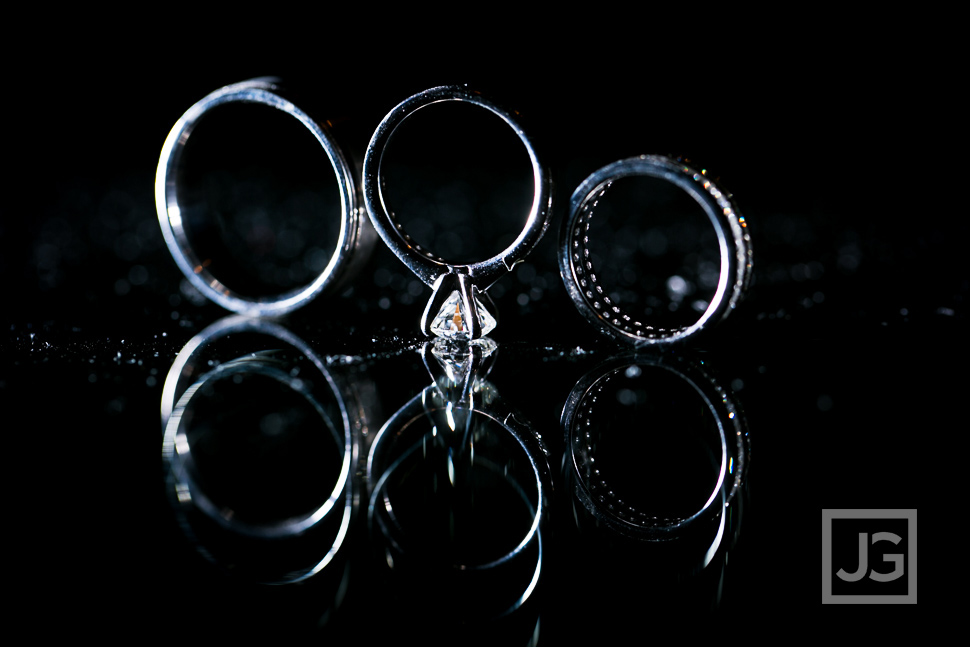 This blog article shows us doing both Fashion Island Hotel wedding photography and videography, which is in Newport Beach (Orange County). It's a persian wedding with a traditional persian wedding ceremony including a sofreyé. From there they filled the large ballroom with lots of orchids, food, dancing, and laughter.
You can find more examples of wedding photography in Orange County on our blog, along with weddings we have photographed in Newport Beach. You can also see more examples of our recent work on our Instagram account, which shows the current stuff we are creating. For example, here is an engagement photo session we did out in the desert, where we captured our couple with the Milky Way: