***Super long blog entry alert***  What can I say… it's our wedding and I'm totally bias!! LOL
Happy Wednesday!! Yay… I'm finally done with our wedding blog!!  Woot woot!!  It's such a cliche when one hears "…my wedding day went by SO FAST!!"  Well… I didn't actually believe it until it was MY turn!  Our wedding day indeed flew by, but I couldn't have asked for a better wedding.  Thank you so much everyone for sharing this joyous occasion with us.  I had such a great time looking through all the pictures and reliving our special day!!  Thank God for photos & video!!  Seriously!  As I'm looking through the tons of photos we got, I was like… "What?  When did I do that?!?!  OMG, how embarrassing!" Hahahaaa.
I also would like to take this time to thank each and every vendor.  While most brides/grooms get to meet only 2 to 4 of each vendor (i.e. DJs, Photographers, etc.) in their selection process, Gavin and I see about 40 to 50 a year.  With this, I know that all the vendors we used were the best of best and that's why we trusted them with our own wedding.  Thank you SO MUCH guys, Gavin and I couldn't have done it without you all!  We couldn't have been any happier with everything!!  We definitely recommend any of them without reserve.
Lead Photographer:  Doug Chan of Furious Photographers  626.755.7248
2nd Photographer: Danny Nguyen of Danny Nguyen Photography 626.731.0144
Extra photos Courtesy of our good friend Steve Hoffmann Photography 714.315.6106
Extra photos Courtesy of our good friend Phebe Hosea
Videographer:  Joe Rosenberger of Today's the Day Wedding 714.443.1216
DJ/Lighting:  Huey Le of Platinum Peaks Entertainment 714.595.2892
Photobooth:  PictoBooth 888.838.0399
Make-up/Hair:  Vivian Tran of All Made Up Team 714.203.4556
Wedding Venue:  Stephanie Dinh of S Fine Dining 714.898.5092
Wedding Cake:  Stephanie Dinh of Final Touch Bakery 714.894.3393
Florist:  Cat Chu of Three Petals 949.735.3897
Hair Piece:  Chin-Lu Hoffmann of Chinny LuLu Designs
Dance Instructor:  Kristy Rivers 626.272.6186
Magician:  Danny McKinnon of Danny Magic 800.597.3252
Poker Dealers:  Daniel deMaio of Dad's Poker Night 866.502.6638
Wedding Dress:  Designer is La Sposa and the Style is Martina
Gavin and I entered the wedding planning process know exactly what we want.  Our biggest goal was for ALL our guest to have a great time.  We wanted it to be more of a party than a traditional wedding celebration.  With that, our top priority was entertainment for our guest!!  As you look through this blog entry, you'll see that we had many festivities to keep our guests entertained.  The biggest compliment to us was when everyone told us, "wow… it was definitely one of the best weddings they've been to!"  YES… Mission accomplished!!! 😉
Our day started out in the morning (around 9am) when I woke up with butterflies!!  "WOW, it's finally here!" I thought to myself.  We both got ready at our house… it didn't matter to us whether we saw each other or not prior to the ceremony.  In fact, Gavin took pictures of me and my girls getting ready prior to Doug's arrival.  In case you didn't know, Doug is a very good friend of ours.  He's also our business partner in our High School Photography business.  Gavin and I are very lucky to have Doug and Danny photograph our big day!! We are also blessed to have  Joe Rosenberger of Today's the Day Wedding be available to be our videographer.  Joe is fantastic!!  He's very professional, responsive, and a joy to be around.  He does great work and I can't wait to see what he'll do for us!!
Everyone knows how much I love taking pictures of rings!  Well… here's my ring and I LOVE how Doug took it!!  I can't believe it's my turn to be on the other side of the camera.  LOL… kinda feels weird.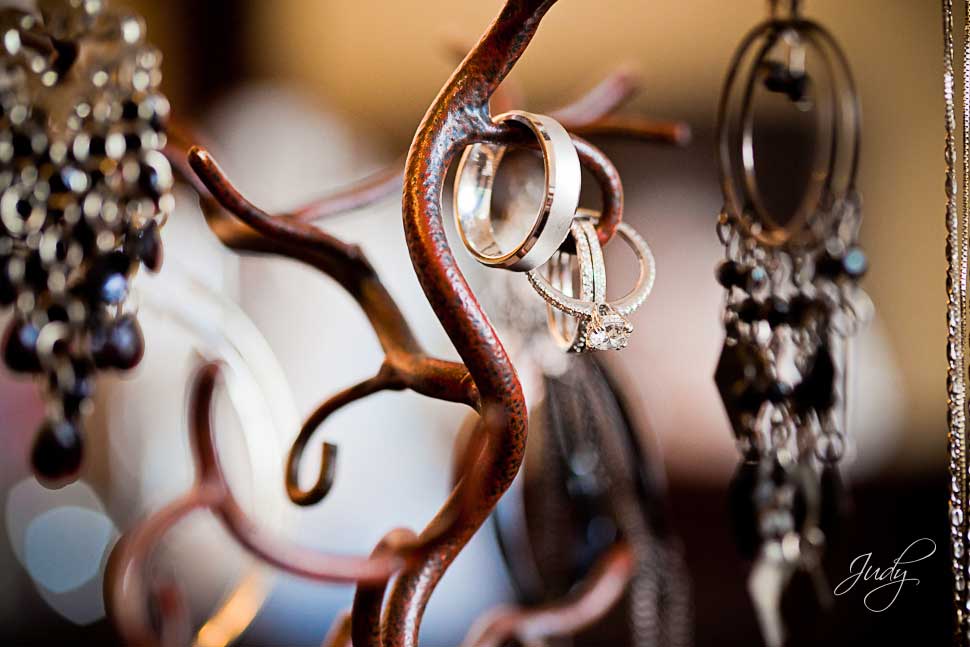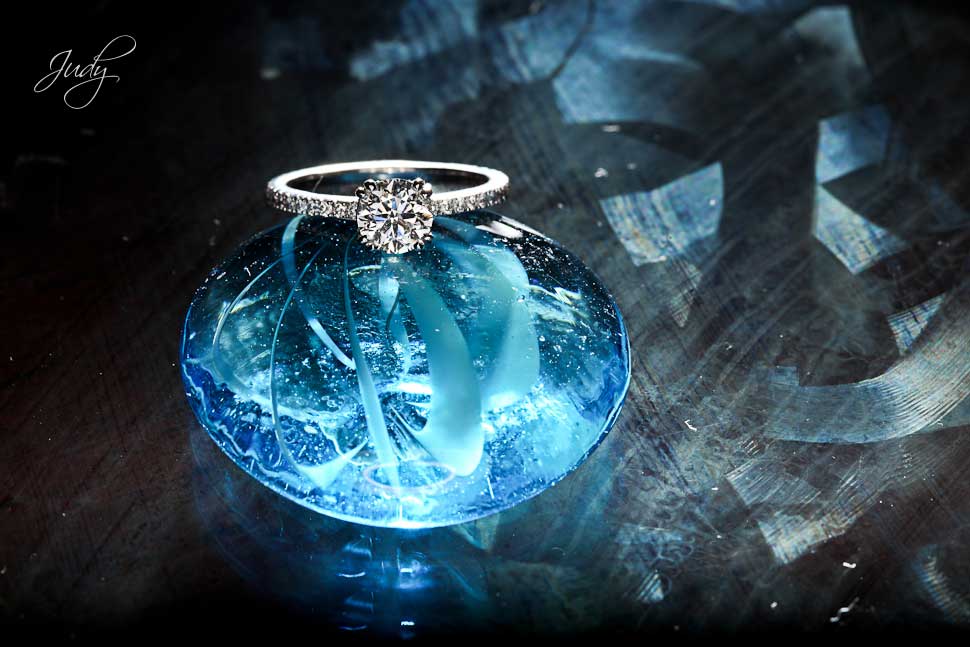 My hair and make-up was done by the talented Angelina and Julie of the All Made Up Team.  I've worked with the All Made Up Team numerous times and they do an absolutely stunning job each time!!  Vivian Tran and her girls are punctual, professional, and easy to work with.  They listen to what I want and gave me exactly what I asked for (if not more).  Thank you Angelina and Julie!!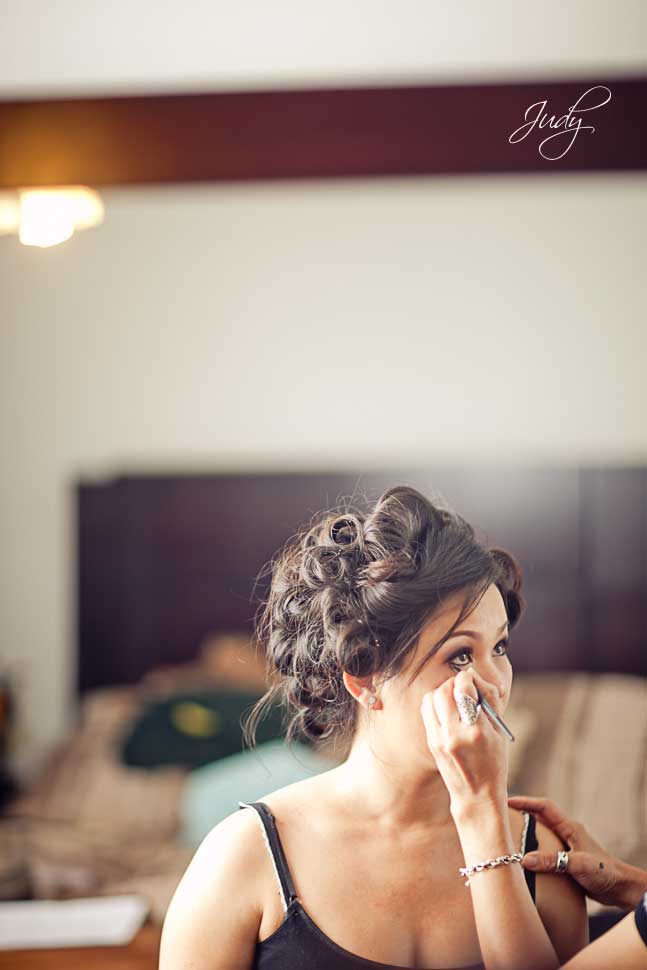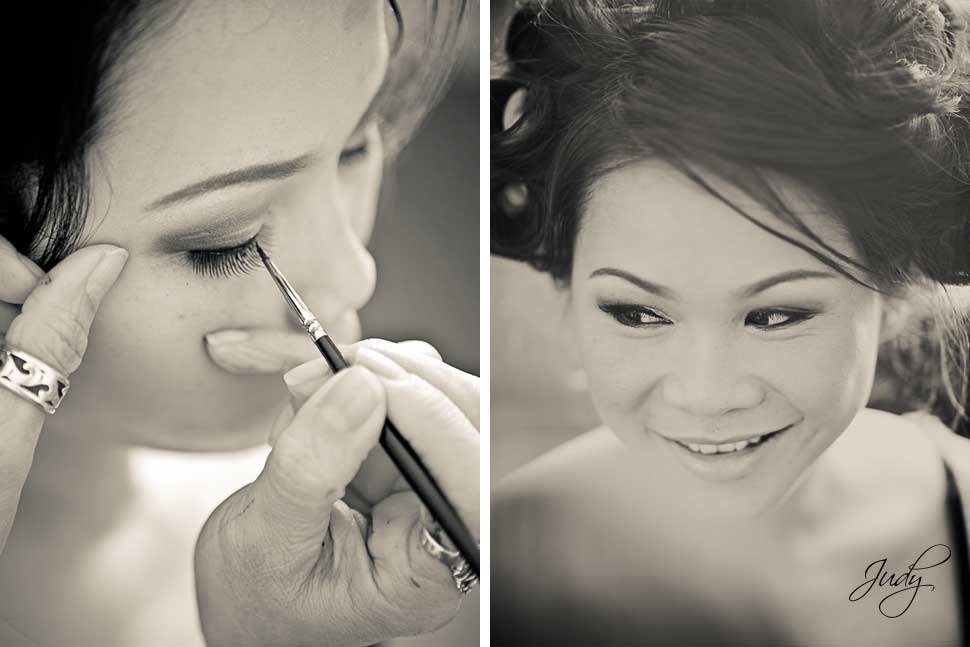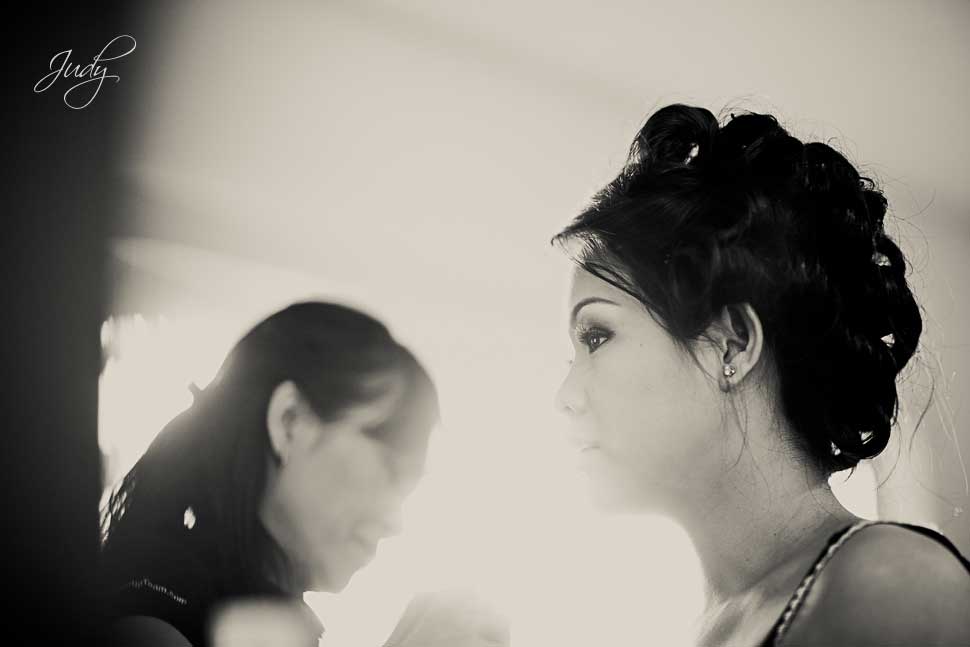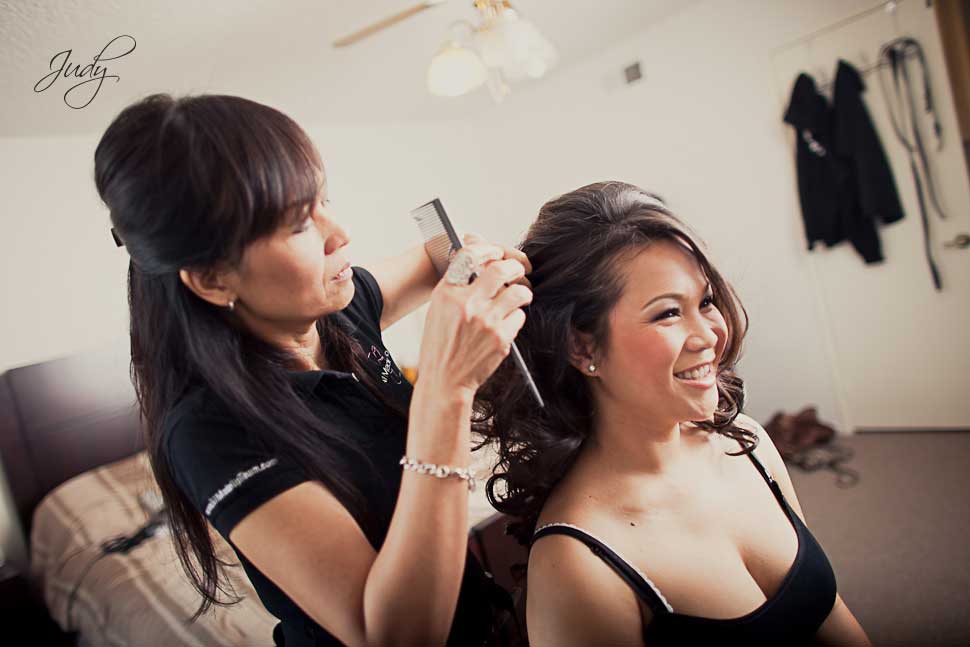 First shot of the day… and it's only 10:00 am baby!! LOL…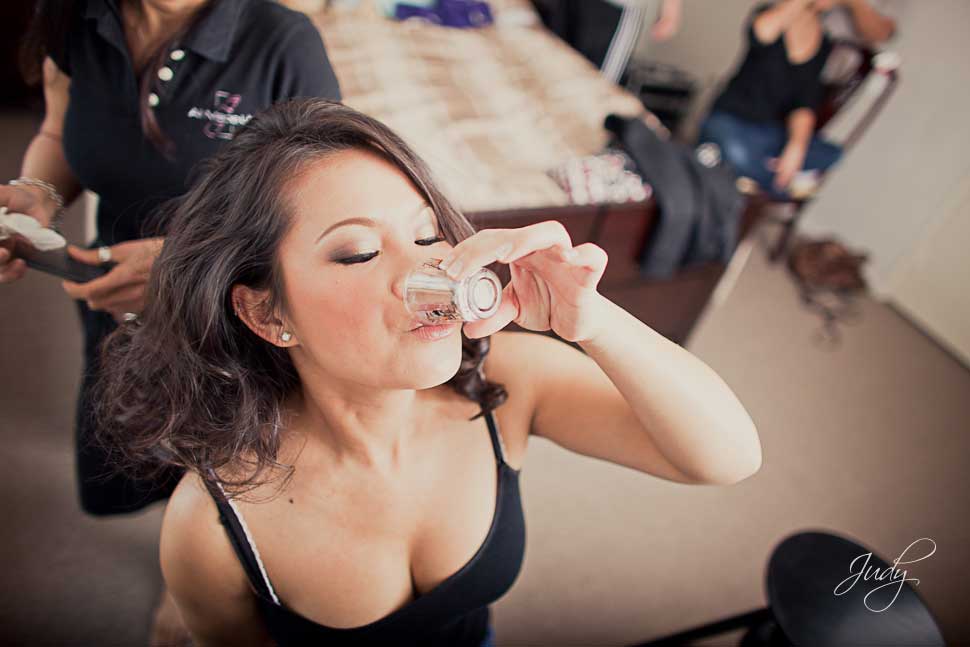 This is my beautiful baby girl… Powder!!  She was so excited, running around and being a part of all the festivities as we were getting ready.  She so cute, she hopped onto the stool and watched as I got my hair and make-up done.  Awesome eyes huh??? Gotta love her!!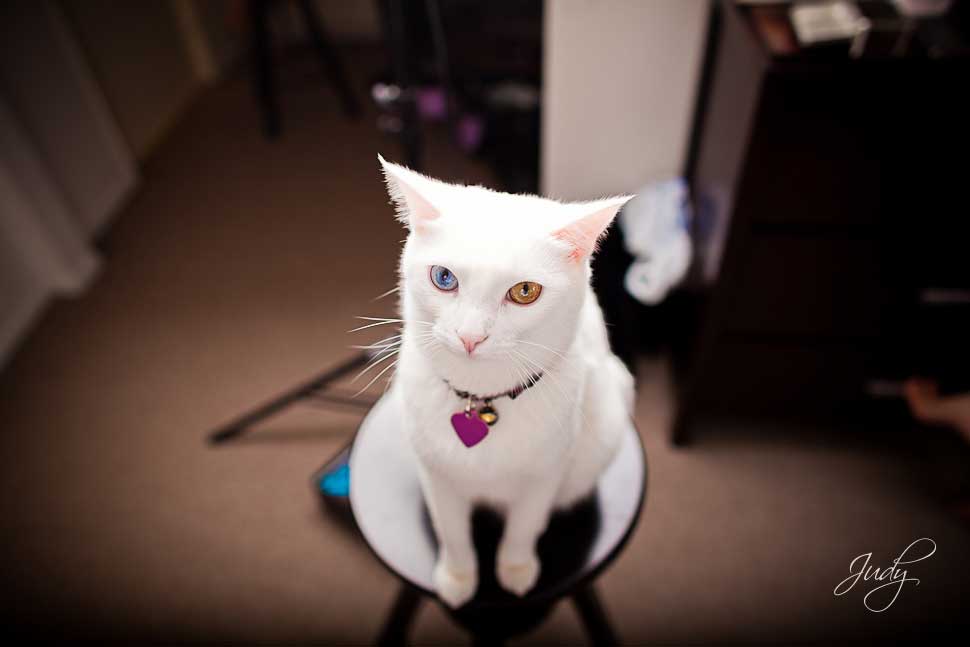 Doug knew how much I love lash pictures so he took one of me… for me!!  I love it!!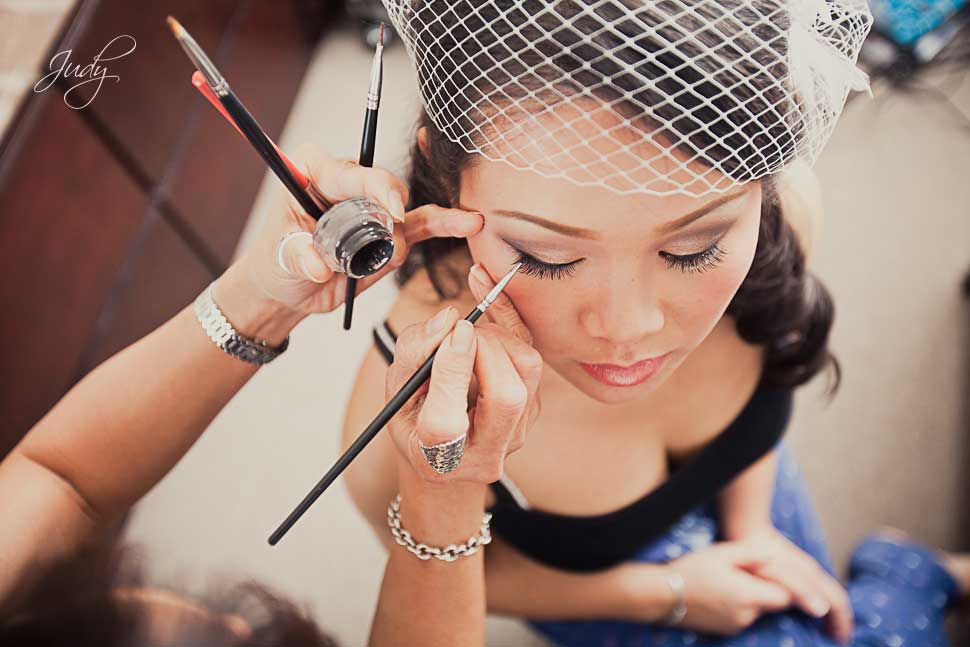 And here is Gavin…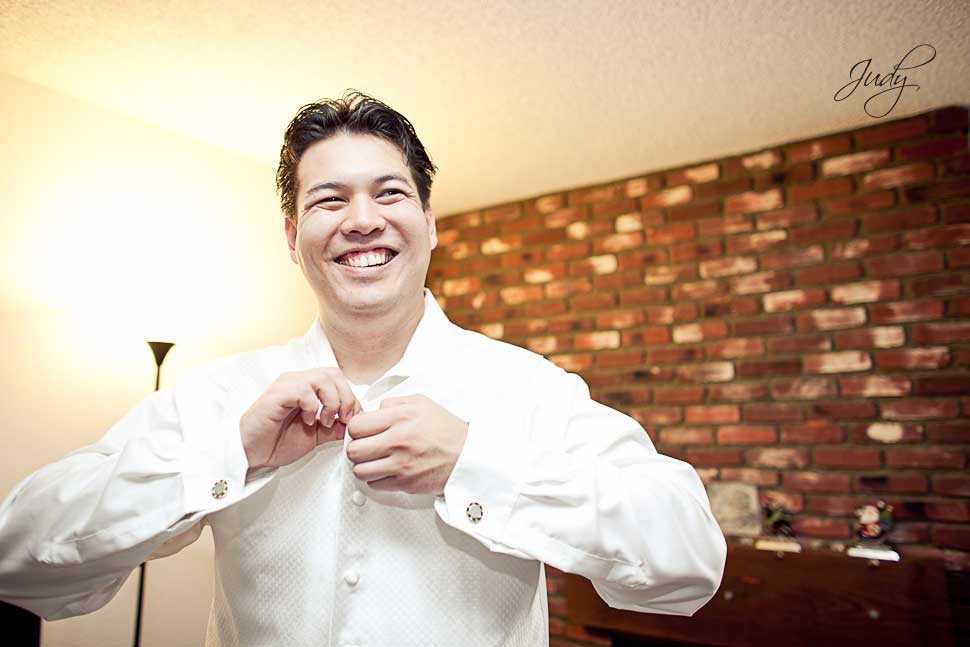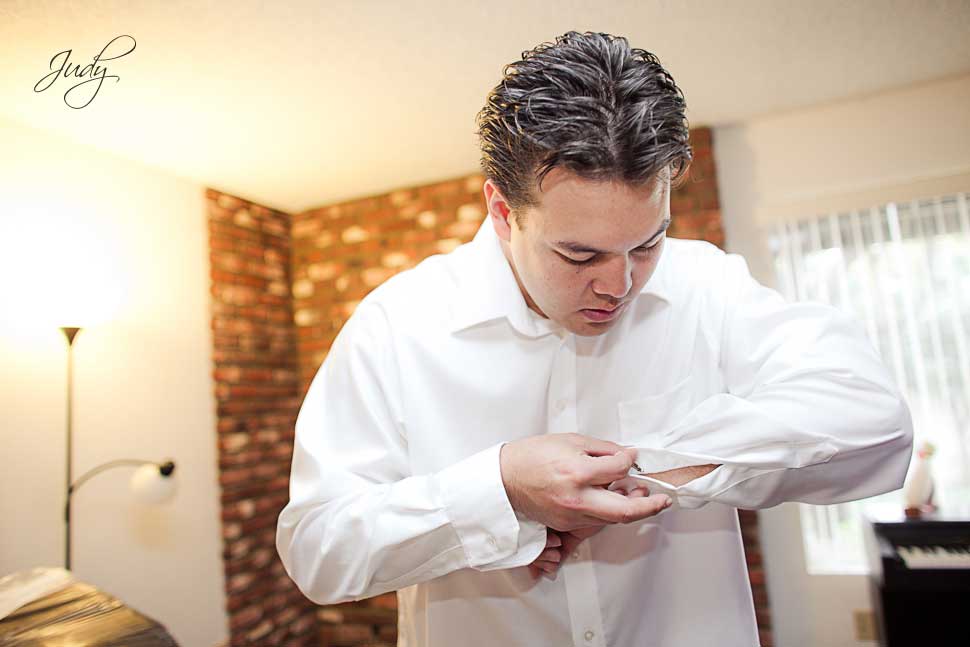 LOL… boys will be boys!!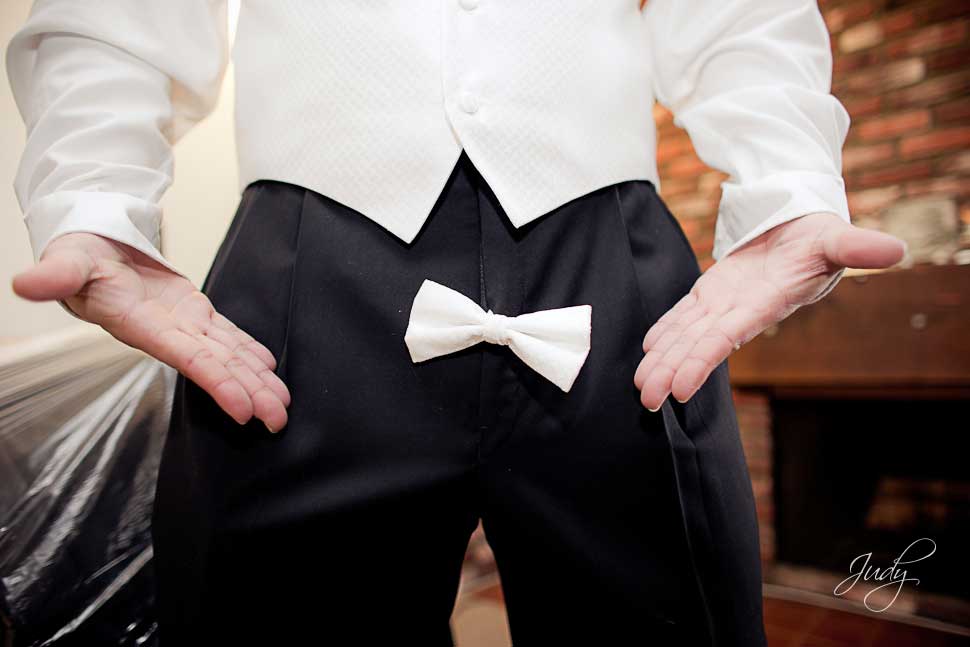 Nice hair do babe!!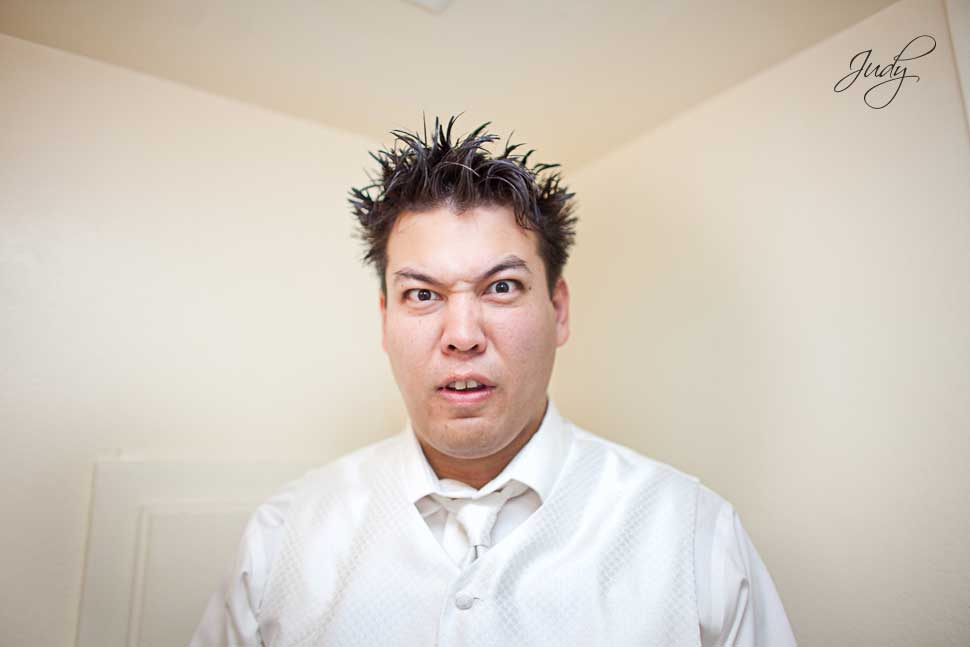 And of course… shots shots shots and more shots!! I think they lost count by the time our ceremony rolled around.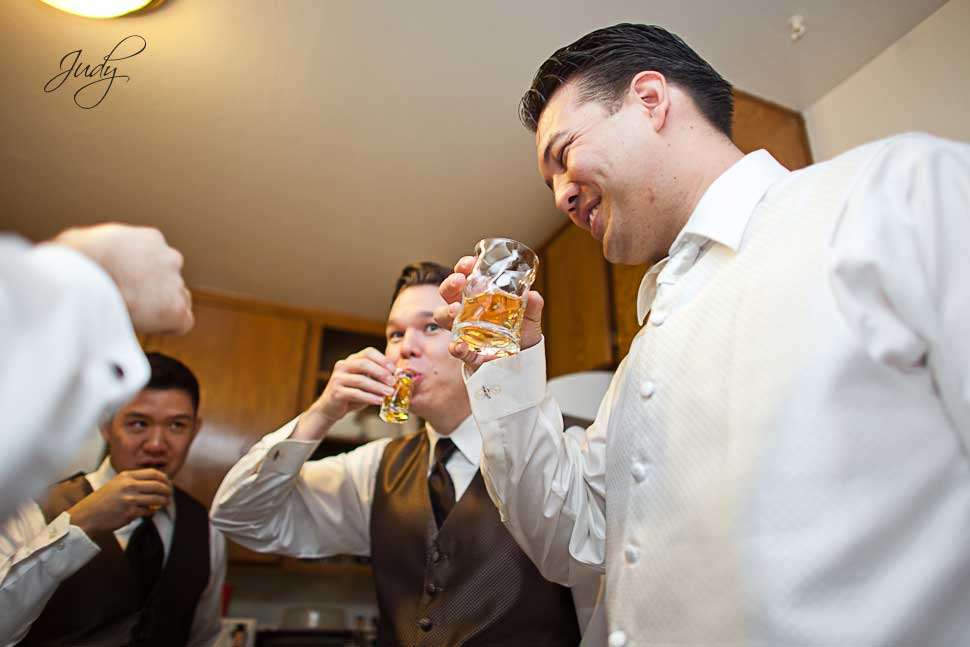 We got each of our groomsmen Van's shoes.  A few days prior to our wedding, I personally checked each box to make sure it's the right size and wrote their names on the box .  When I got to the last one, I assumed it was for the remaining groomsmen and just wrote his name on it.  Come the wedding day, one hour prior to heading out, the Best Man (Ken) opens up the box and says, "ha… you guys joking right?"  OMG!! it wasn't the correct pair of shoes!! It was some funky blue color suede with a red lines through it!!  BUT remember what I said… STAY CALM!!! LOL…  My cousin quickly took the box and ran to the mall to see if we could exchange it for the correct ones.  I was not hopeful at all because our wedding was the day right after Christmas and the mall was packed!!  OK… so I thought, worse comes to worse, Gavin can wear those and stand out a little bit.   Fortunately, they came back with a correct pair.  See what I mean… things happen!! So… NOTE:  please check ALL attire a few days prior to the wedding to allow for wiggle room. =)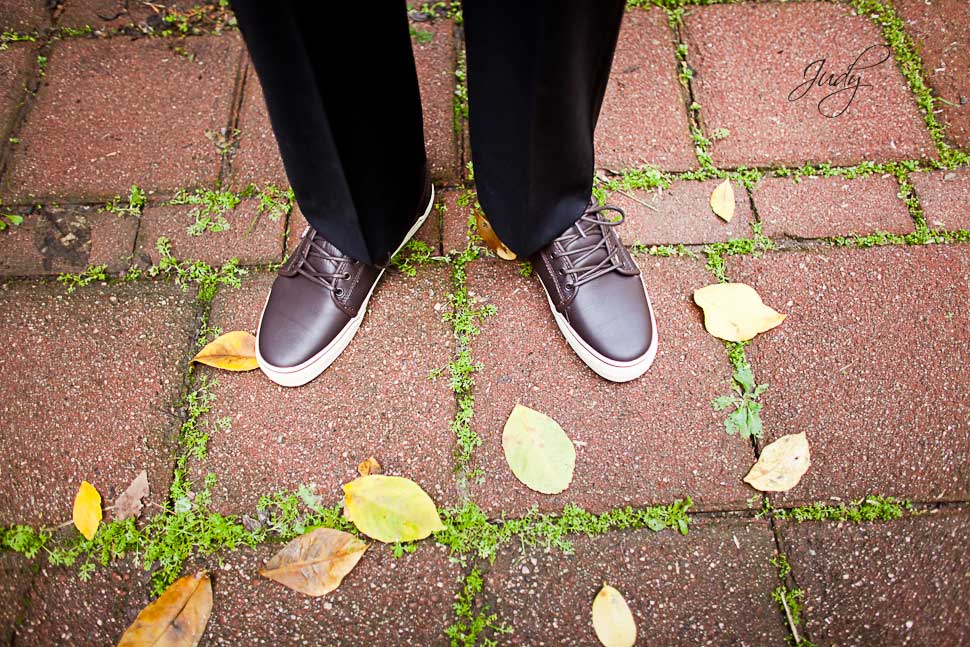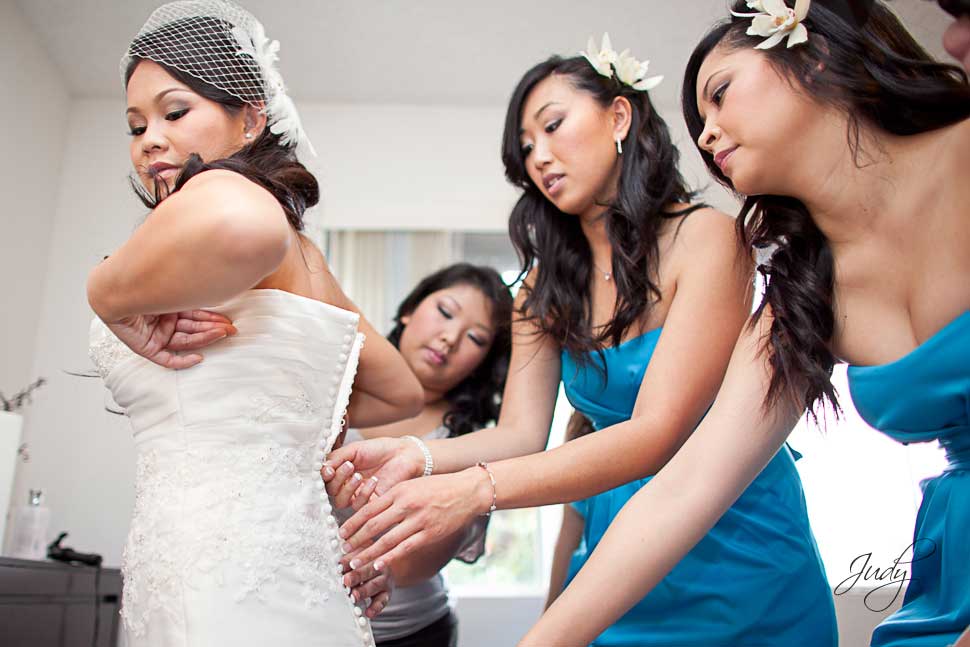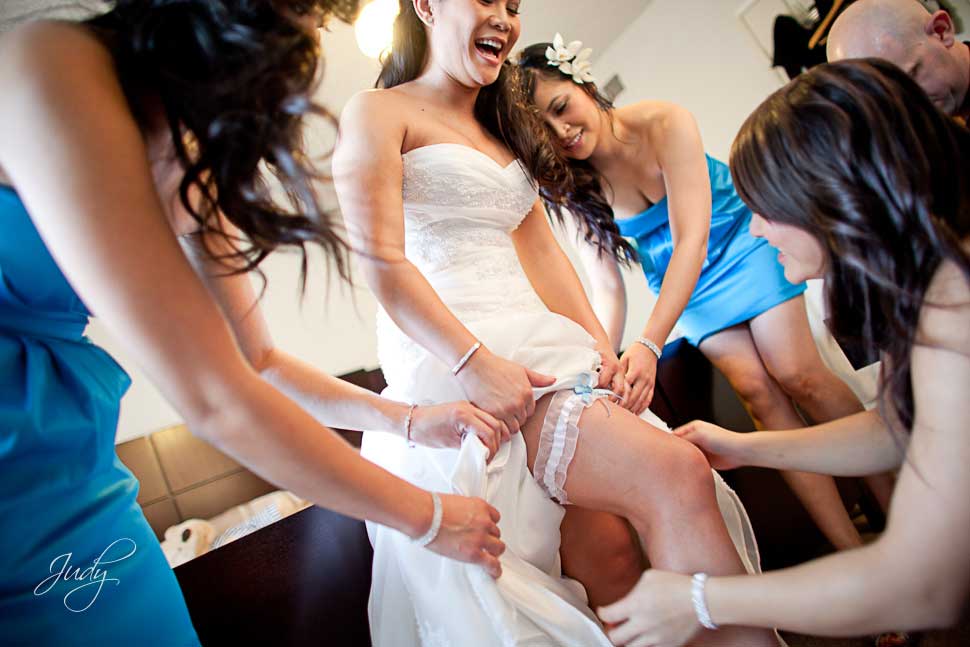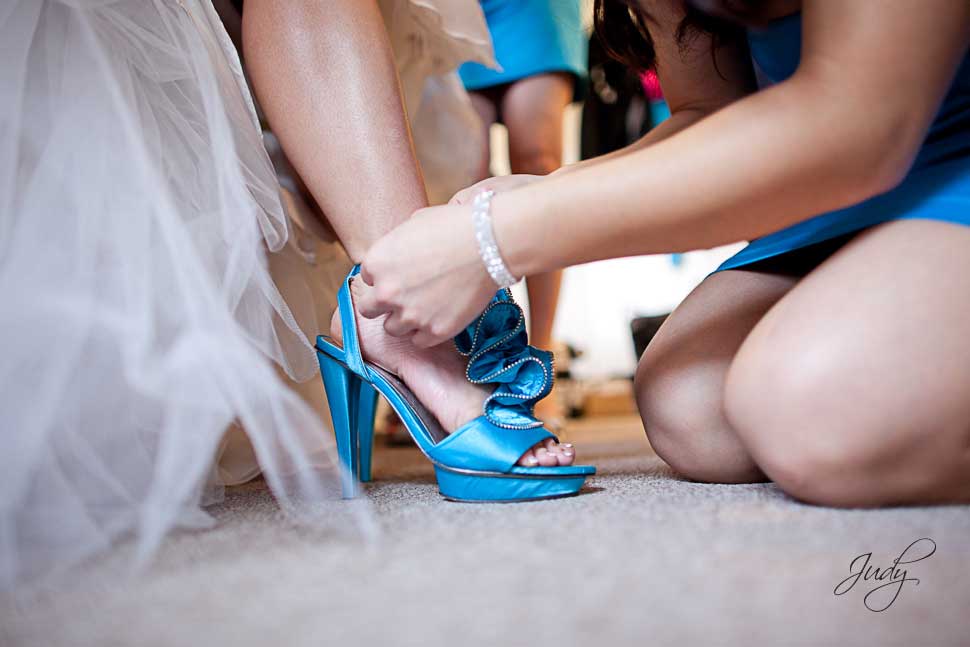 Yes… boys will ALWAYS be boys!!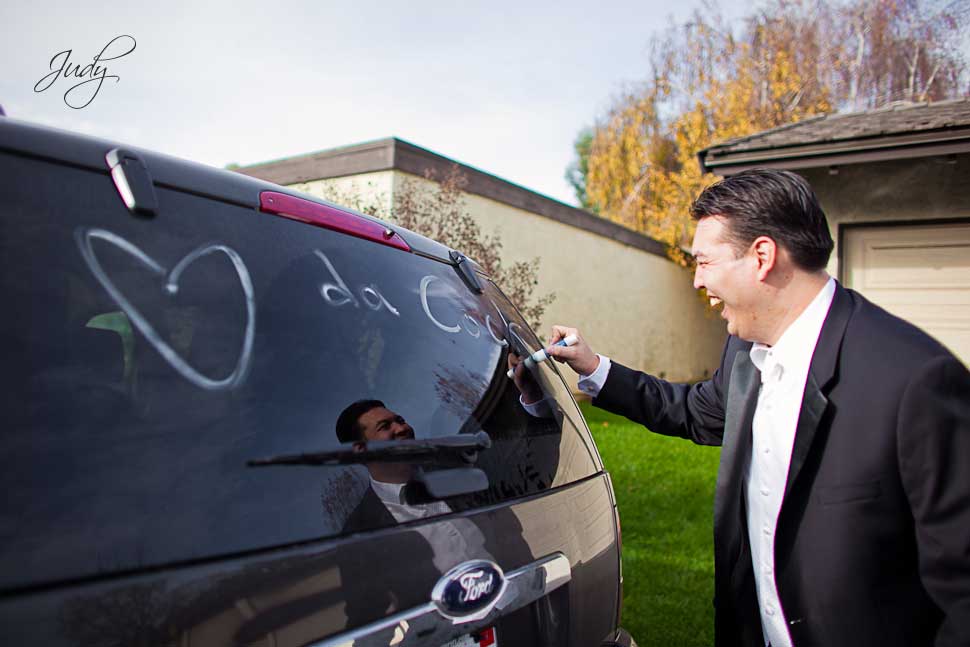 And we drove off for bridal party pictures.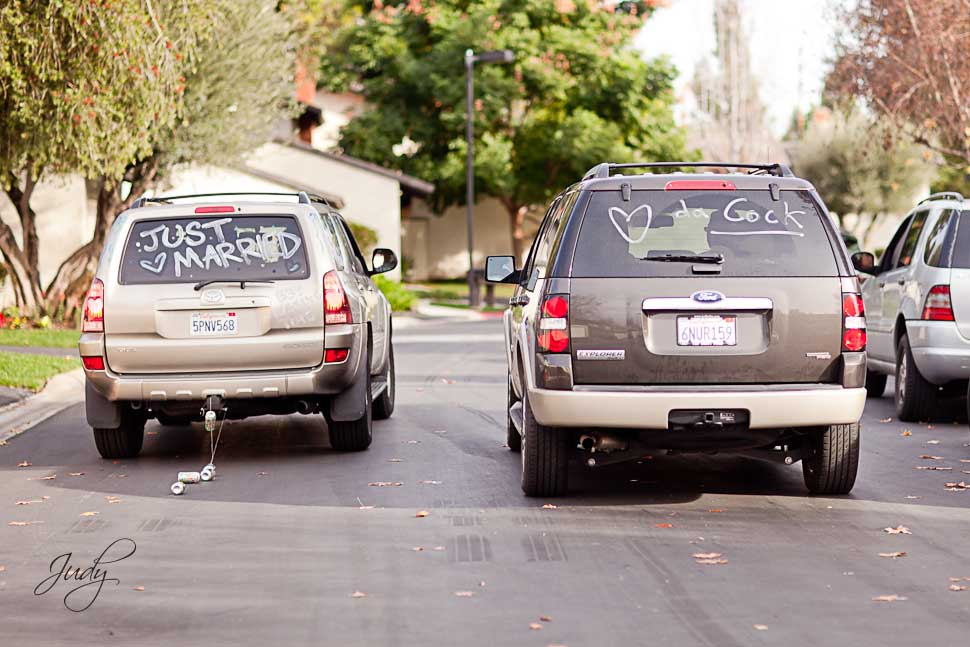 Everybody… meet the Holt Family!!  LOL  Yup!! That's my family!!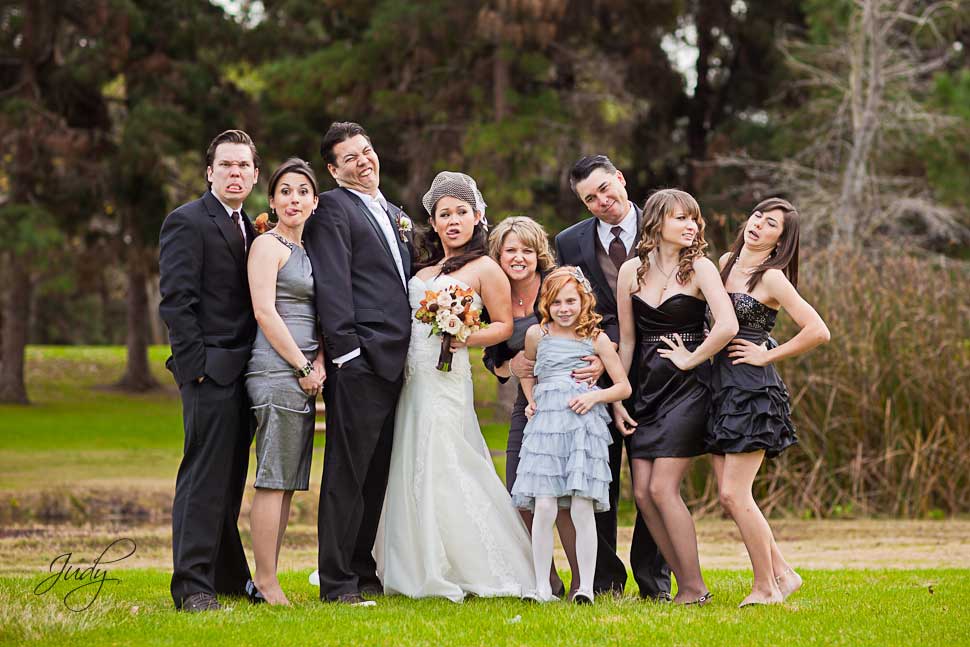 The girls…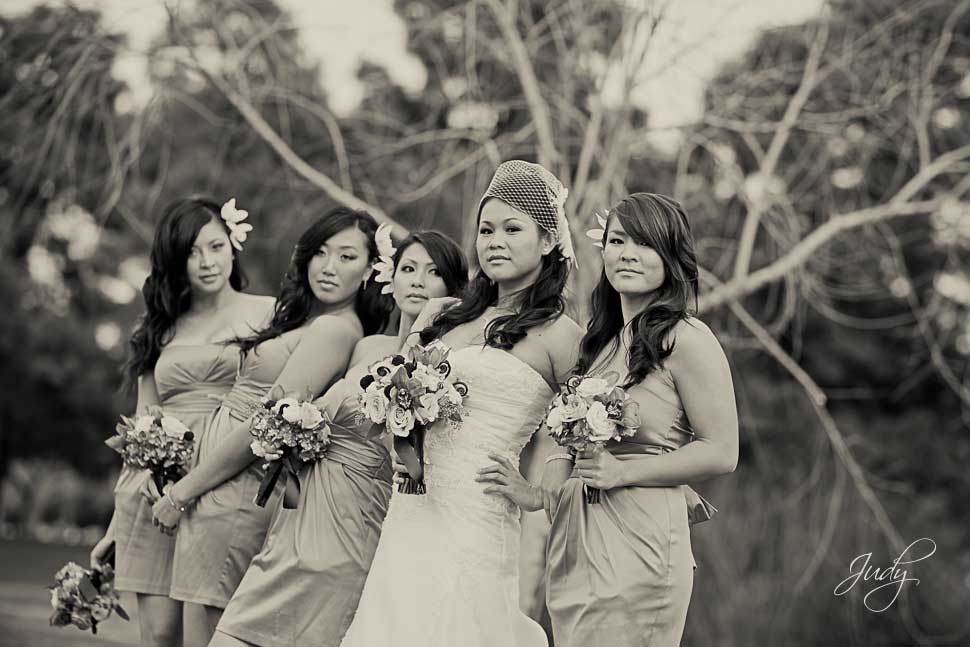 The boys…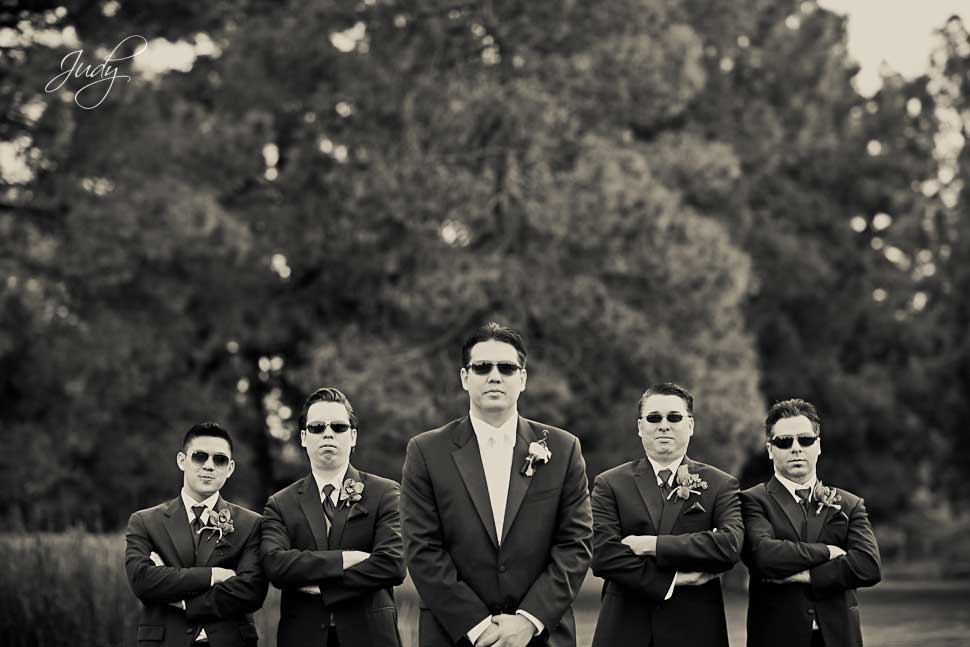 The bridal party…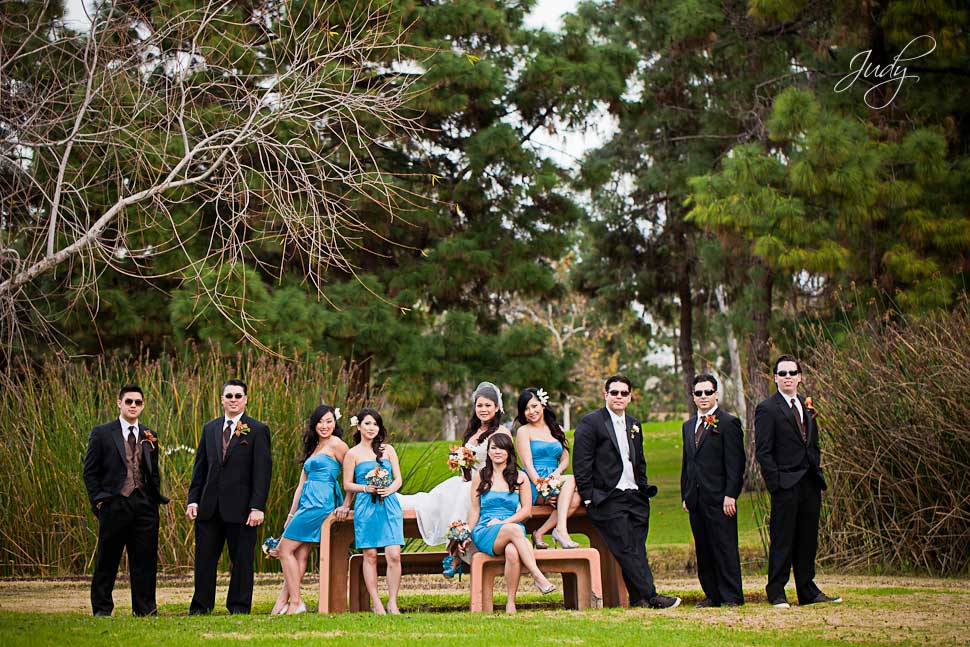 You may wonder why there are no pictures of me and Gavin alone.  It's because we already had two photo sessions and so we wanted to take it easy on our wedding day and spend more time with family and friends.  We plan on doing a trash the dress session when the weather is warmer in May.  If you haven't done so already, please check out our previous bride and groom session here:
Vietnam Destination Wedding Photography – photography by Aidan Dockery of Eden Images
Orange County Wedding Photography – photography by Doug Chan of Furious Photographers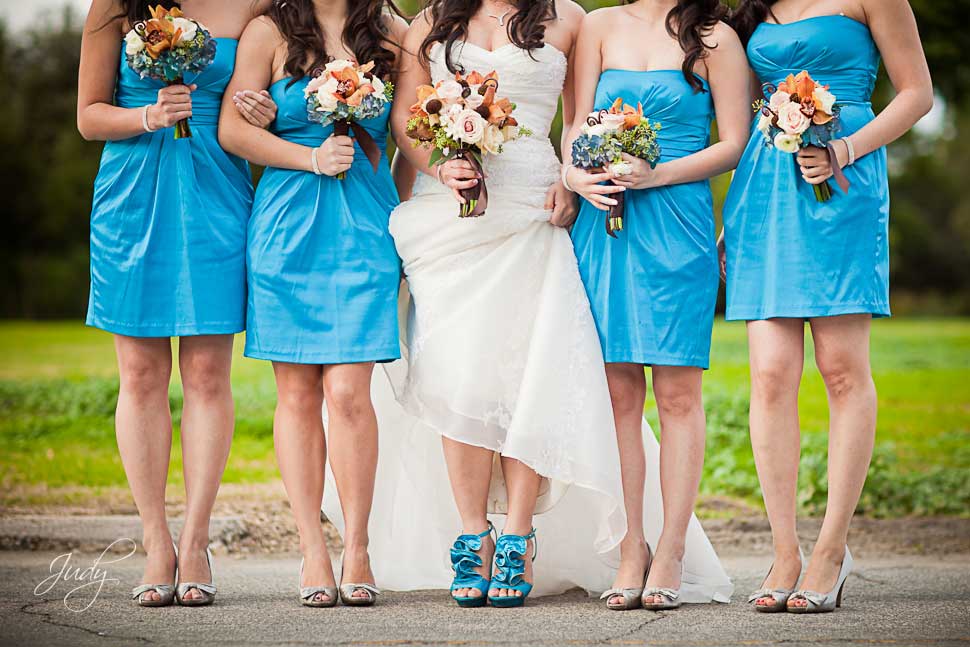 My flowers were done by the talented Cat Chu of Three Petals in Costa Mesa!!  I'd have to say I was in shock when she personally delivered the flowers to our place.  I absolutely LOVE them… so beautiful!!  Three Petals never ceases to amaze me, Cat does an amazing job!!  She is professional, understanding and more importantly super accommodating!!  I probably drove her nuts because of my indecisiveness but nevertheless, she was able to take my restrictions (small budget) and created a clean and elegant solution.   She gave us extras of everything to make sure we were covered.  We got lots of compliments on our flowers.  Thank you Three Petals!!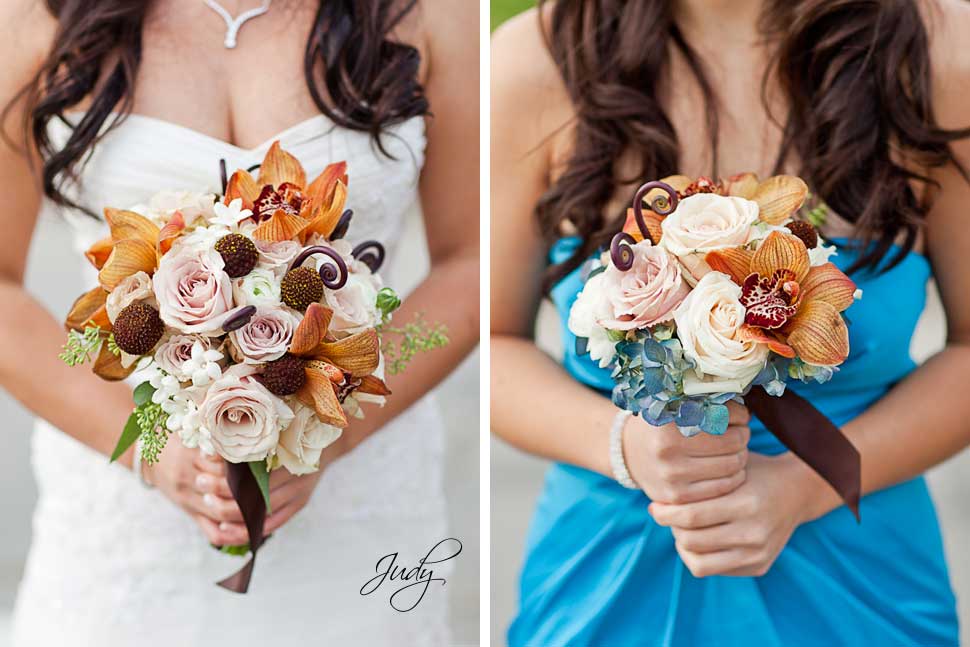 Chin Lu of ChinnyLuLu Designs (who is married to our good friend Steve Hoffmann) made my beautiful head piece for me.  Chin Lu is incredibly talented when it comes to arts and crafts.  All her couture hair accessories are hand-made.. check them out on her website.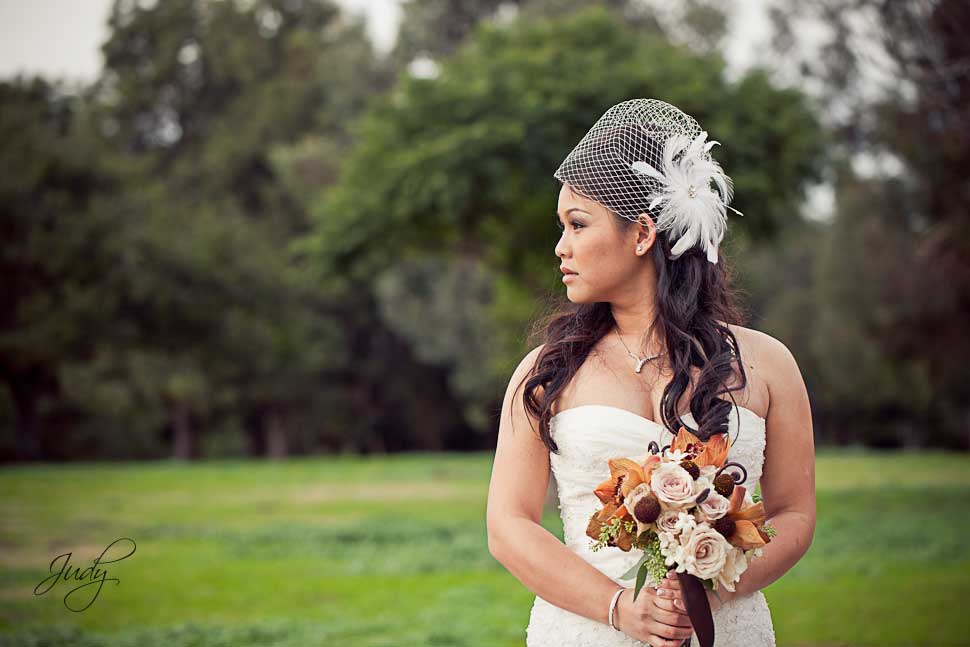 Our ceremony was about 15 minutes long… a quite emotional 15 minutes though.  I am such a cry baby… really!!  I started bawling the moment I started walking down the aisle.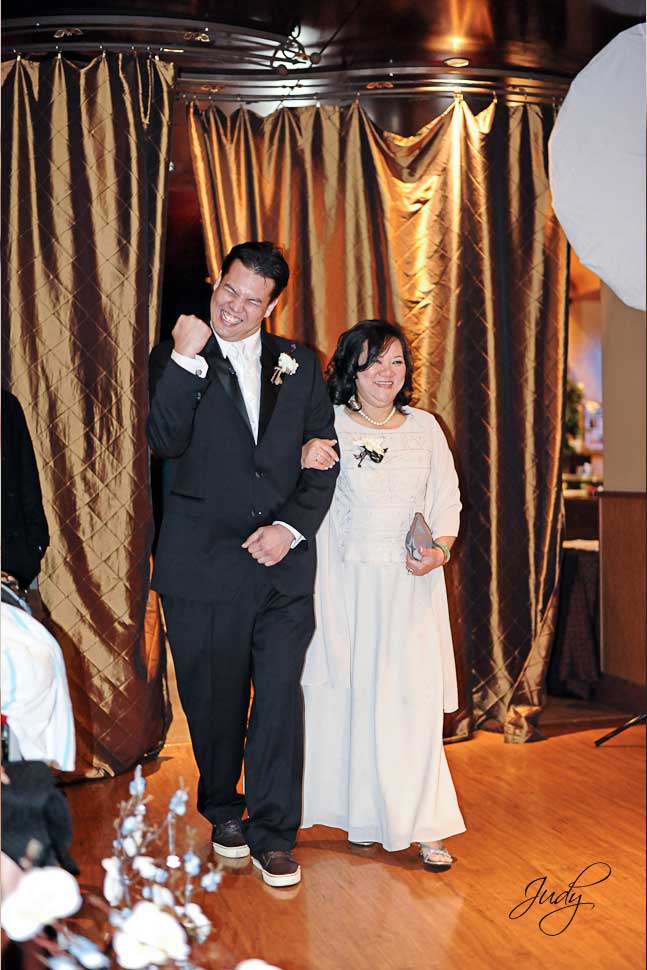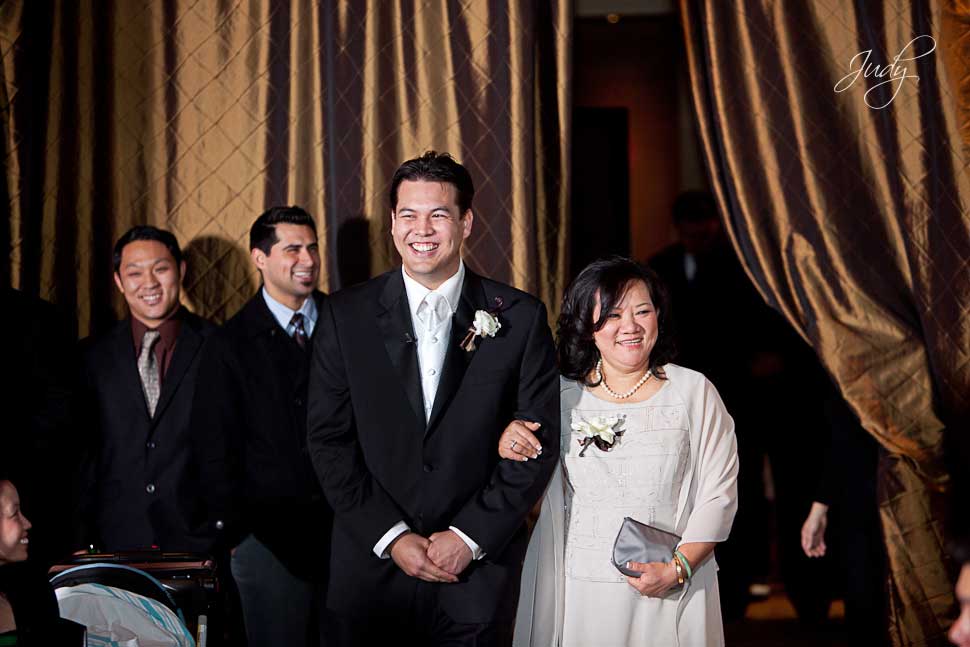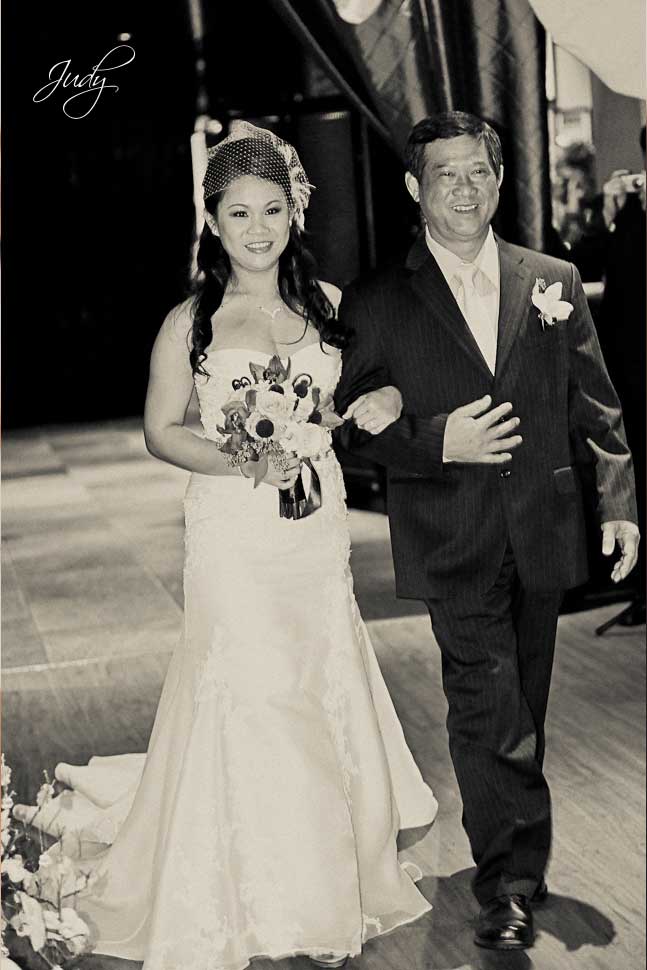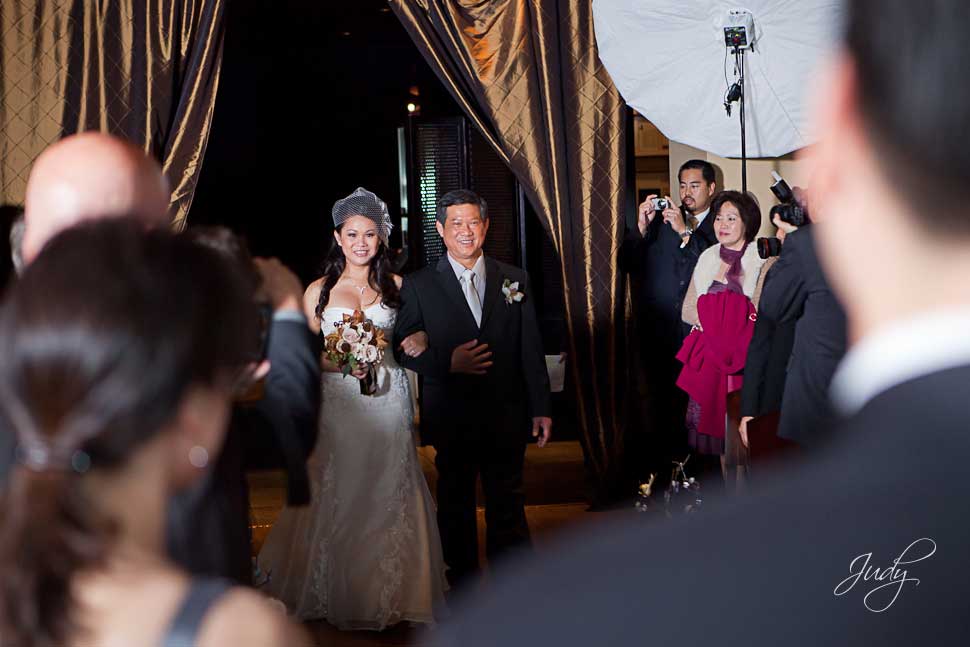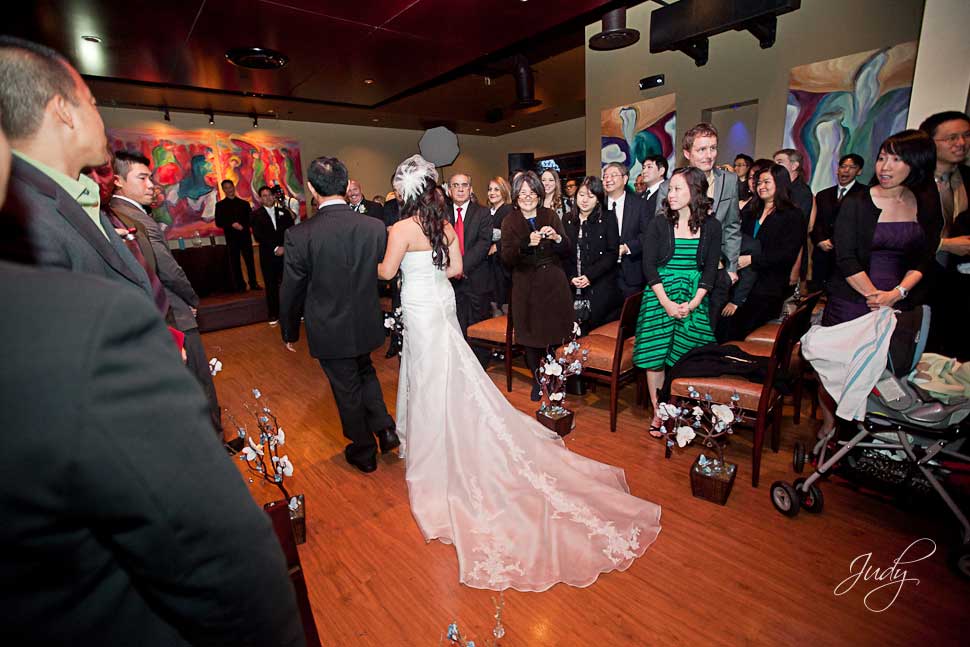 I love my daddy…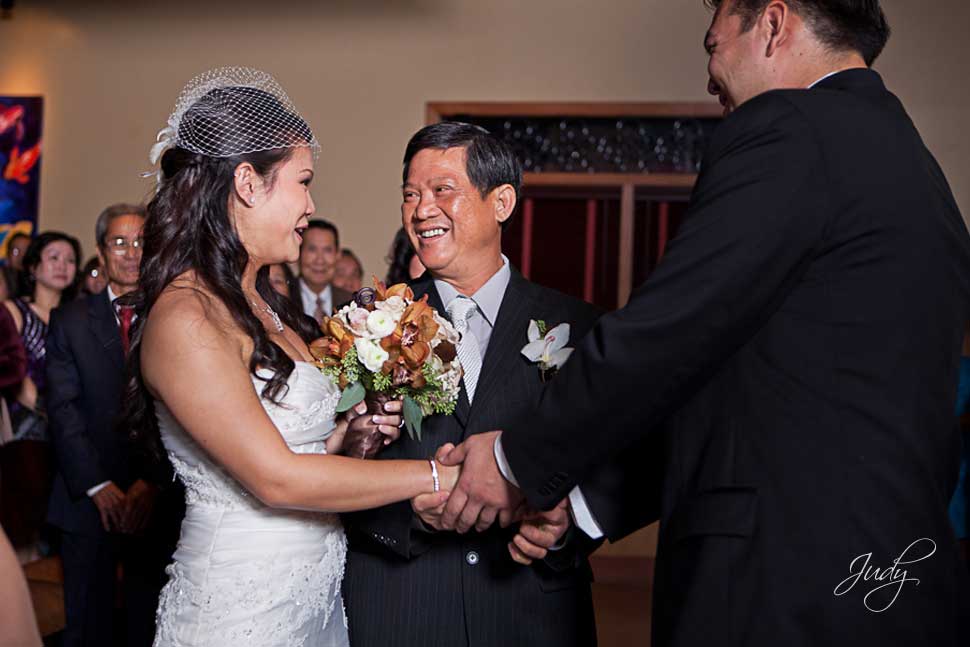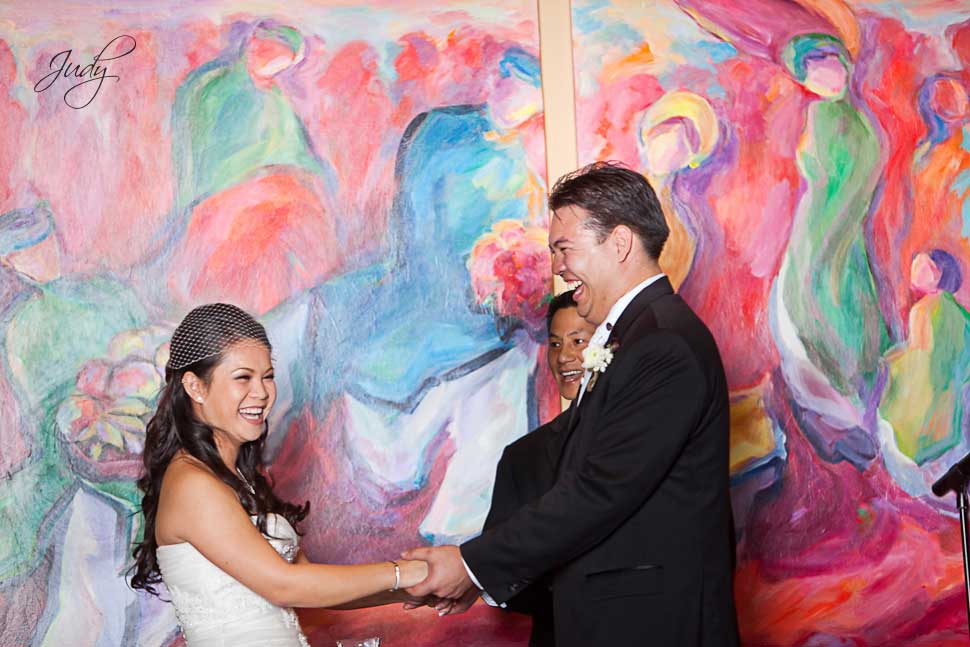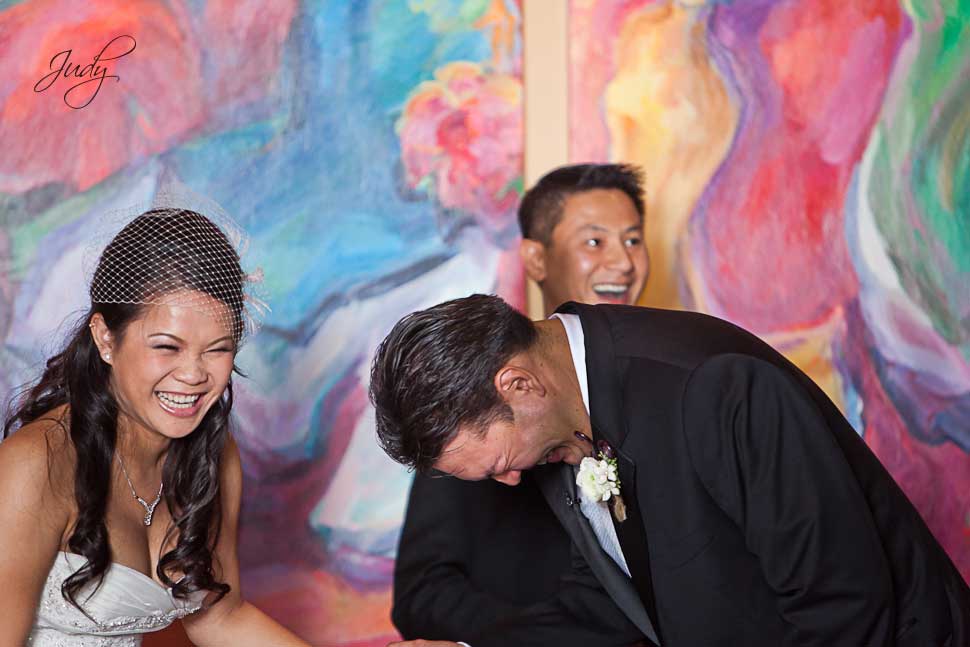 Yeah… we were both cry babies…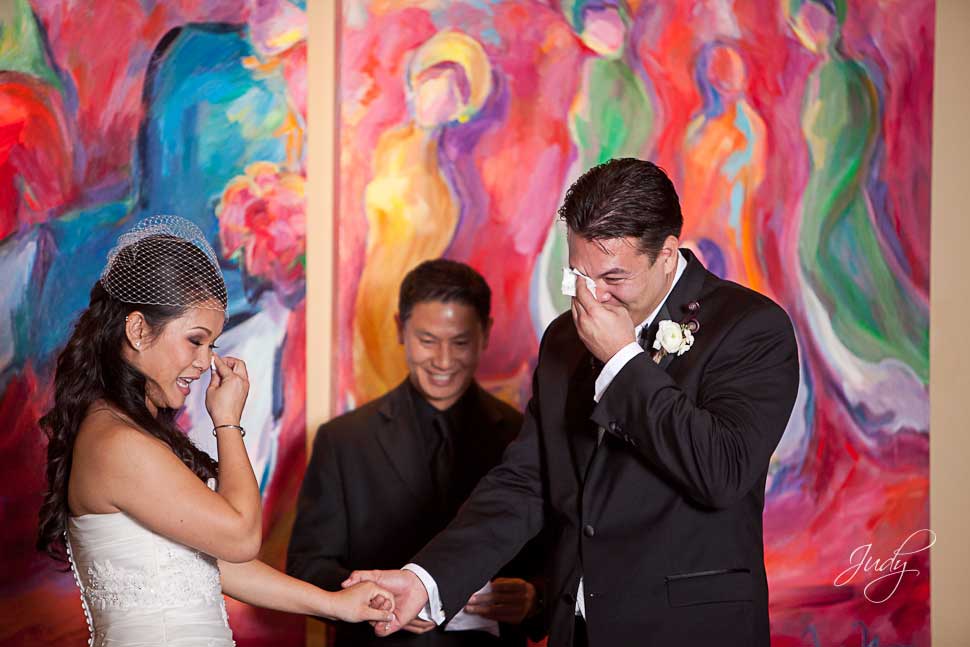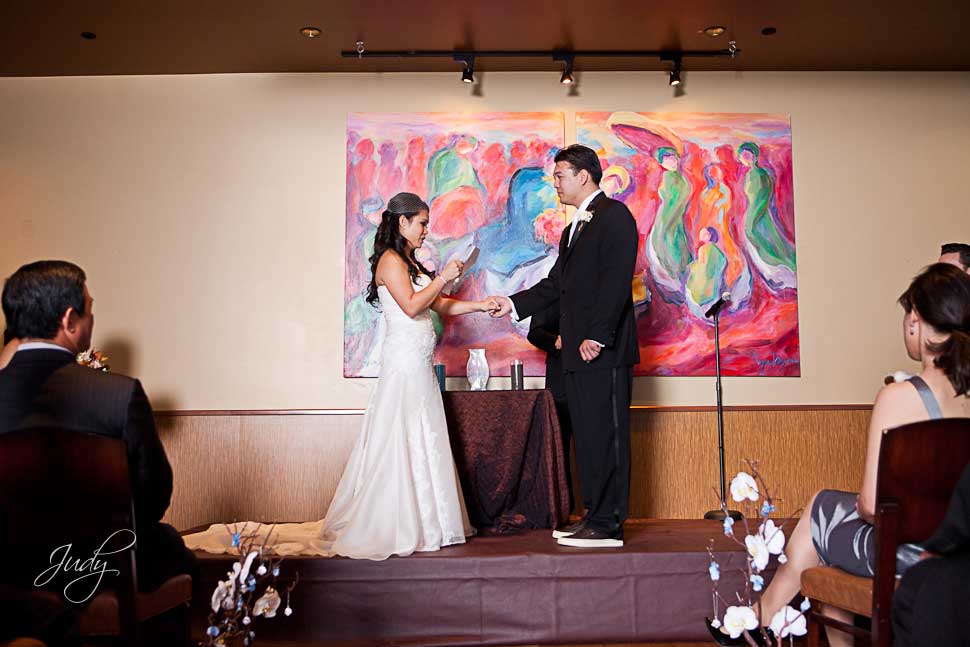 There was a slight problem getting Gavin's ring on!  We bought it over a year ago and it didn't seem to want to fit his finger!! LOL… I MADE it fit!!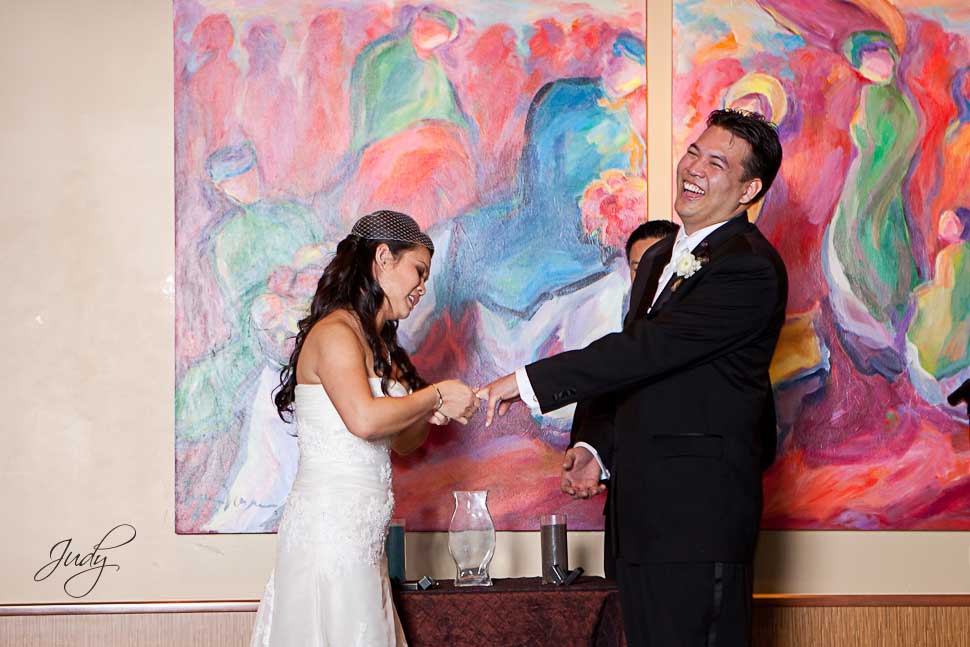 I am so happy we decided to do a sand ceremony.  The colors turned out great and it's a piece of memory that we can keep forever.  More importantly, I thought the significance of the sand ceremony is very meaningful.  The two vases represents two individuals, but once the sand is poured into the unity vase and co-mingle, it represents the coming together of two lives… two families.  The grains can never again be separated no matter how hard one tries.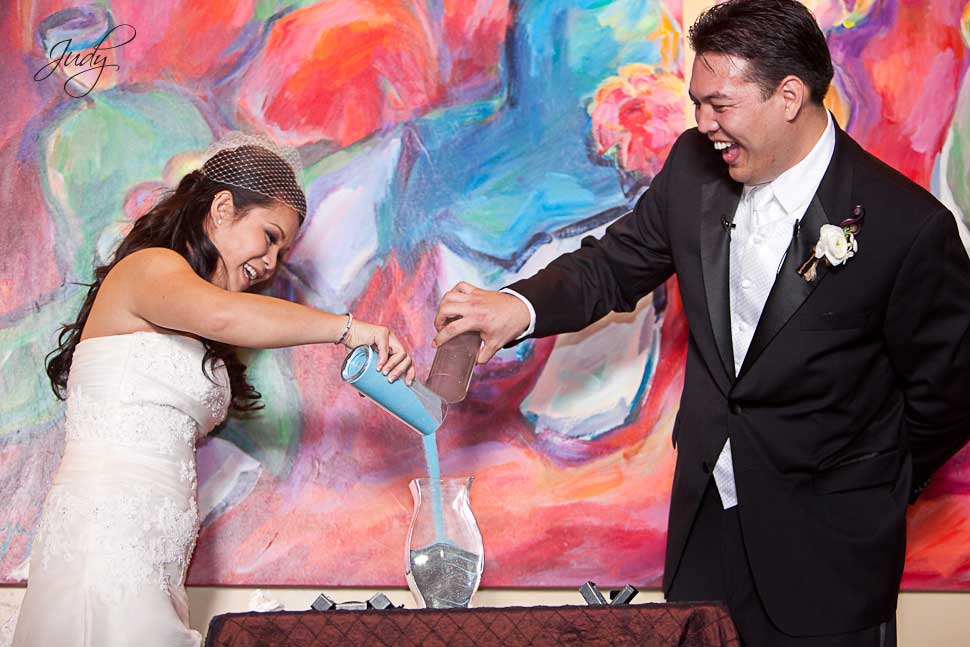 And of course… our first kiss as husband and wife.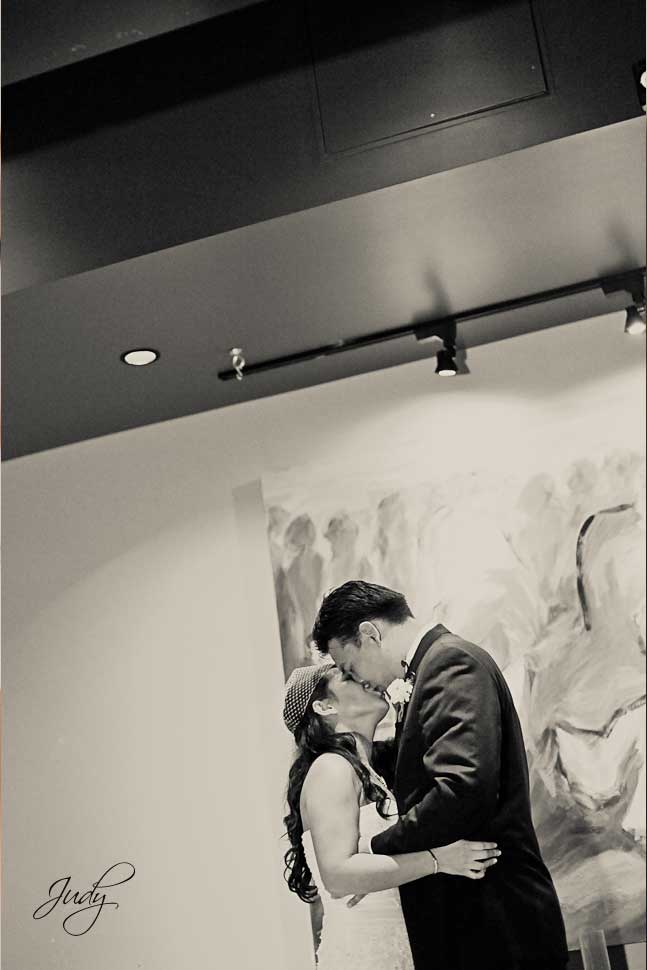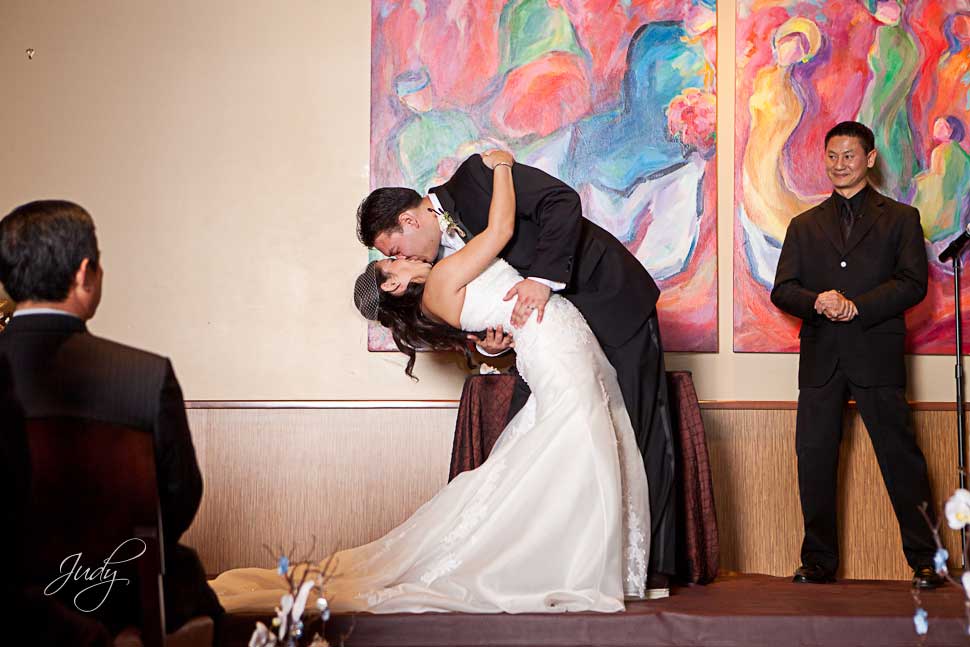 Introducing… Mr. and Mrs.  Gavin Holt!!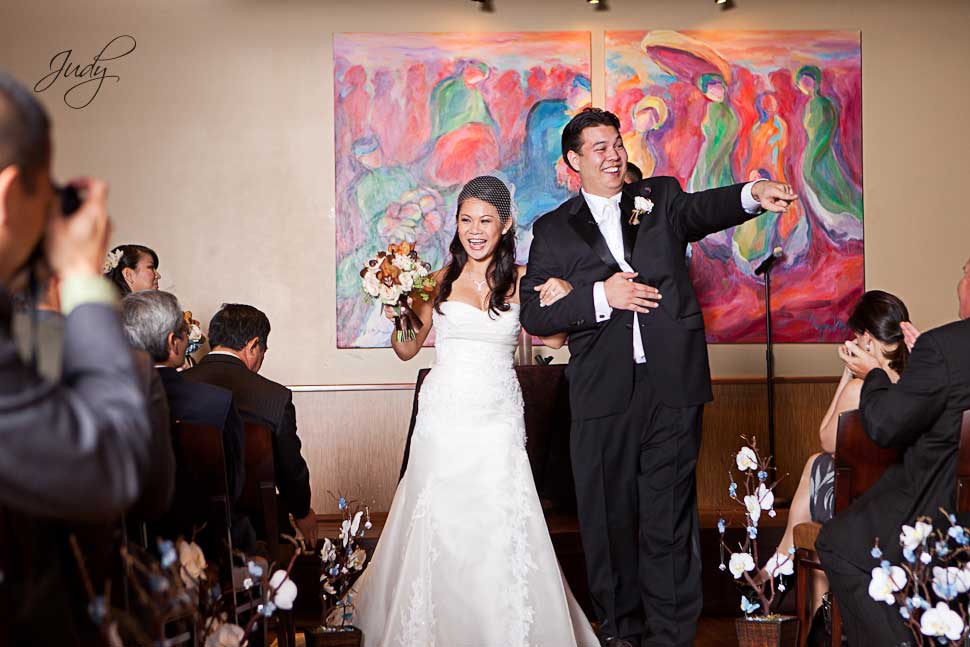 I love the look on Gavin's face in this one!!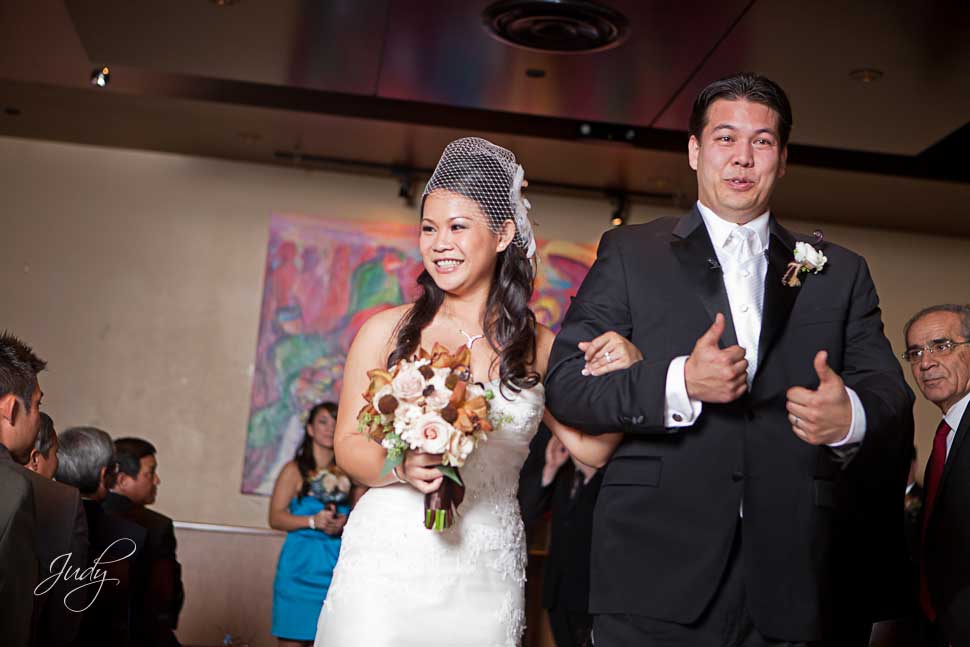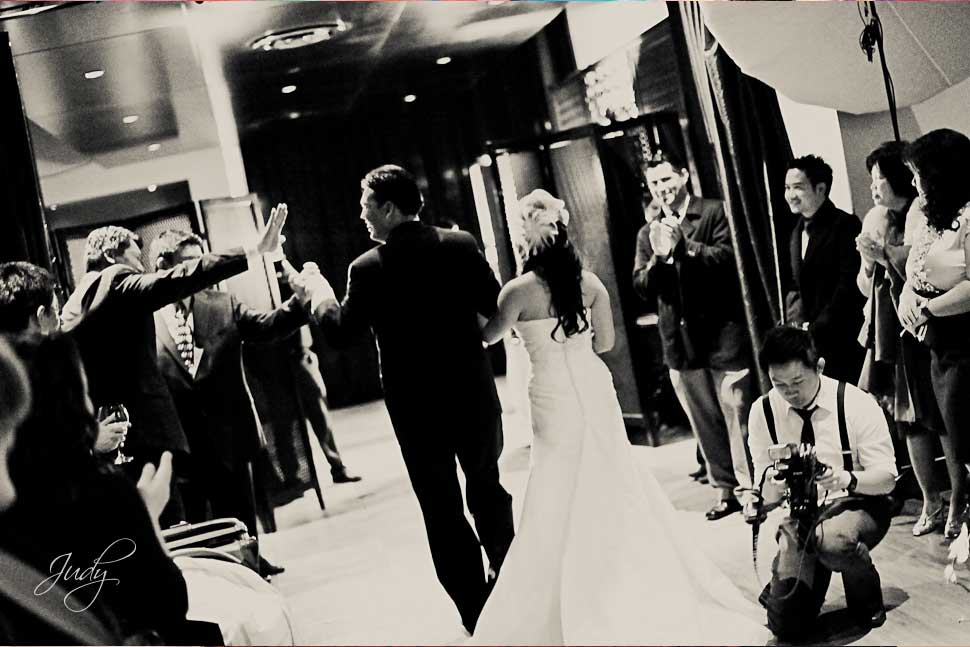 Our ceremony and reception was held at S-Fine Dining in Westminster.  This sensuous and stylish restaurant is a definite MUST try!!  The food is amazing!!  We've got SO MANY compliments on how delicious everything was and how superb their customer service was!!  LOTS of our guests told me they will definitely have to come back and dine with S-Fine Dining again at their leisure.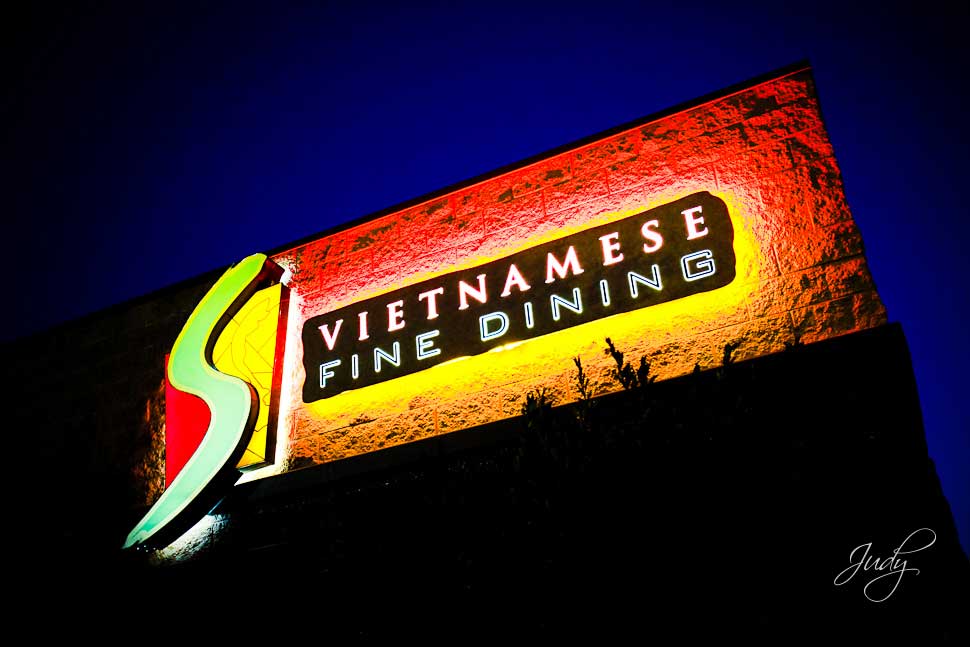 Our place cards mimicked ID cards.  It's got the guests name, picture, and location (table name) on it.  Boy did it take forever to find a picture for each guest.   Each table name was a city that Gavin and I had traveled to together.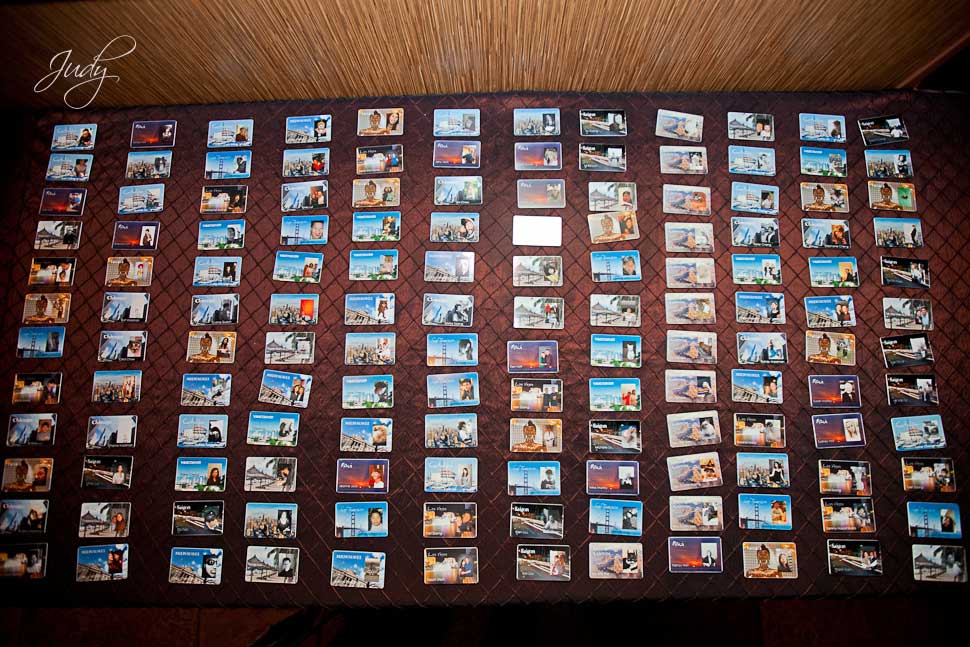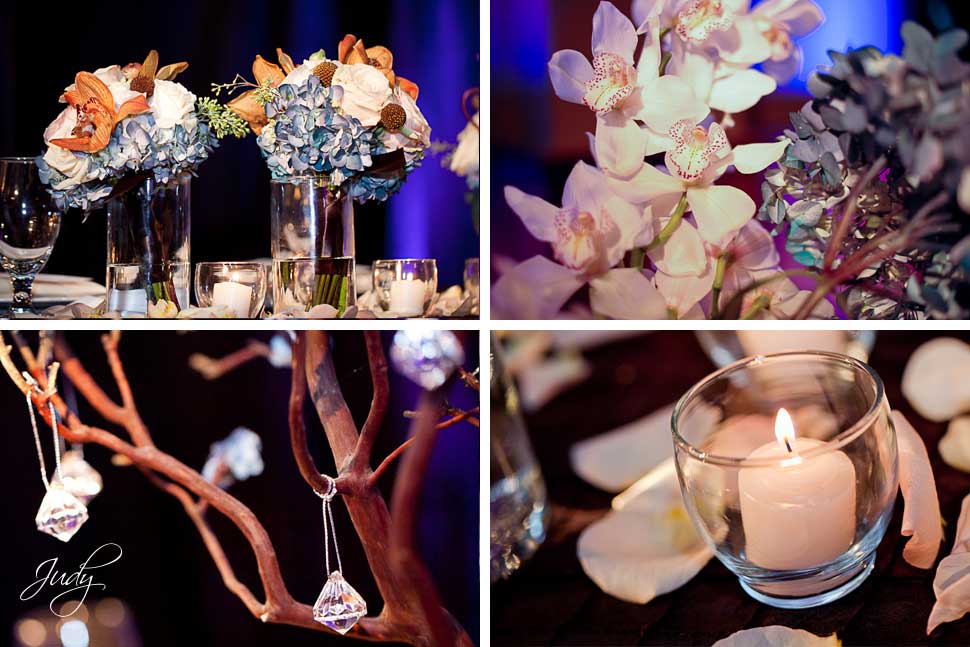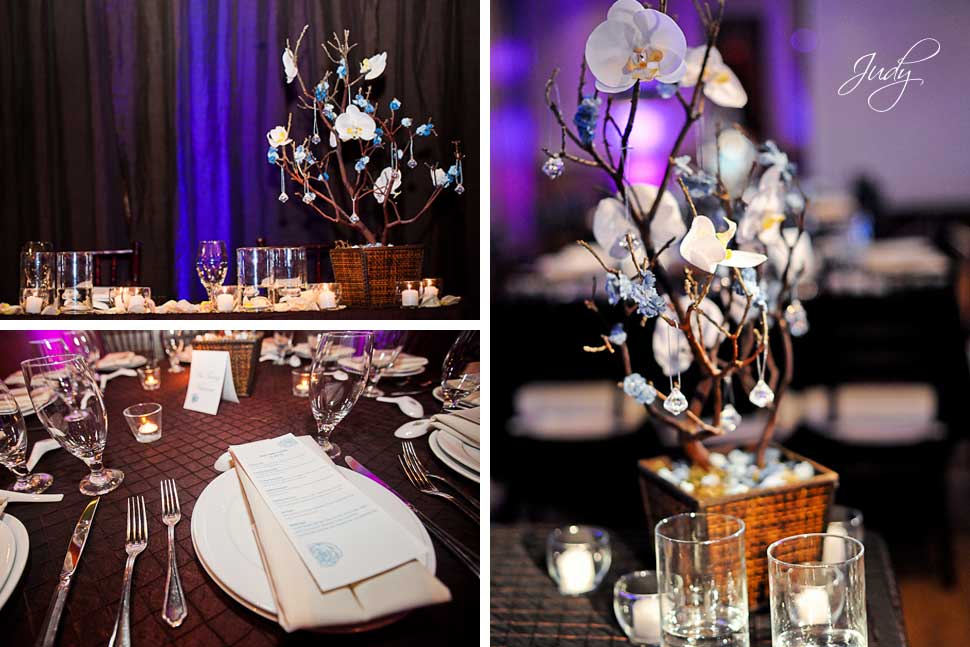 Our cake was phenomenal… the BEST I've ever had!!  Final Touch Bakery (also owned by Stephanie Dinh of S-Fine Dining) is well known in the Orange County Area.  We decided to go with 2 flavors.  Red Velvet (of course) and mixed berries!!  There was nothing left by the end of the reception… seriously… not even the top part where we should of taken home.  Stephanie promised me though she'll make me another one for our 1 year anniversary!! =)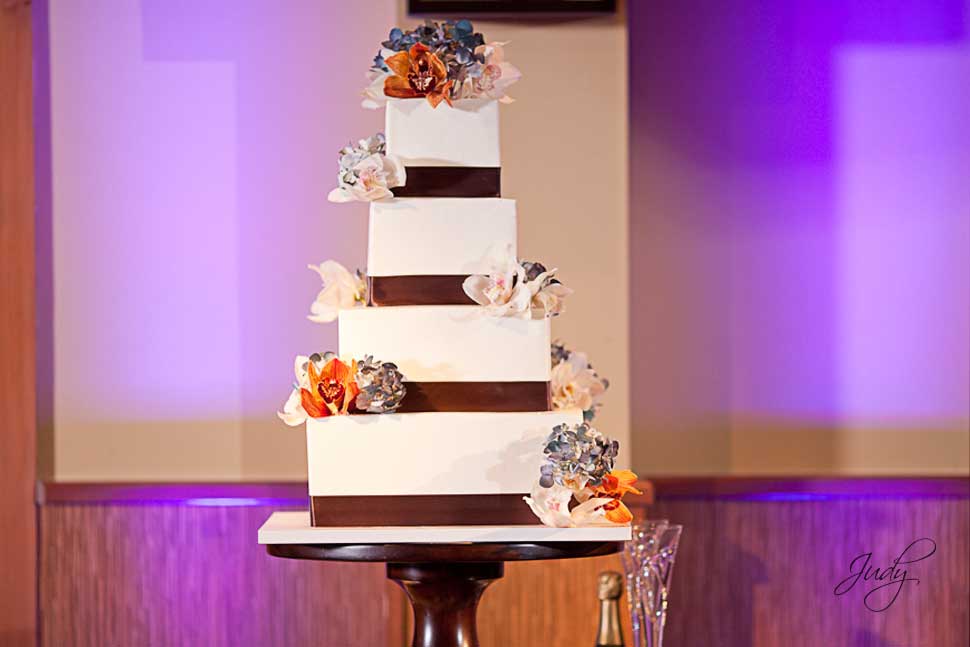 Here's the fun part!!  We had a casino themed cocktail hour!  EVERYONE LOVED IT!!  I am SO happy we decided to go with this and had Dad's Poker Night there .  We had a roulette table, a craps table, and a black jack table.  The name cards that each guests had got them a certain number of chips.  They have the entire time to play whatever they want and then trade in their chips for raffle tickets at the end of the hour.  Later on during the reception, prizes were raffled away.  For those who weren't gamblers, we had a photo booth provided by Pictobooth.  Pictobooth is AMAZINGLY awesome!! It was a great bonding experience for everyone all throughout the night.  Gavin and I are so happy to see people whom we didn't expect (i.e. older aunts/uncle) hop into the booth for silly pictures.  The owner of Pictobooth is absolutely professional and a joy to work with.  In addition to that, our Magician,  Danny Magic walked around and played tricks on people.  He hung out at our open bar and totally messed with the drunks!!  Usually buzzed people are funny as it is, but when you throw magic in there it totally trips them out… LOL.  They are hilarious!!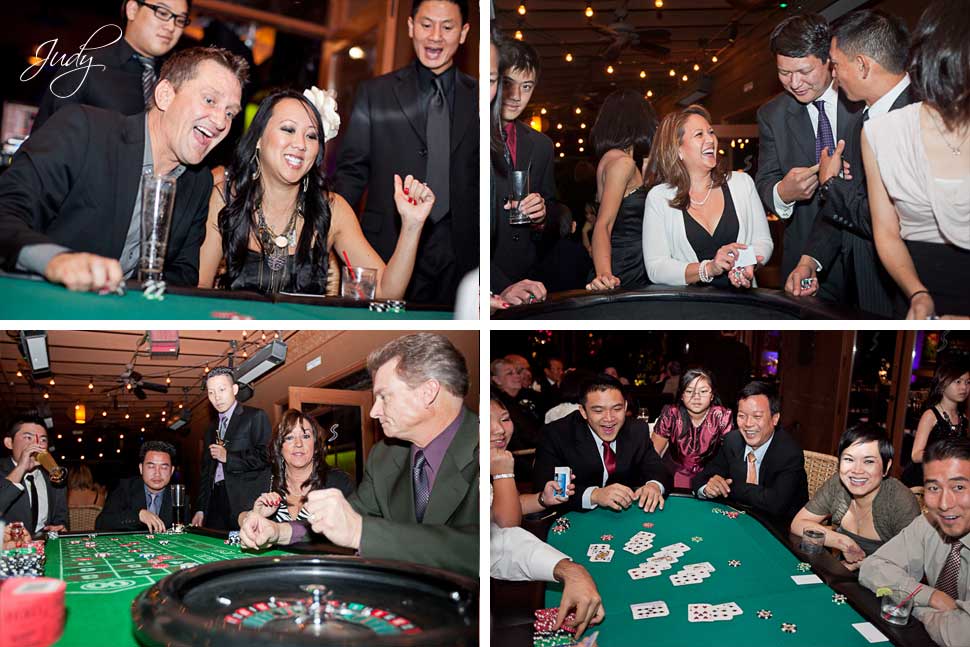 The guys got their chips…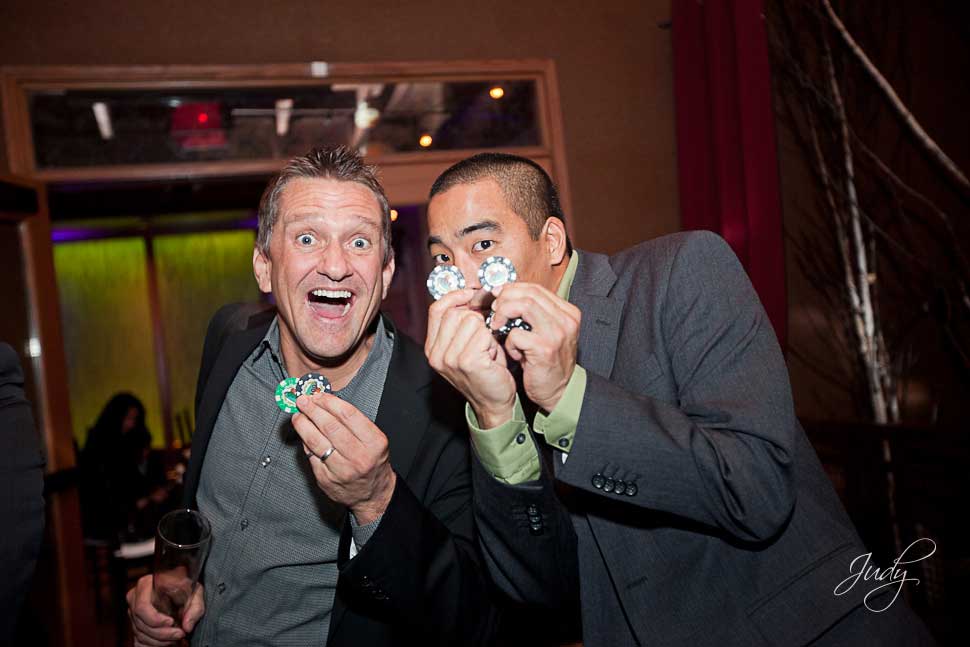 …and their wives traded them in for raffle tickets!!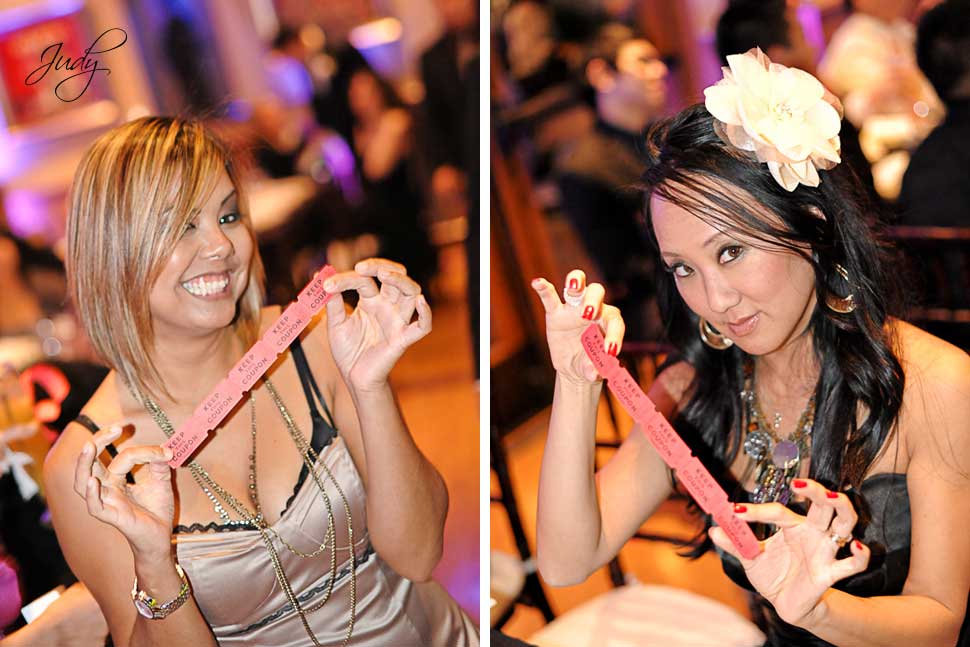 Gavin took these pictures during our tasting at S-Fine Dining.  These are the appetizers our guests enjoyed.  We had 1.) papaya mango salad with shrimp and fish sauce 2.) meatballs 3.) tuna neopolean (seared ali with avocado and sun-dried tomatoes served on a fried wanton skin) 4.) eggrolls.  They are all SUPER DELICIOUS!!!
Our grand entrance was definitely one of a kind!!  It was our awesome DJ, Huey, who suggested the idea of entering to a Rocky Theme.  Gavin (with the help of my brother Steven and cousin Kenneth), made this video montage.  The video was played for the guests prior to our grand entrance.  Please click on the play button below to see this incredibly hilarious well-edited video done by my talented Hubby!! =)
After the montage video was done, the ambient lights went pitch black while intelligent lighting (provided by Platinum Peaks Entertainment) came on as "Eye of the Tiger" was being played.  Gavin and I dressed in boxing robes were escorted by our entourage into the dance floor!!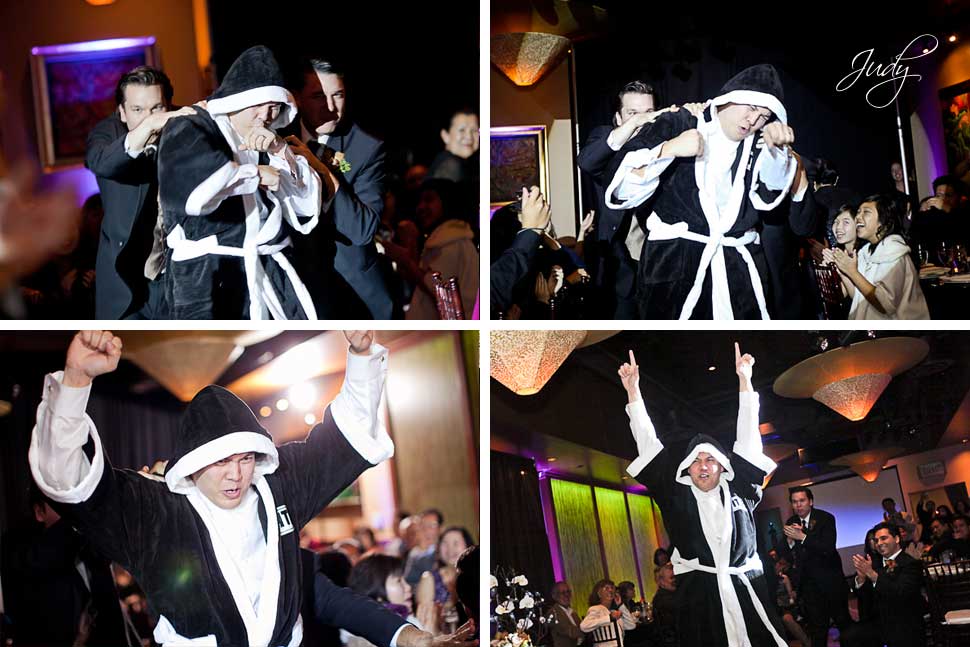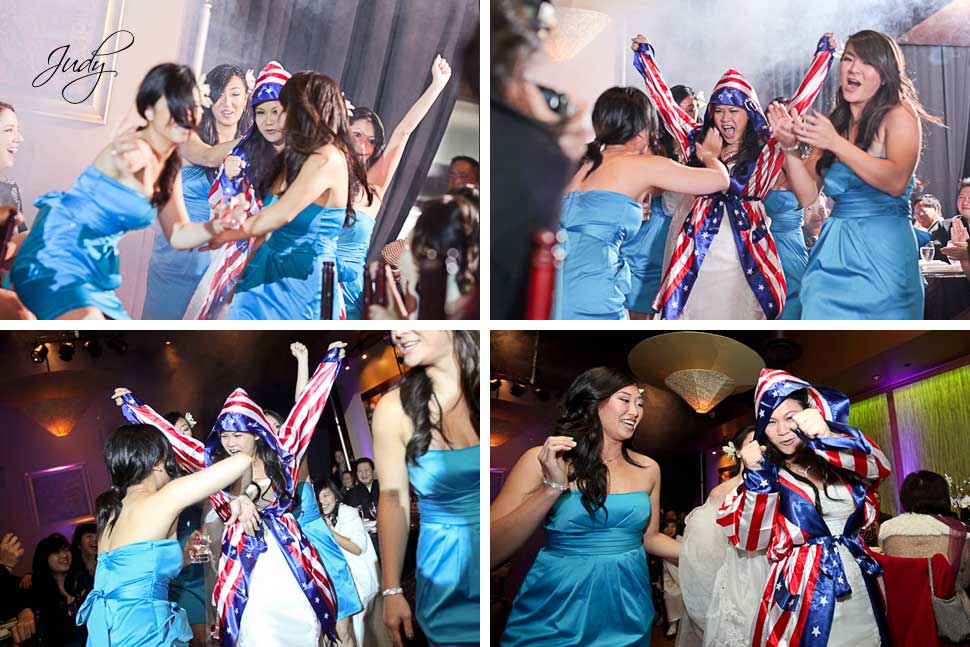 When we got to the dance floor, we squared off into a mini dance-off.  The funny thing is… my dress was so long, I tripped on the train and fell forward.  No, I'm not gonna show pictures… it's too embarrassing.  Gavin saw me fall so he came to help me up, but he too tripped on my train and fell onto of me!! LOL… We were pretty buzzed that this point!  Yikes! Our first dance isn't till waaaay later!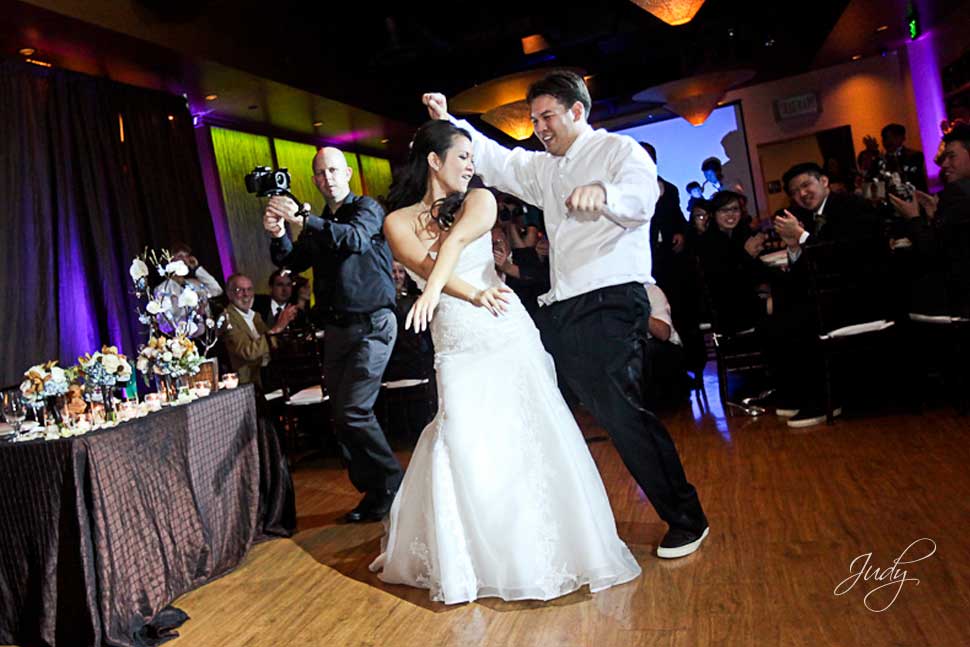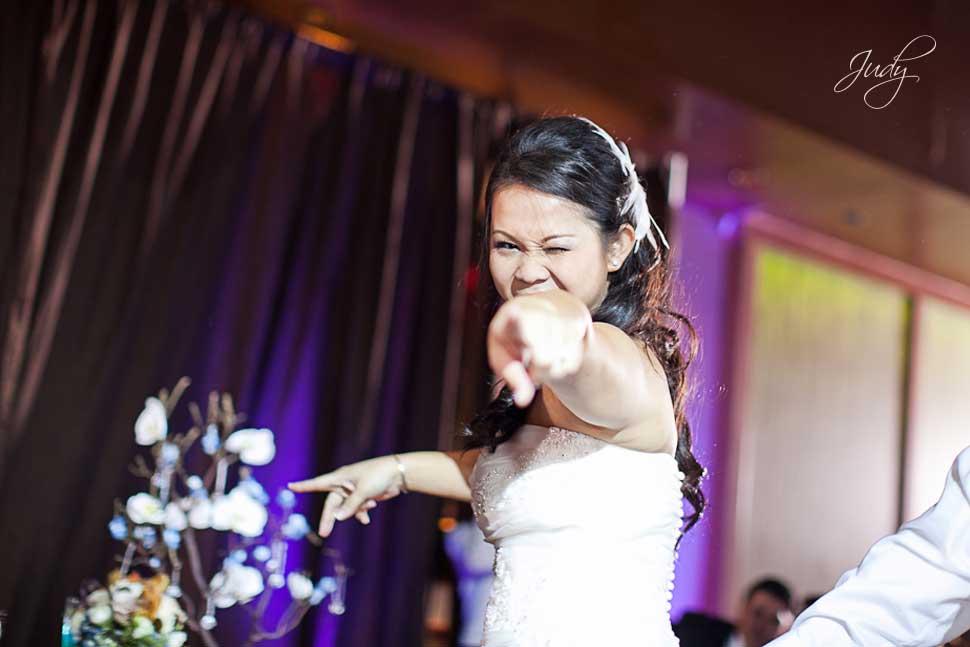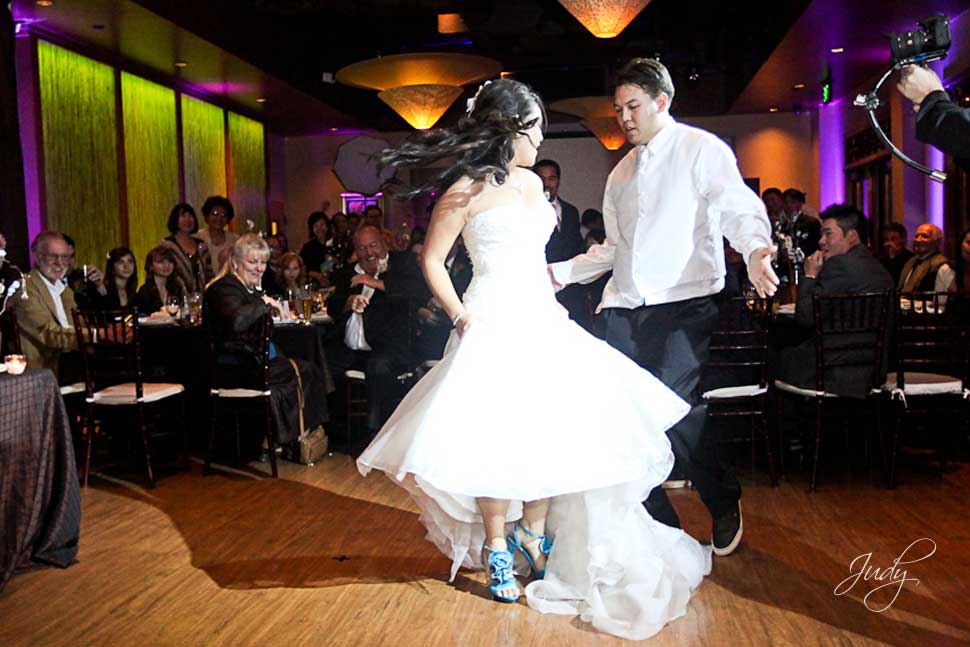 Gavin break dancing!!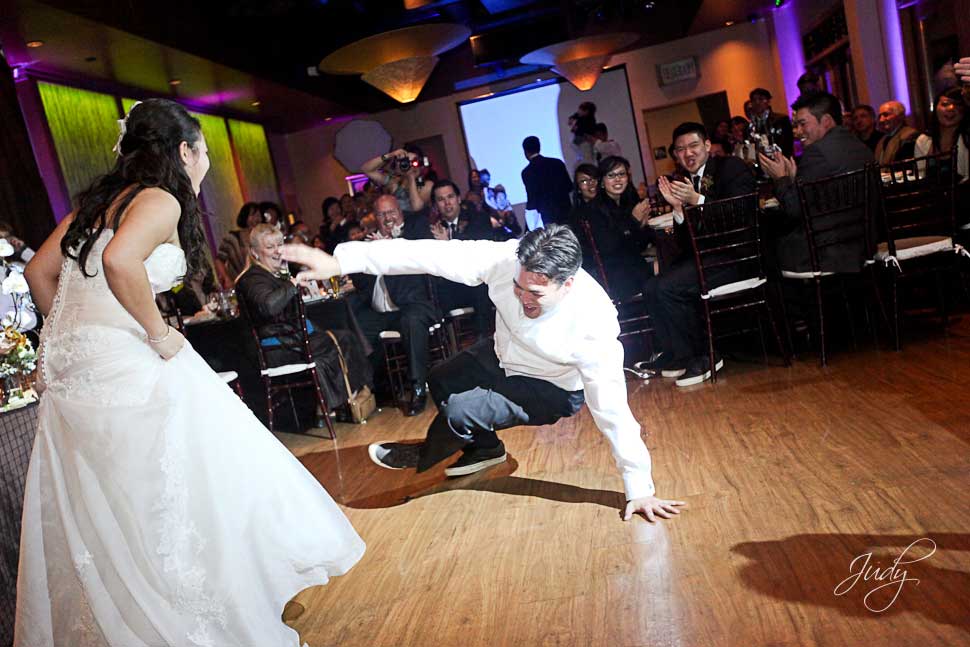 After our spectacular grand entrance, Danny Magic did a few more tricks for our guests.  I love the look on my girl's face when he turned balls into potatoes!! LOL.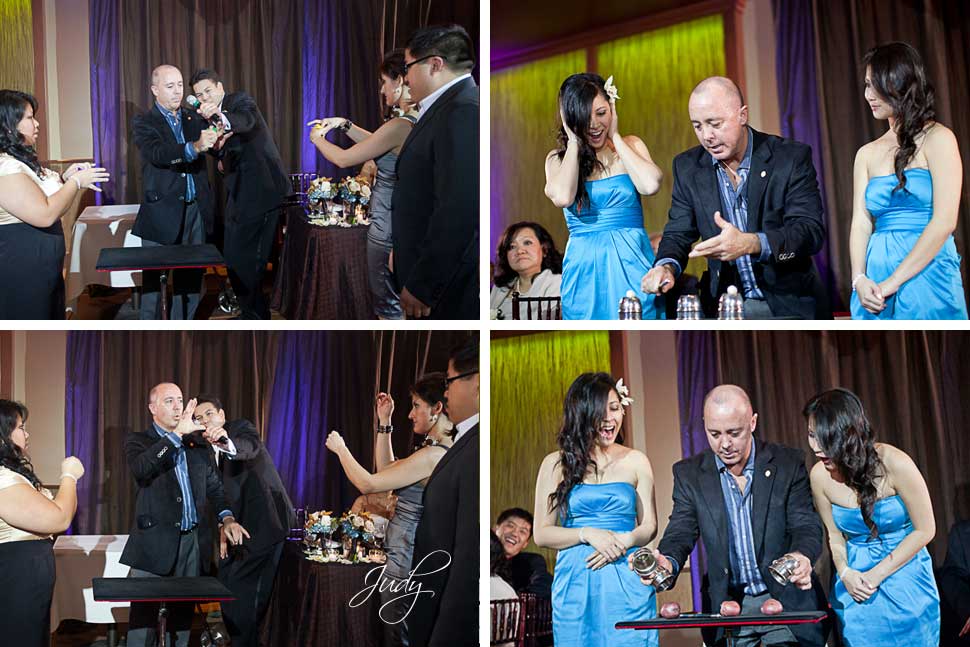 Gotta love these girls…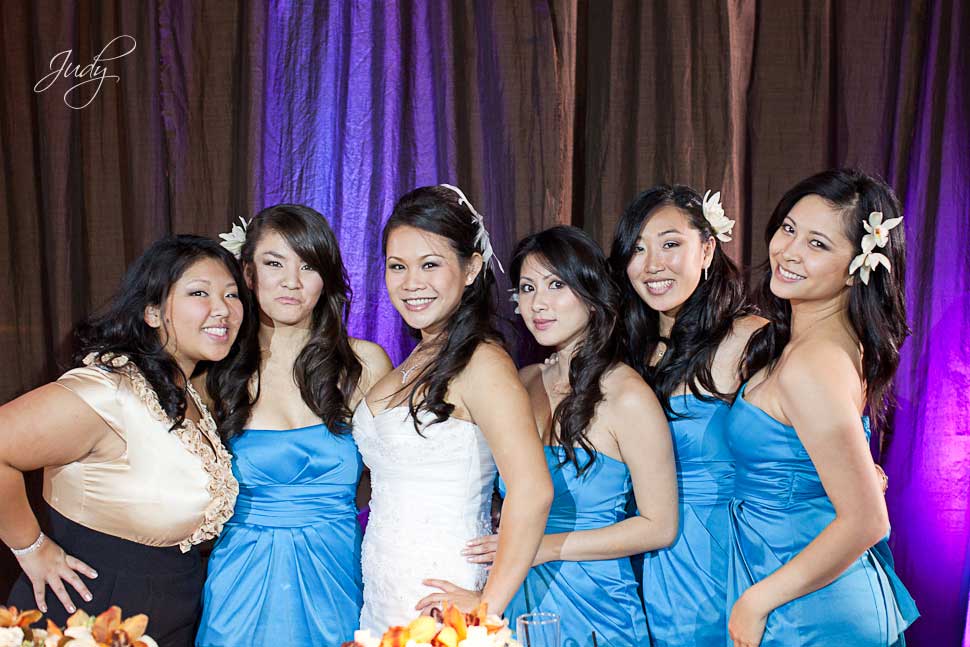 These were also taken during our tasting.  I'm telling you… S-Fine Dining is a MUST TRY!!  Everyone LOVED every single dish.  1.)  Seafood soup  2.) Duck Confit  3.)  Scallops with baby spinach and coconut curry 4.)  White rice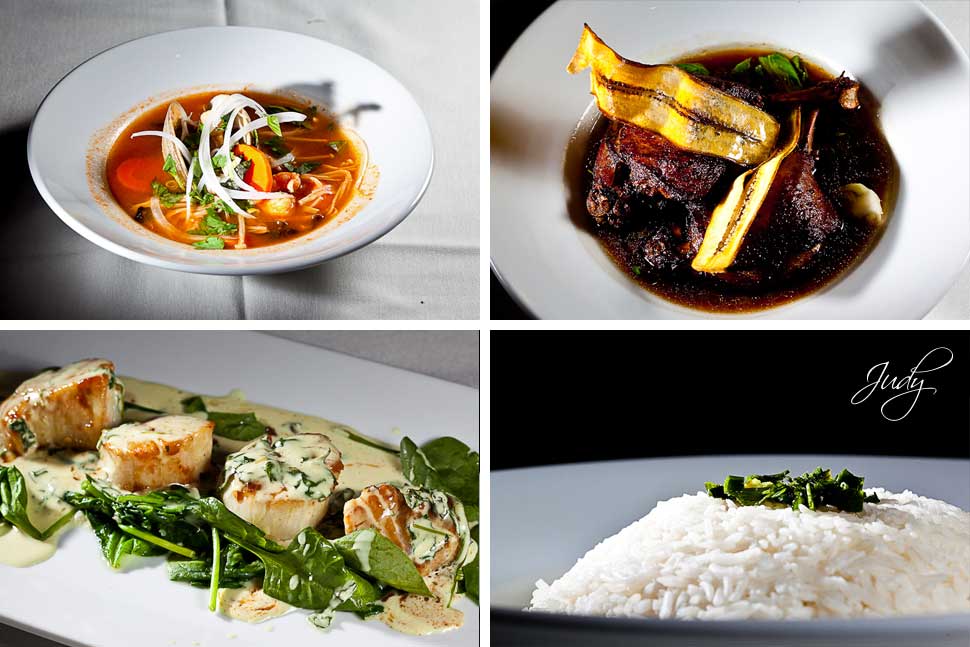 5.) Petite Lobster Tail with tamarind sauce  6.)  Lamb  7.) and Chilean Seabass with black bean sauce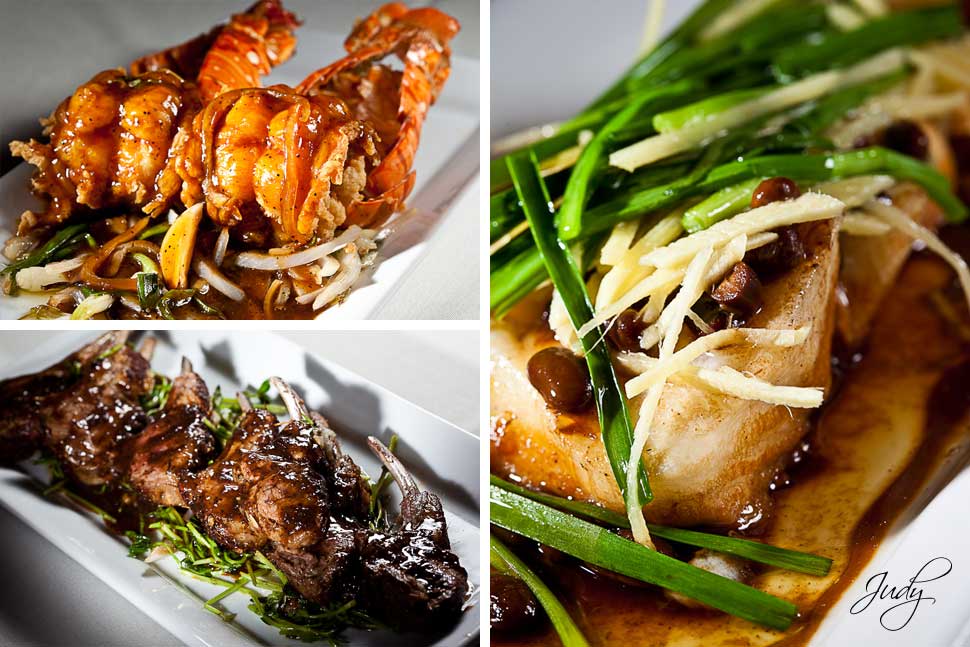 All the speeches were so heart-felt!! I can't imagine not having any of these people in our lives!!  Gavin and I love you guys so much!!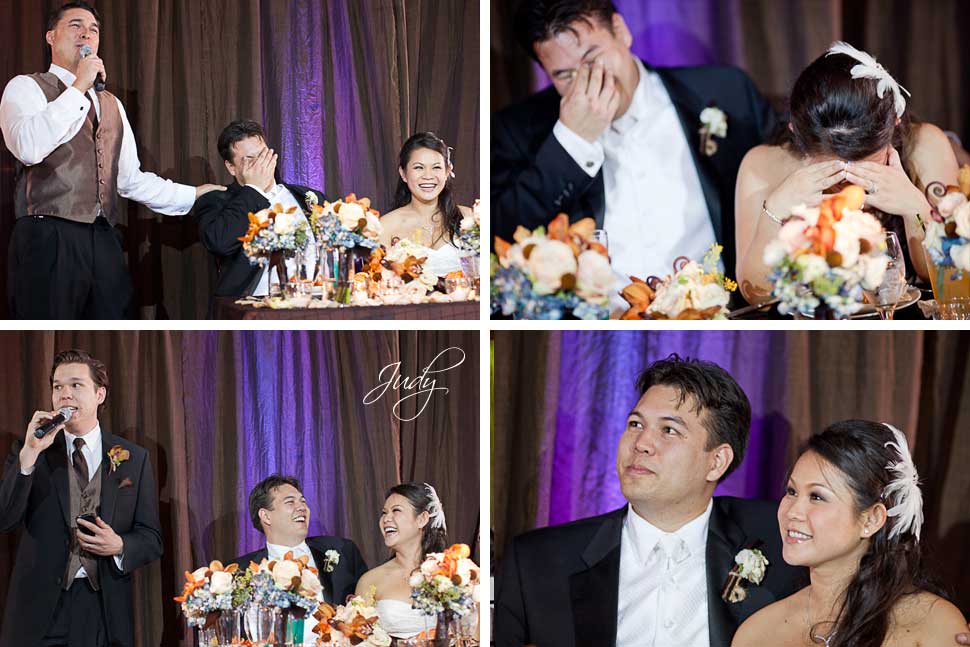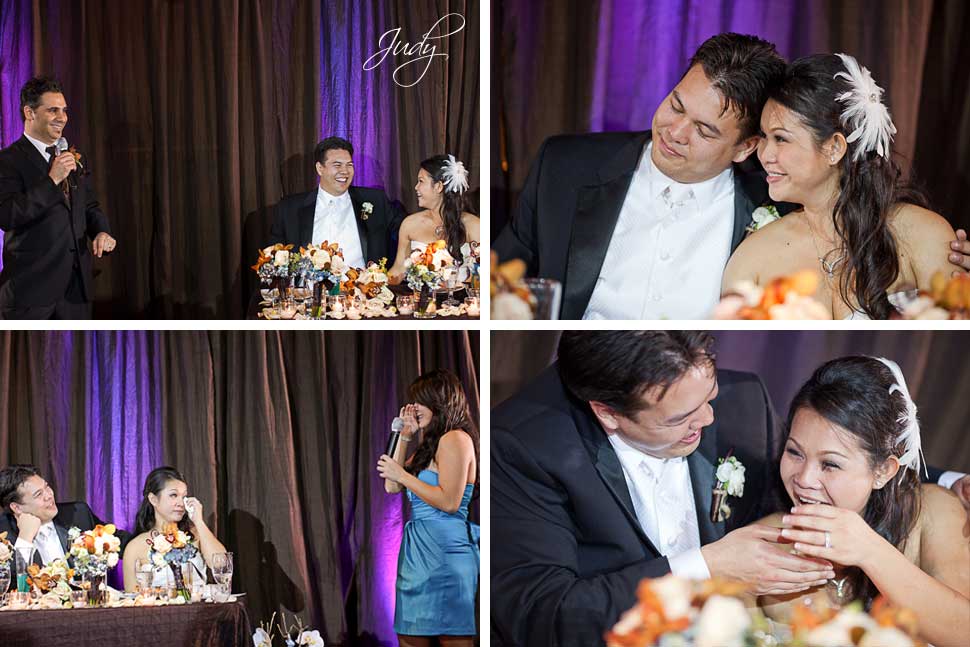 aawww yes… the cake cutting!!  "Revenge is sweet" according to Gavin.  The story behind this is… I totally caked his face when we had our first wedding celebration in Vietnam a year ago.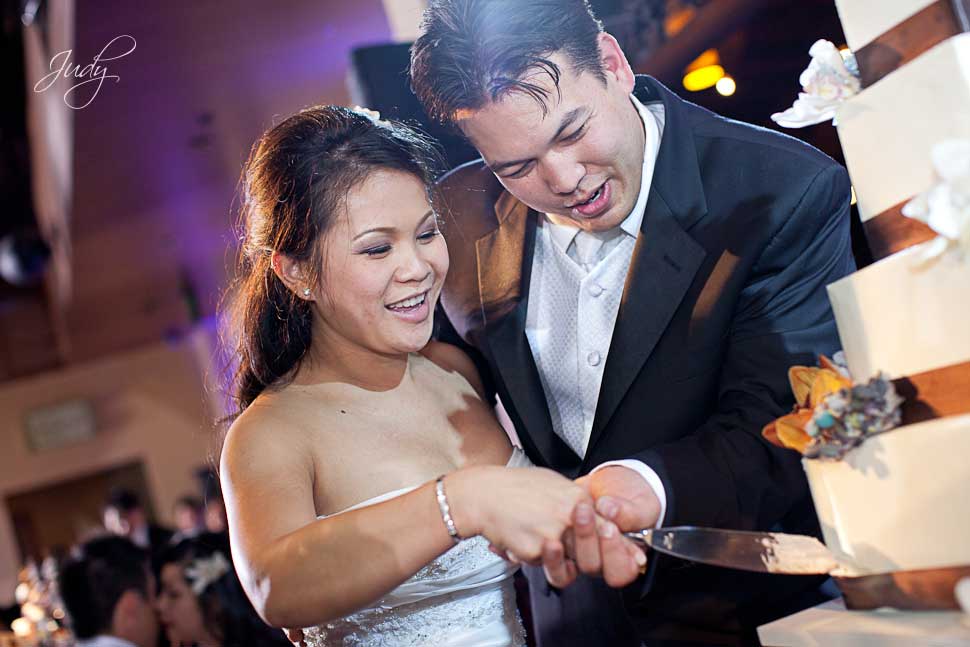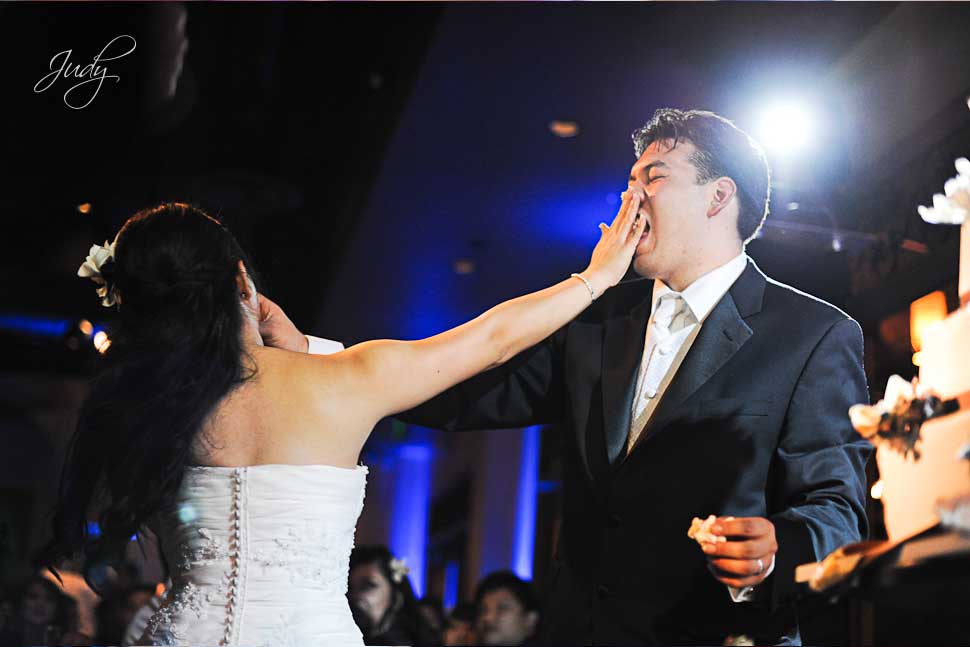 Totally NOT fair!!!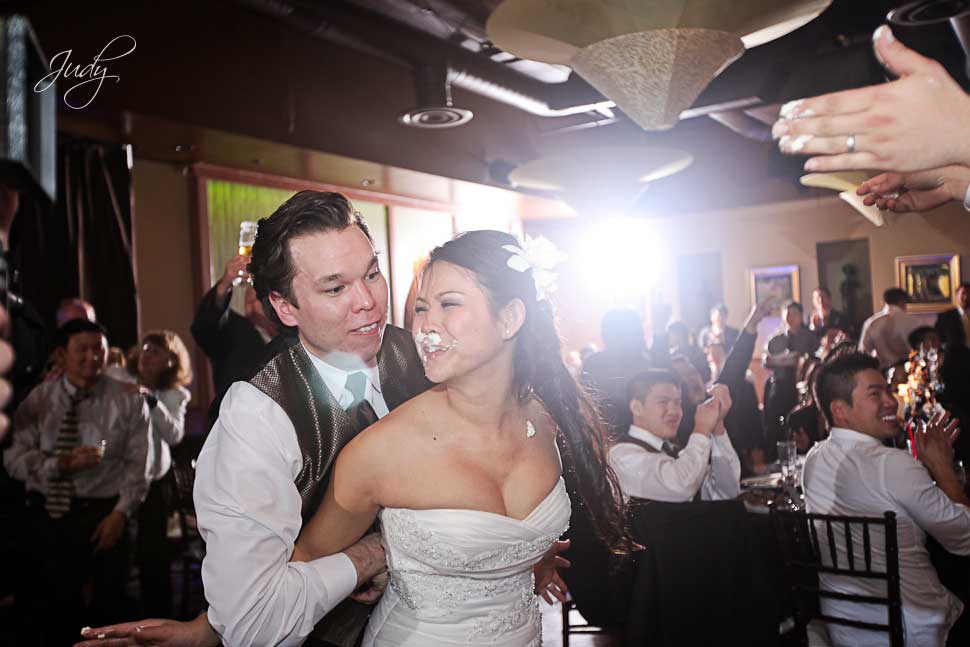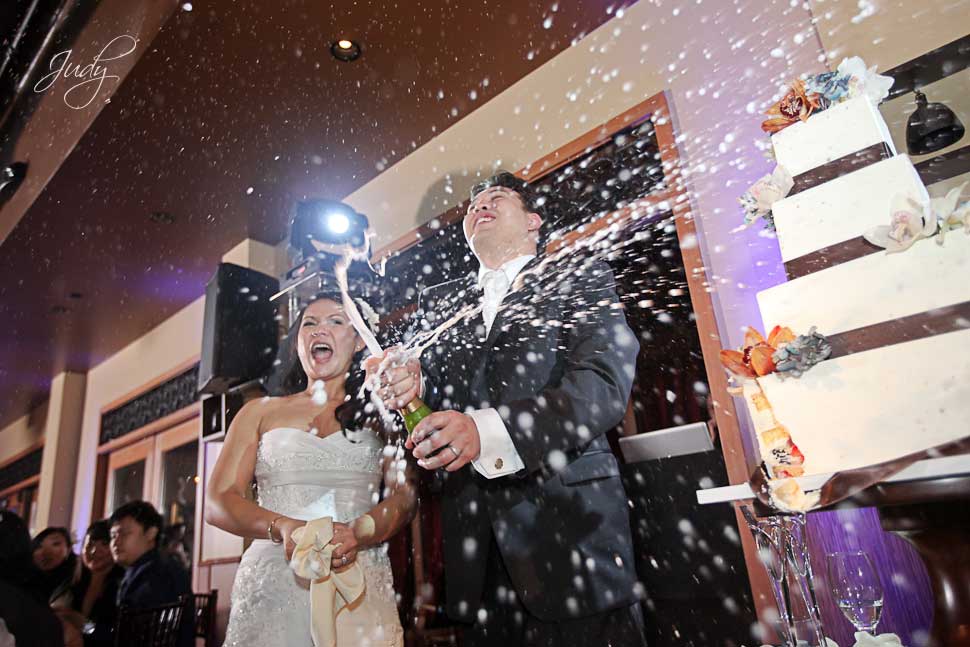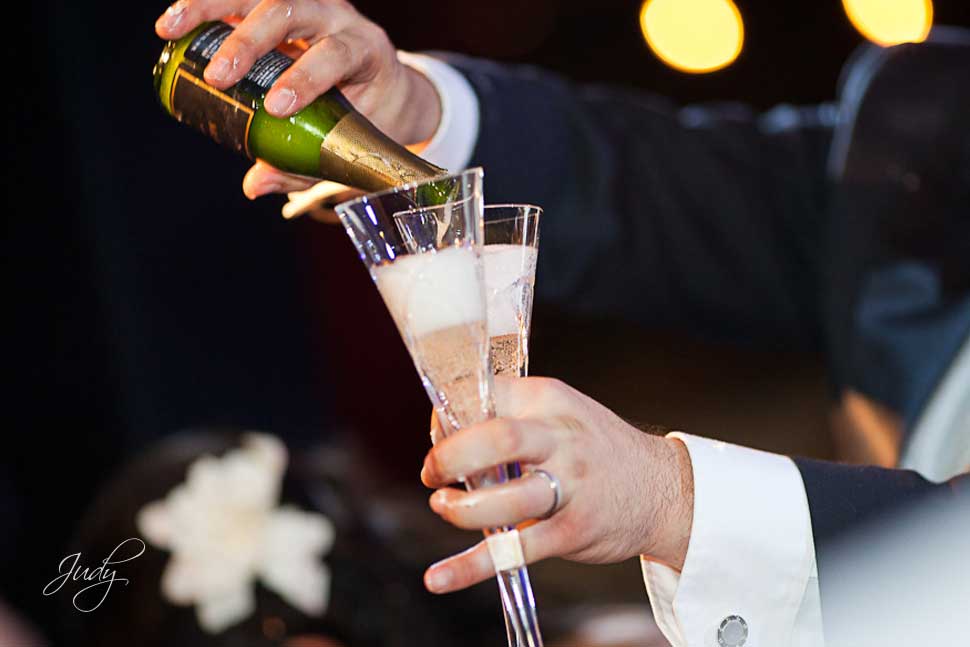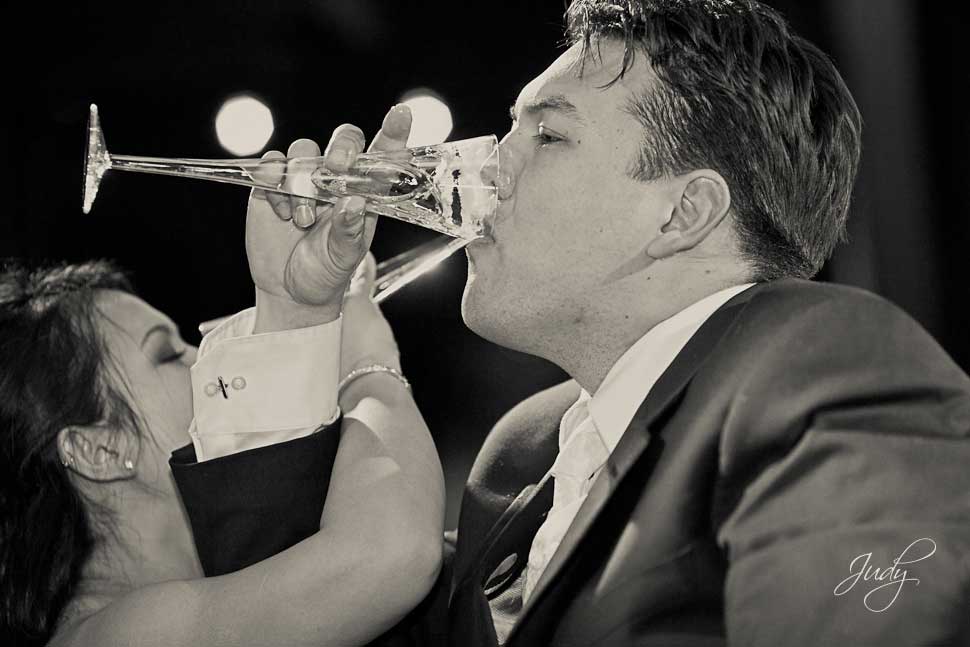 Our yummy wedding cake!!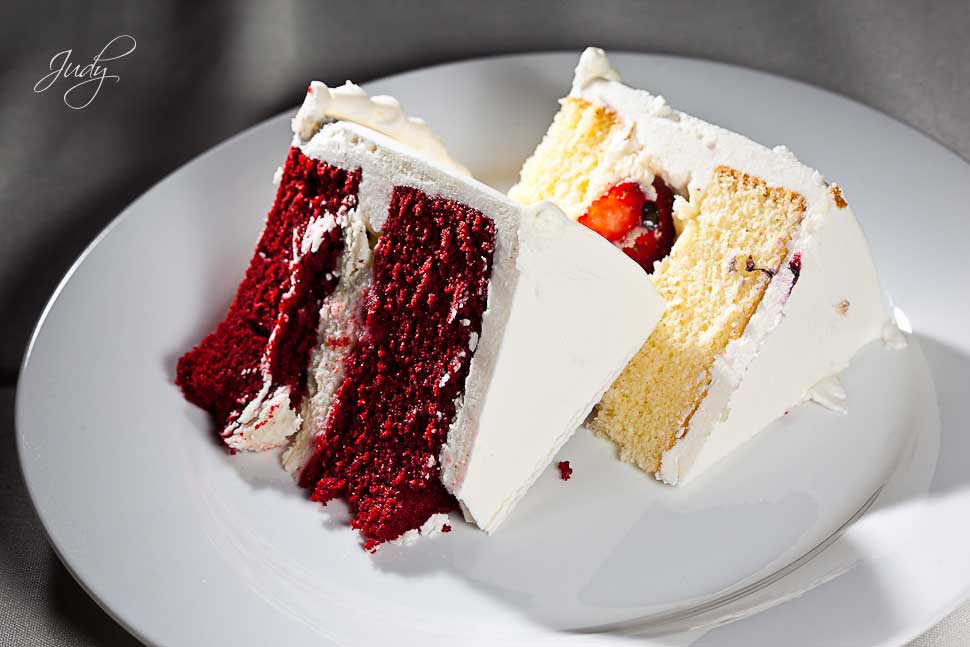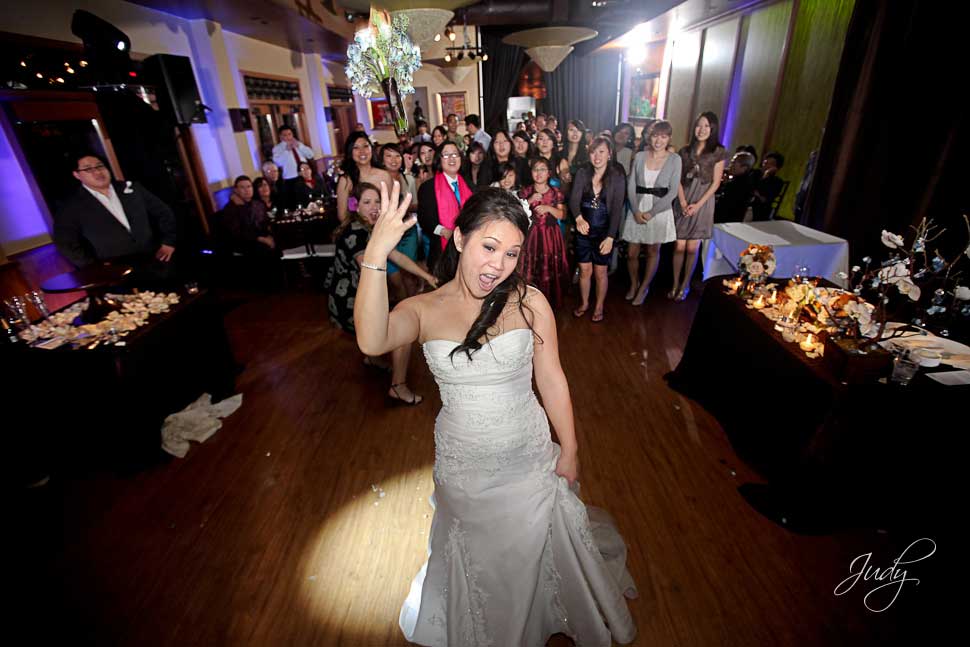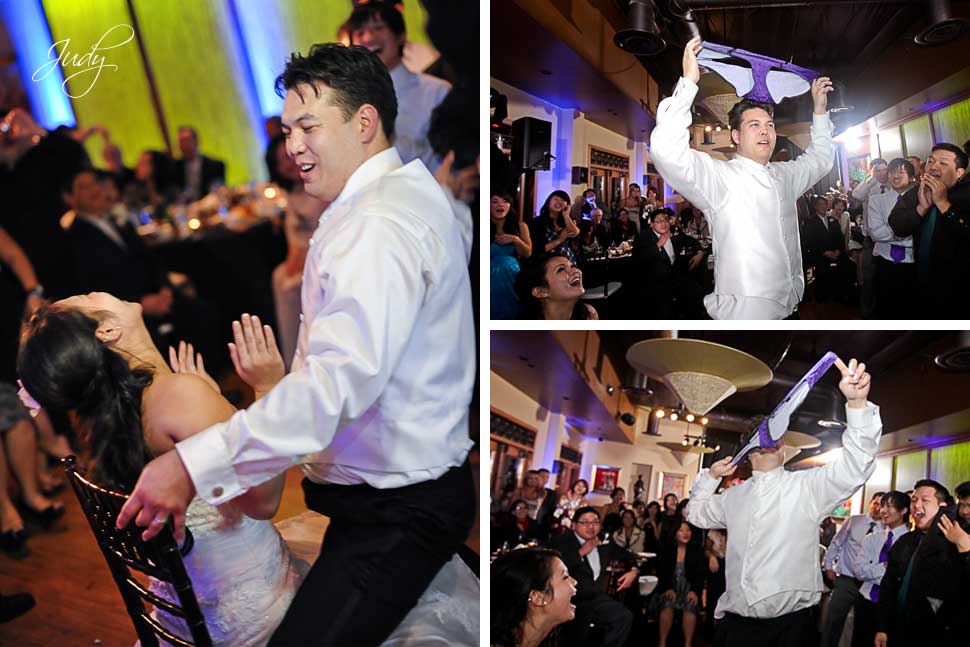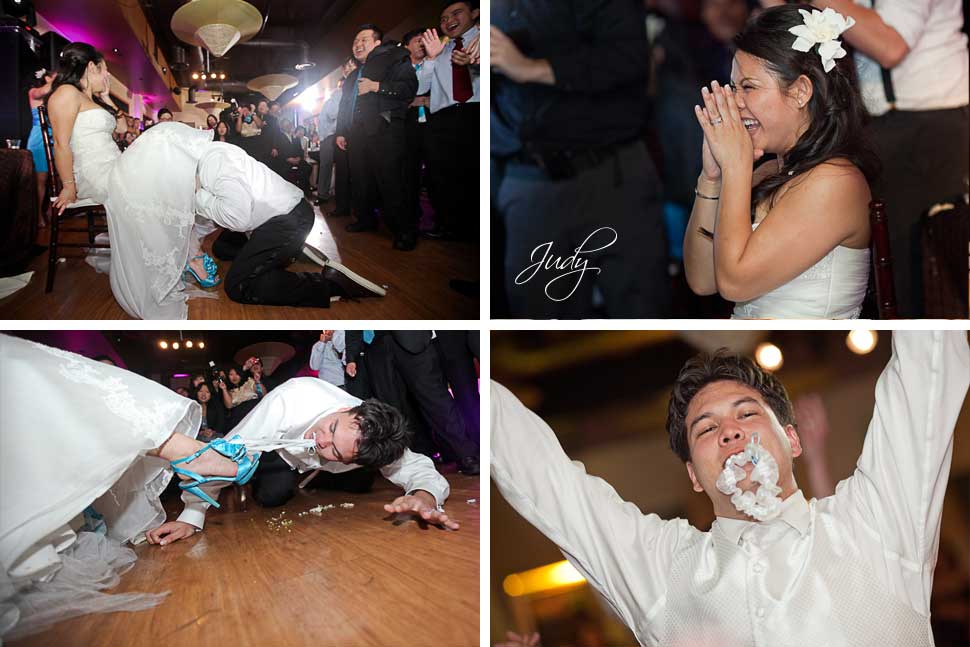 By the time our first dance came around, Gavin and I were completely buzzed!! I'm so surprised we pulled it off without a hitch.  Gavin and I have been going to Kristy Rivers, a sweet and talented professional dancer, for ballroom lessons.  We danced the cha-cha to Michael Buble's Sway.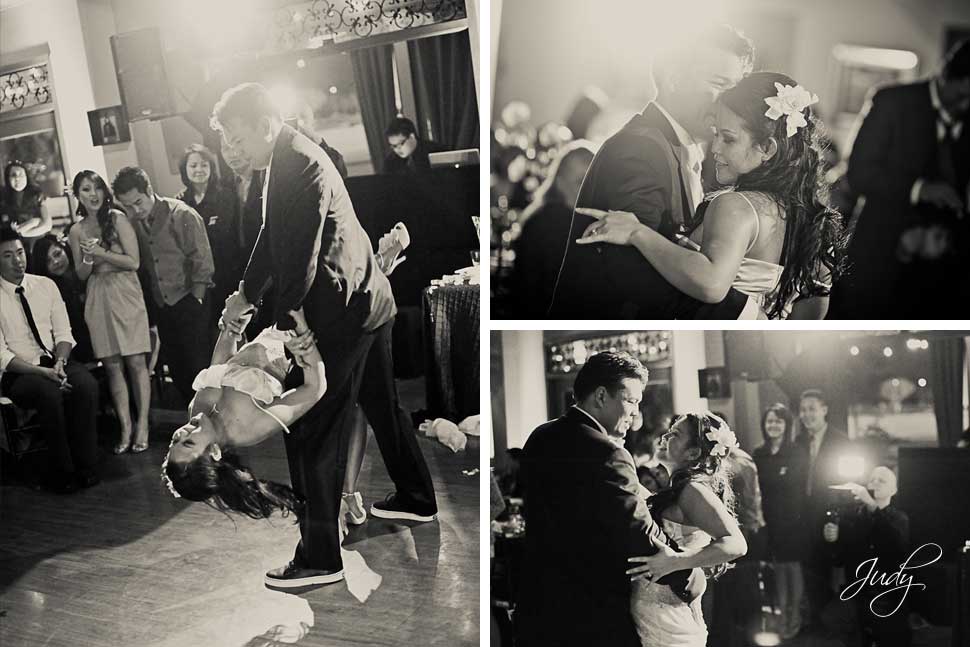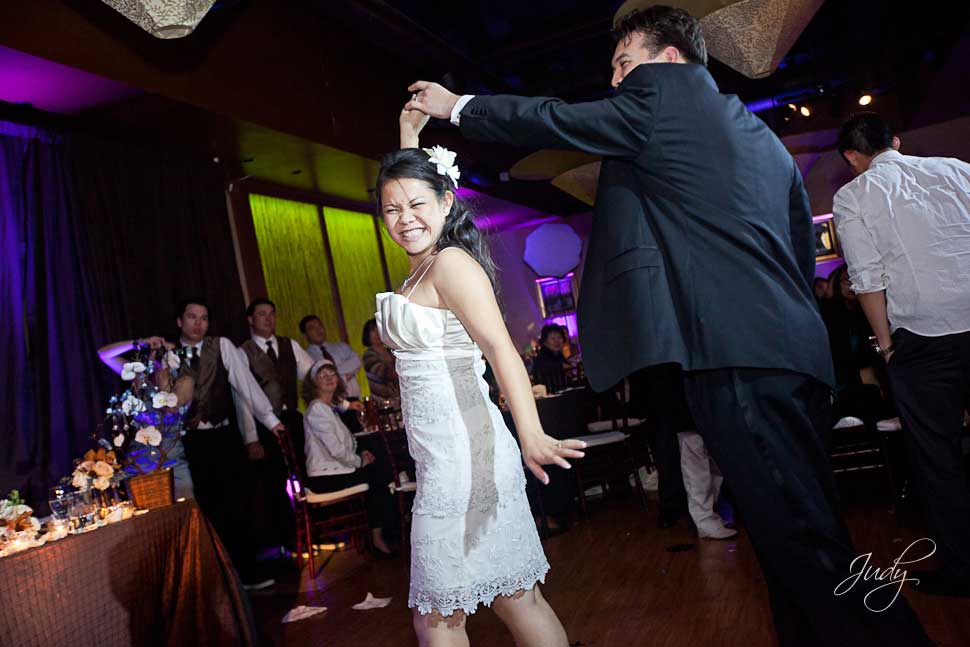 I got very emotional for the father-daughter dance.  I have a very close relationship with my dad and couldn't ask for anything more.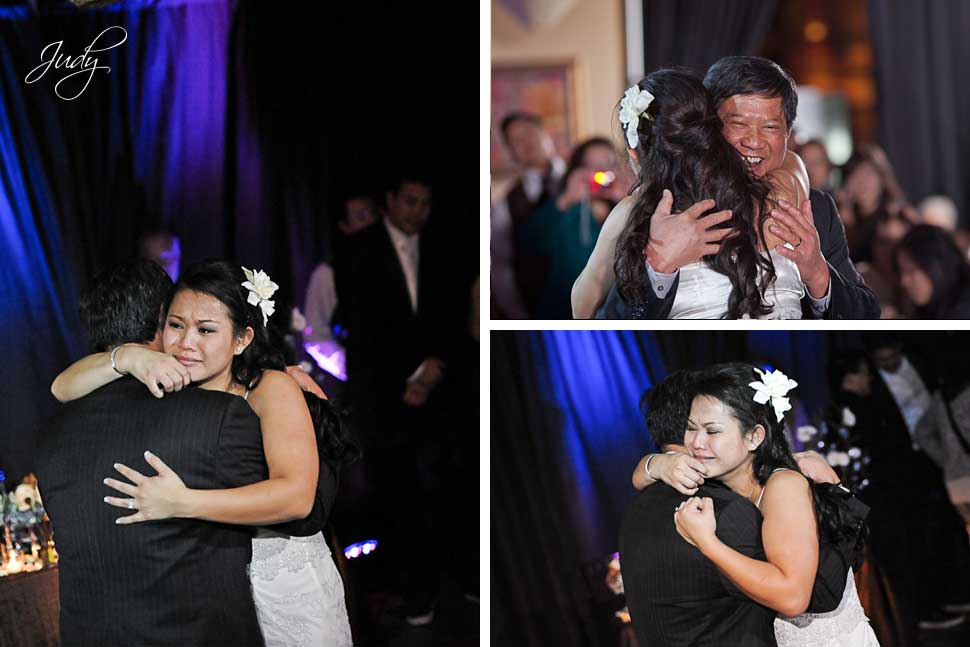 It's so sweet because during our thank you speech, one by one my family came up to kiss me!! Gavin and I are TRULY BLESSED with a great family and so many wonderful friends in our lives .  I had three sets of aunts and uncles who flew all the way from Vietnam just to attend our wedding.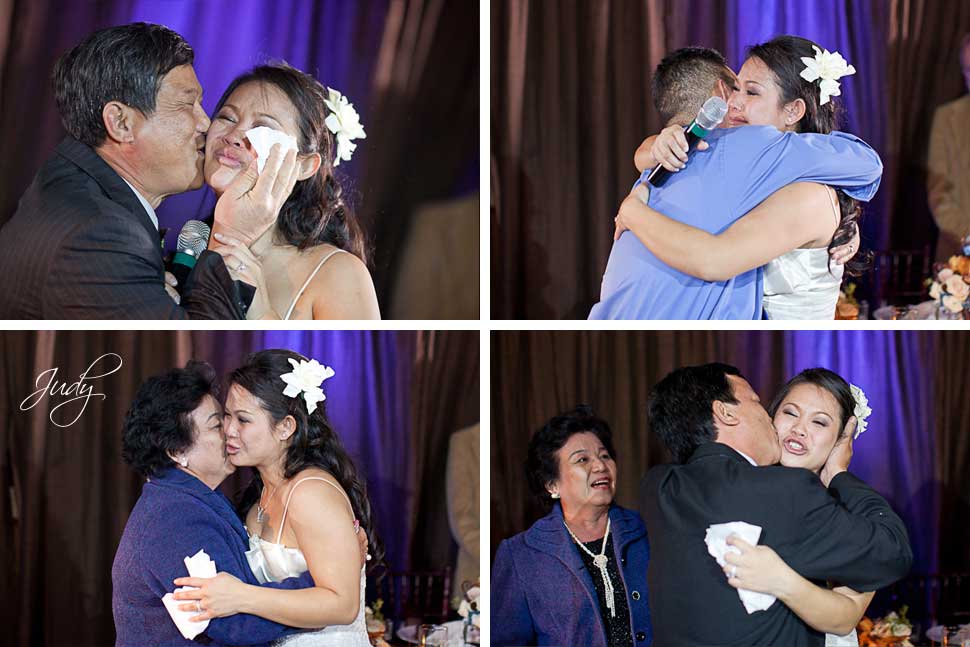 Huey got everyone onto the dance floor as we played one last game.  Gavin and I tossed two decks of cards into the air while our guests tries to grab the 4 cards that had both our signatures on it.  Prizes were given to those who got the cards.  From there, our DJ started "Conga" by Gloria Estefan.  OMG… everyone joined our conga line and it went all around the restaurant.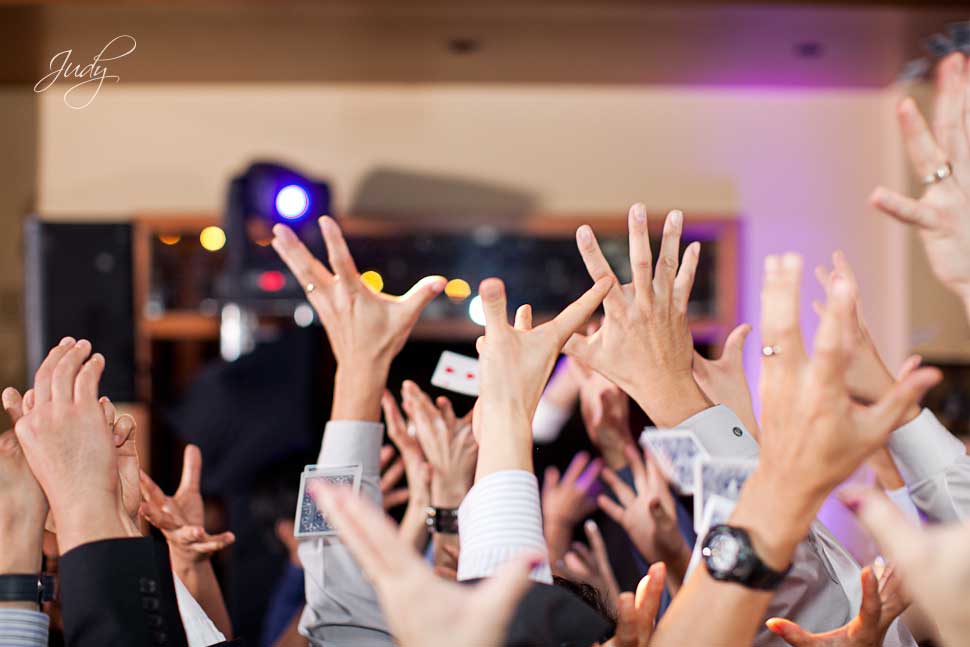 LET. THE. PARTY. BEGIN!!!  "Come on , shake your body baby, do the conga…"
I can't speak enough kudos about Huey Le from Platinum Peaks Entertainment.  We've worked with Huey many times and from the very first time I worked with him, I knew he was gonna be THE ONE.  We trust him so much that we actually asked him to officiate our ceremony.  Seriously!  He knocked it out of the park.  He made everyone laugh.  This is a good testament to his ability to work a crowd.  He controlled the flow of our reception flawlessly.  Huey was always on top of things, very professional and very very talented!  I am still amazed at how he can get a crowd going and keep them going all throughout the night.  Huey also did an amazing job with our lighting.  I love his up-lights and pin-spot lights.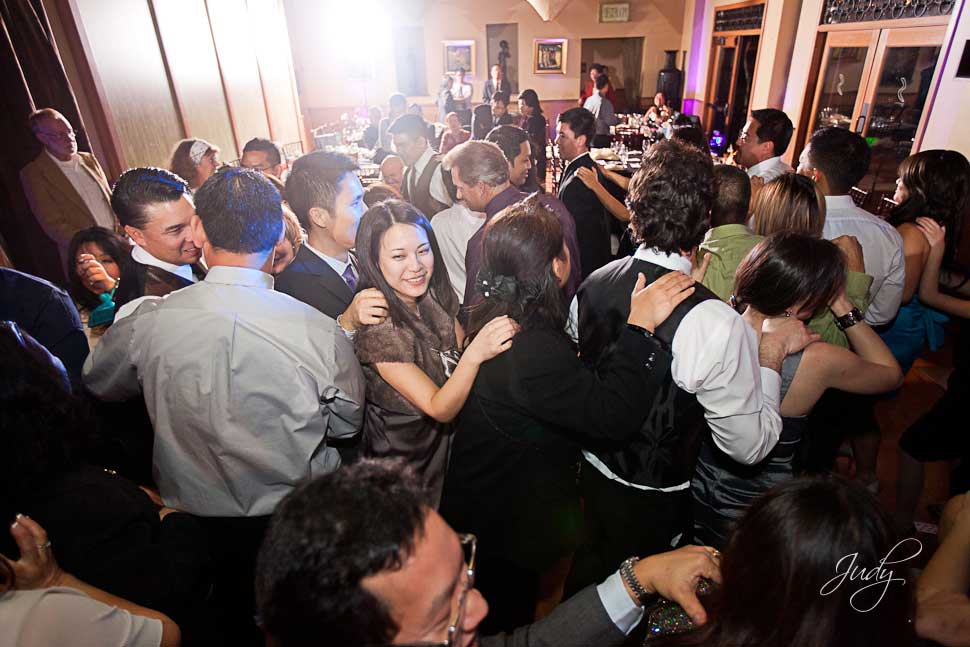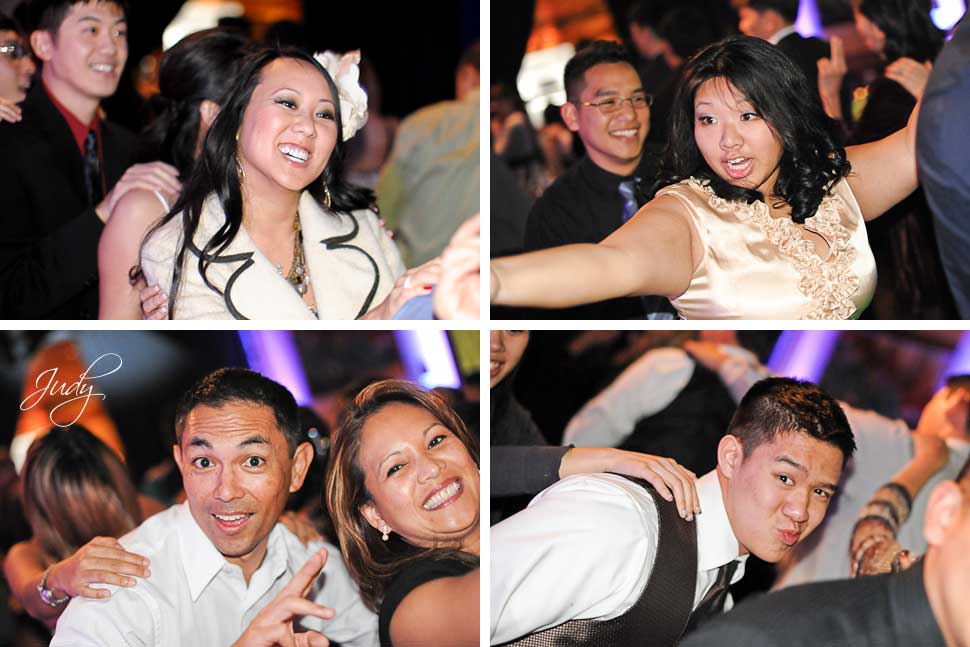 Buzzed?!??!  Just a little…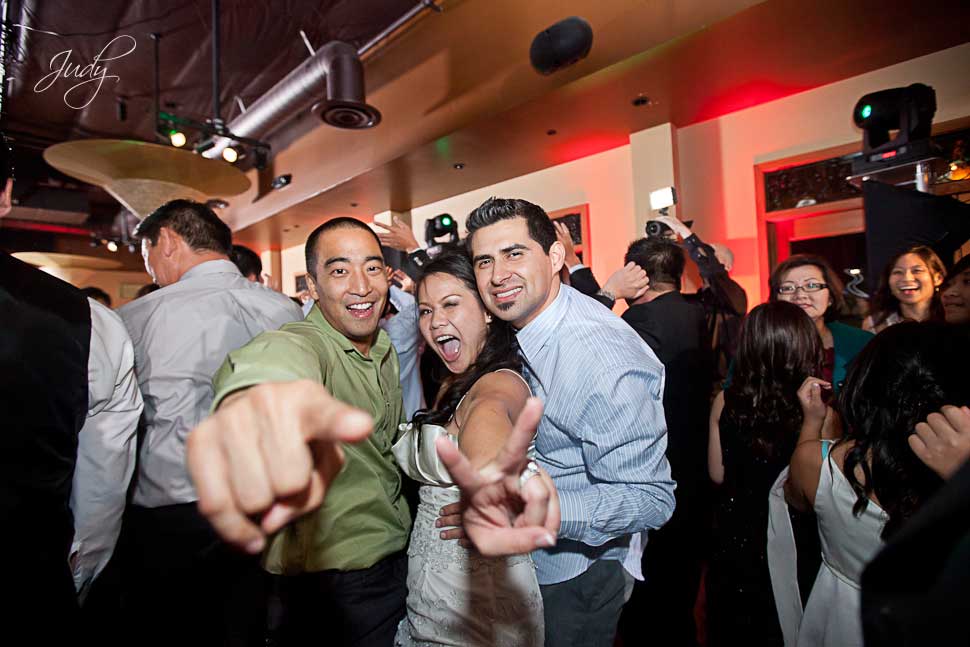 Buzzed?!??! Definitely!!!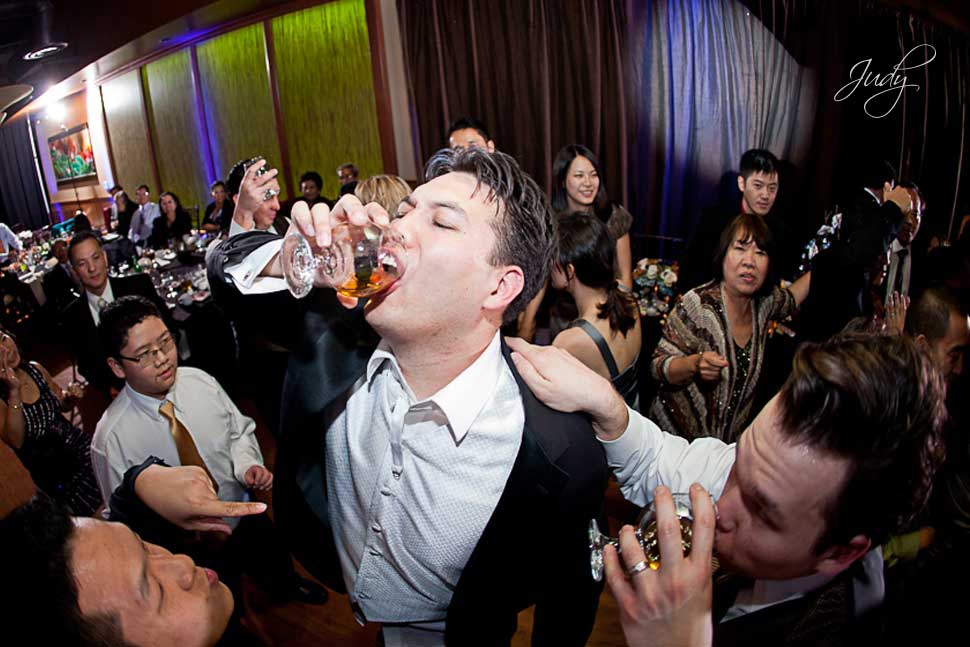 yeah… definitely!!!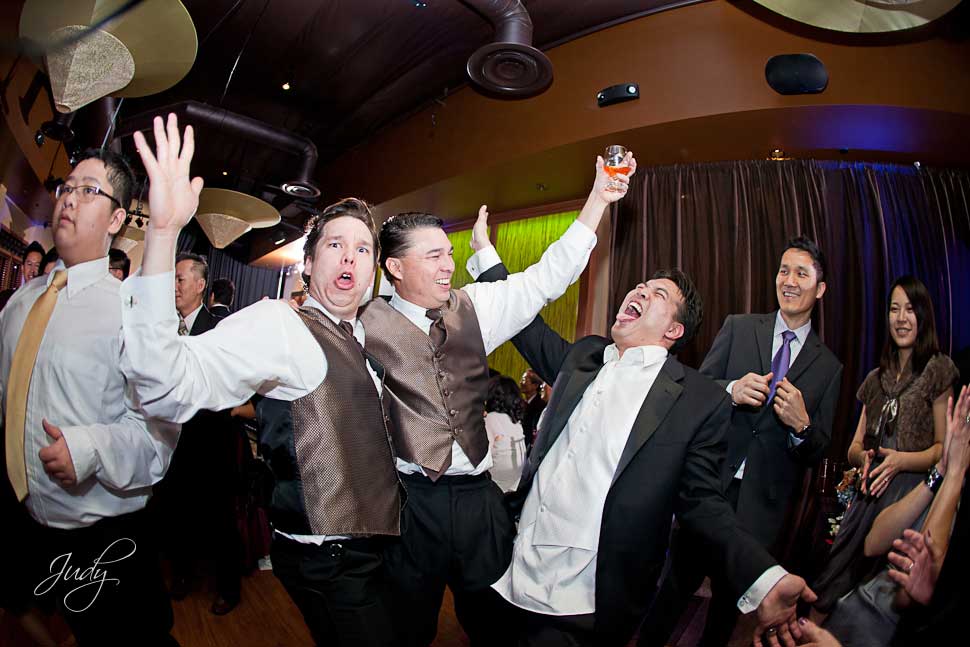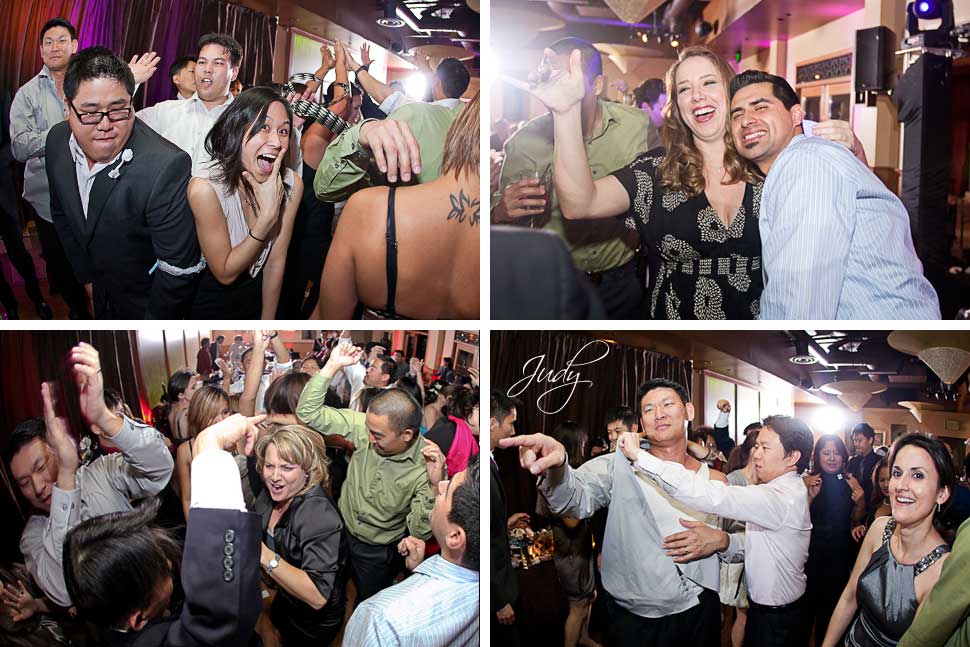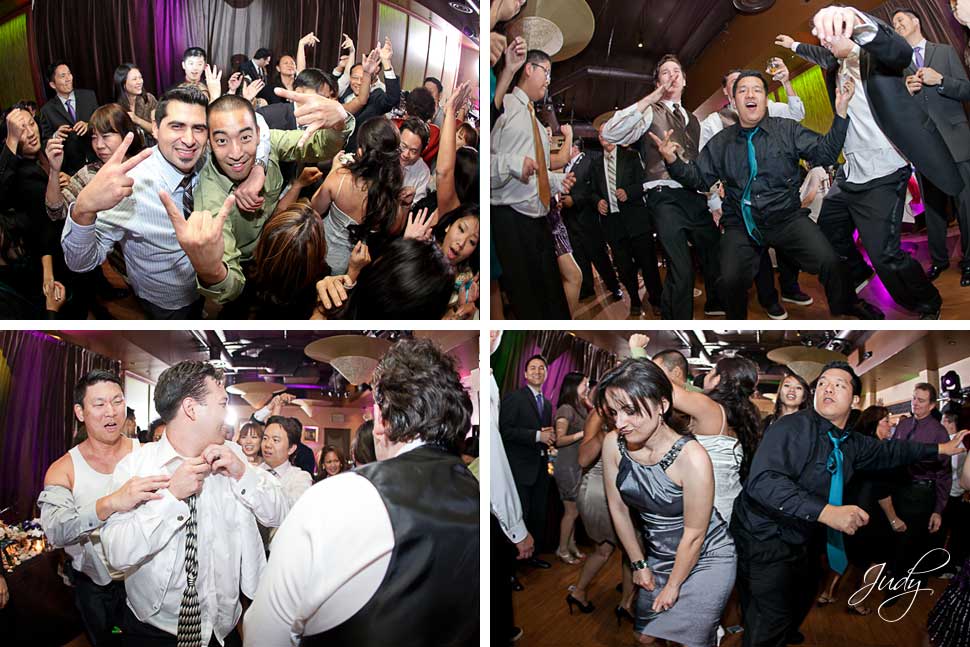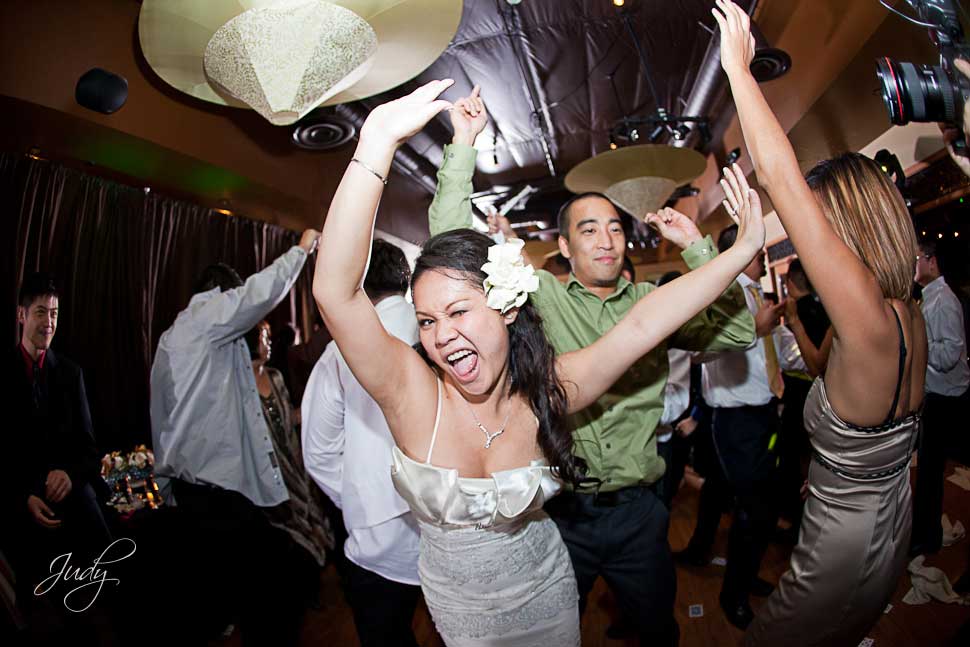 Thank you and much love to all our wonderful vendors!!  Really… we can't thank you guys enough for all that you've done for us!!  Thanks to all our family and friends who came from near and far to be a part of our special day!! It really means SO MUCH to us.  We greatly appreciate all the generous wedding gifts.  Again, Gavin and I are truly blessed with such a loving family and wonderful friends!!  You all have a special place in our hearts and we couldn't have asked for a better wedding!!  We love you all!!
You can see our entire wedding here:
Preparation
Bridal
Ceremony
Formals
Reception1
Reception2