Happy Friday Everyone!!
I'm a tad nervous writing this post, since Ken is a professional screenwriter himself! Thank goodness for spellcheck. =)  Ruth and Ken are fun and spontaneous couple (as you can see from their photos). They are not shy in being silly with each other and are all about having a good time. They rented a party bus and shuttled us all around downtown Los Angeles for wedding photos. Instead of shooting the popular Walt Disney Concert Hall, Ruth and Ken wanted to explore the more unique areas of Downtown LA.  We did some stylish and creative photos around the Art District area. It was pretty hot day but everyone were troopers and we got some awesome photos.
Their wedding ceremony and reception was at the ever-classic Cicada Club in Downtown Los Angeles (right near Pershing square, in the thick of it all).  It's a venue reminiscent of the roaring 20's, with a towering ballroom laced in gold and brown tones of art deco.  The ballroom feels more like New York than Los Angeles. One of the reasons that Ruth and Ken chose us is for our ability to light such a dark and textured room. We had three different lighting setups for capturing both their wedding ceremony and reception at Cicada.
Ruth & Ken's wedding was also very special to me in that it's our very first time collaborating with our associate videography team. That's right… JG Photography is now offering associate videography. =) For couples (like Ruth and Ken) who wanted both myself and Gavin as photographers, but don't want to pass up on our artistic videography style, check out our associate videography team. Steven (my brother) and his friend Efrain have been learning under our us for a while now. I'm so happy and proud of them for shooting this first wedding video (solo from us). Don't forget to click play and check out their awesome video from ES filmworks.
And thank you Christine Tran for coordinating such a perfect and flawless wedding day!! It was such a pleasure and we look forward to working with your team again. I also want to thank Richard (manager at Cicada) and his team for being so sweet, friendly, and helpful. We really can't do it without an amazing vendor team!!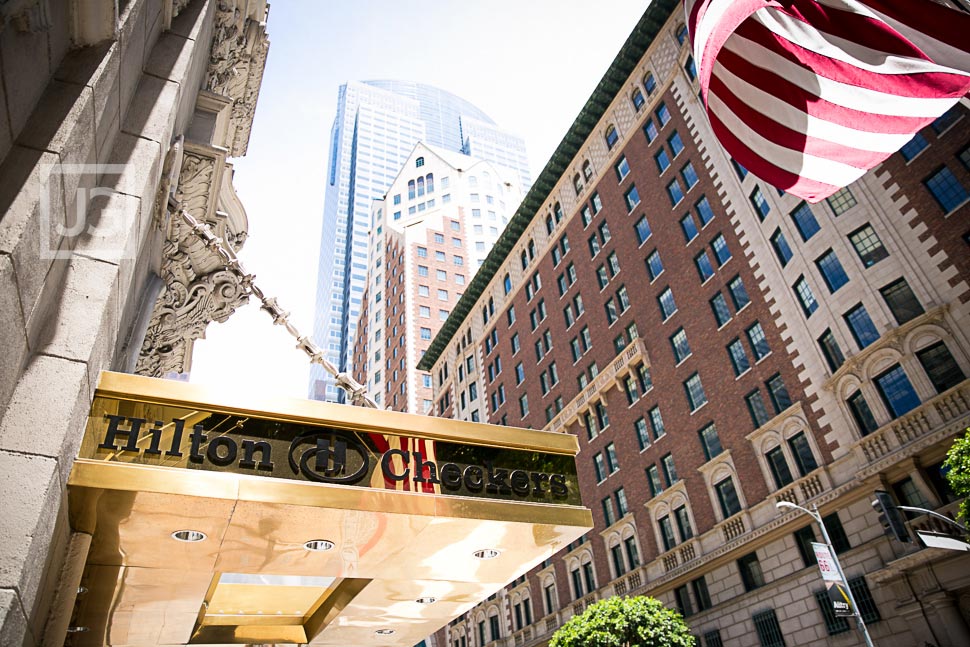 Ken is in deep thought as he's perfecting his wedding vows.
Some photographers complain that cellphones at weddings are the bane of their existence.  We try to incorporate and capture that in our photos, since when would you get those faces so candidly!
This is a photo of a photo of a photo of our bride.  I heard that no one has gone four levels deep and come back to talk about it (I call it "piception"). LOL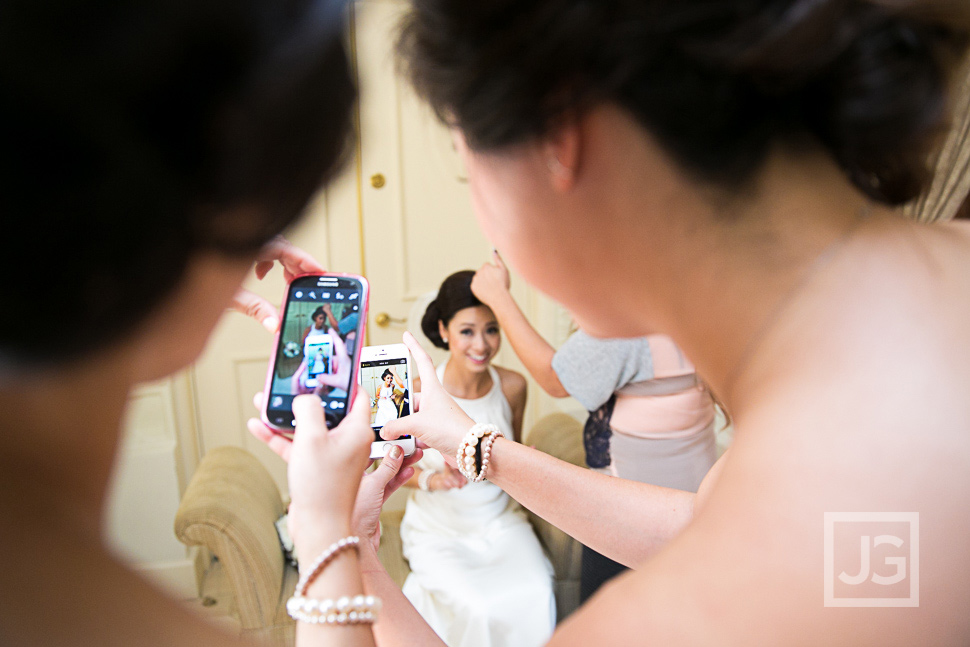 We decided to do the first look on the rooftop lounge of the Hilton Checkers Hotel. It's got an AMAZING view of downtown Los Angeles.  One thing we've always believed in doing is showing off the location that our couples pay for.  So if it's in Hawaii, we make it capture Hawaii.  If it's in the heart of Los Angeles, we want to capture that too.
This is where having lights makes all the difference in the world.  That day was a little humid for Southern California, but we got a textured sky in return for it.
I love goofy moments between our couples!
While in the arts district, we wanted to capture the look and feel of the location.  This had a bit of a street photography look to it.
Back at Cicada, we had to take advantage of the the amazing bar.
When both Gavin and I shoot our Photo/Photo package, it gives us more artistic freedom to experiment.  Gavin brought his ringlight (that he uses for fashion work) and snapped of this cute sequence of images.
A little riskier, but here's the first kiss through one of the mirrors on the walls.
This lighting was created by us (not by the venue) for the first dance.   I LOVE this ballroom!