Anyone who has walked the enchanting grounds of the historic Padua Hills Theatre will know that it's a perfect place for a wedding. And anyone that has met Susan and Matt know that they are an enchanting couple to watch get married! This is their wedding story told through our Padua Hills Theatre wedding photos and video.
Padua Hills Wedding Videography
We did both wedding photos and video for them. Here is the instagram teaser we did (it's short, so take a look):
And here is the short film that we delivered a couple months later:
Wedding Preparation at Padua Hills Theatre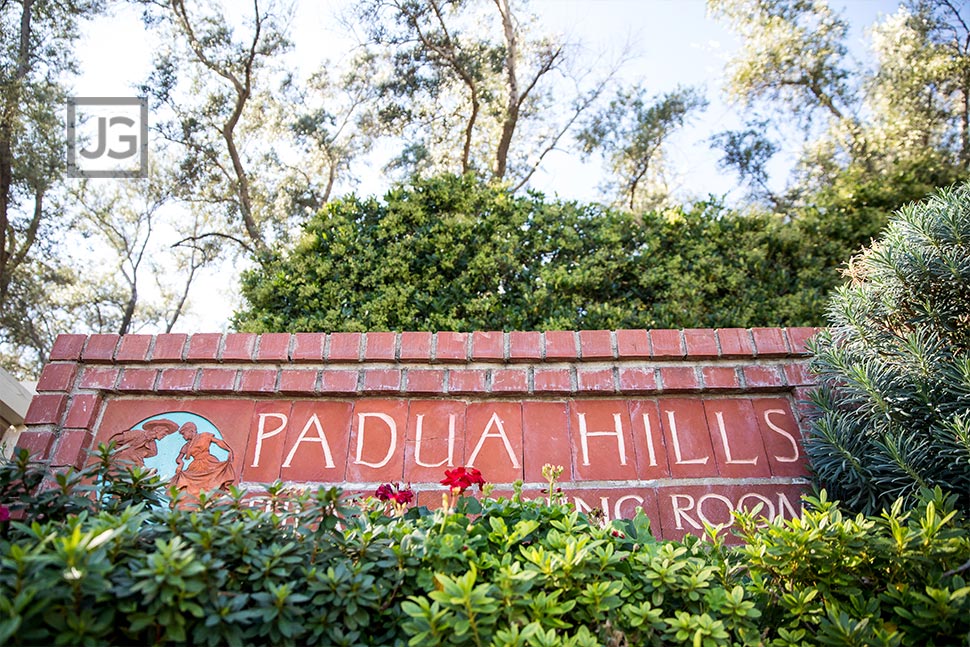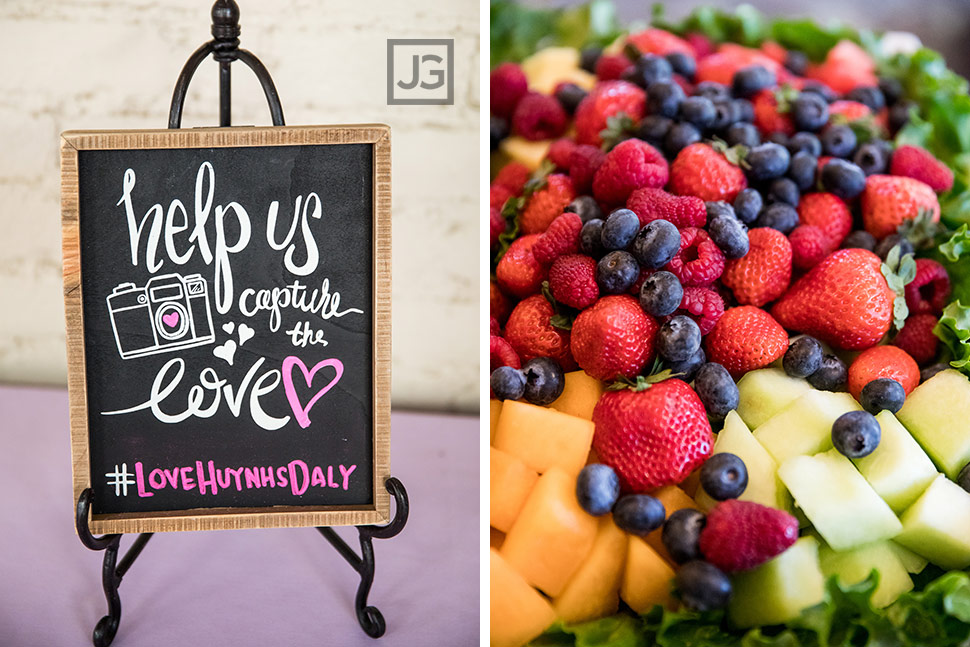 Padua Hills provides a bridal ready room off the side of the main courtyard, tucked away perfectly with all the accents of a historic building with a storied past. Event the tile in the bathroom shower are textured with history.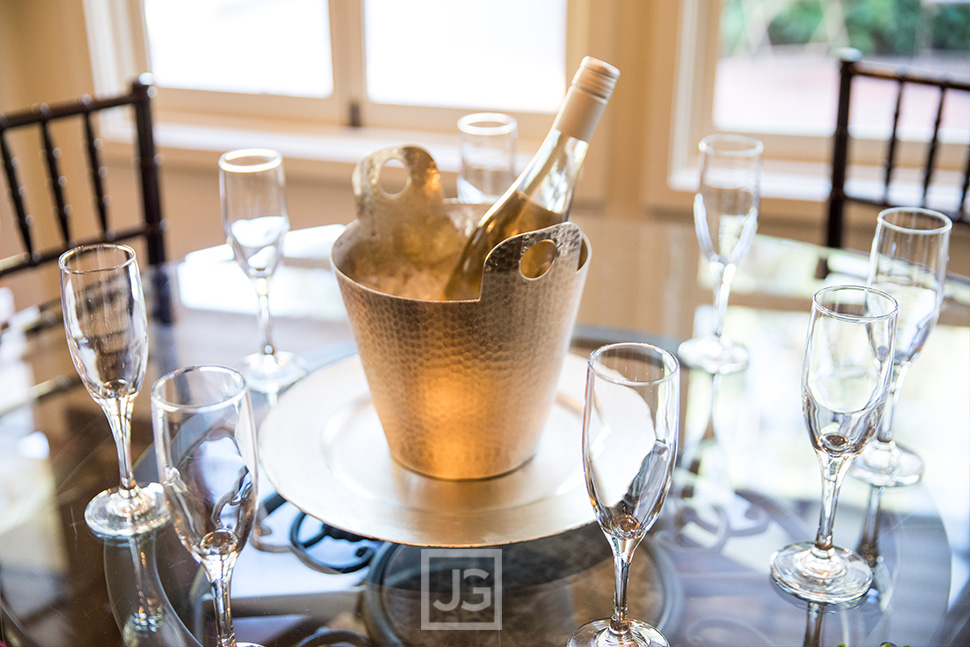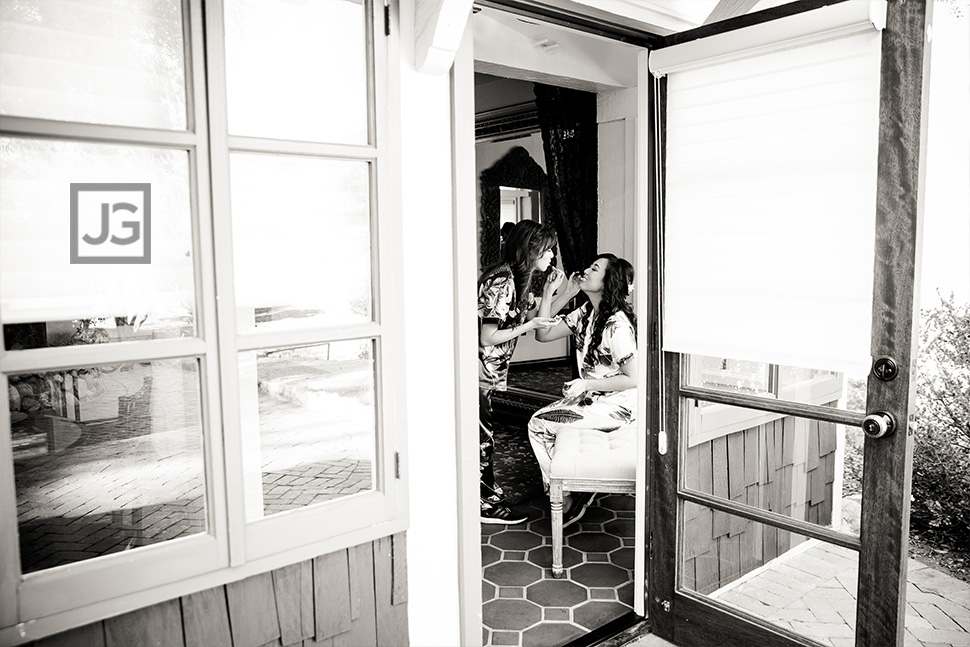 Here's our bride Susan getting ready with her bridesmaids, being silly and goofy. We love to capture that in our brides!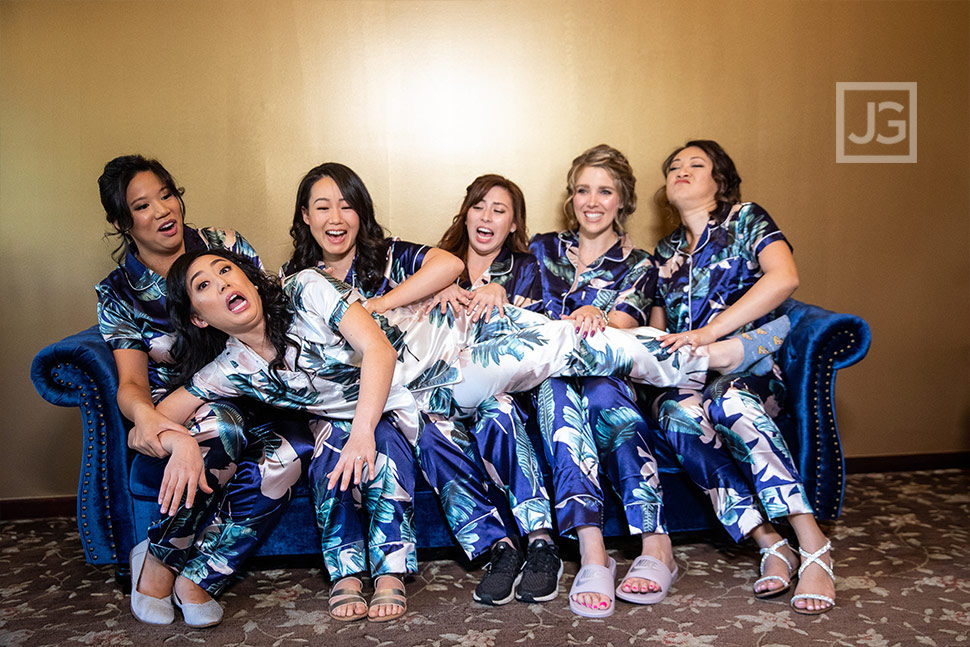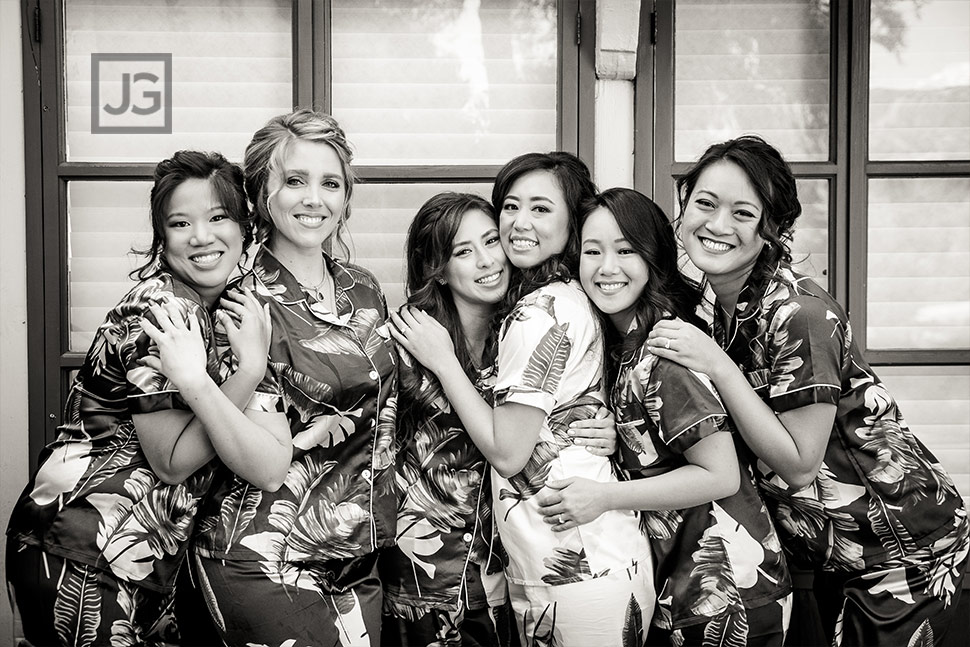 Here is our bride's dress hanging in the bridal ready room.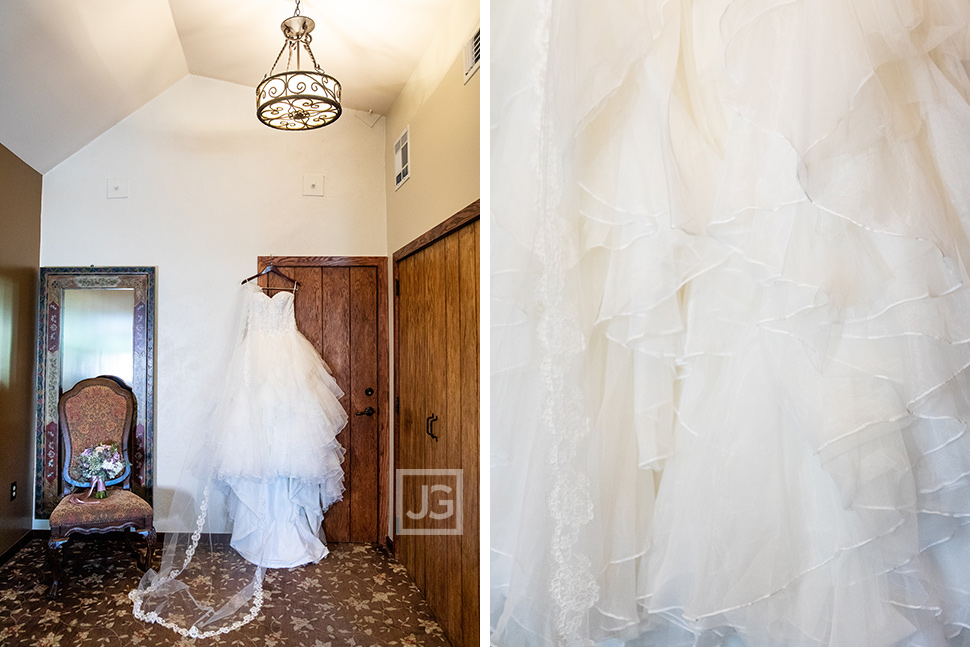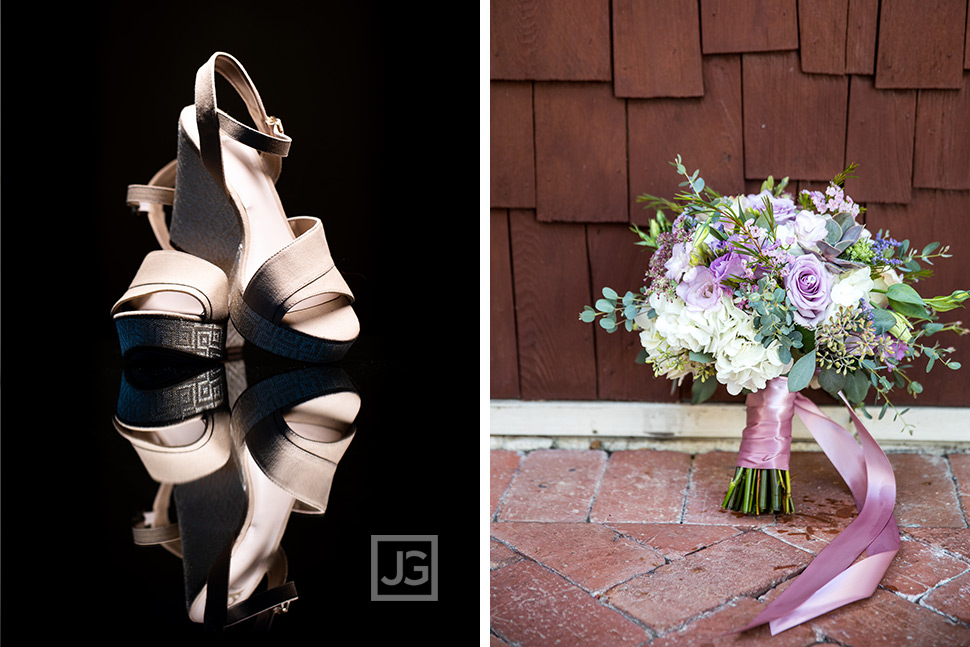 We thought this was a really cute candid moment of the bride, prefectly framed by a large mirror in the bridal ready room with her dress on the side.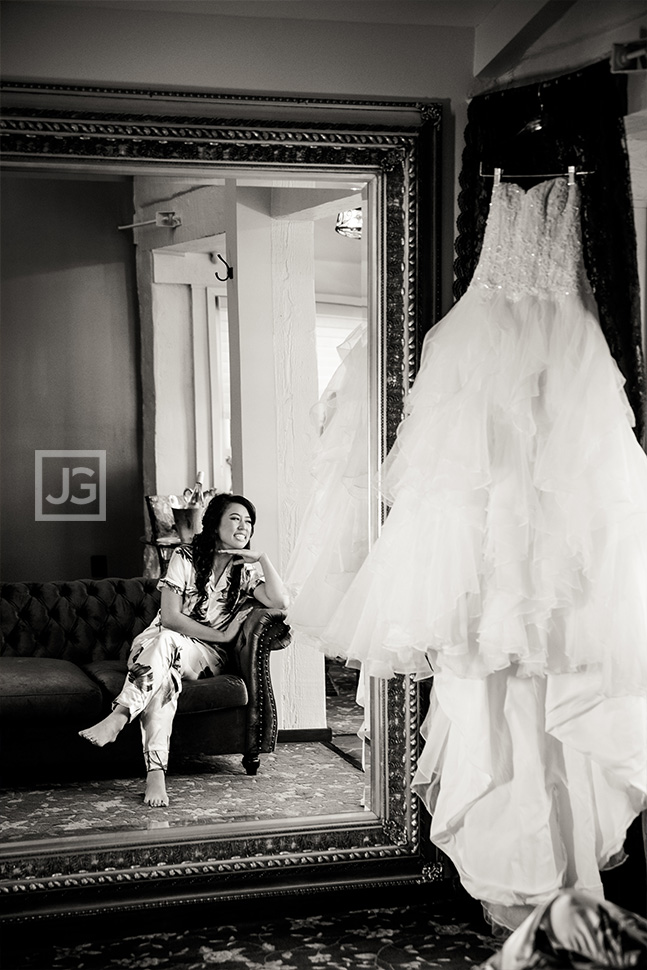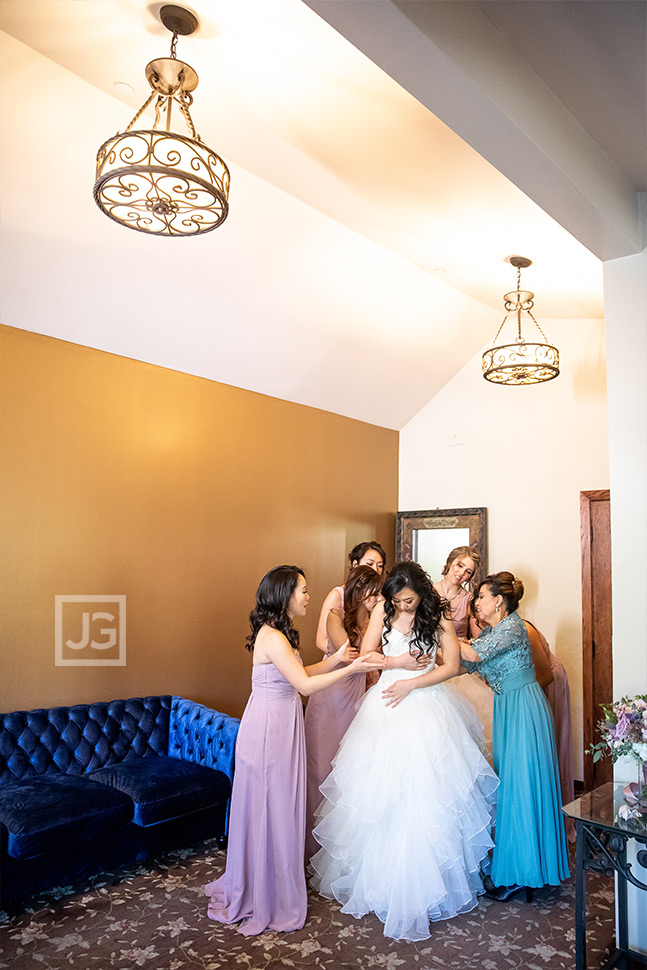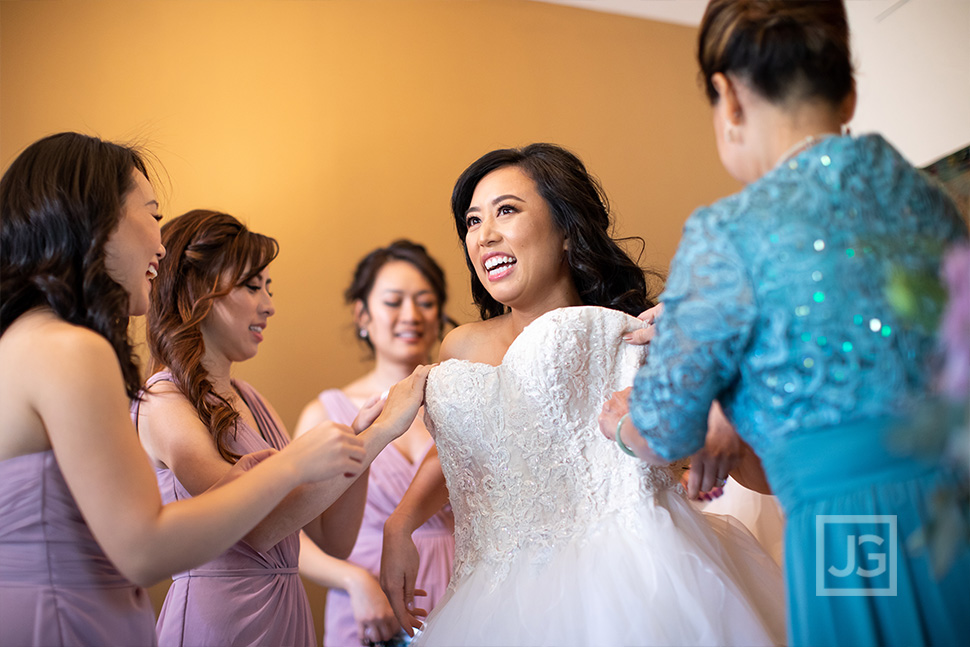 And this was a cute moment between the bride and her mother as she puts her dress on.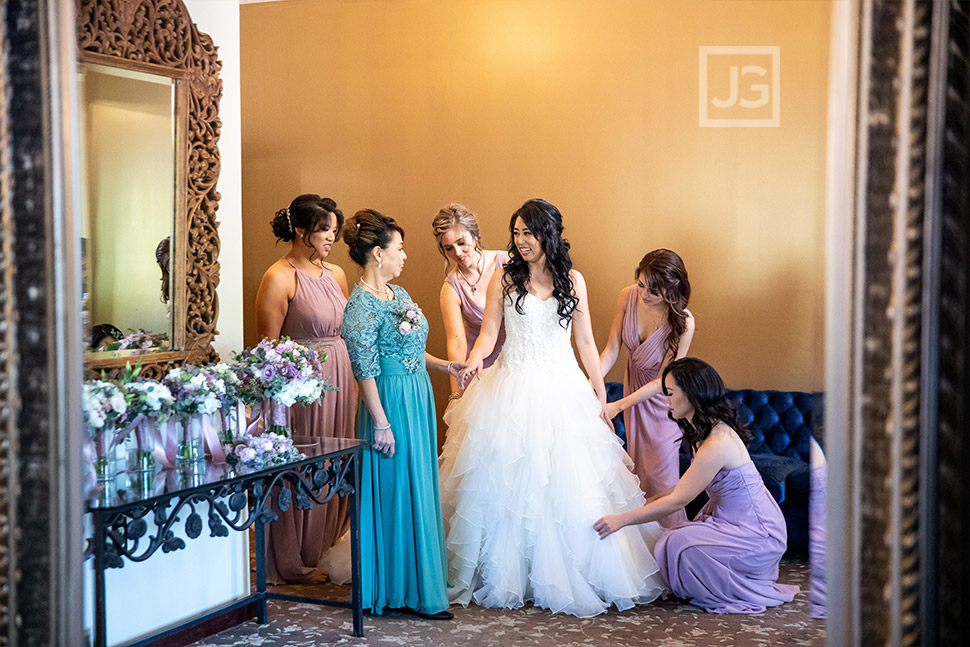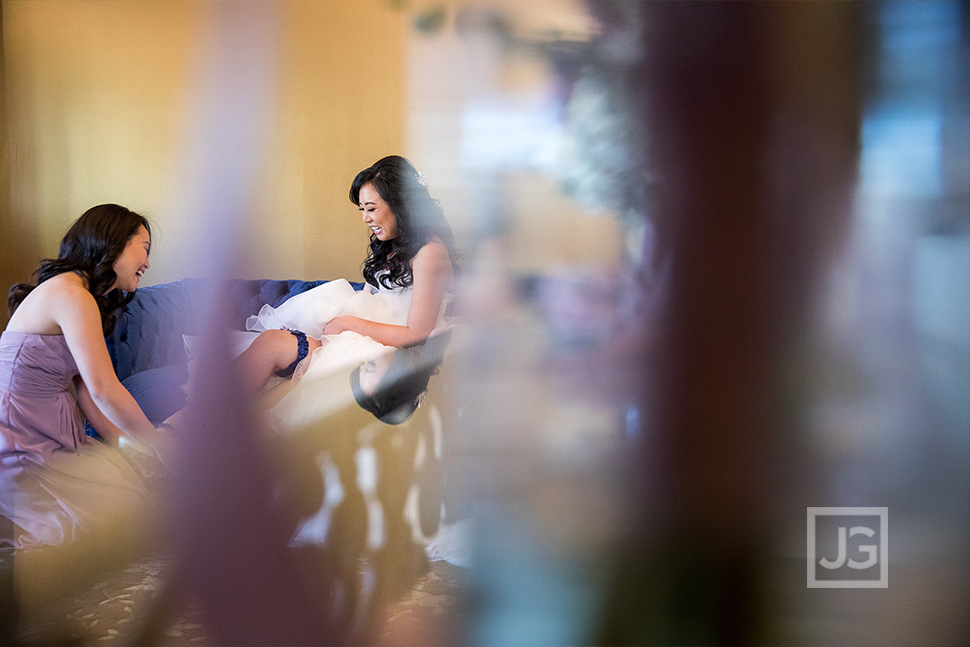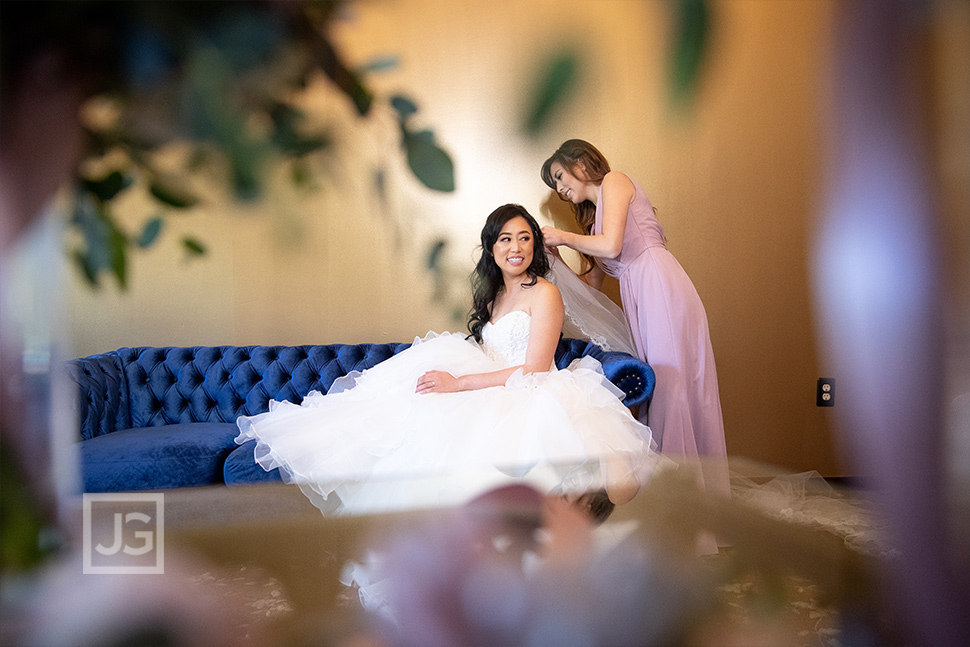 And a practical joke for the first look!
And here is one of the groomsmen putting on a white wedding dress.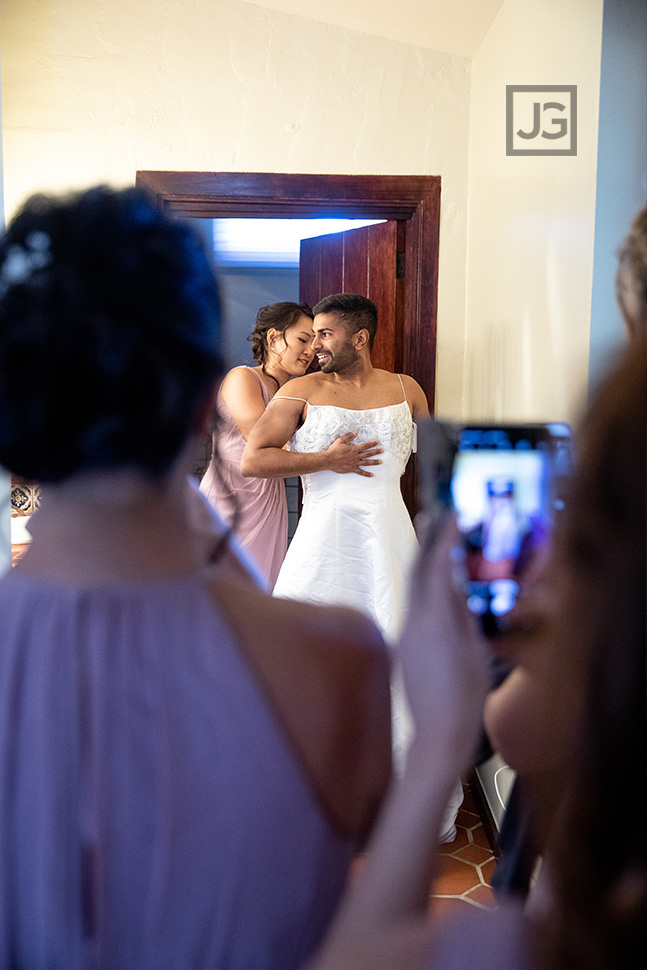 And we have a to do a side by side to see who is wearing white better!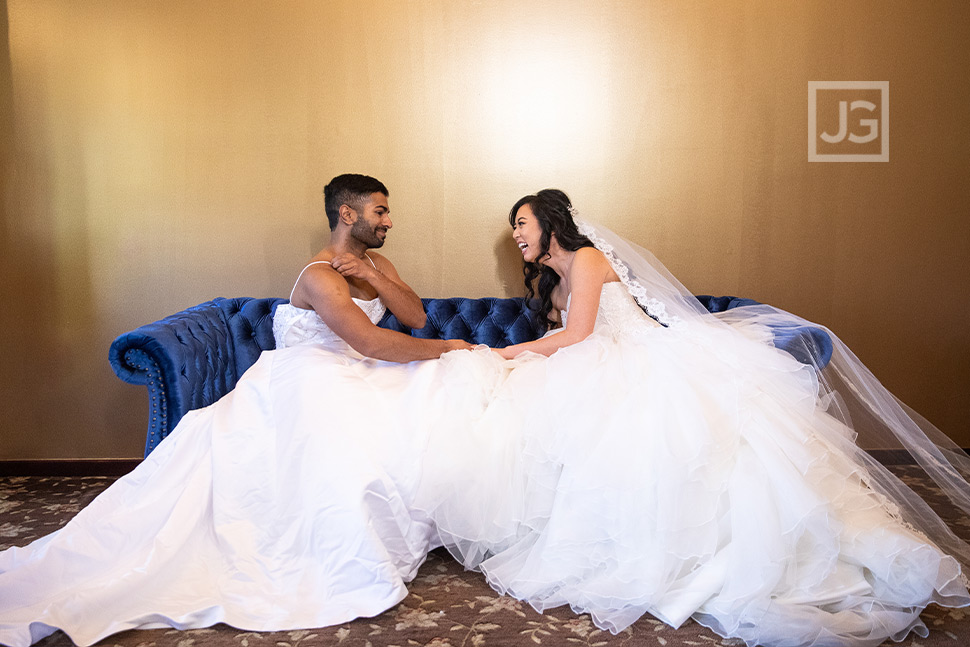 First Look … with a Twist
Here is our groom Matt nervously awaiting his first look with his lovely bride in the enchanted olive orchard at Padua Hills Theatre.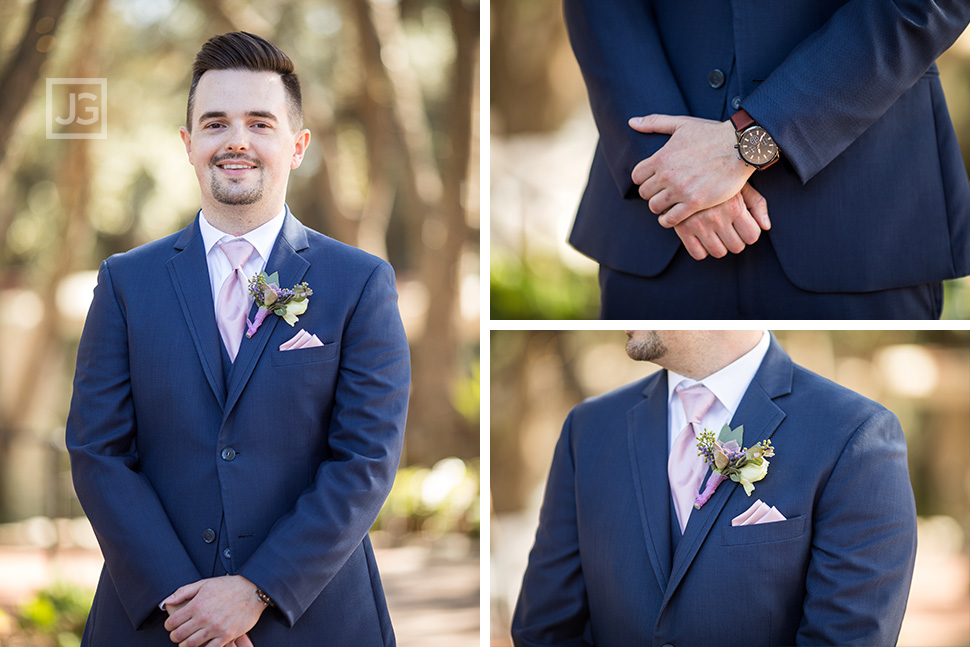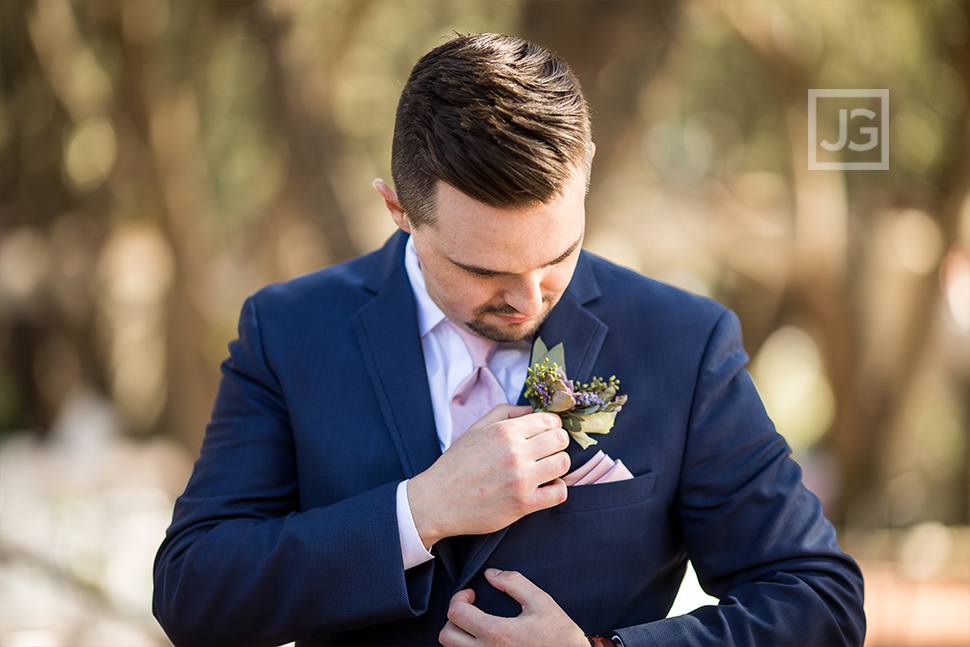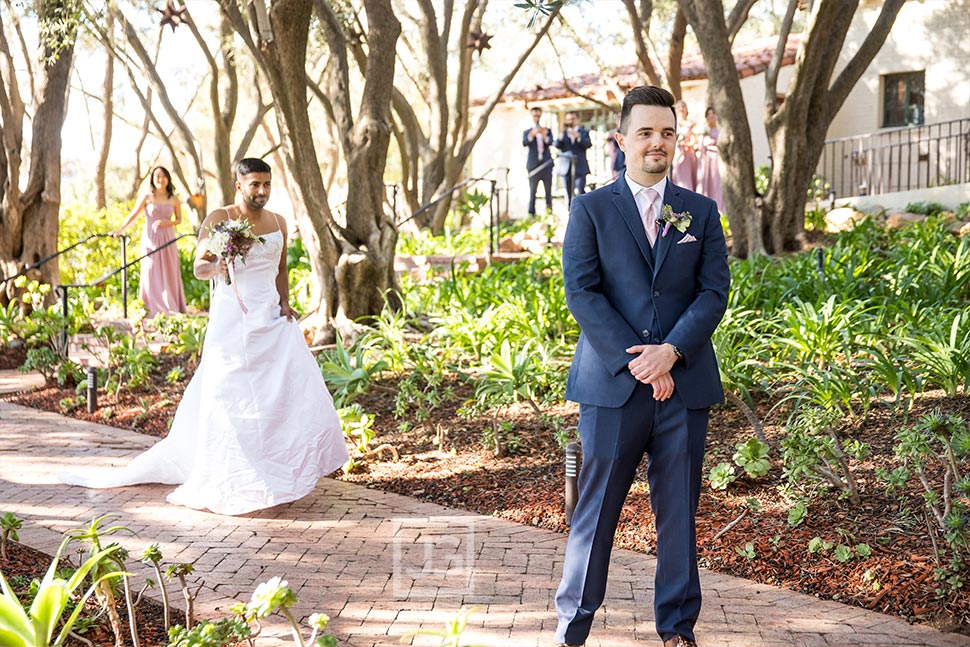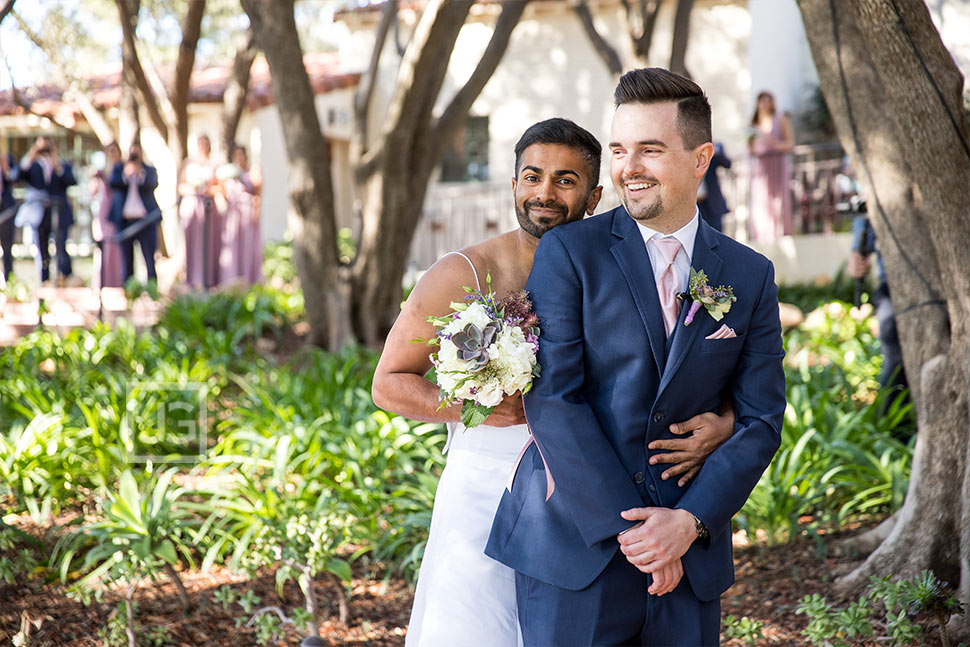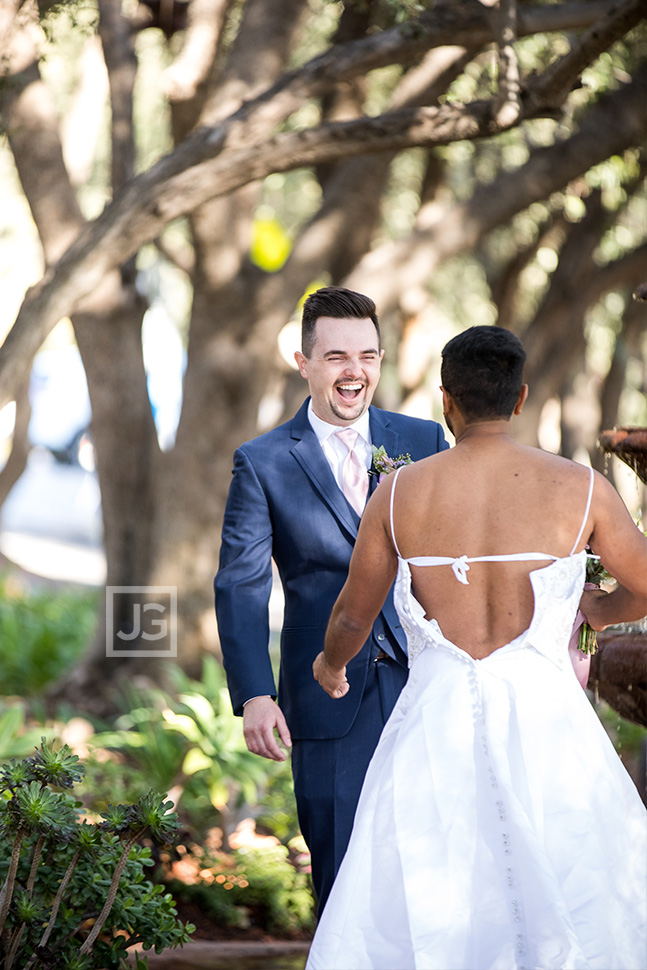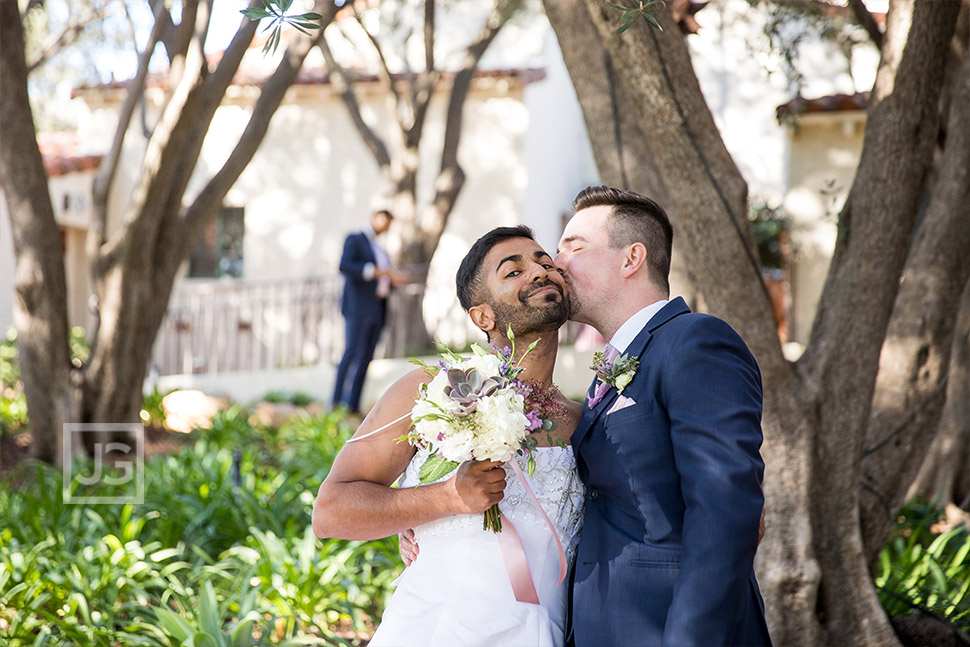 Awwwwww, what a cute couple, and a good sport!
And the real first kiss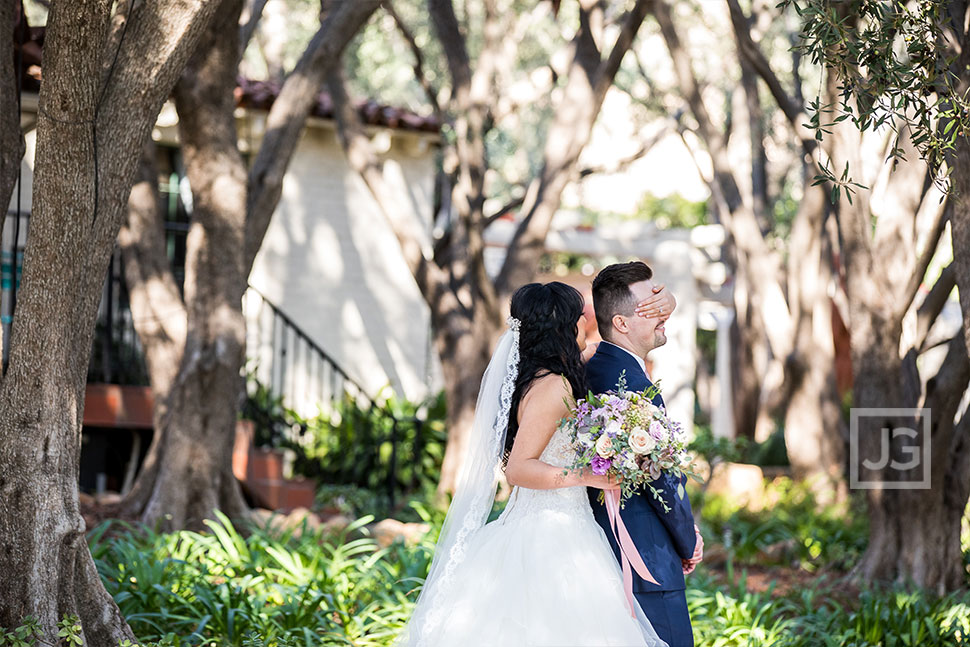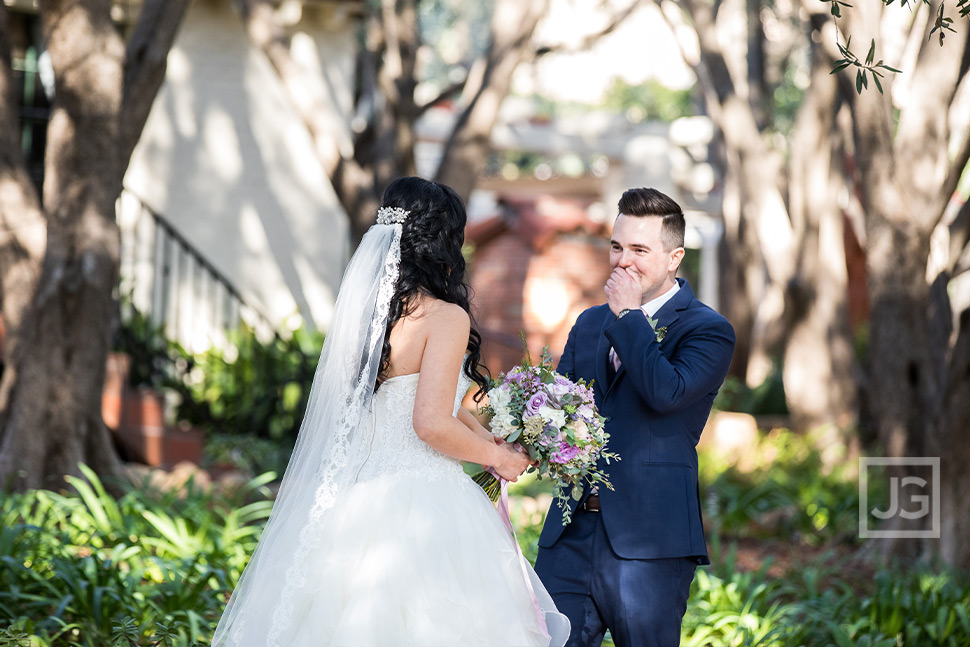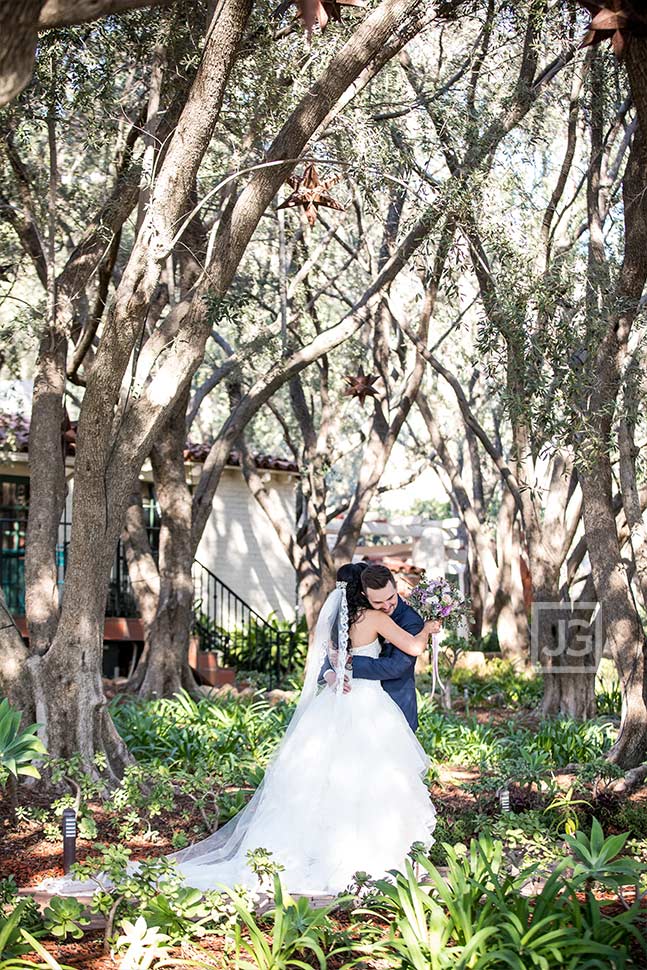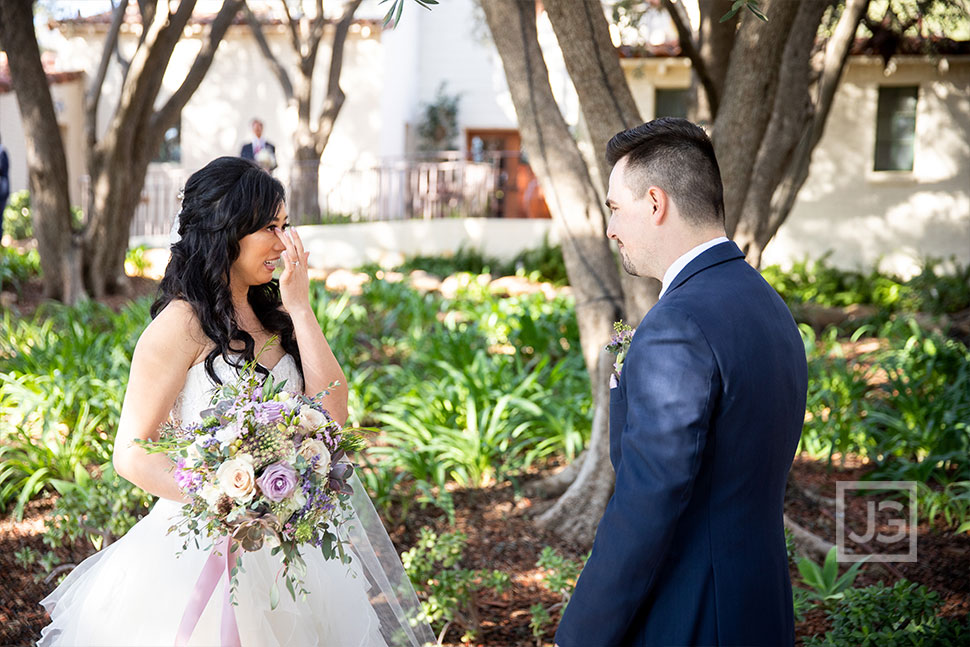 Wedding Photos around Padua Hills Theatre
After the first look, we took a little time to shoot our couple around the grounds. Wedding photos at Padua Hills Theatre is much easier with the abundant greenery and shade in such a lovely location. Some of the olive trees in their orchard are over 100 years old and that history tells many happy stories, like the one told for our wedding day.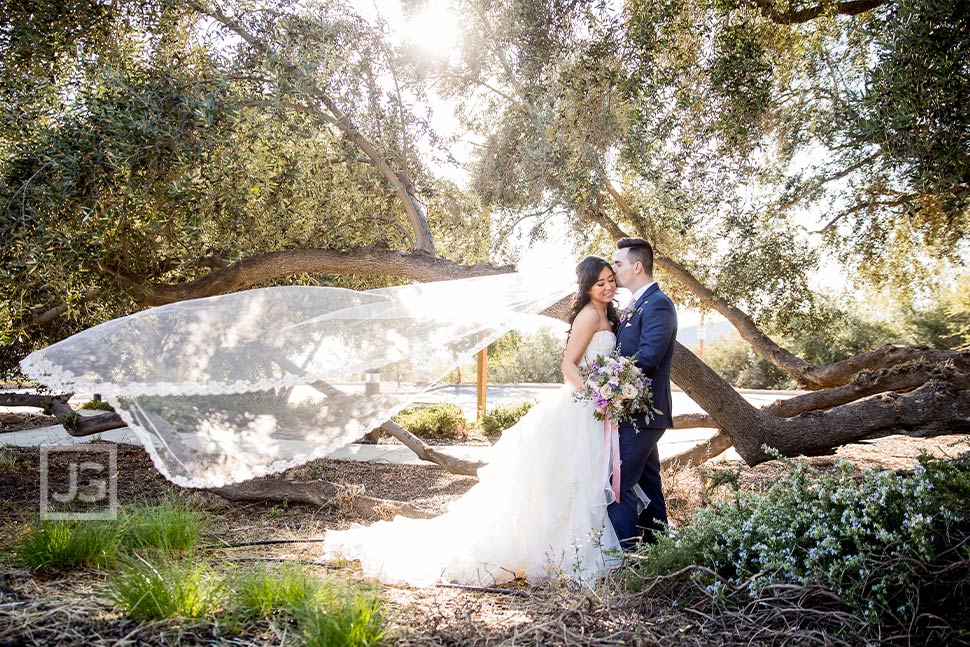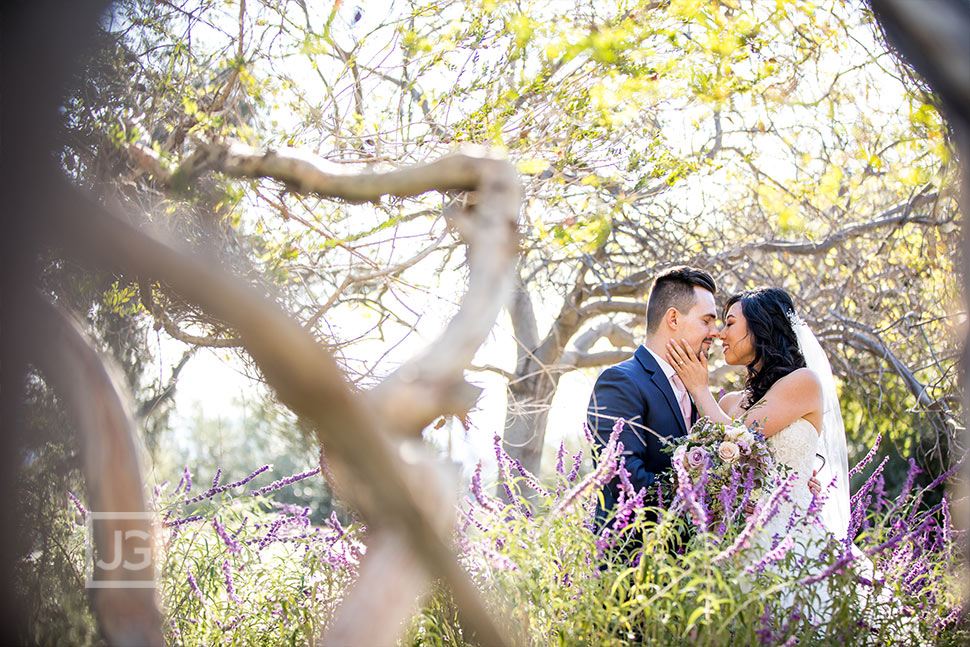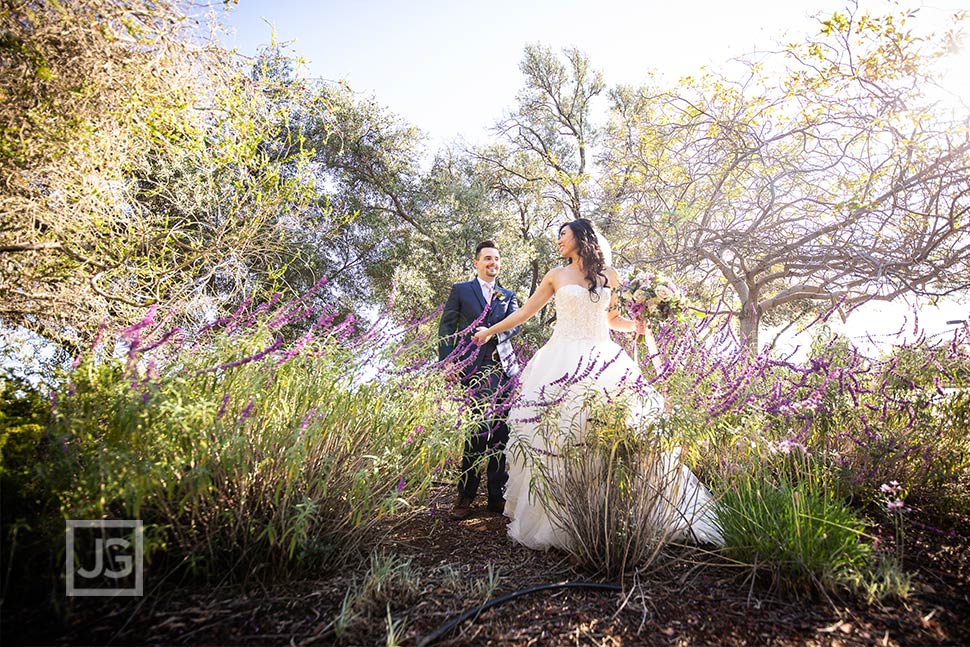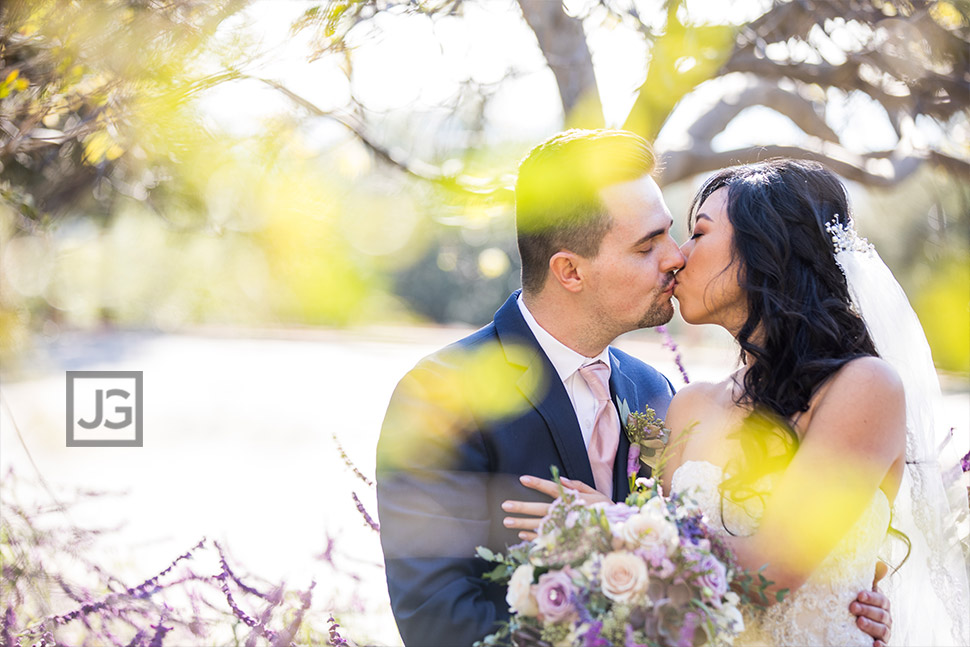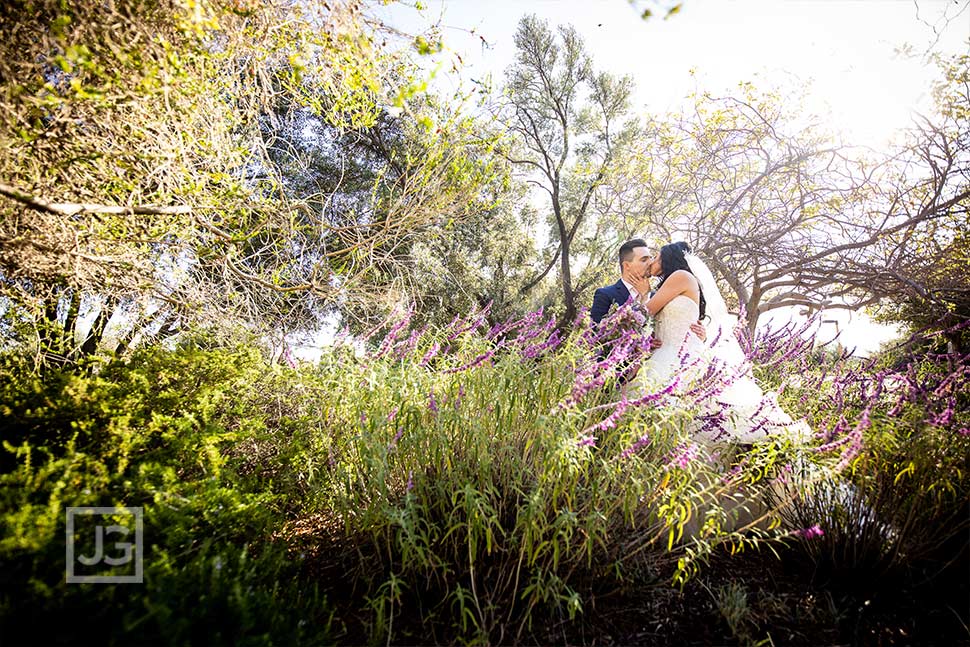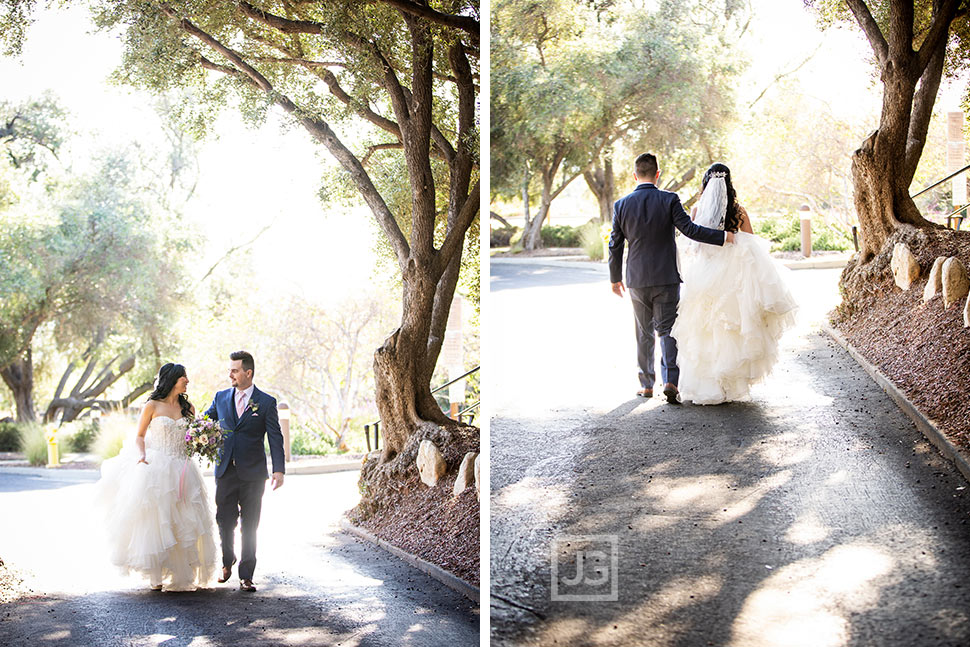 Wedding Photos in the Olive Orchard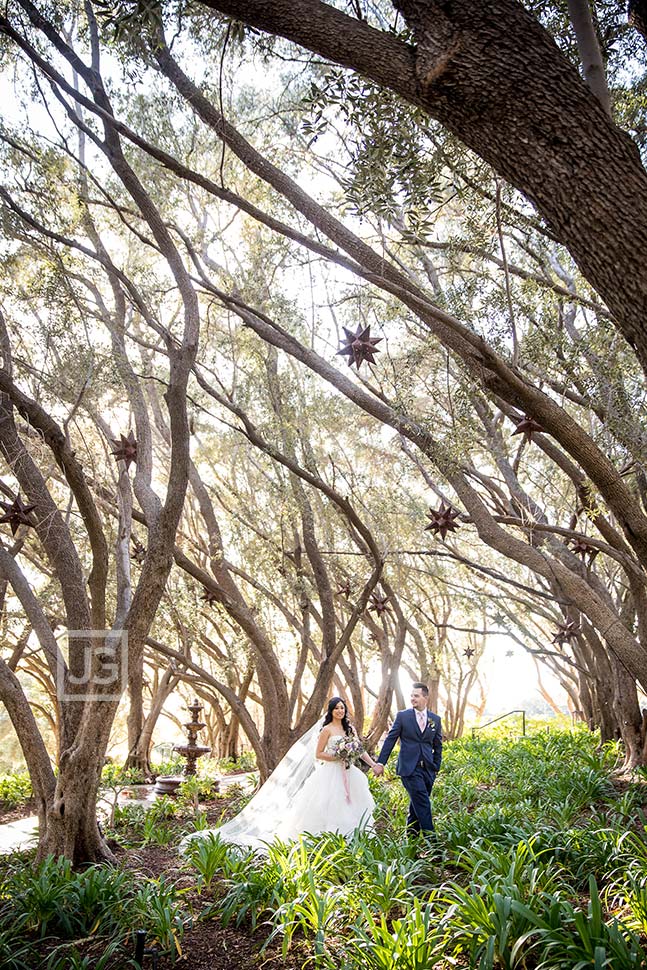 Look at the live trees and the fountain that creates a stunning backdrop for our lovely couple.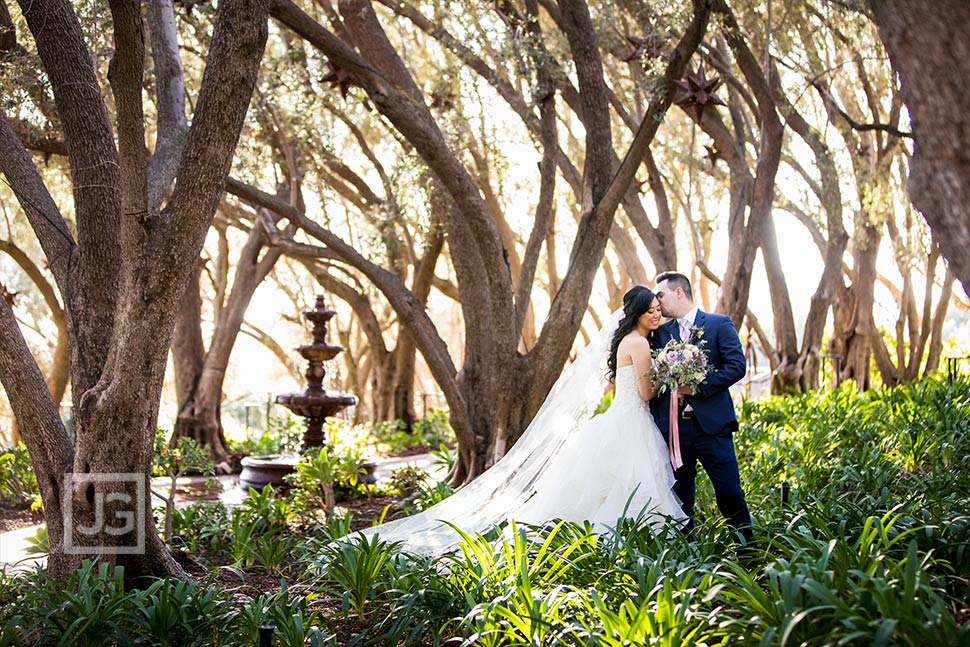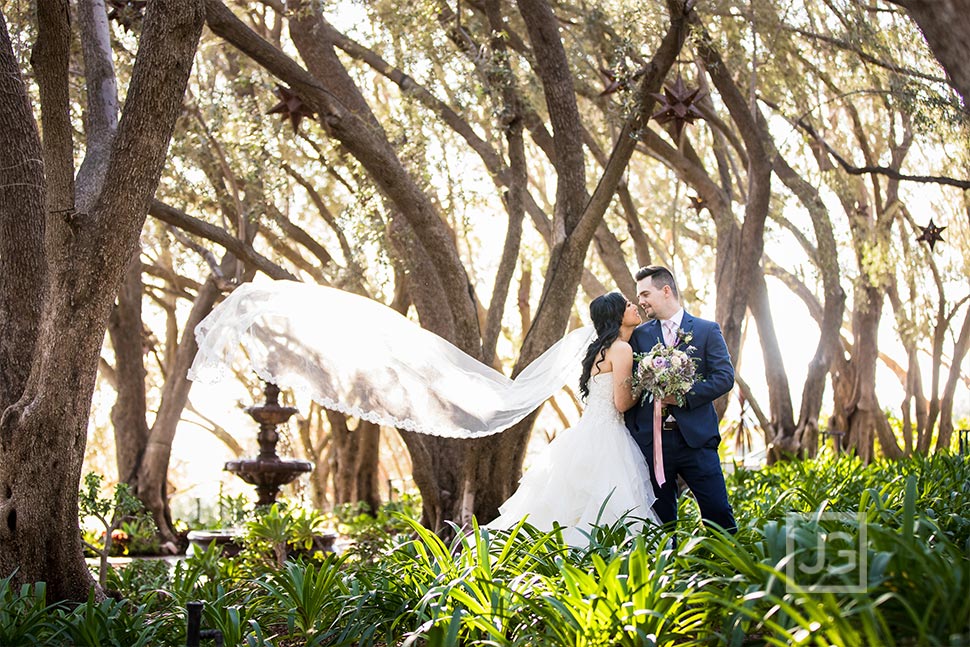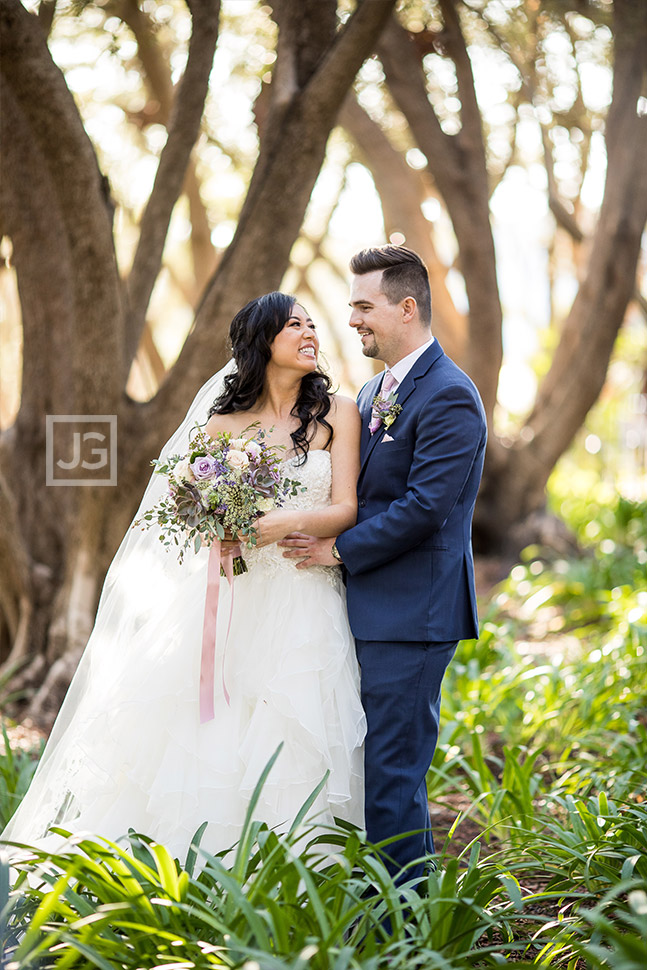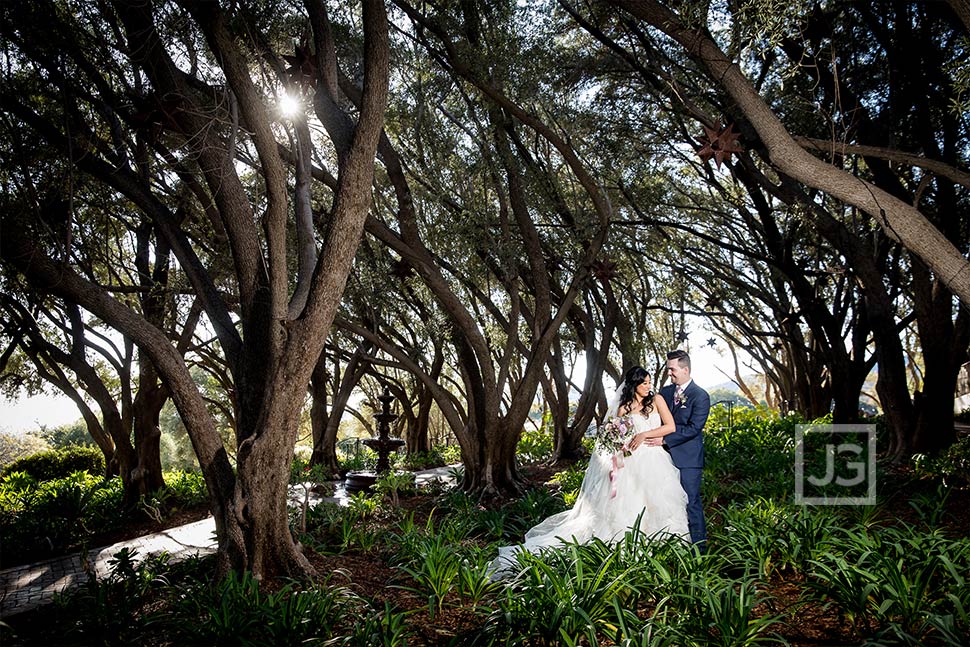 Wedding Party Photos at Padua Hills Theatre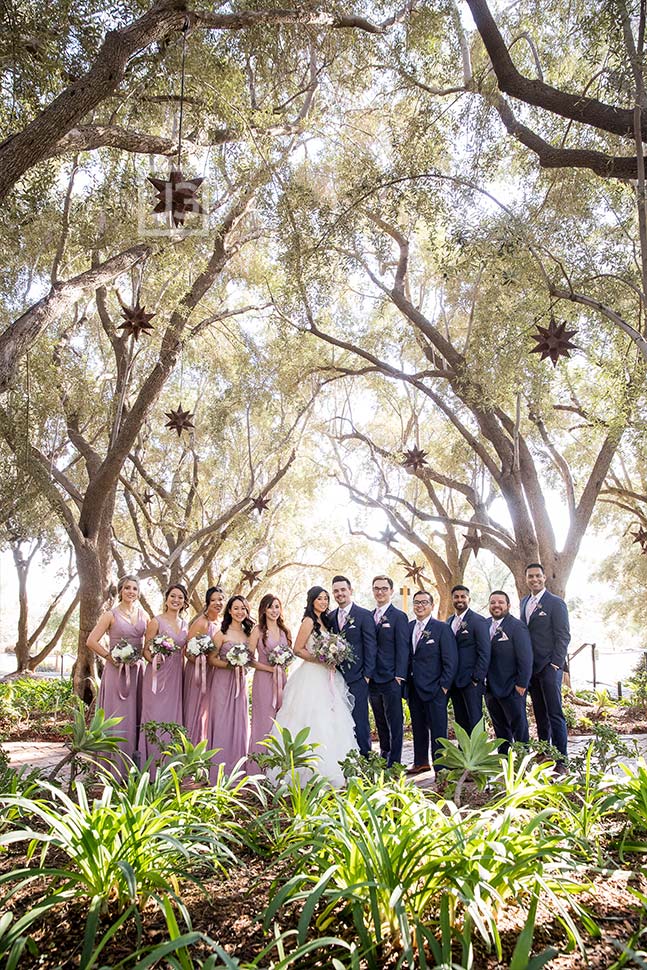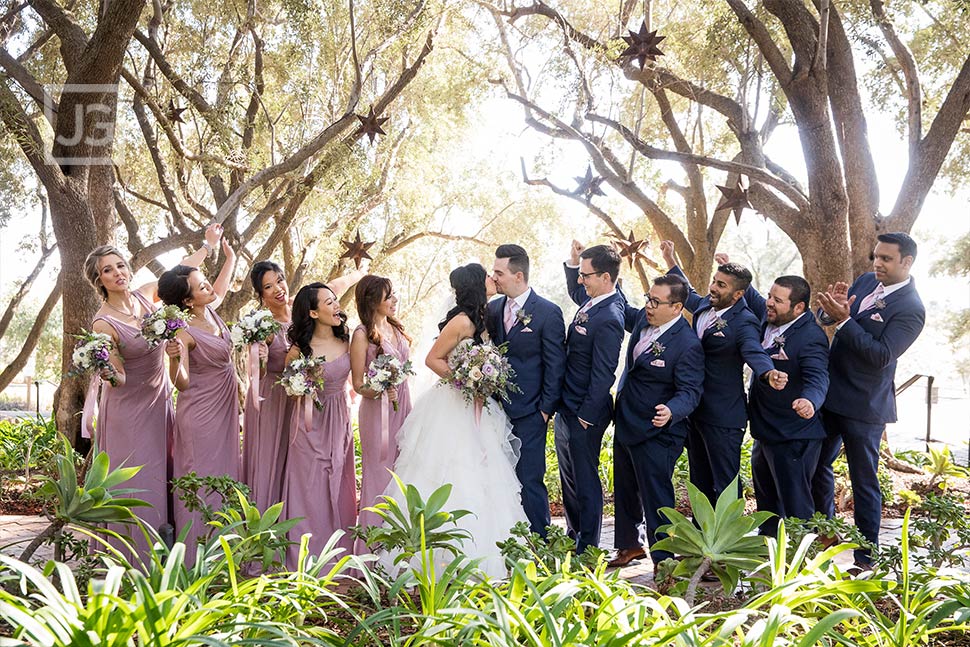 And we always like to have some fun with the bridal party.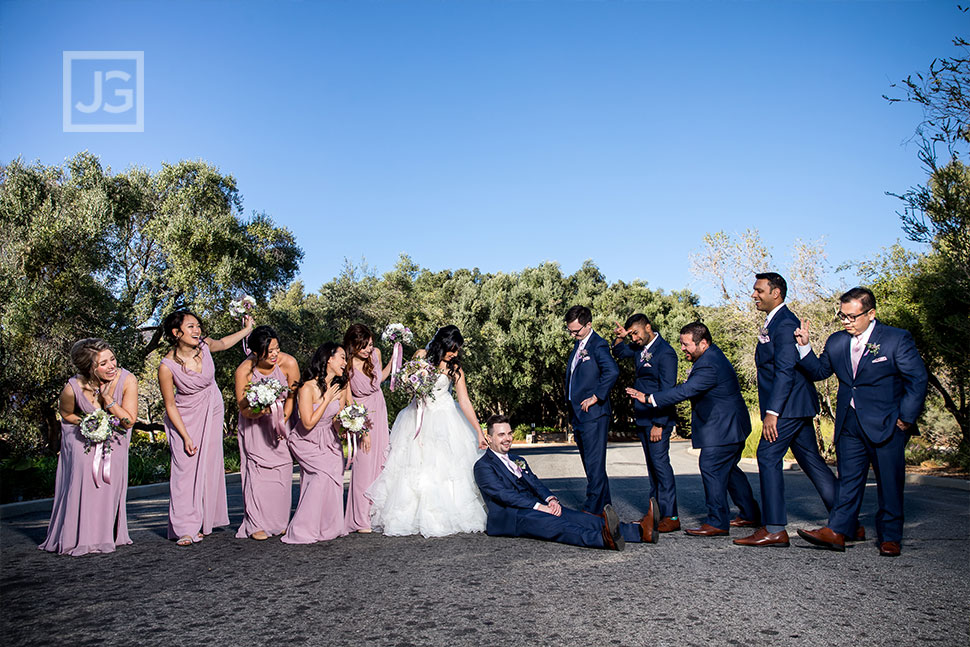 Padua Hills Theatre Wedding Ceremony
Here is the wedding ceremony at Padua Hills Theatre at the courtyard gazebo. It's a lovely location, well shaded and comfortable during almost any time of day.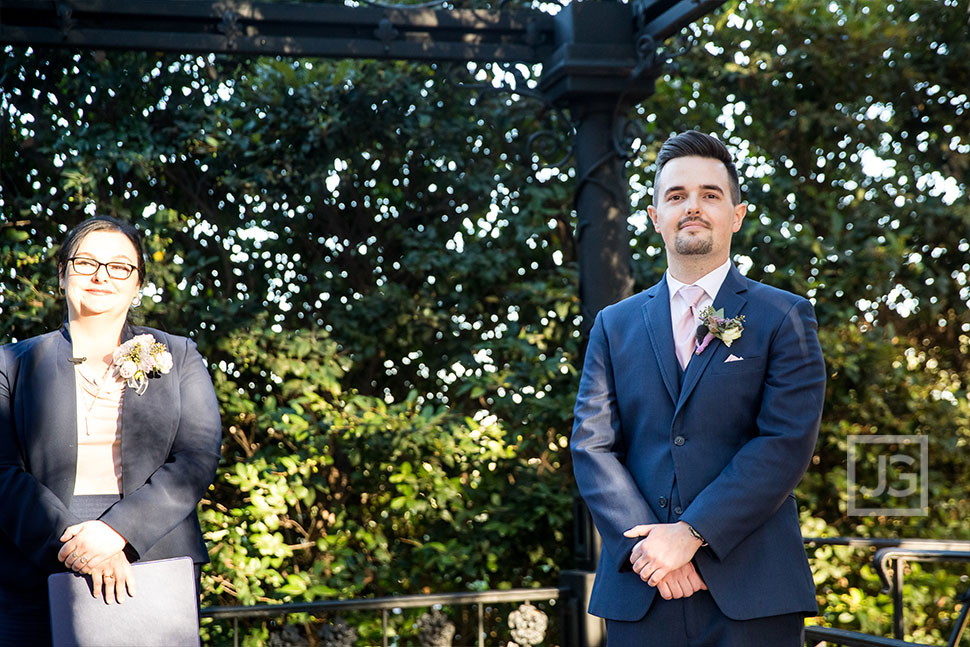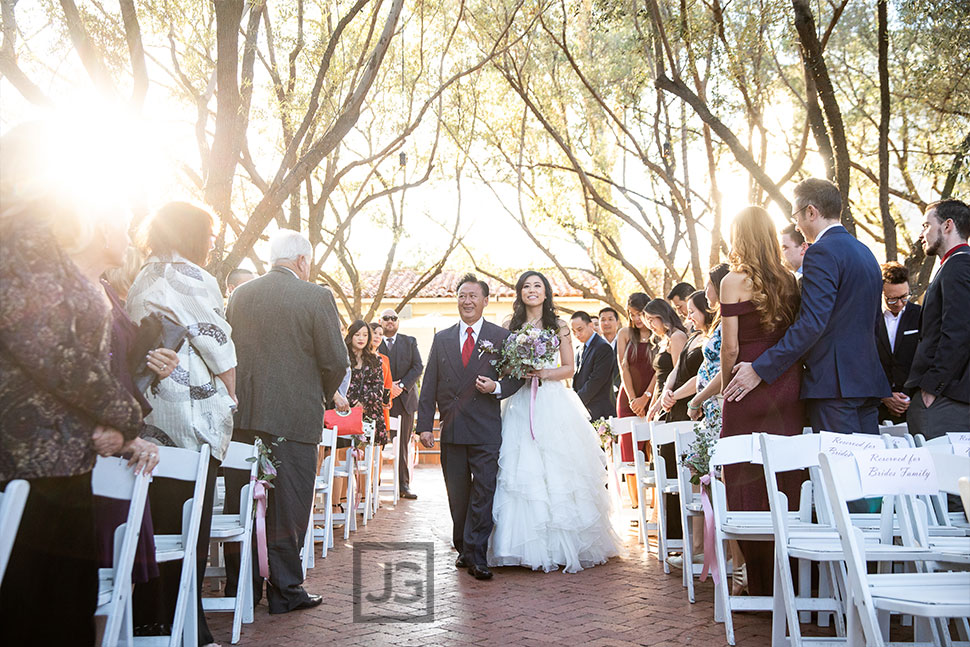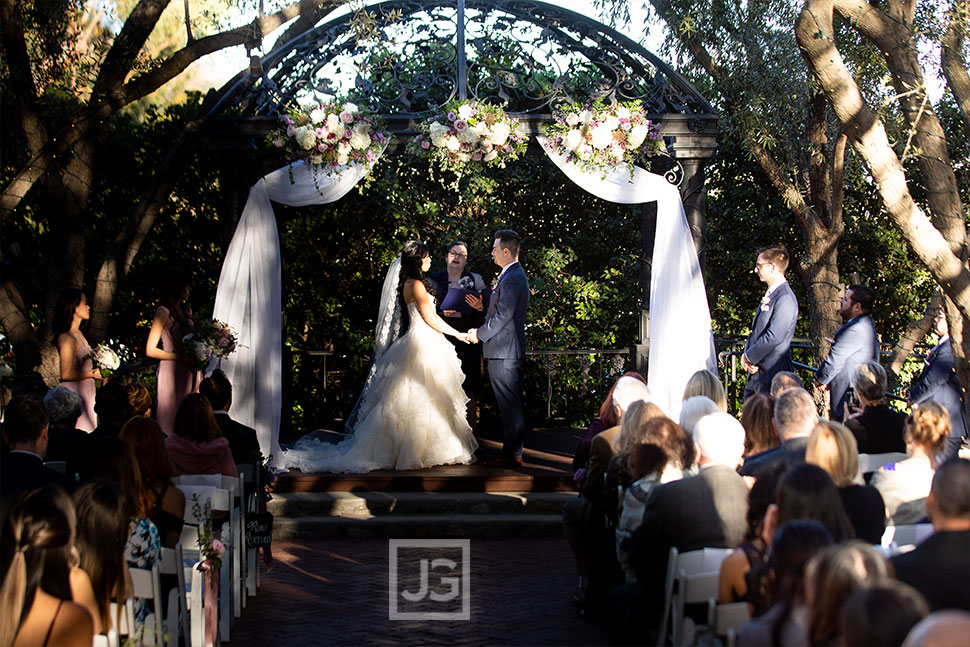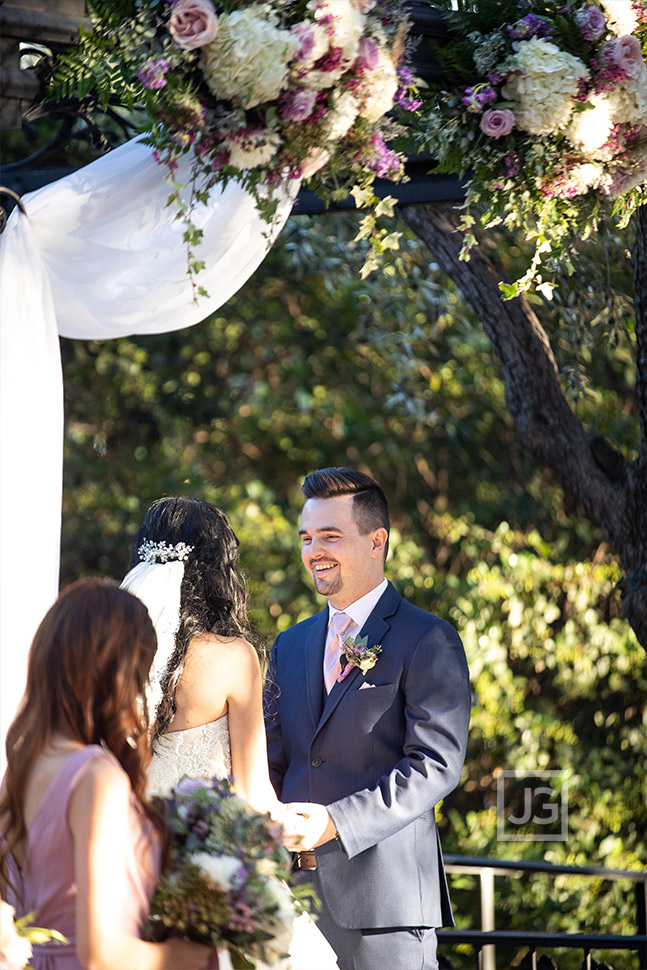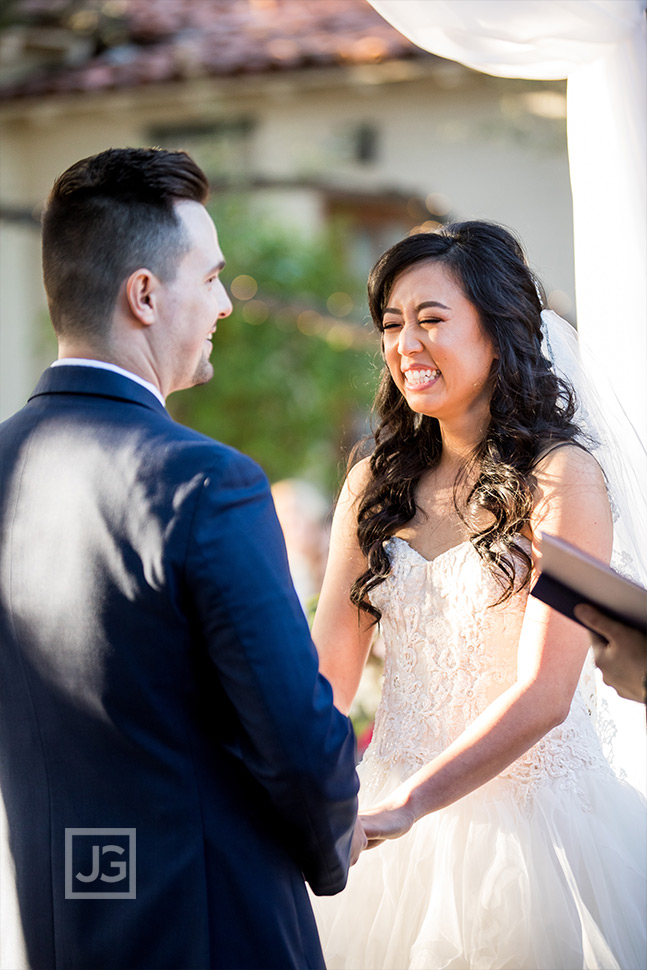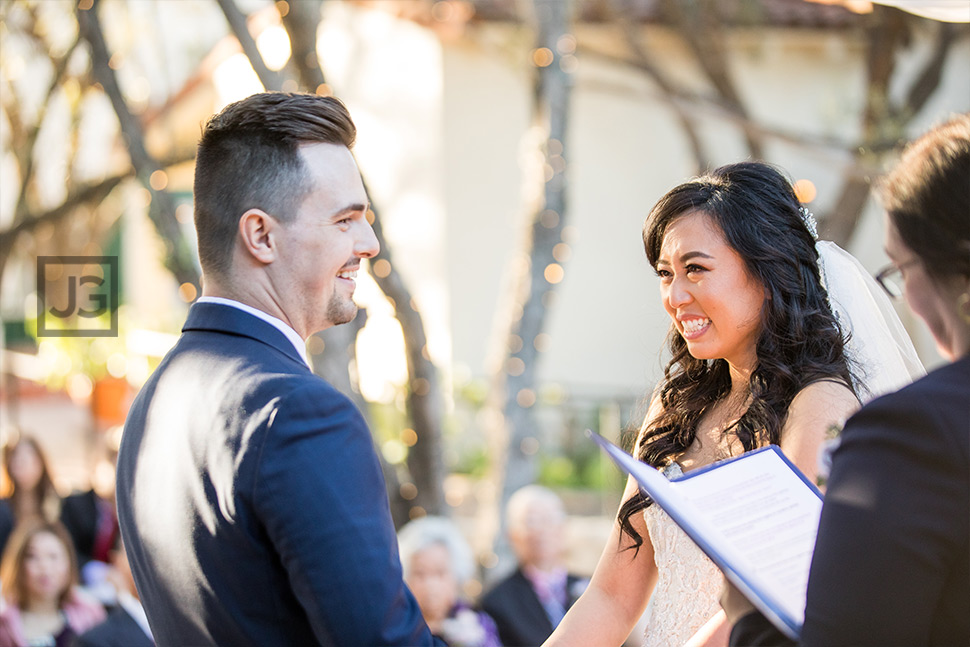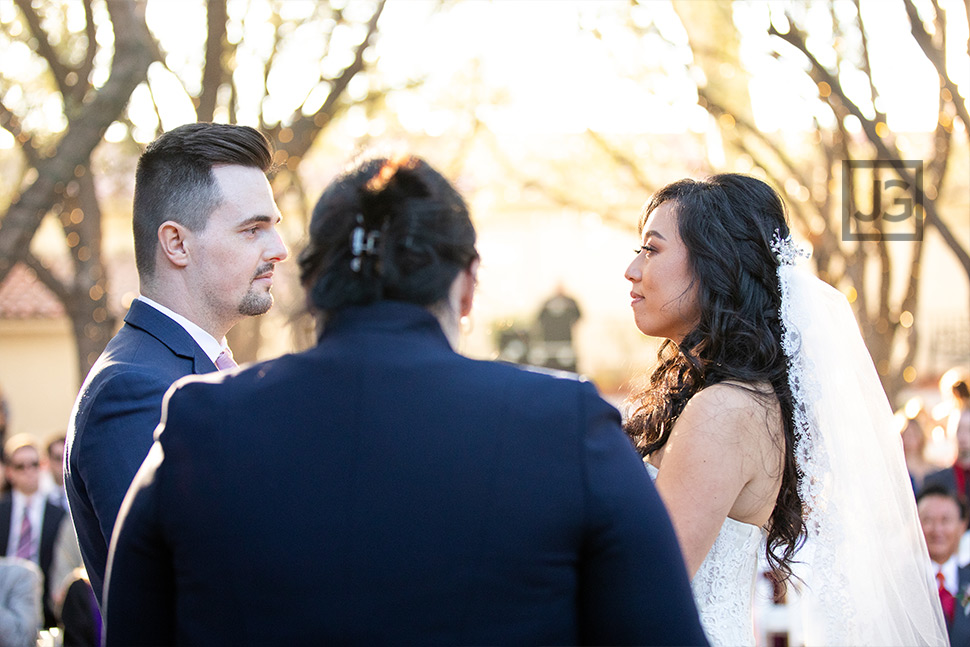 Here is the wedding ceremony from the unique perspective of behind the courtyard gazebo.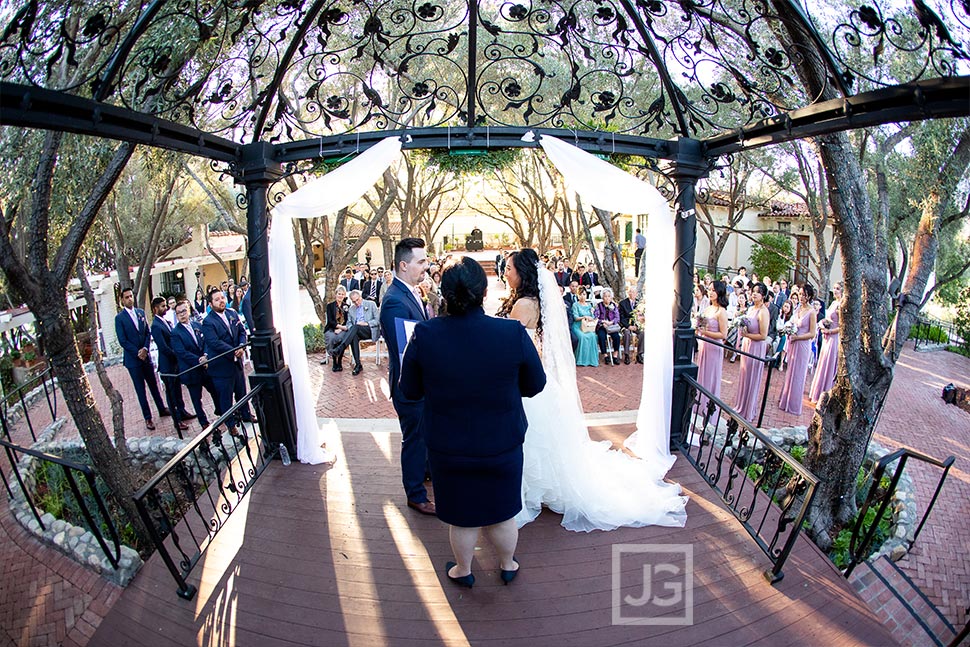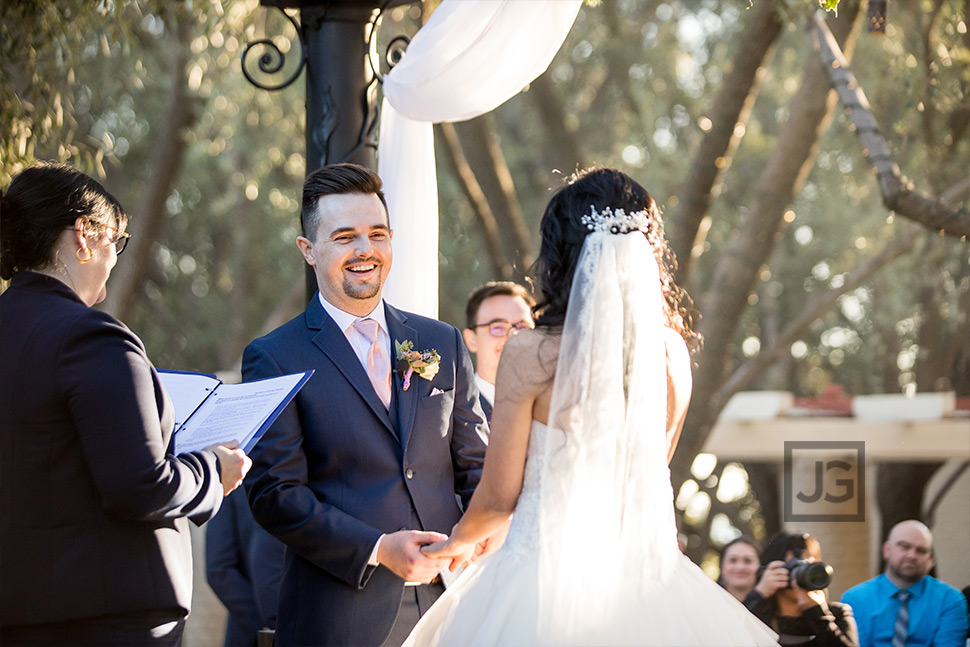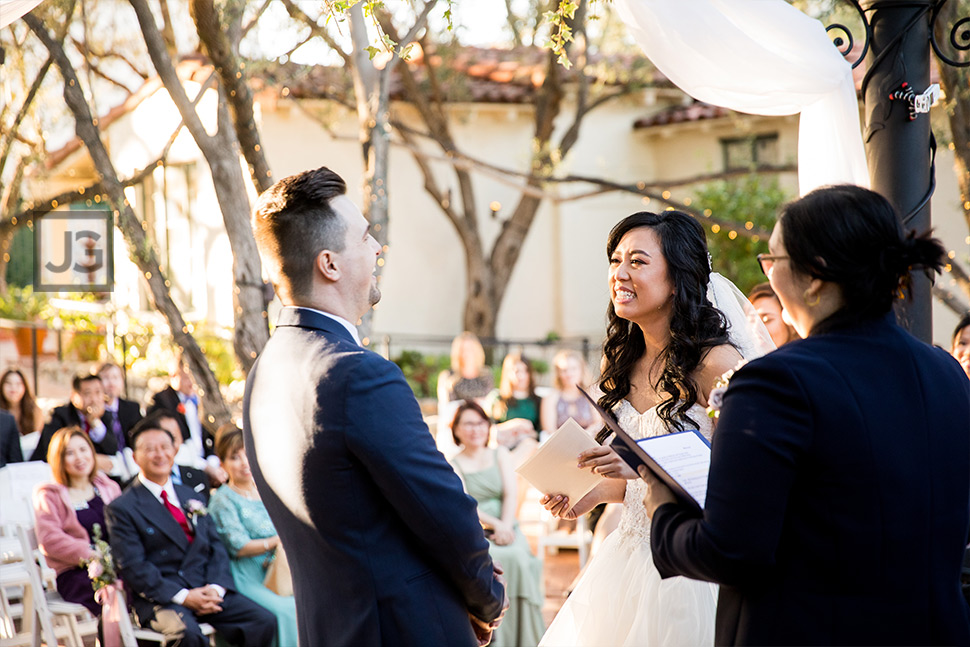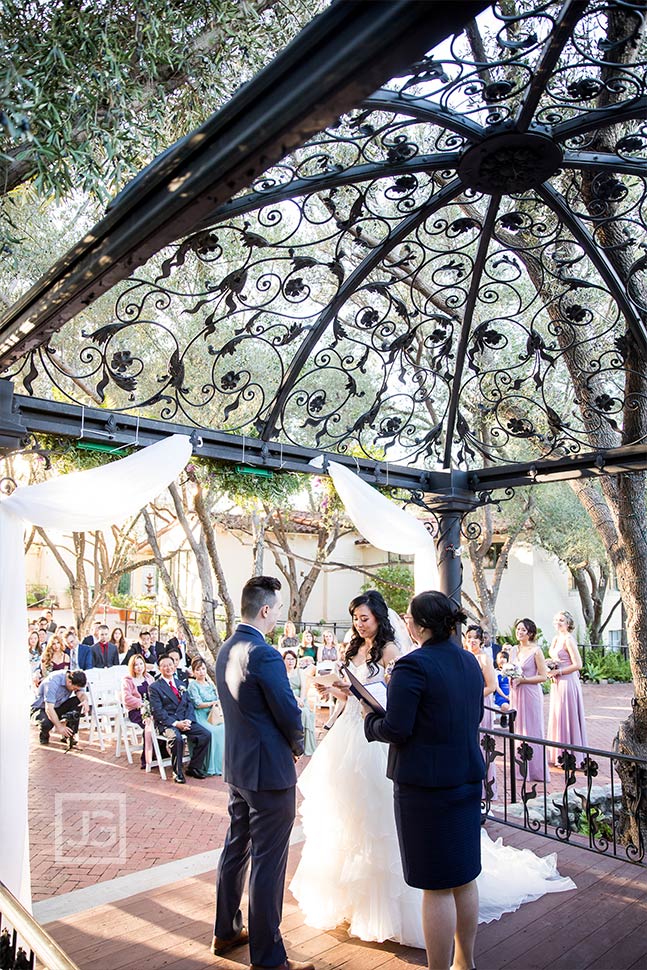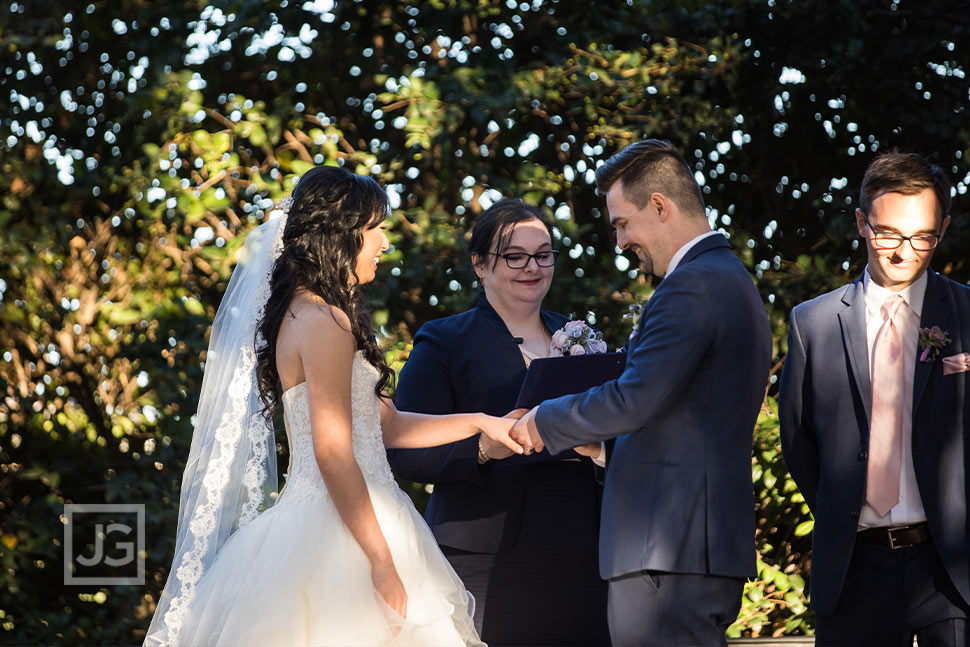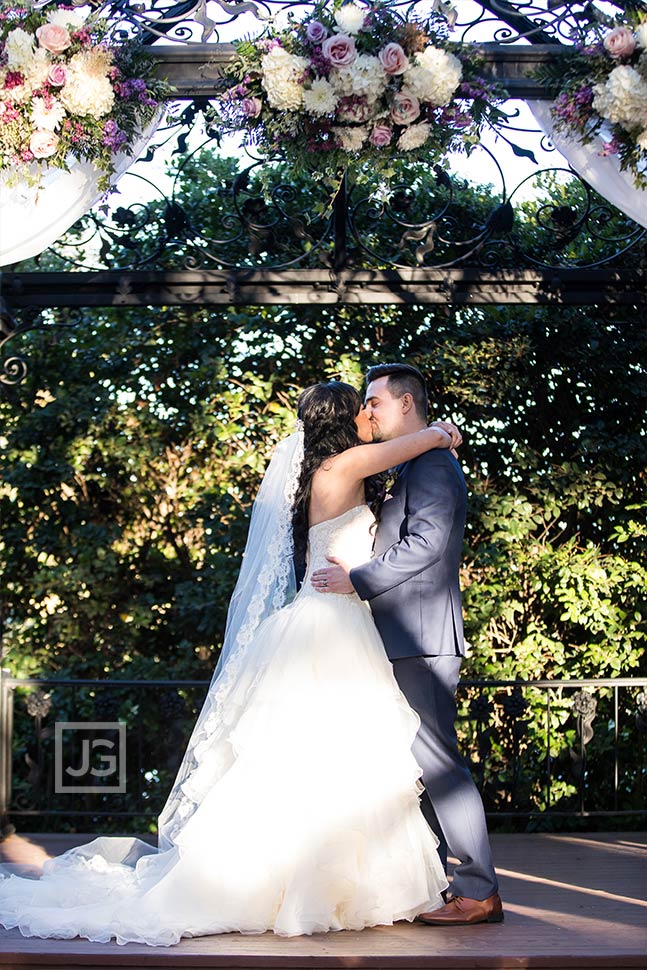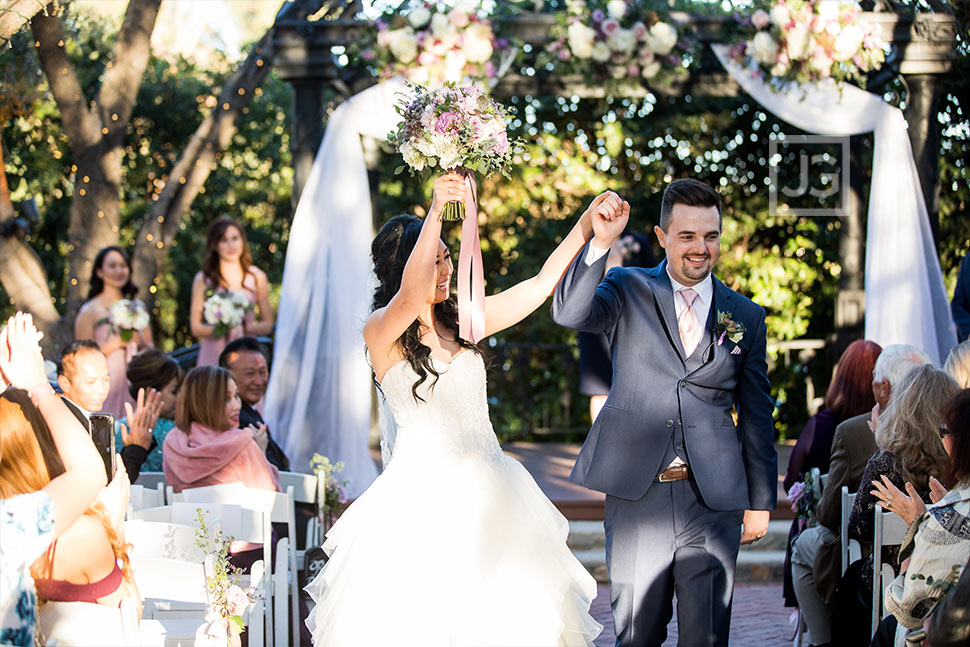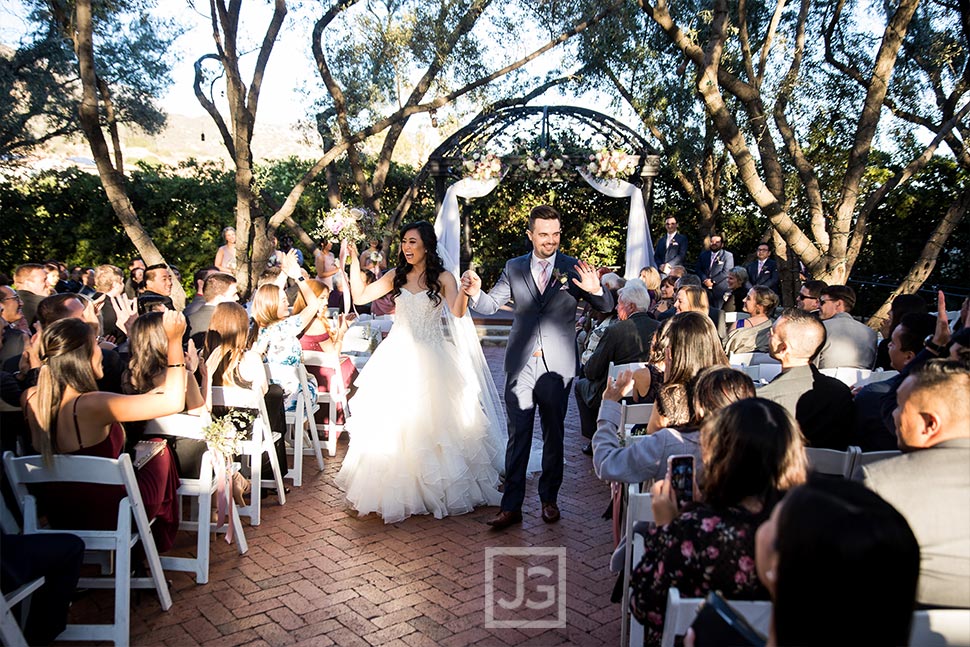 After-Ceremony Wedding Photos with our Couple
Here is our couple having a moment after the wedding ceremony, gathering in the amazing view from sunset terrace. The terrace faces west and has a great view of the sunset.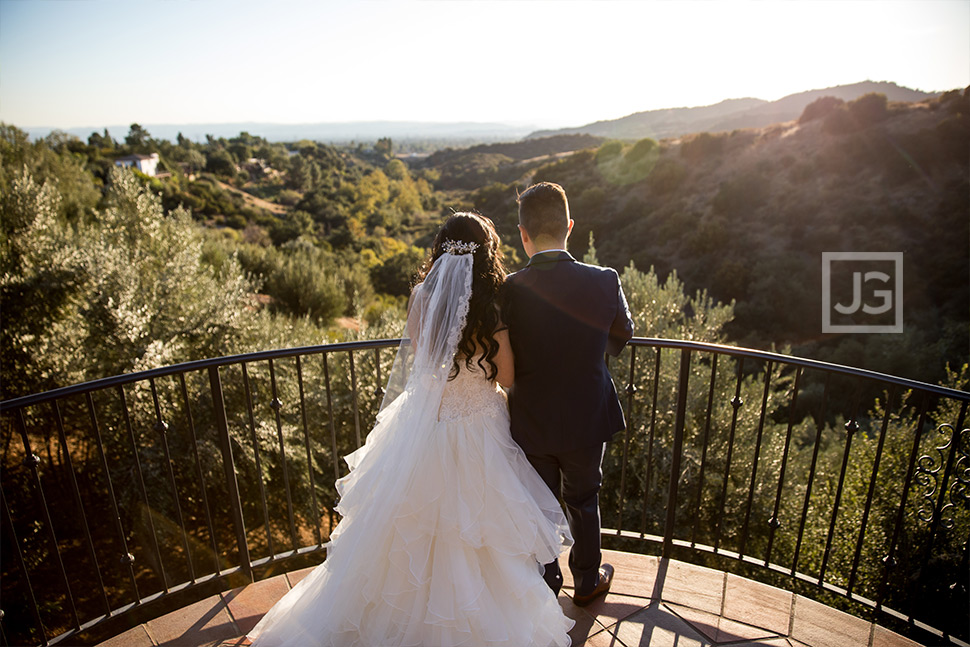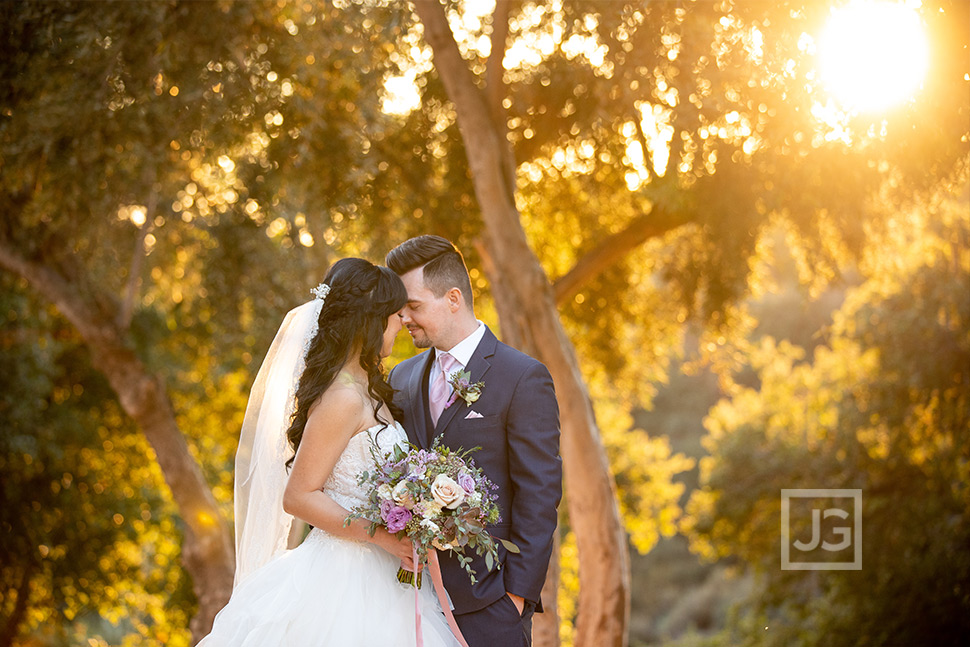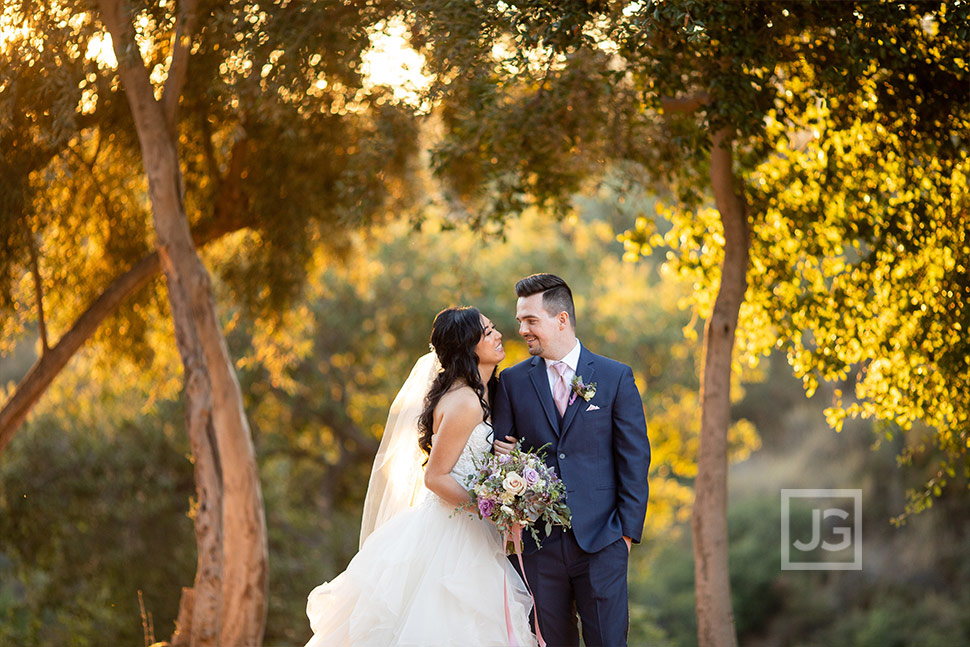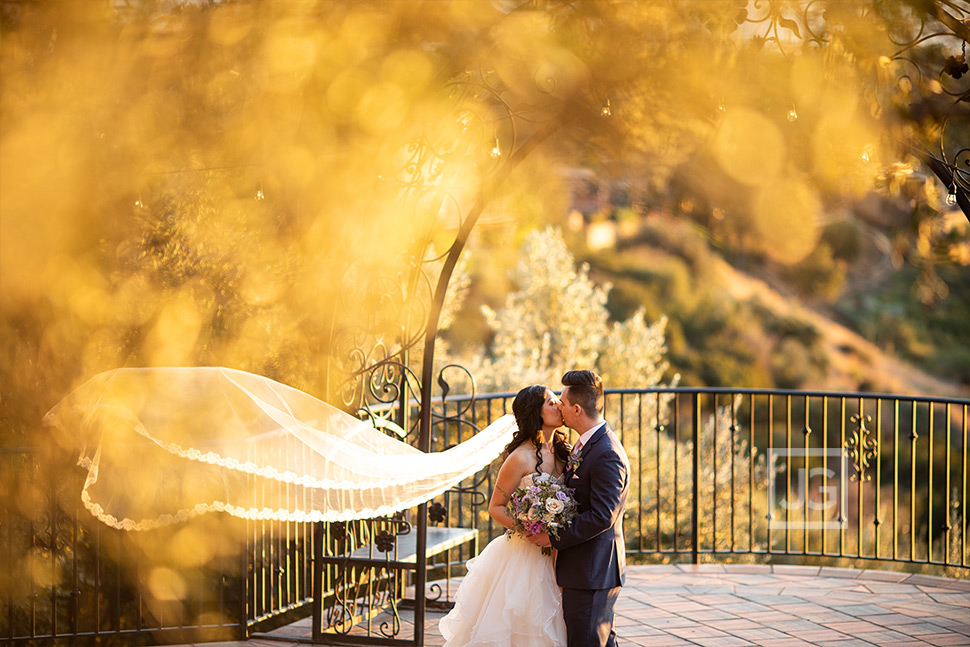 And here is the actual sunset at Sunset Terrace, with our bride and groom framed beautifully by the large wrought-iron arch.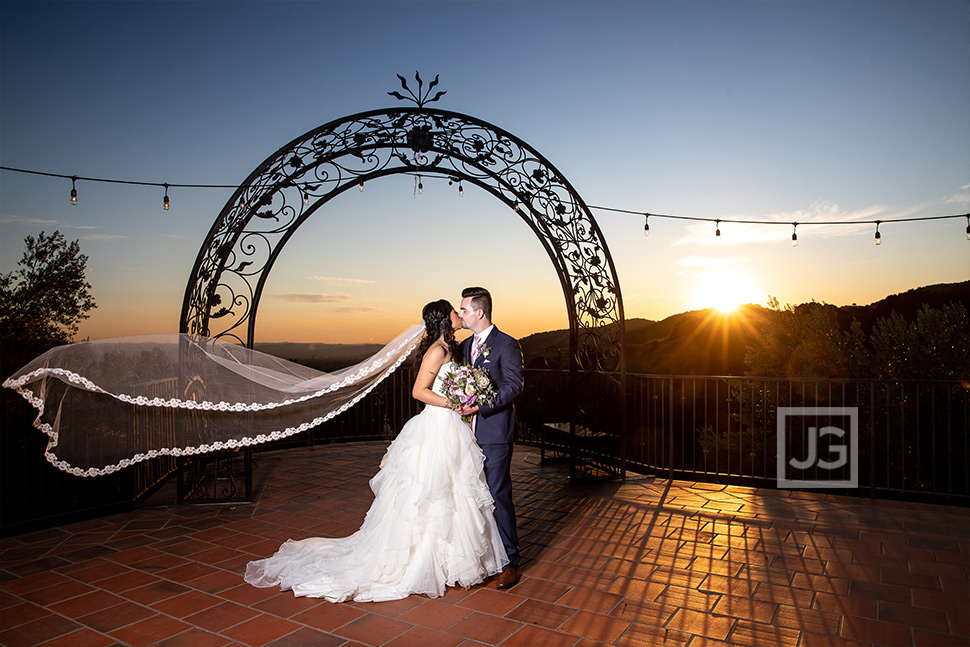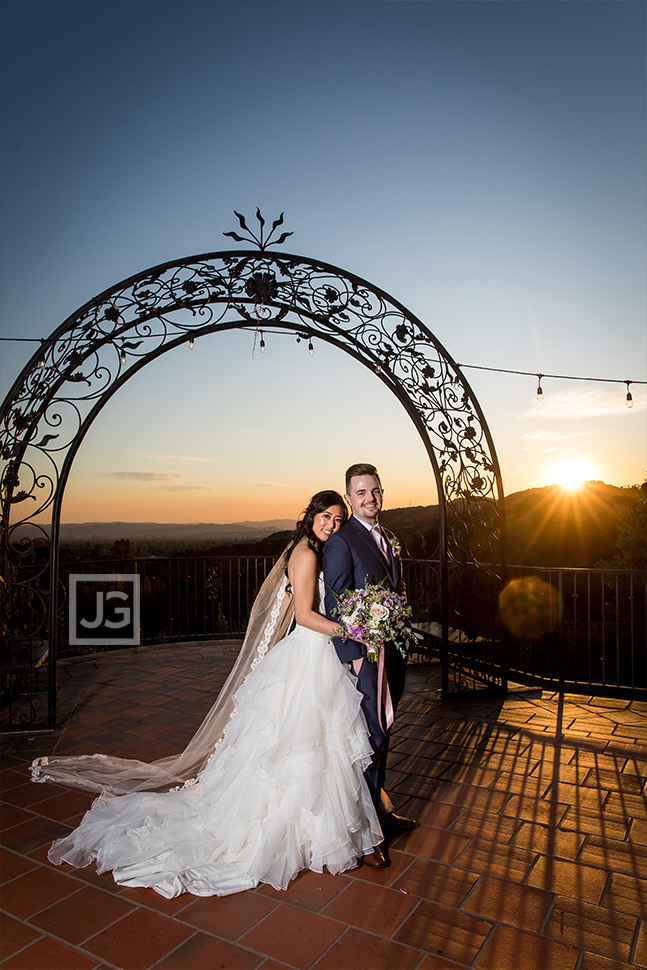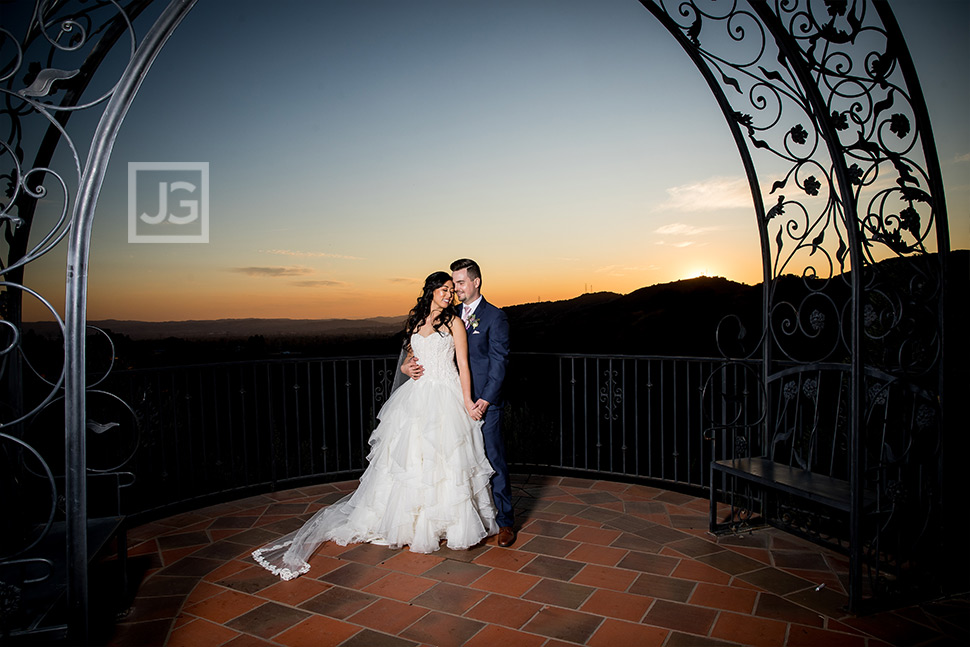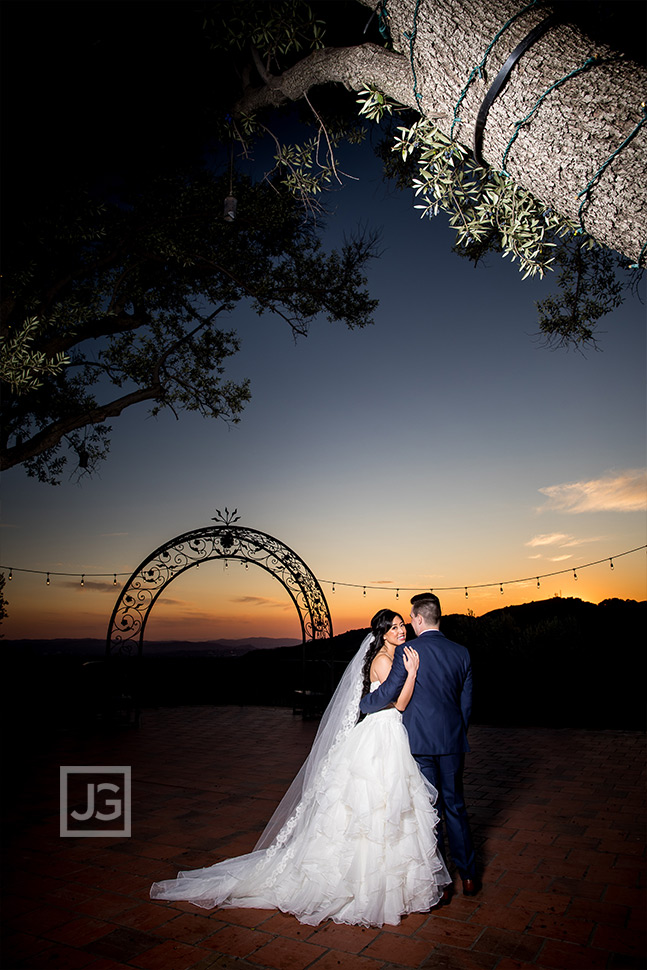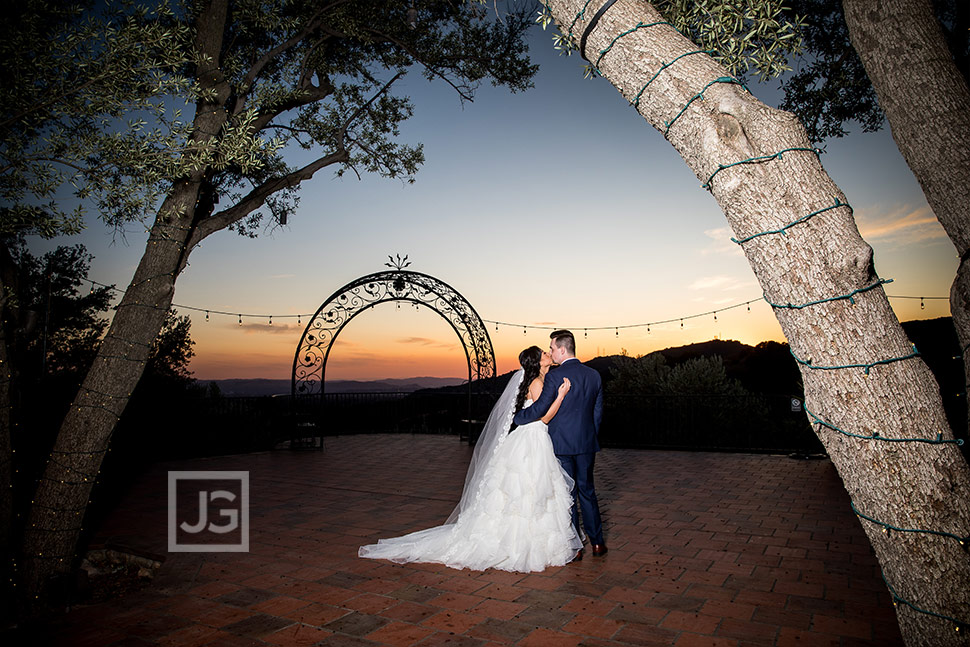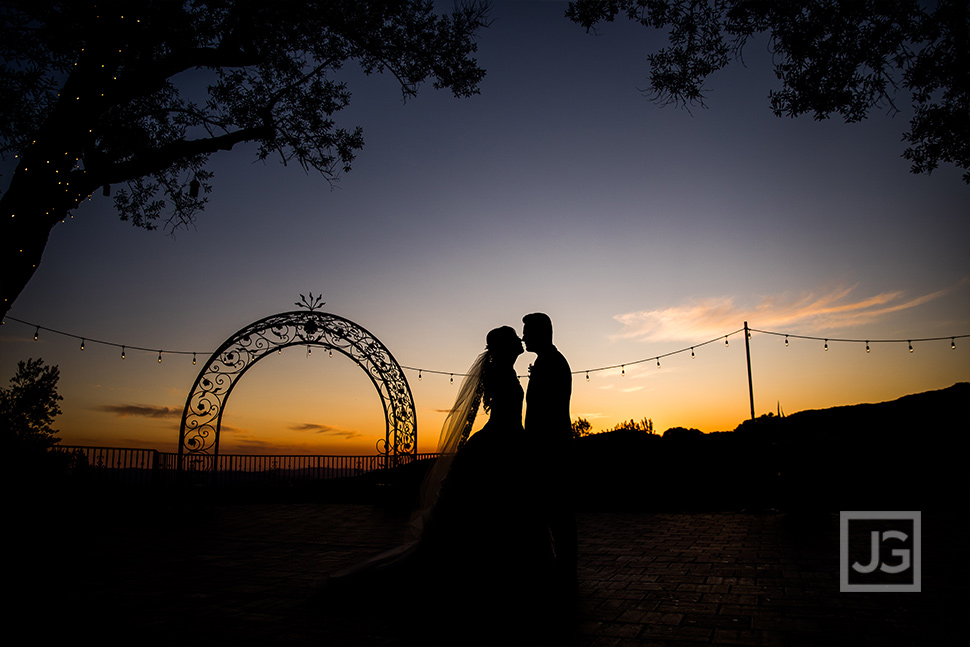 Padua Hills Theatre Reception Dinner
The wedding reception dinner takes place in the historic hall for theatre productions, where the stage becomes an amazing space for dancing. It perfectly frames the reception dinner and is especially unique among wedding reception halls. The lighting is some of the best we've seen for a wedding venue, since the lighting is professionally managed and stays in place, just like for a professional theatre production.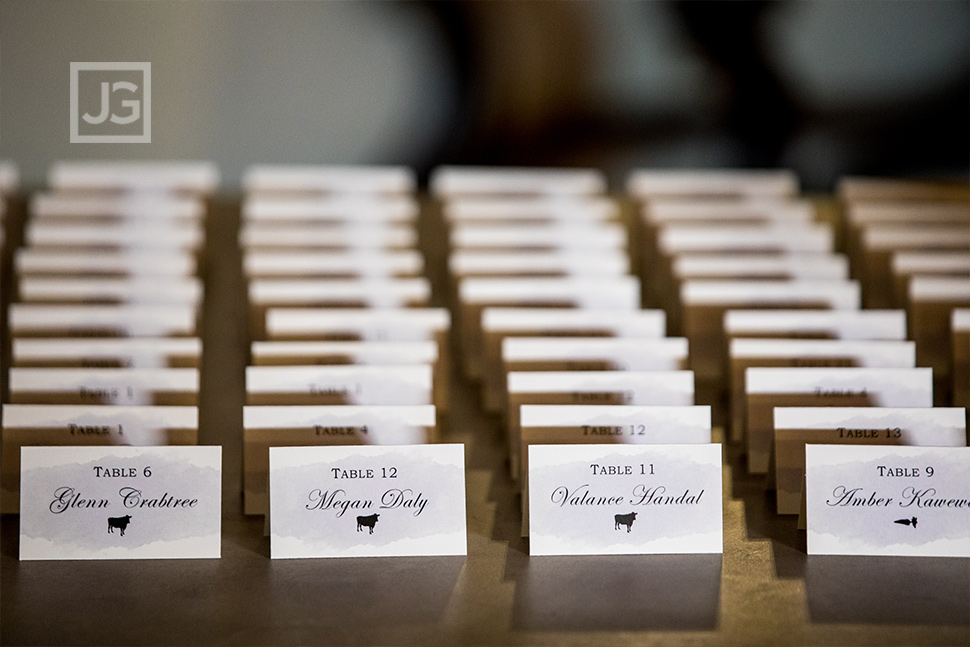 Here is a wide photo of the reception dinner tables laid out across the whole hall.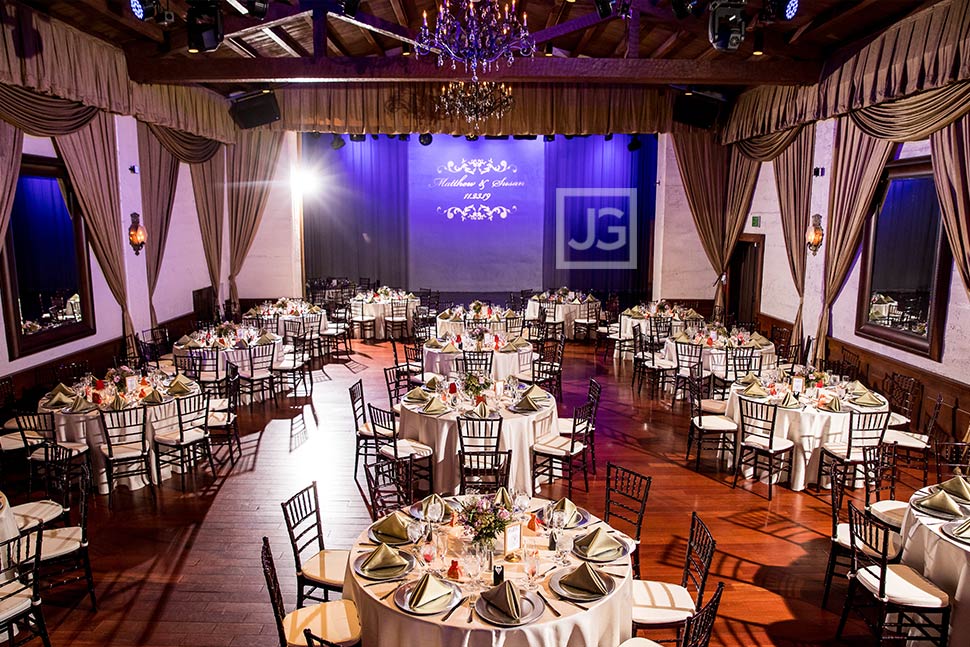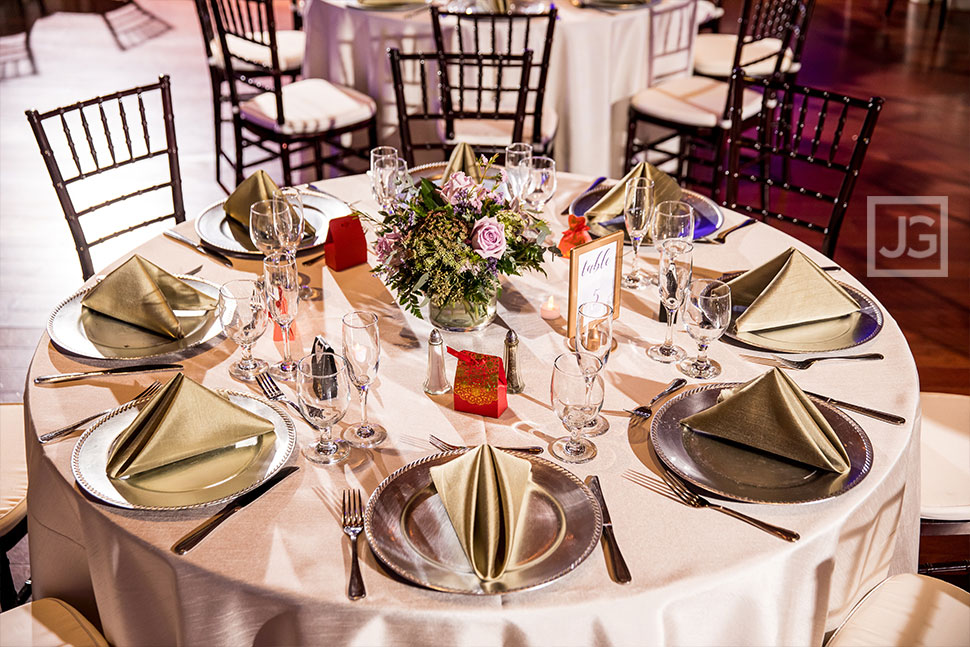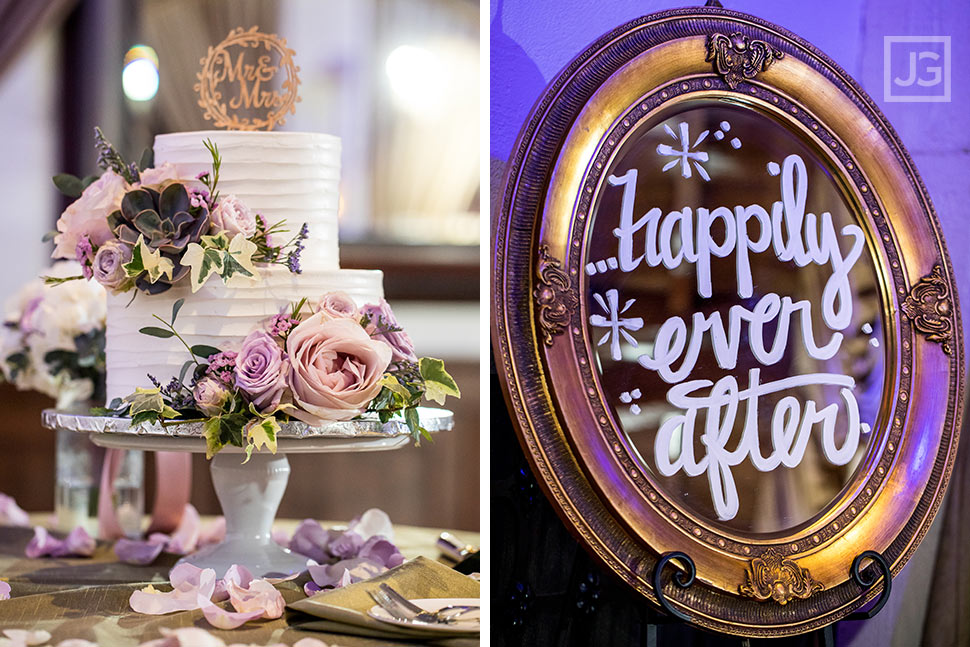 Grand Entrance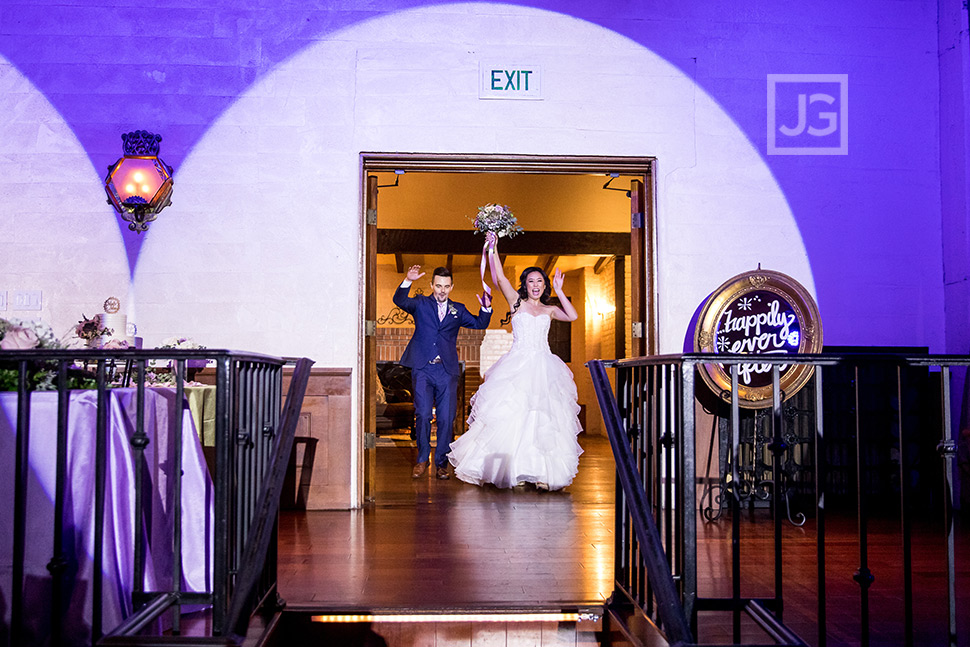 The first dance at Padua Hills Theatre is something special, since the layout of the hall frames our loving couple perfectly. They also have bubbles that descend from above.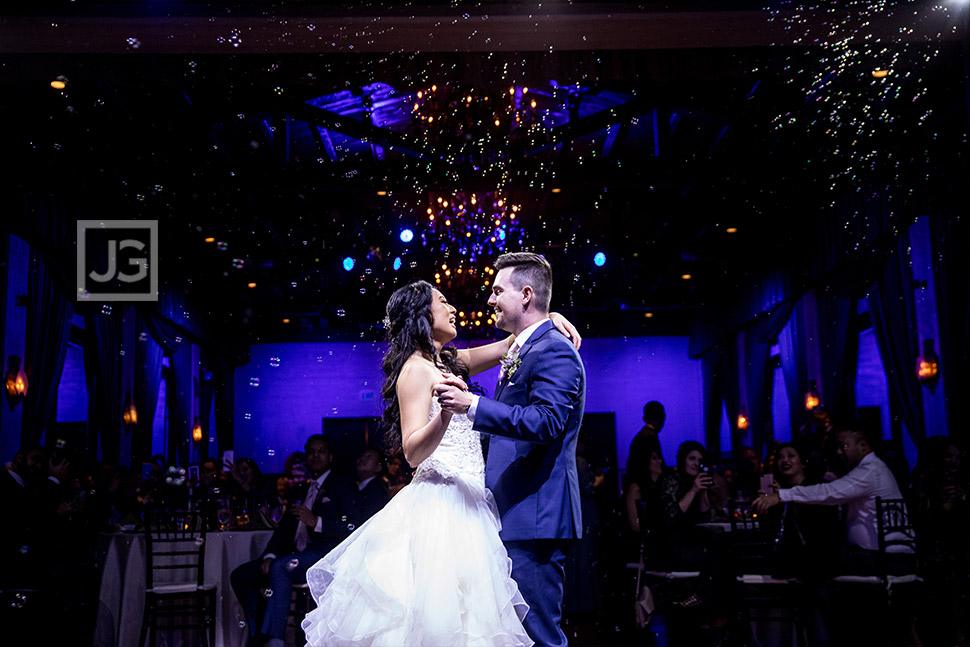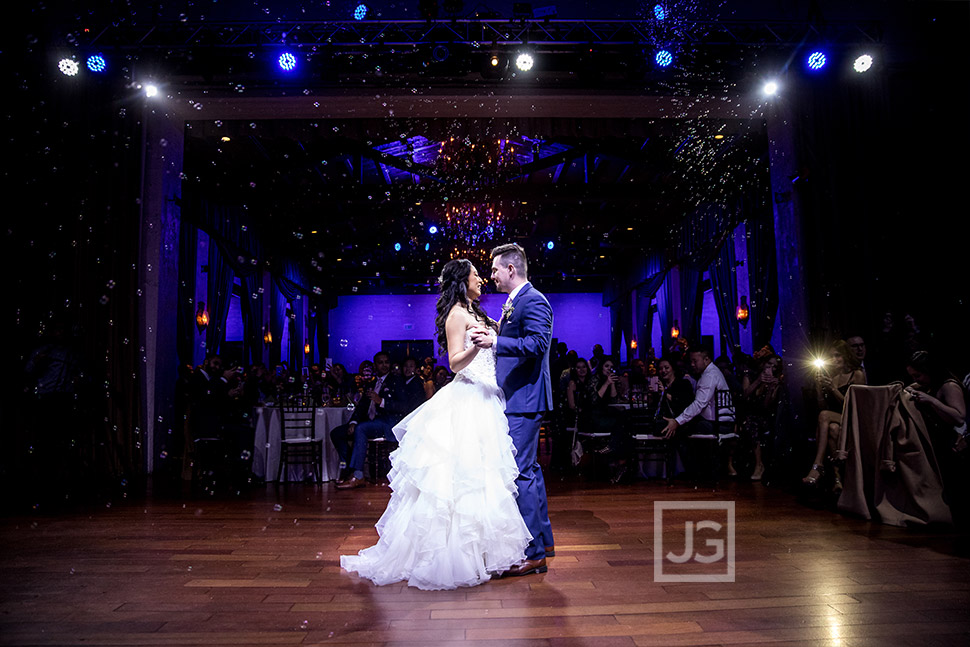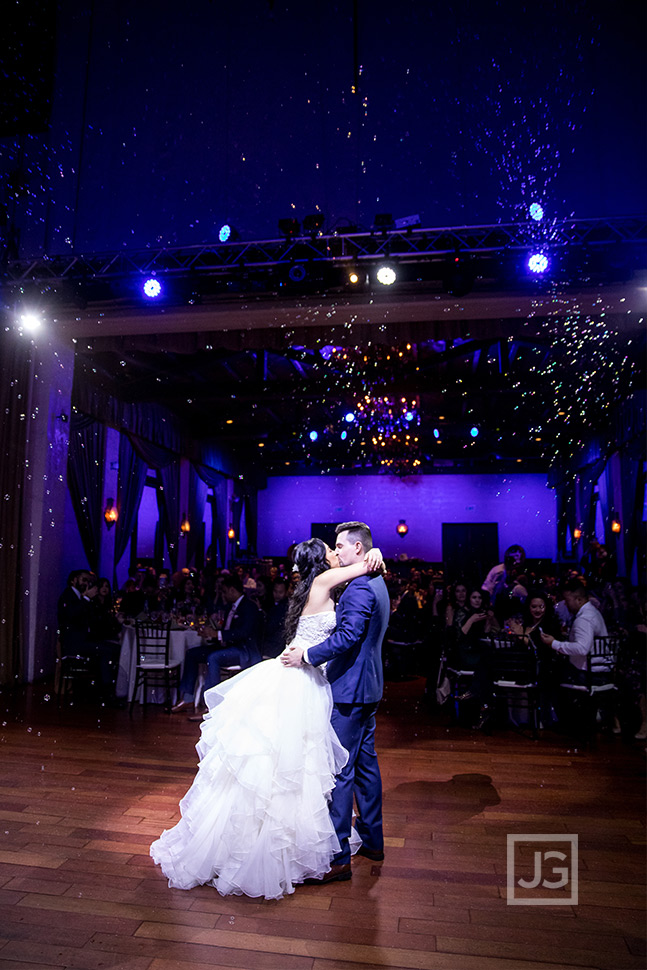 Wedding Reception Speeches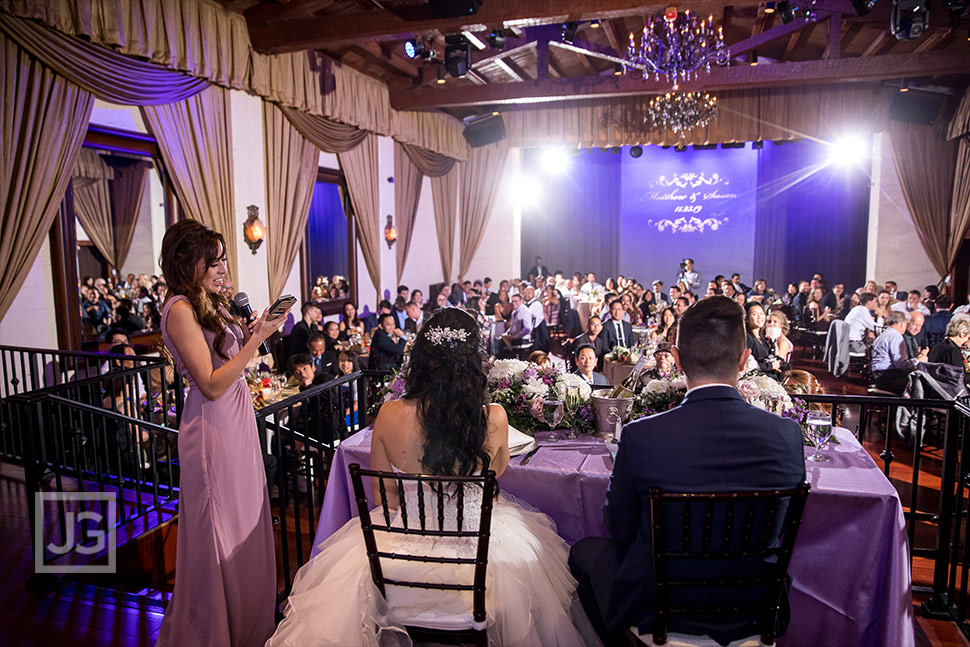 Cake Cutting and Bouquet/Garter Toss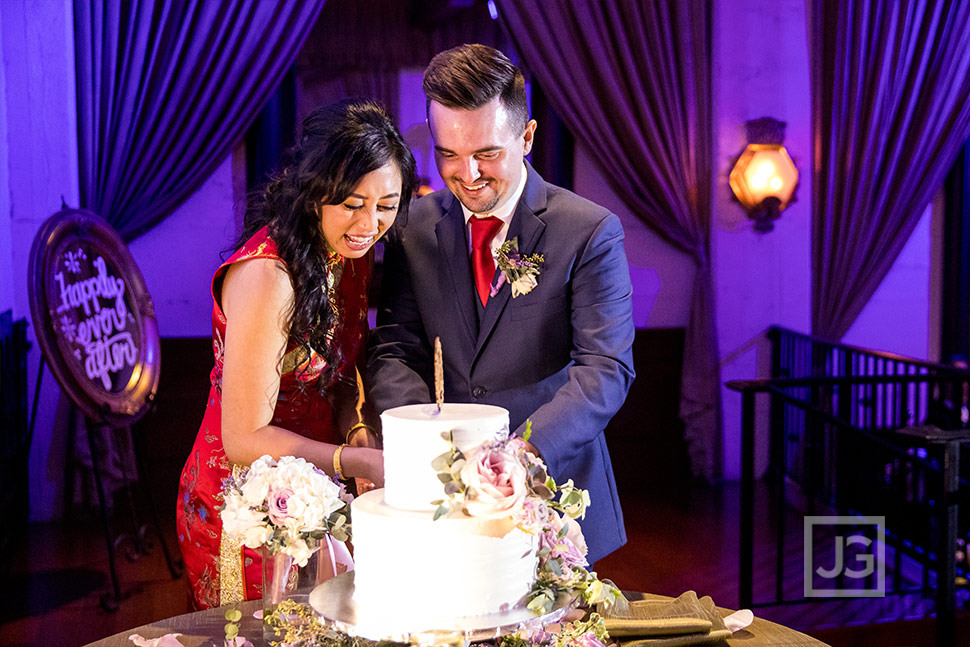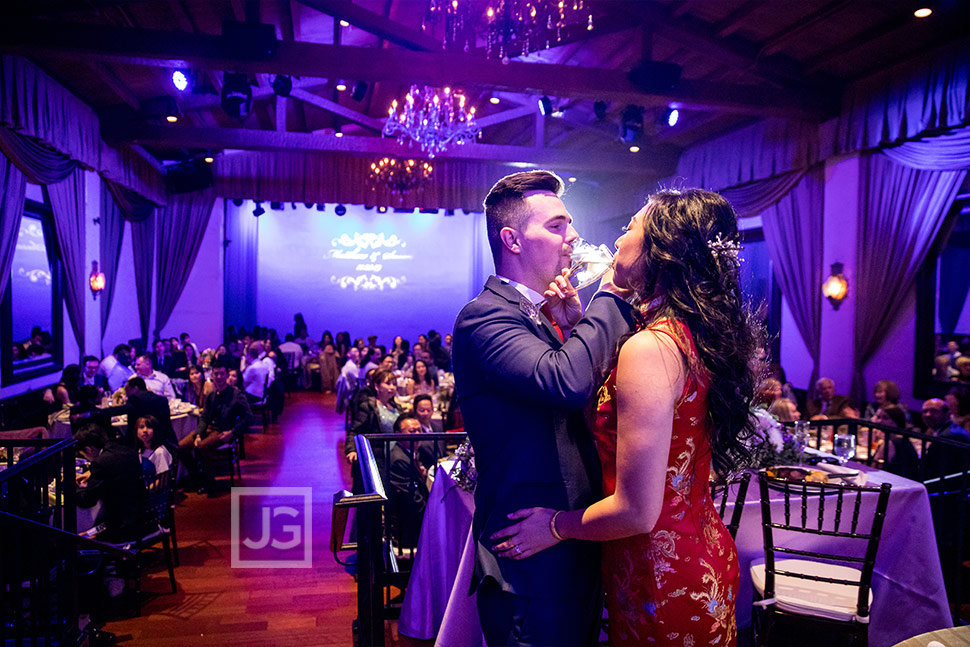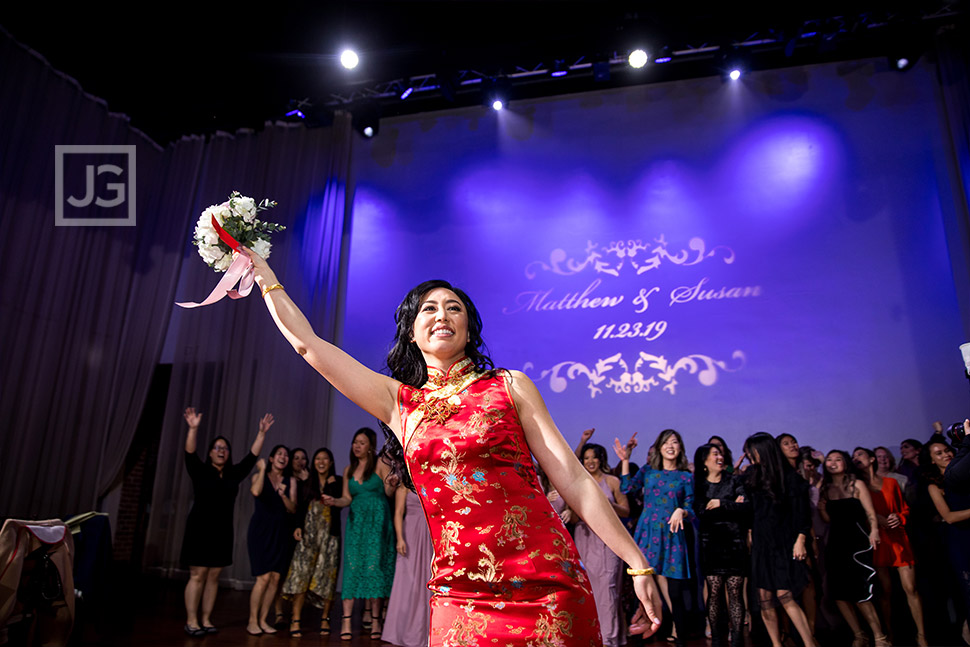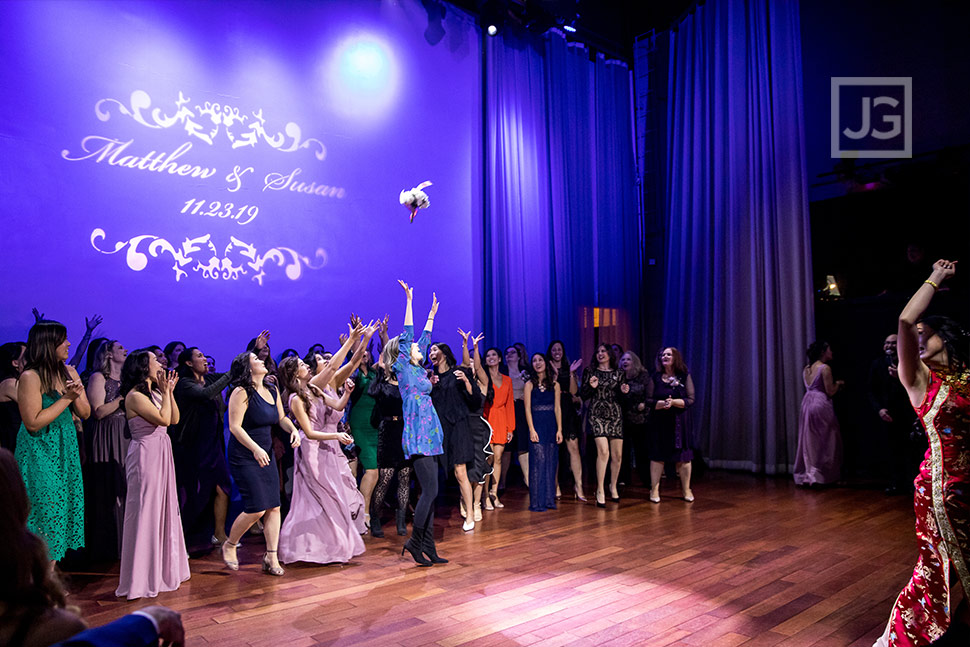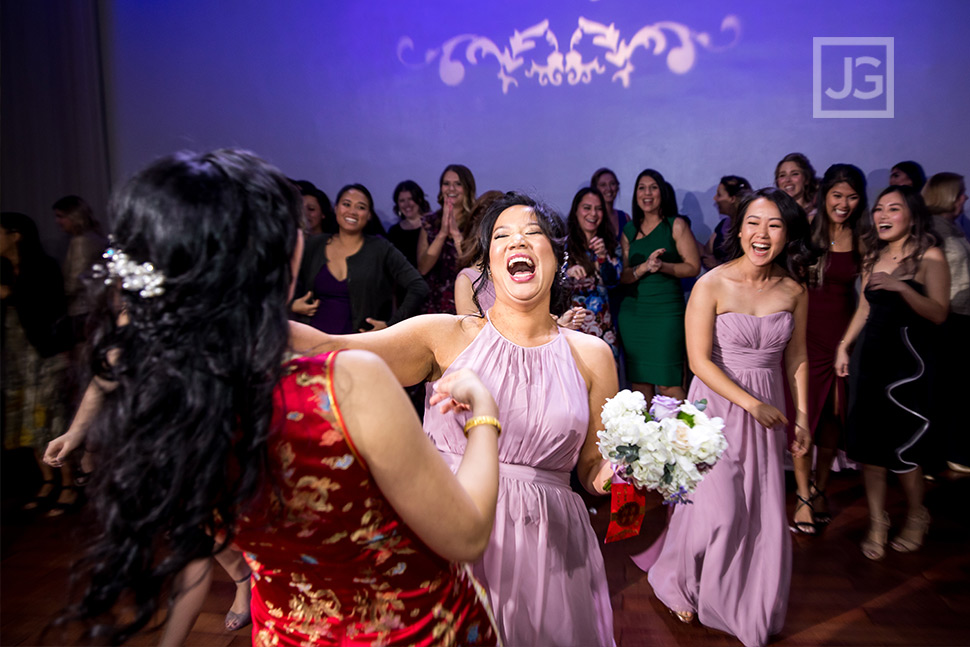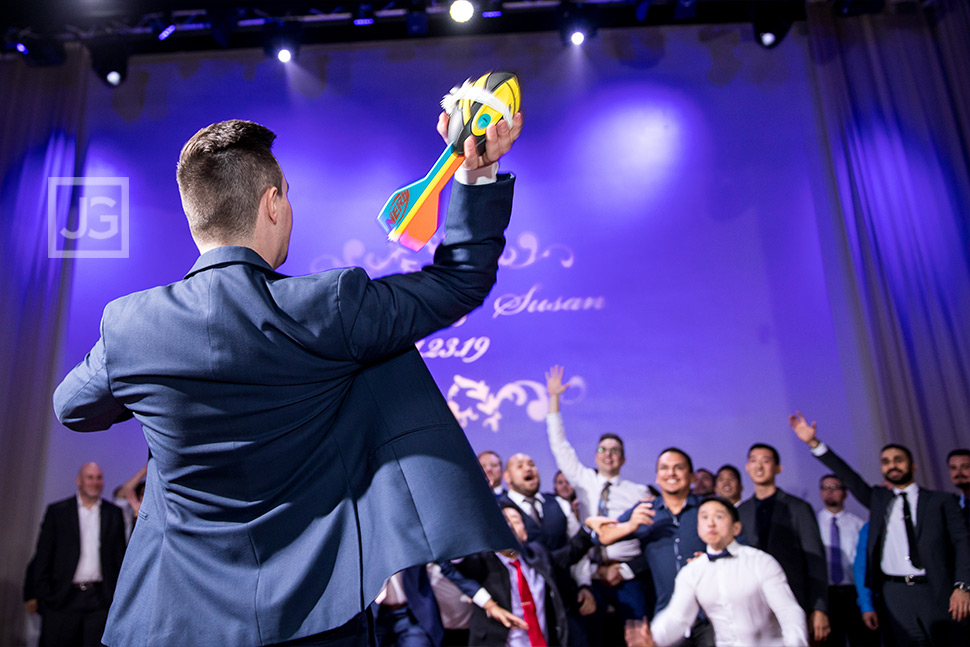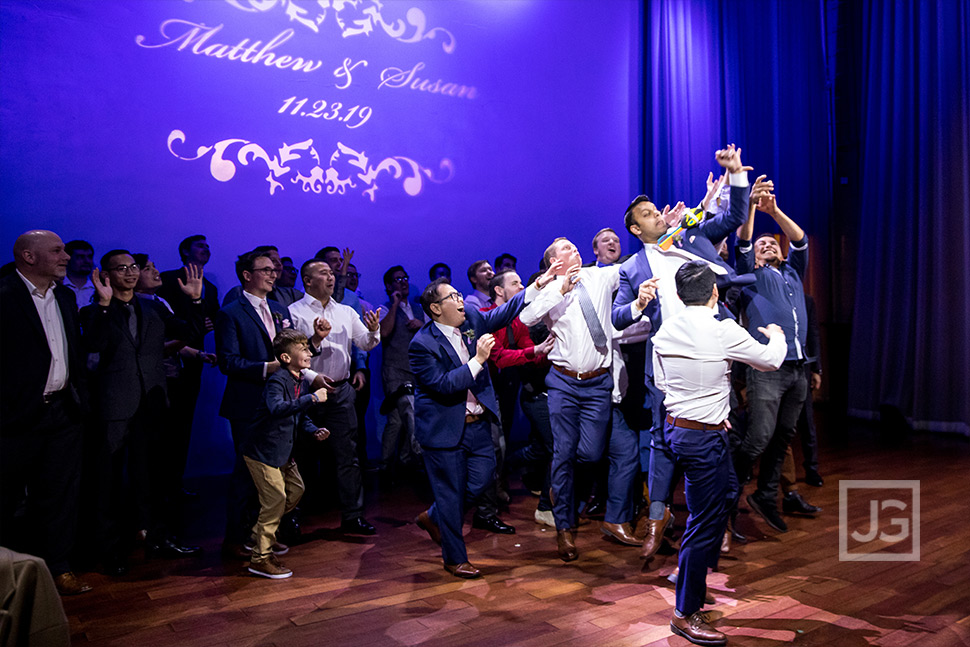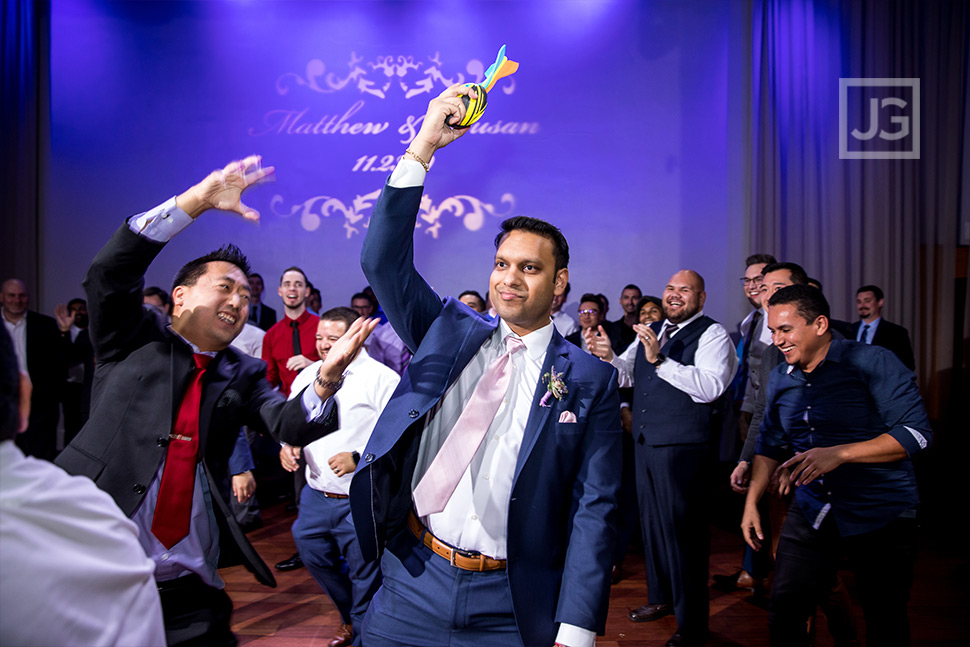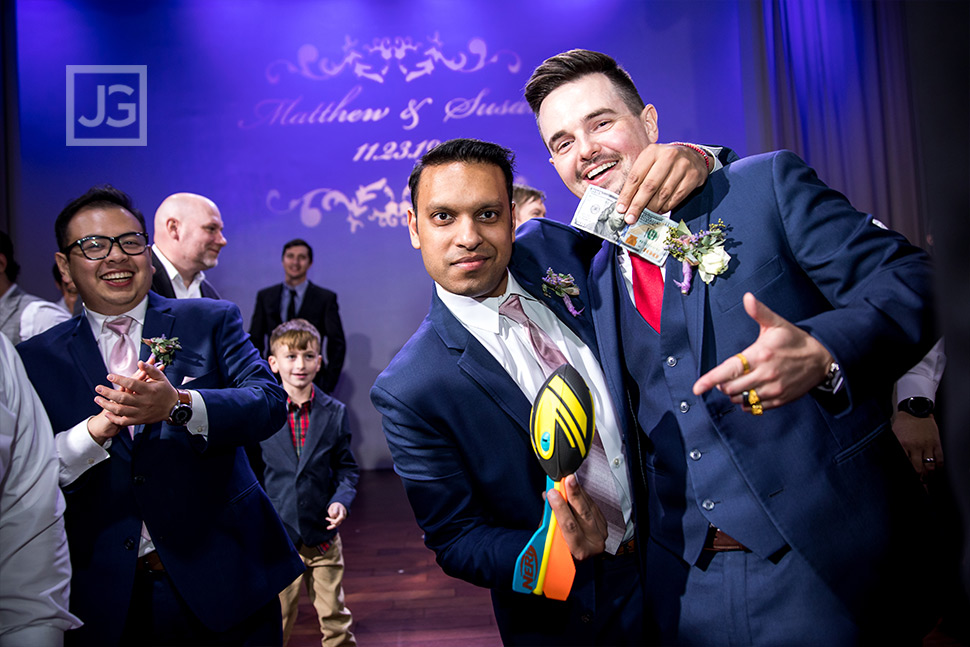 Night Wedding Photos at Padua Theatre
We pulled our bride and groom out of the reception for some quick low-light night photos around the grounds of Padua Hills Theatre. Night wedding photography is one of our specialties and we love getting such a gorgeous location in such unique lighting.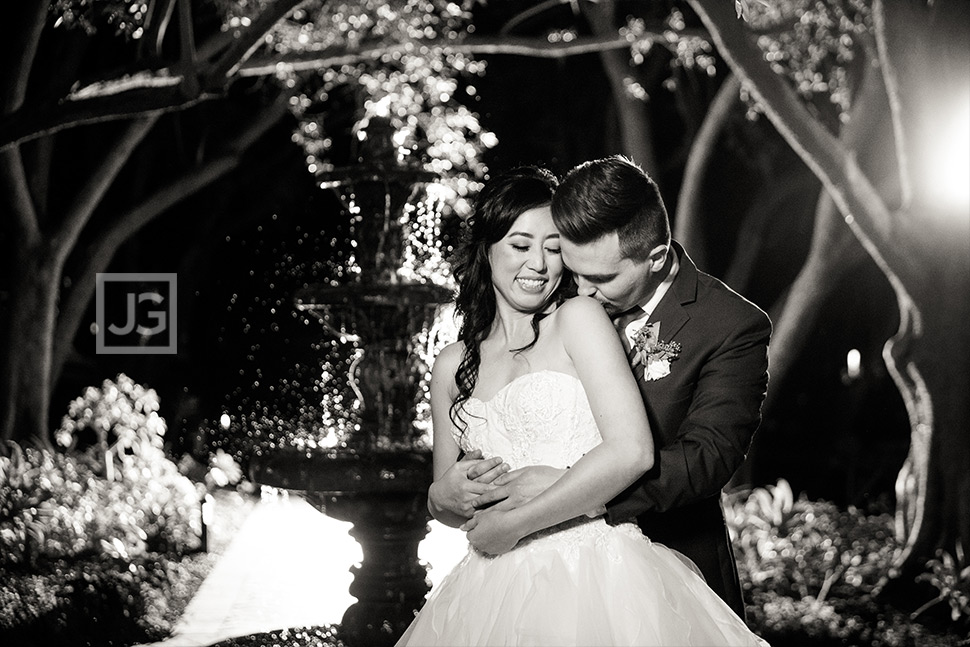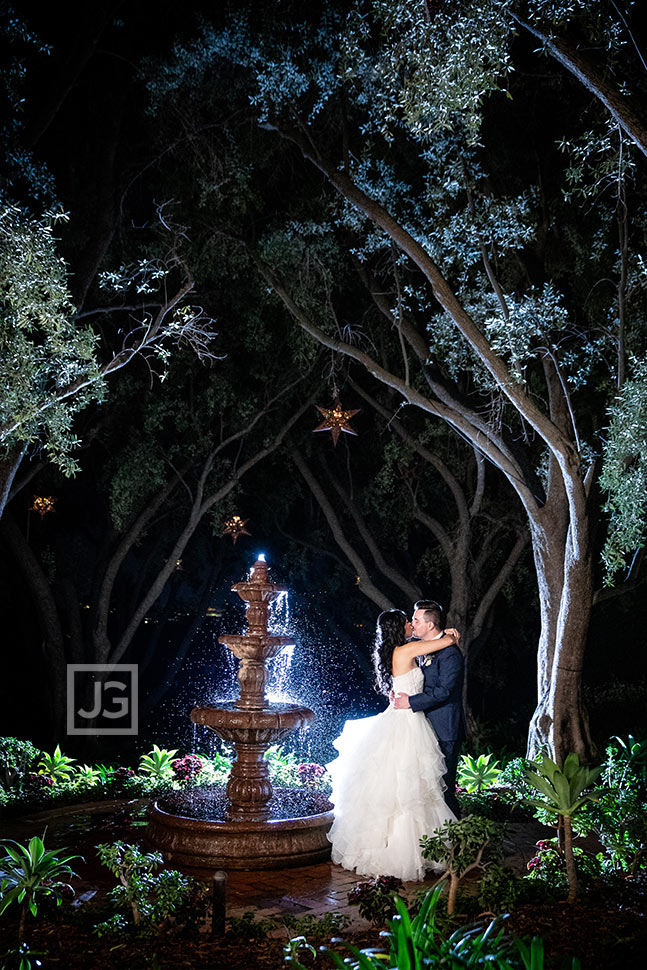 Wedding Reception Dancing
After that we danced that night away!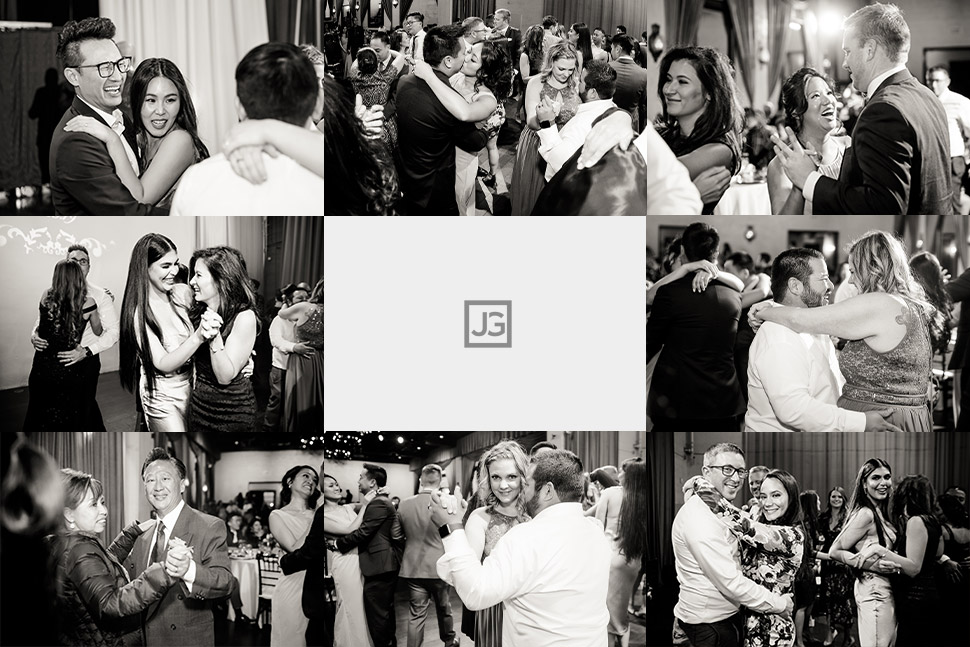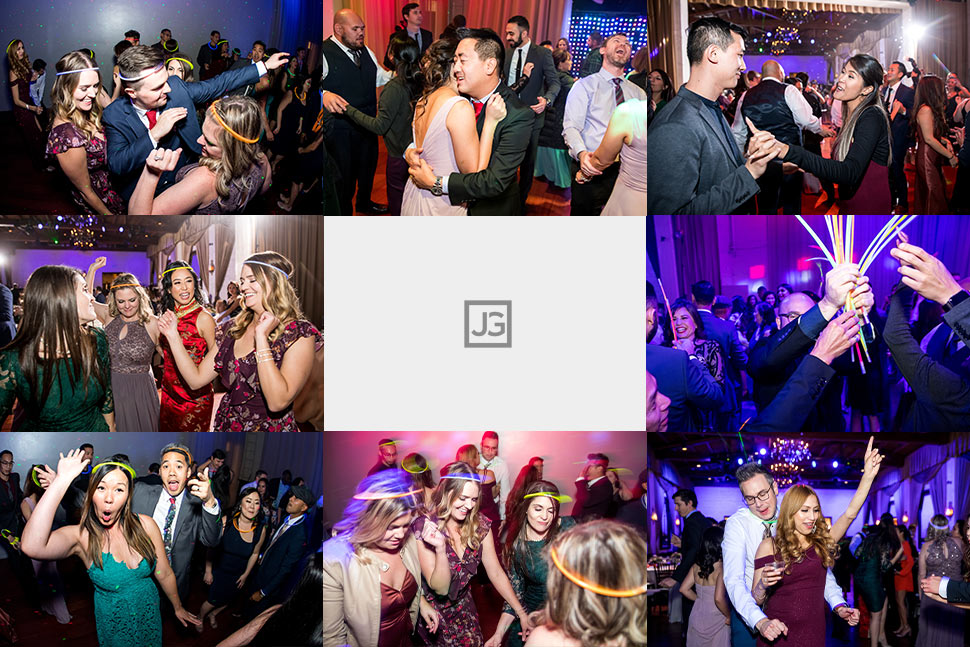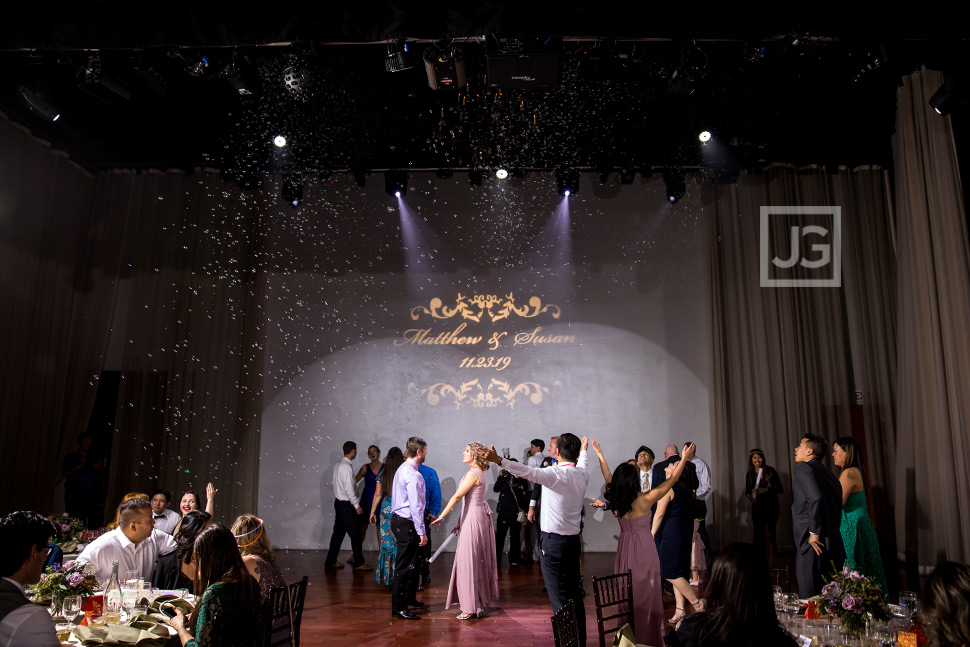 For the last song of the night, we had everyone circle around our bride and groom and we got this amazing photo of our bride and groom, kissing during the last dance of their wedding.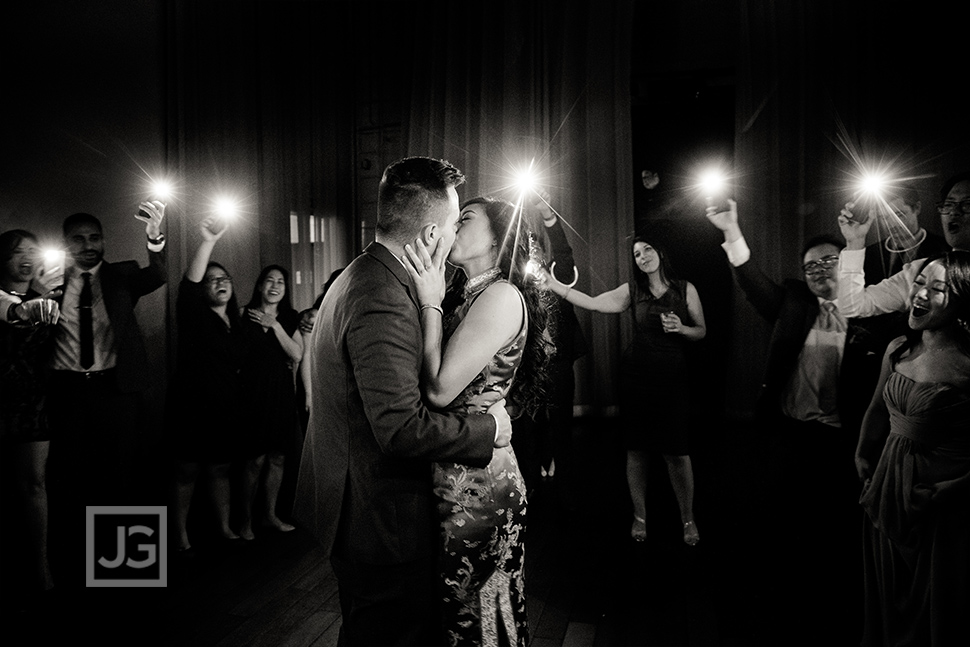 Padua Hills Wedding Photography and Videography
This is a beautiful day captured through our eyes, using our style and vision. Wedding photography at Padua Hills Theatre makes for an amazing backdrop for a happy and loving couple. The wedding video shows that living memories created on that day, while the wedding photos freeze those moments in time forever.
Make sure to check out more examples of weddings we have photographed at Padua Hills Theatre.