It has definitely been a while since my last blog… forgive me?? =) We have been super busy with wedding season in full swing AND we are super excited with the purchase of our very first home!! I can't wait to start blogging again and share with ya'll all the amazing couples and awesome weddings we've done!! But read on for our rainy day of La Jolla wedding photography, followed by a day after session of San Juan Capistrano wedding photos!
Sasha and Howie did not let the rain put a damper on their wedding day. If anything, the rain will only bring more luck (and more children) to this wonderful couple. A wedding is a celebration of the marriage. And marriage is about love, sacrifice, acceptance, and the ability to overcome stormy weather. The fact that Sasha and Howie handled the rain with ease and grace, I have no doubt that these two have the ability to weather any storm. The moment I spoke with Sasha over the phone to the moment I meet with both of them for coffee; I knew that they were sweet and genuine people. I'm so grateful to have met them, gotten to know them more and more over the wedding planning process, photographed their wedding, and now I have the pleasure of calling them friends!!
Sasha and Howie were first introduced to each other at a party in college (through mutual friends). After 7 years of courting (finally)… family and friends witness their union at the beautiful La Jolla Cove Bridge in San Diego. Wedding Photography in La Jolla, San Diego is a wedding photographer's playground!! There are so many spots along the beautiful beaches of San Diego for wedding photographs.
Don't forget to click on the play button and check out their wedding video!!
Wedding Preparation at La Jolla Cove
Our bride and groom got ready at the La Jolla Cove Suites, which is right across the street from their wedding venue, the La Jolla Cove Bridge Club.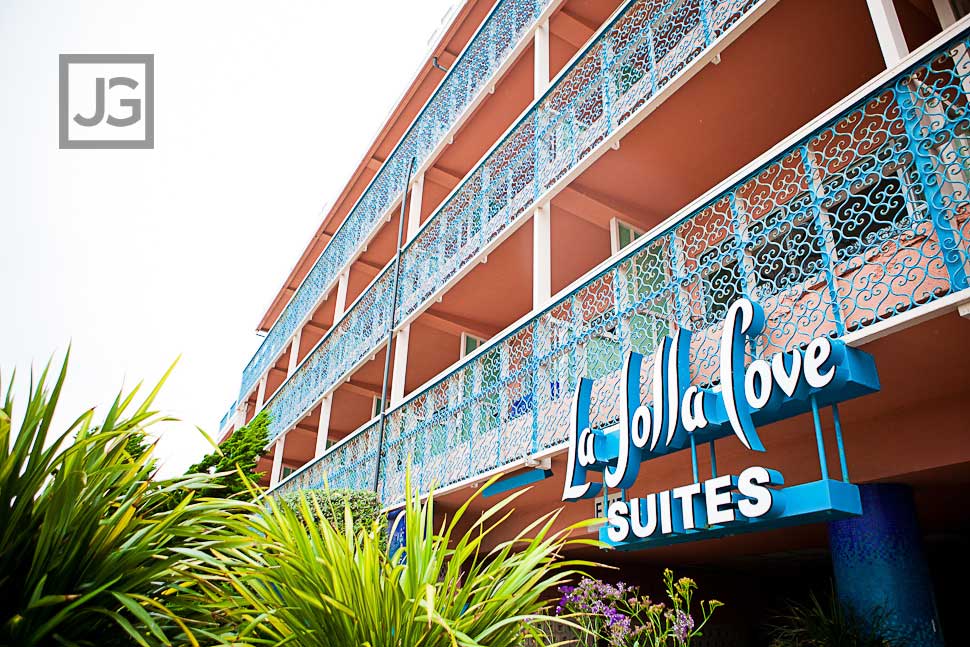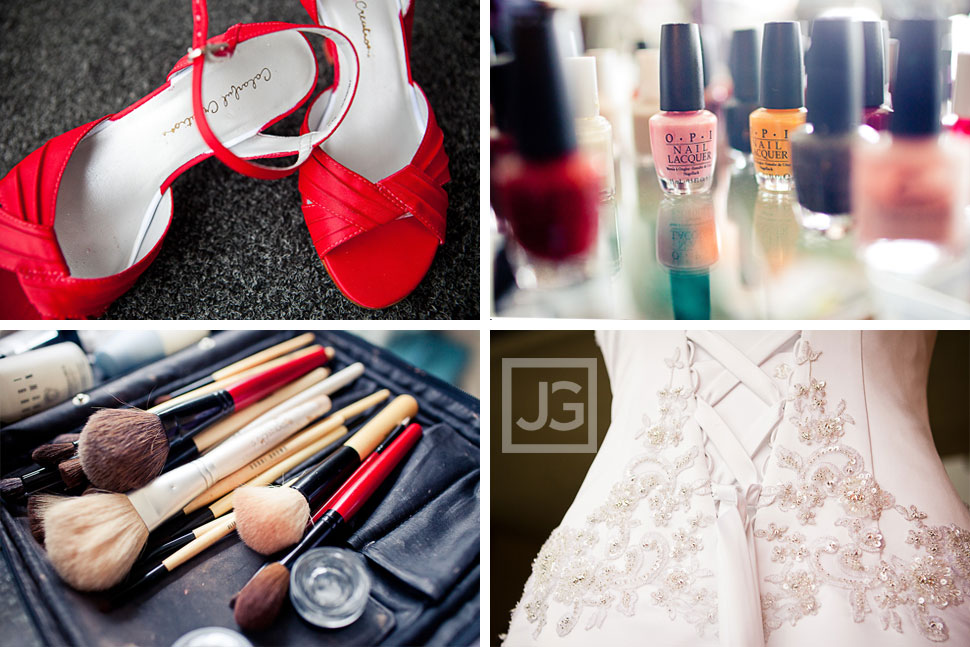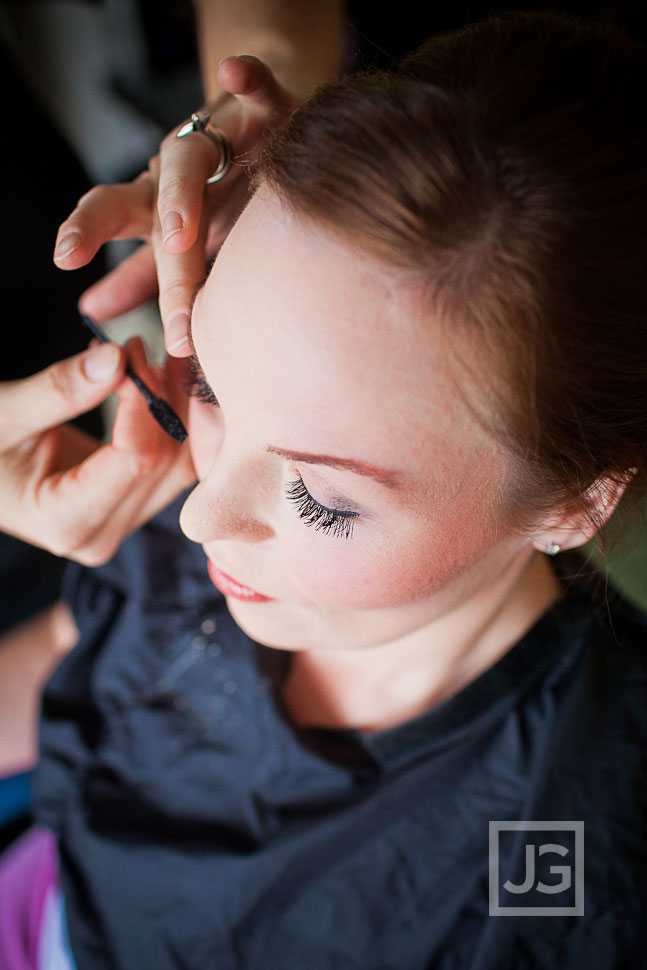 I love these two pictures of Sasha and her mom.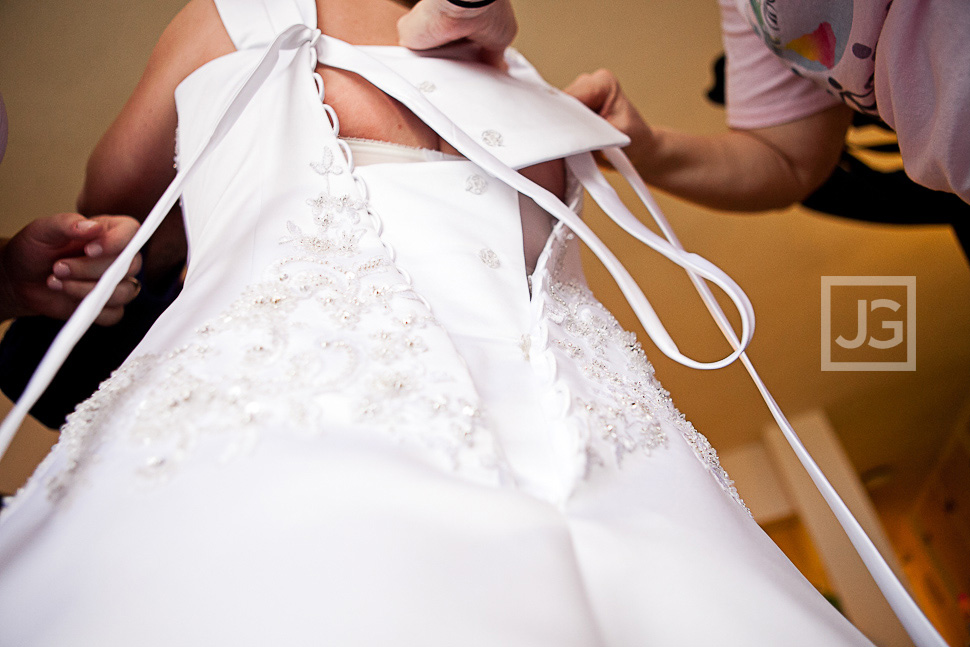 I can't stop laughing at this picture!!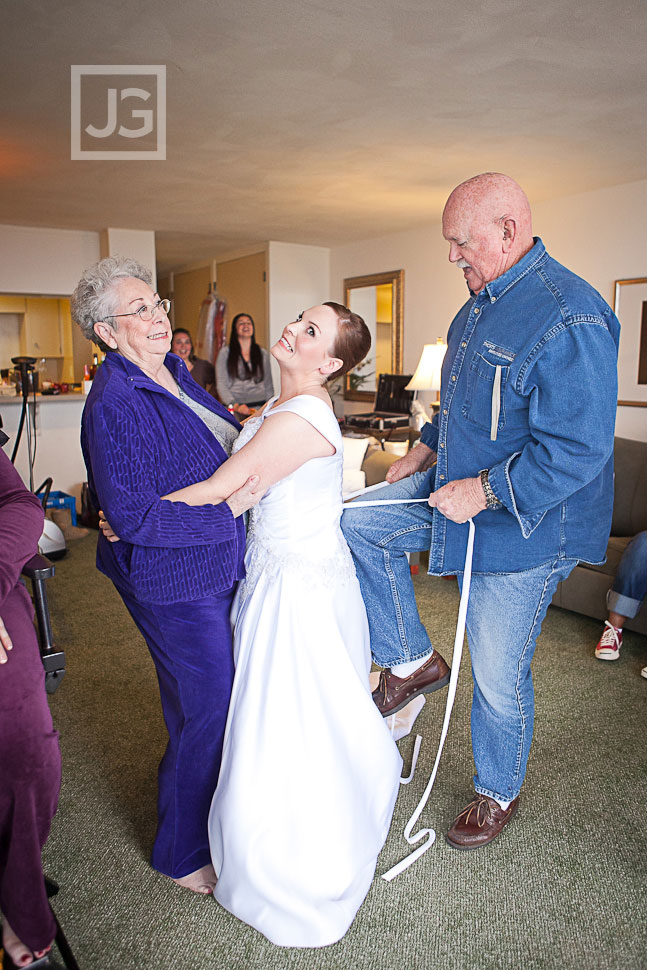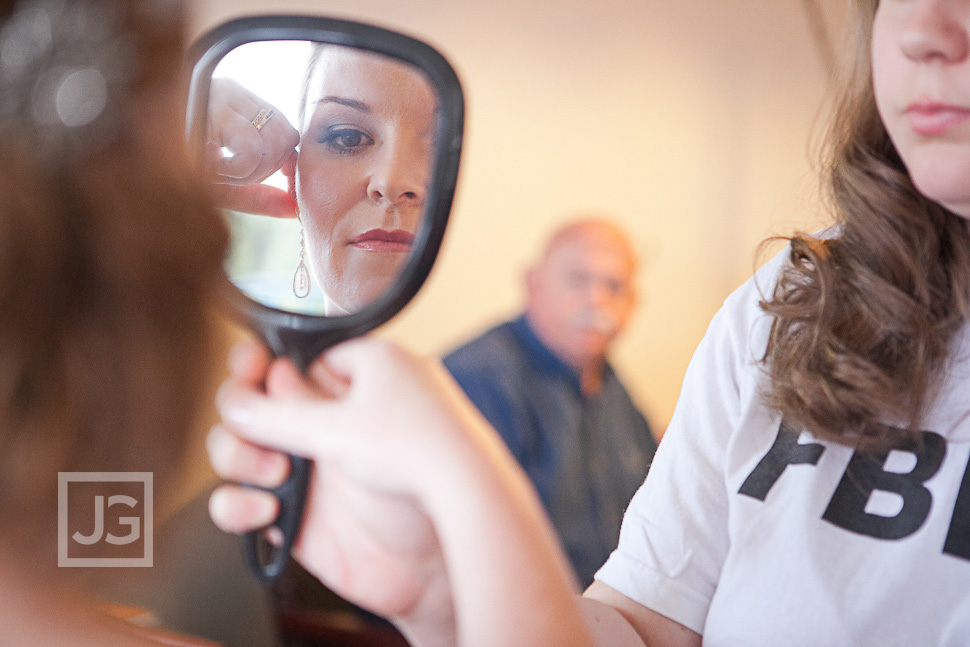 First Look on a Rainy Day
As we got ready to do their first look, it started to sprinkle a bit. I was happy that we decided to do the first-look in the rain with umbrella and rain boots!! =D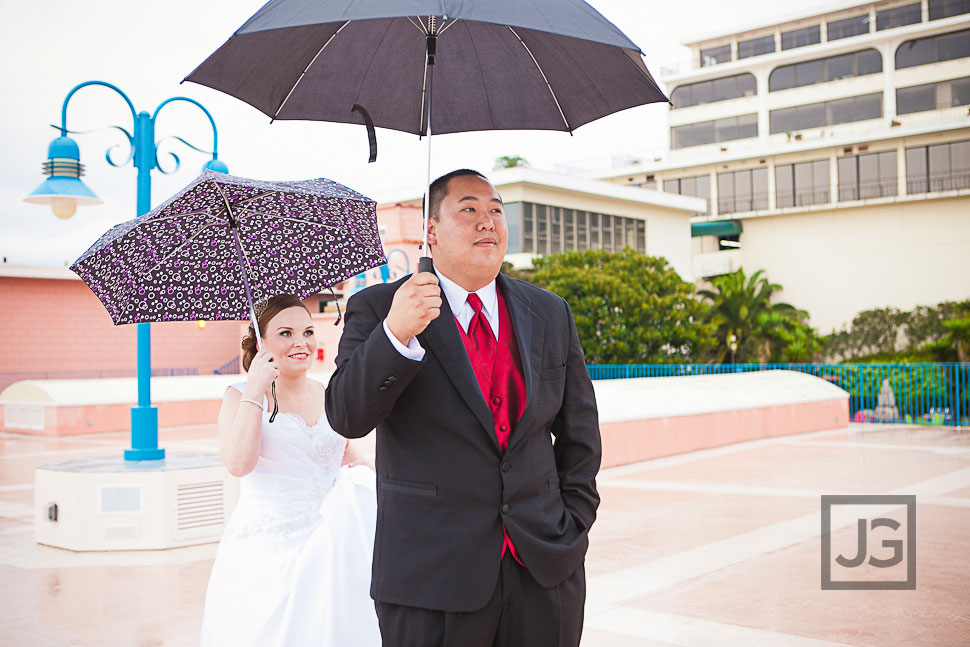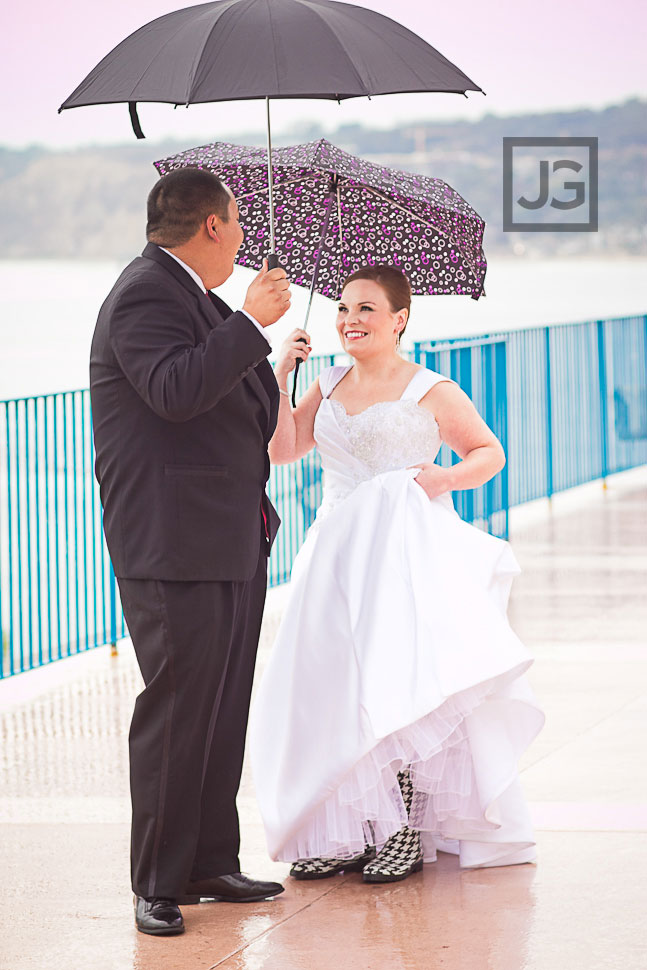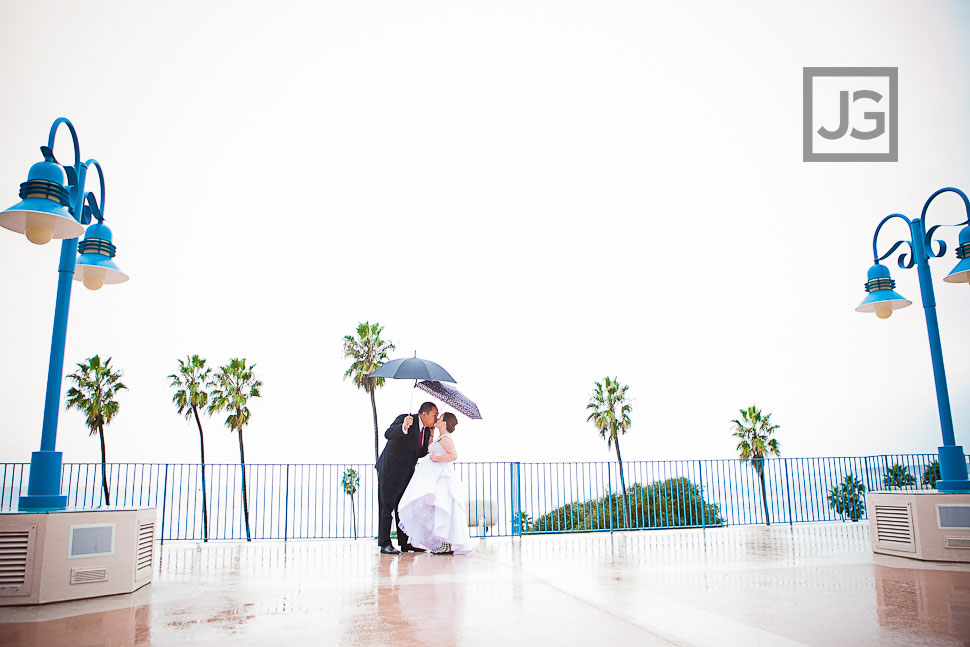 Rainy La Jolla Cove Wedding Photography
As we proceed to the bride and groom portrait session, it started raining harder and harder. Gavin, myself and Steven (our assistant) got pretty wet, but it was SOOOOOO worth all these pictures!! Although we only had about 15 minutes for their couple's session, I honestly feel that these are one of a kind pictures!!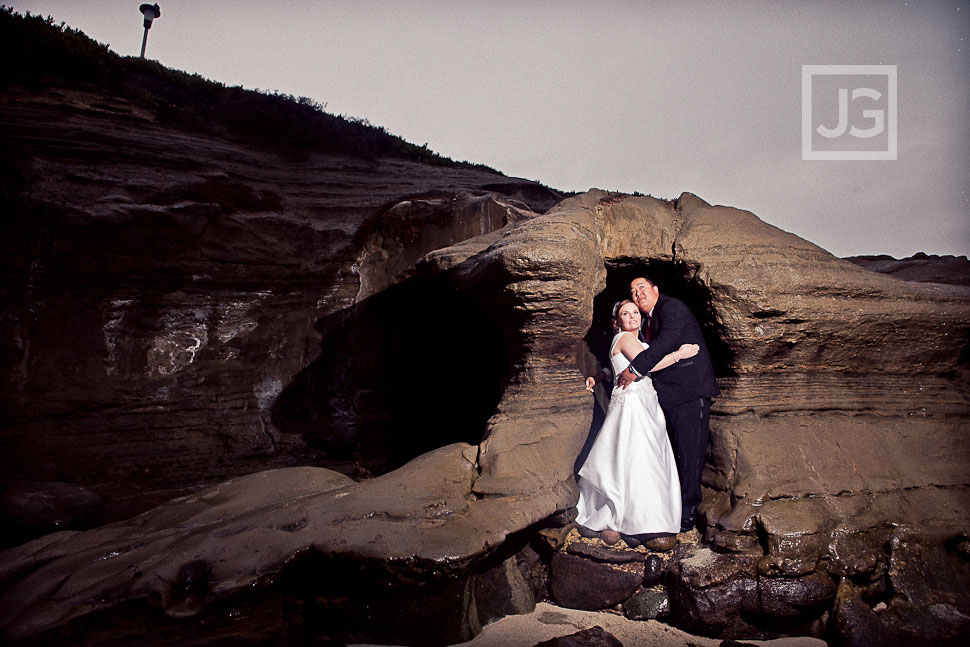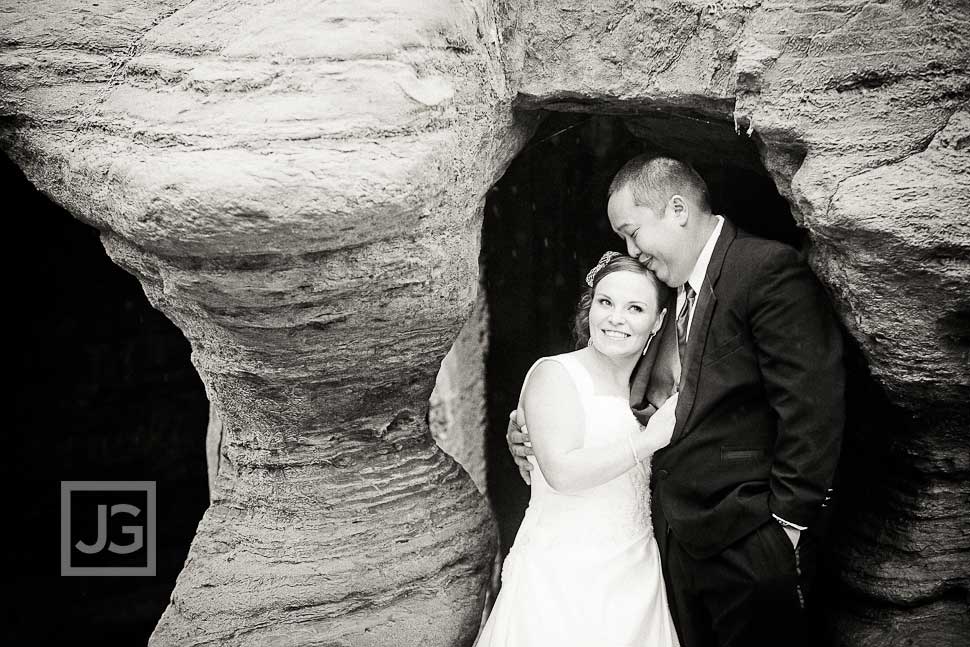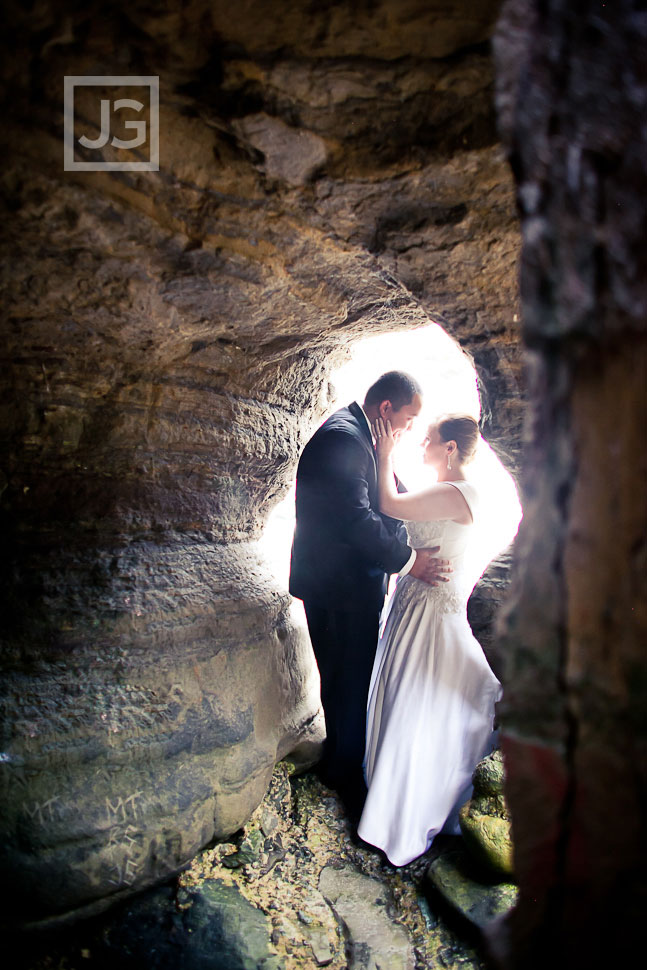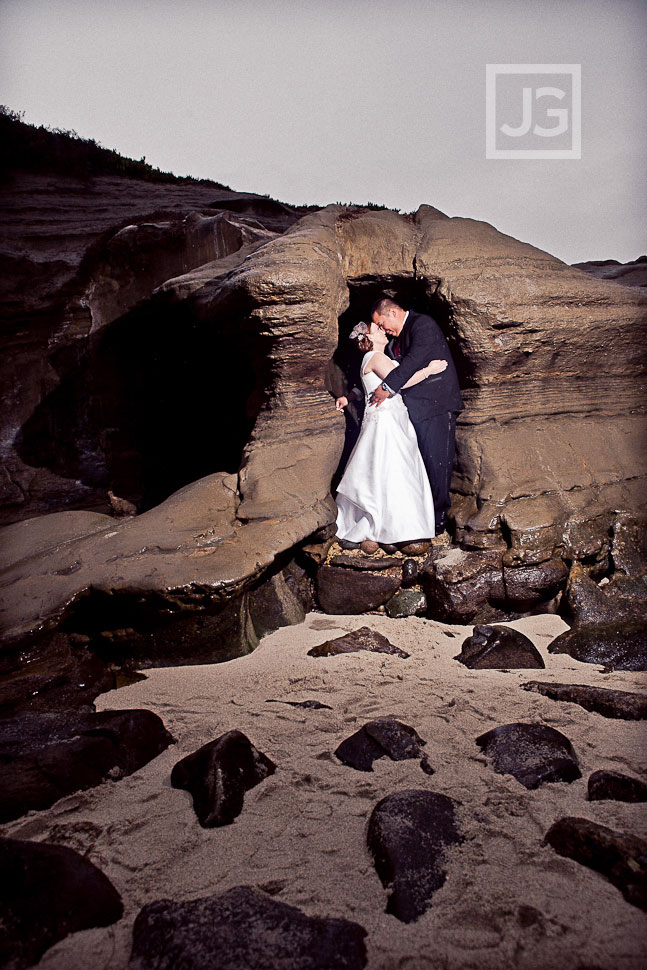 These are definitely my favorites!! Unfortunately we had to cut the session short due to the downpour. However, Gavin and I felt that it's only right for us to take care of our clients by offering them a complimentary session on another day (since we didn't get to spend as much time with them as we'd like to.) =D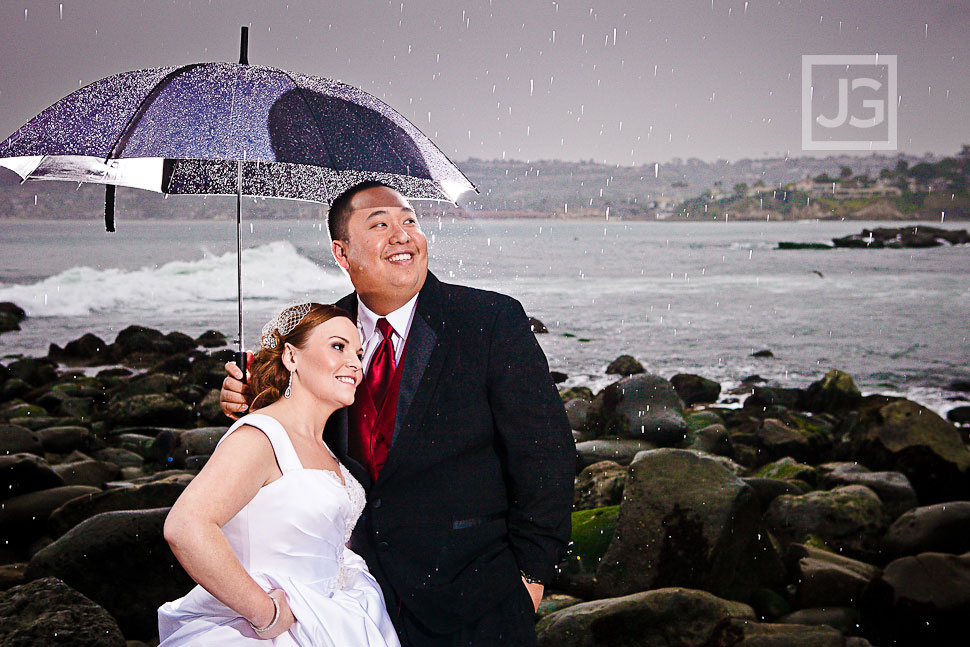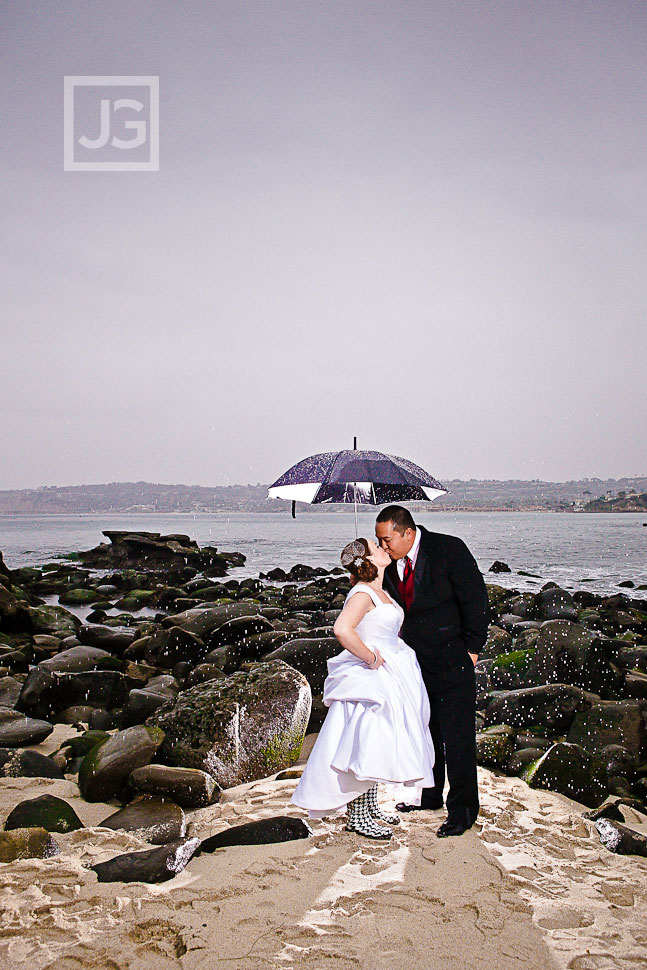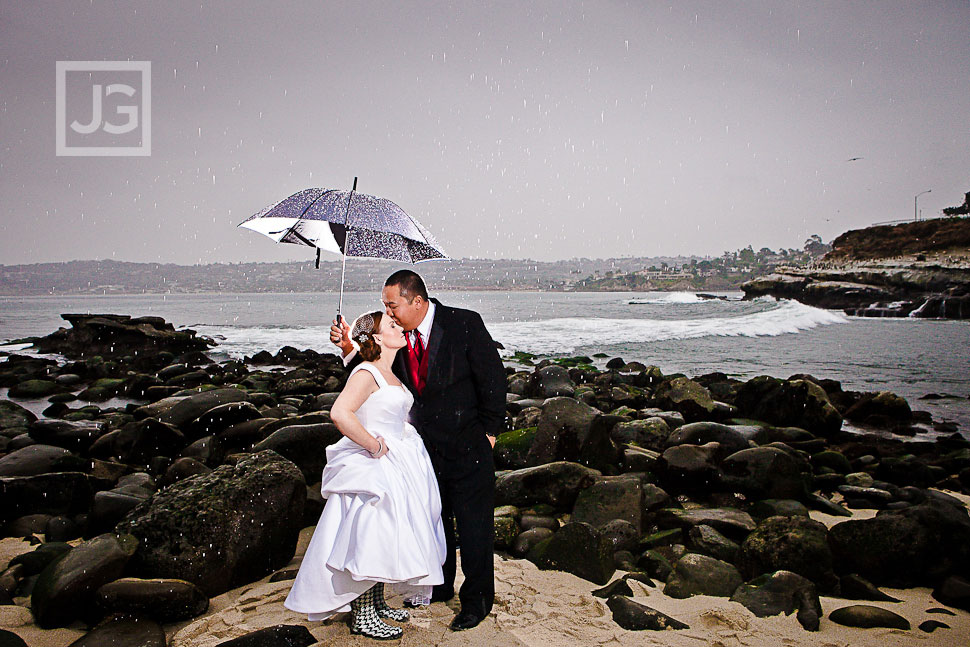 La Jolla Cove Bridge Club Indoor Wedding Ceremony
Their ceremony was moved in-doors where guests had an incredible view of the ocean. Their ceremony is one of the most heart-felt ceremonies that we've witnessed. Everyone went from crying to laughing back to crying all within minutes. I teared up myself with their sweet and sincere wedding vows.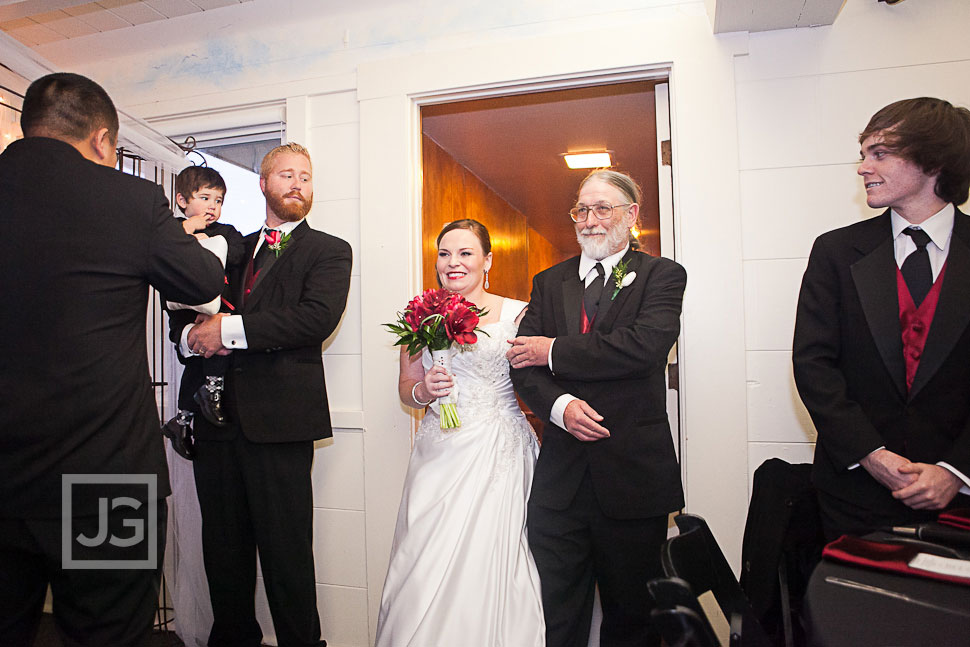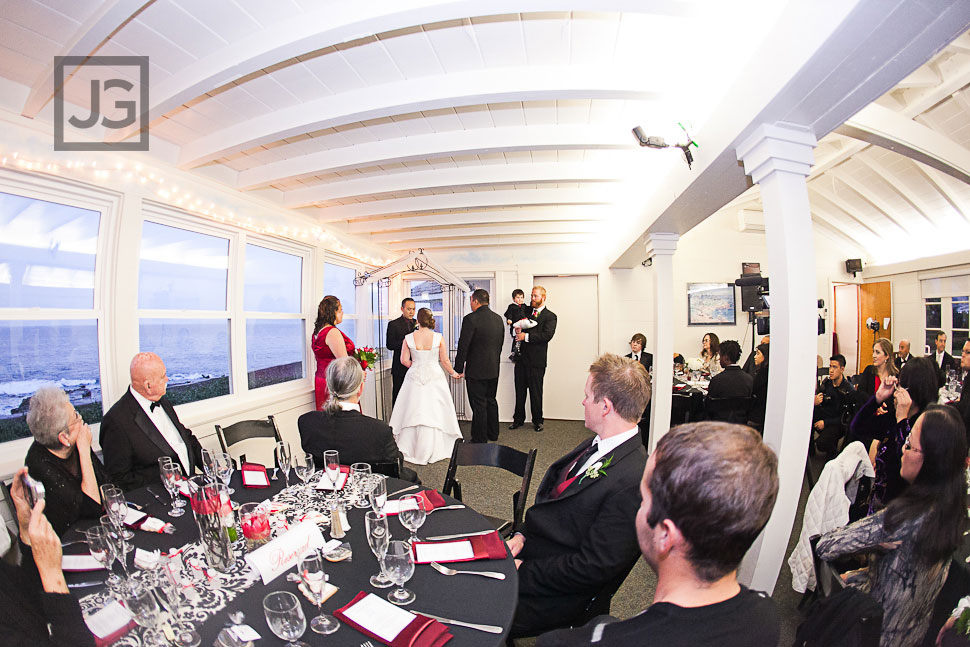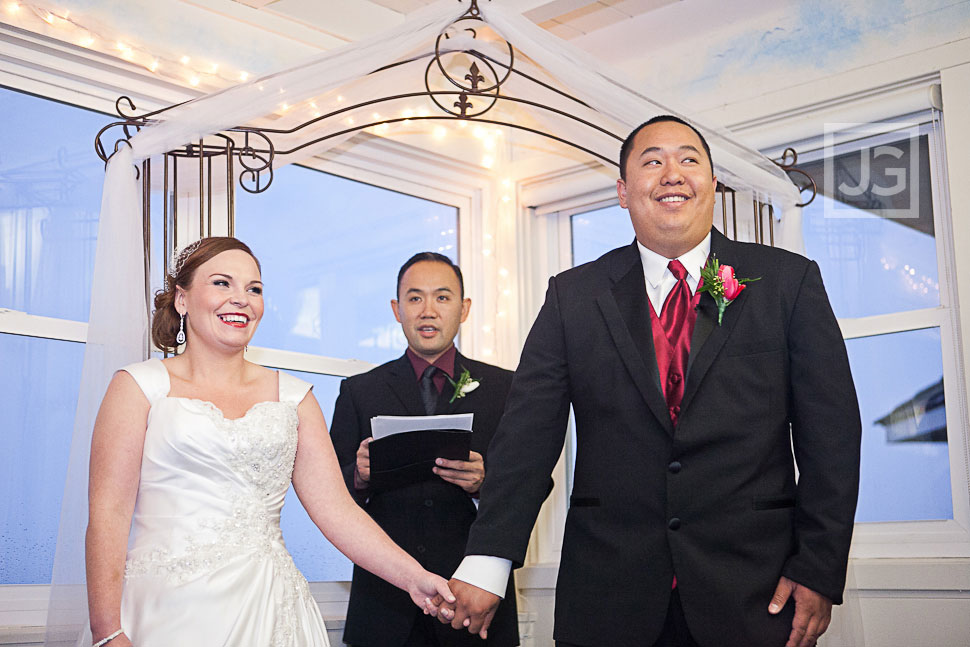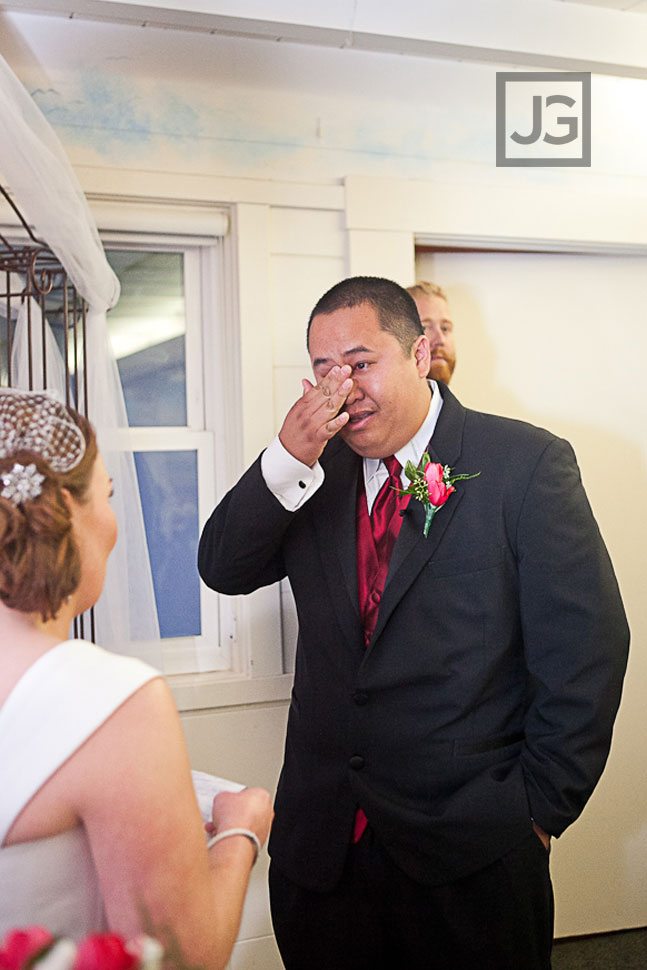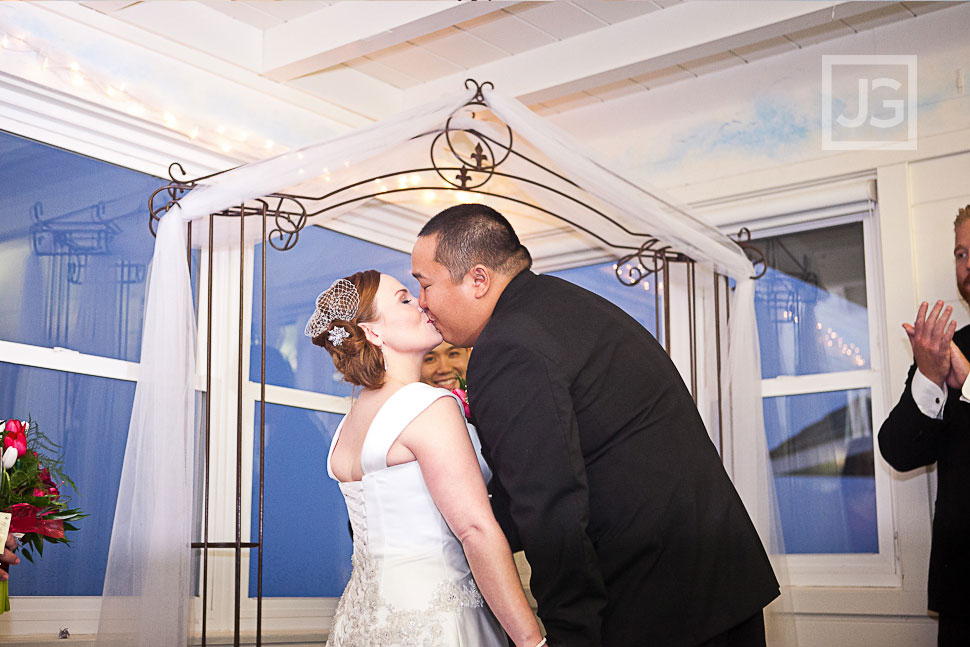 La Jolla Cove Bridge Club Wedding Reception
And then THE PARTY began!!!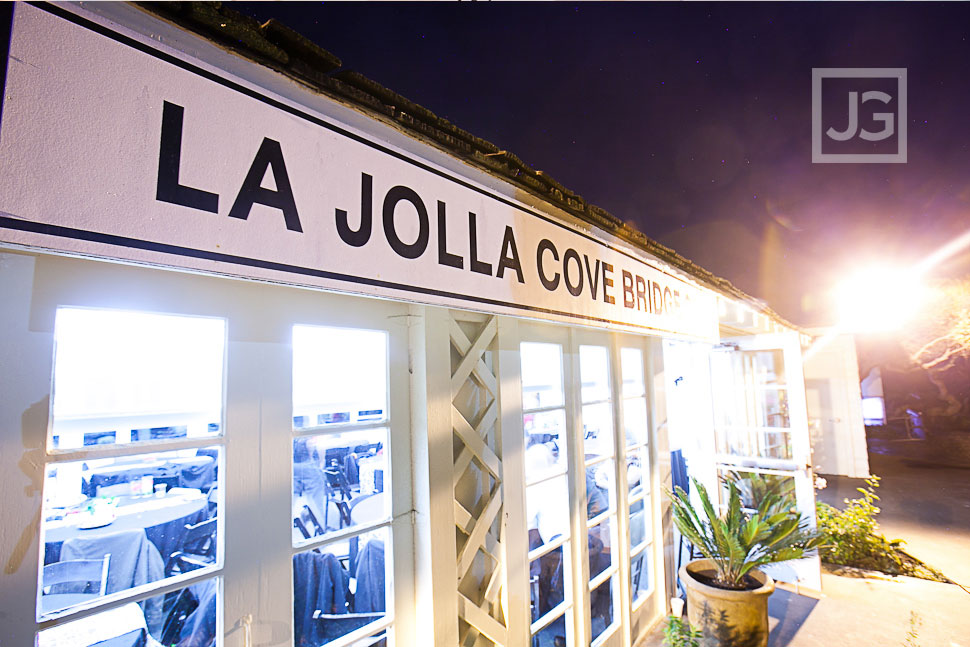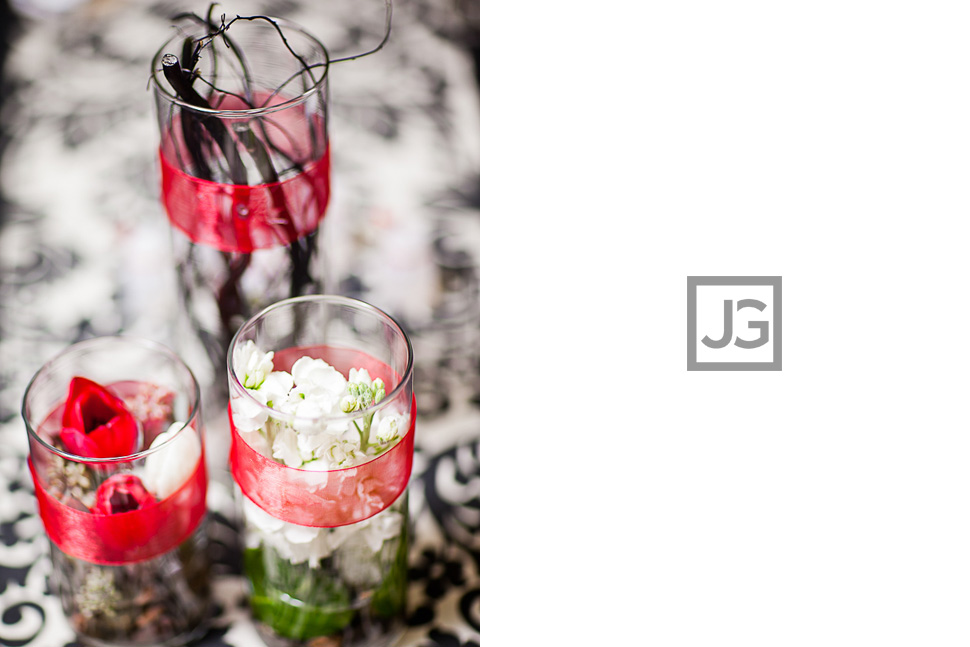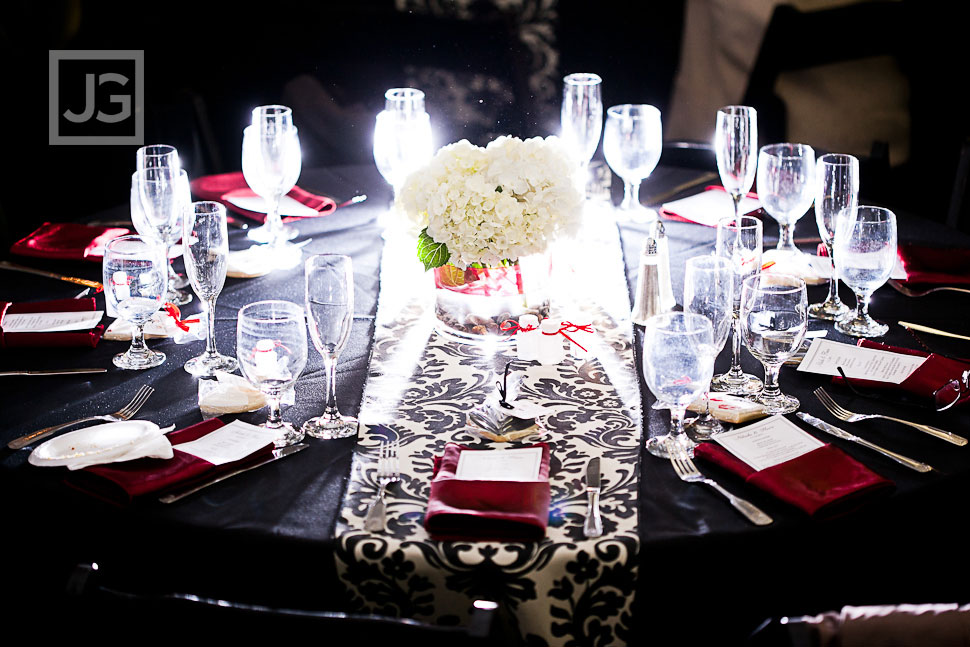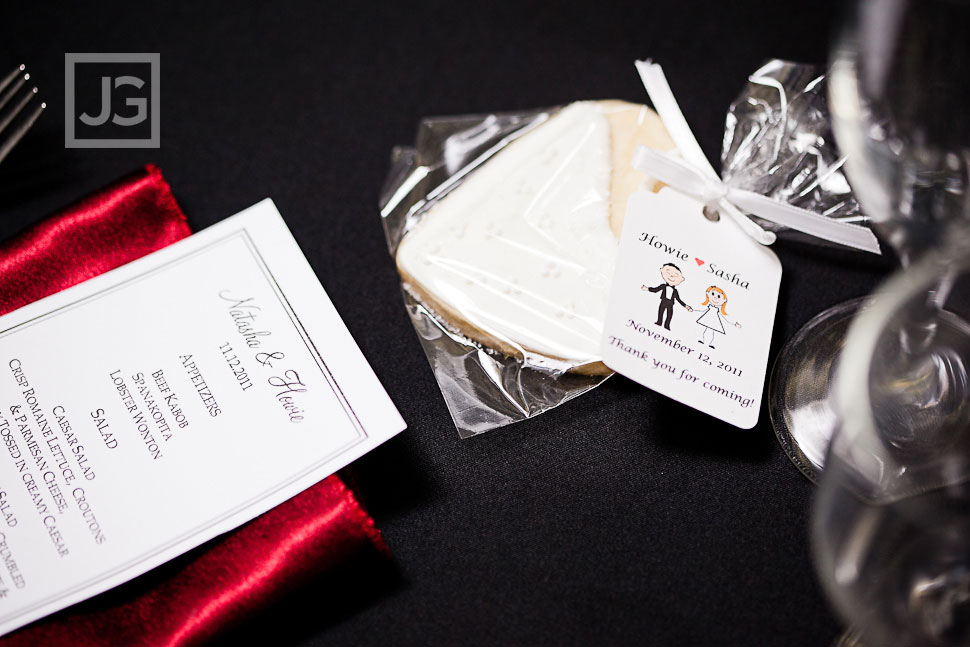 While Sasha and Howie were doing their first dance, another set of young love blossomed on the dance floor as well.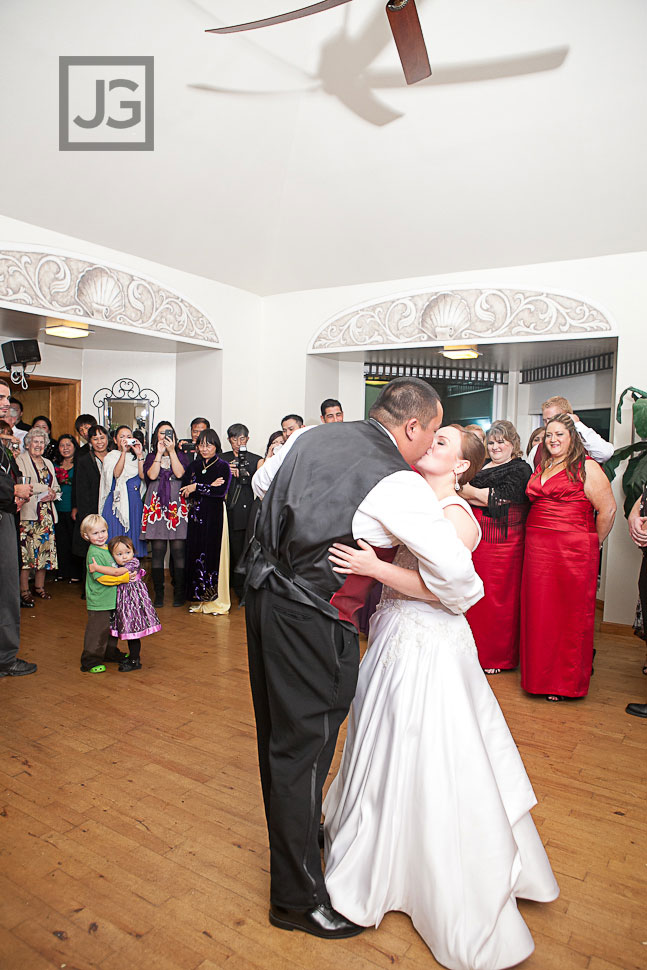 These two were SUPER cute!! They held each other's hands and danced all by themselves!! Sasha and Howie, they totally stole your show!!! LOL.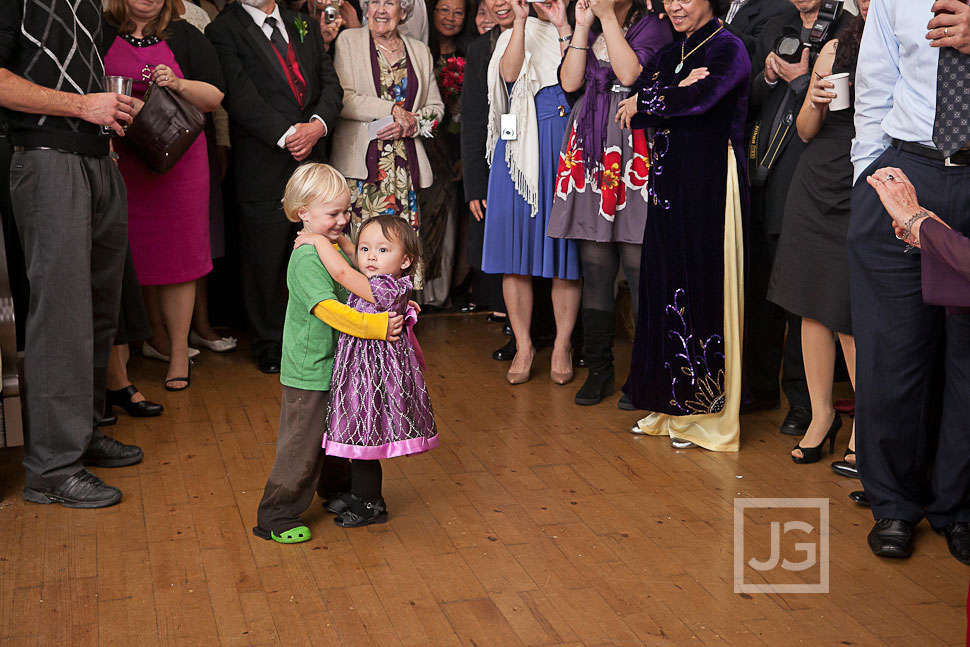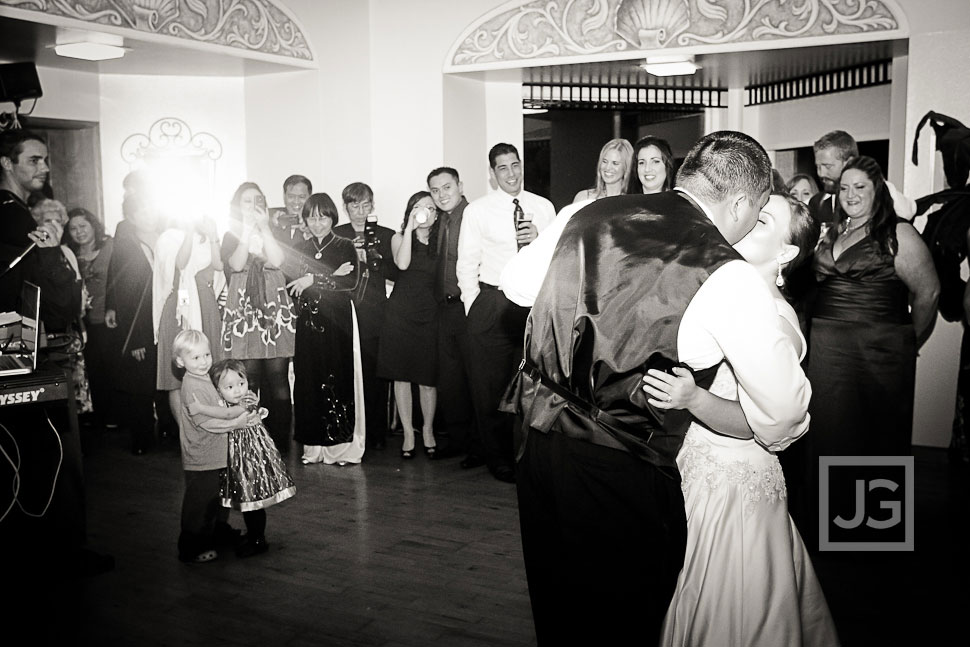 Father/Daughter and Mother/Son dance.

Bouquet and Garter Toss…

And the winners…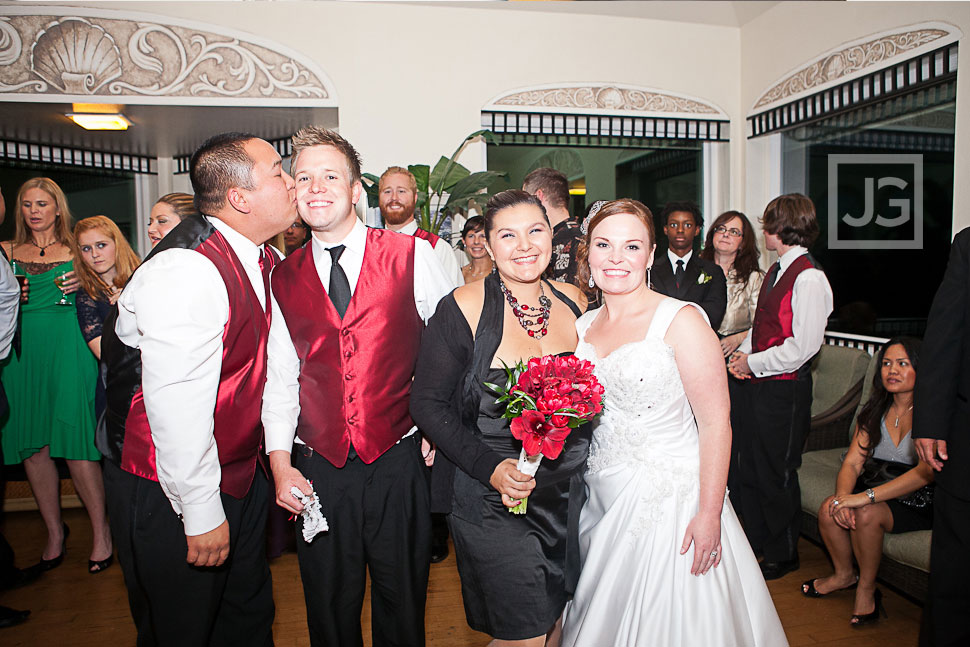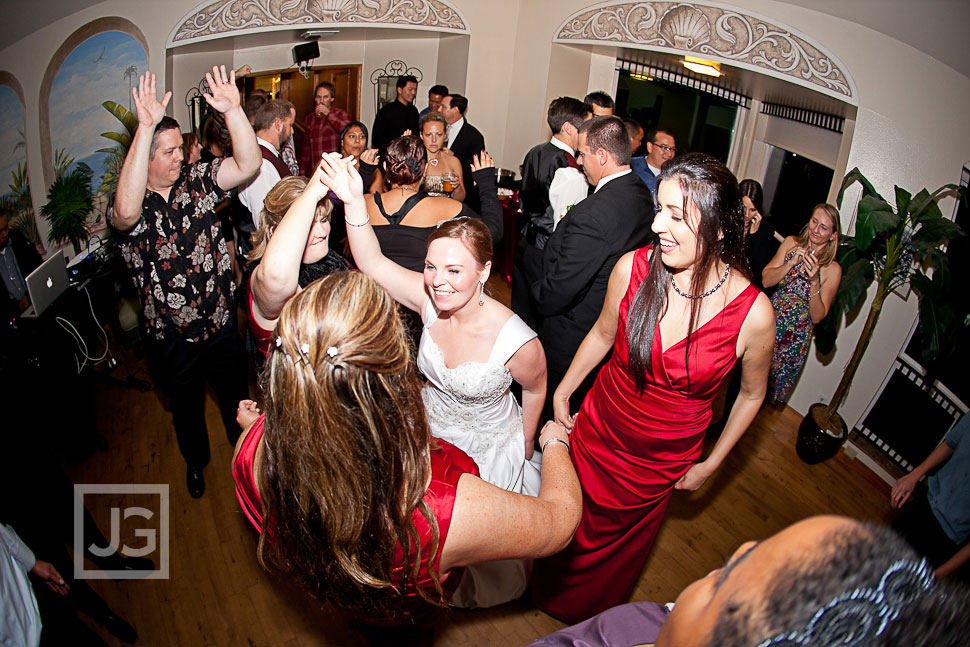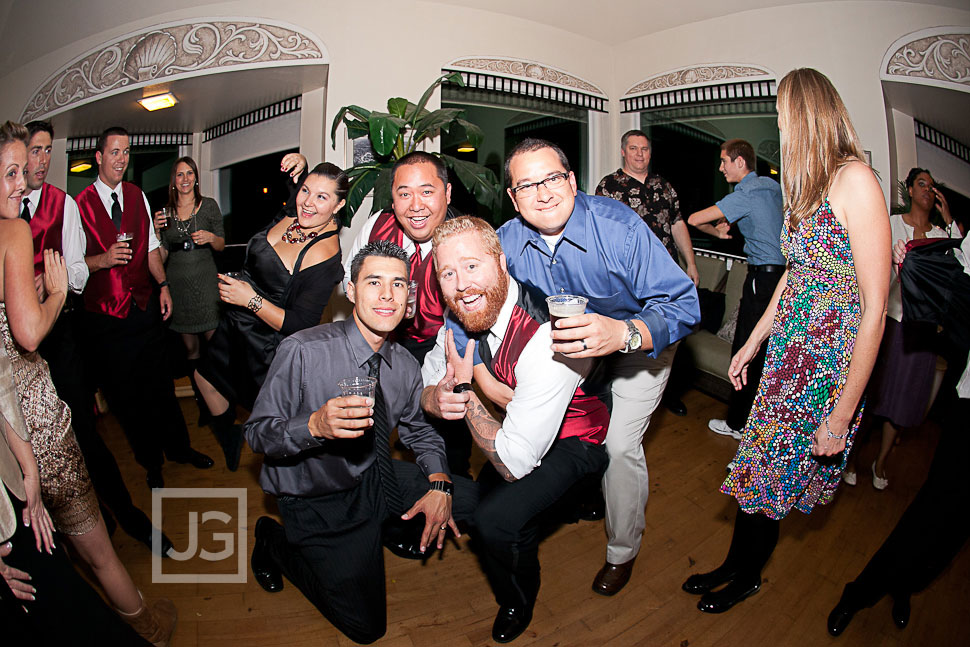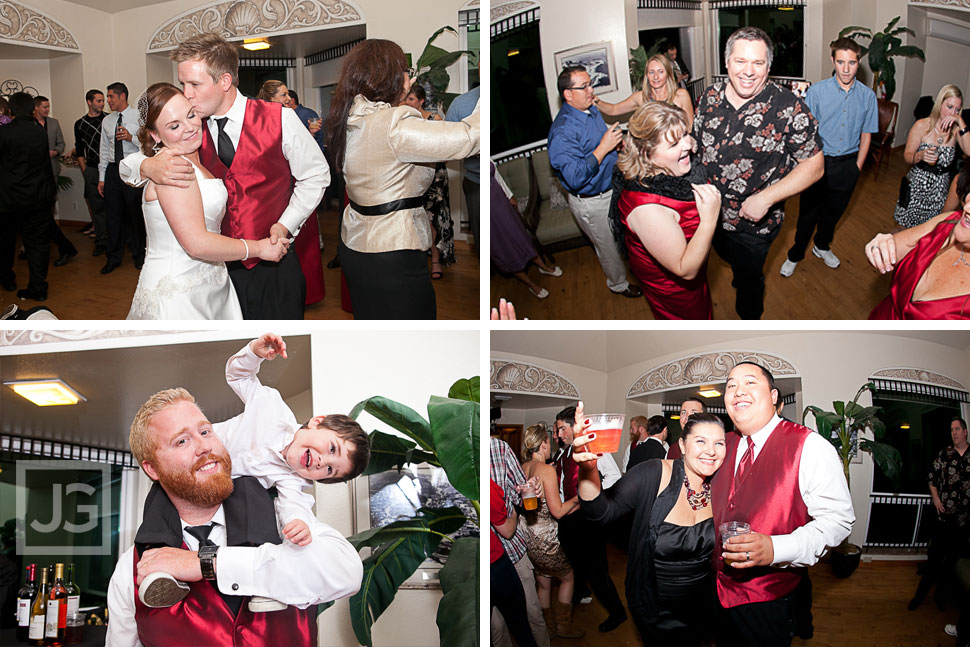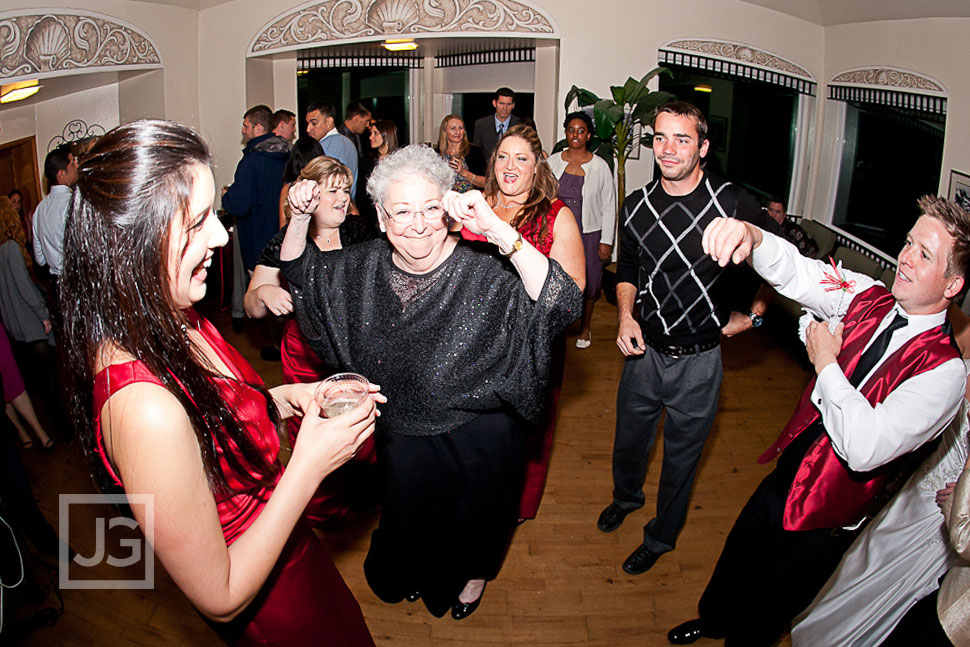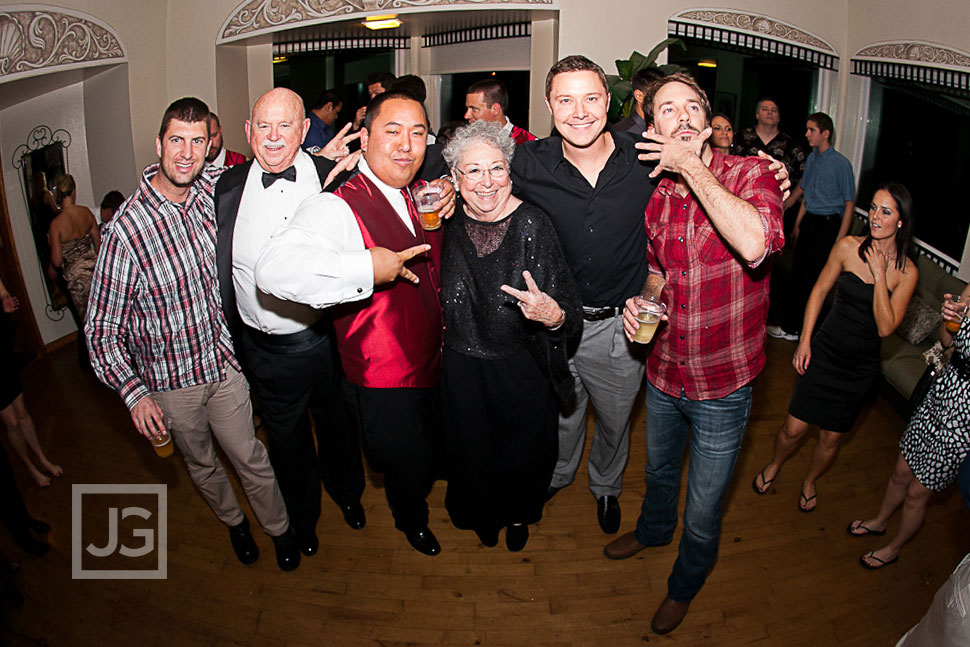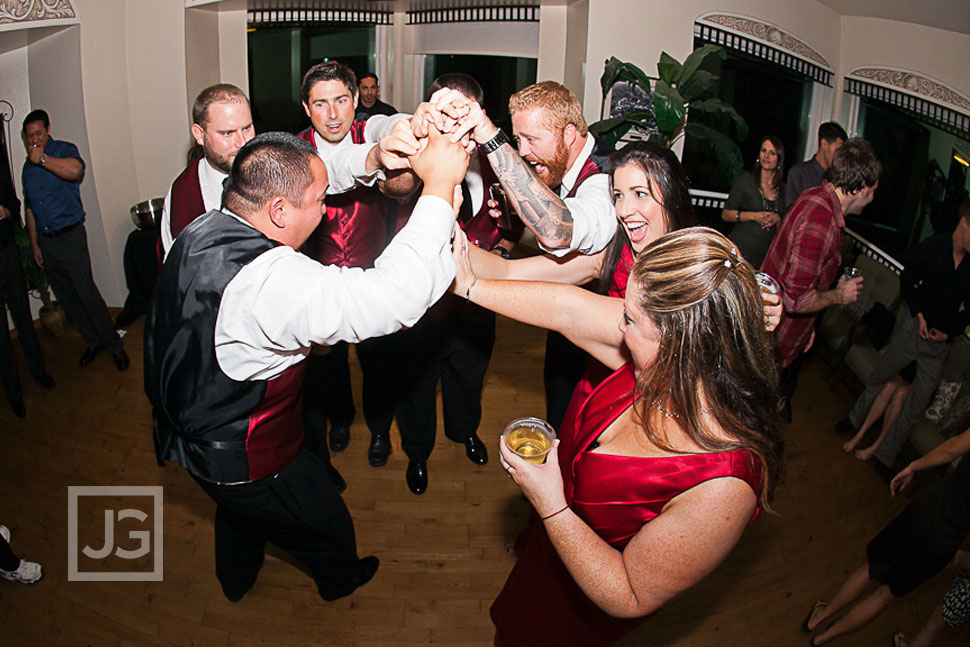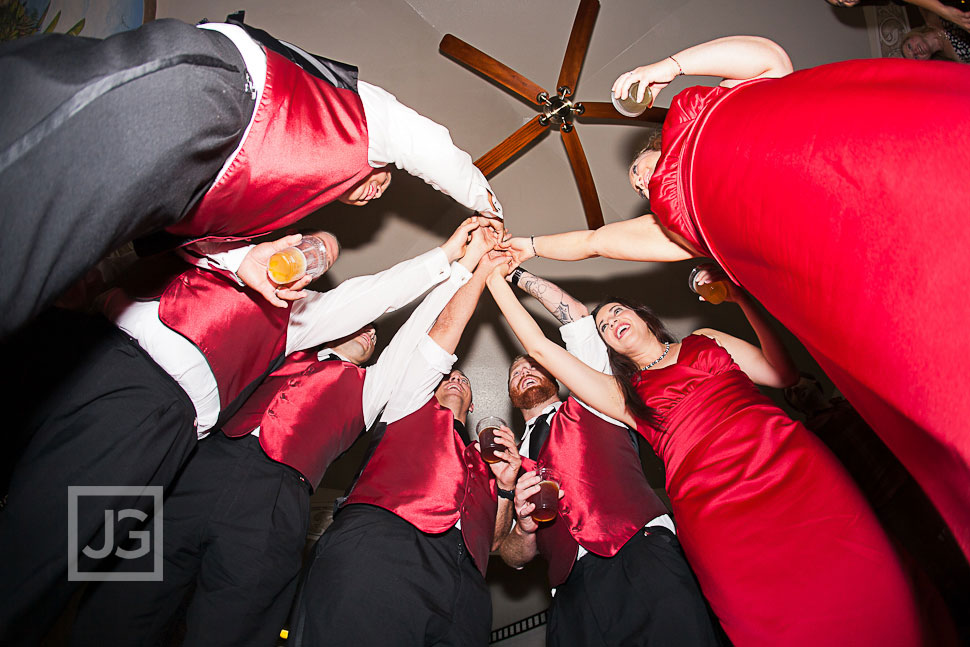 San Juan Capistrano Wedding Photography
A couple weeks after their actual wedding, we did their wedding photography at the gorgeous Mission San Juan Capistrano!!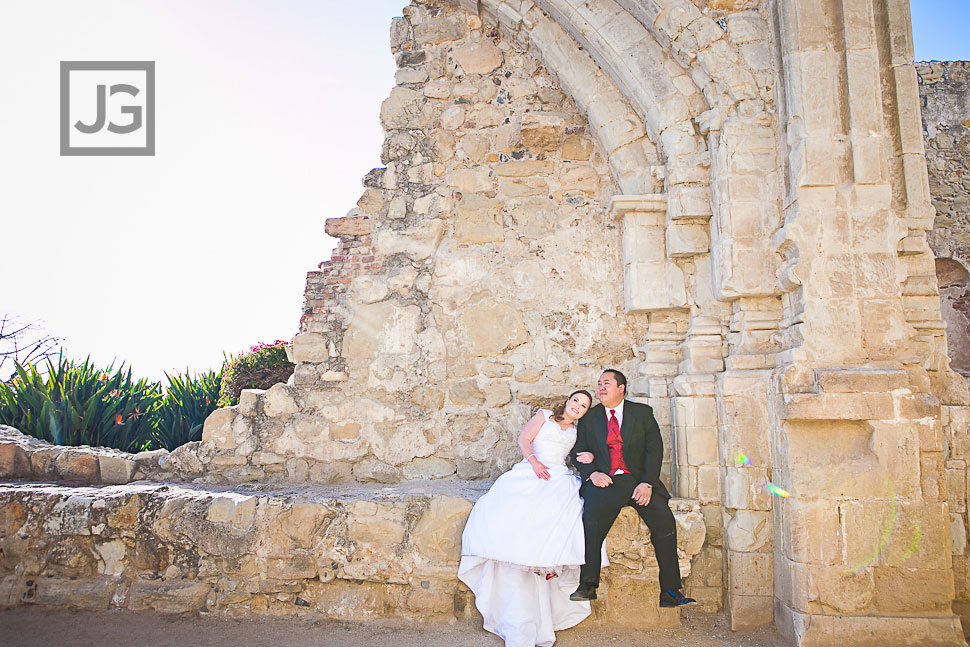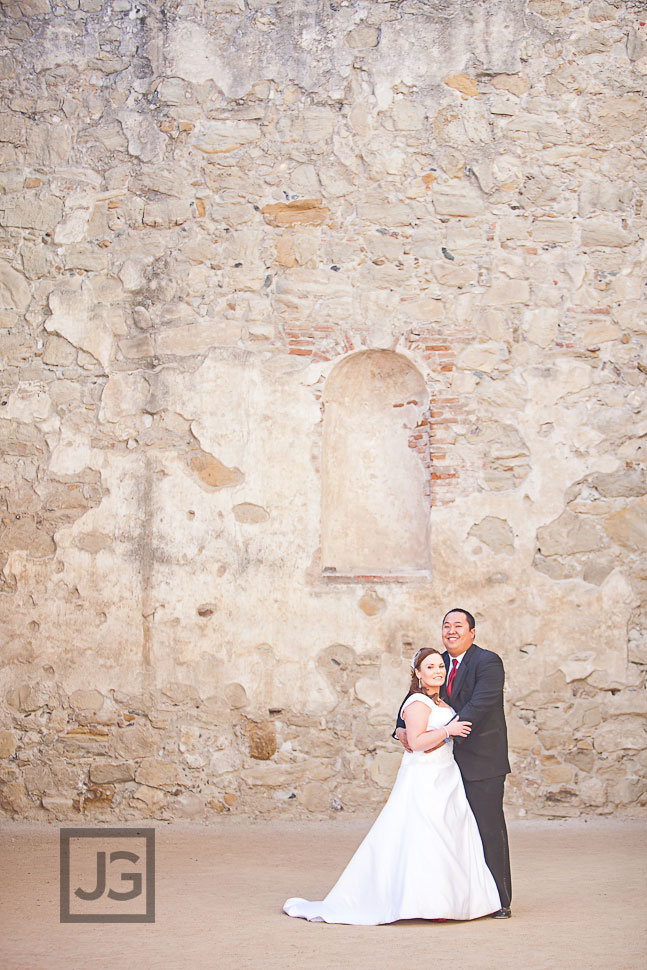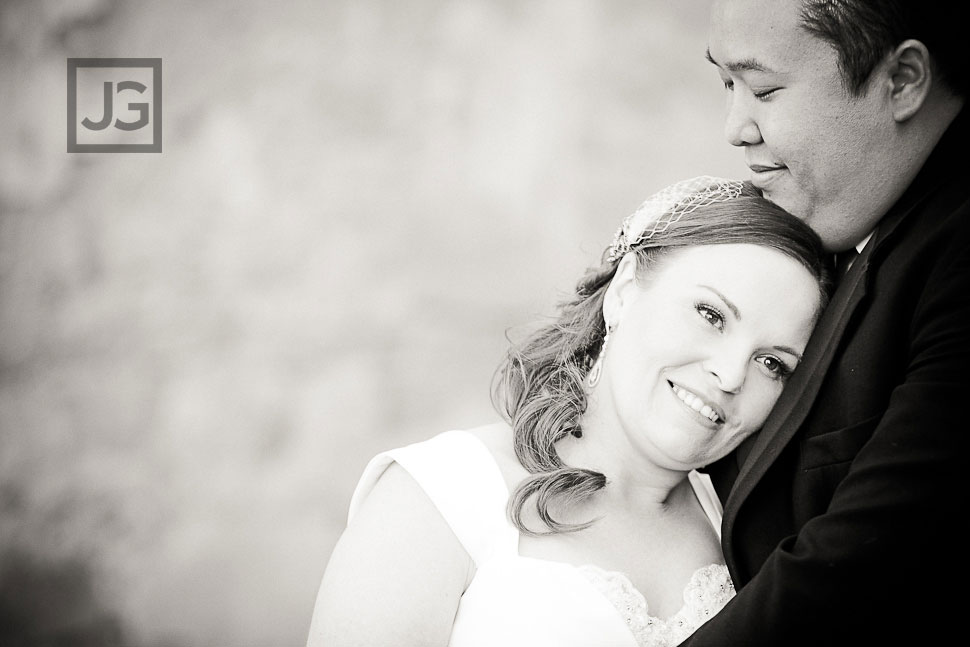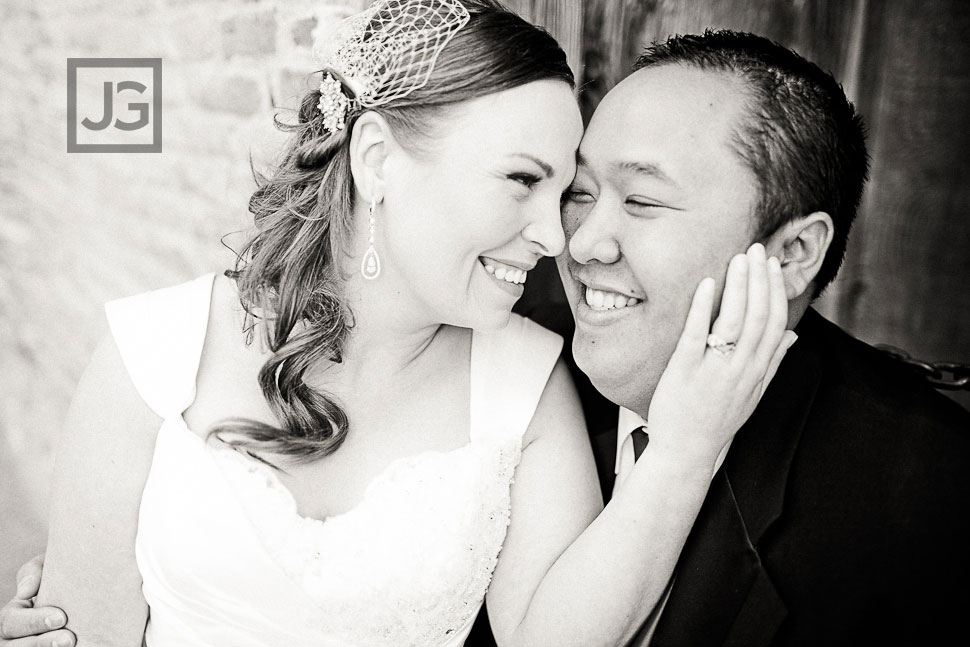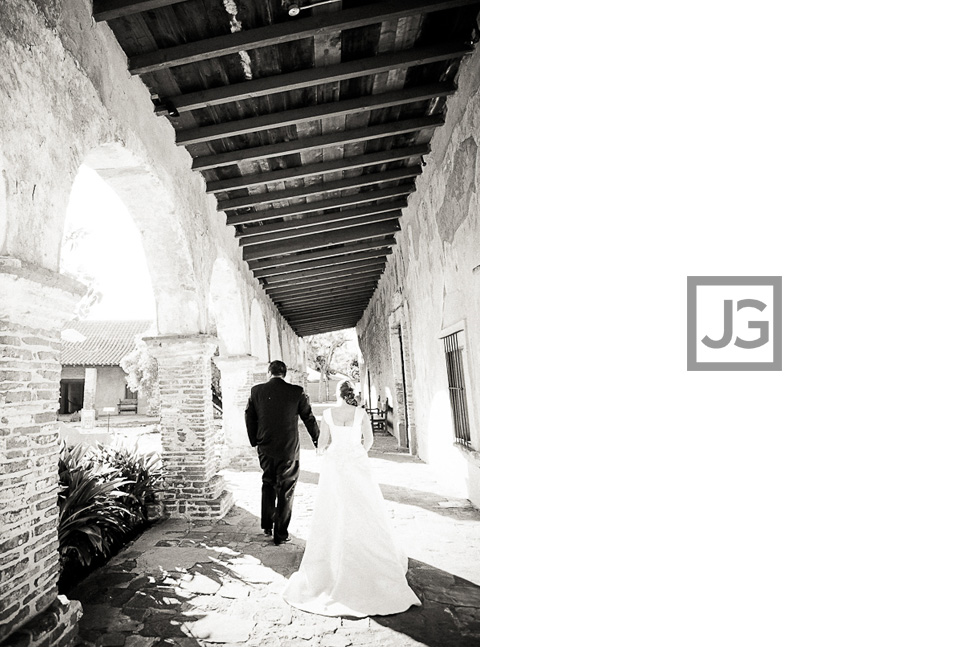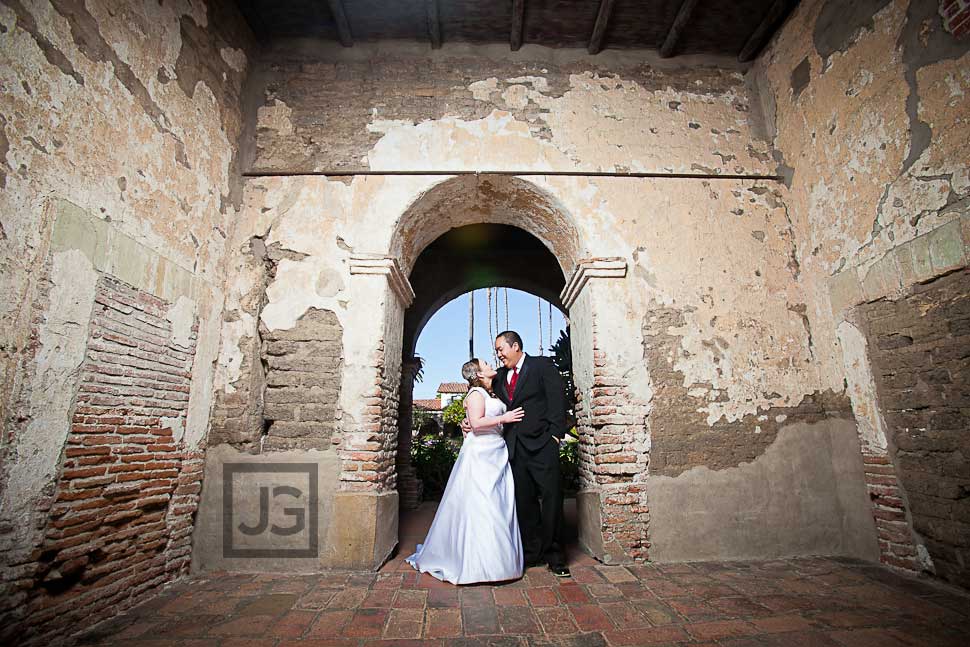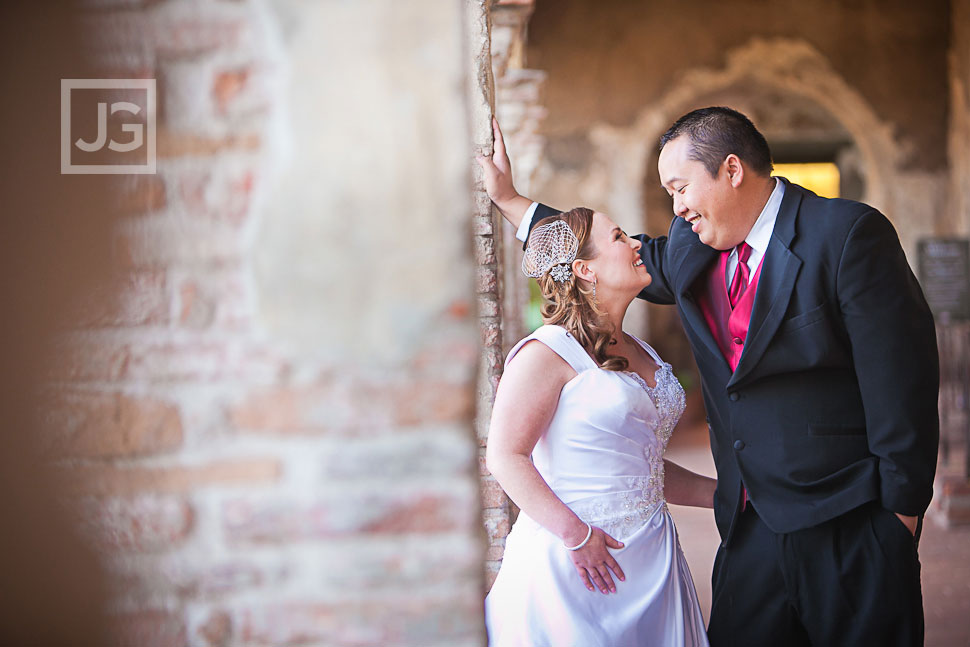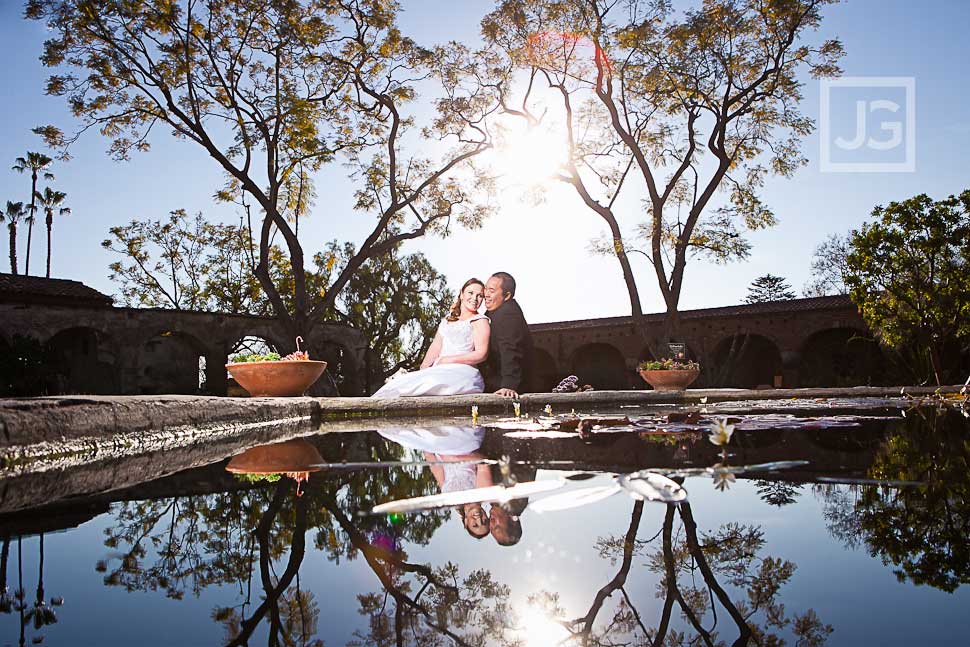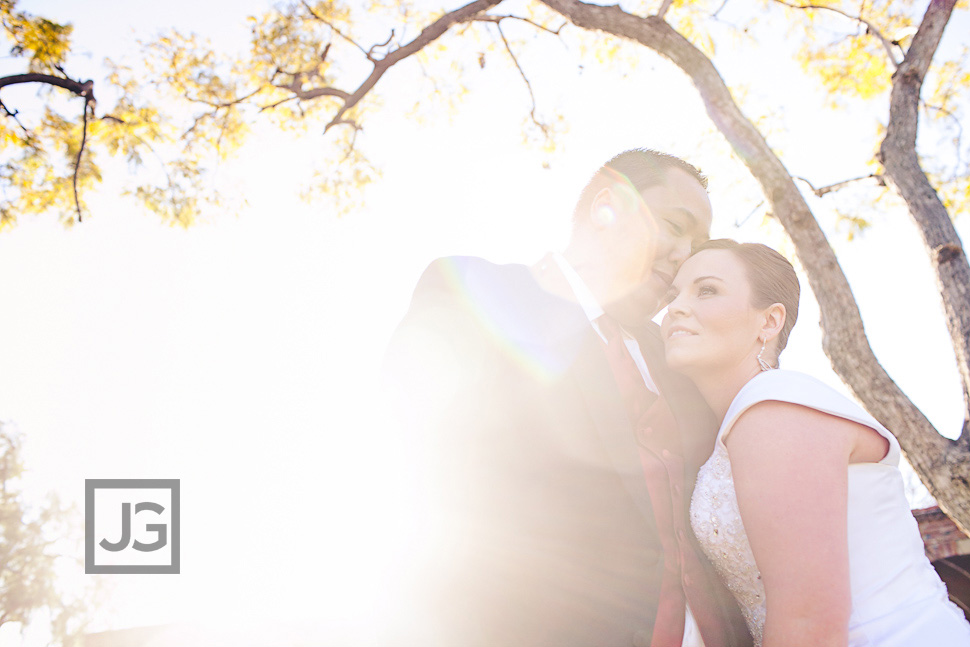 Laguna Beach Wedding Photography
Wedding Photography in Laguna Beach is always the best!!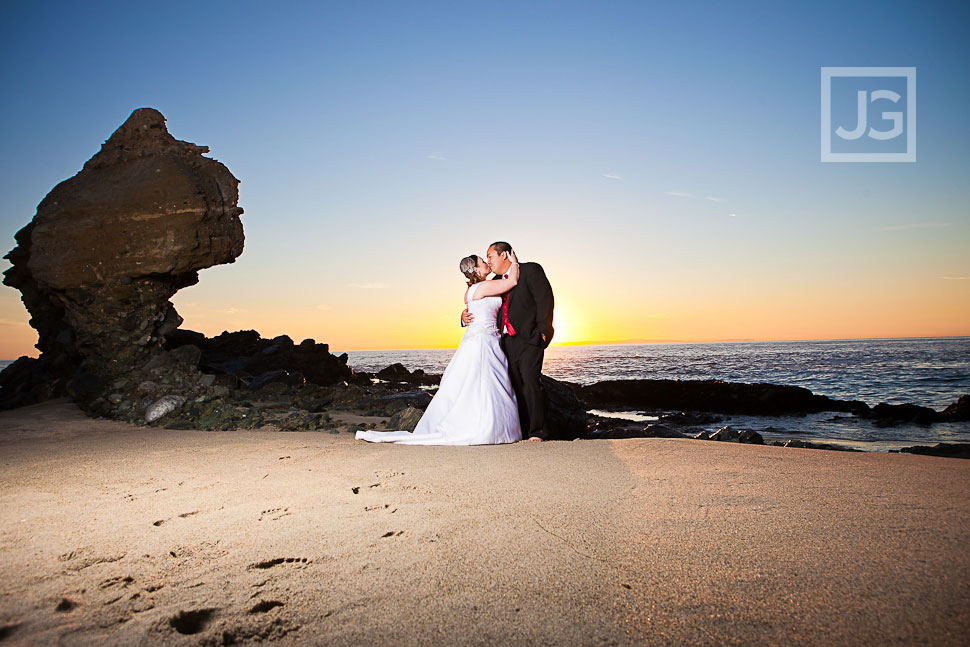 LOL… i HAD to put this one in!! Sasha's facial expression is just priceless!!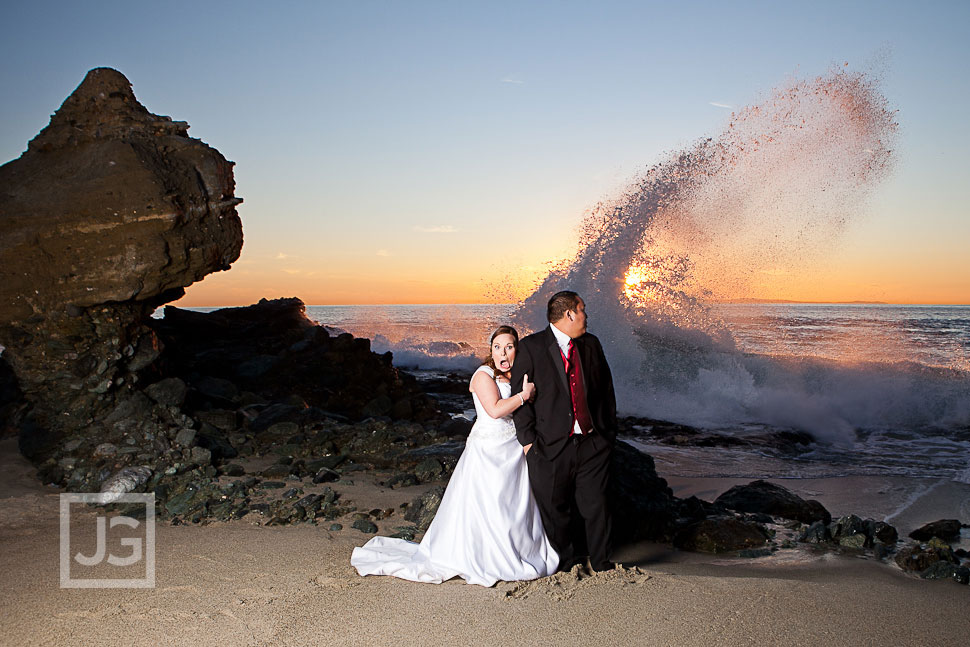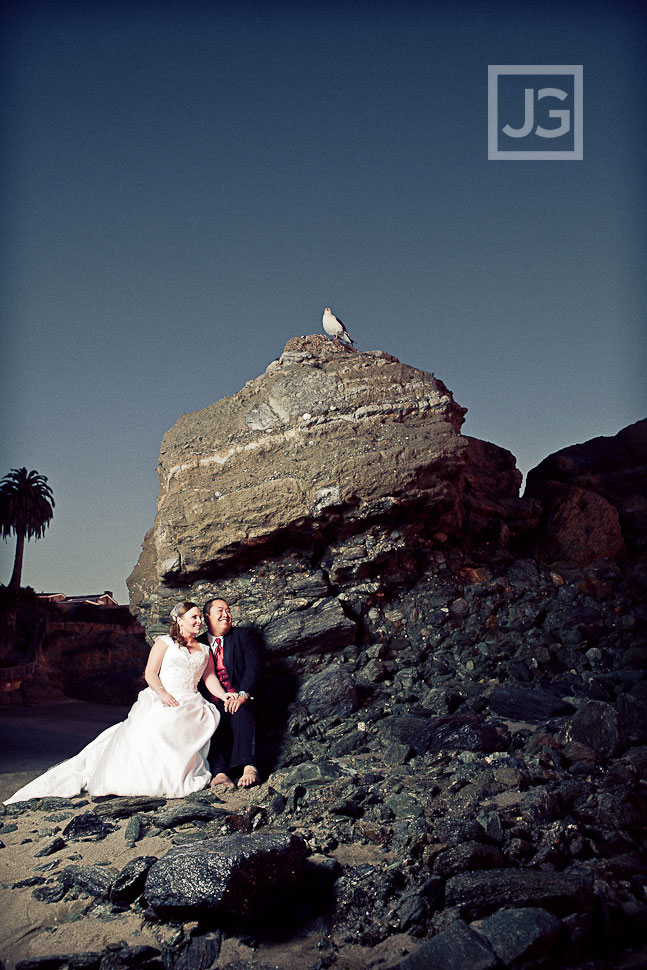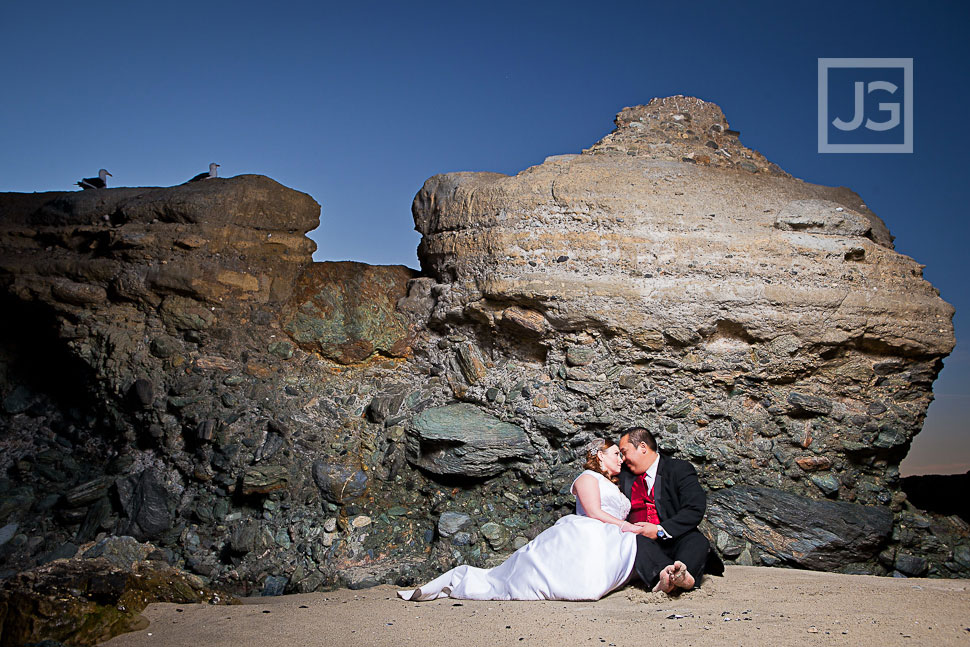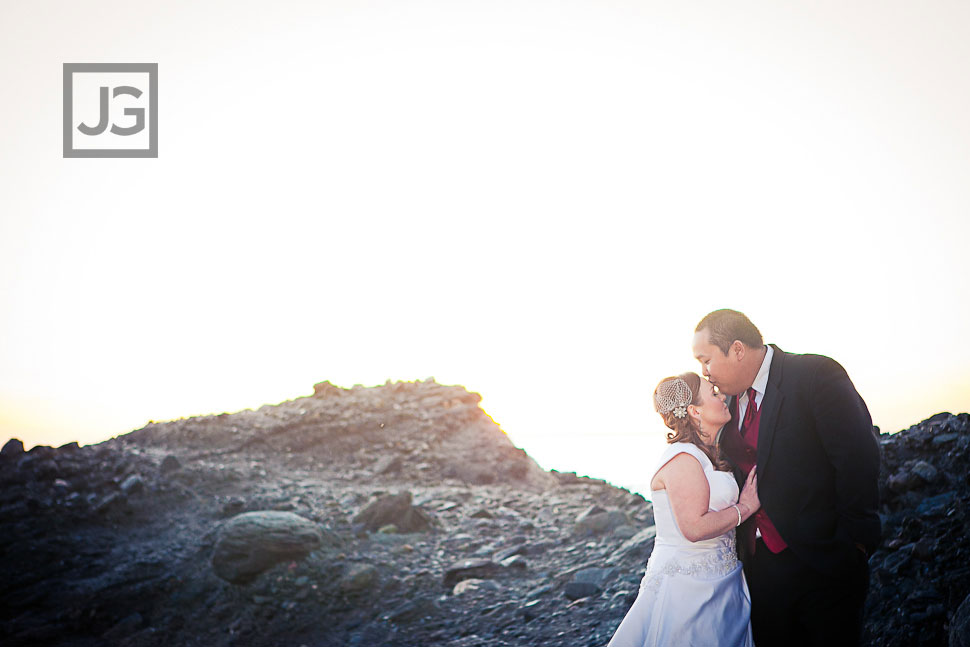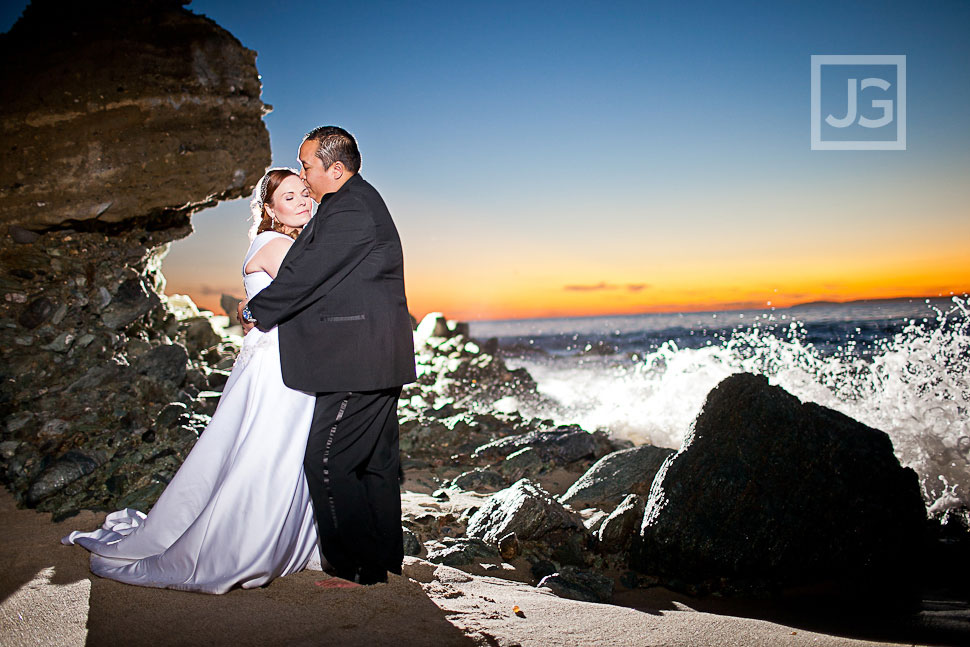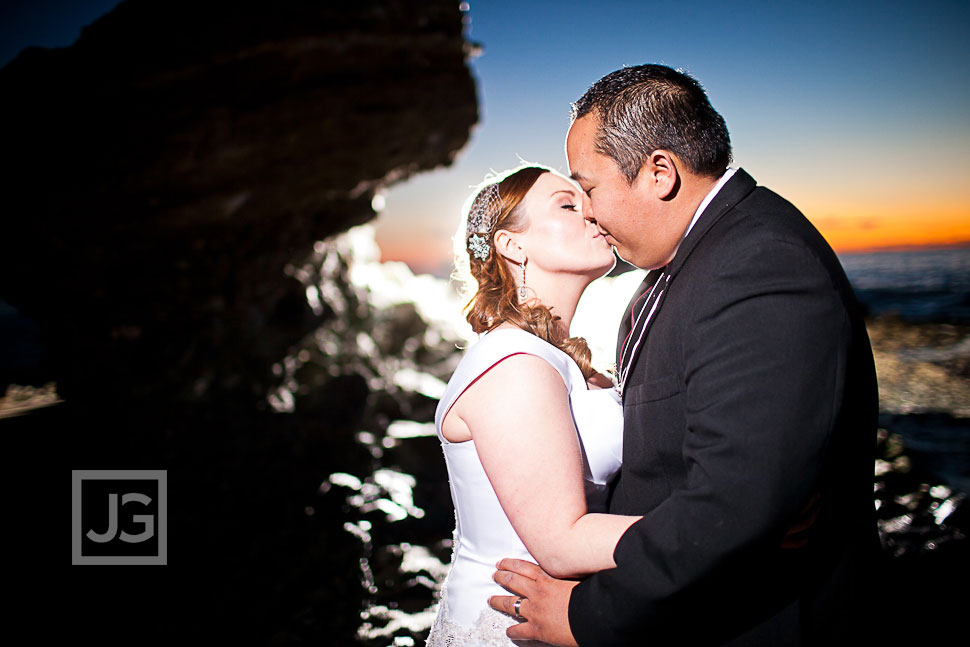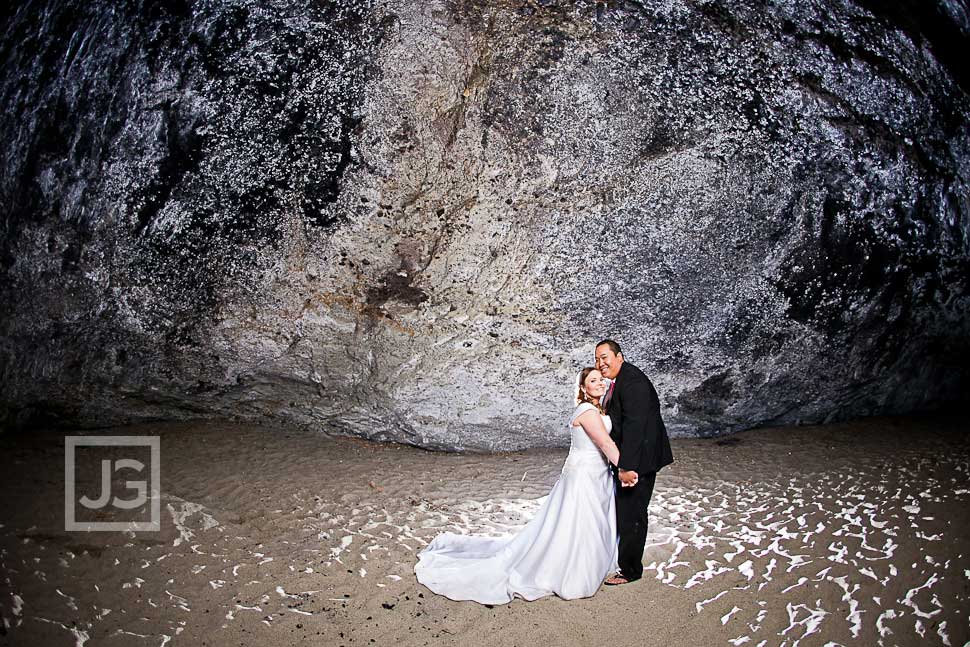 This article showcases La Jolla wedding photography on a rainy day. Sasha + Howie had their wedding at the La Jolla Cove Bridge Club, right on the cliffs of La Jolla. Unfortunately, it rained that day and the entire ceremony had to be moved indoor (in the reception hall. People made it work, and the love of their friends and family made it a beautiful wedding. We offered a free day-after session, since the rain had affected our ability to get photos. We did the couples session on a sunny day two weeks later at Mission San Juan Capistrano and Laguna Beach.