Micro Weddings during Coronavirus (COVID19)
Here is the micro wedding photography of Tiffany and Tam. They were supposed to have a large wedding ceremony and reception, but, you know, 2020…. So they pushed back their large wedding to 2021 and decided to have a microwedding at Padua Hills Theatre, a beautiful wedding venue tucked away in the hillside of Claremont (east Los Angeles County). This is a great example of having a safe, socially distanced wedding during these crazy times of coronavirus and Covid19, masks and all.
Micro Wedding Preparation at Padua Hills Theatre
We have the whole micro wedding at Padua Hills Theatre, taking place over 3 hours for everything below.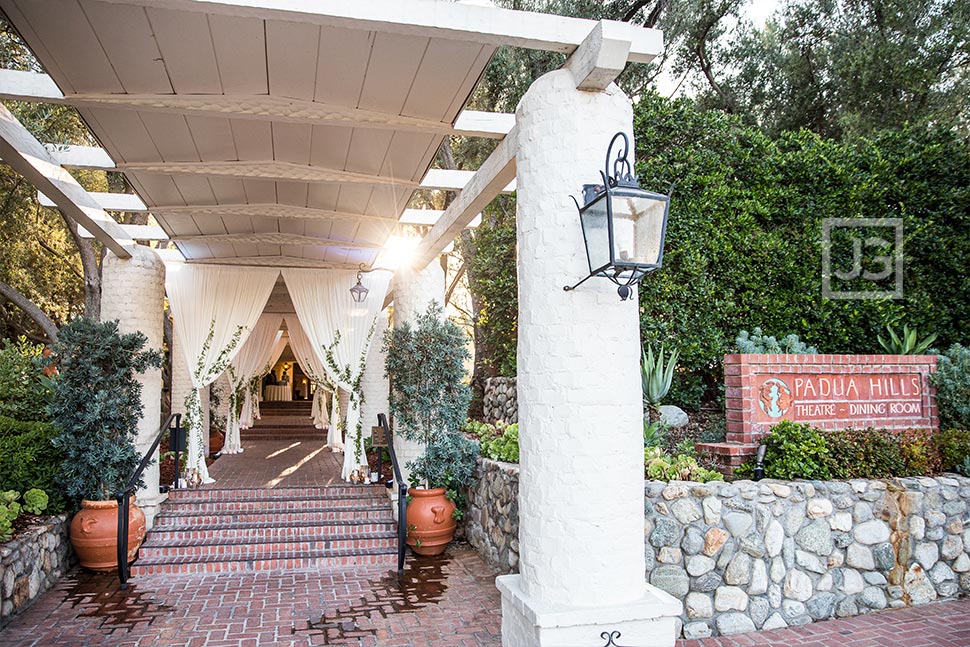 We had the groom get ready in one of the large (and safely unoccupied) halls.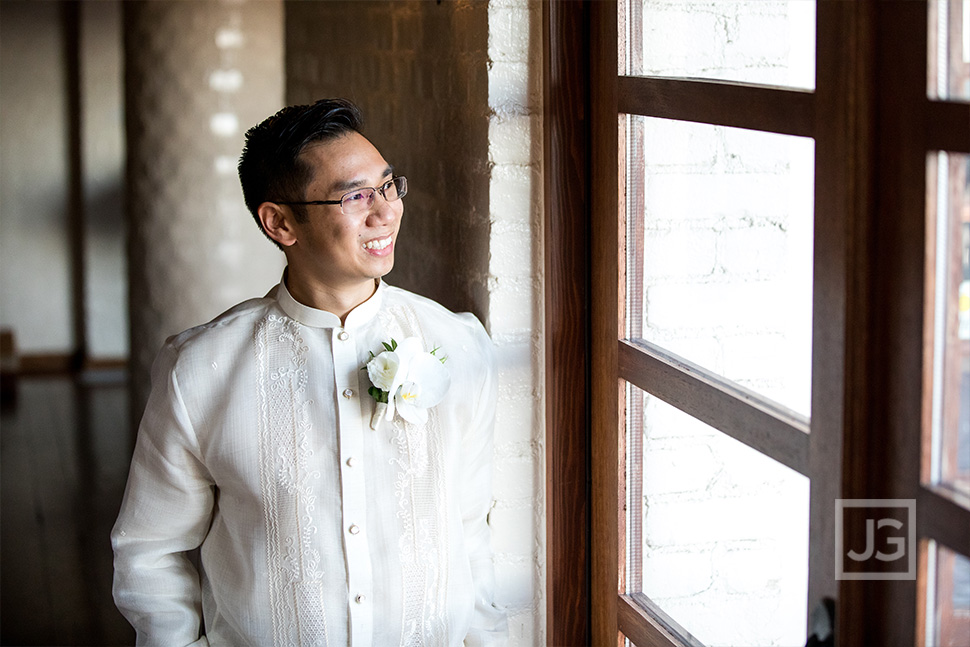 Our bride got ready in the bridal ready room. There is a good amount of space for a small group (up to 5-6 people), which is made safer with proper mask usage. For a micro wedding during coronavirus, everyone wears masks so our bride and groom don't have to.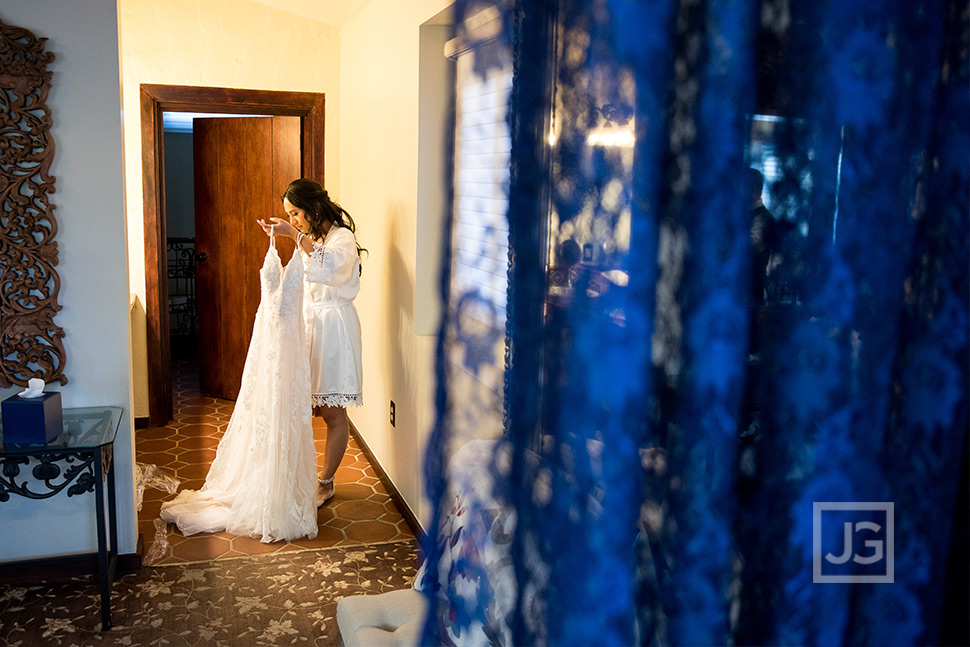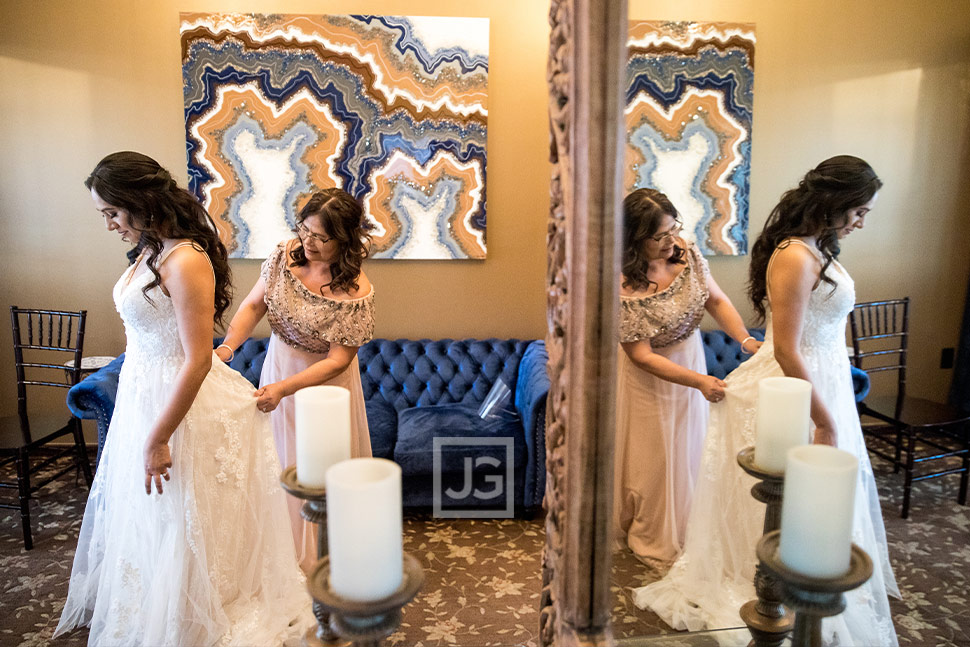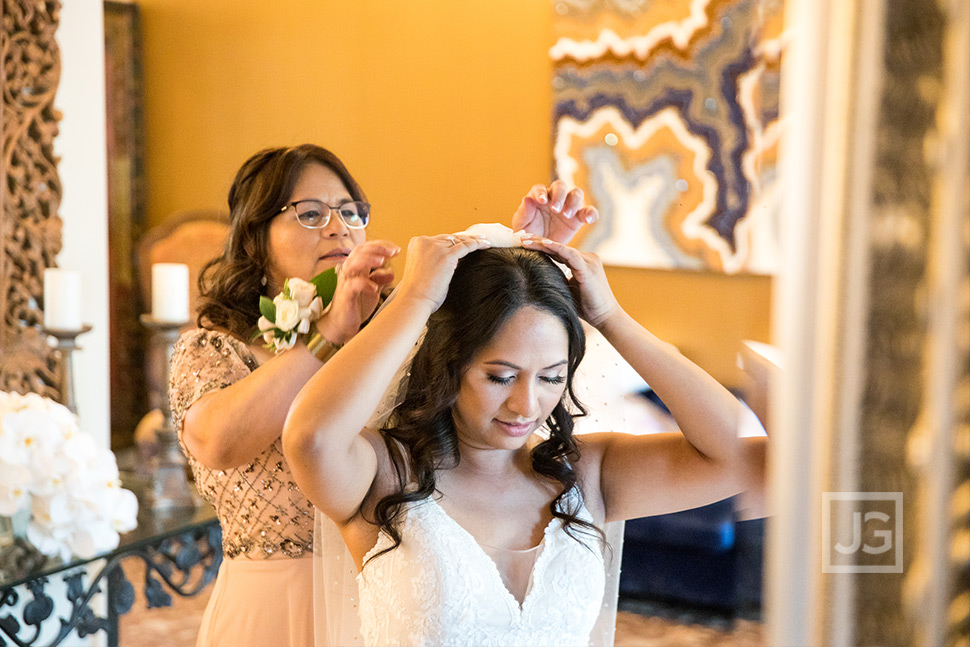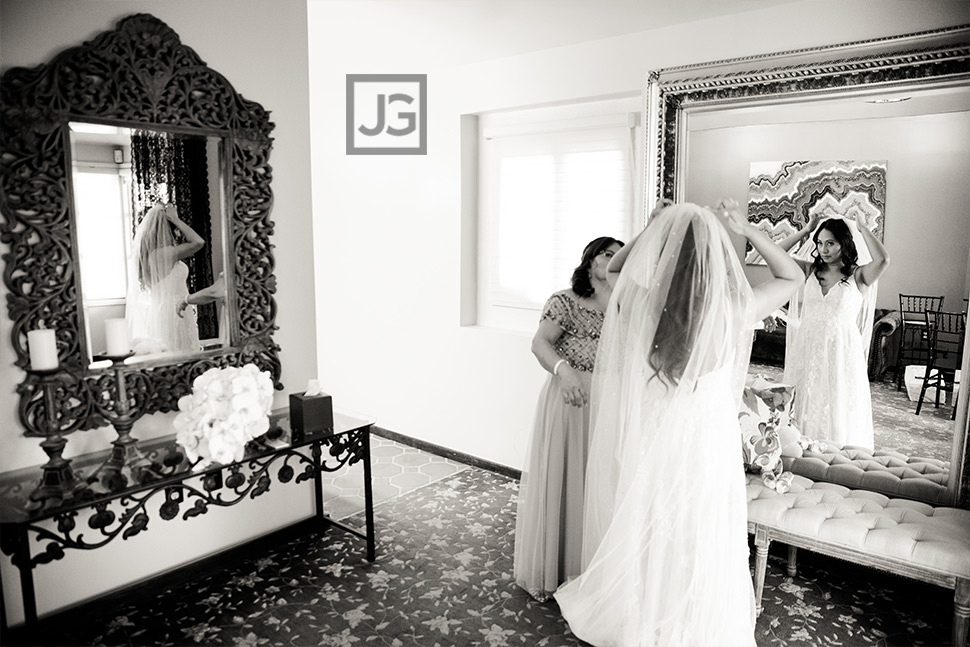 A Socially Distanced Micro Wedding Ceremony
Here is the micro wedding ceremony layout showing how one can socially distance and still enjoy a personal and intimate event during coronavirus. The chairs are well separated and physically distanced, with the large space that could hold 200 people only holding 20 people. The large trees offer ample shade, providing an ideal outdoor wedding venue space.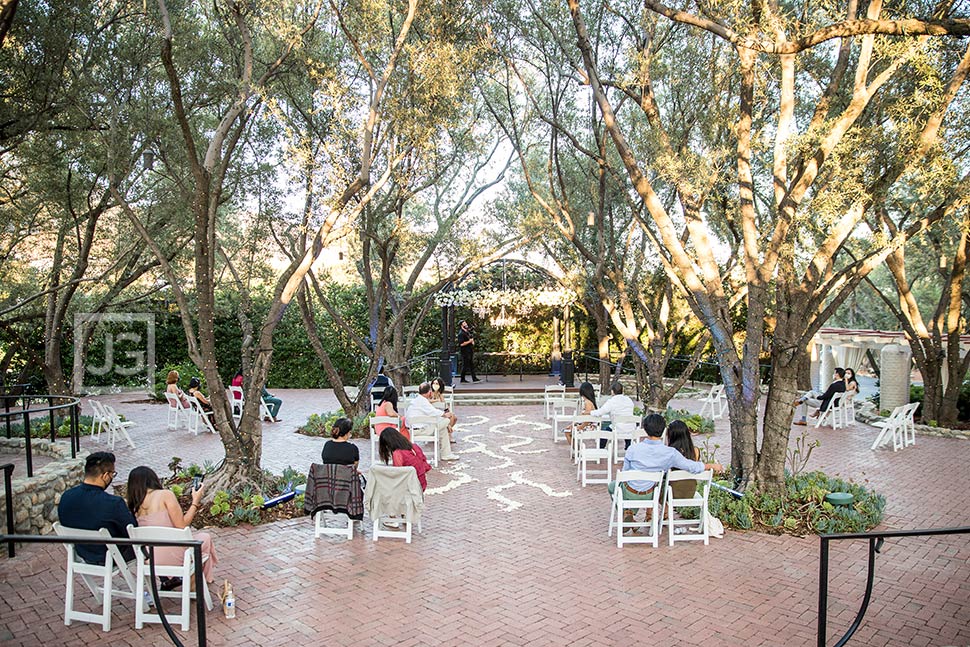 Here are the amazing flowers done on the large metal gazebo. The gorgeous floral arrangements were done by Irises Designs.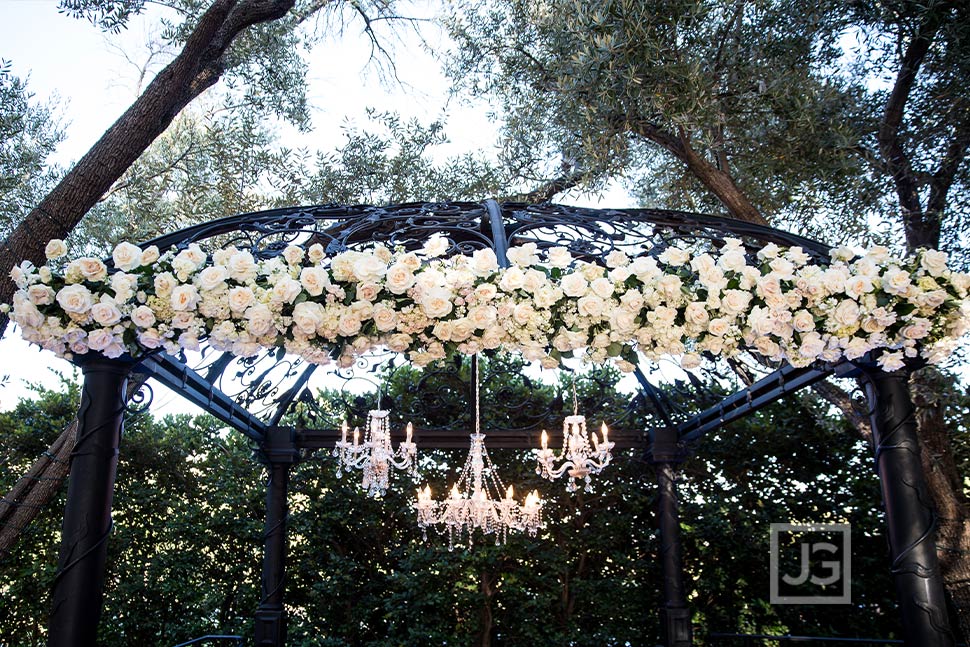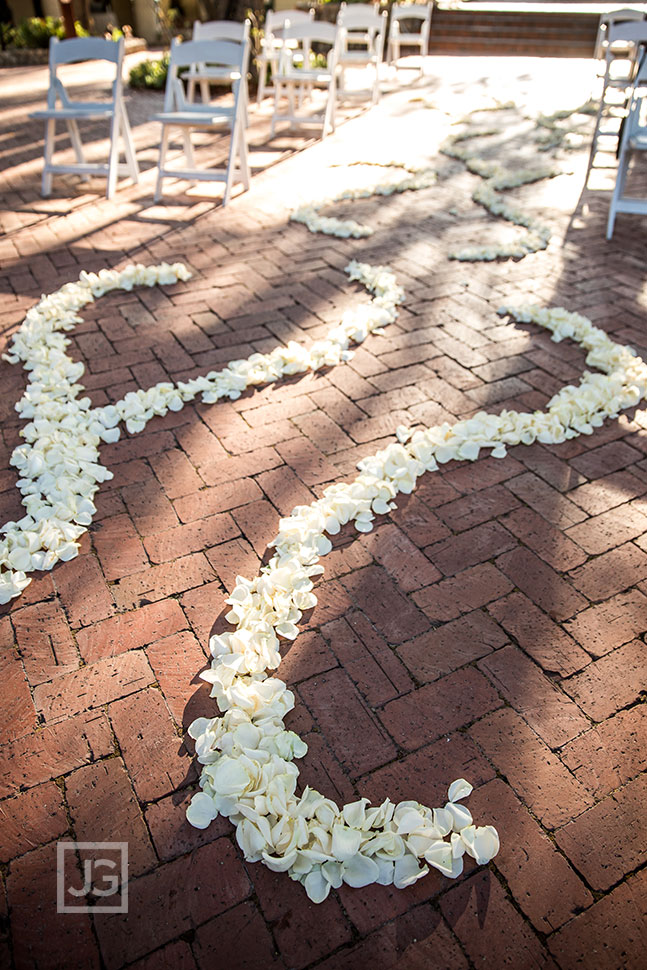 Here is another wedding photo showing the social distancing in effect, where we can safely and responsibly have a wedding ceremony event with coronavirus (well, not WITH it but with it's limitations).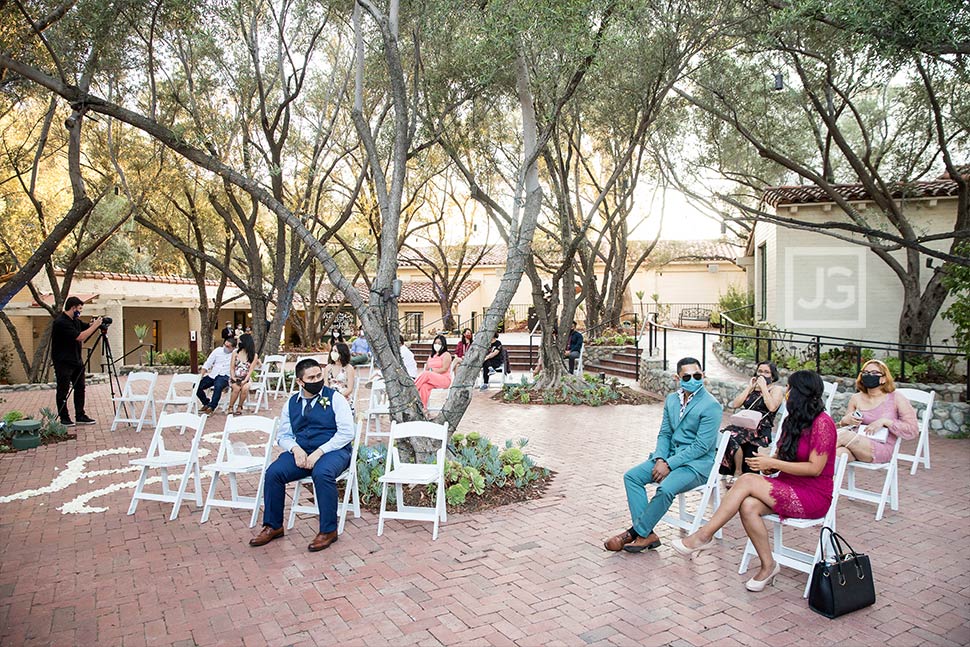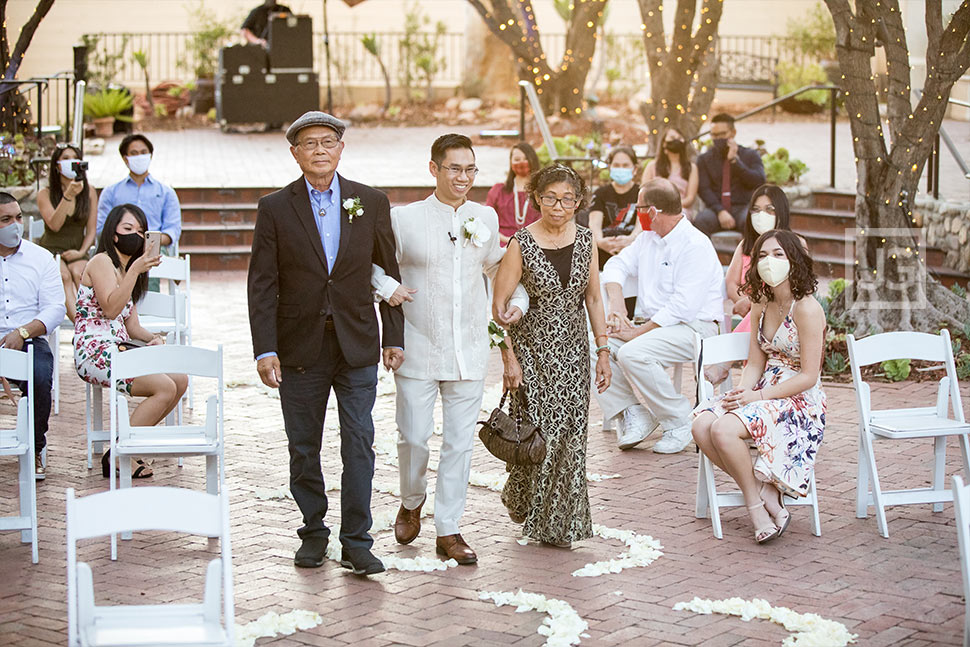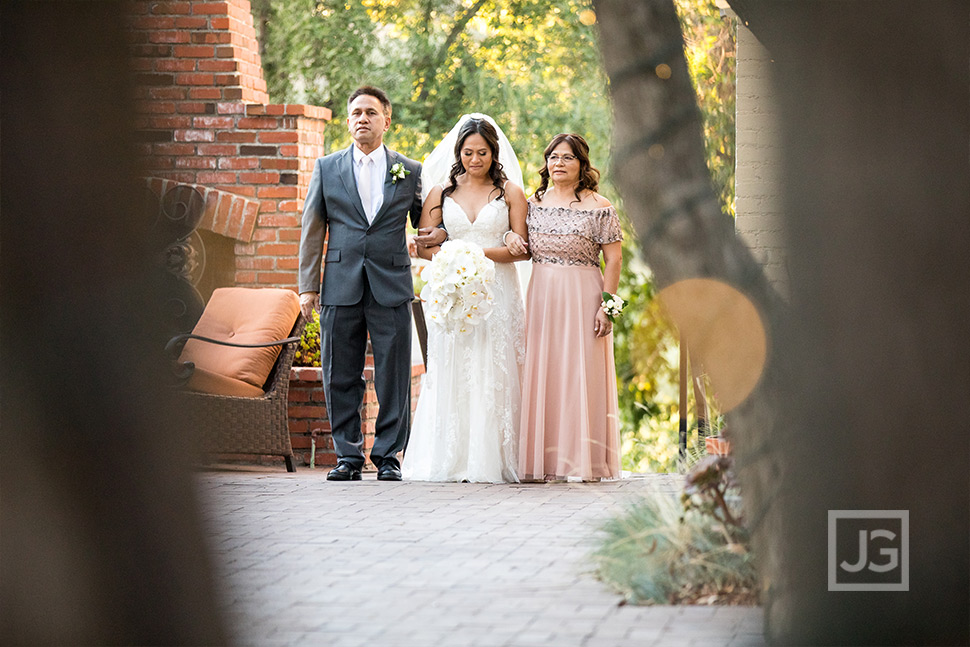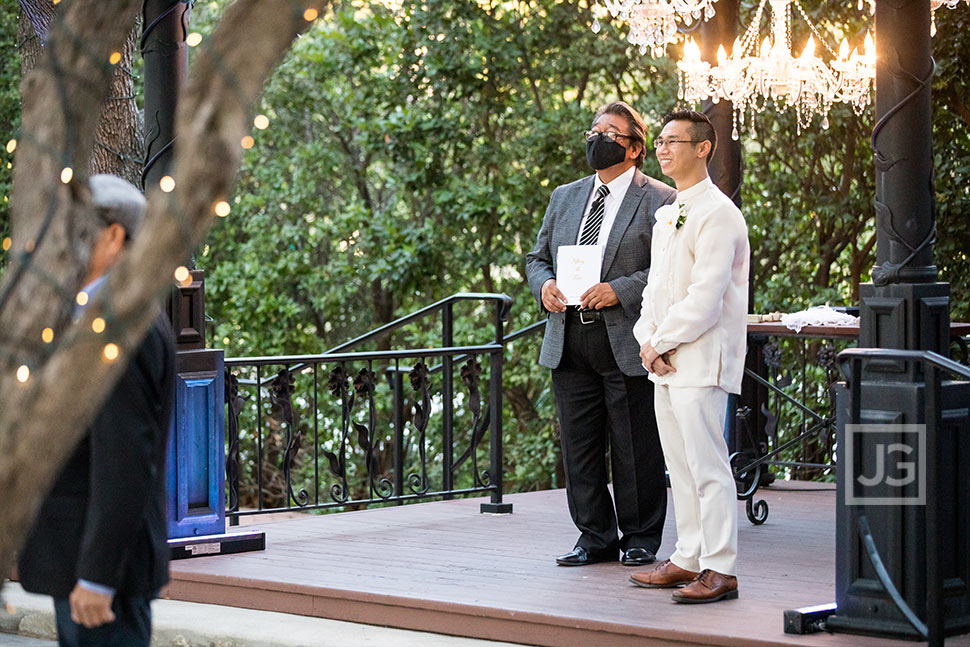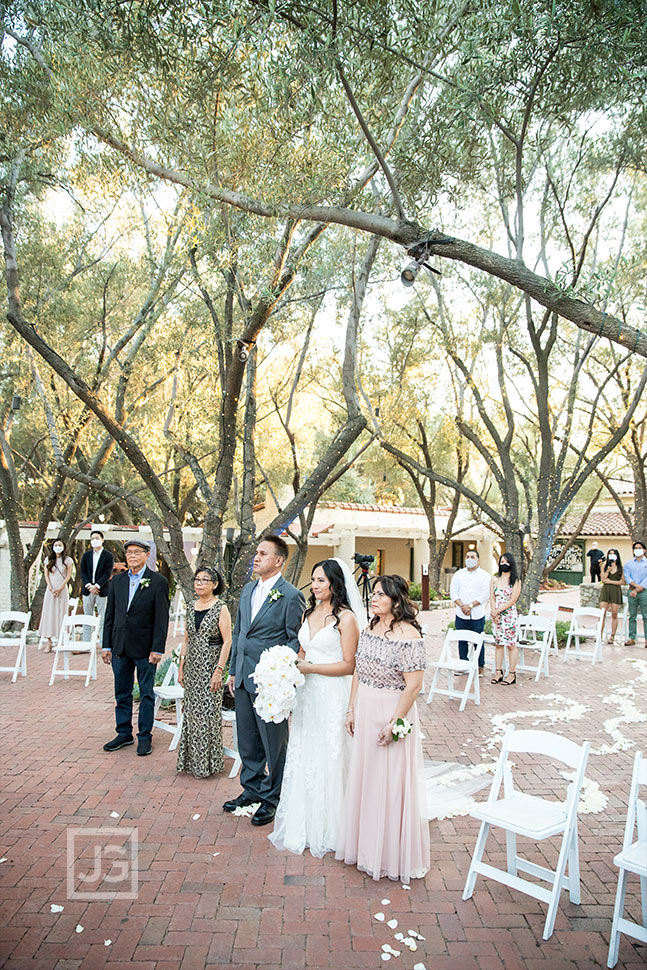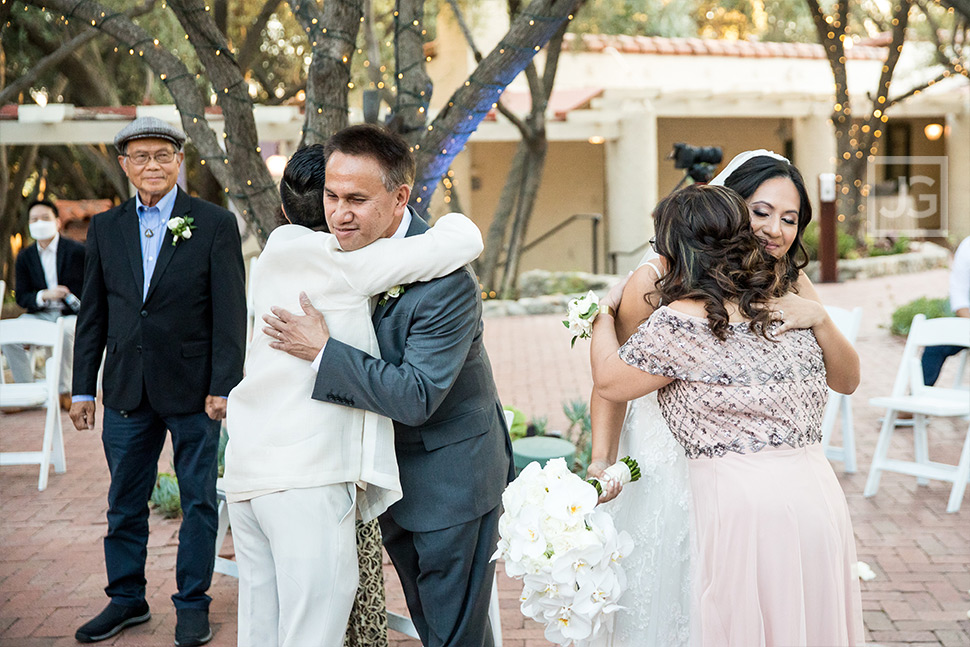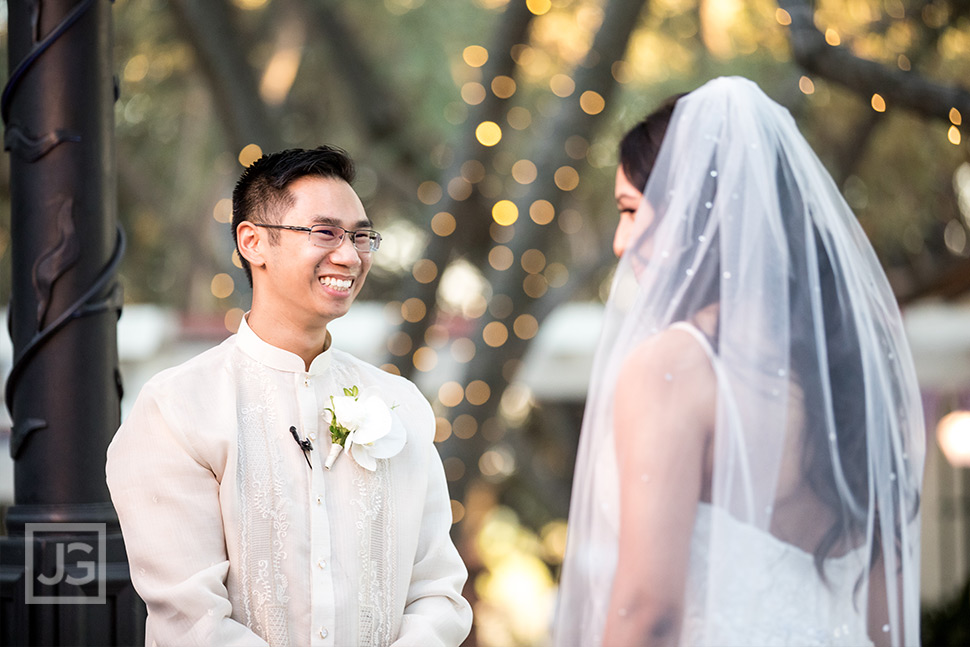 Just look at how lovely those chandeliers look under that gazebo!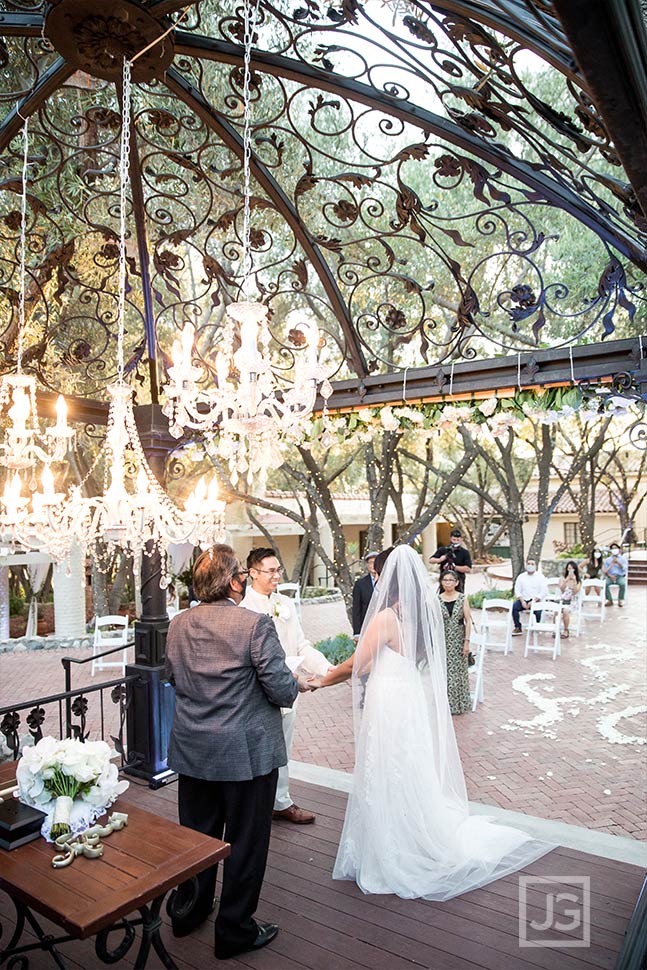 These chandeliers offer looks and light at the same time.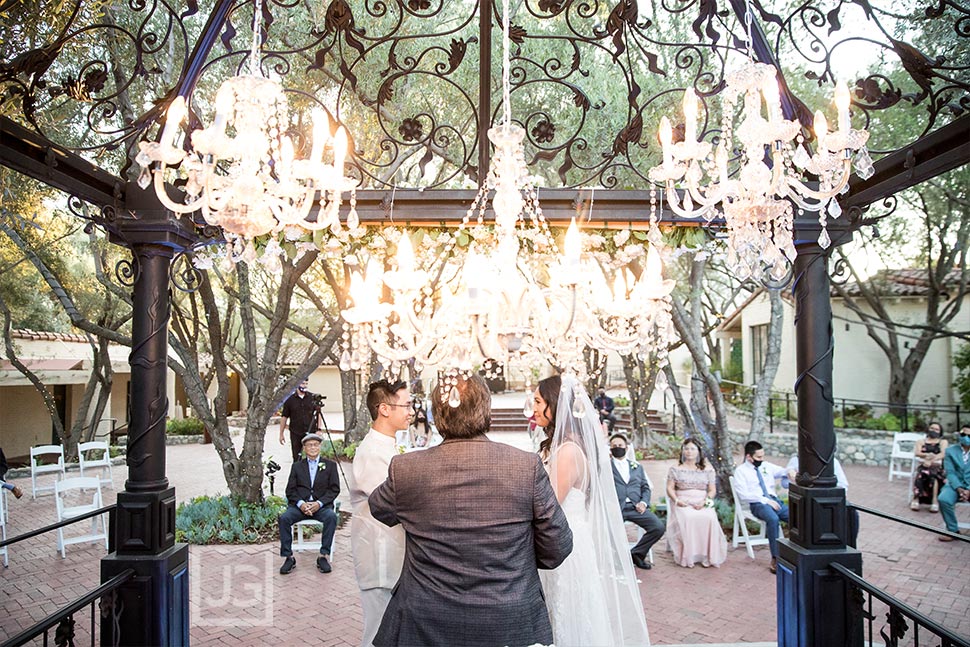 In the background, we can see all the guests wearing masks while physically distancing while outdoors. It's actually very safe from coronavirus in this type of setting.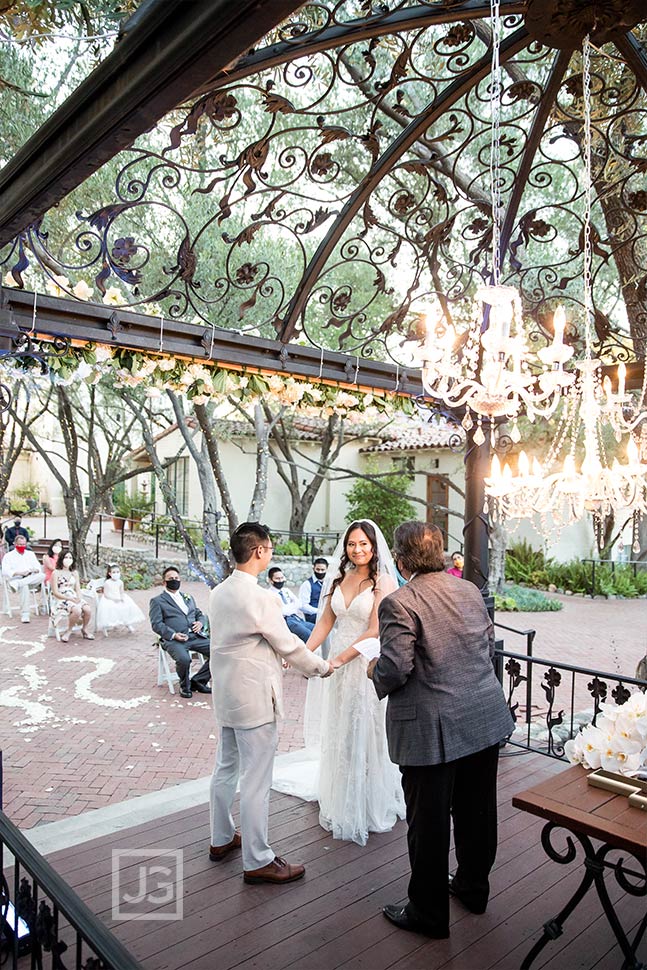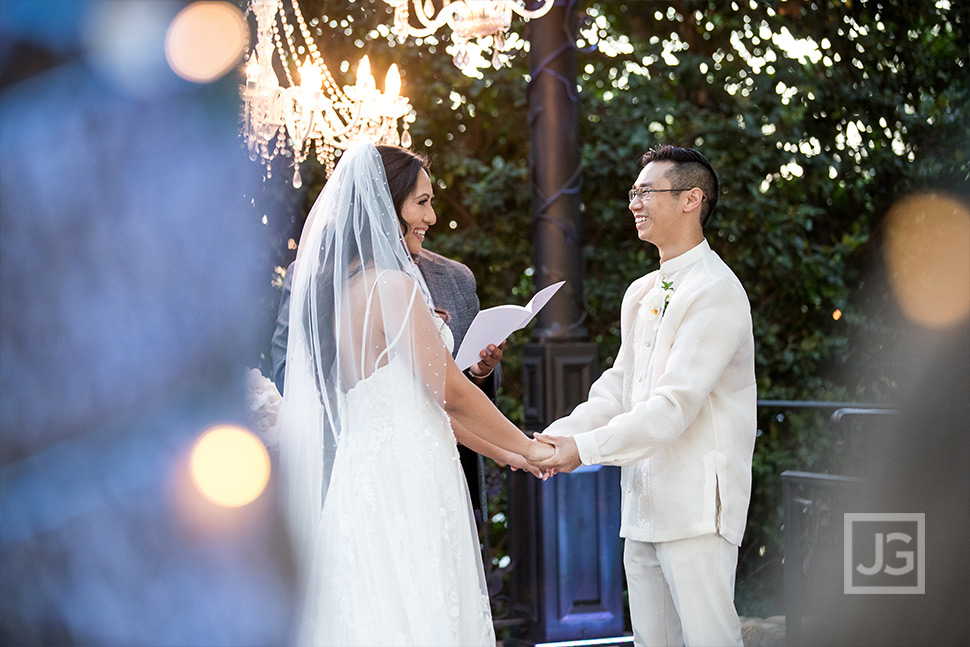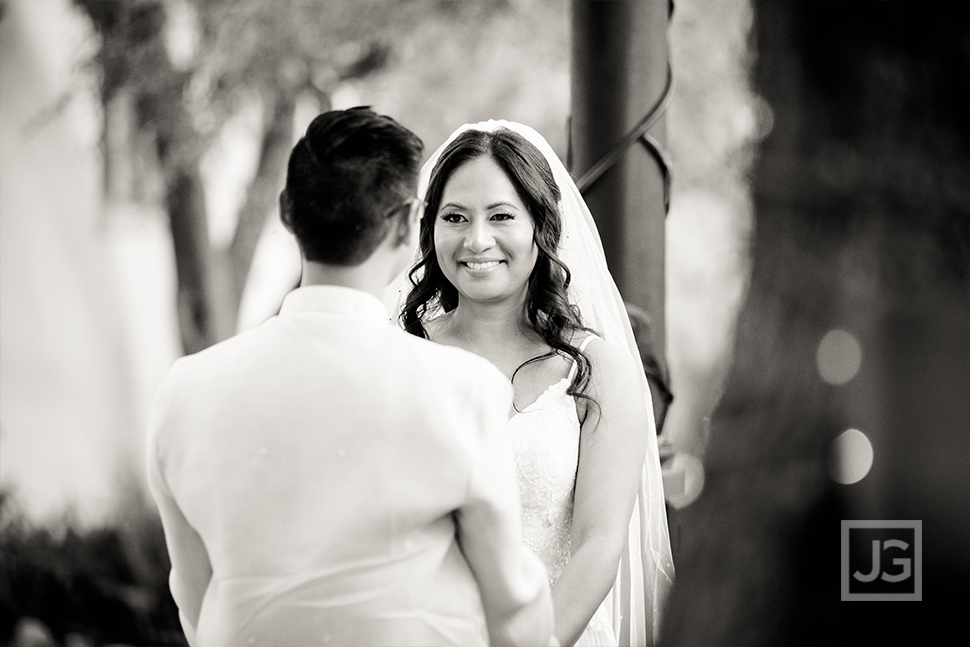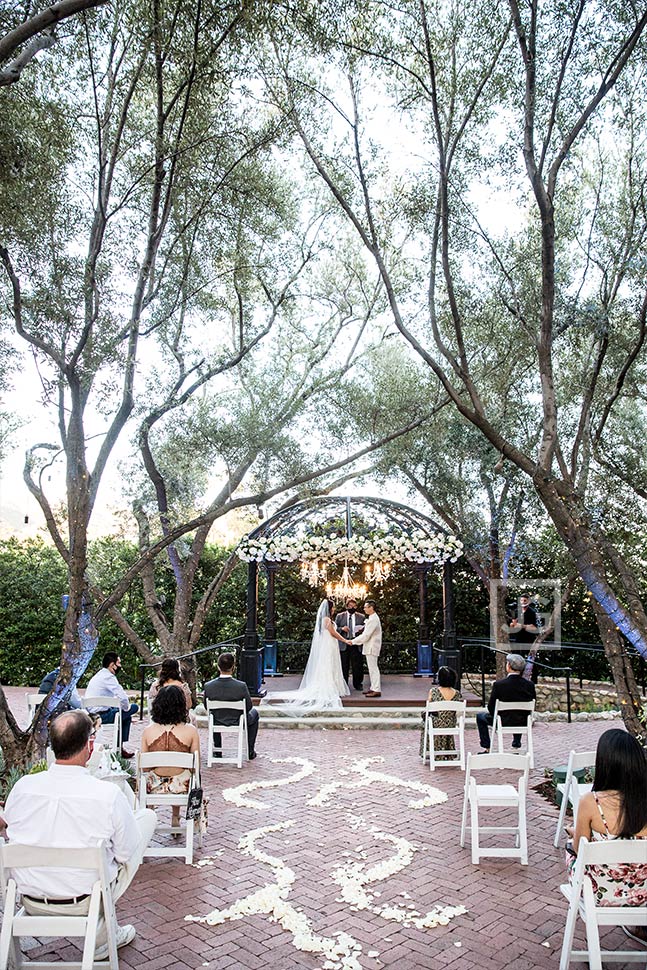 The officiant was from Great Officiants, so it's always with some fun and awesome energy.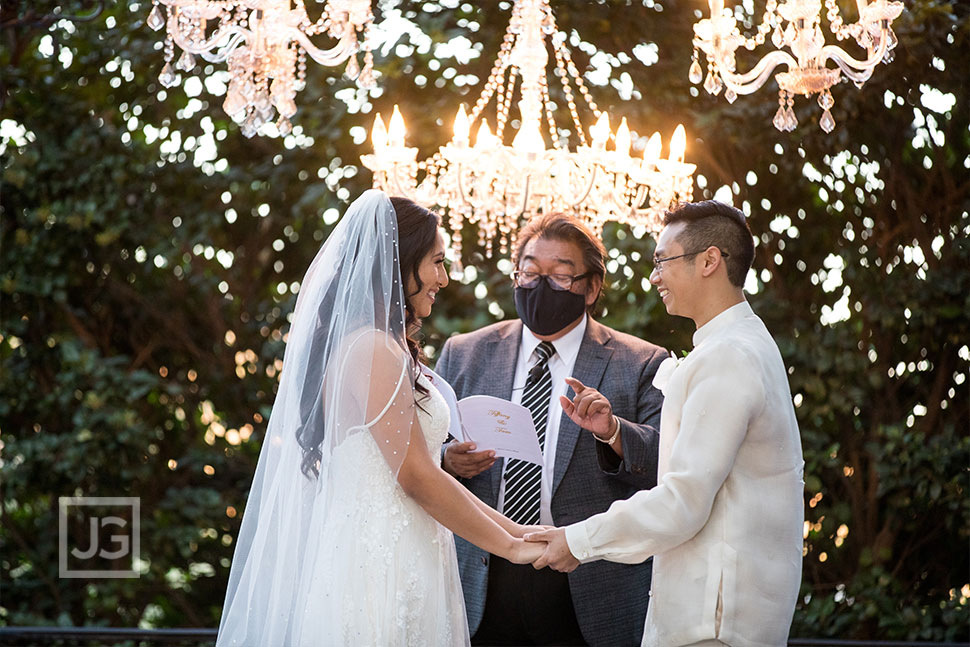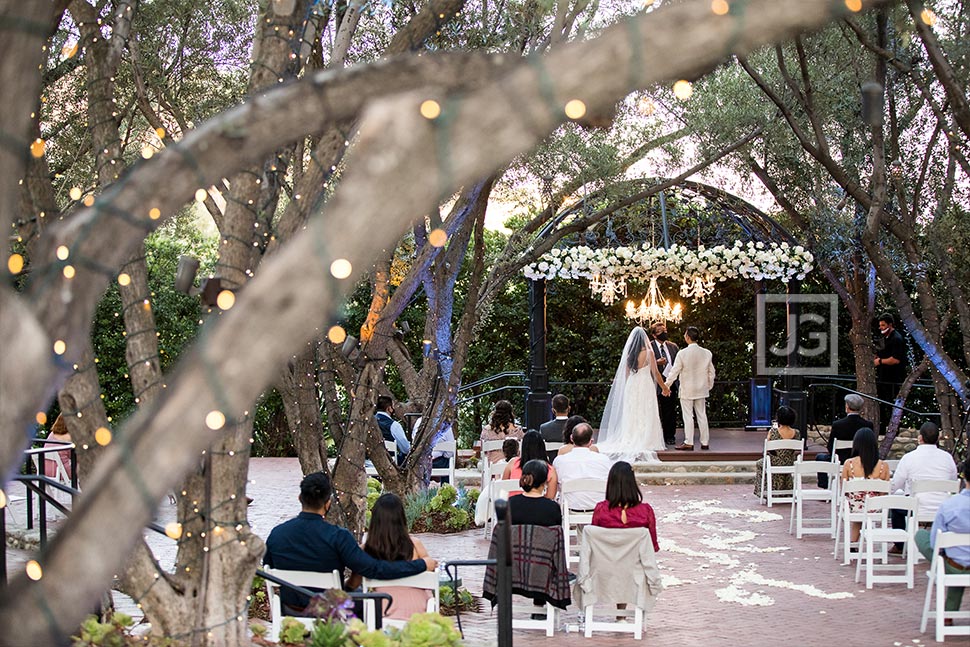 Unity Cross Micro Wedding Ceremony
Our couple had a unity cross during the micro wedding ceremony, which is where they assemble a metal and wooden cross together.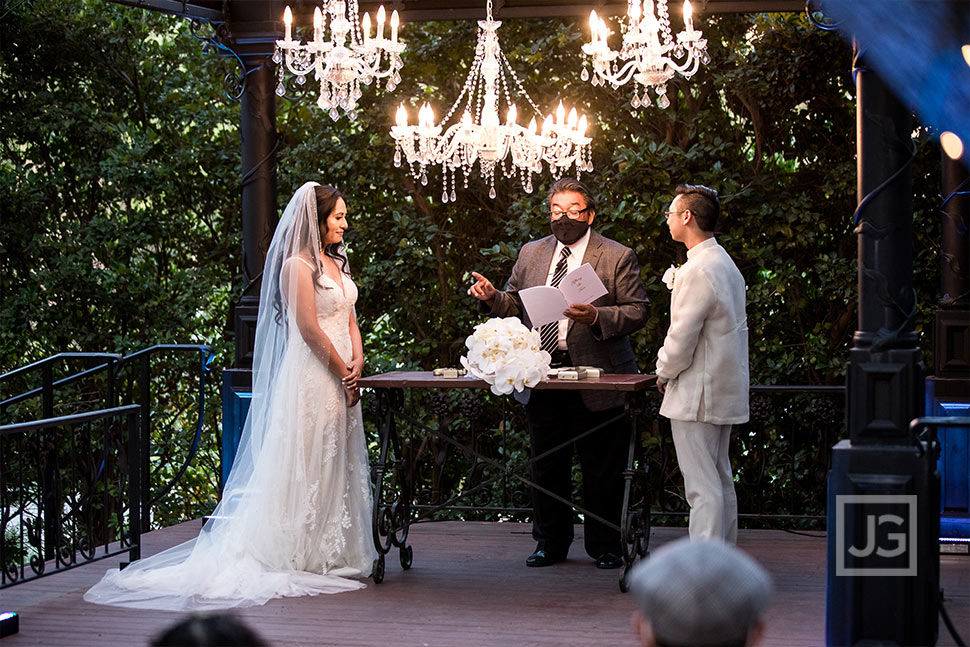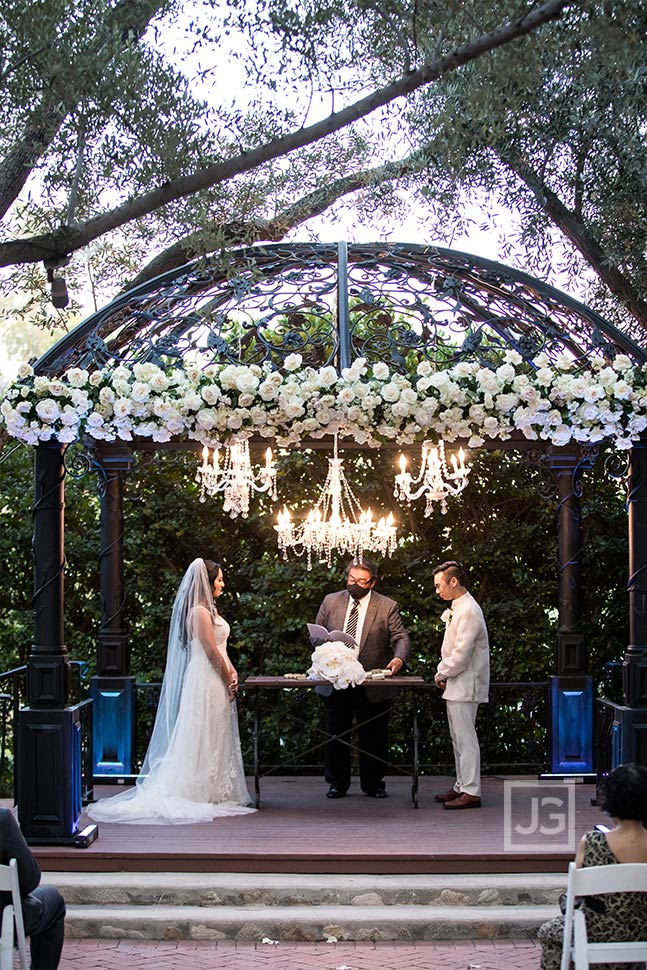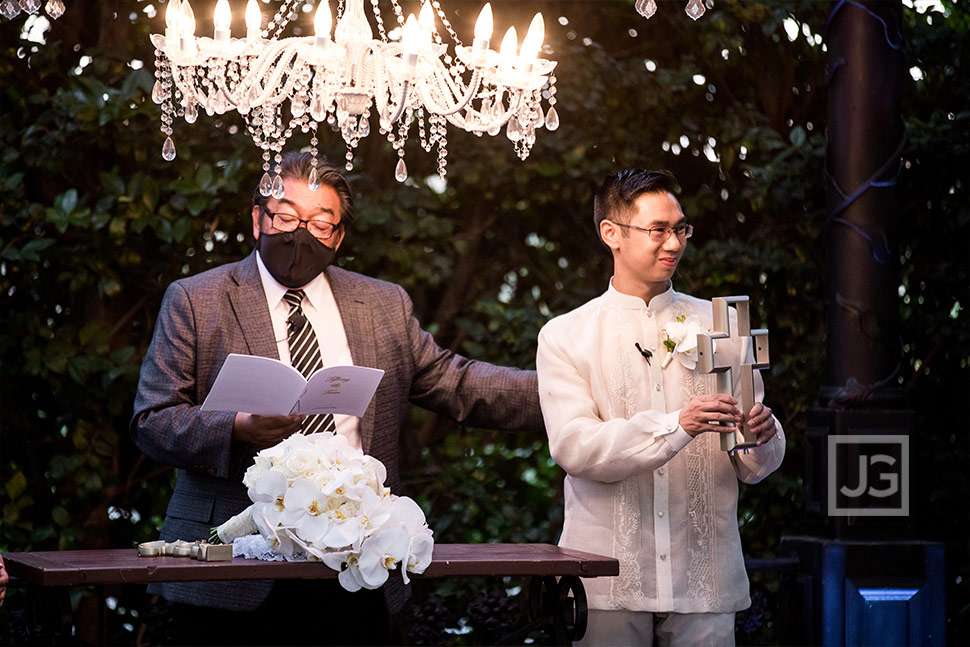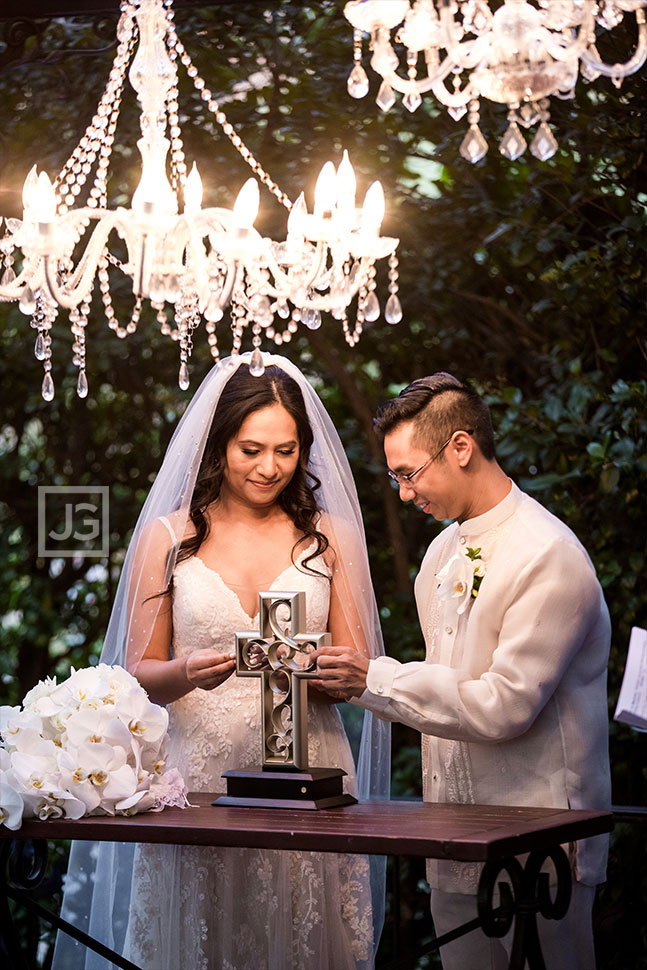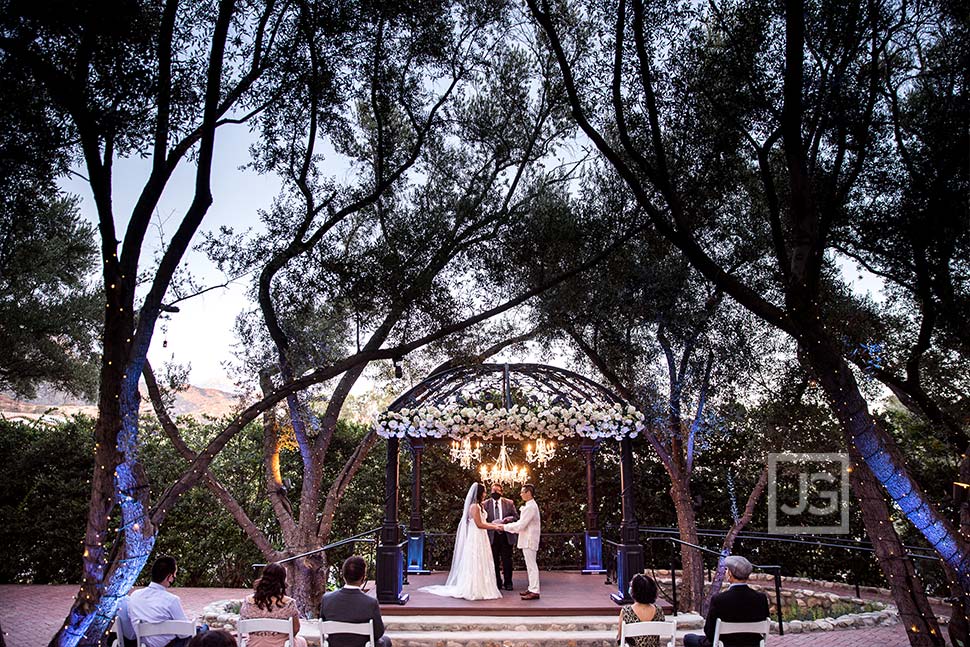 The officiant gave his final blessing over the hands of our couple.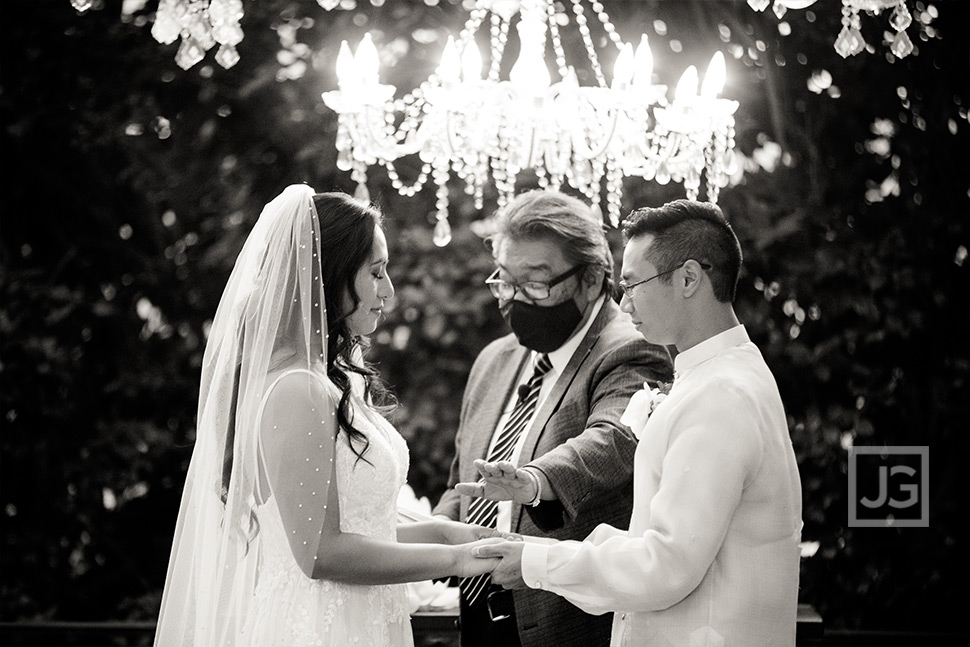 And here is their first kiss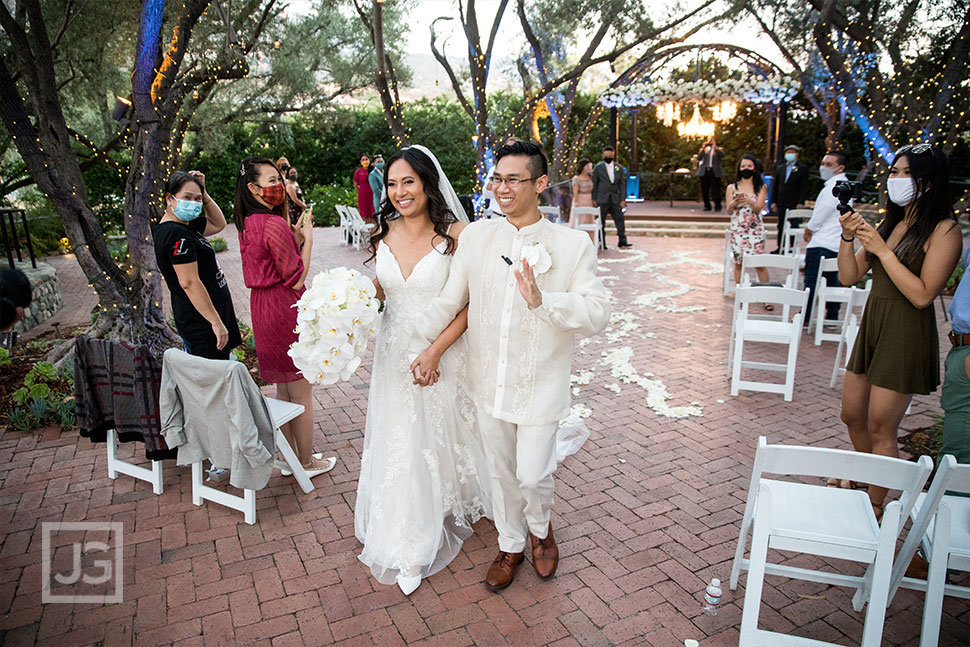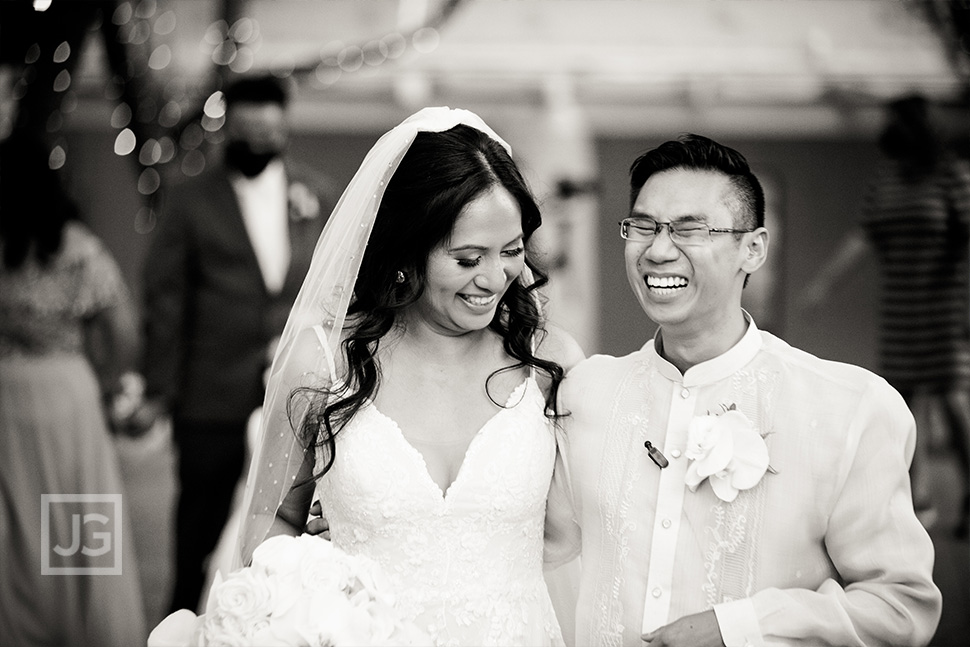 Micro Wedding Photography at Padua Hills
After the micro wedding ceremony, we headed straight to the Sunset Terrace for micro wedding photography. We did the family formals later, since we just set up lighting at the gazebo. This lets us use the golden hour and blue hour for dramatic micro wedding photos.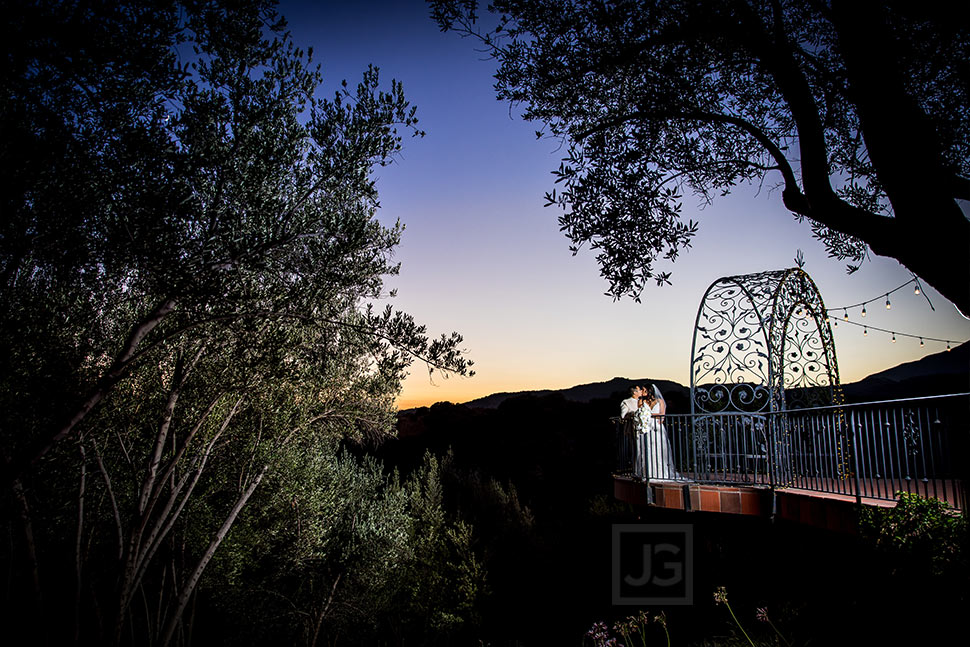 Our couple paid for uplighting by Entertainment Express, which made an amazing difference to the photos. Note that we specialize in low-light portraits, so we actually prefer taking advantage of crazy and dramatic lighting.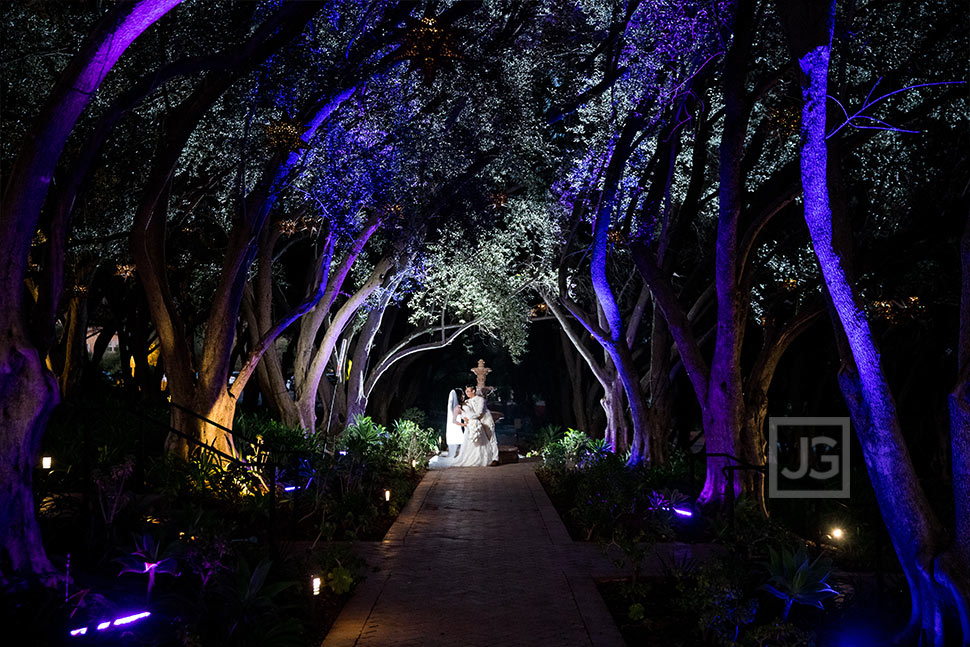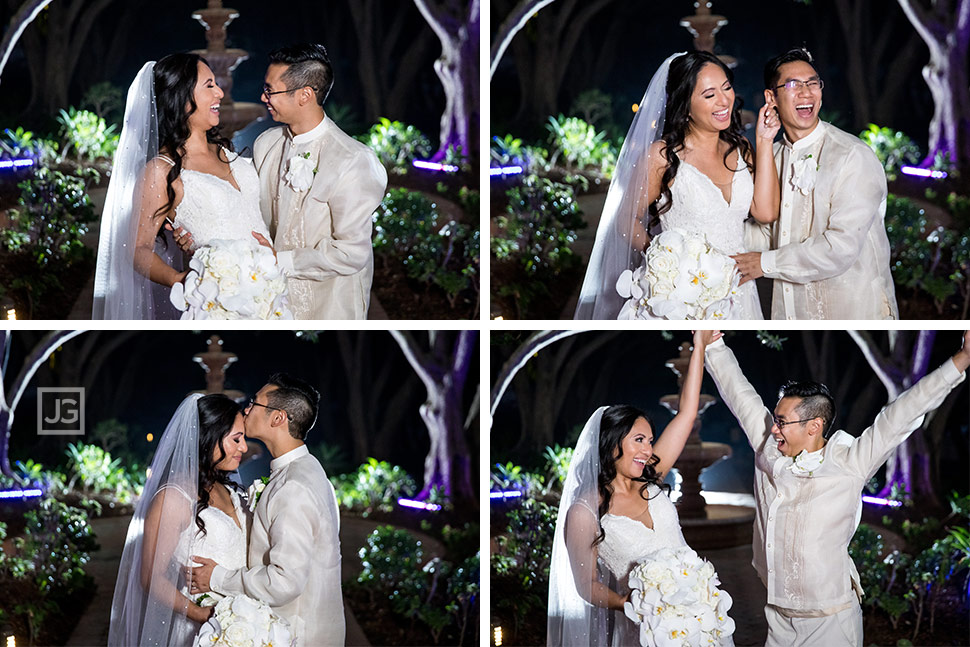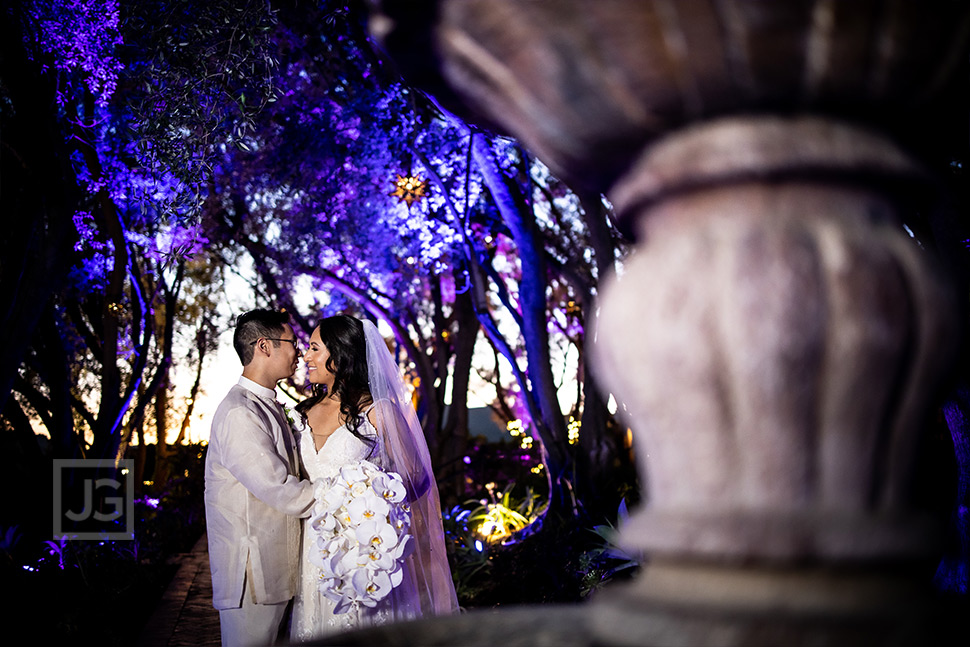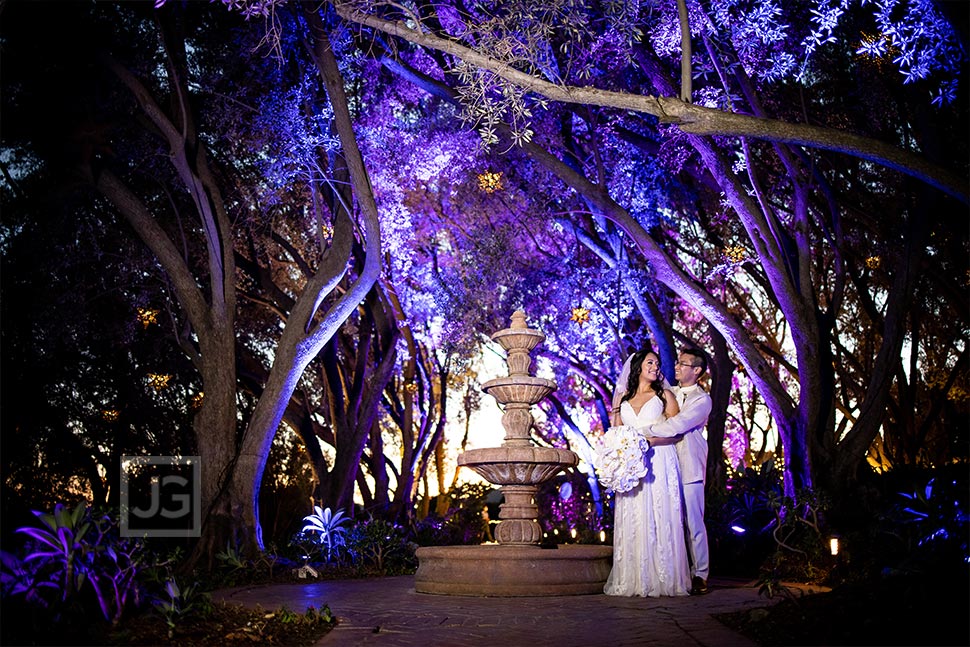 Just look at those trees in the olive grove. It's like an enchanted forest. One of the main reasons to choose Padua Hills Theatre for a micro wedding event is for the beautiful outdoor grounds. The olive grove there is filled with trees that are over a century old.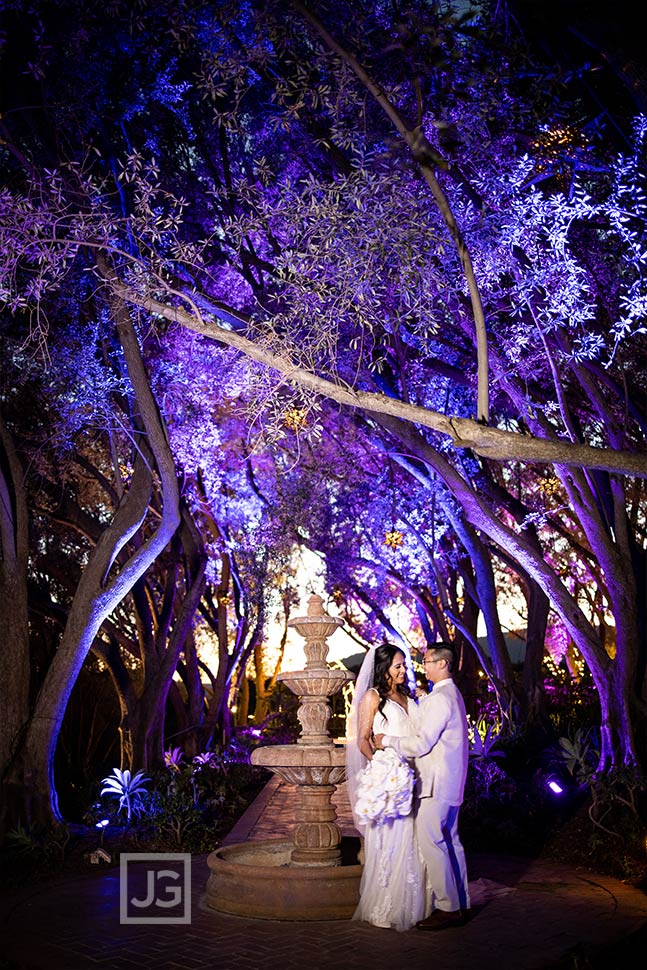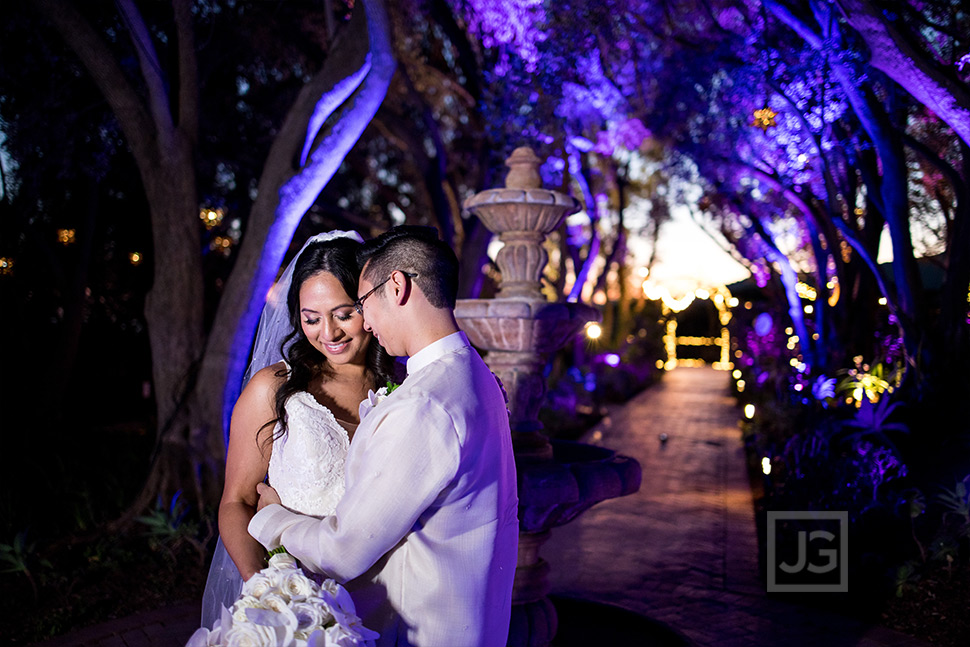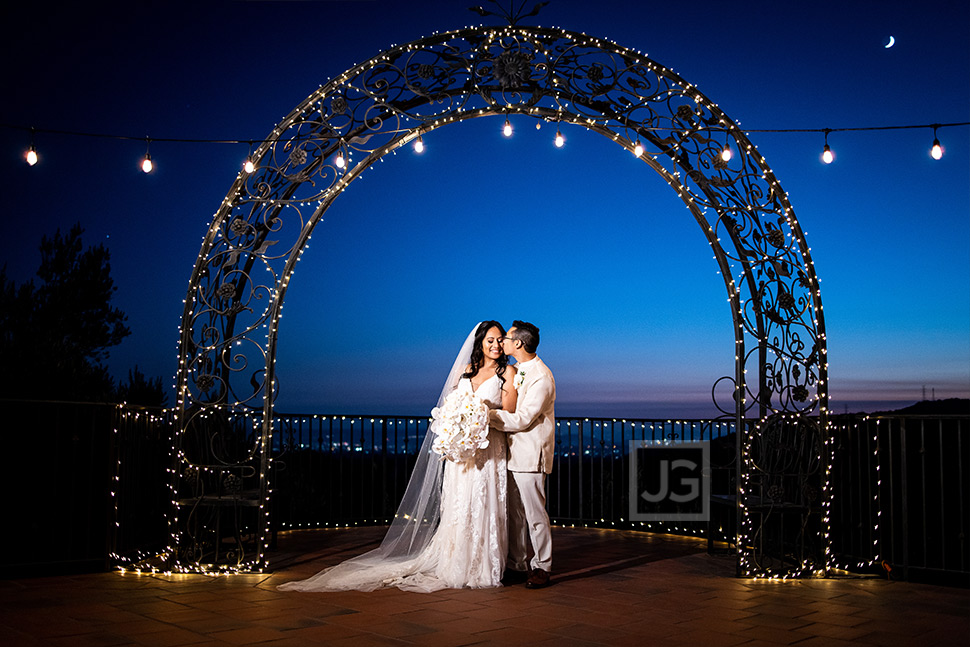 Of course, Gavin (loving astrophotography) had to make sure that the waxing crescent moon was in the background of the wedding photos.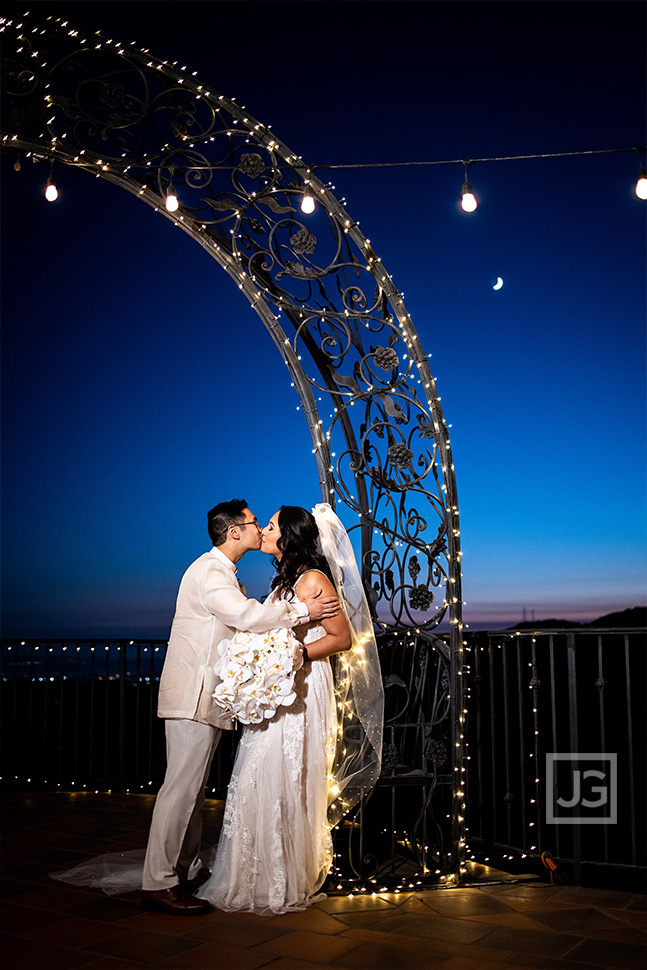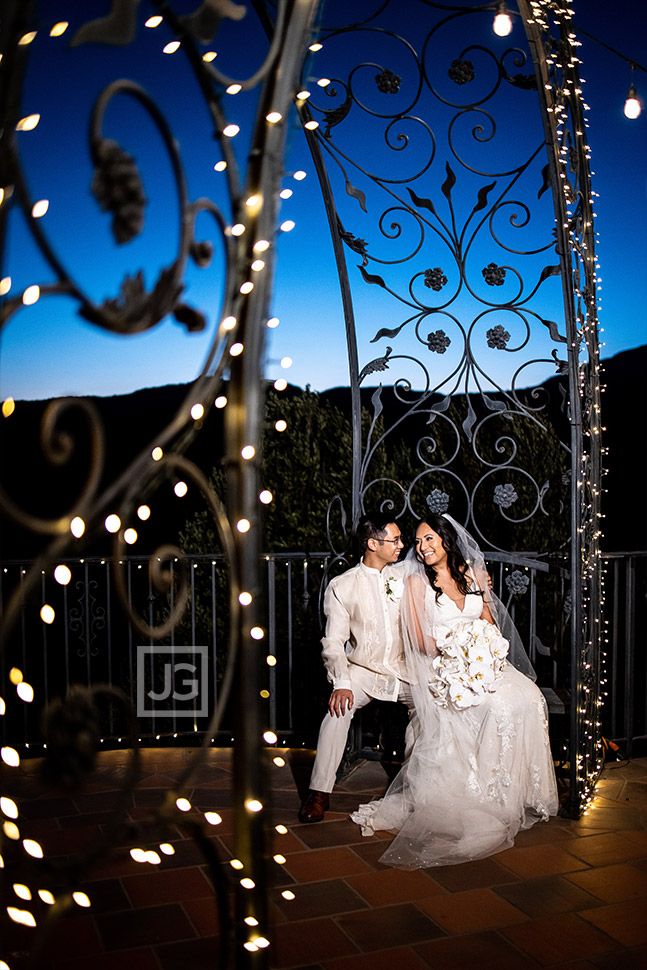 The front entrance hallway was draped in large white curtains, making it perfect for some more wedding photos.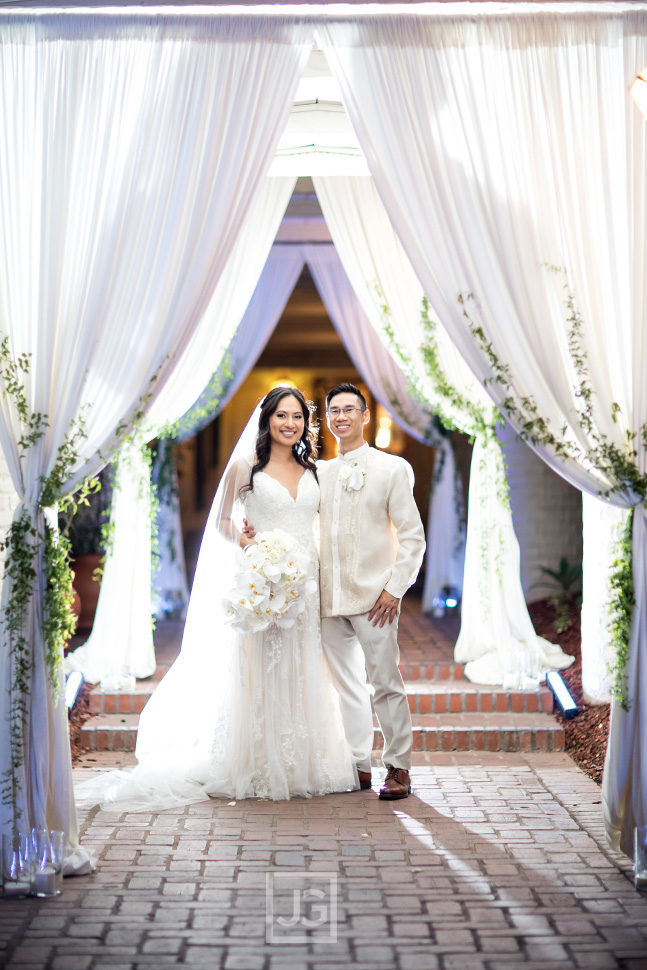 Micro Wedding Reception
The micro wedding reception took place out in the wide open Sunset Terrace, which gave lots of room for social distancing. The beautifully elegant cake was made by Cucamonga Cakery.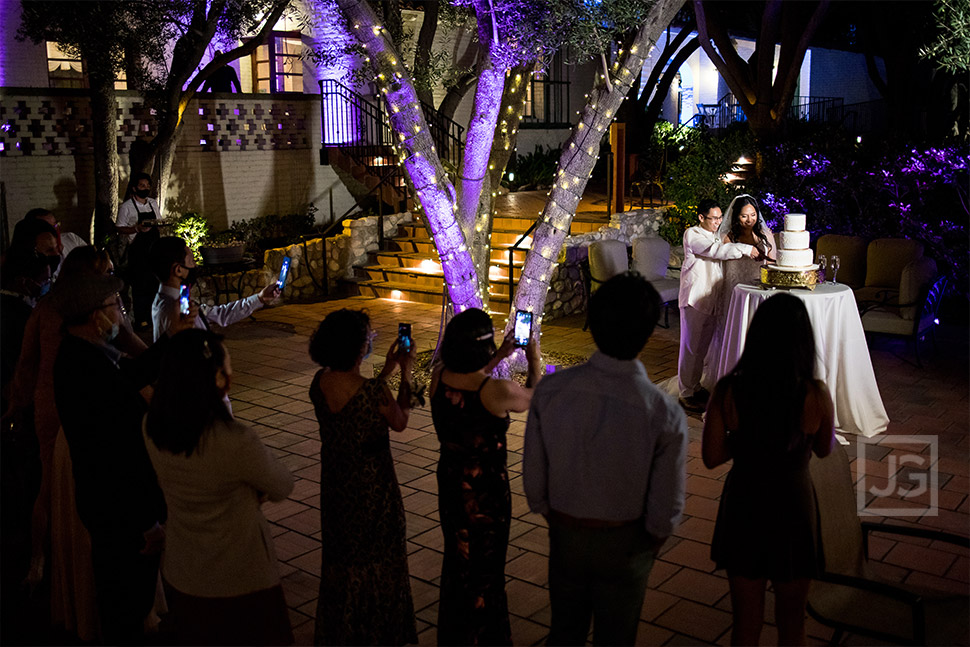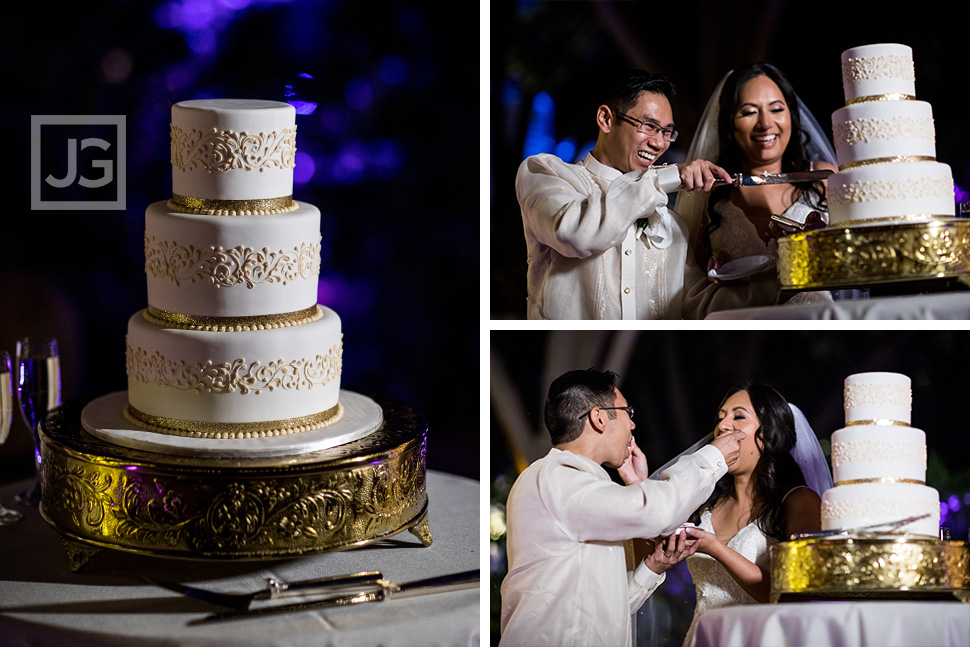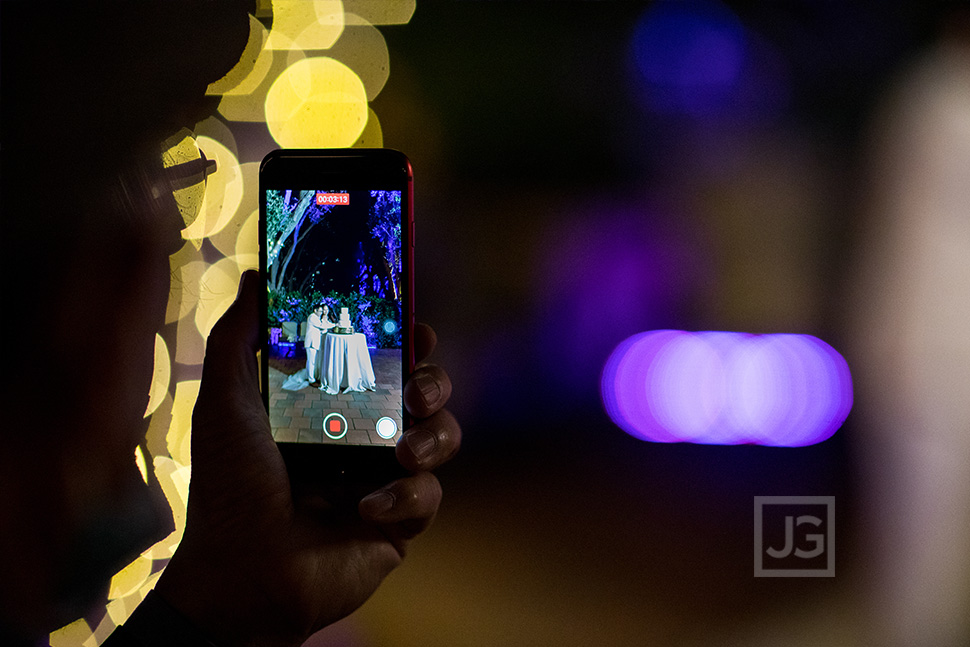 They then did some quick toasts and speeches.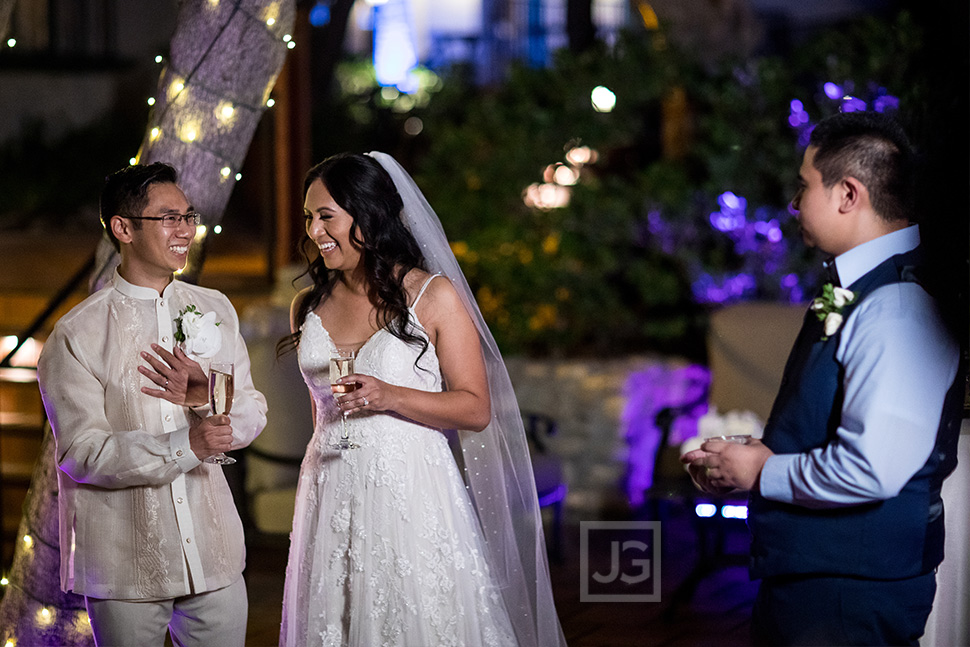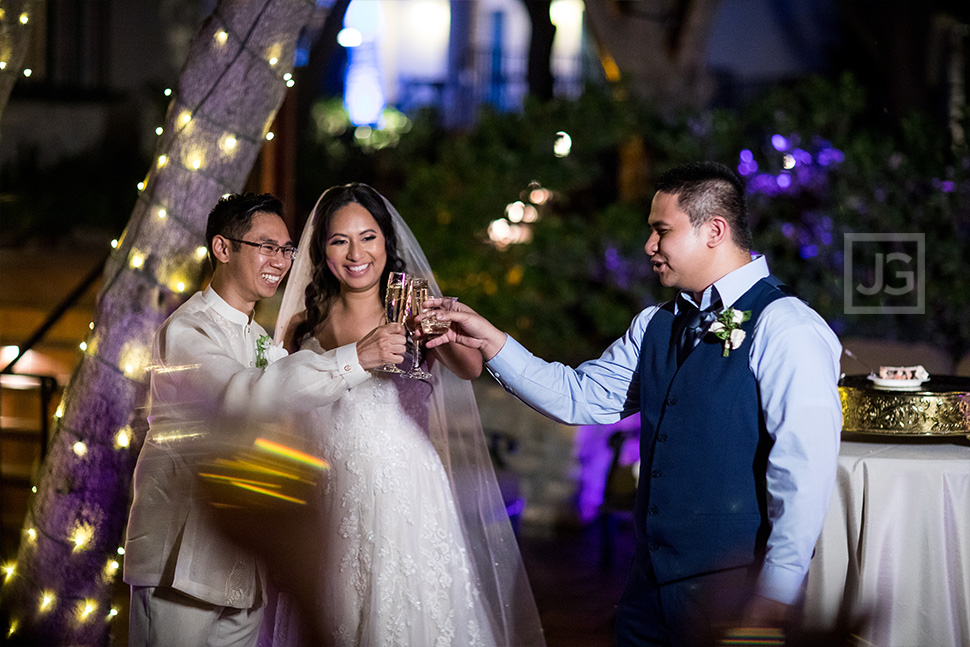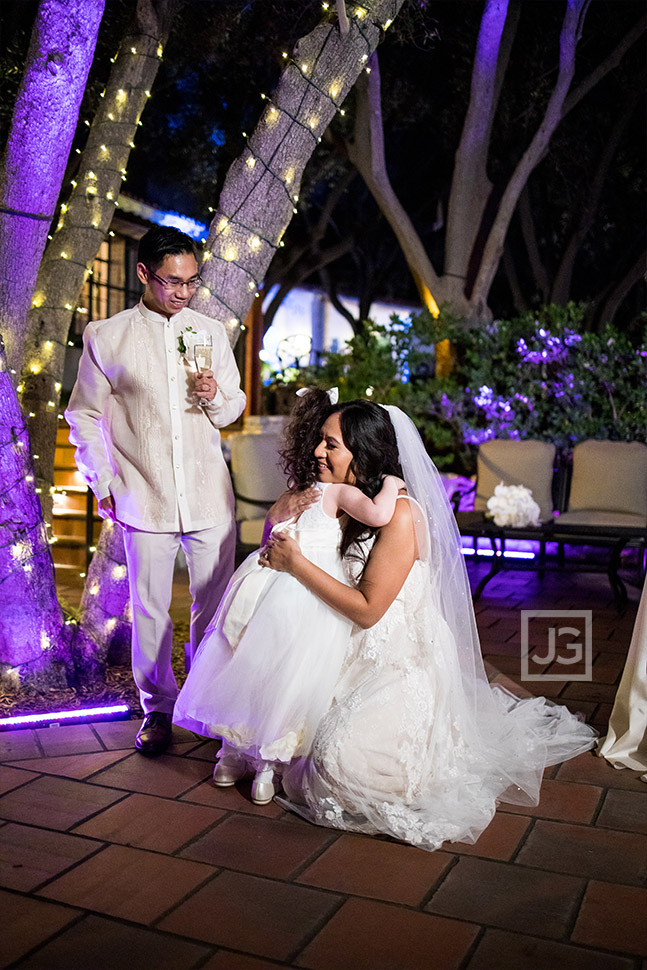 Micro Wedding Grand Exit with Light Sticks
Since we are in California during 2020 no less, we had a grand sendoff using light sticks (the ones made of foam) instead of much more volatile sparklers. Our couple said goodbye to their 20-something guests this way as they walked to their car waiting for for them.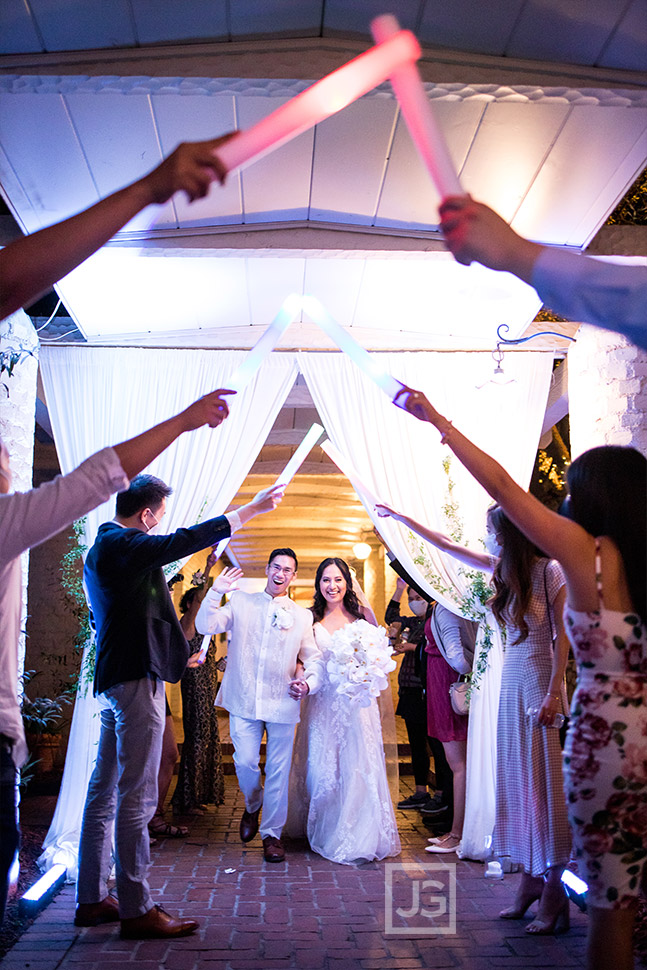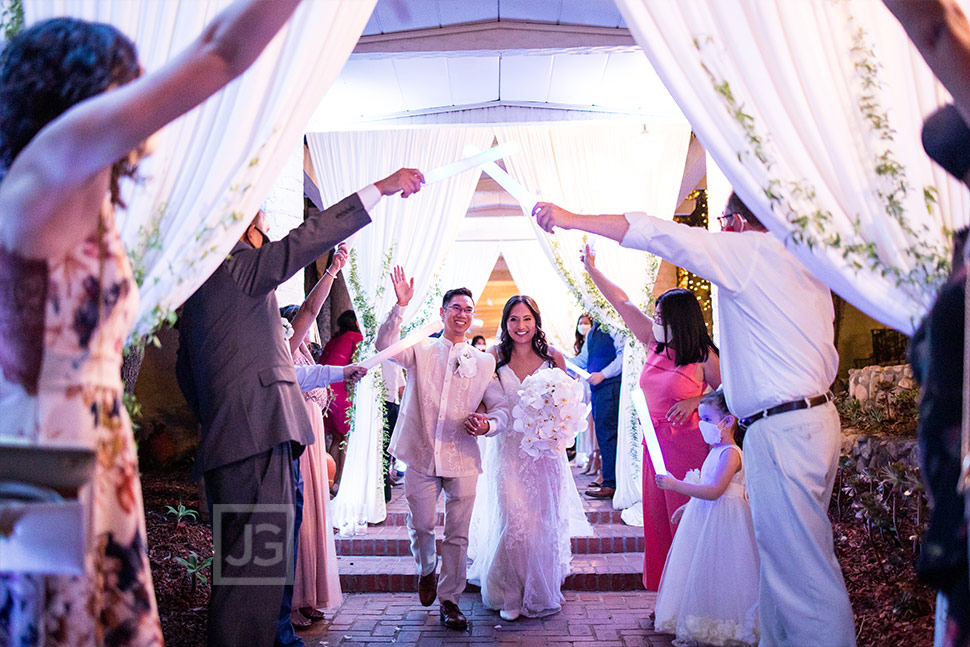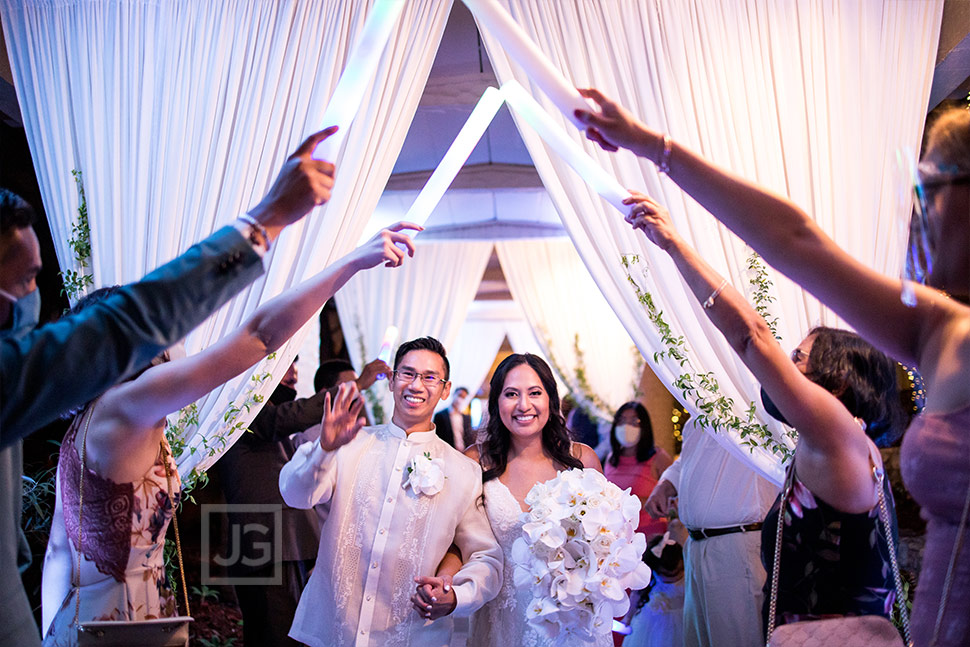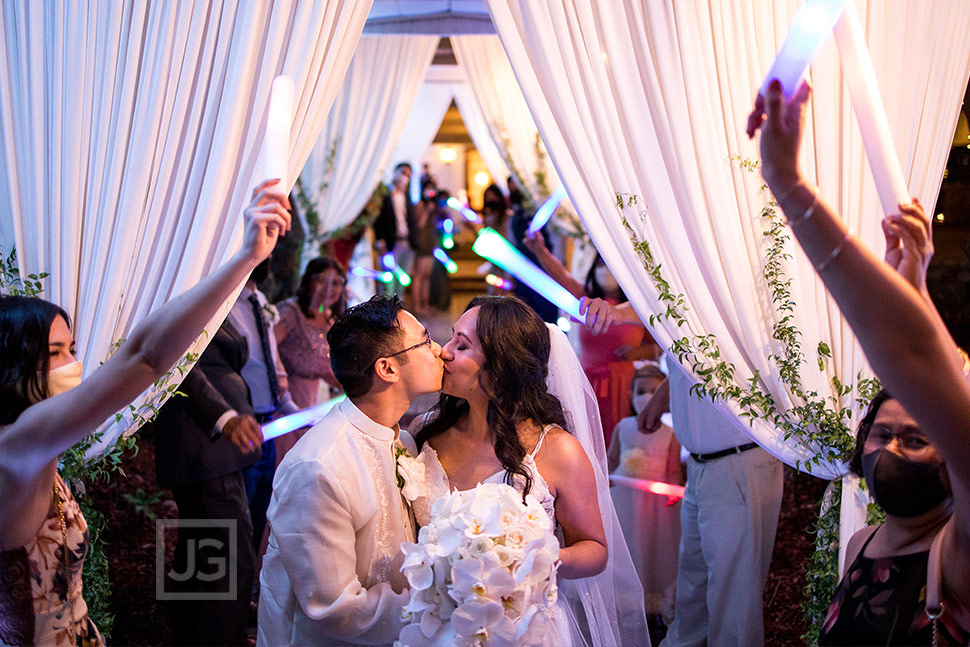 We got a quick photo of them with their car, filled with lots of flowers and light sticks!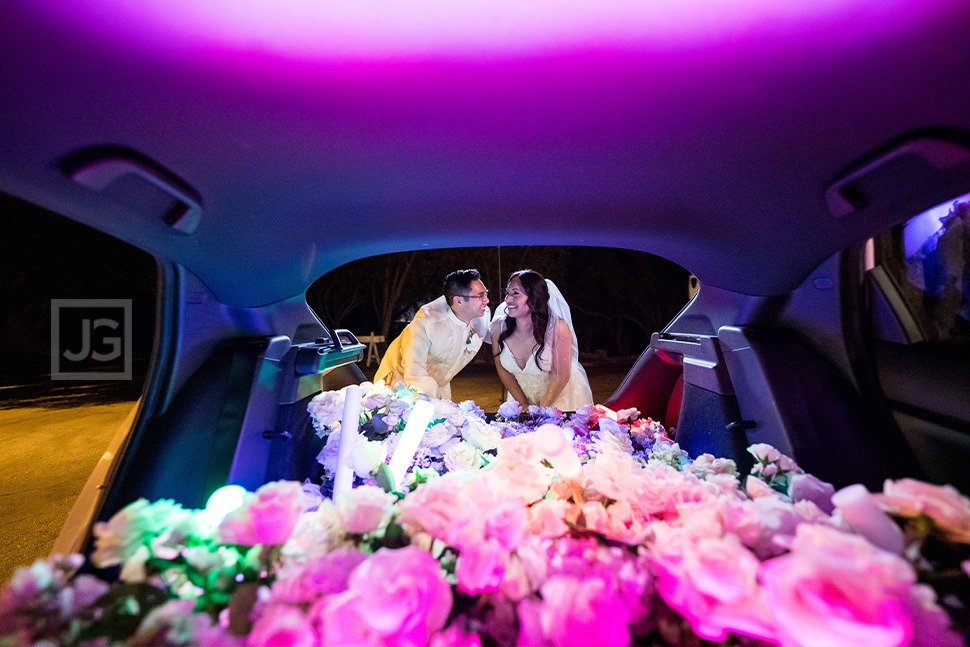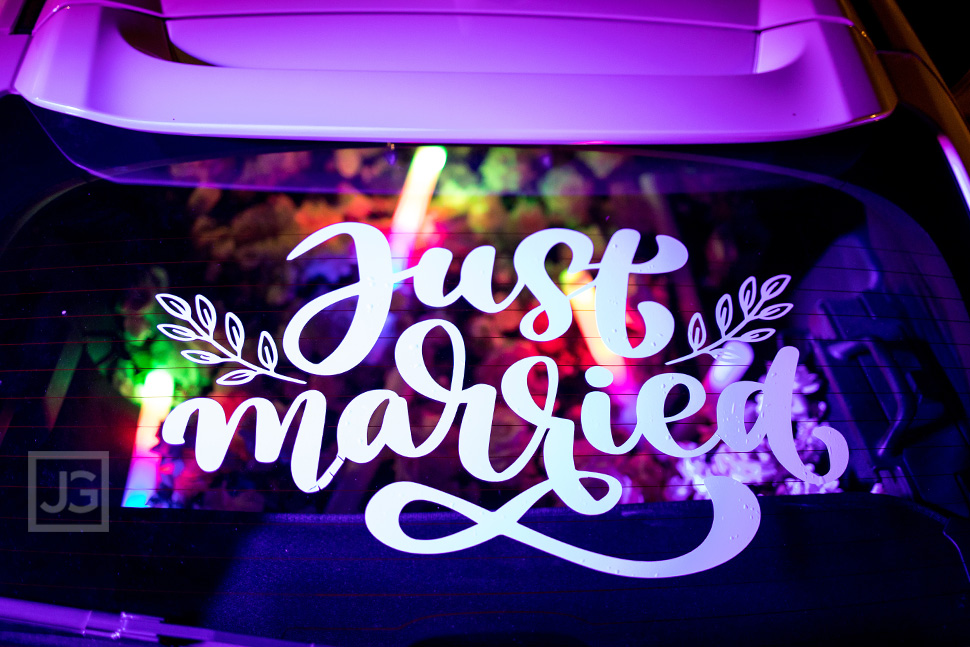 Having a Safe Wedding During Coronavirus
All of our brides and grooms are dealing with this crazy Covid19 curveball. From cancellations to postponements to drama (not with us, but often venues), our couples have figured out how to adapt. One way is by having a microwedding on the original wedding day, or to replace the wedding for this year in 2020 (saving the big party for 2021). A micro wedding is pretty much just 10-30 people gathered for a small, intimate wedding ceremony, followed by cake and not much more. This scratches the wedding itch, buying time until things and times are much safer.
If you are looking for help with planning a wedding during coronavirus, call Judy up anytime. We can point you in the right direction based on our experience navigating such crazy times. Let our experience with micro wedding photography and planning help you plan during this pandemic.
This small, intimate micro wedding took place in Claremont, a city on the very eastern border of Los Angeles County (micro wedding bordering San Bernardino County). Padua Hills Theatre rests in the hillside of the San Gabriel Mountain Range and is known for its history and its grand olive tree orchard grove.