Trisha and Andy had contacted me a while back in regards to photographing their wedding in April of 2011.  We were all ready to move forward but unfortunately Trisha and Andy had to move their wedding date to October 16th of this year… and I was already booked for another wedding.  Trisha was really bummed out when we got off the phone.  Surprisingly, a few months later, I heard from Trisha again saying she really wants me to photography them and would like to do a trash the dress session.
"Sure…" I replied.  "When would you like to do it."
"Before my wedding in October!!"  said Trisha  "Andy and I want to do some beach scene, but we're afraid it may be too cold to jump in the water in late October.  We have always done things out of the ordinary anyway."
At this point, I was confused… really confused!! LOL…
"Trisha," I said, "people usually trash their dress AFTER their wedding…!!!"  LOL
She laughed and explained that she had gotten a second dress off e-bay for a super cheap price.  The one she is wearing for the trash the dress session is not the real dress.
"We want to go all out. I'm not planning to keep this dress."  Trisha continued.
I've been anxiously waiting for their Trash the dress session and the day finally came!!  Trisha and Andy told me they were gonna bring along a convertible for pictures… BUT they didn't tell me they had a sweet 2008 Honda S-2000 convertible!!  Gavin was completely drooling over it but I'm  not jealous…LOL… I was too!!!  She's such a beauty!!  Andy, you're one lucky man to have two beautiful wives!!!  🙂
Gavin and I are proudly adding video into our packages. We will now be doing photo-video fusion for weddings, engagement sessions, trash the dress sessions, etc. Gavin and I both shoot with a Canon 5D-MarkII which can do HD video. With this package, I will be your lead photographer and Gavin will be my photo-assistant as well as the lead videographer.  Trisha and Andy's trash the dress session is an example of our video. Please feel free to contact myself– Judy (626.216.4332) or Gavin (323.605.4224) for more details.
Click on the play button and enjoy. Feel free to go full screen if you wish.
TTD – Trish and Andy from Gavin Holt on Vimeo.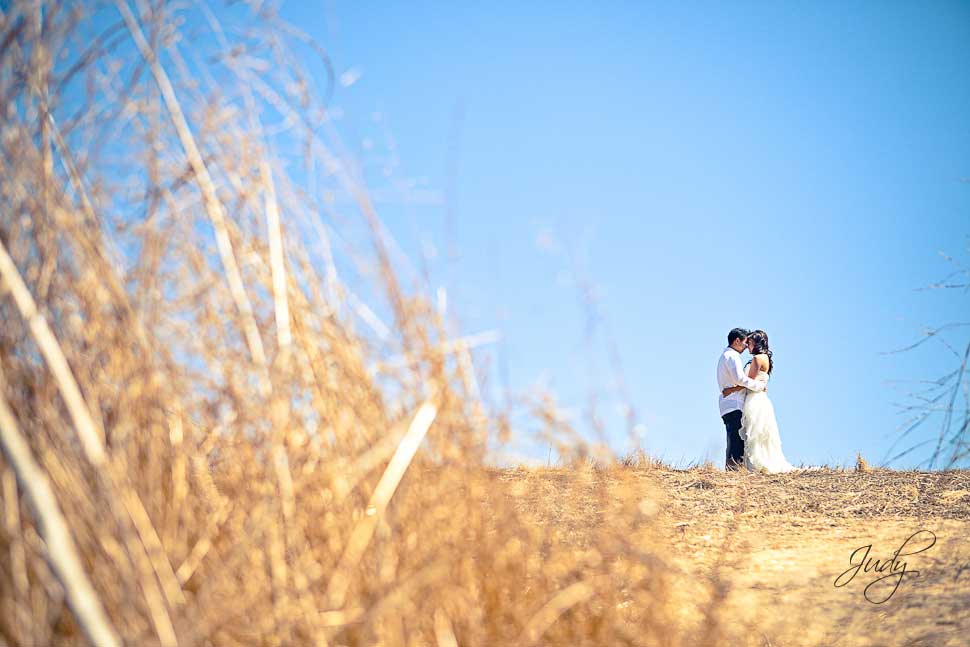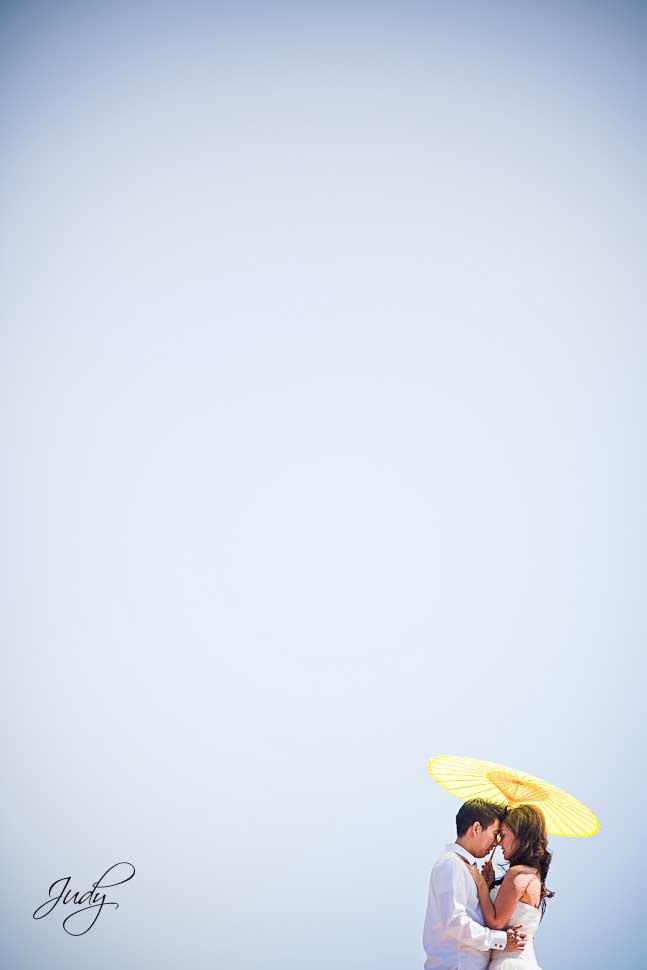 As we hiked around, we found this really cool swampy looking place.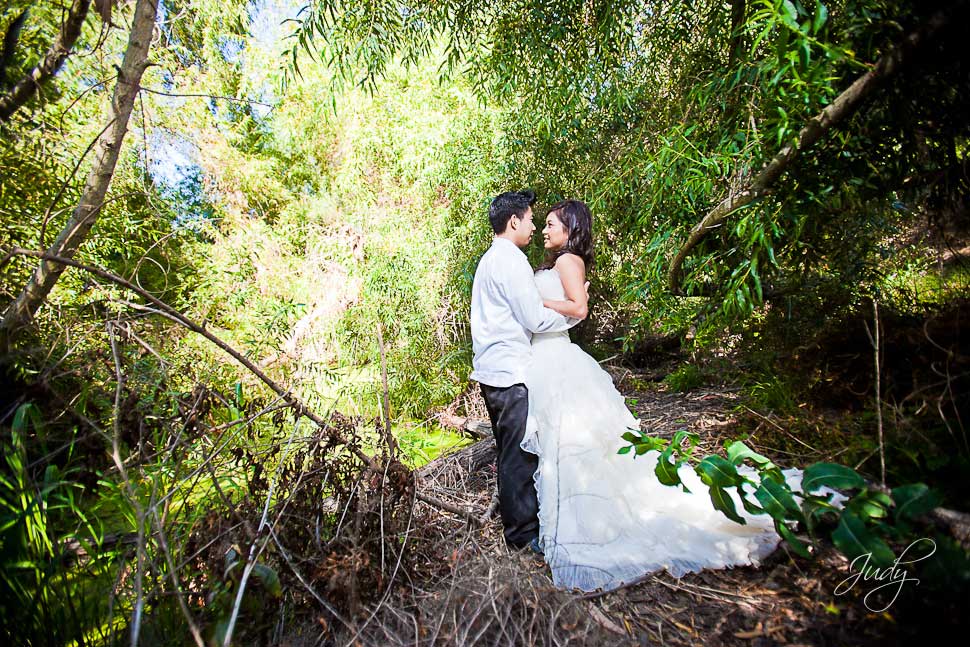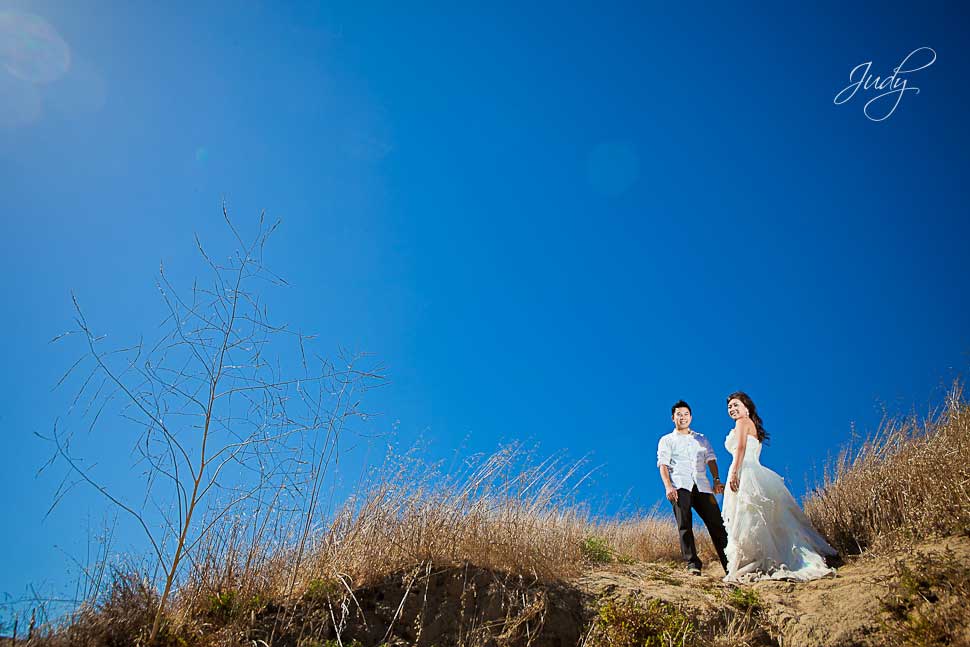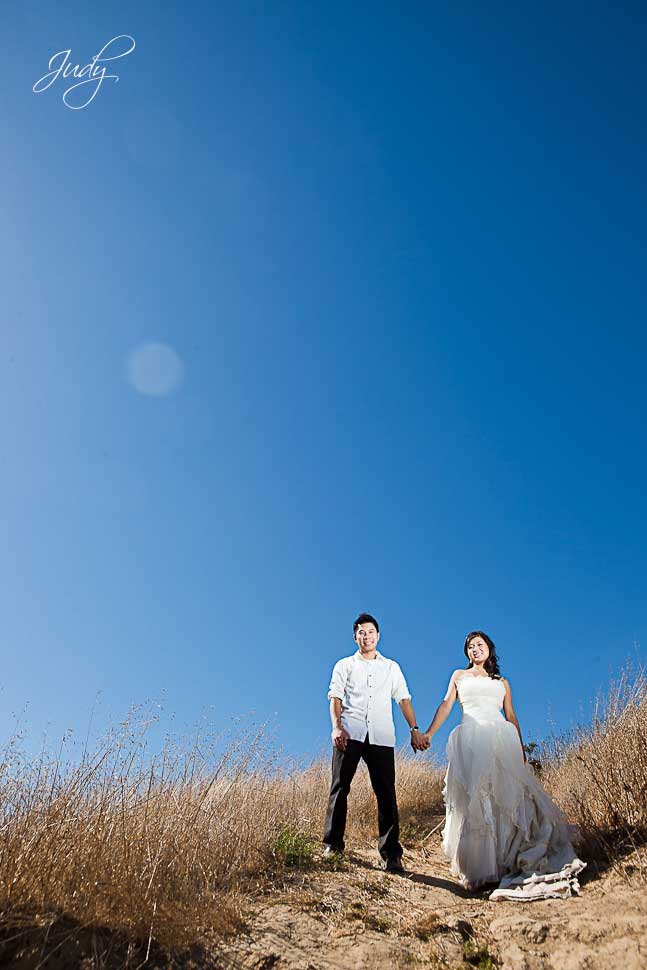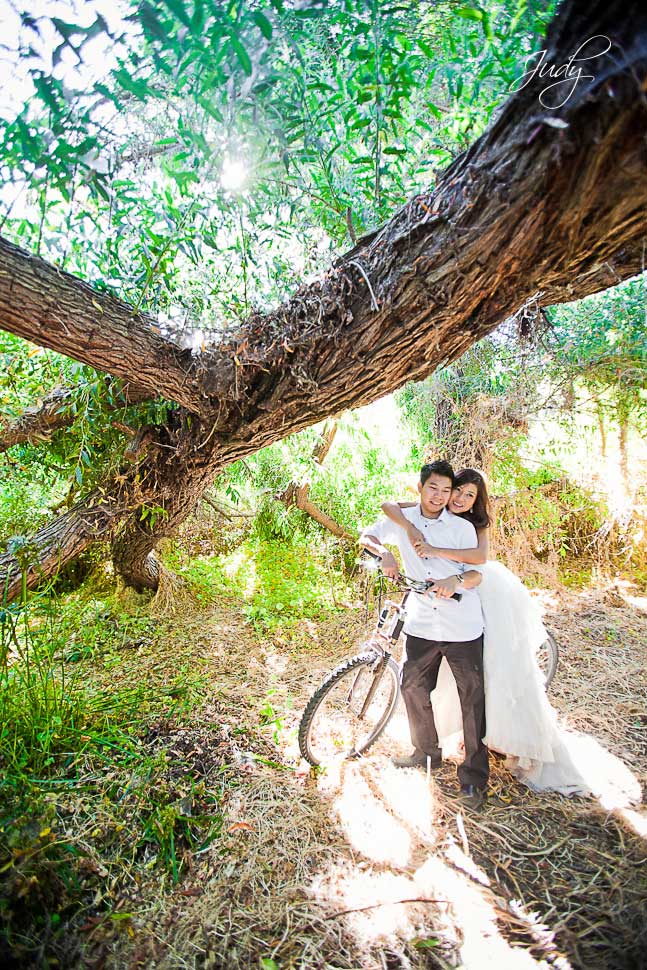 As we continue to walk along, we also discovered an awesome nook.  This place is filled with golden poppies.  It was late summer when I did this Trash the Dress session, and you can already see how pretty it is.  I can't wait to come back in Spring when this entire place is filled with poppies.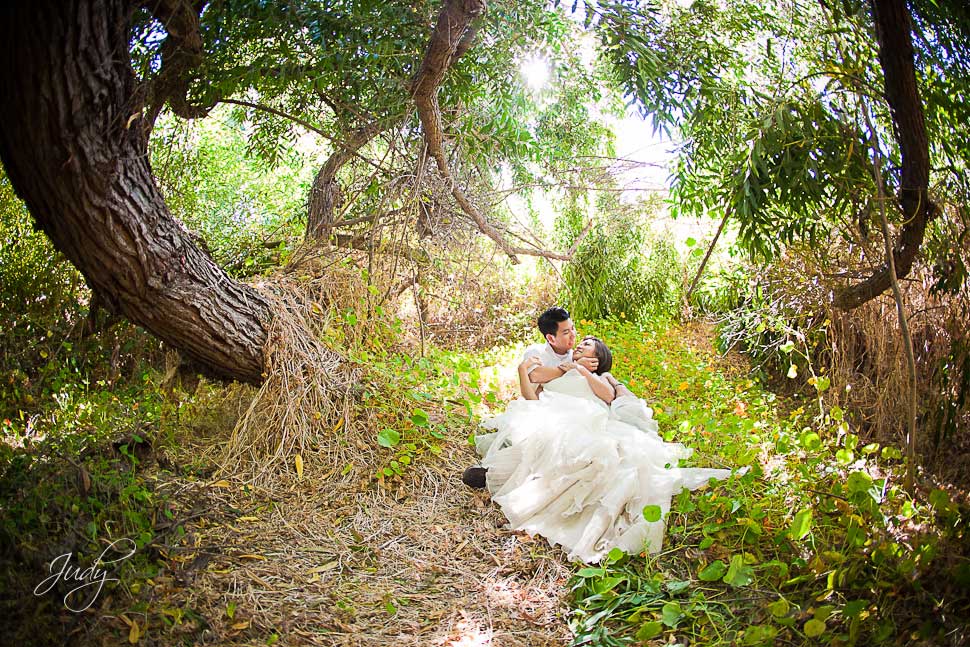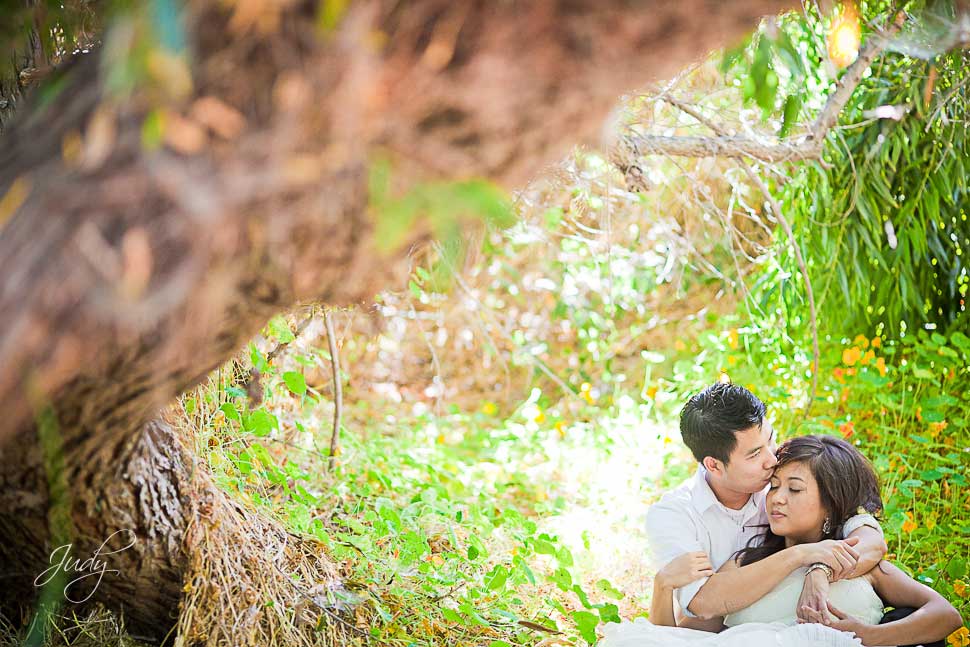 We can't neglect Andy's second love… so I definitely gave this beauty some love and attention.  Here it is…  Andy and his two love of his life (of course Trisha will always be the first love)!!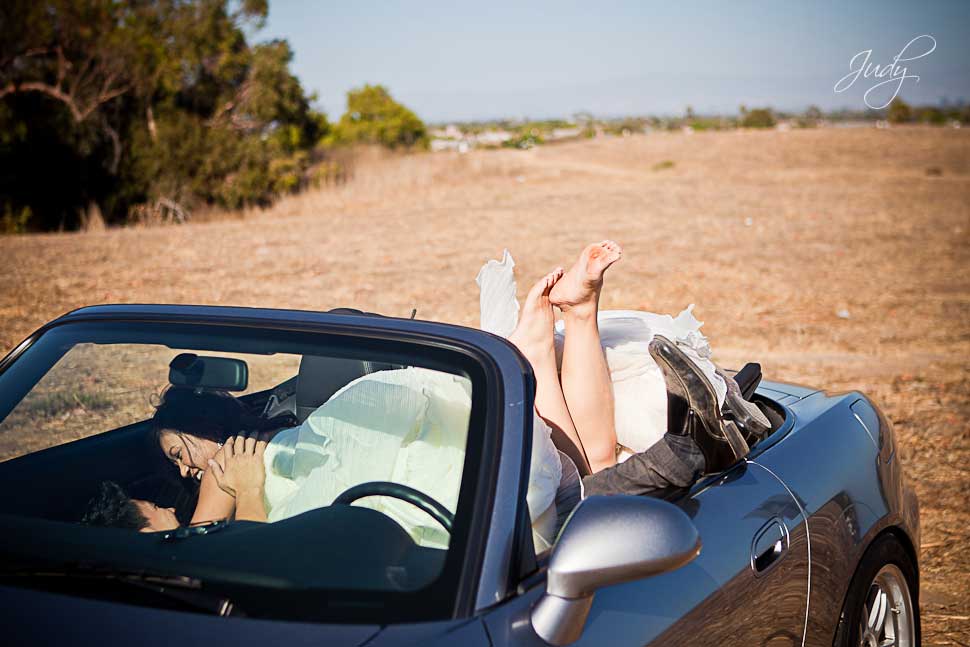 This is HOT!!!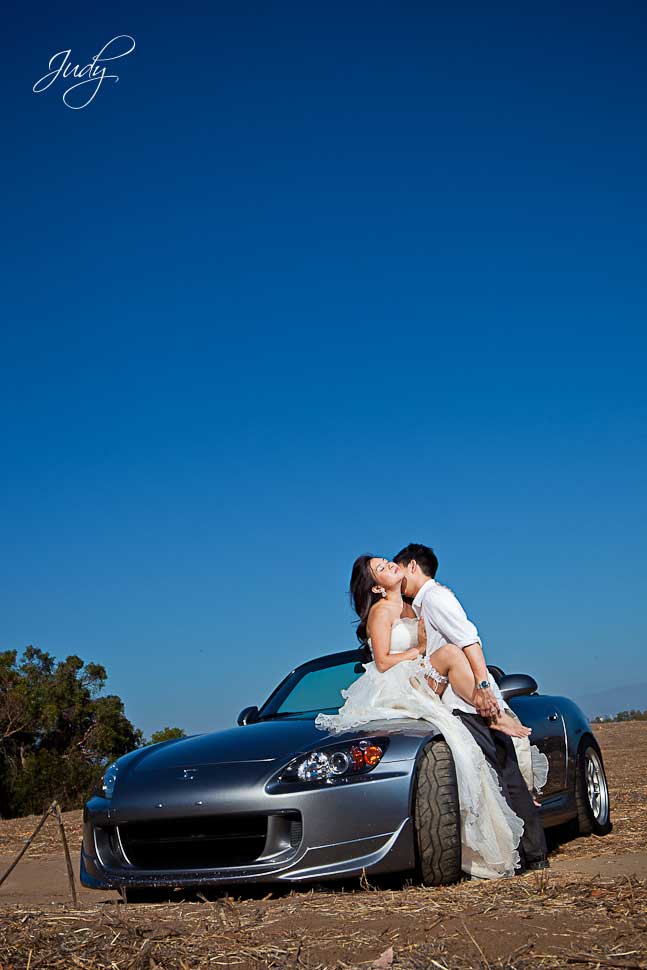 After the Trash the dress session in the fields, we headed over to the beach for some awesome fun in the sun pictures!!!  Trisha and Andy got wet and wild!!!  Ok… stop thinking dirty guys!!  hahahaa… I LOVE IT!!!
This one is one of my many favorites from their Trash the dress photo session!!!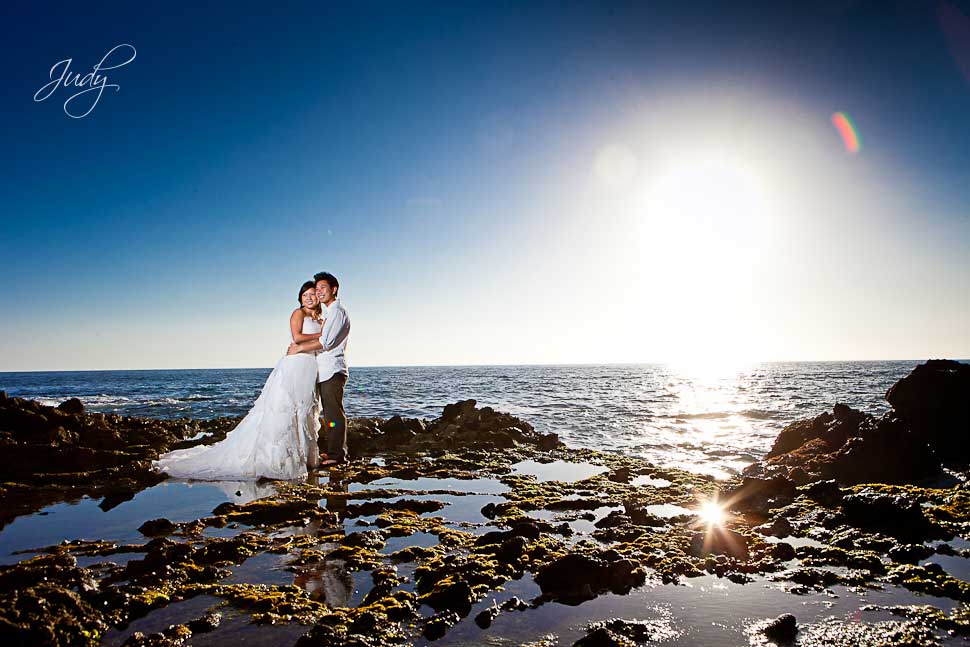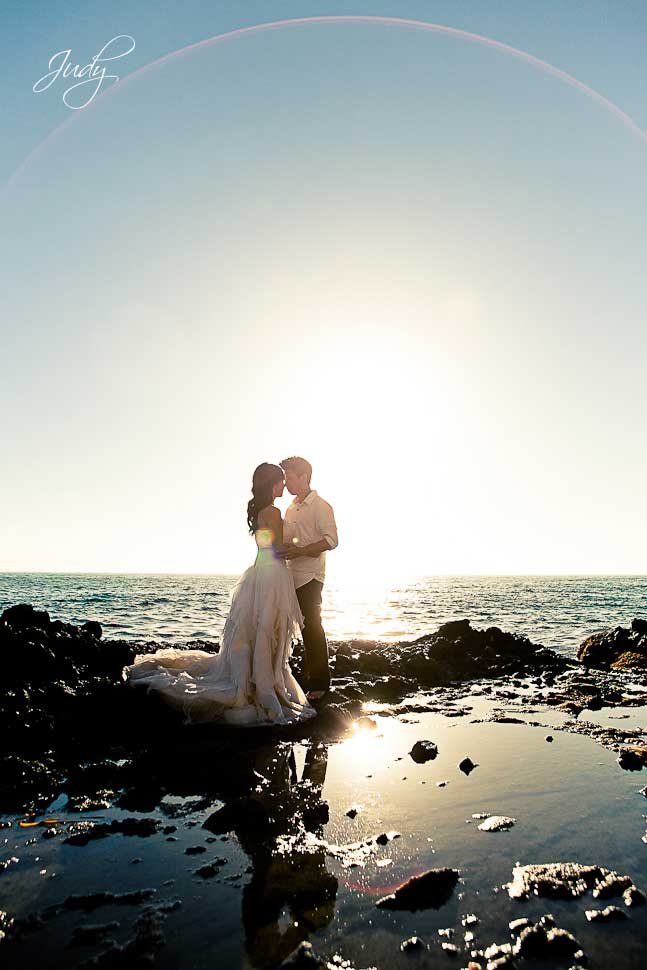 So much fun!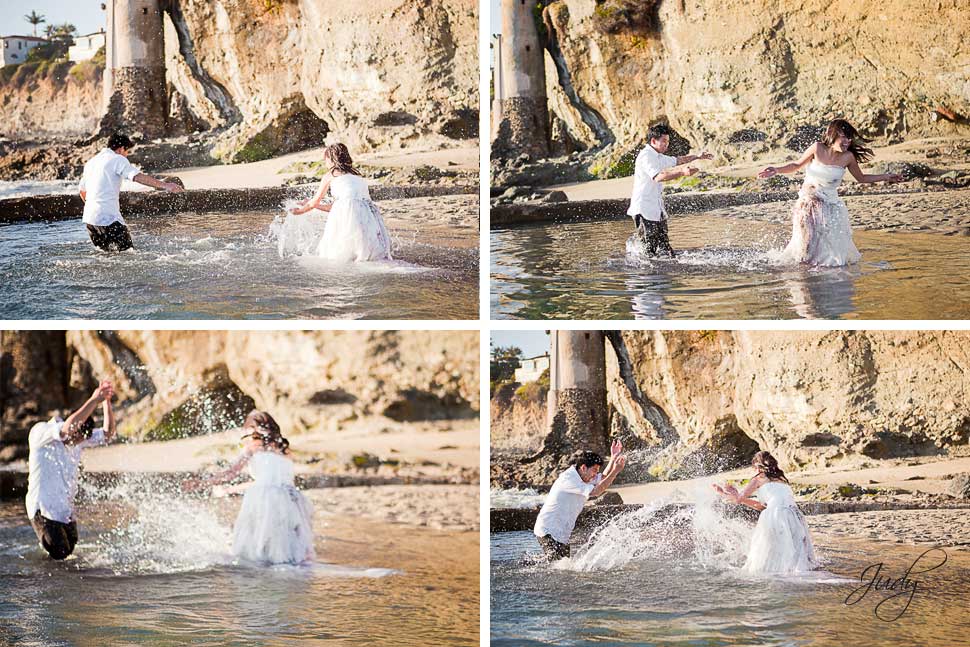 Mr and Mrs…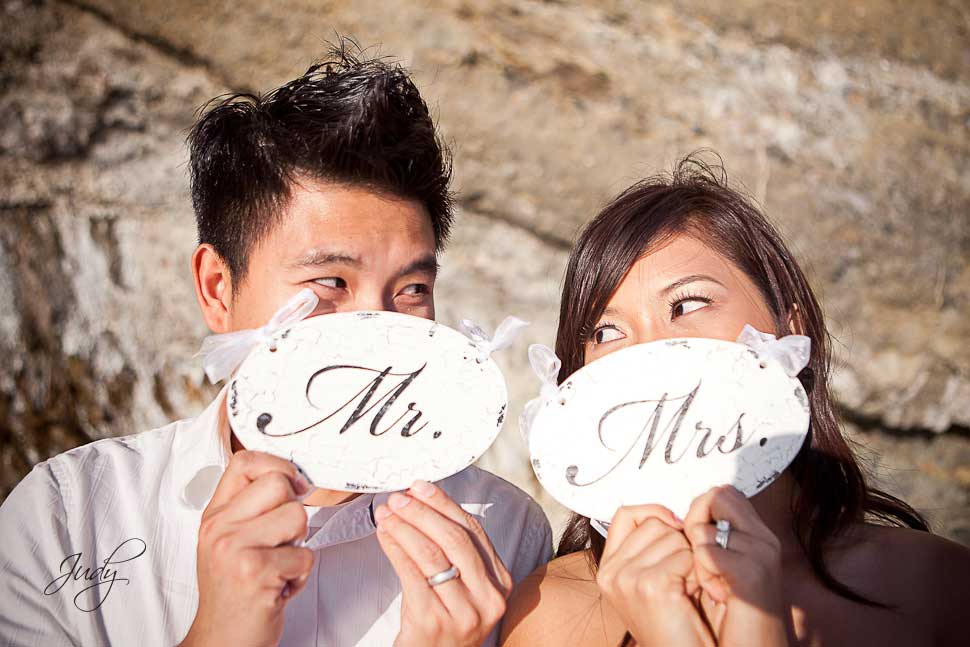 Although Andy wasn't too happy when he became the "Mrs" and Trisha wore the pants with the "Mr" sign!!  Trisha looks pretty happy… don't cha think??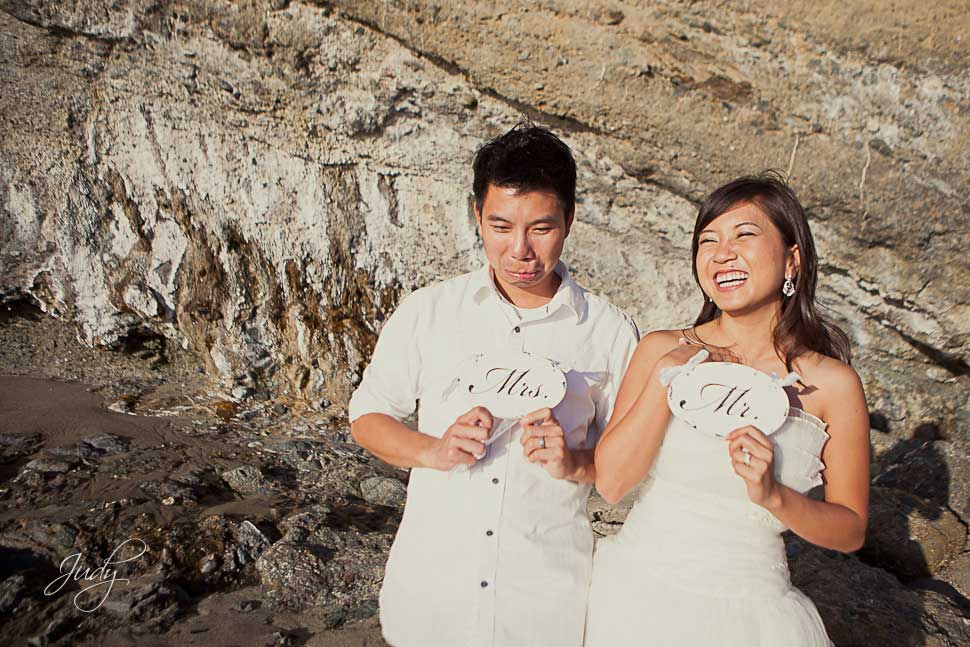 Again… HOT!!!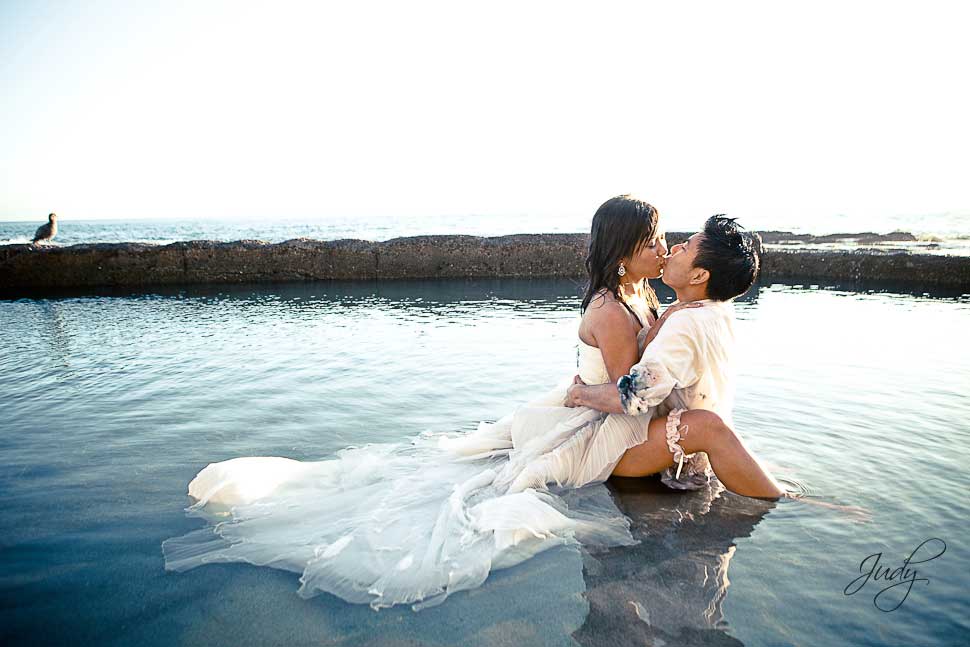 HOTTER!!!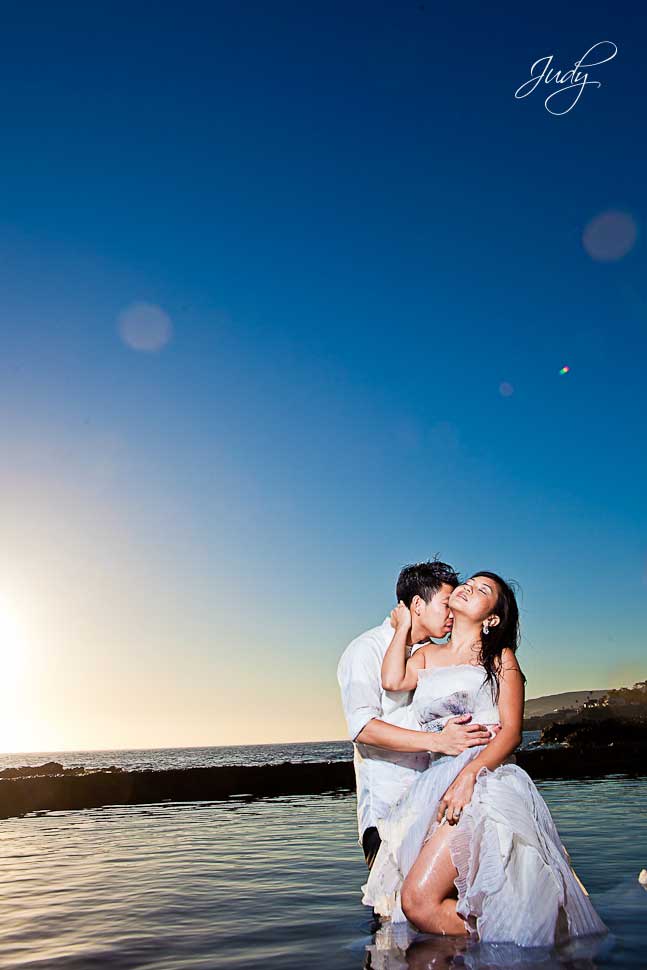 Originally… we were gonna use paint-ball guns as props to trash the dress, but then it might be just a tad painful when it hits my bride and groom!  Instead, Trisha brought along color powder and it did just the same.   It was so much fun!!!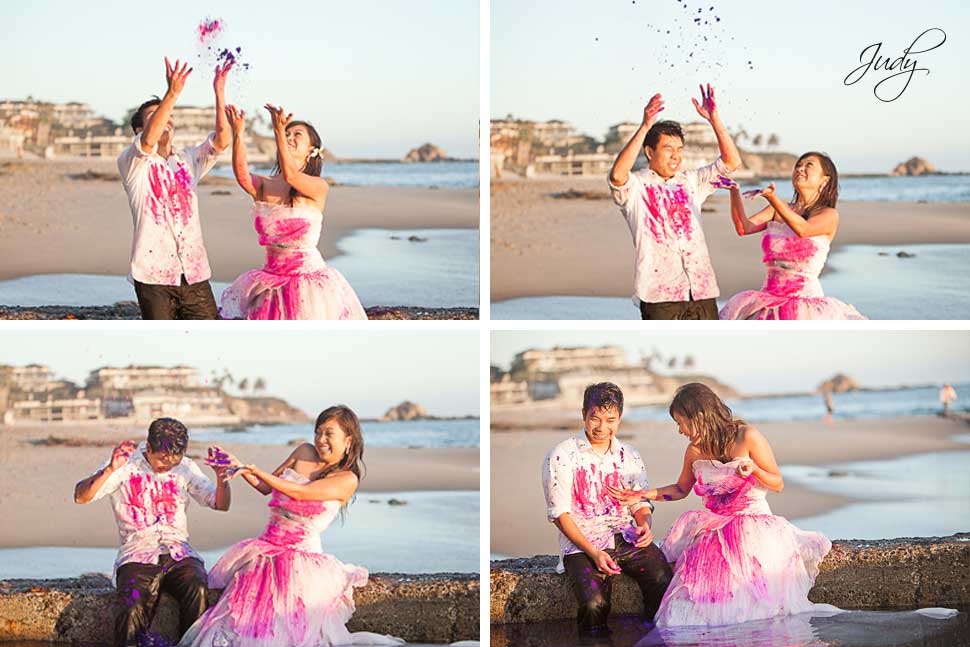 Now that they have completely messed up their attire… let's jump into the water to mess it up some MORE!!   This was super fun…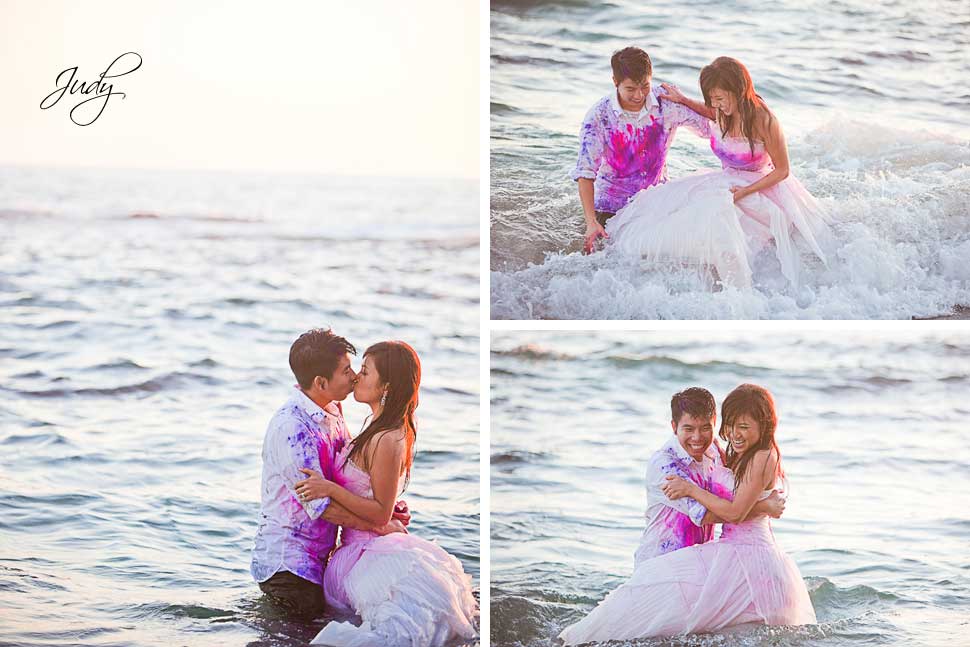 WOW…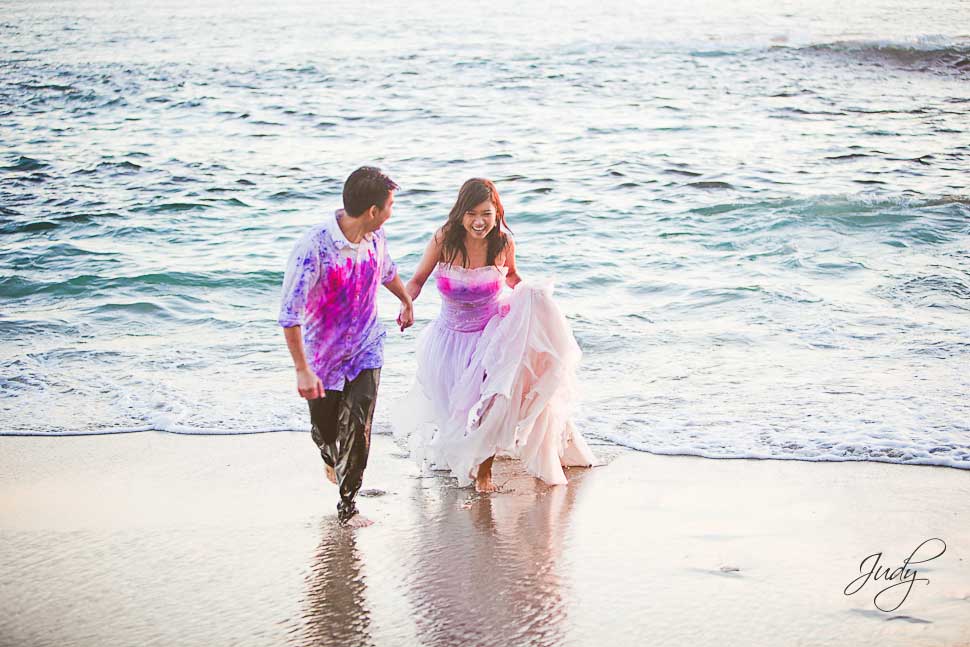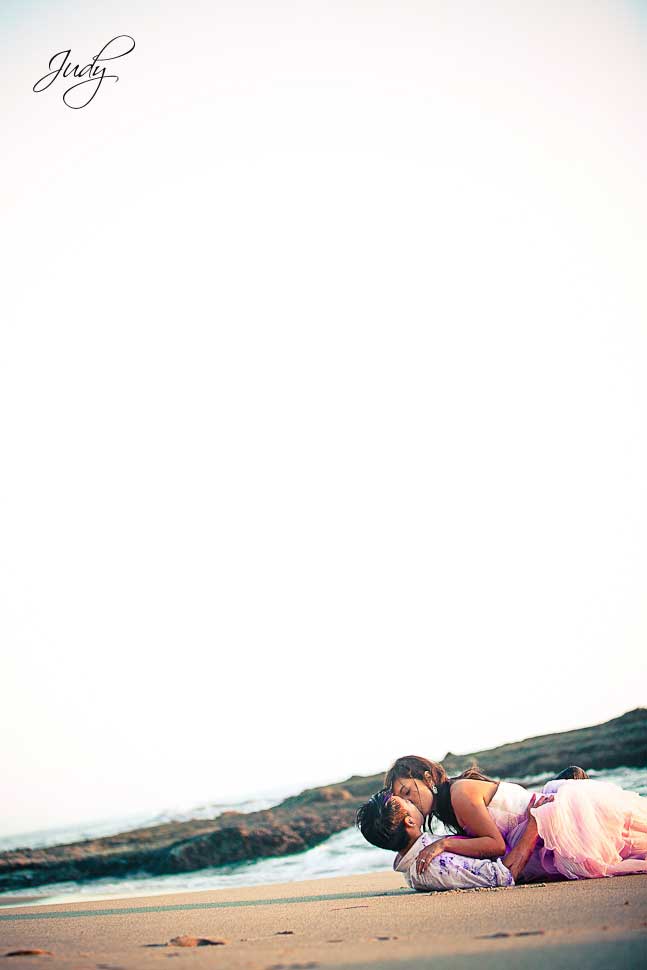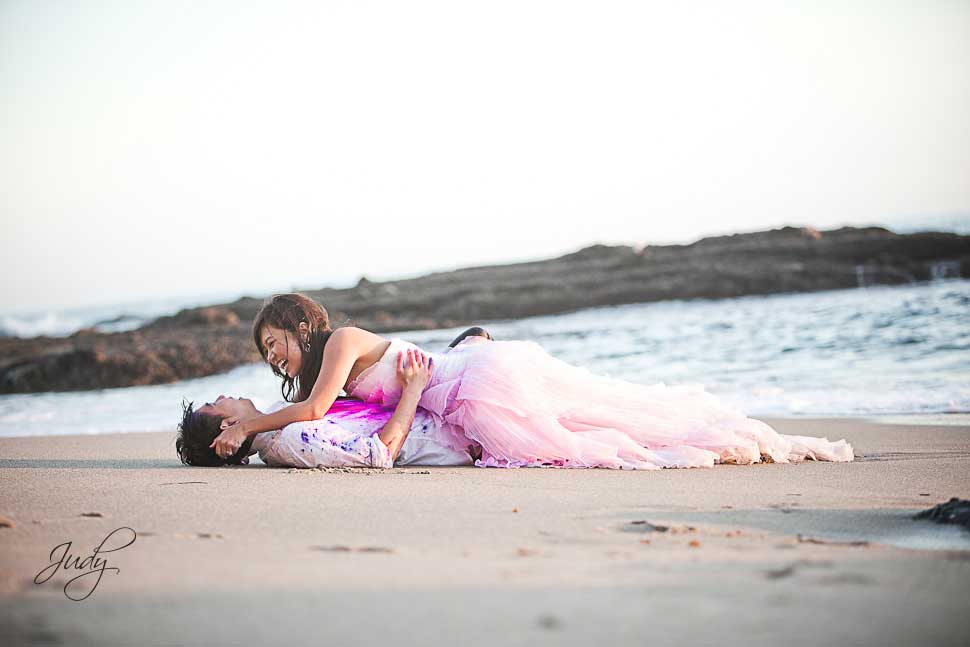 We ended the evening with a beautiful and colorful sunset!!  For those who are wondering… I do not use photoshop to edit my pictures at all.  I use Lightroom 3 to do minor adjustments.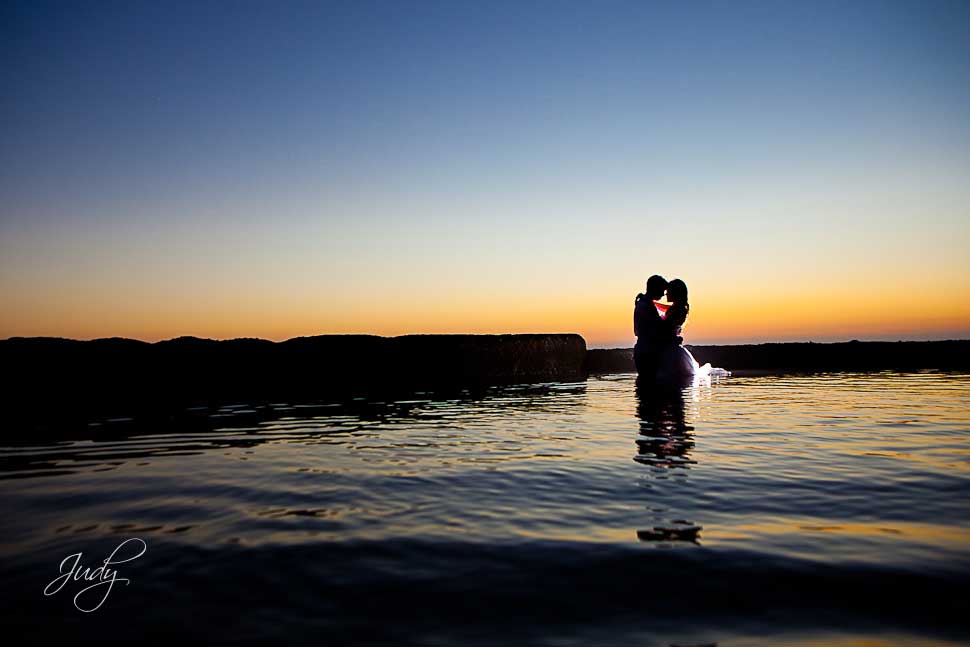 thank you, THANK YOU Trisha and Andy for an awesome experience!!  It was definitely a blast hanging out with you both… Gavin and I had such an amazing time.  Again, sorry I couldn't be your wedding photographer.  I hope this fun-filled Trash the Trash photo session will give you photos to commemorate this memorable time of your life.  Best wishes —
Oh… I forgot to mention, Trisha was gonna throw her dress away so I asked her if I could have it (to use for later model shoots).  She generously gave it to me.  Thank you Trisha!!!
One day around 10pm, Gavin and I were bored so I decided to put on the Trisha dress and hopped into our swimming pool.  MY turn to trash it… LOL  Here is a picture of me taken by my awesome soon-to-be hubby, Gavin of Gavin Photography.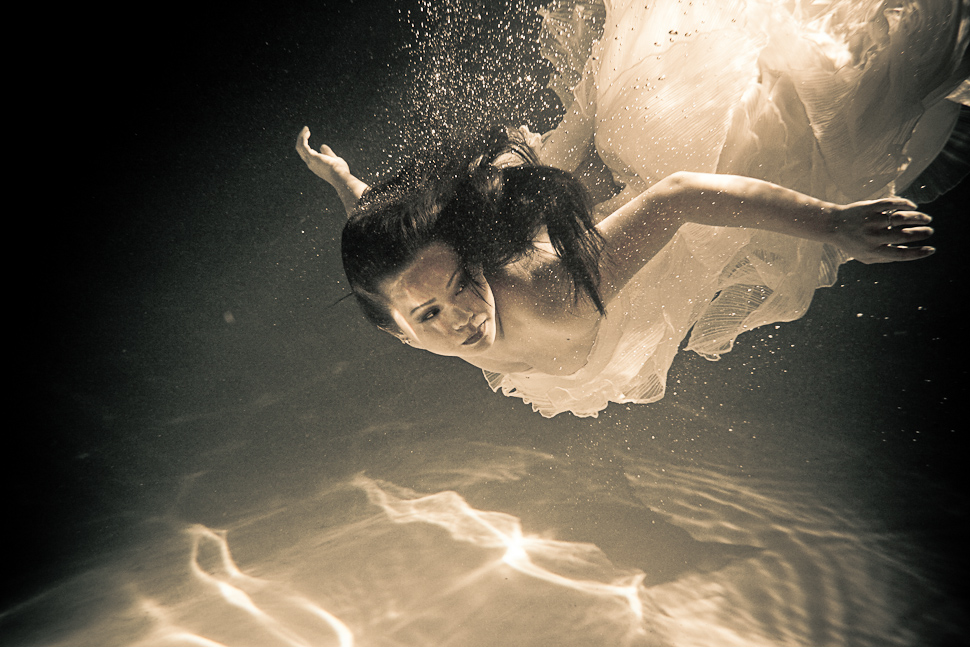 Please contact me (626.216.4332) if you are interested in doing a fun,edgy, and modern trash the dress photo session.