We love destination weddings, and we love Jill and Stephen!! From our very initial Skpe conference call to meeting them and doing their engagement photos at Disneyland, Jill and Stephen have been nothing but an absolute joy to work with. Last month, Gavin and I had the pleasure of flying to Banff National Park in Alberta, Canada to photograph Jill and Stephen's wedding at the Rimrock Hotel. Holy Cow, it was GORGEOUS!! I'd have to say that Banff has some of the most beautiful lakes in the world.  When we were physically there, everything looked like a painting. And if we weren't really there in person, I'd say it was photo-shopped. Really!! See for youself! =)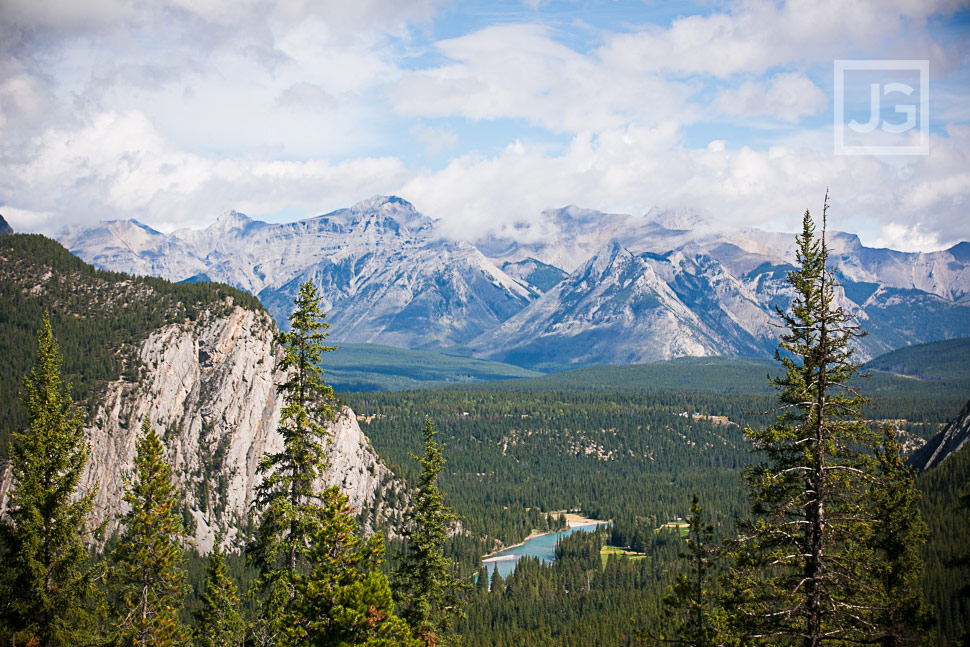 Jill and Stephen had their destination wedding on the last weekend of August. It was a chilly early Fall afternoon in the beautiful courtyard of the Rimrock Hotel where Jill and Stephen vowed their love. It was raining on and off but that didn't stop them from promising forever to each other (in the warm embrace of only close friends and family). Surrounded by serene mountains and fresh evergreen, the picturesque landscape was painted before us. It's no wonder it is such a sought after and coveted vacation destination.  One memory that sticks with me most is of Jill and Stephen holding hands as the weather transitioned from sunny to sprinkling in a matter of minutes.  As they as stood their in the rain reciting their vows, the rain only managed to glisten their smiles and wet their love and desire for each other!
Love this photo of Jill laughing as her sisters helped her into the dress.
Isn't that a gorgeous view??
After the wedding ceremony, we drove all around Banff taking bridal party and couple portraits. We started off the session in heavy rain, but it soon cleared up. I seriously can photograph them ALL day!!
Our first stop was Two Jack Lake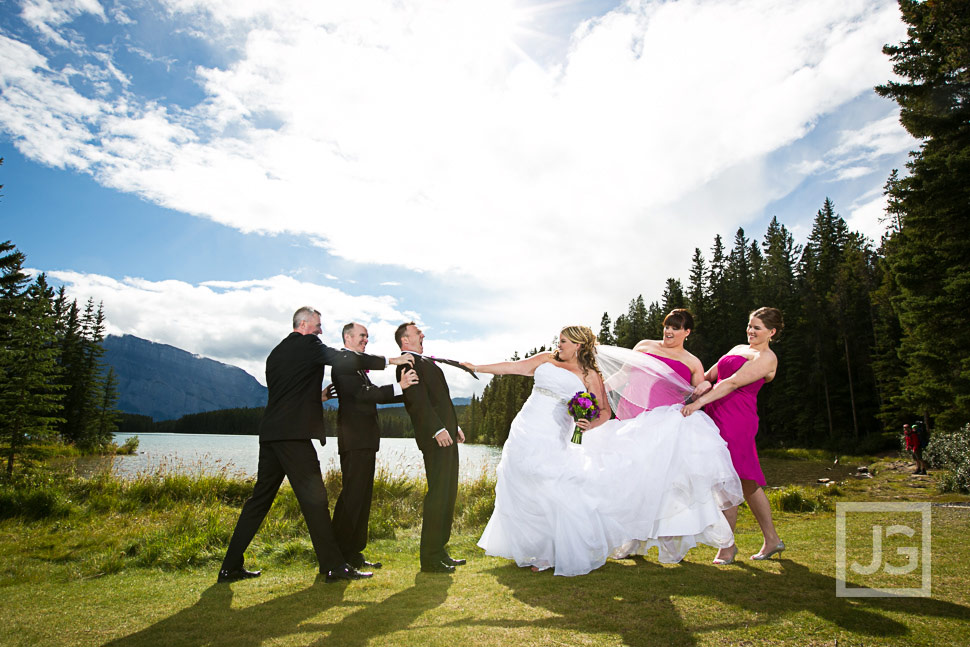 Lake Minnewanka was absolutely beautiful!!
I love the dark black with hints of purple and pink. Beautiful choice of color.
Stephen is a HUGE Starwars fan, so Jill surprised her new hubby with a Groom's cake.  So sweet and thoughtful.