I've been super excited about shooting Denise and Dennis's (yea… I know… can't forget their names) wedding ever since they've decided to go with me as their Pasadena Ambassador wedding photographer.  This is the very first time that I am leading my own wedding!!! YAY!!!  As I was driving to their BEAUTIFUL wedding location, Pasadena Ambassador Mansion and Gardens, I felt butterflies in my stomach.  These weren't nervous butterflies, but instead, they were anxious butterflies eagerly waiting to capture timeless moments.  I had so many ideas that I wanted to try with Denise and Dennis!  These two are totally rad!! They are such a charming, down-to-earth and laid-back couple.  This made my first experience such a memorable and pleasant experience doing a wedding at the Ambassador Mansion in Pasadena.
You can view their entire wedding gallery here:
Preparation, Ceremony, Formals, Couple, Reception 1, Reception 2
Here are some pictures of Denise our gorgeous bride getting ready for her big day!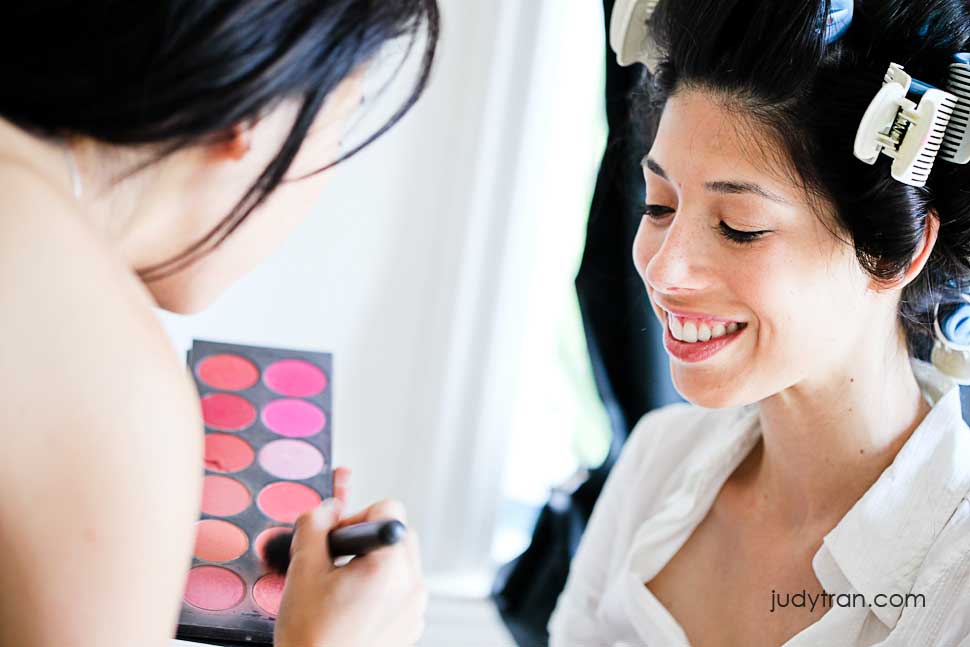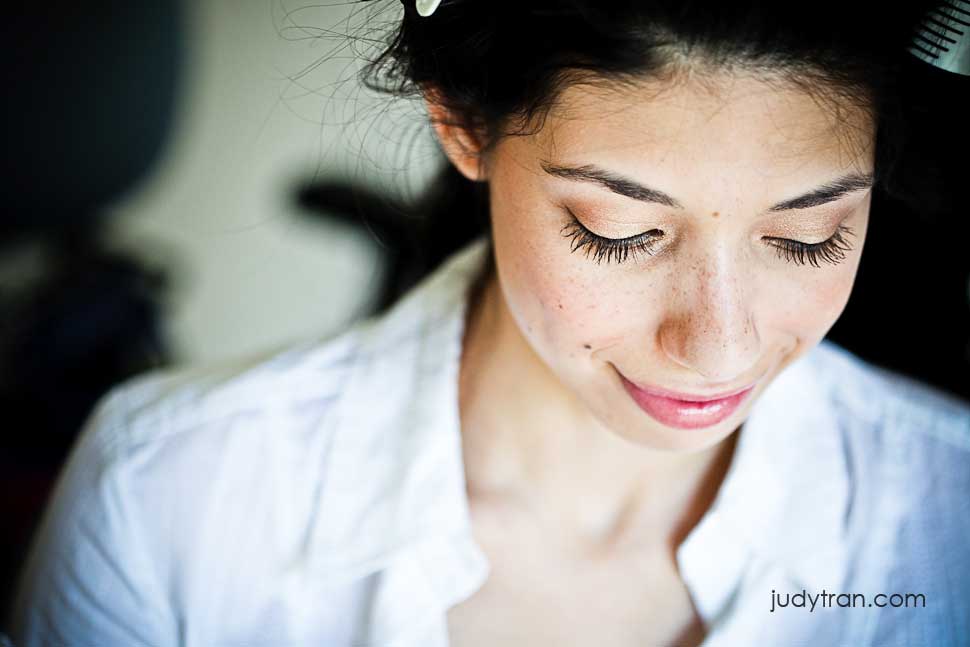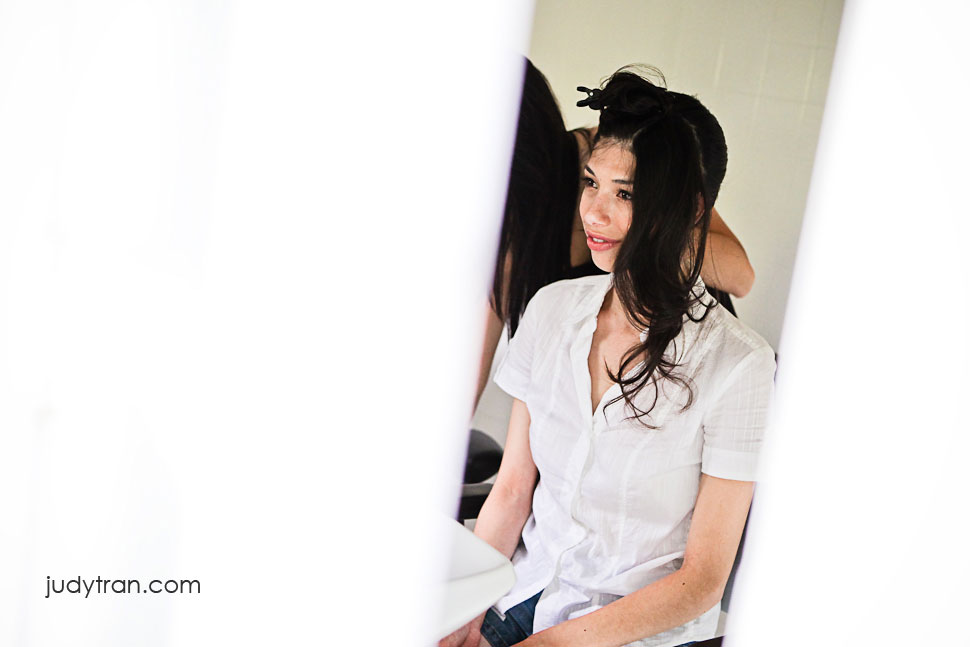 I LOVE the bird cage!!! In fact… I'm doing the same thing for MY wedding!!  Simple… classy… and elegrant!  Love it… love it… love it!!!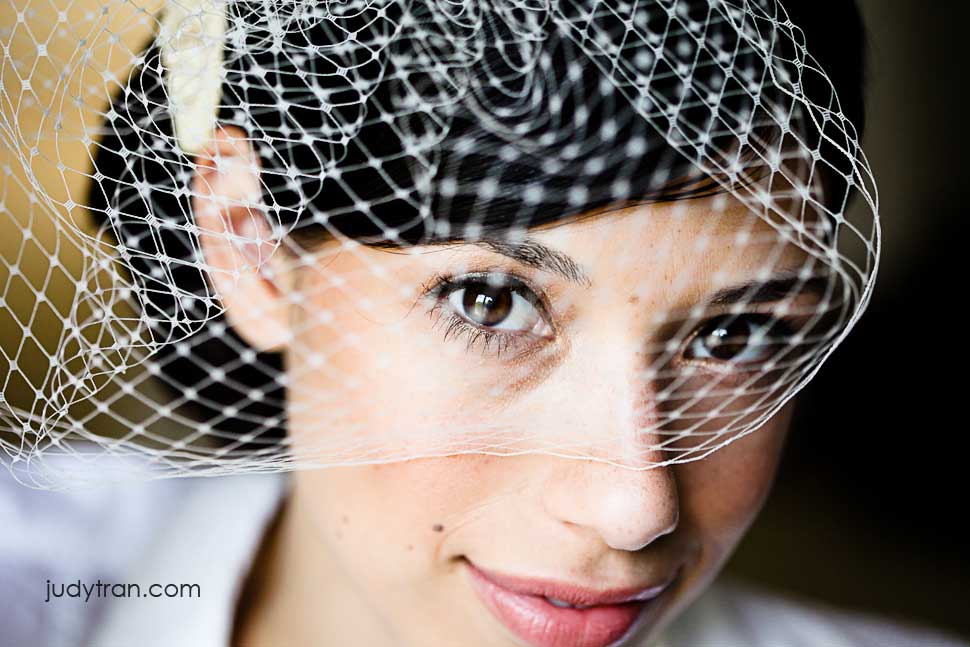 Oh… and of course my signature ring shots!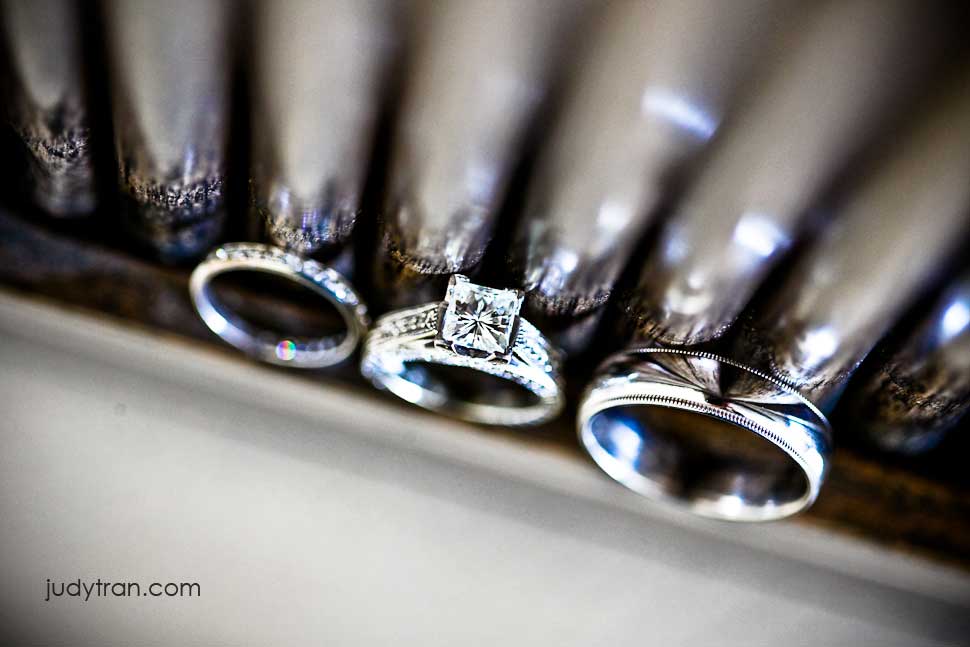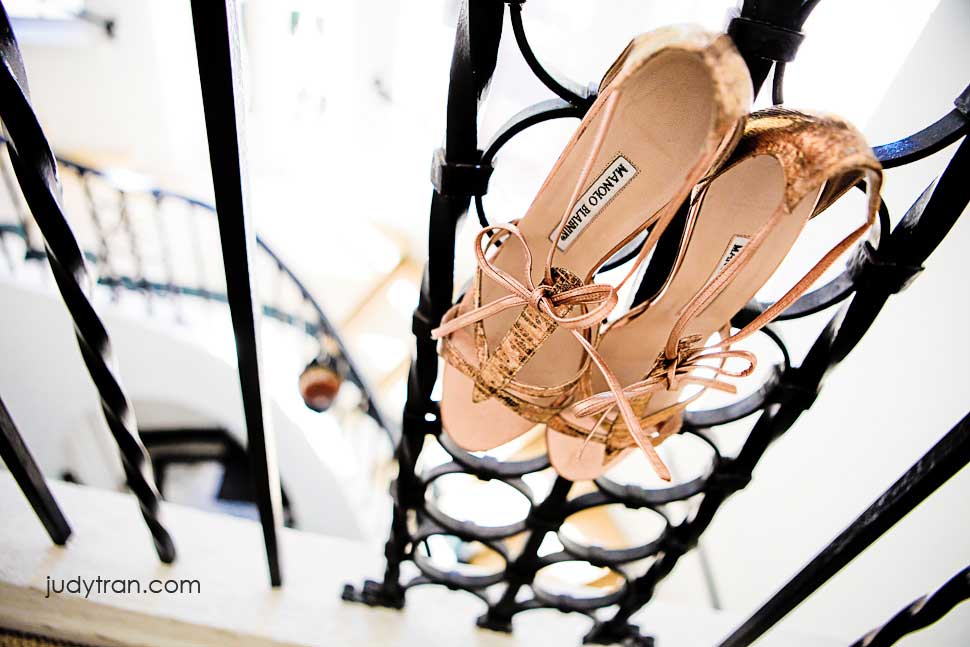 Denise's wedding dress is an exquisite vintage-looking dress.  It's very flowing and has a LOTS of layers.  It was kinda funny photographing Denise getting into her dress because she was caught in between the layers and had tough time "diving into" her dress.
And here she is…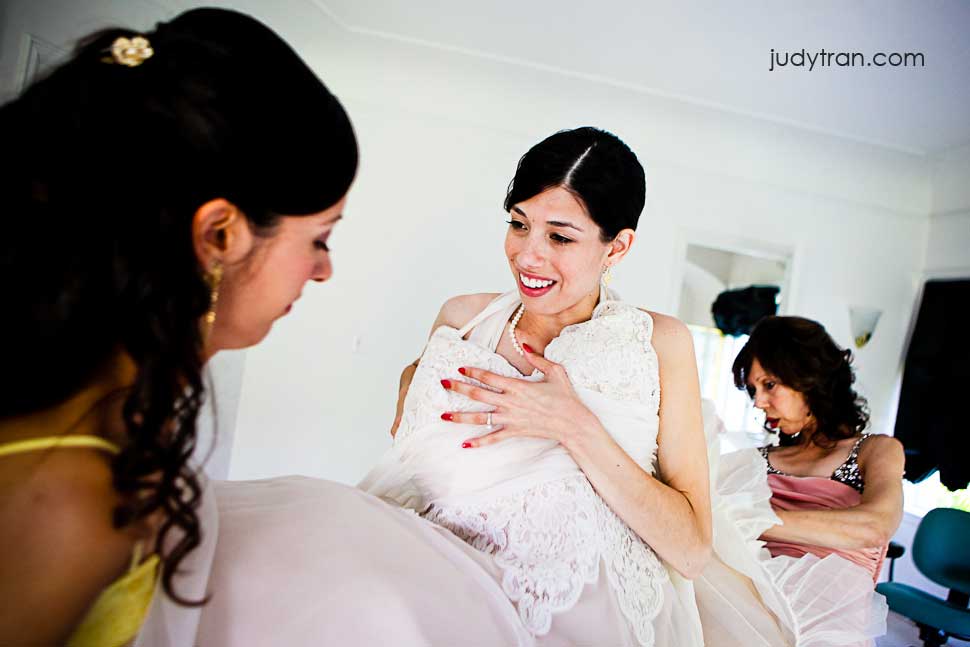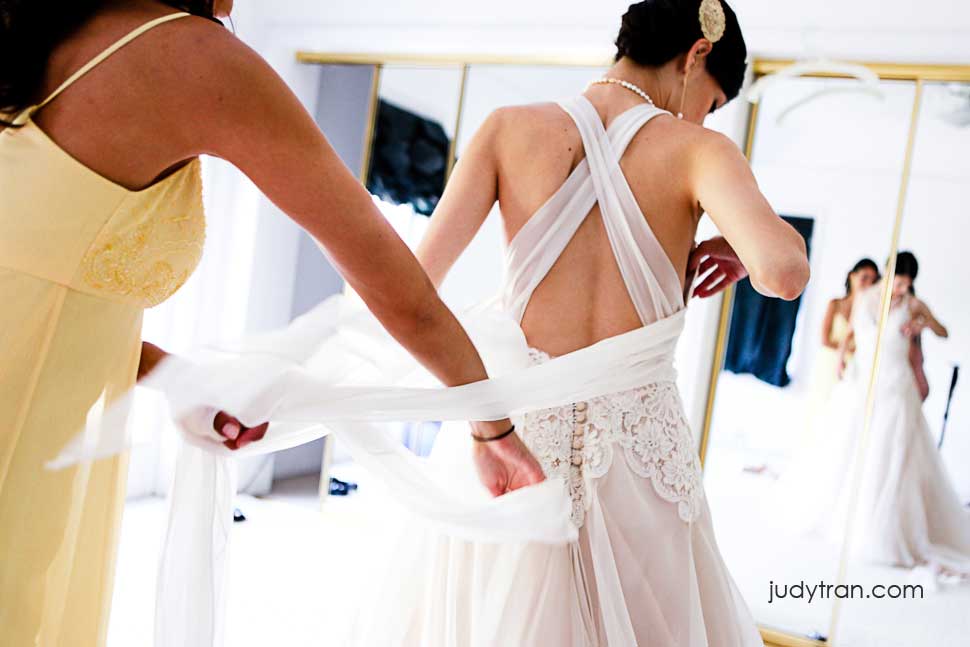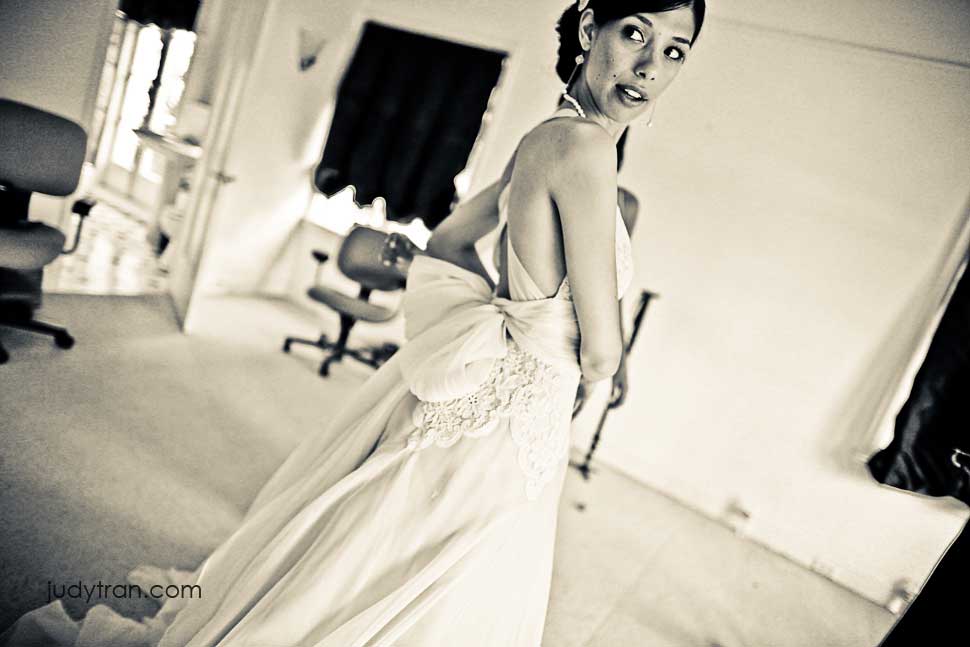 Let's now meet our strapping groom, Dennis at the alter.  Dennis works for the television industry and is a natural in front of the camera.  Dennis is a goofy yet sincere kinda guy that is not afraid to show his emotions.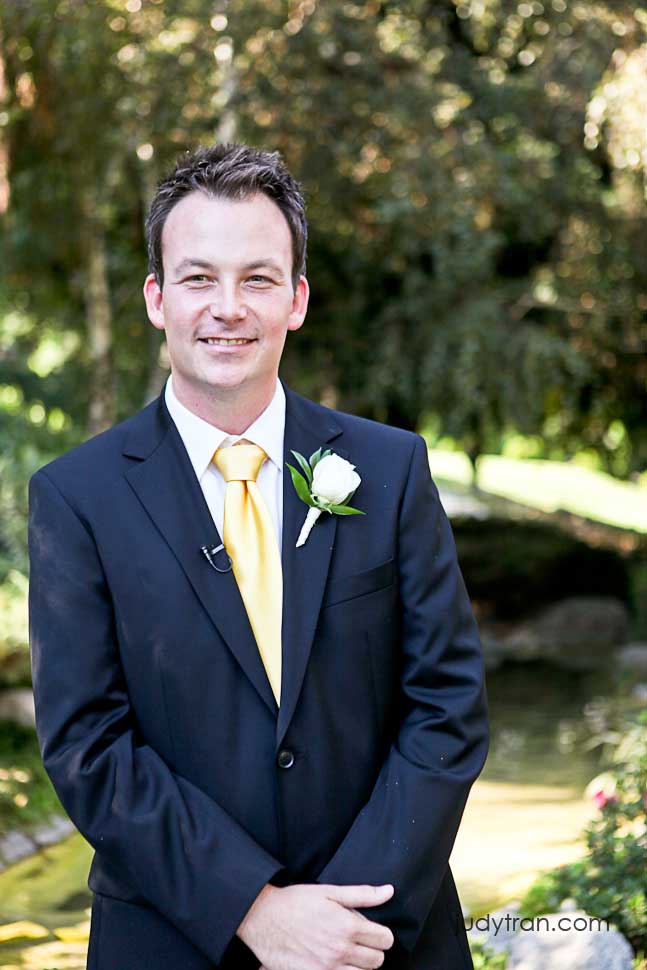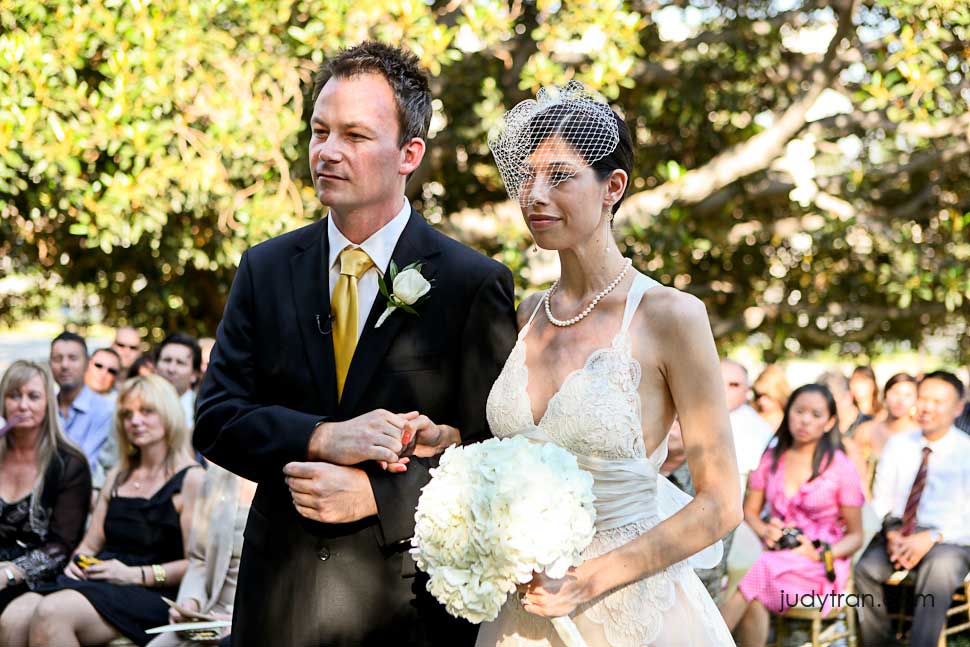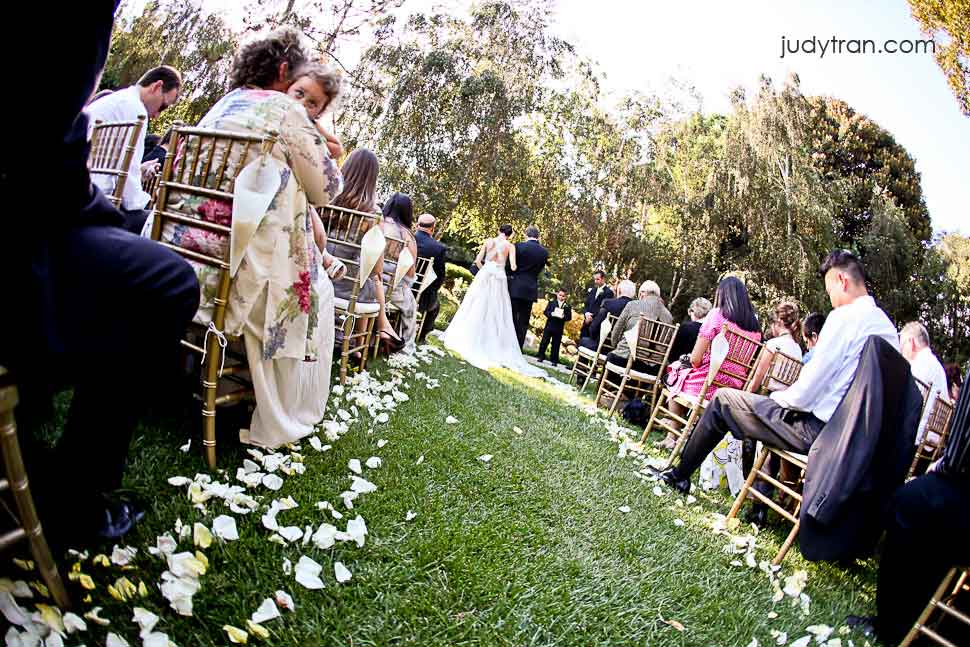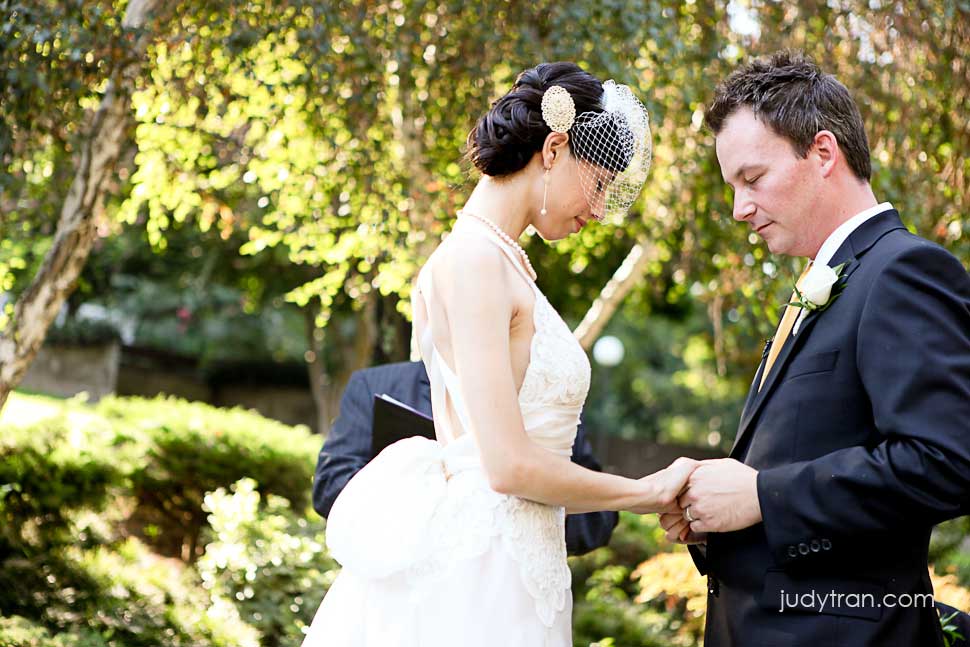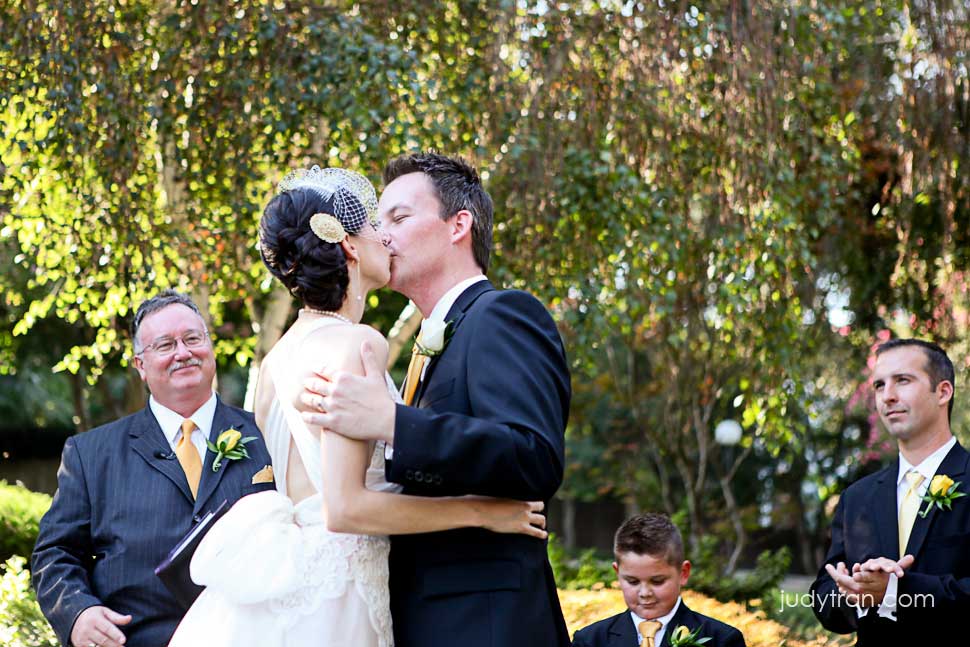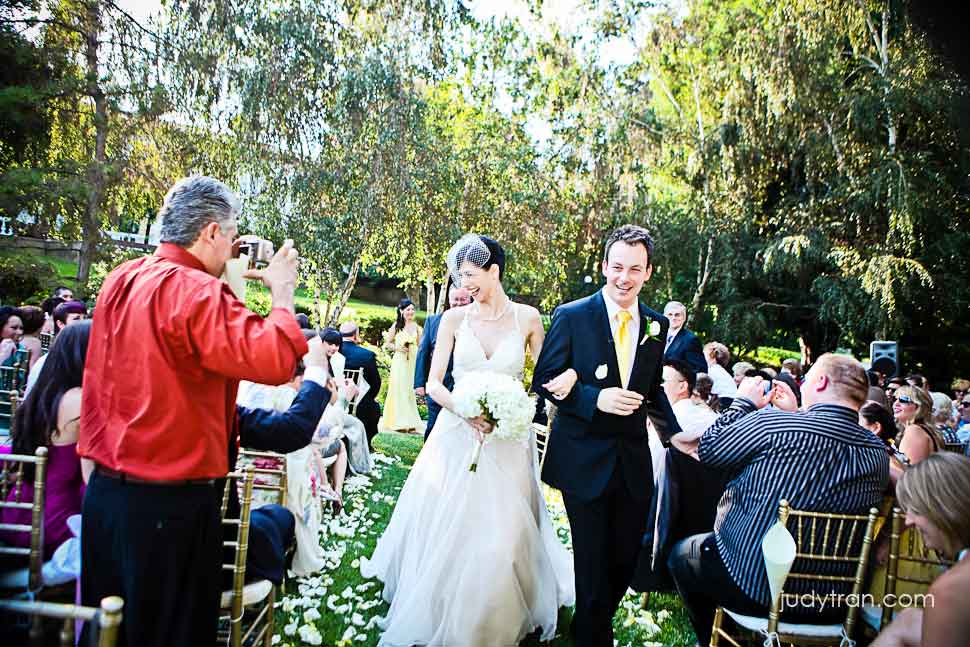 This is one of my favorite pictures.  The laugh on Denise's face is just so geniune and adds so much life to the picture.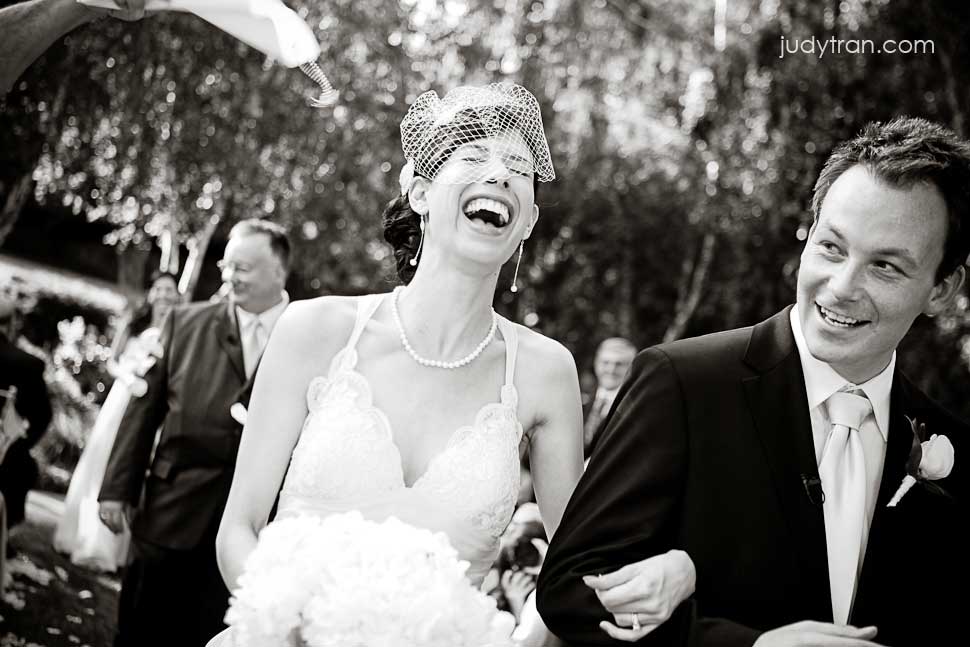 After the ceremony, we had lots of time to wander around the garden for pictures.  Here are some of my personal favorites.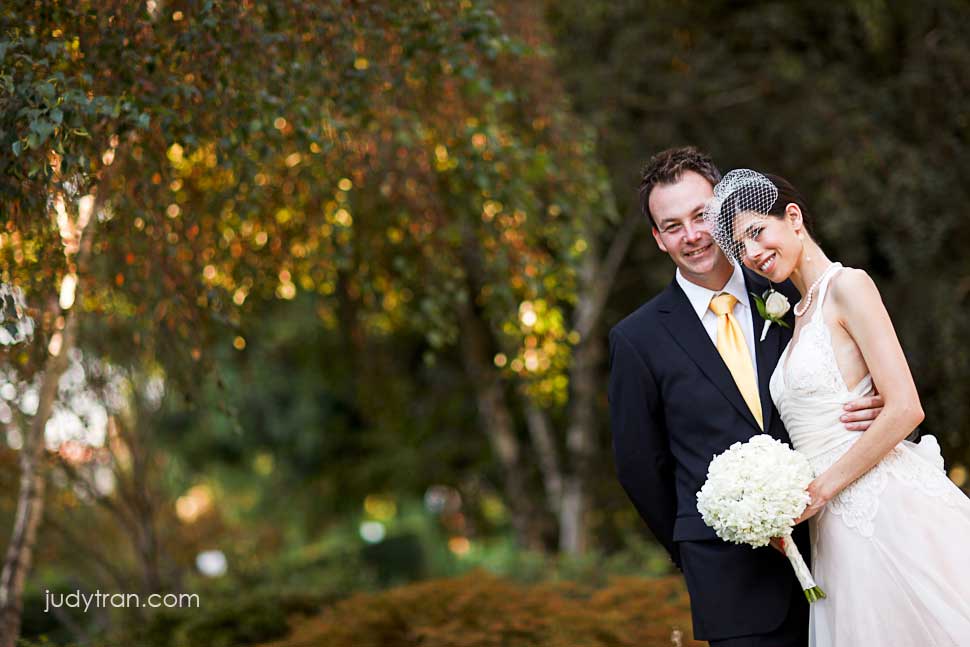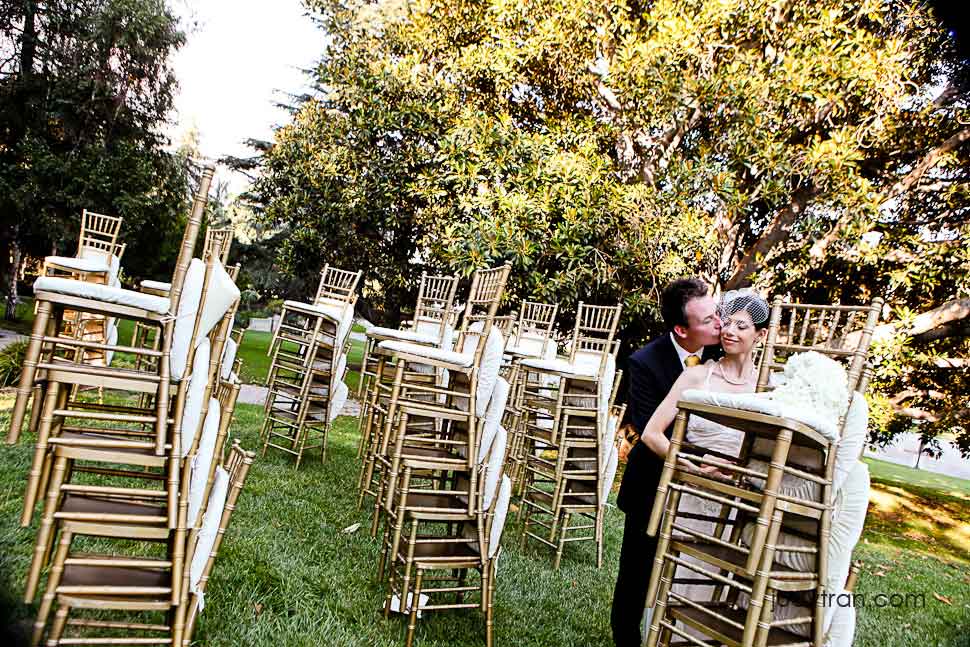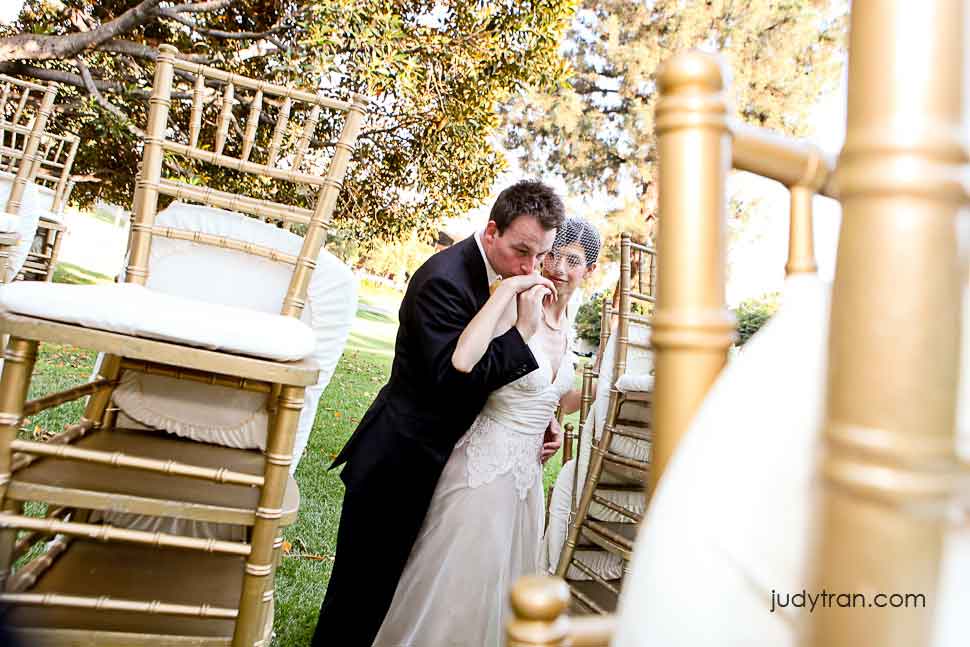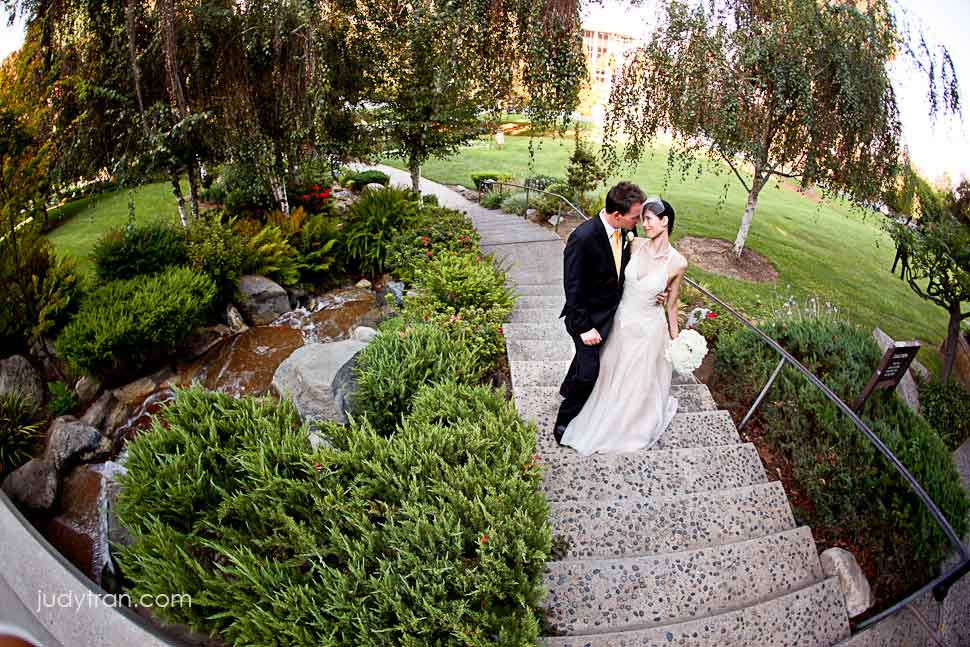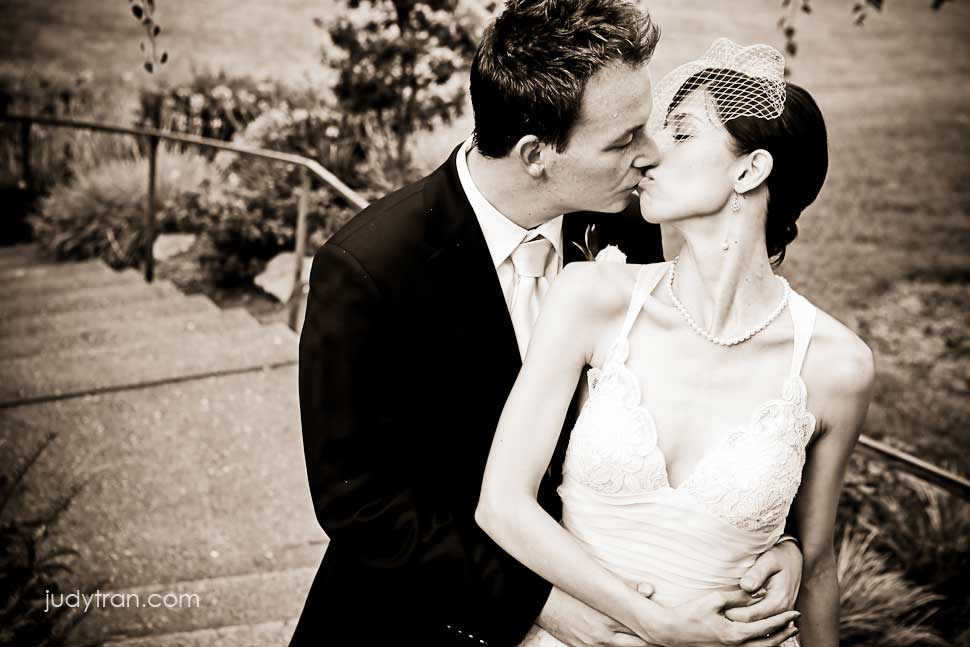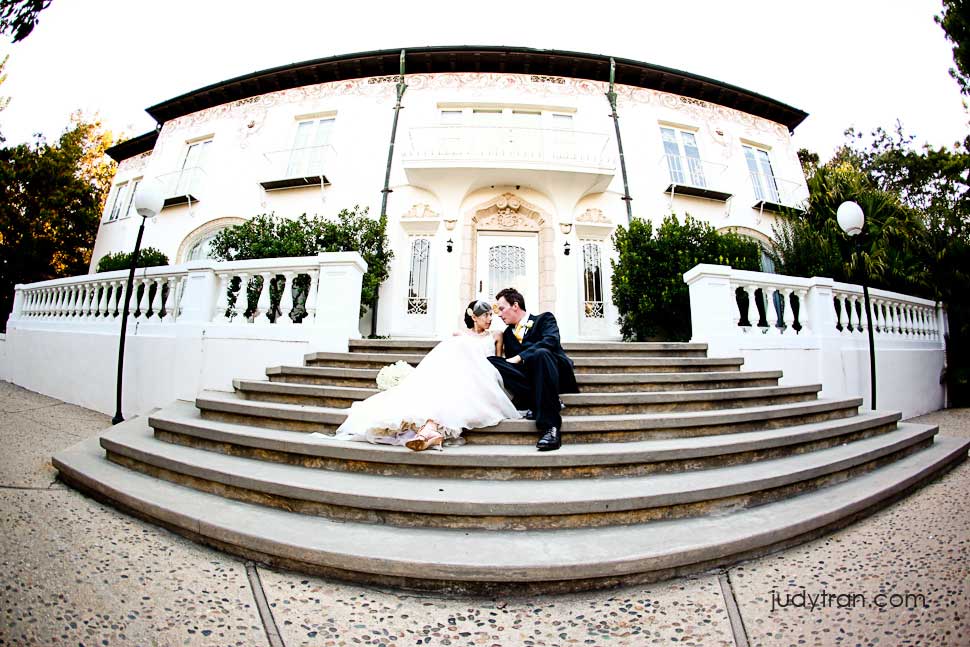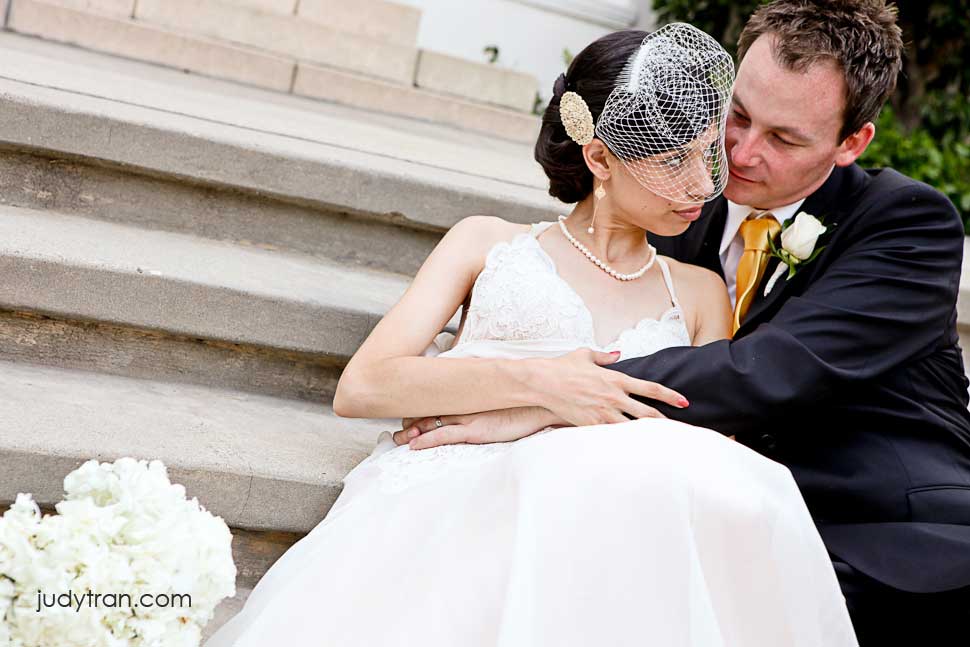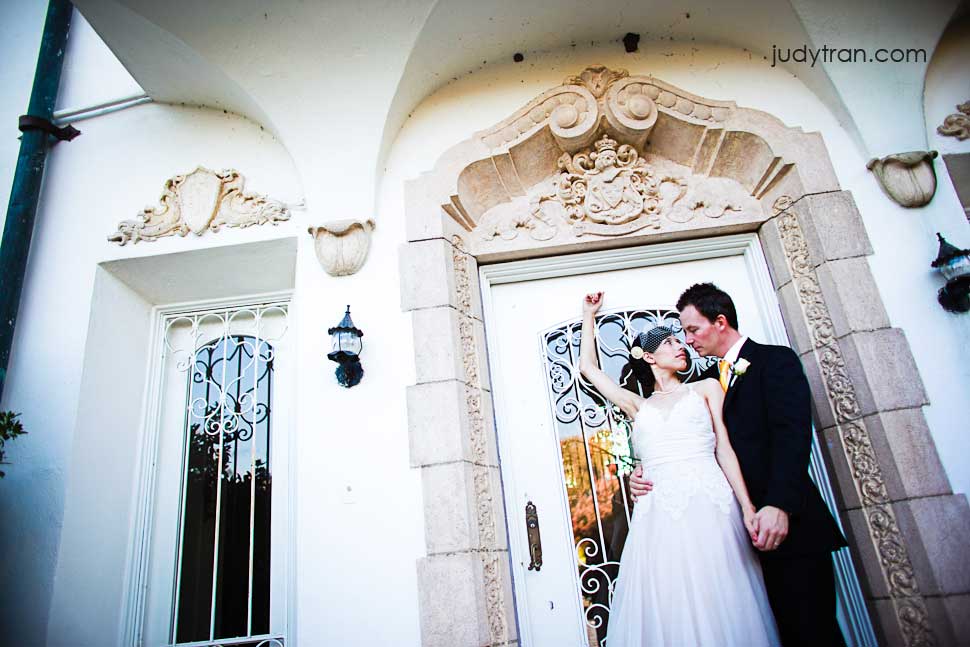 I really like this candid picture of Denise as she's walking away.  There's something about it that is so serene.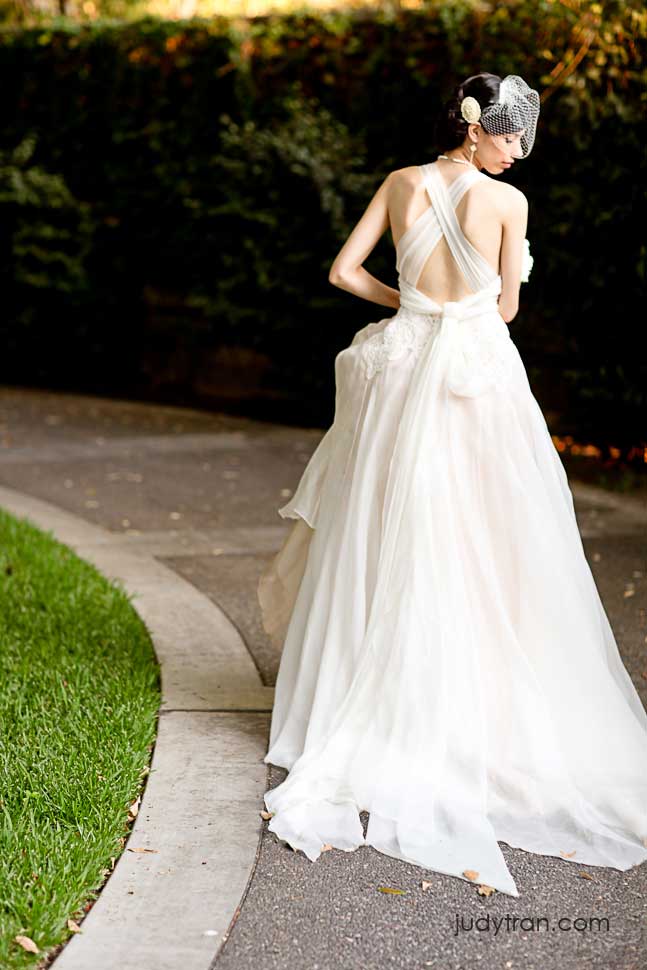 The spiral stairs in this big mansion is sooooo cool!  I had to put my couple in the middle for a photo.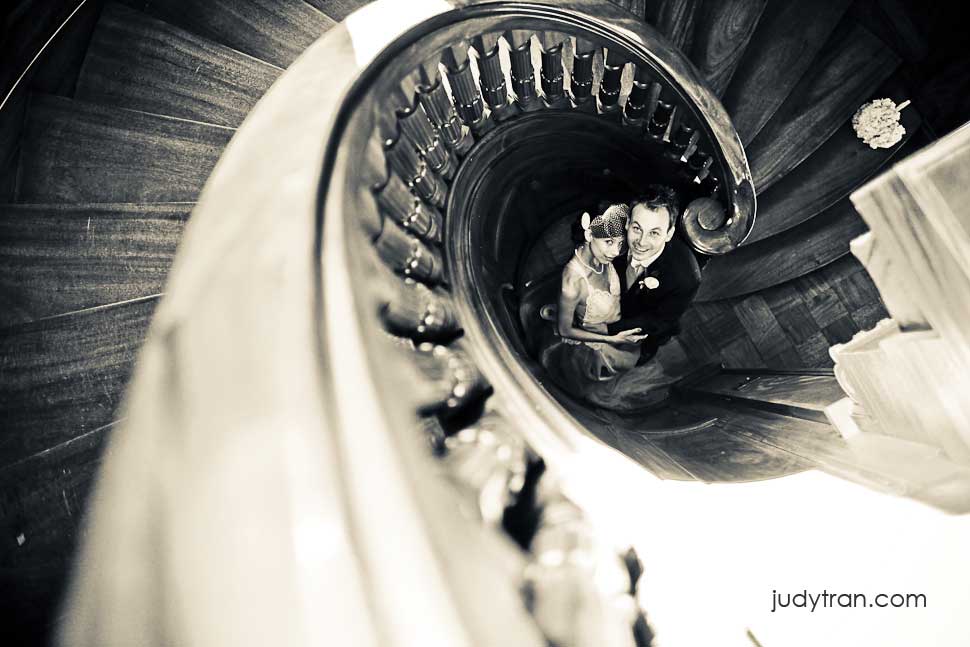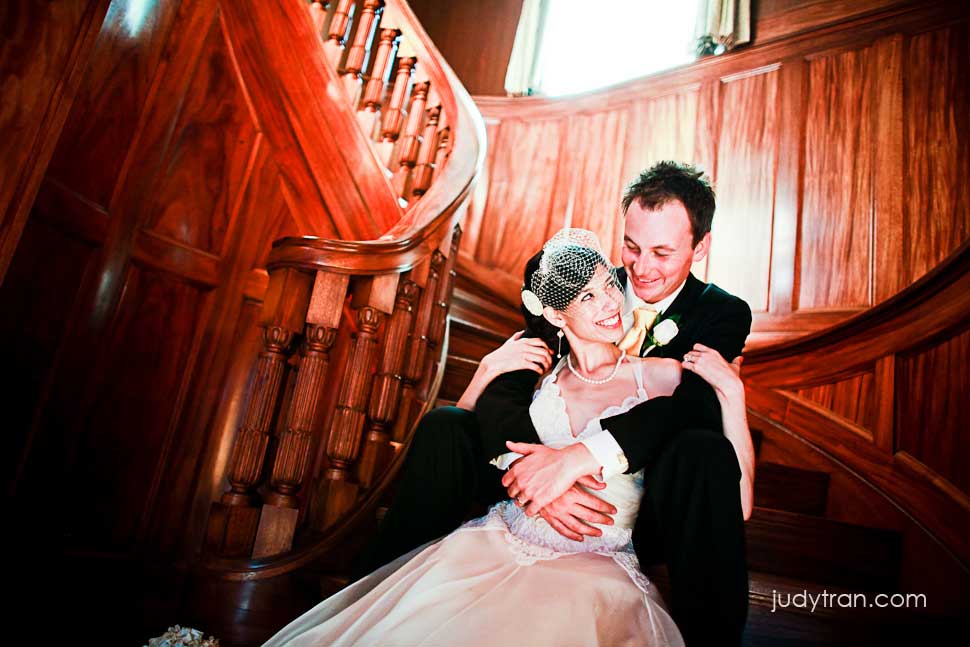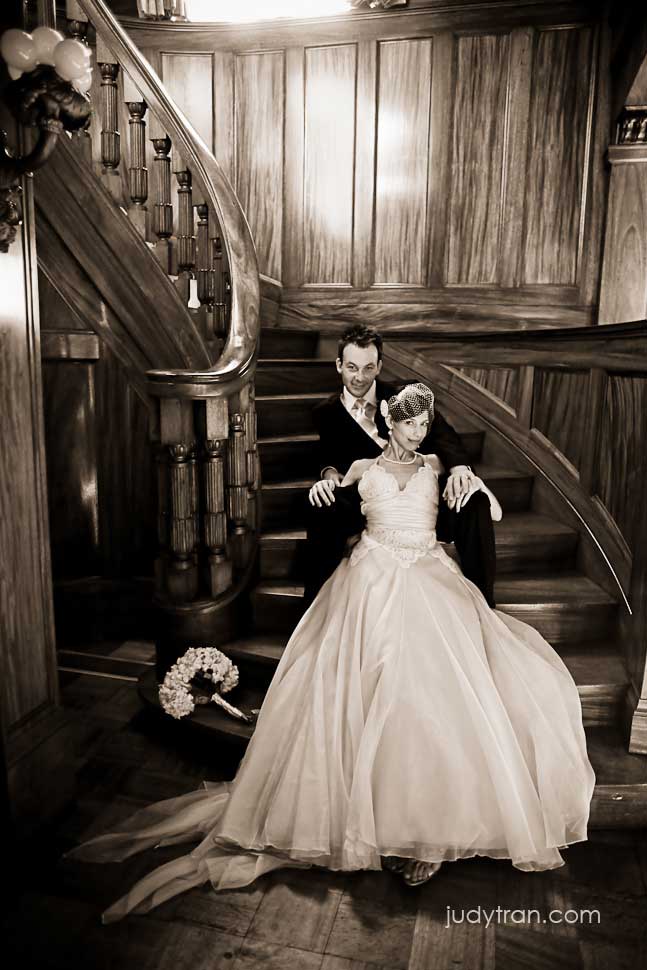 Denise told me that this building is what sold her on the location…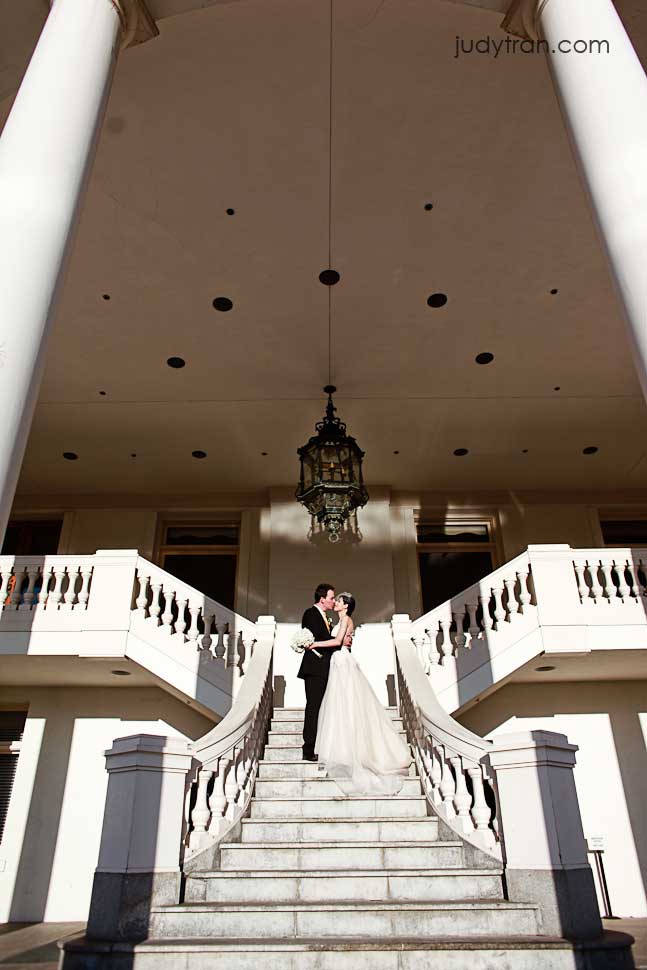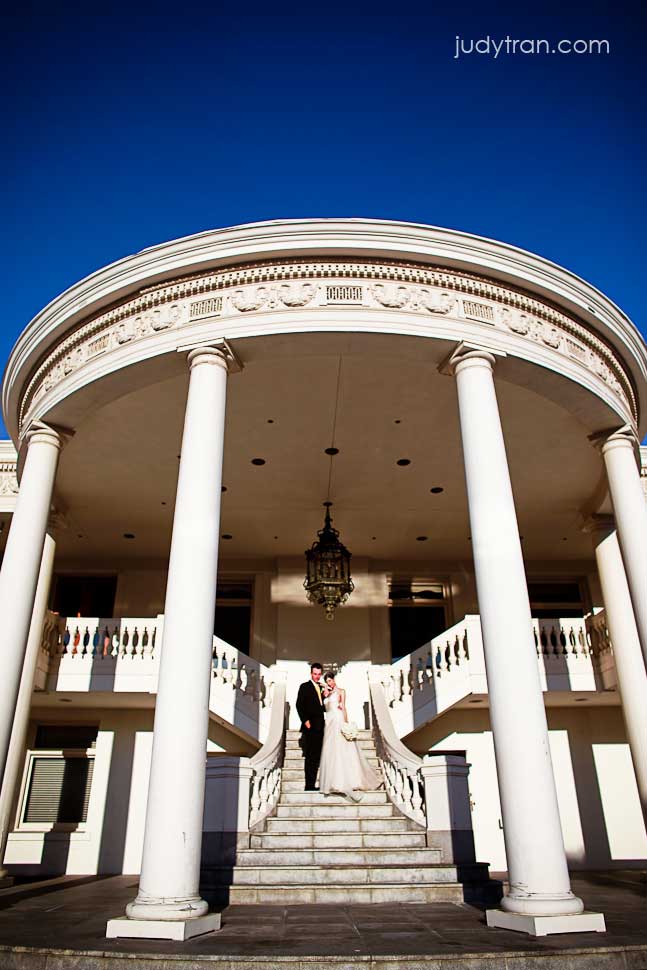 At the reception, the toasts constantly made Denise and Dennis giggle and laugh.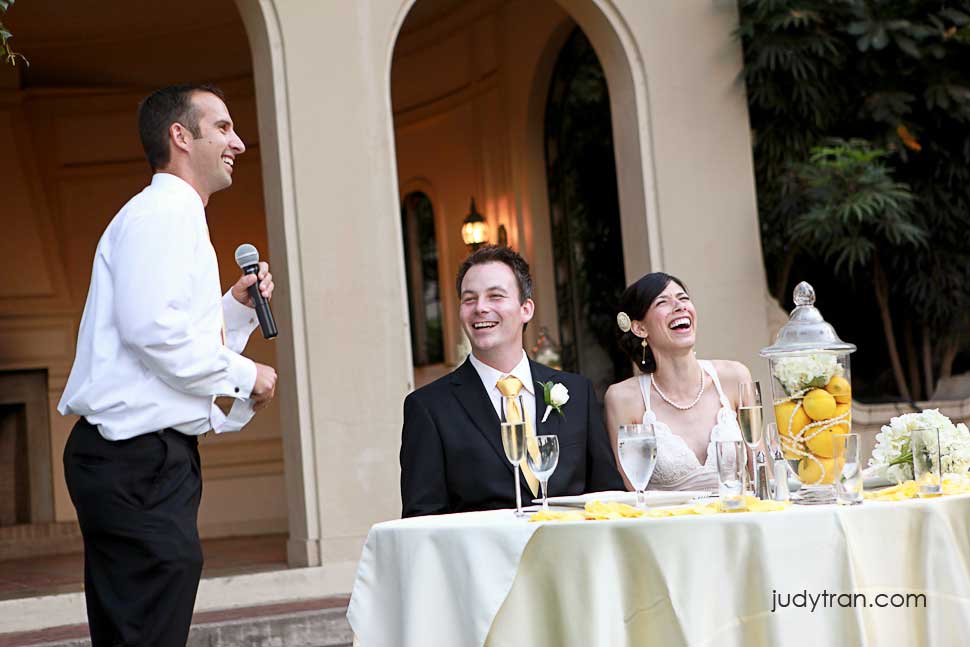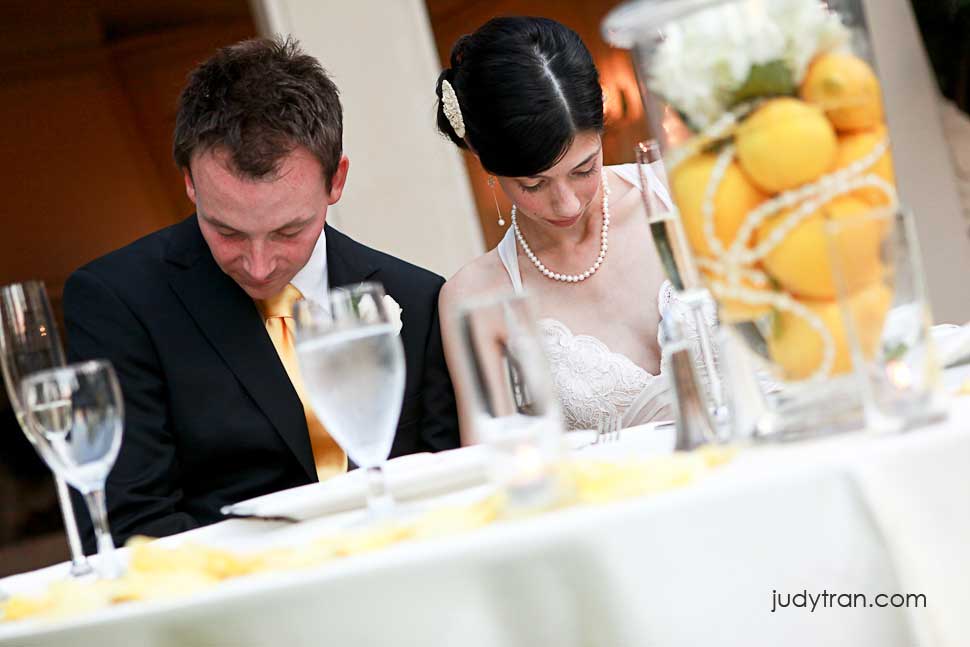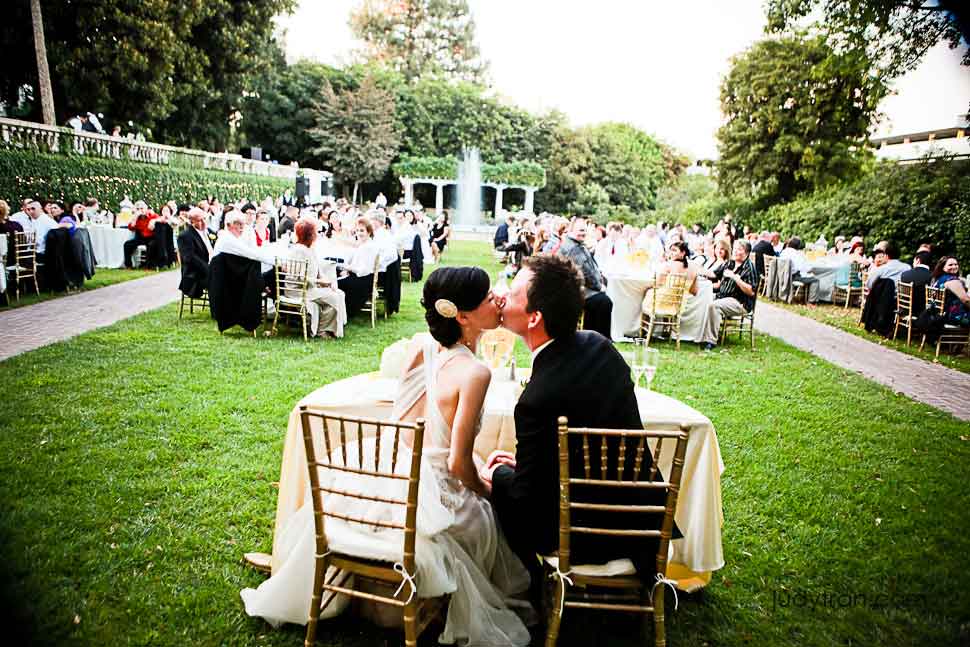 The dance floor was filled with family and friends celebrating the joyous union of Denise and Dennis!  I was just thinking… remember Bennifer or Branglina???  How would we do a word name for Denise and Dennis???  Would it be D-E-N-N-I-S-E???  =)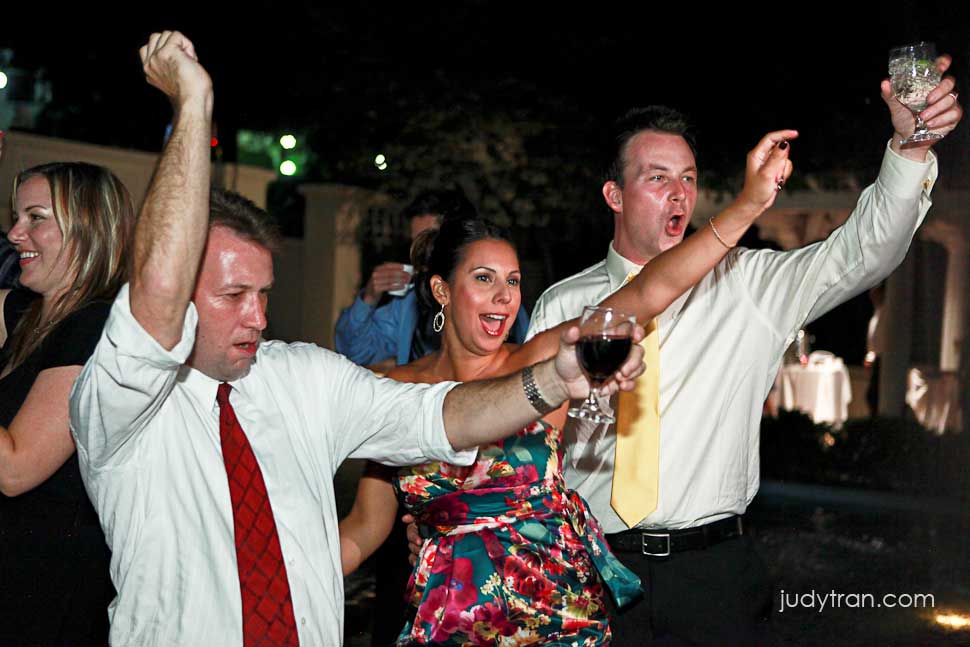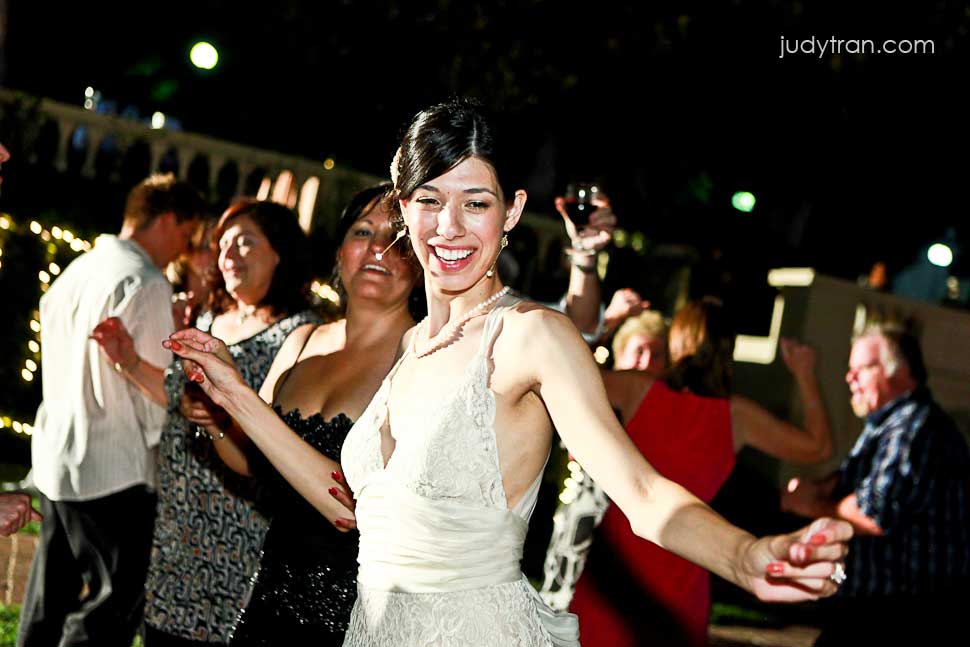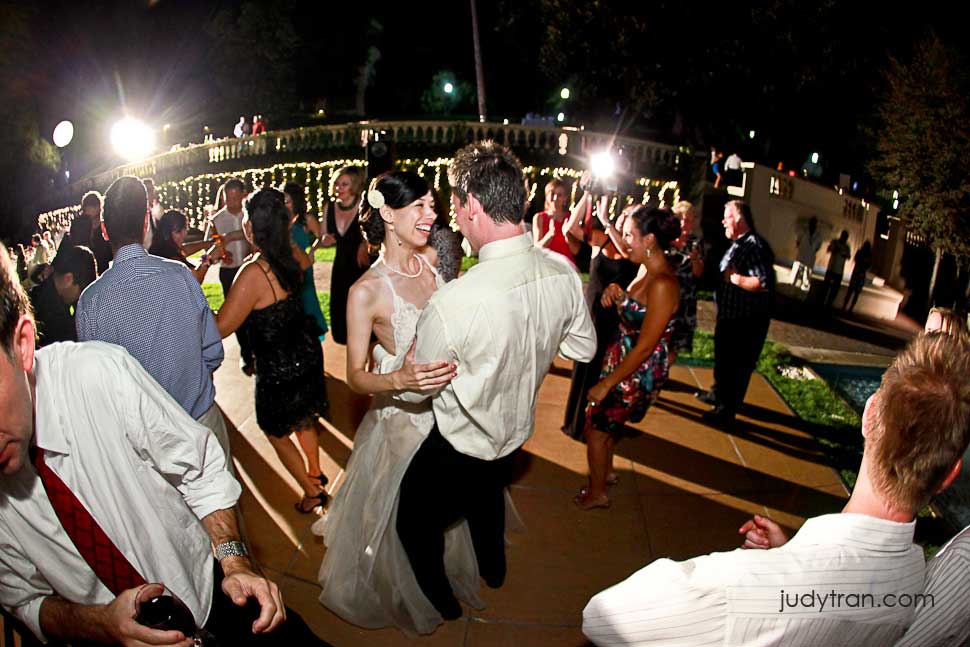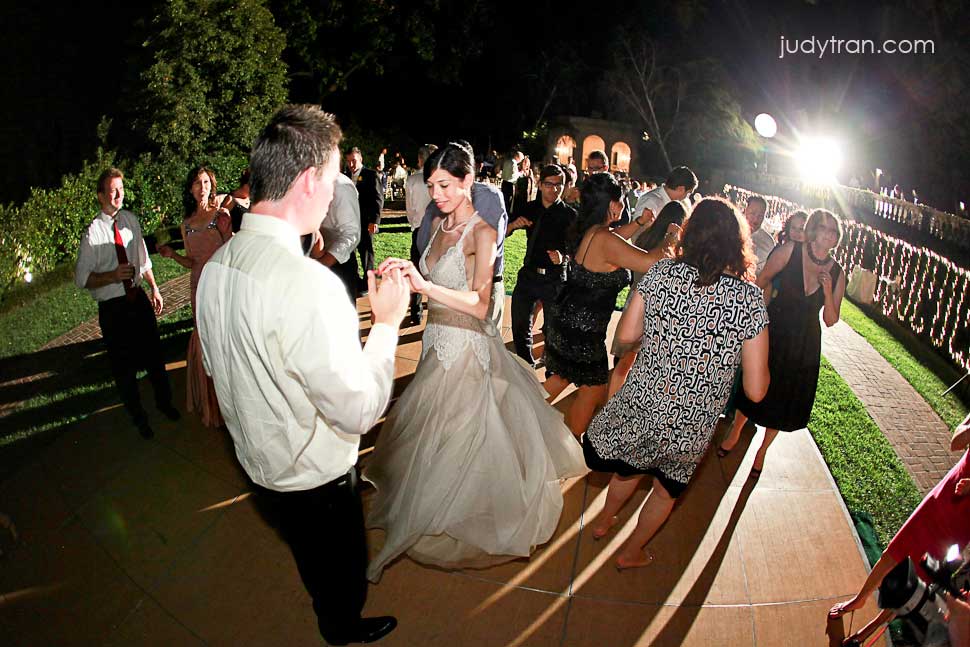 Show 'em what you got Dennis!!!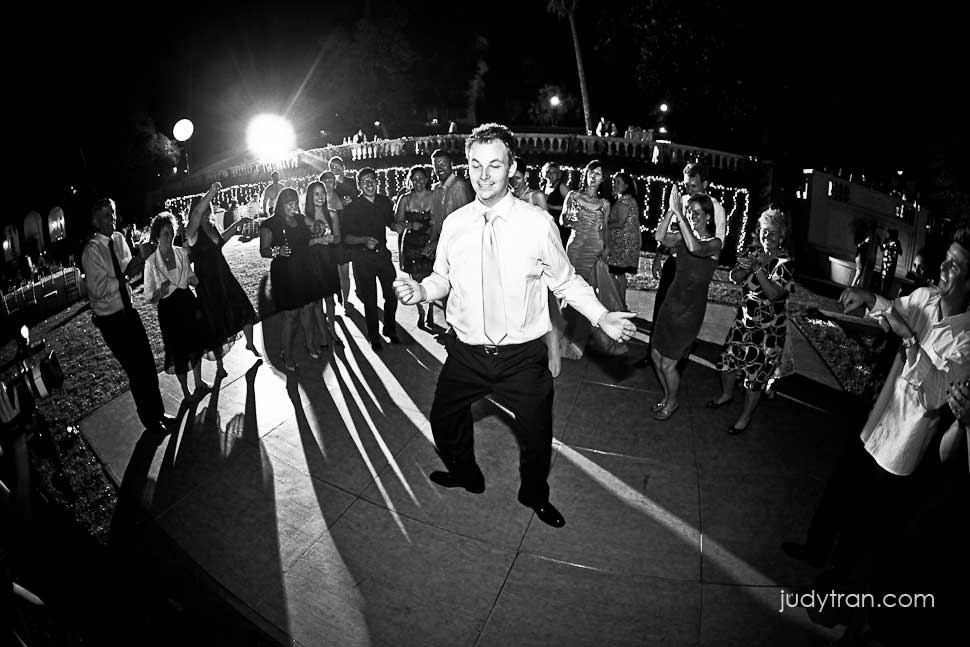 Work it girl!!!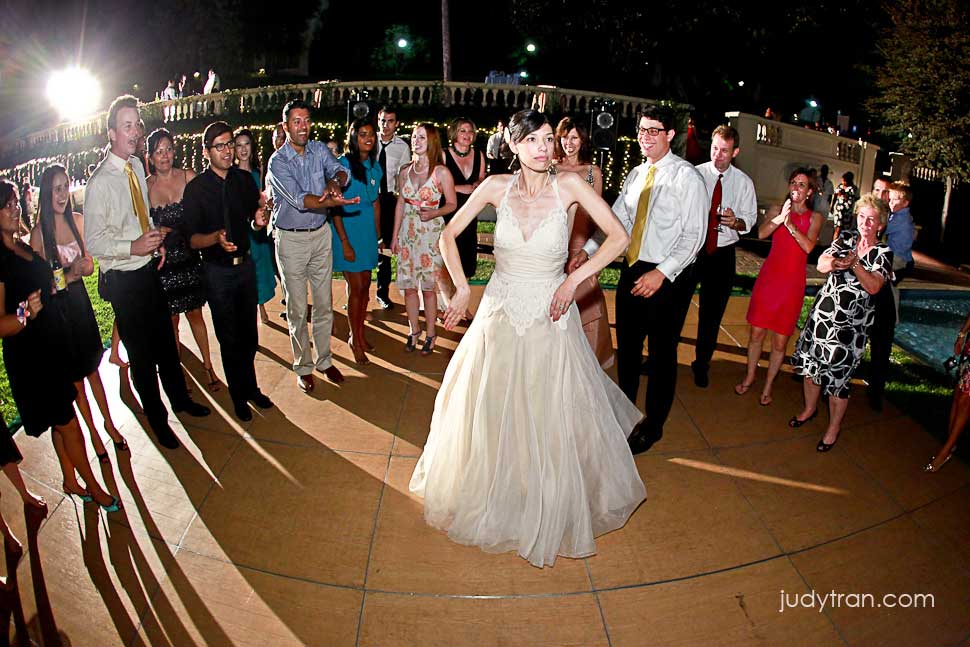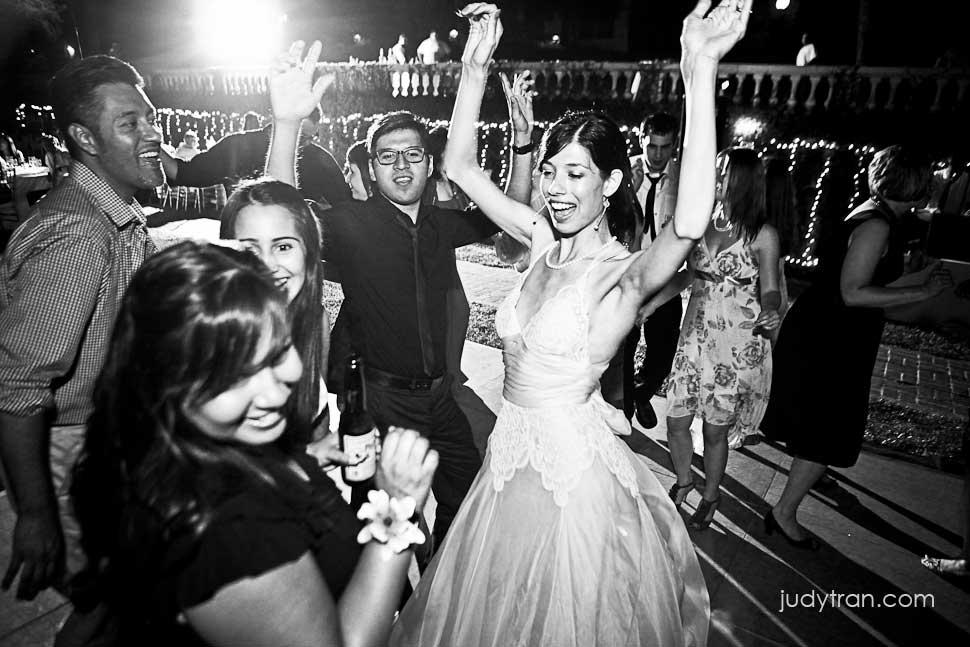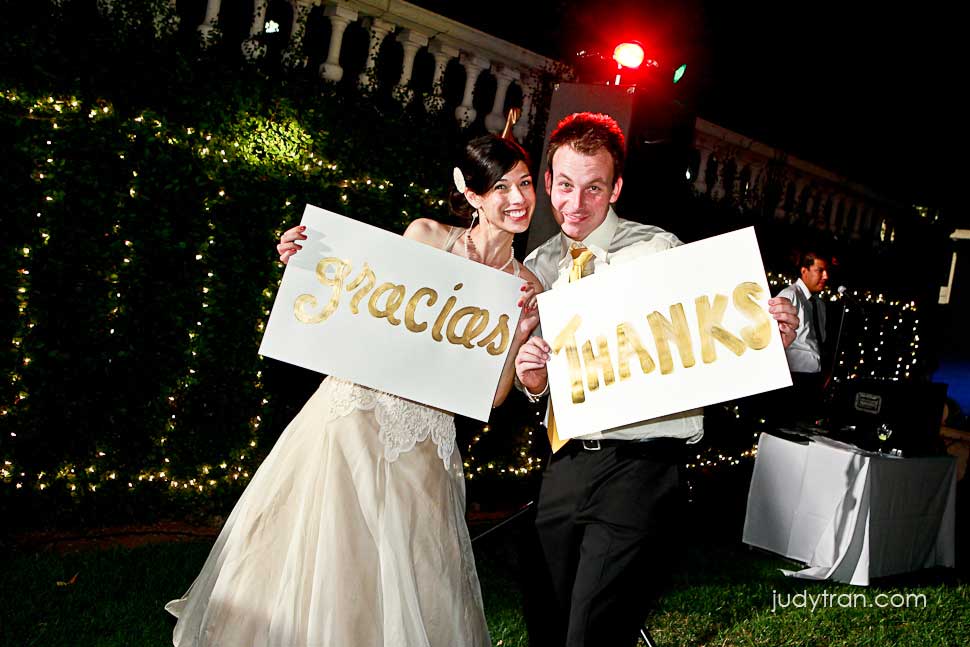 I am stoked with how the pictures came out!  Thank you D-E-N-N-I-S-E   for having me be a part of your big day!  It was such a pleasure and a wonderful experience photographing your wedding!  It was amazing shooting an Ambassador Pasadena wedding!