After 10 months of being married (check out our wedding at S-Fine Dining), Gavin and I finally went on our honeymoon to the beautiful Ocho Rios in Jamaica!!  It was actually perfect timing because we're winding down from a super busy wedding season and was very much in need of a vacation.
Guess who Gavin spotted when our flight first landed?  That's right… Sinbad (stand-up comedian/actor) was in Jamaica as well for a relaxing vacation.  Here's Gavin posing for a picture with Sinbad.  =)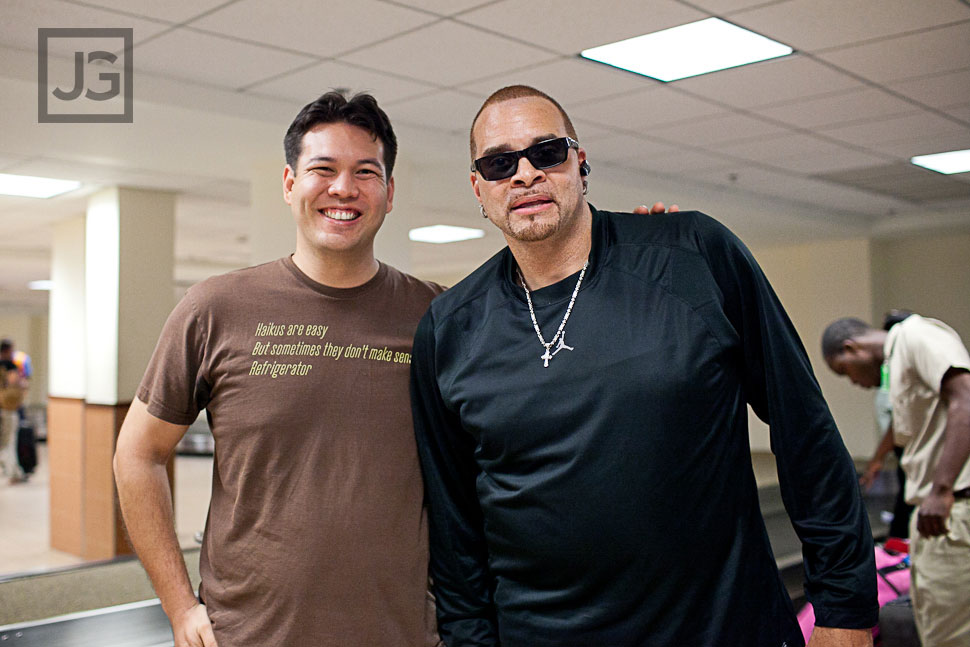 Our flight wasn't too long, but it seemed forever since we're both so anxious and eager about the trip.  We finally landed and wow… what can I say besides, "I love it"!!  As soon as we walked out… booze awaits our arrival.  LOL.  I was surprise to see that Jamaica was very similar to my motherland, Vietnam.  There were lots of greenery, the weather was hot and humid, and the architecture and colors couldn't have looked more like Vietnam.  All it's missing are little mopeds and scooters.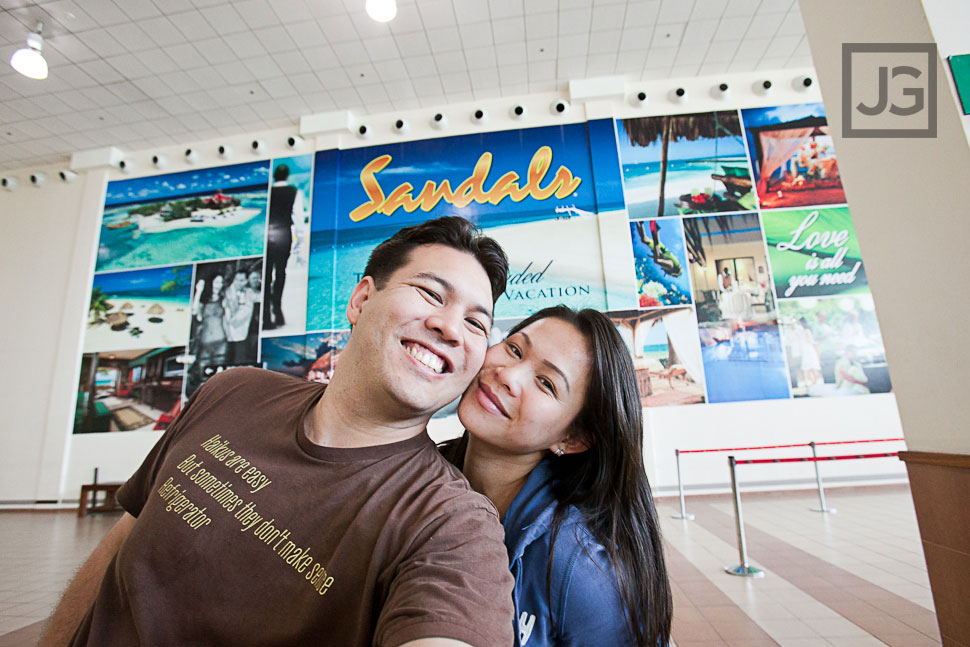 We booked for an all inclusive 8 days and 7 nights stay at the Grande Riviera in Ocho Rios.  That's right… all inclusive!!  This means all you can eat… all you can DRINK baby!!  The Grande Riviera Sandals in Ocho Rios, Jamaica has two distinctive settings:  Beach-side and Manor (Mountain) side.  We booked for a room on the beach side since online research said the Manor Side was undergoing renovation.  However, both sides were accessible to all vacationers.  There are frequent shuttles that takes us from one side to the other when we wish to go back and forth.  Speaking of renovation, that's one of the disappointments from this vacation!!  Gavin and I came to Sandals for a quiet and relaxing vacation… but we are very disappointed to find that there were construction on BOTH sides of the resort!!  During our get-away, we enjoyed thoroughly soaking up the sun but at the same time we were constantly pestered by the construction that was going on… specifically the jack-hammer!!  OMG… it drove us (and many other vacationers) crazy!!  I'm sure that if we had gone during another time (when their done with the renovation) we would have enjoyed it much more because the Grande Riviera Sandals Resort is beautiful place… i'm not gonna lie.  =)
Gavin and I would love to be wedding photographers for the Grande Riviera Sandals in Ocho Rios.  In fact, we saw a few wedding photographers at the Grande Riviera, Ocho Rios. Seeing other wedding photographers (in Ocho Rios) at work makes me have the itch to grab our cameras and jump in to photograph the wedding as well.  There were so many beautiful spots for photos!!  It was definitely a wedding photographers playground.  I hope that one of these days we'll book a wedding in Jamaica and be photographers at the Grande Riviera Sandals in Ocho Rios.
Here are some pictures that Gavin took of the Grande Riviera Sandals.  It's definitely beautiful!!
This is the main Lobby.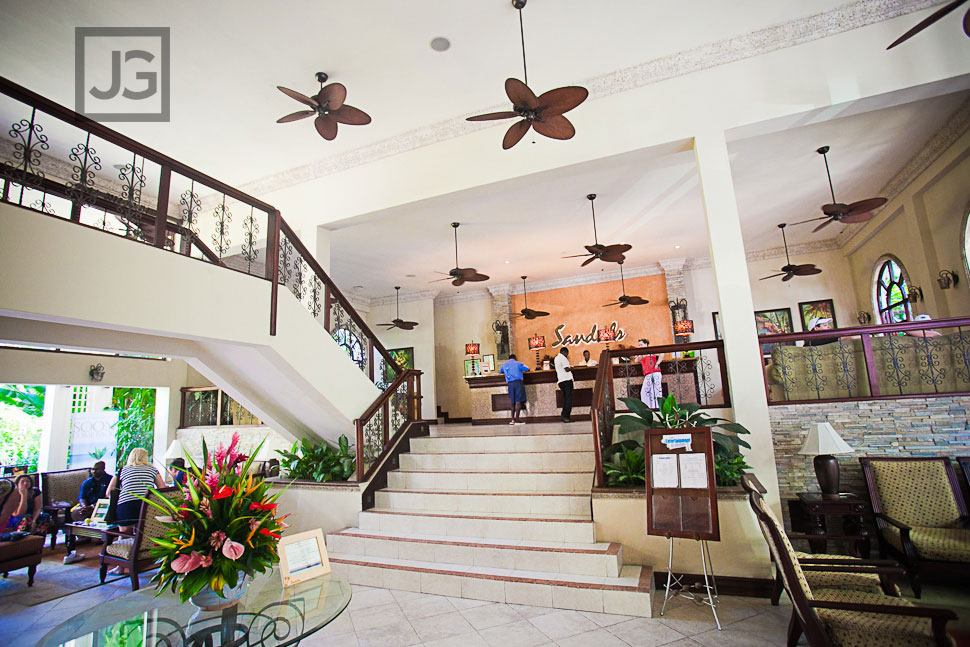 This is our room.  We had a nice garden view.  Sandra, our housekeeper was great!!  She was always so pleasant and sweet to us.  Each day, she would make me a new animal out of towels.  Below are a few of my favorites.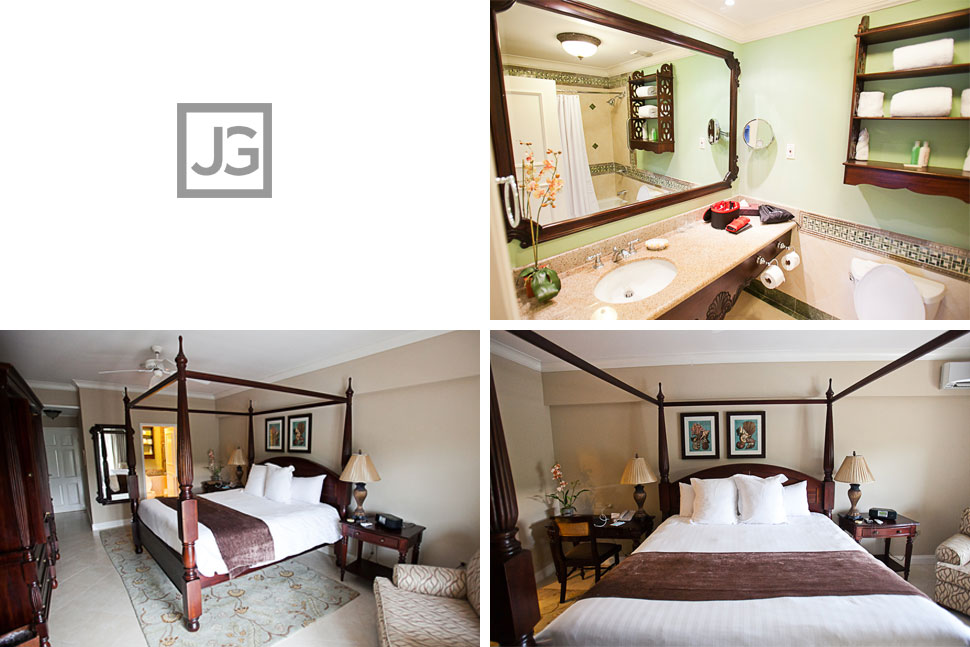 An elephant… a bouquet of flowers… and a snail??  LOL… I don't know what that last one is.  You tell me! =)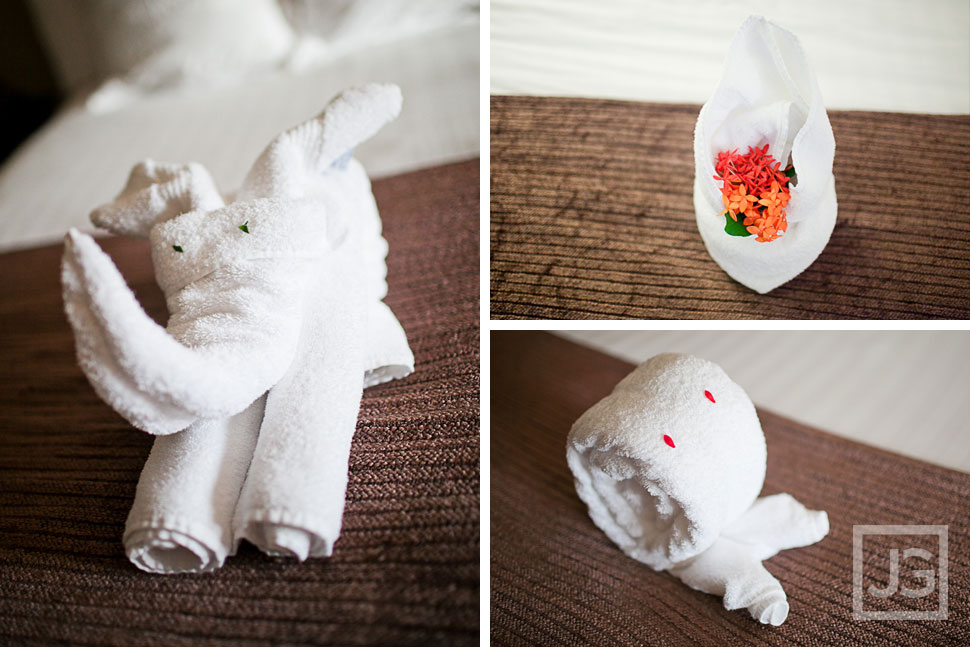 This is the popular salt water pool.  The water is absolutely clear and warm.  I love love LOVE it!!  I spent a few good hours sun-bathing on that float below.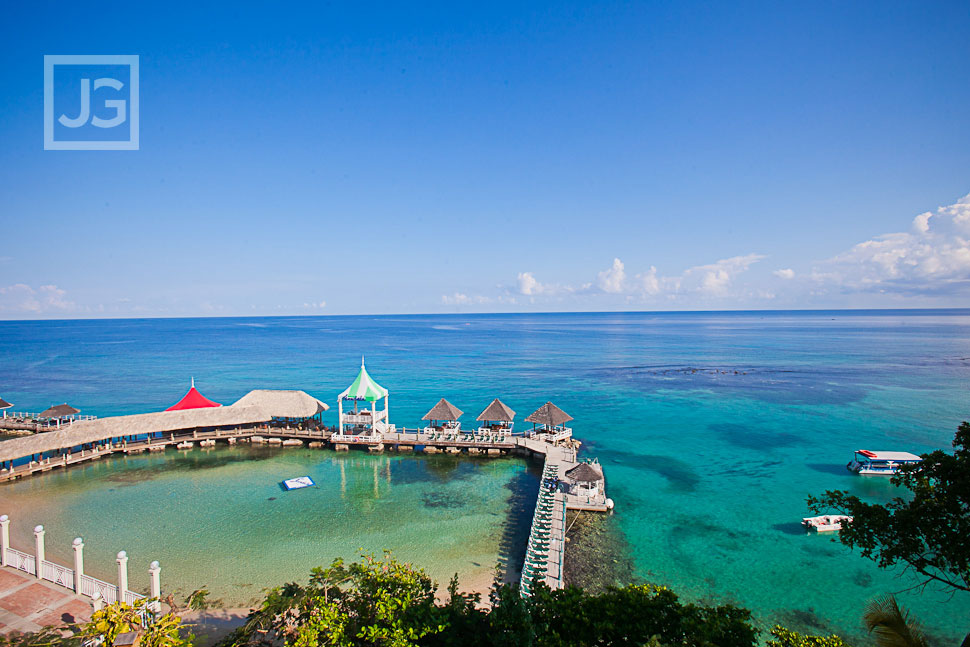 This is one of the smaller pools on the manor side.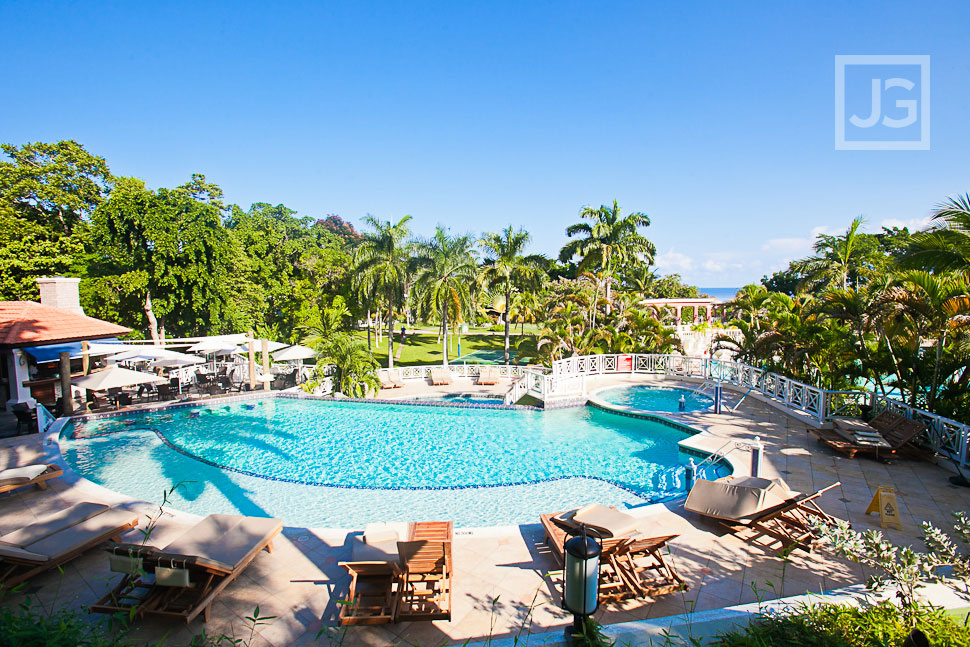 This is the big and most popular pool on the resort.  It's also located on the manor side so we had to take the shuttle each time.  It's no big deal though because the shuttles are very frequent.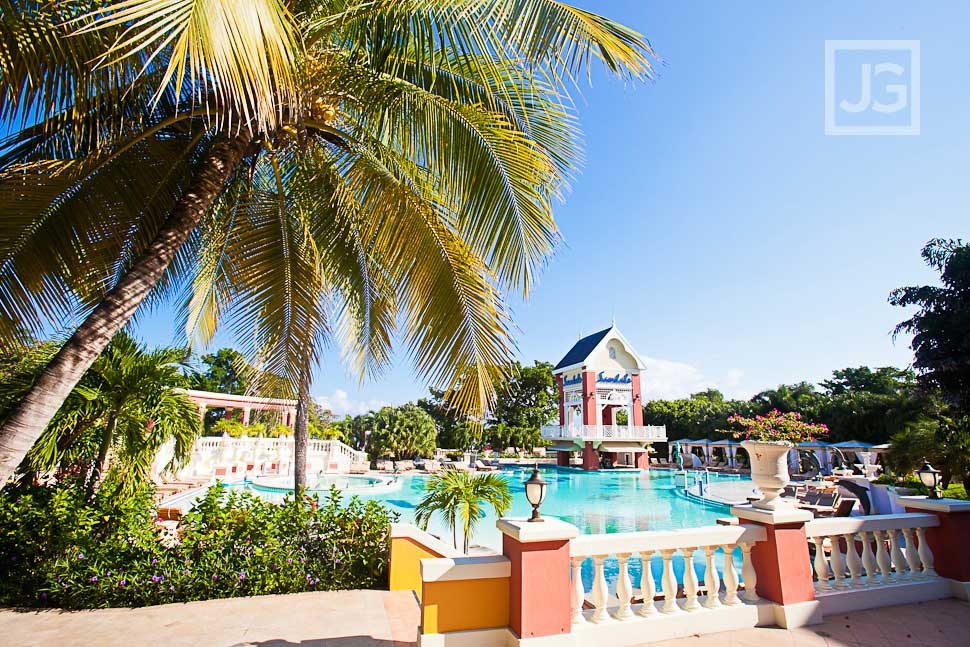 Isn't it just gorgeous???  I love the swim-up bars!!  Kudos to the genius that thought of it!!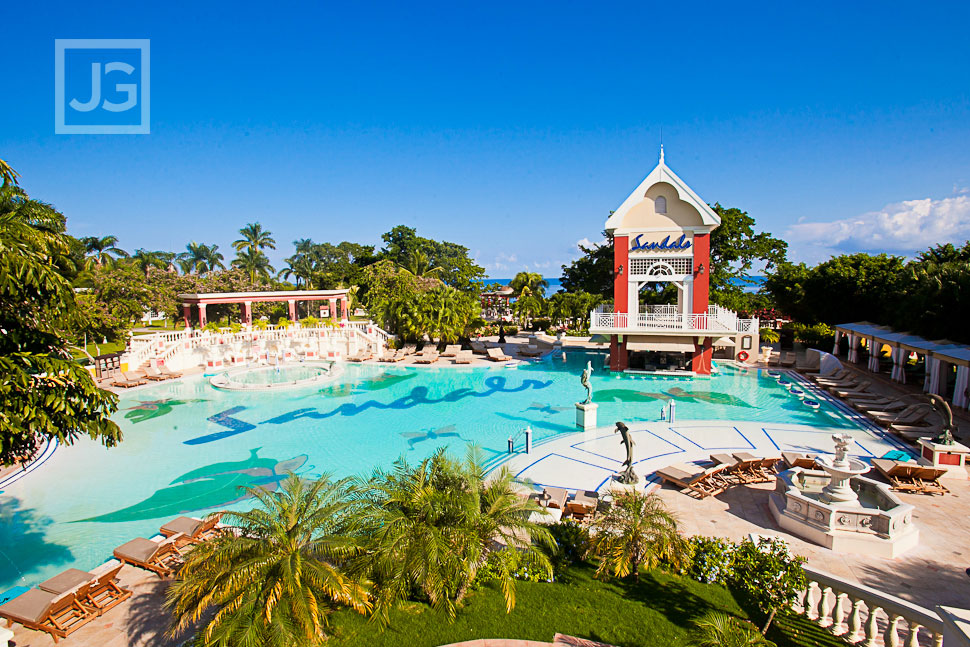 I'm not too sure what these are, but it looks interesting.  =)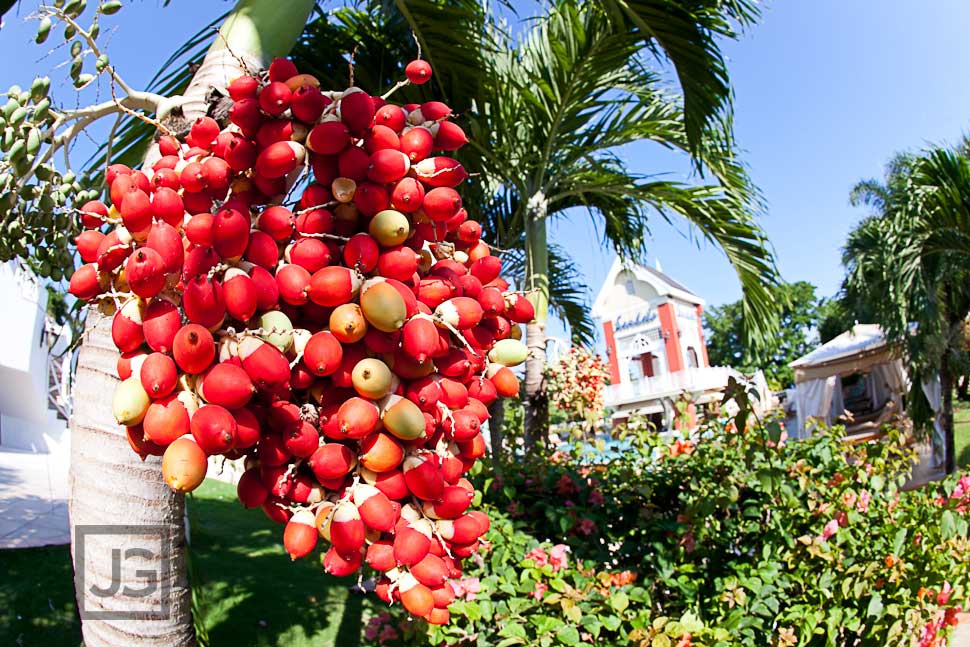 This is one of the Jacuzzi on the beach side.  Right next to it is the beautiful Neptune pool.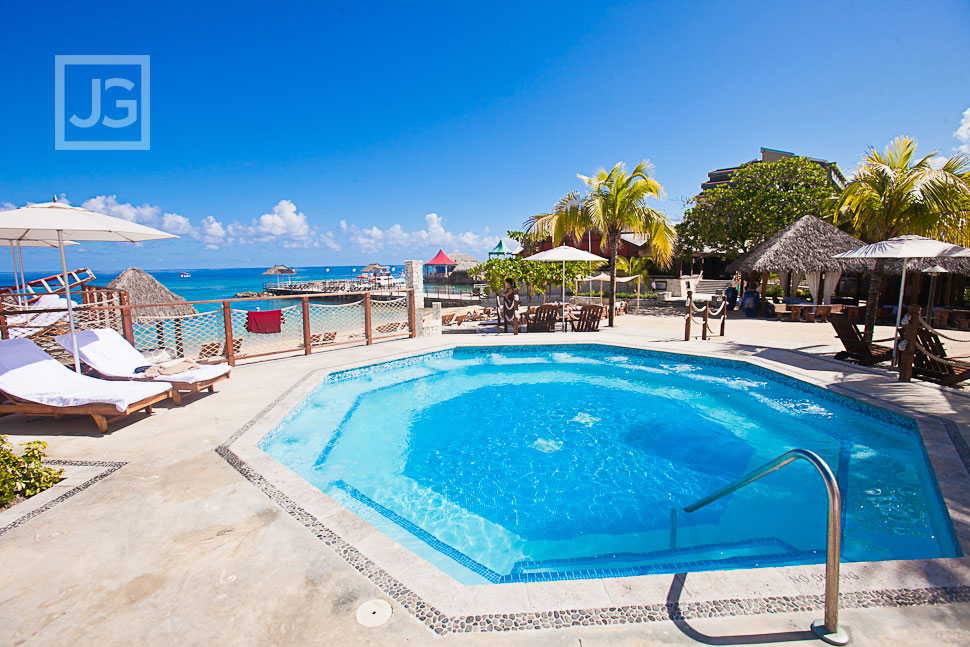 The Neptune pool with a swim-up bar.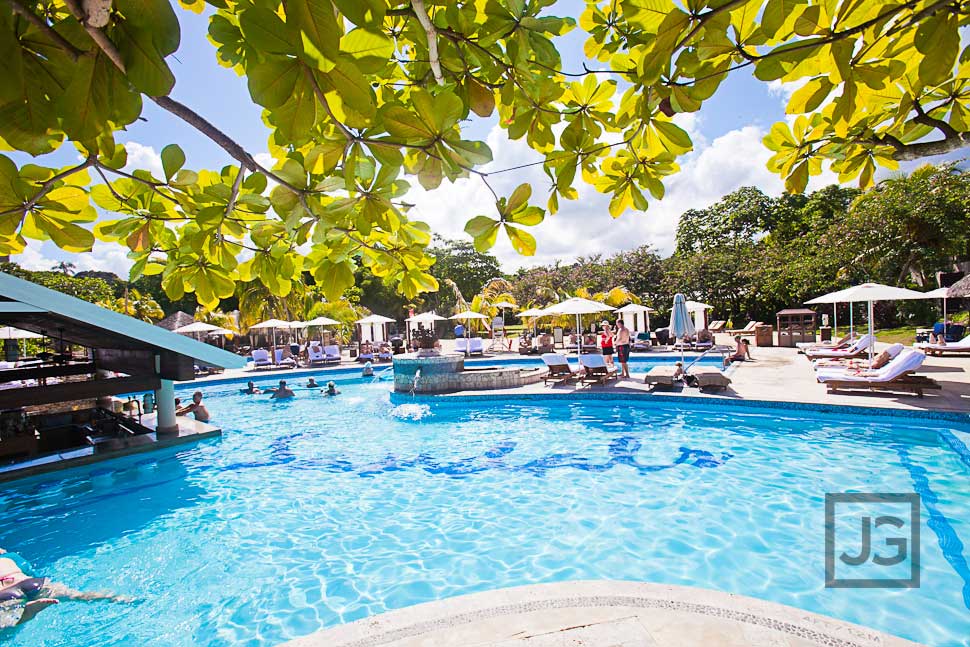 I guess it's off-season this time of year so there weren't many vacationers there.  It was actually really nice because the Resort was not too crowded.  I just love laying out and soaking up the sun.
Isn't it so cute how they have this on the cabanas?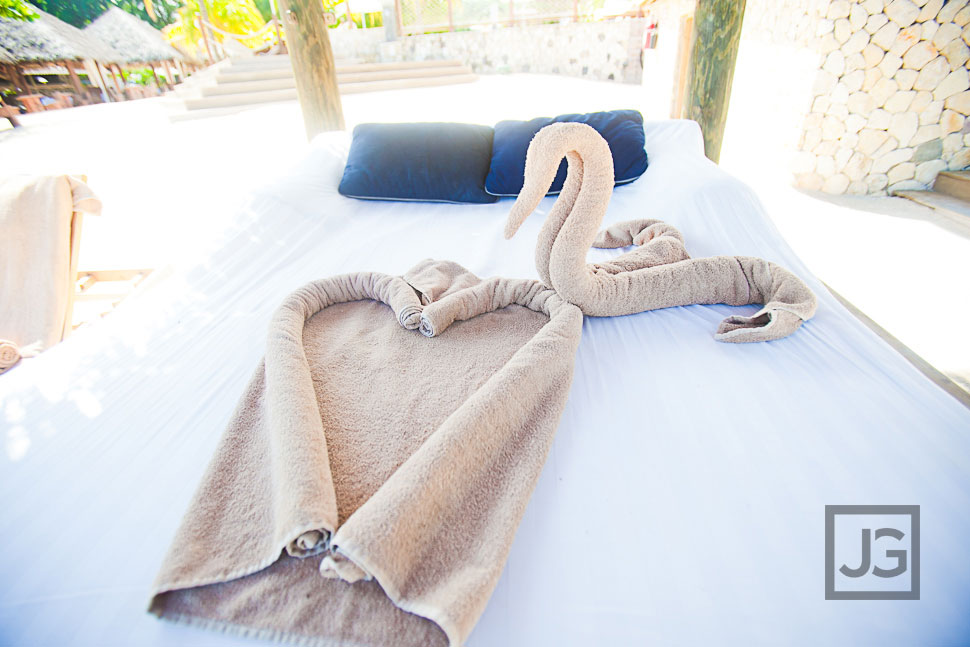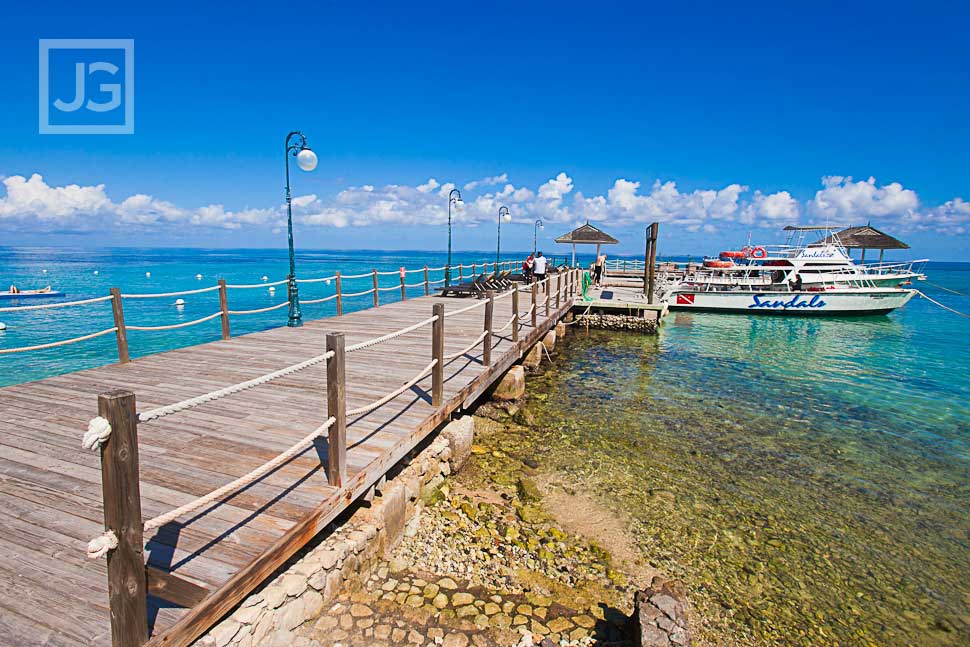 The Grande Riviera Resort has lots of activities from rock climbing to nice game of chess to many many water activities.  There were snorkeling tours, wind-surfing lessons, kayaking, stand-up paddle… just to name a few.  Gavin and I did it all and we absolutely love it!!  I have to say the stand-up paddle was a bit challenging for me.  I have absolutely no balance and would always paddle myself into the pier!!  It was quite embarrassing but, my excuse, "it's harder than it looks"!!  LOL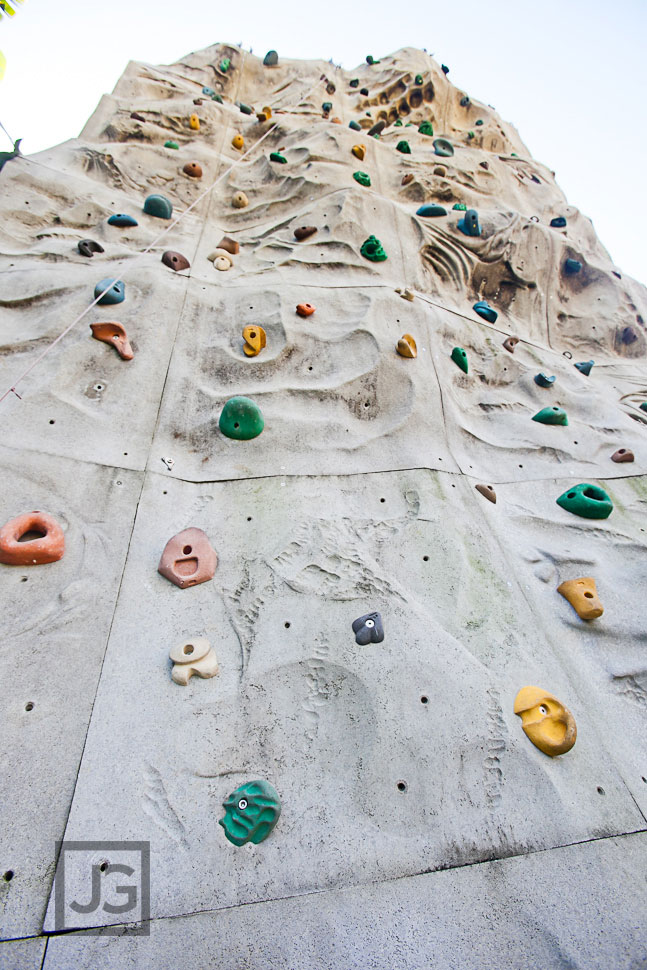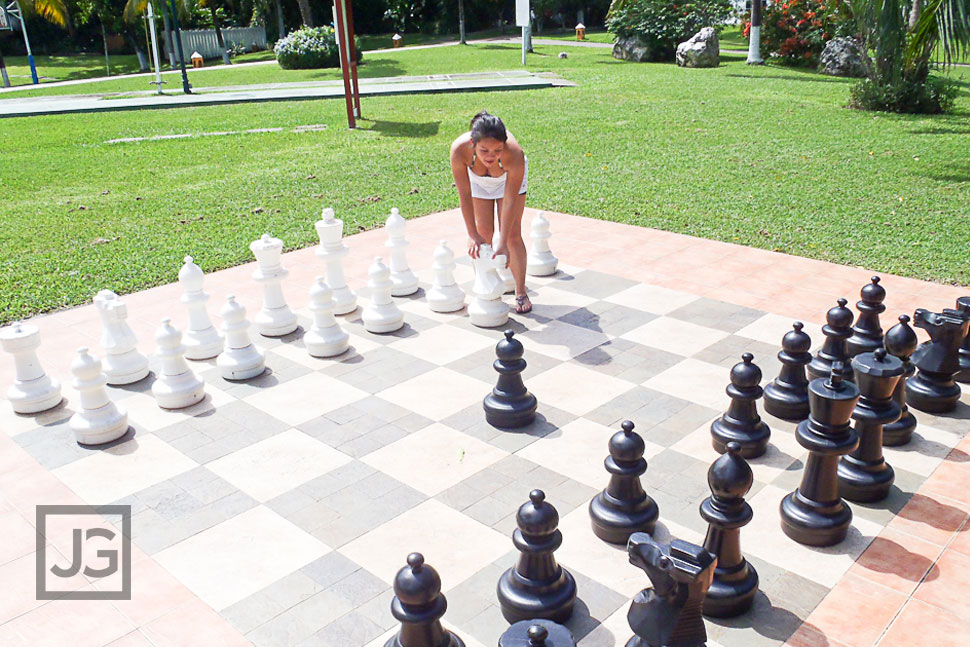 I just had to add a picture of this kitty cat.  It's so so cute… reminds of me our babies (Powder and Button).  Poor thing.  It was a stray and was hungry for some food.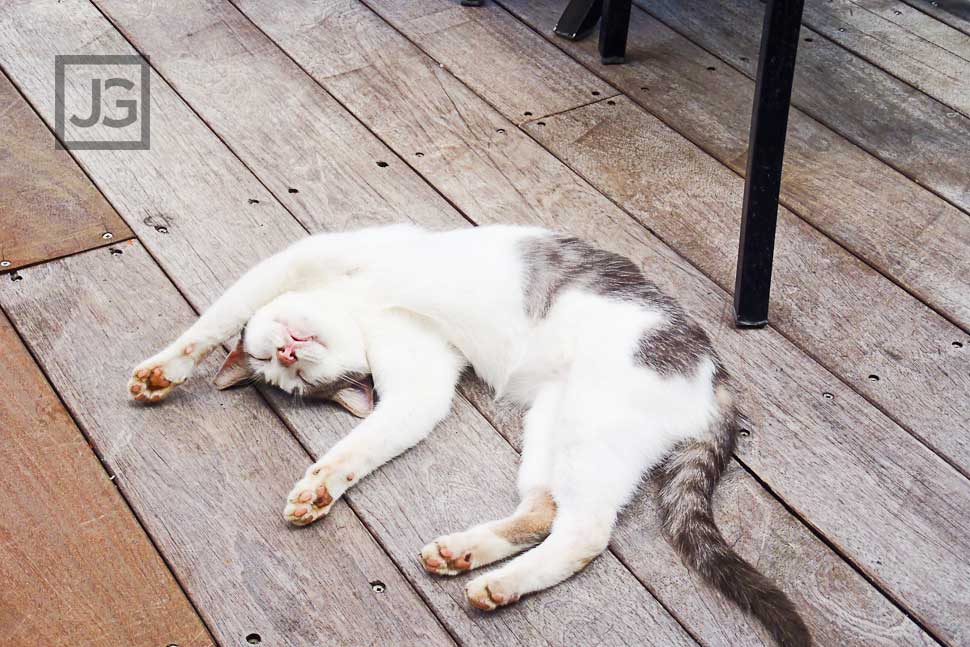 You'll have to excuse the quality of some of the pictures since it was taken with our under-water point and shoot.  This is me… floating around enjoying the sun and a little too much alcohol.  All the bartenders were AWESOME!! Jamaican do not joke when it comes to alcohol!! LOL… these guys are there to mess you up!!  =)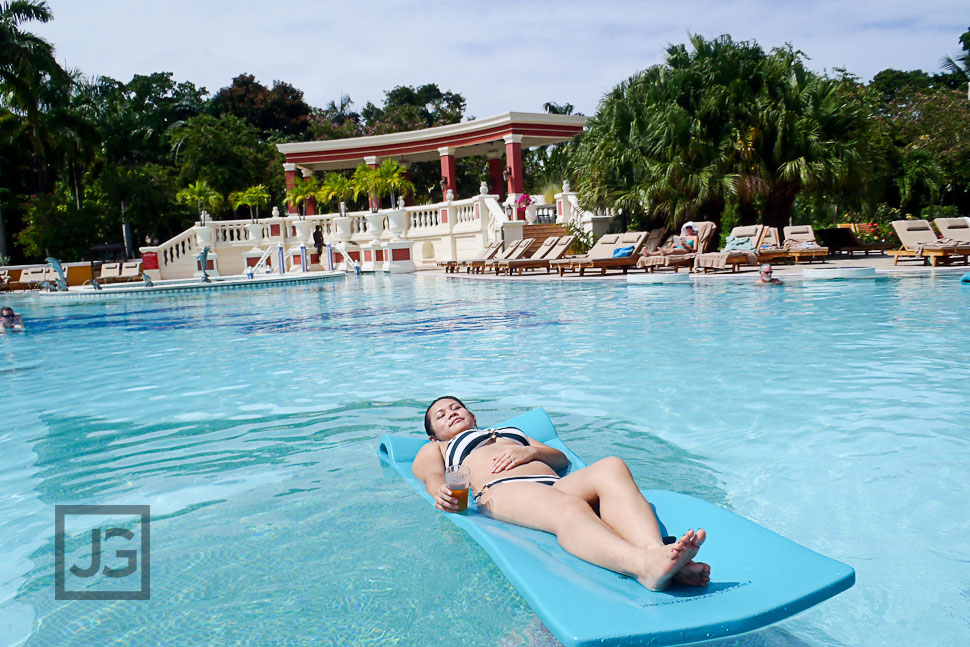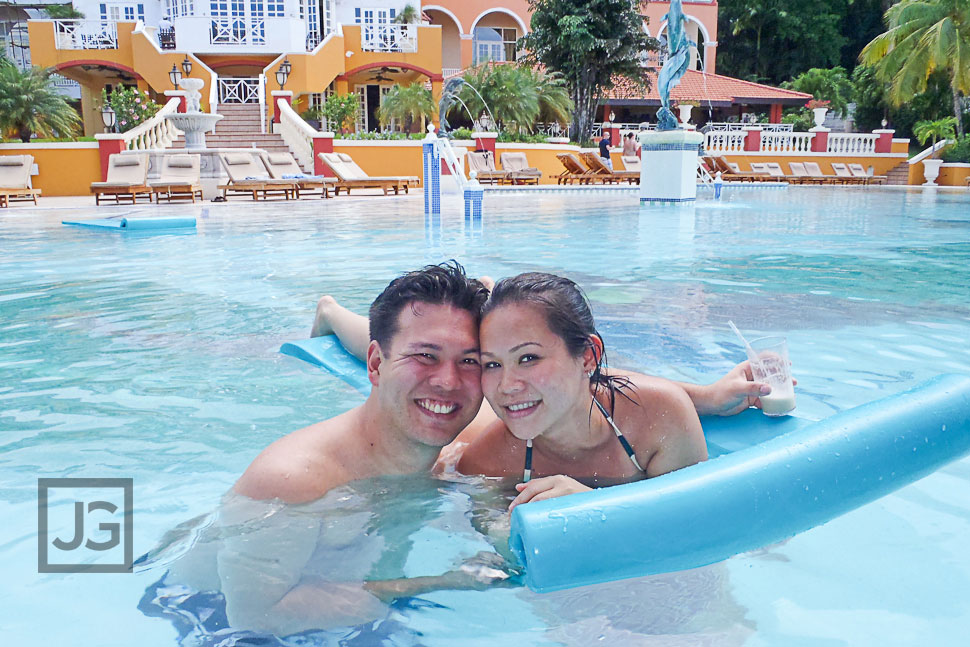 This drink is a Bob Marley.  It looks pretty, it tastes nasty, and it'll mess you up!!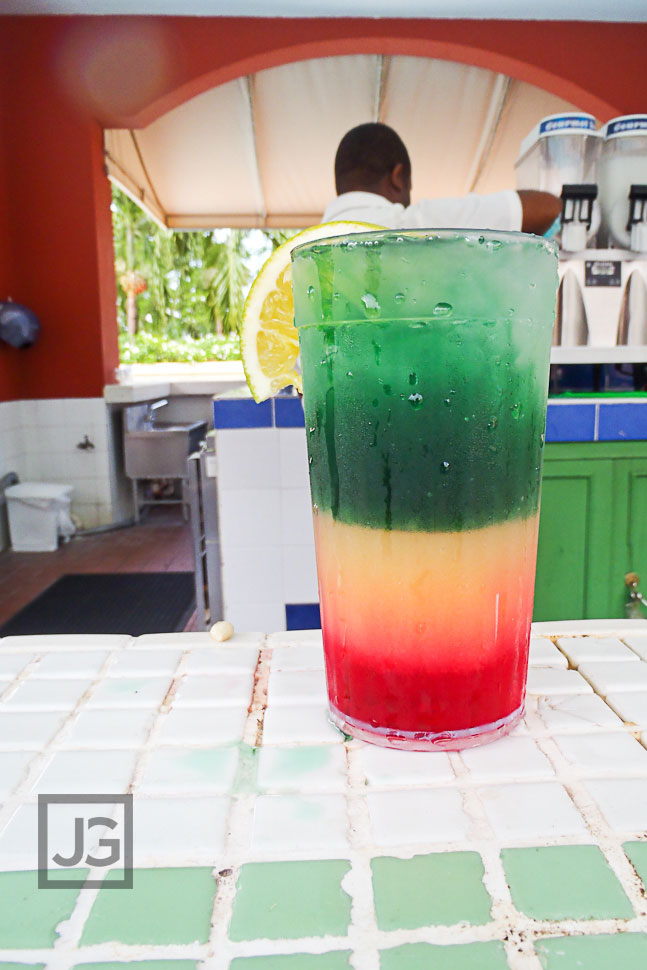 I was on a desperate search for coconut juice as soon as we got there.  I love coconut juice!!  It's really cool because the resort has coconut trees all over.  I was told that whenever I want one, simply ask one of the gardeners to climb up and pick one for me.  Sweeeeeeeet!!  Do you like my coconuts?!?!?  LOL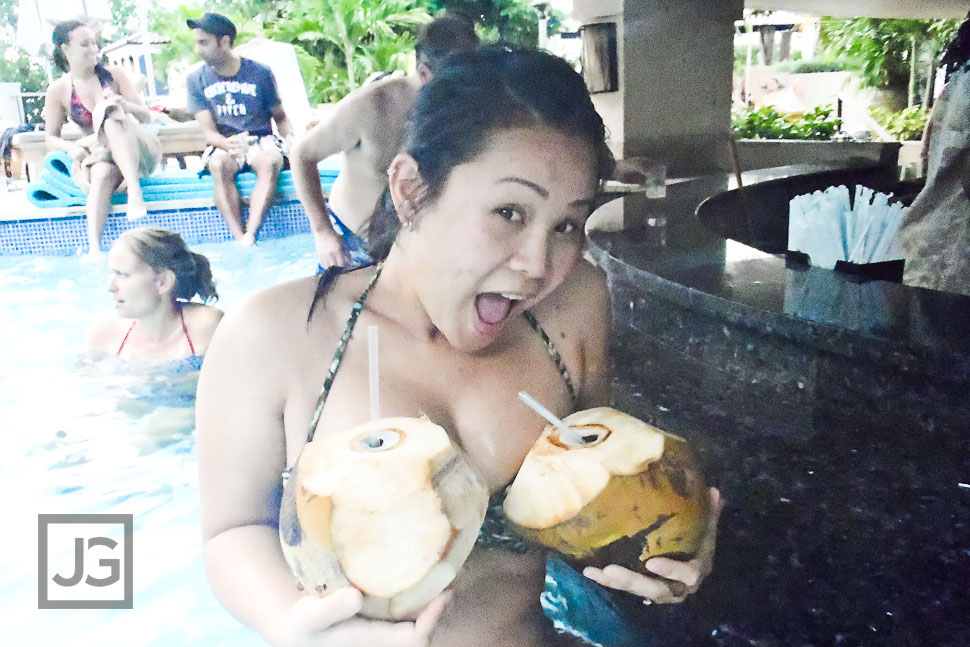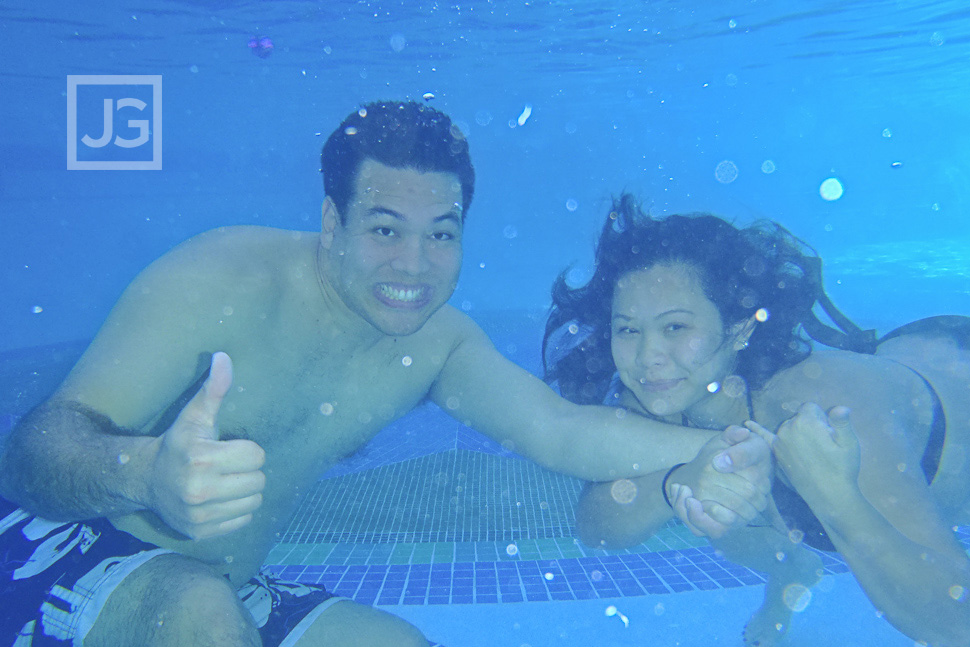 This is one of the nights where we went a nice restaurant.  FYI- some of the restaurants requires close toe shoes!!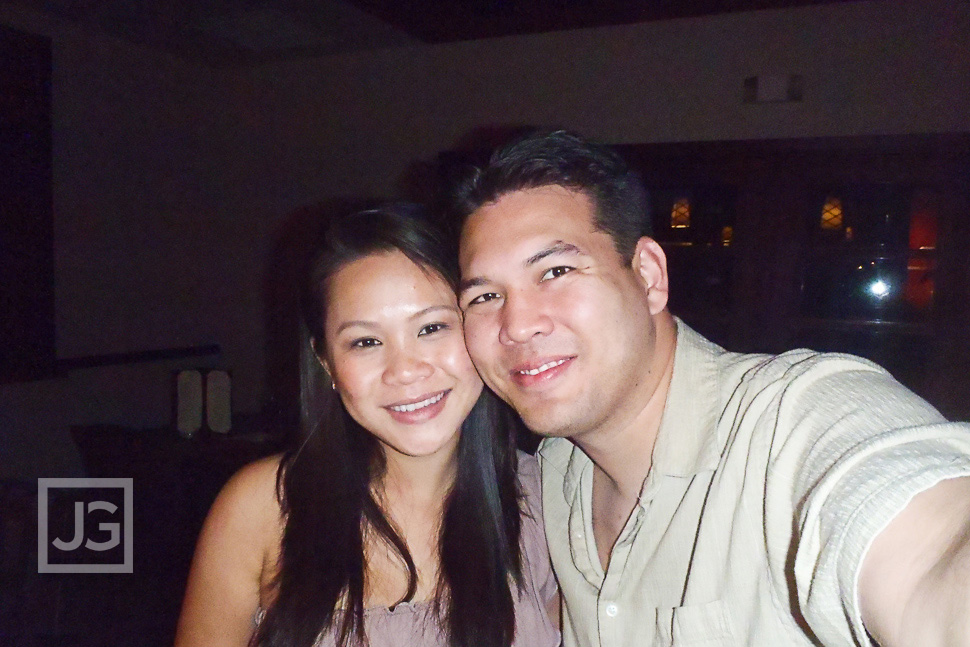 Gavin and I did a couple of excursions.  One of which is horse back riding… IN THE OCEAN!!!  It was my first time EVER riding a horse and it was AMAZING!!!
We started the tour on a sugar cane plantation where we learned about the history of the property as well as the various vegetation grown there.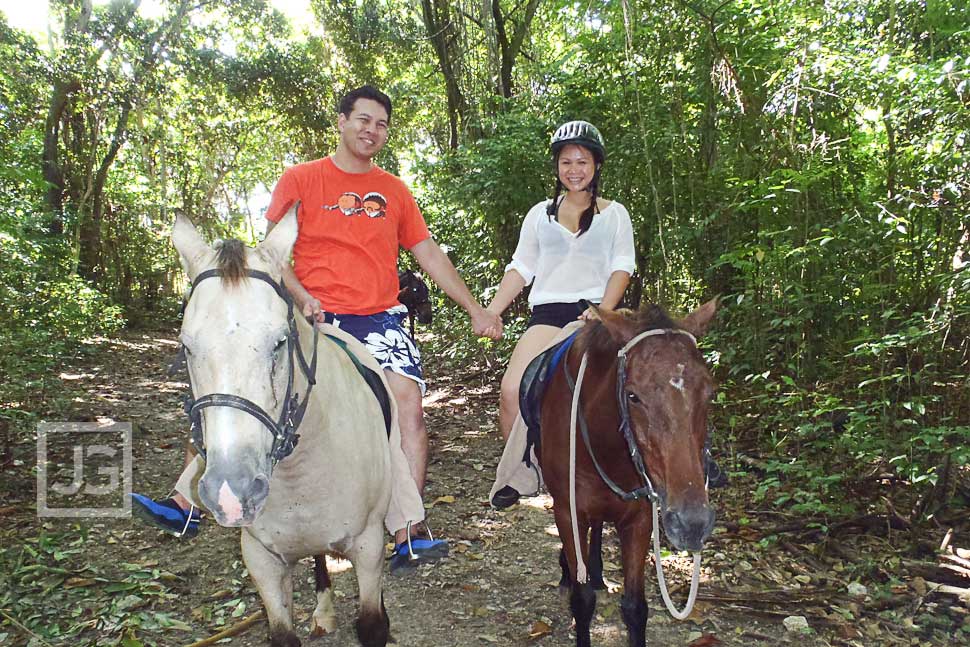 We then galloped our way to the beach where we rode into the ocean.  And I'm not talking about riding along the shore… I'm talking into waist high water!!  One word:  AMAZING!!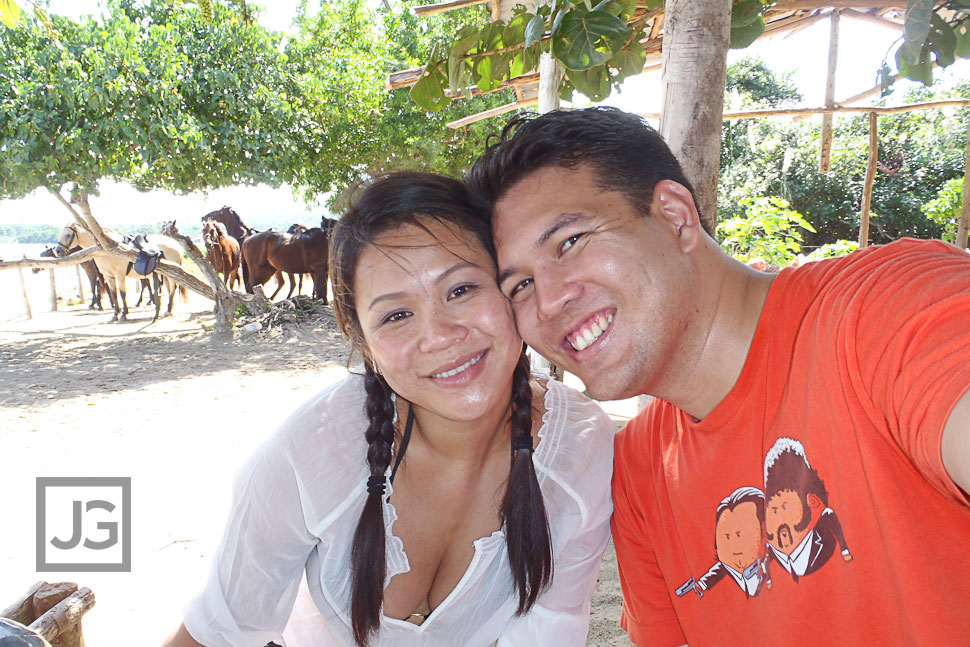 Gavin's horse is named Monday Evening.  It was the only horse that threw a funny tantrum and kept stomping it's foot the entire time!!   We all couldn't stop laughing and joked that it's pissed because of Gavin's weight!! LOL.  My horse was named Sensation and she was a gem!!  The entire time, she was gentle and cooperative.  I was told that all the horsed used were rescues from the racing tracks.  At one point, they were all racing horses.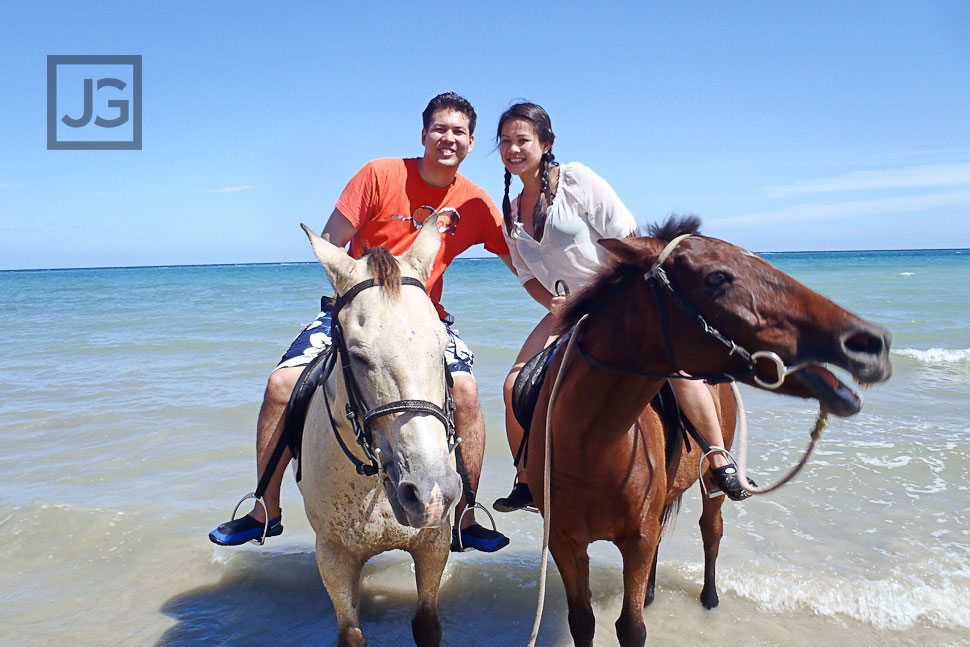 Here and there Sensation doesn't want to move and so our tour guide gave me a stick to whip her.  OH HECK NO!!! I can never do that… never!!  So what did I do??  I used the stick to scratch/rub her neck!!  I'll be posting videos soon.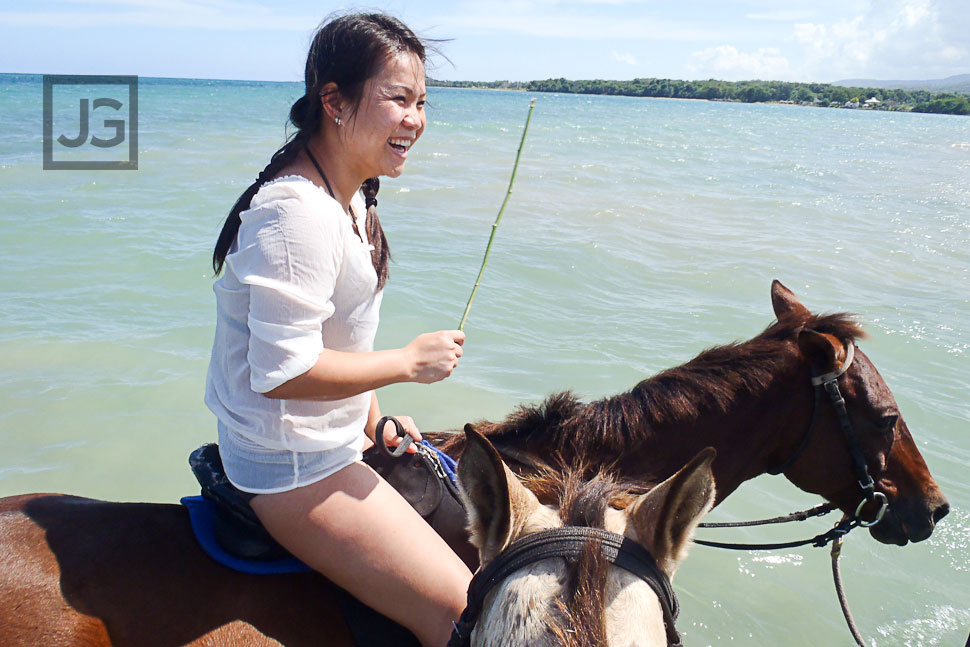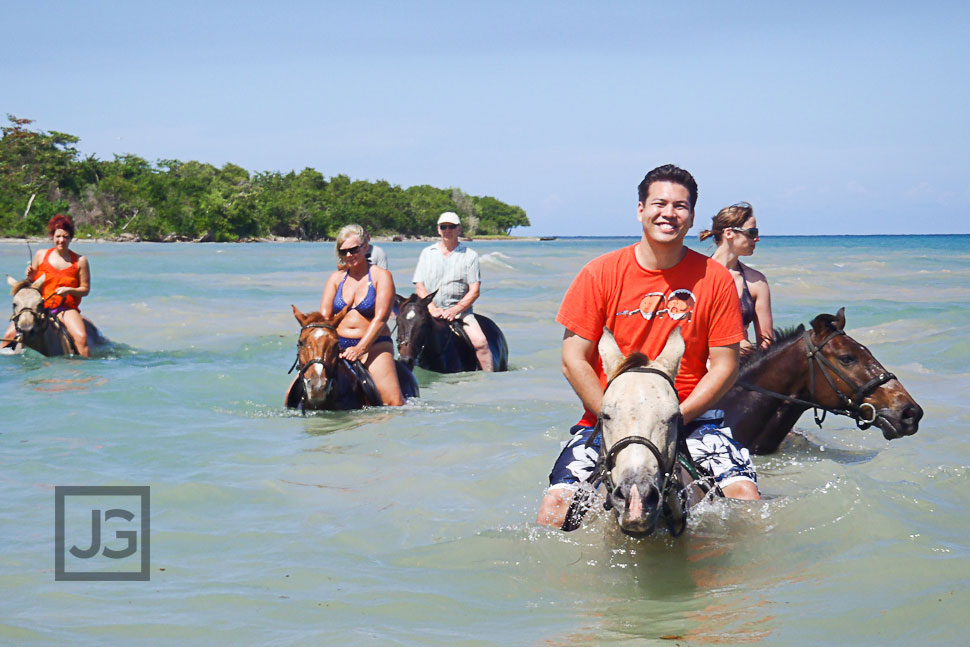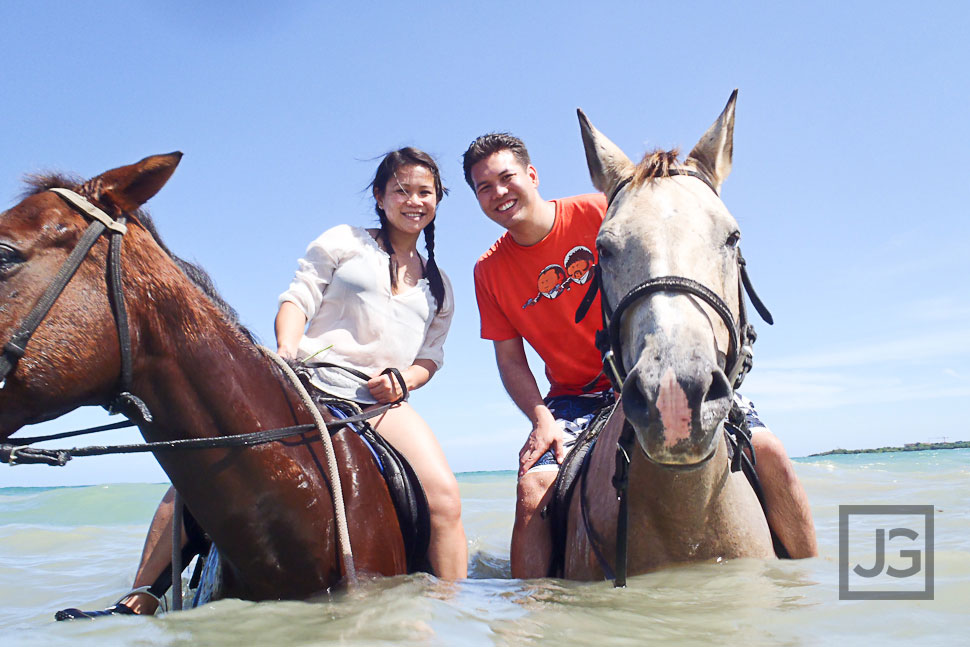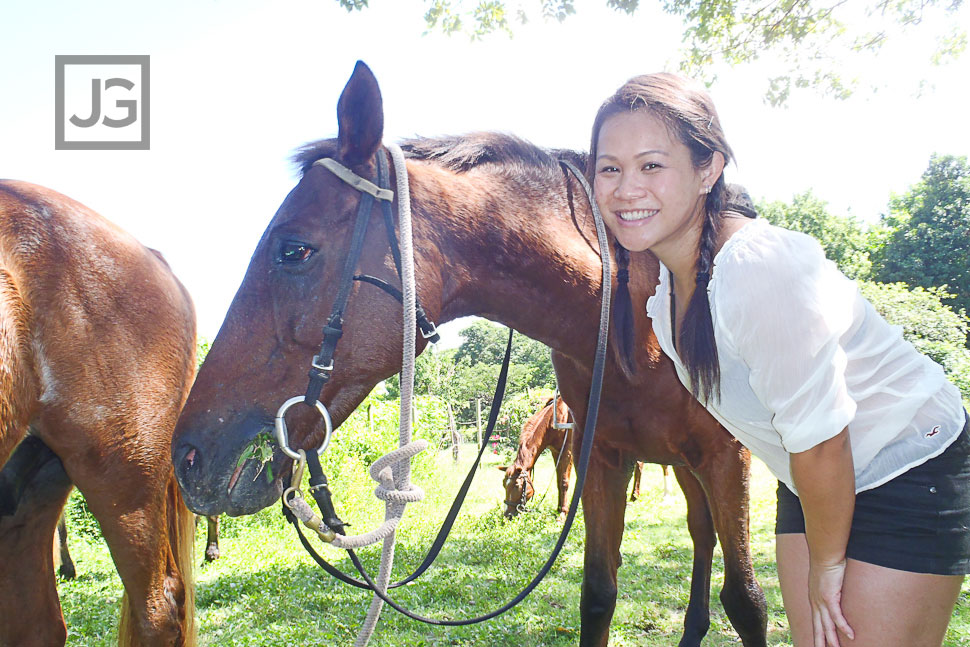 Ewww… I just had to show how huge this spider was.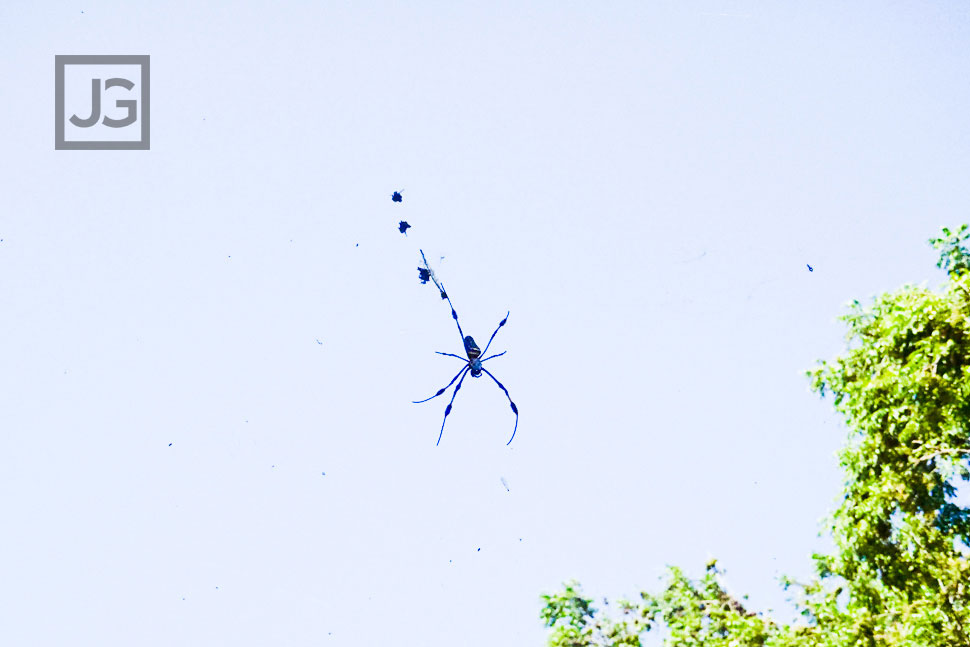 We celebrated Halloween in Jamaica with a delicious intercontinental buffet.  I learned that most Jamaicans are Catholics… thus they do not want to celebrate Halloween.  No dressing up and no trick-or-treaters.  We did have a fun pumpkin craving contest!  =)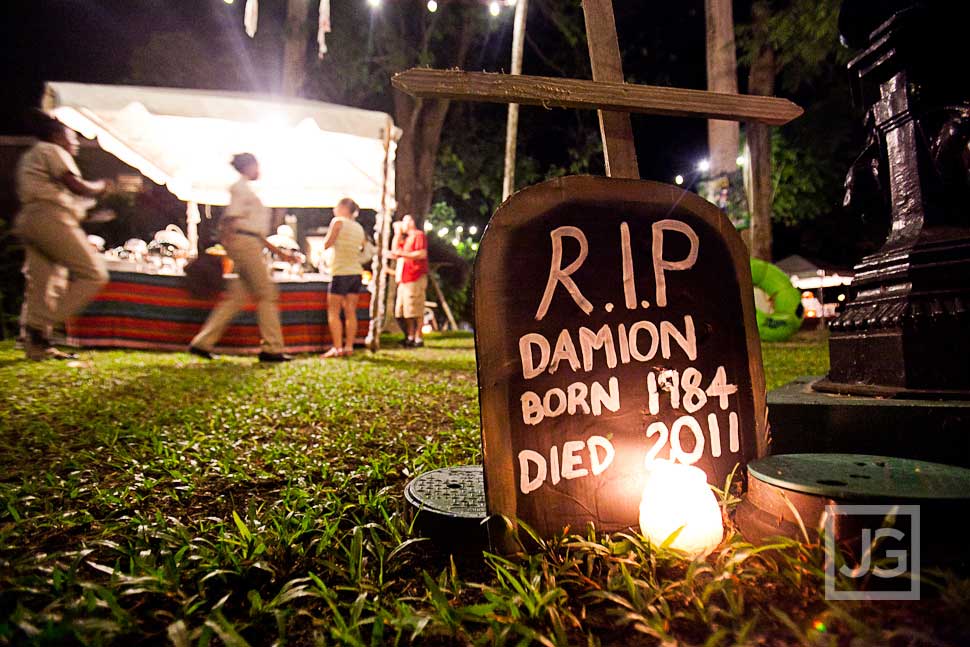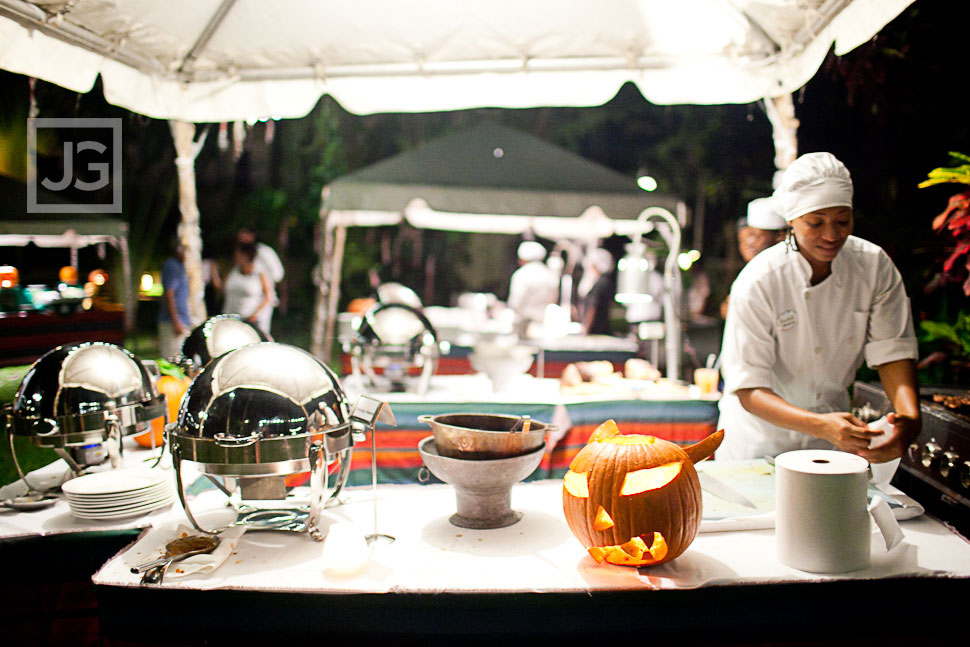 There was a roasted suckling pig at the buffet!!  And the funny part… no one ate it because it was "too exotic"!!  Gavin and I went to town on that poor pig!!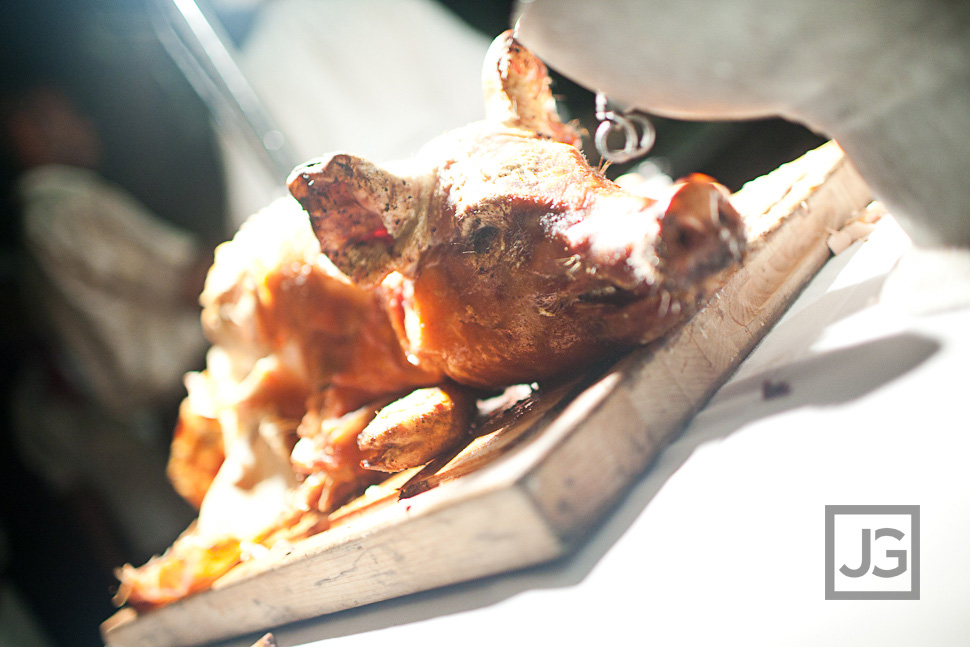 Our year 2011  Halloween picture.  This ghostly picture of us was achieved by using a 30 second long exposure.  Isn't it cool??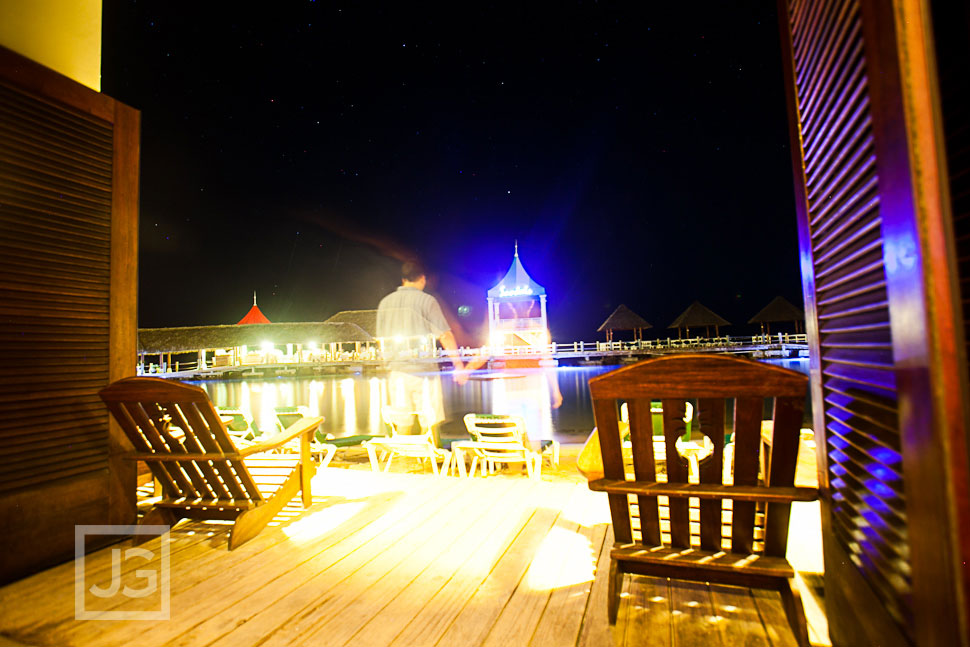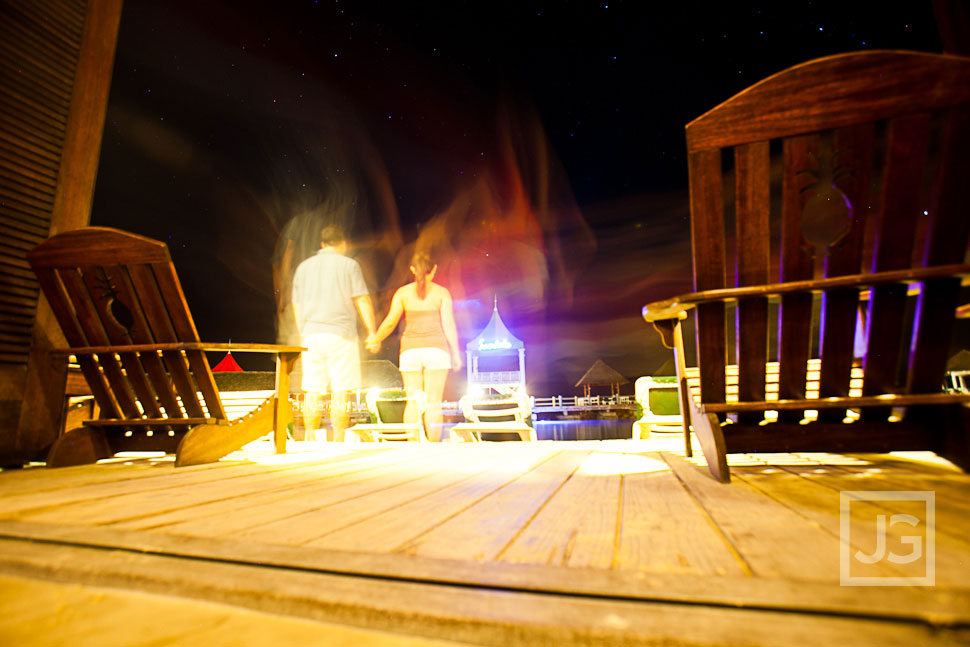 Star-gazing is always very romantic.  There were so many stars there.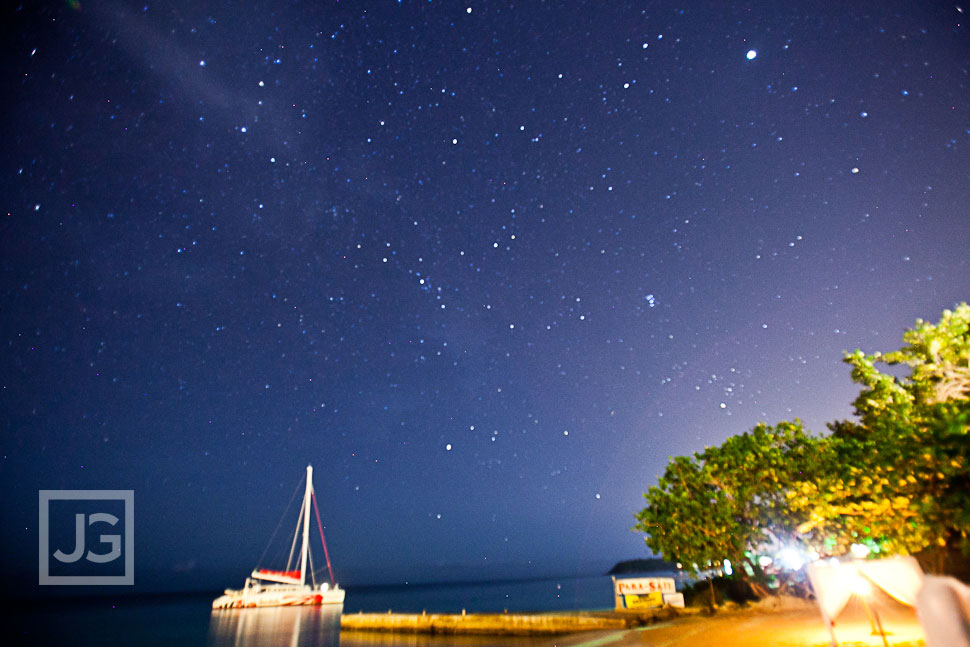 The next day, we went on our second excursion… the "booze- cruise".  It's basically a catamaran that take us to the famous Dunn's waterfall where we will climb up the 600 feet waterfall.  No booze were served on the way to the fall — for obvious reasons!!  However, on the way back… ohhhh man, we partied like rock stars!!  =)  During the 45 minute boat ride, I had 5 beers, two shots and then I lost count when they came around pouring shots straight from the bottle into our mouths!!  I have some videos to share later.
On the way to the fall, we stopped for some snorkeling.  Here's what's UNCOOL about it!!  Gavin and I got stung by a jelly fish.  Mine was worse than Gavin's!!  It FREAKIN hurts A LOT!!  It's an uncomfortable burning sensation that just would not go away.  The tour guide said, "just have your husband pee on it"!!  My response… "It's ok… I'll bare the pain"!  LOL  I'm not joking!!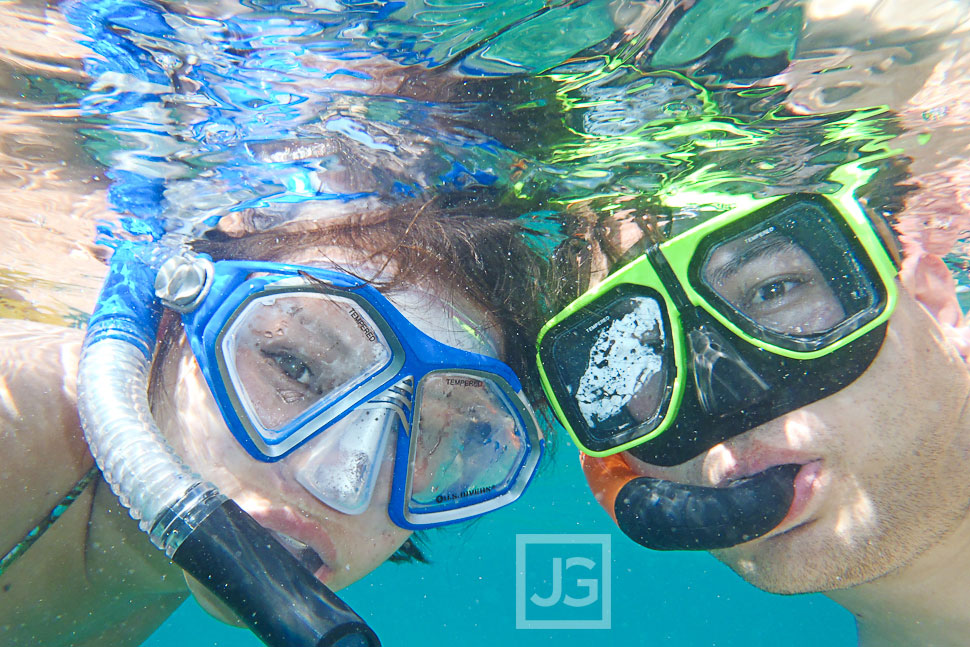 I vowed that when I get back to California, I'm gonna get back at those darn jelly fish by eating them at dim-sum!!  I'll show them who's boss!!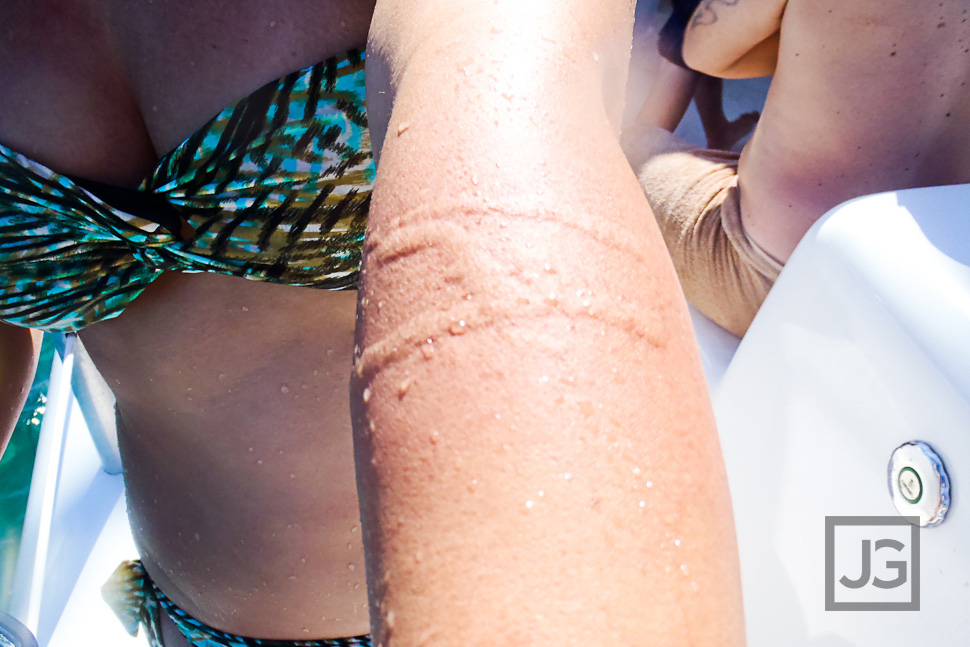 So… we finally made it to Dunn's River Falls.  This is a very popular tourist attraction in that we get to climb the fall.  We all had to hold each other's hands creating a human chain as we climb the fall.  I guess this is to ensure that if one person goes down… we ALL go down!! It was super fun… one of the best attractions and we highly recommend it!!  Along the way, visitors enjoy the cool plunge pools formed naturally in the river rocks and the waterfalls. Some parts of the fall are very gentle while other parts are quite challenging due to the raging water.  Pictures doesn't really do it justices right now, so I'll post videos soon.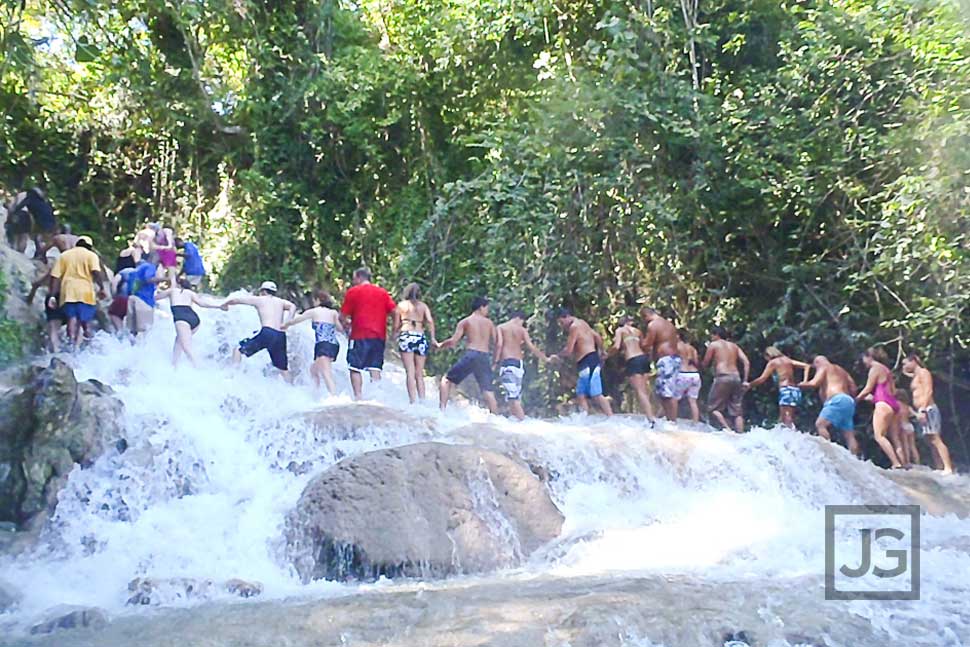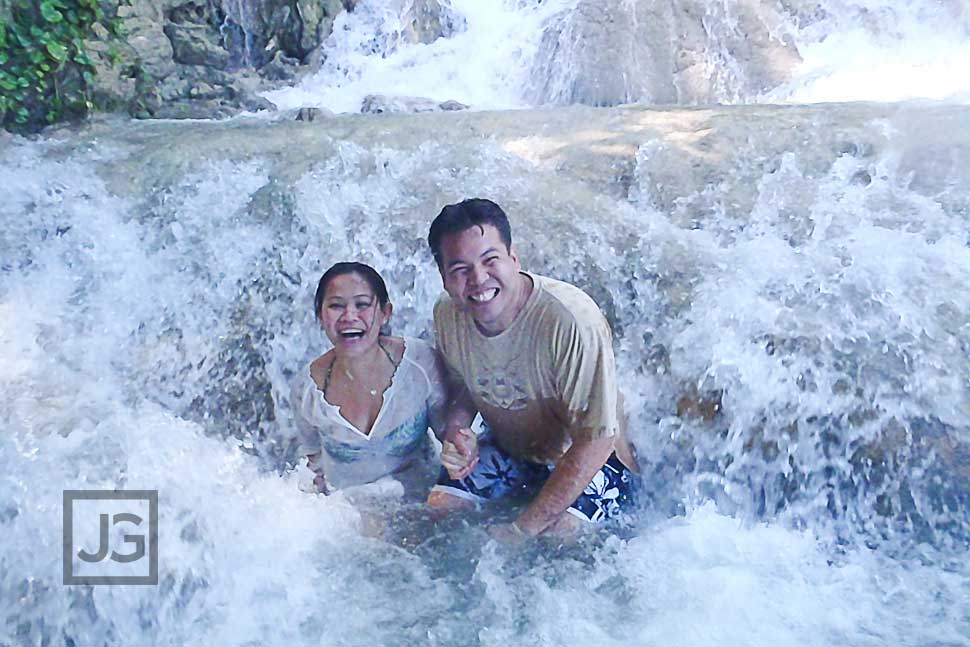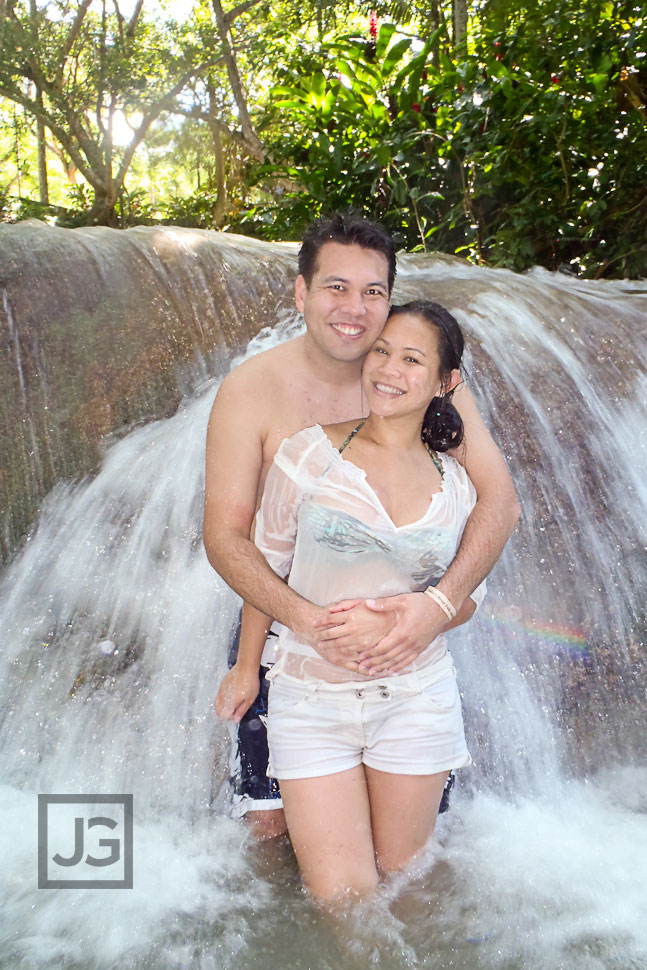 The climb was about 45 minutes long.  It's a great and refreshing feeling once we got to the top!!  I can totally do it again!!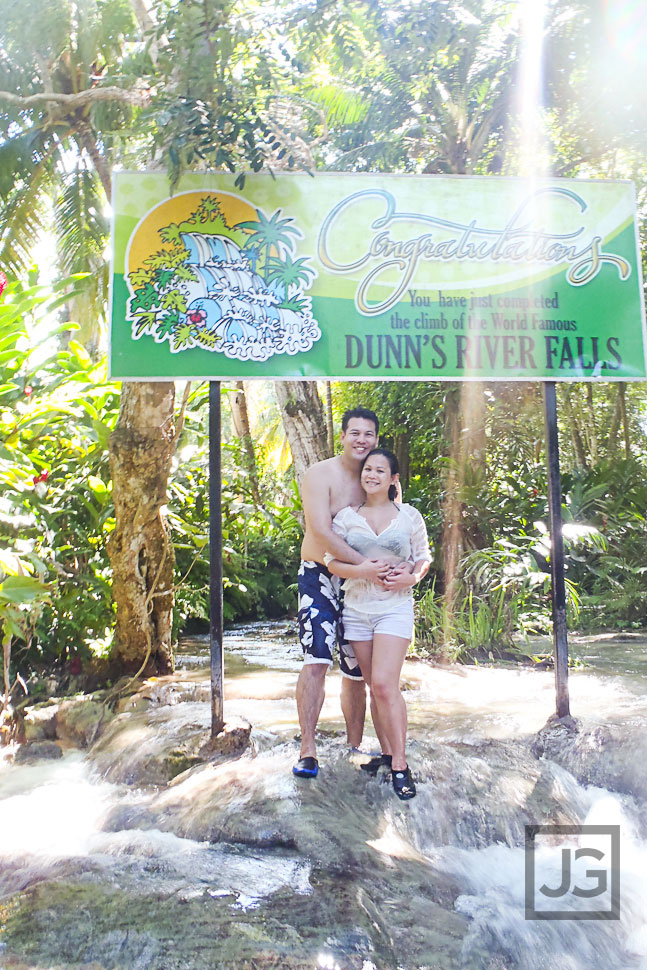 We spent the remaining days at the Grande Riviera just bumming it and enjoying each other's company!!  This trip was amazing and was well-deserved for both Gavin and I.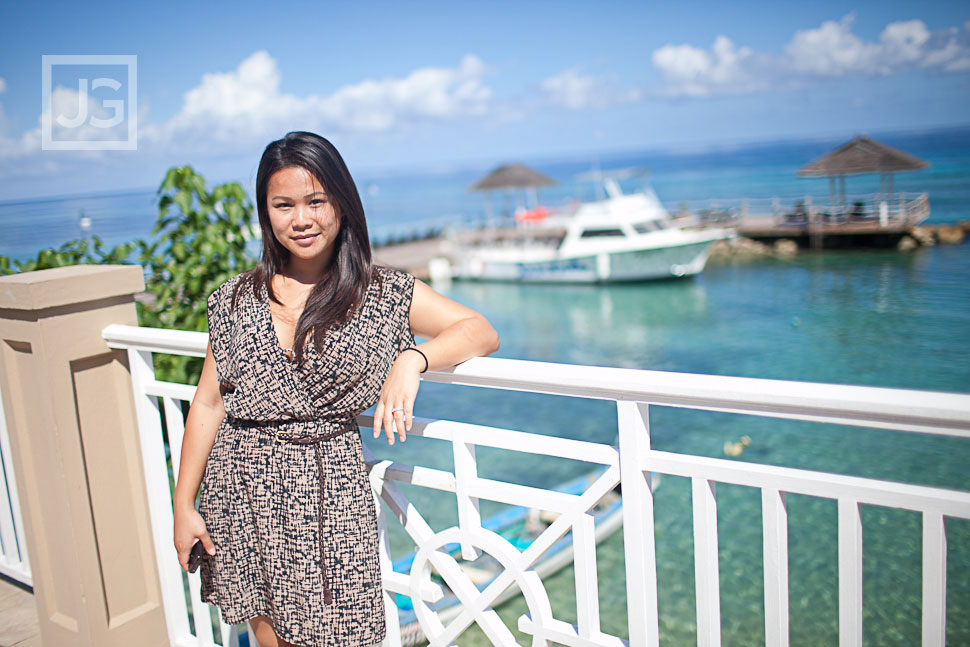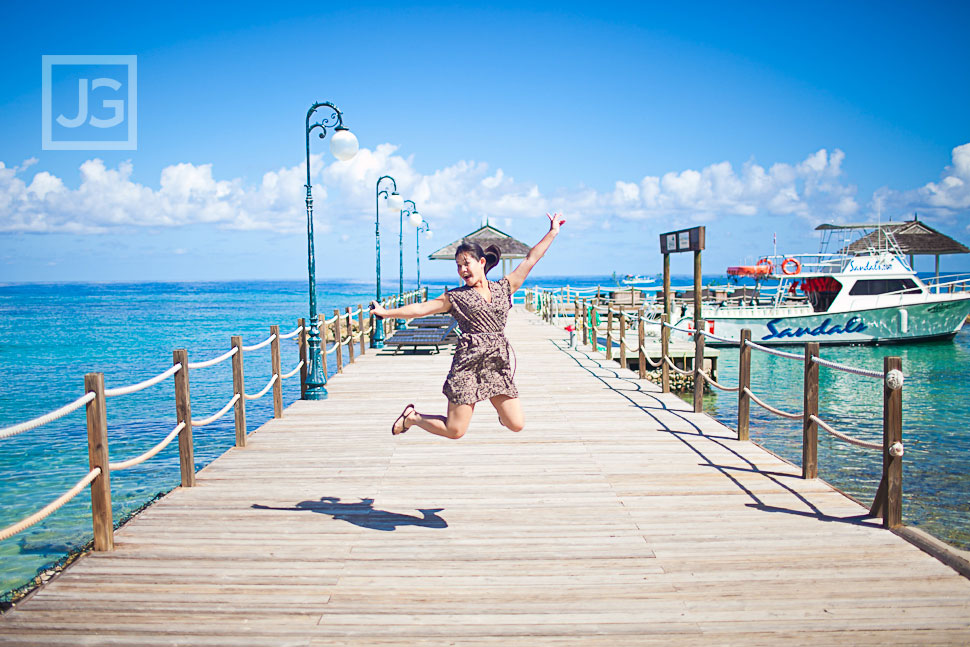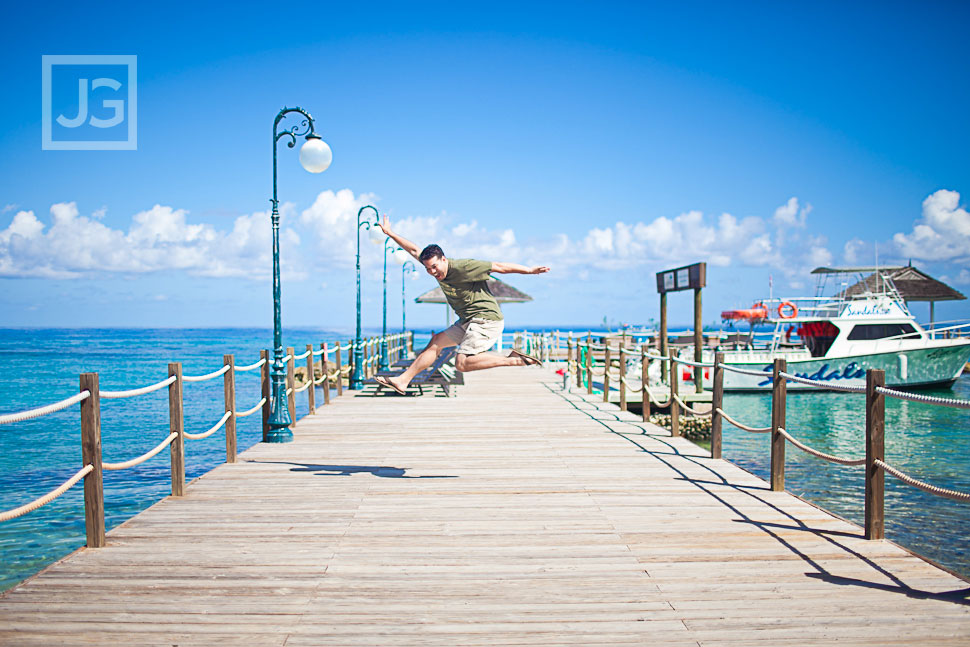 I made friends with this hammock the very moment I saw it!!  It was my best friend during the trip!!  =)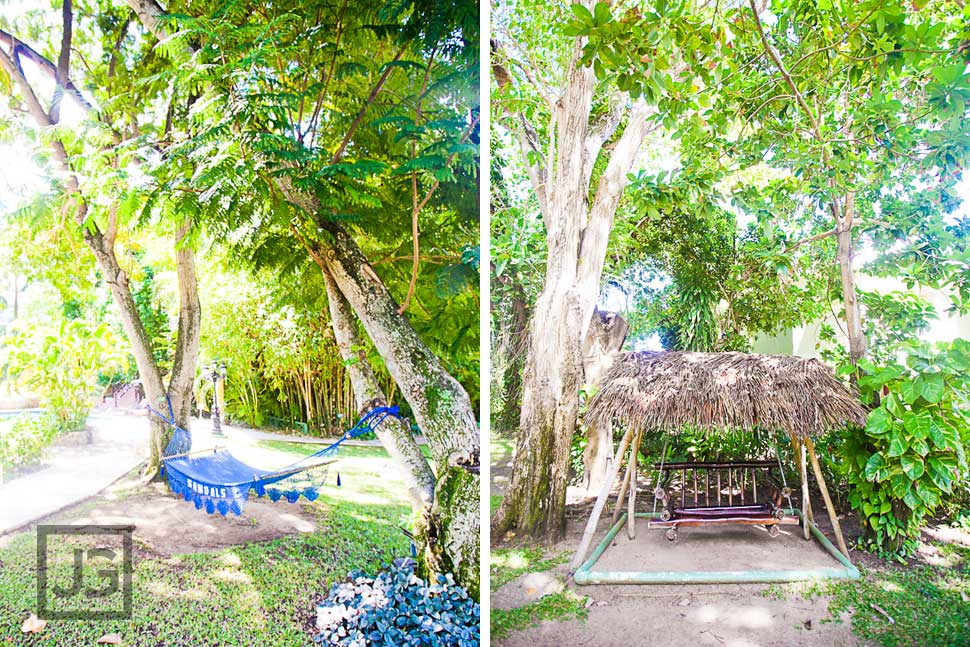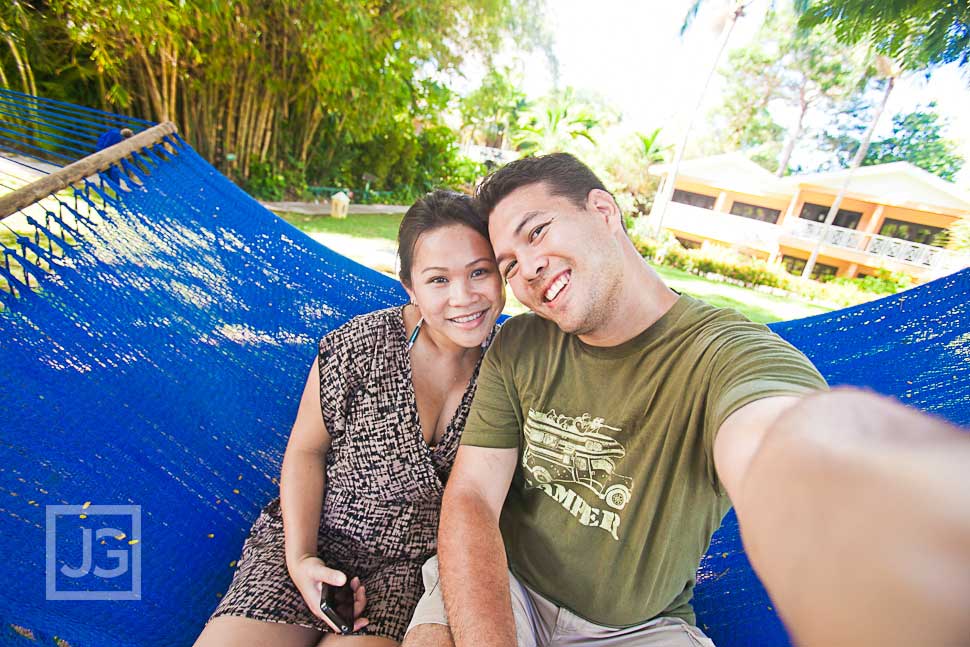 Gavin and I will definitely be visiting Jamaica again!!  The island is beautiful and has so much to offer!!