We LOVE getting the chance to do engagement photos out in Joshua Tree, nonetheless astrophotography in Joshua tree. The milky way core spanning across the dark sky, the galactic center teasing us with millions and billions of stars and space dust; it's a great way to spend a summer night in the desert. And our awesome couple decided that they wanted their engagement photos to be captured with this celestial wonder! Here's a teaser of the photos we did at night: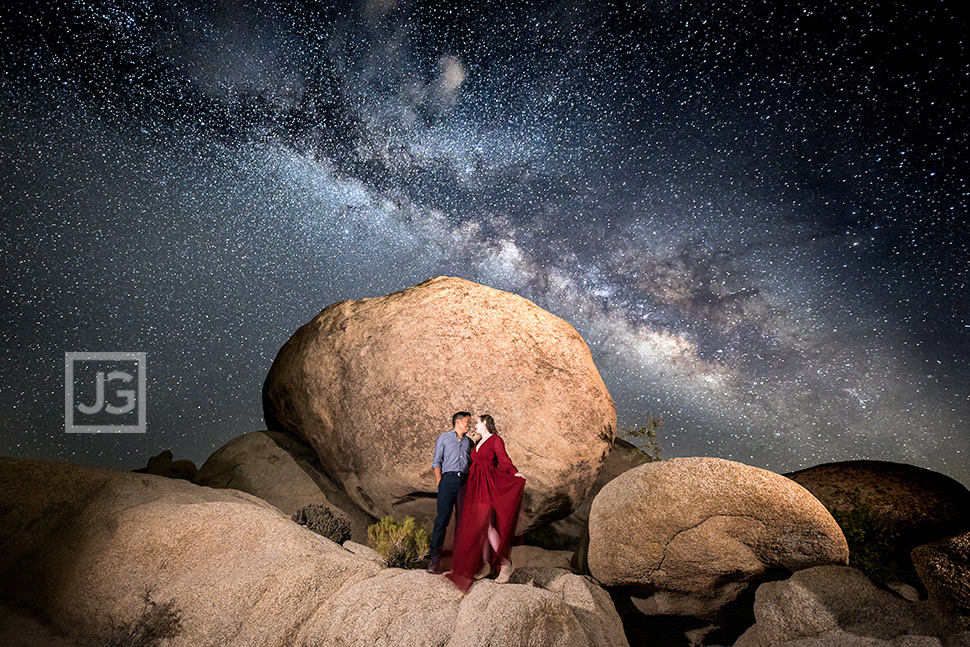 I like to mention that this image is a single exposure, which means it wasn't photoshopped (only edited in Lightroom). We like to pride ourselves on capturing the best possible image in camera before editing the image. Often, wide-field astrophotography is done with layering images (called stacking) using special software. We choose to focus on capturing the couple, which means layering would require more photo-manipulation than we like to use.
Starting at the Cholla Cactus Garden in Joshua Tree
We started the engagement photography portrait session at the Cholla Cactus Garden, a little gem on the southeast corner of Joshua Tree. I love using wooden fences and railing to create perspective in photos.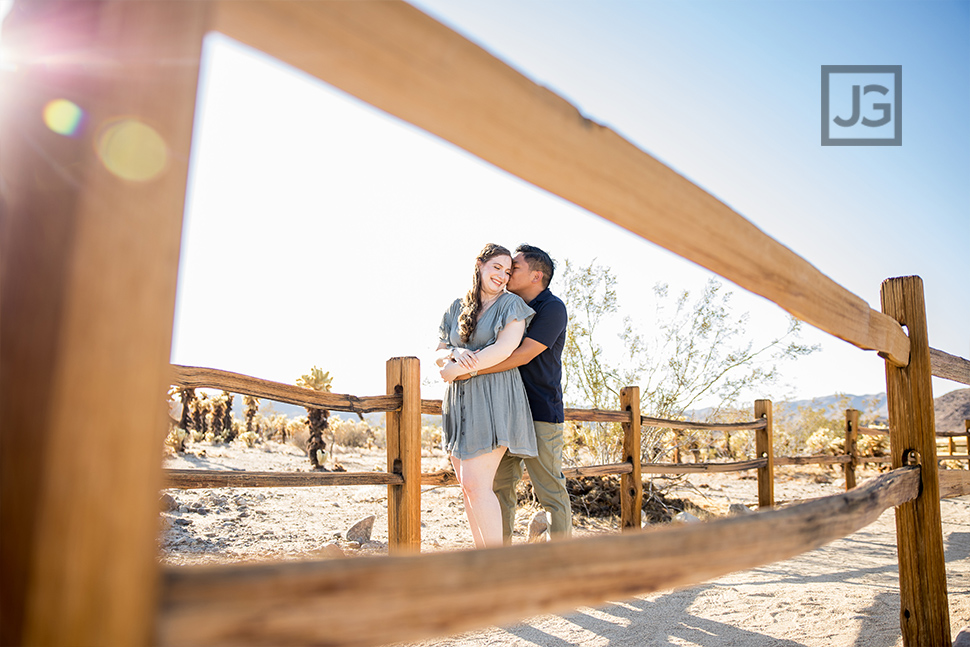 By the way, don't ever run into these friggin cactuses! It would seriously end the engagement portrait session really quick and it's a long way to a hospital.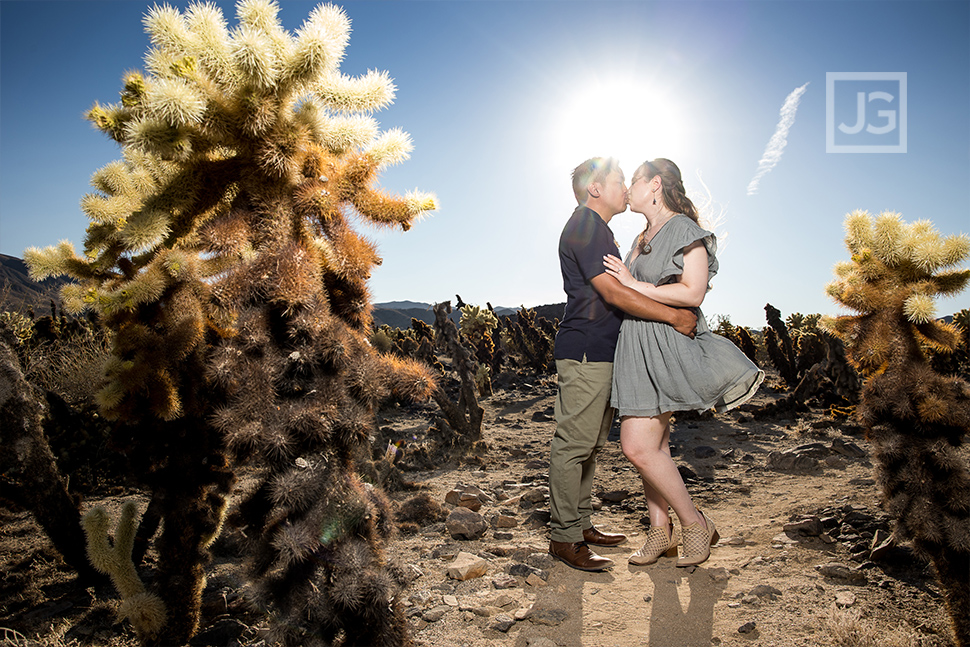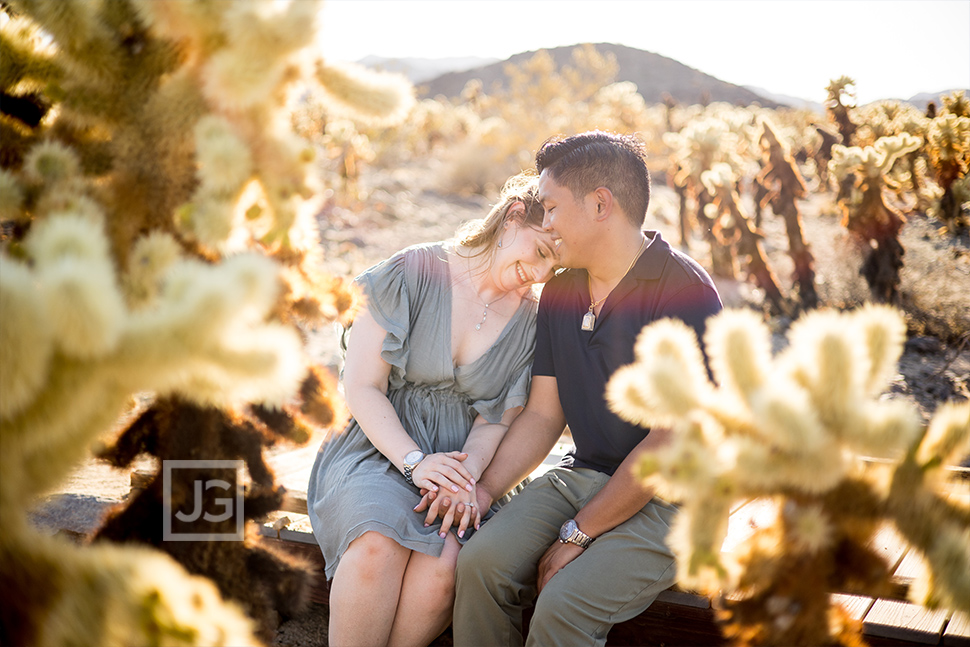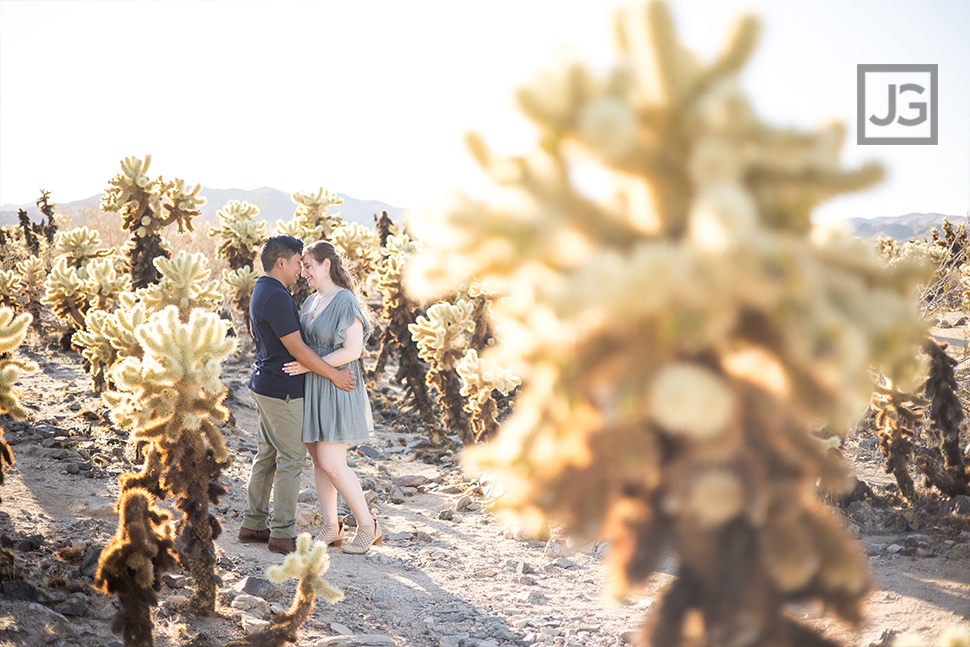 Catching the Sunset at Arch Rock
Then we headed over to Arch Rock (right next to the White Tank Campground) for sunset engagement photos and to scout out the location before the sun went down. When shooting astrophotography out in Joshua Tree, it means that it's during a new moon. When we where waiting for astronomical twilight, a local tourist asked how to get to Arch Rock. I told him that I honestly didn't recommend trying to find it in the pitch black without having done it during daylight.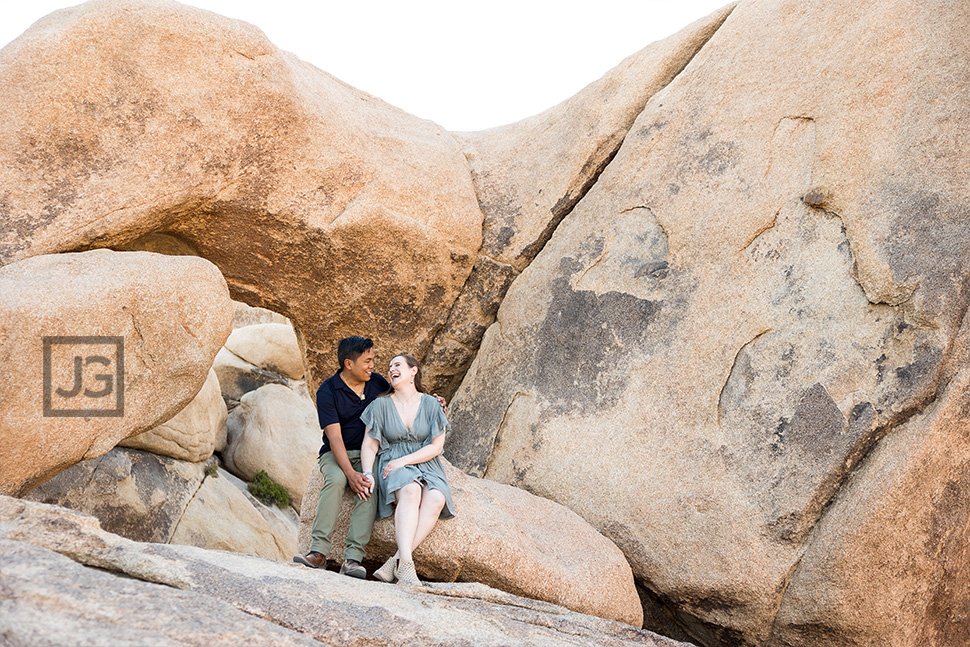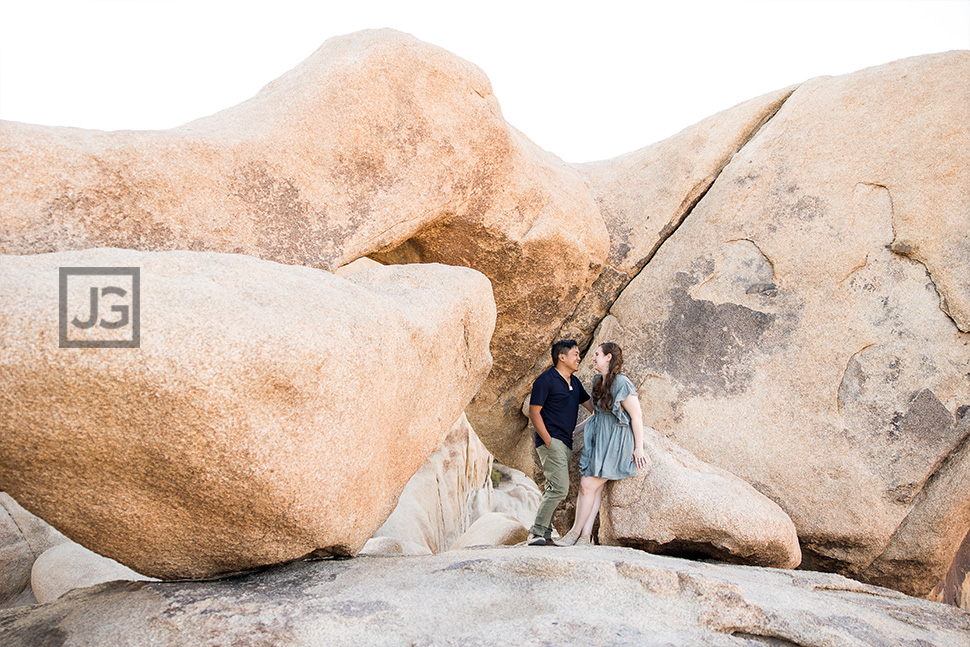 The sun starting to set over the desert landscape…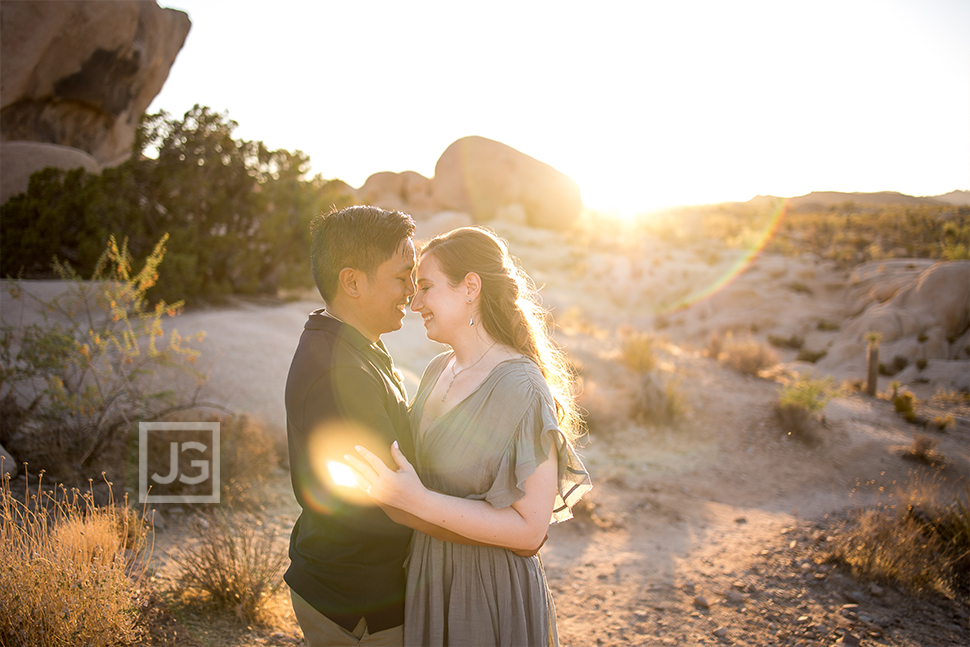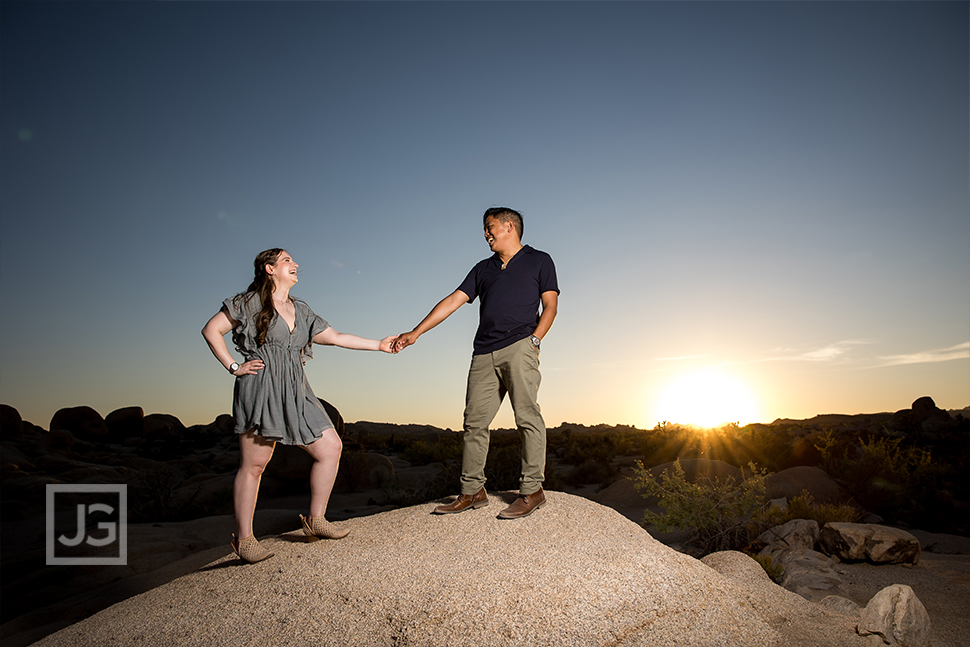 And then we started to get the warm and then blue tones of the desert twilight.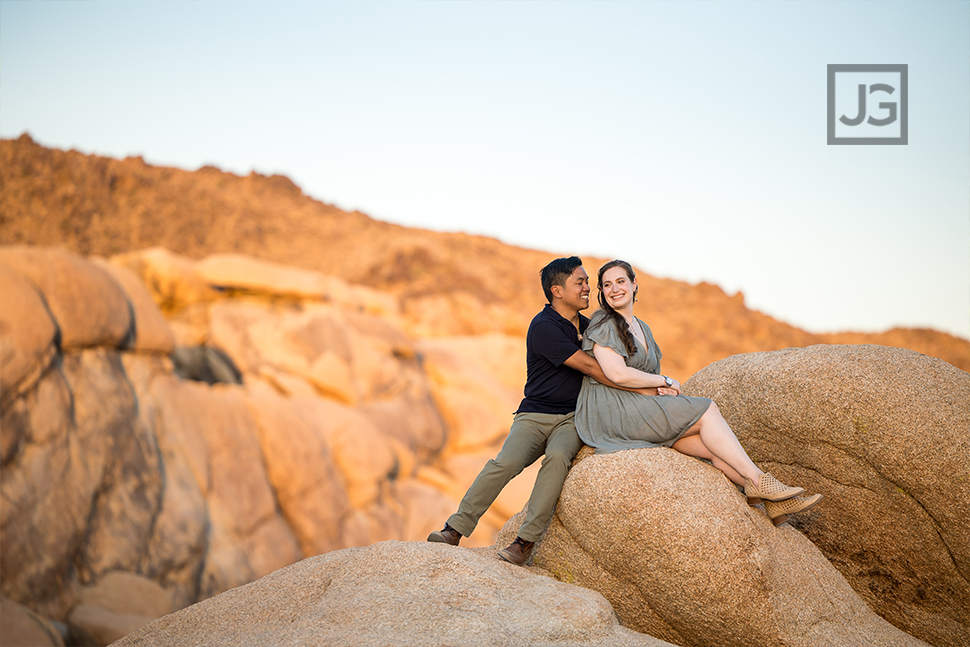 Here is a clear angle of Arch Rock.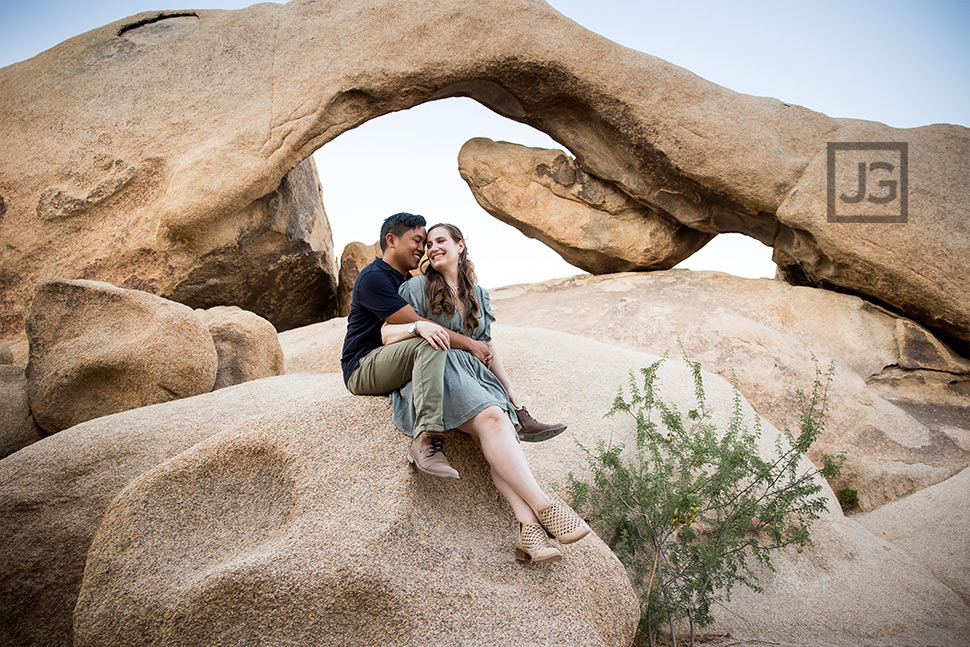 I absolutely love how alien the rocks look in Joshua Tree, like it's a foreign and other-worldly landscape. This just doesn't look like it's a few hours away from downtown Los Angeles.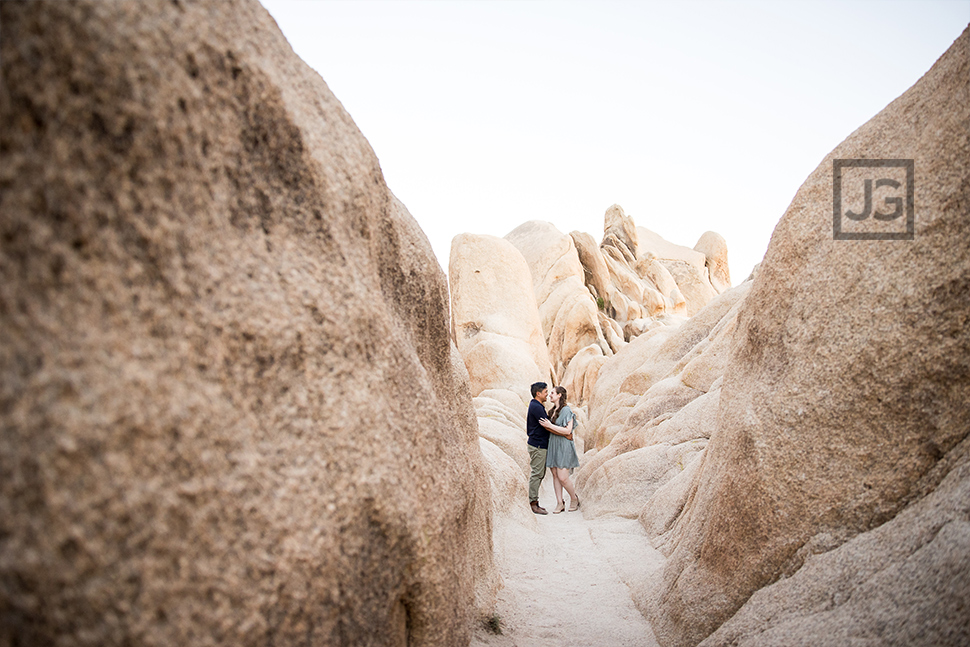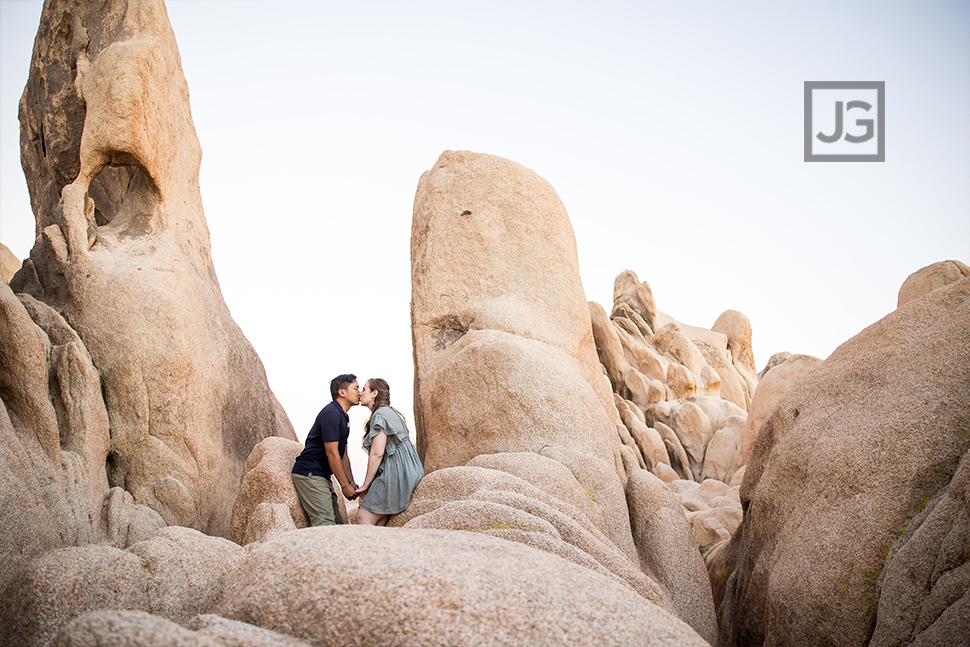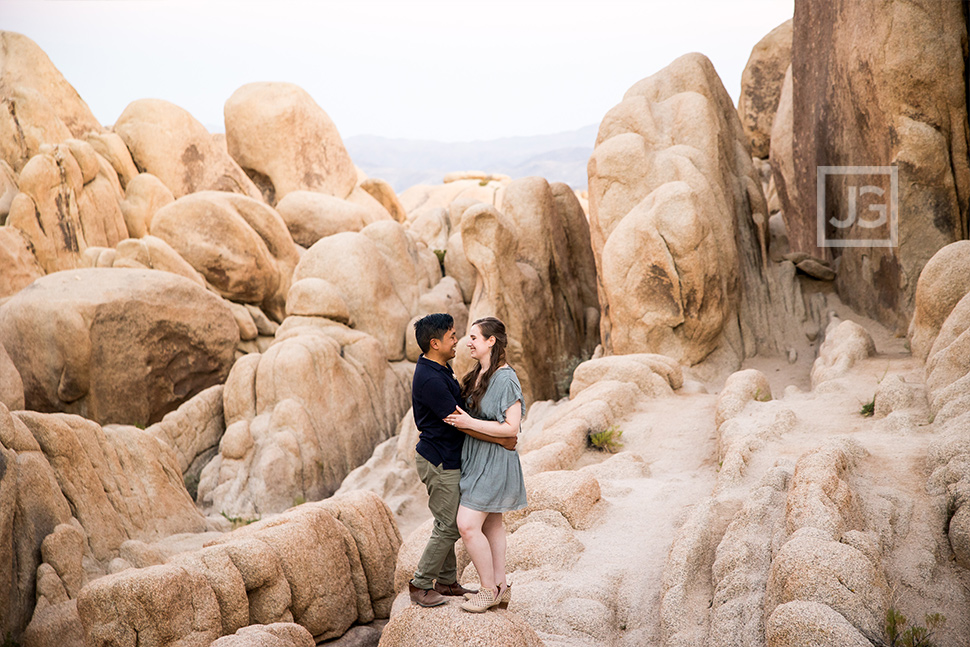 There was this huge rock that reminded us of Indian Jones and the Temple of Doom, so we had to have some fun with it!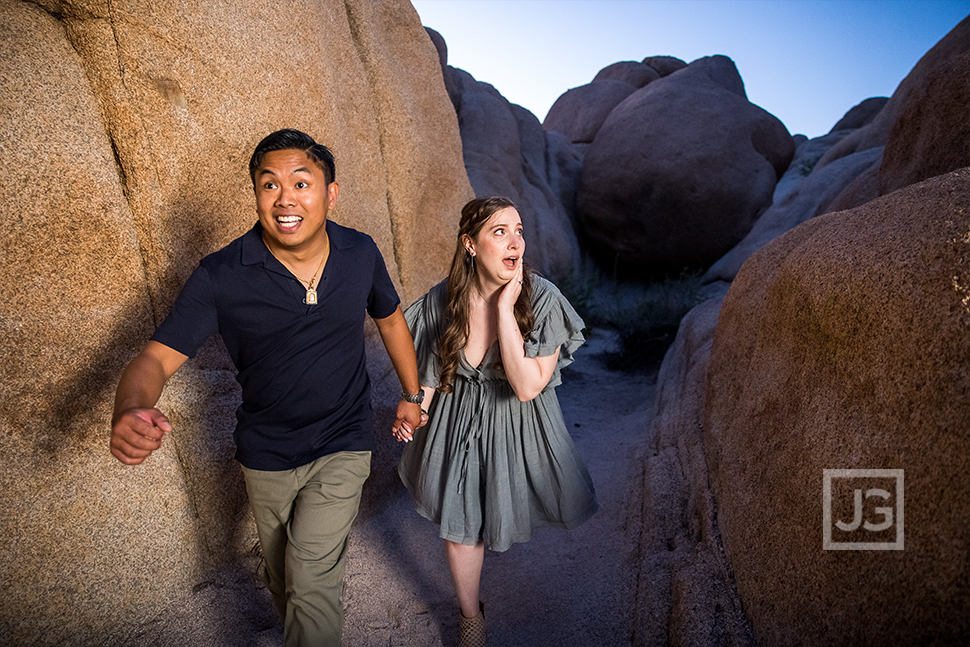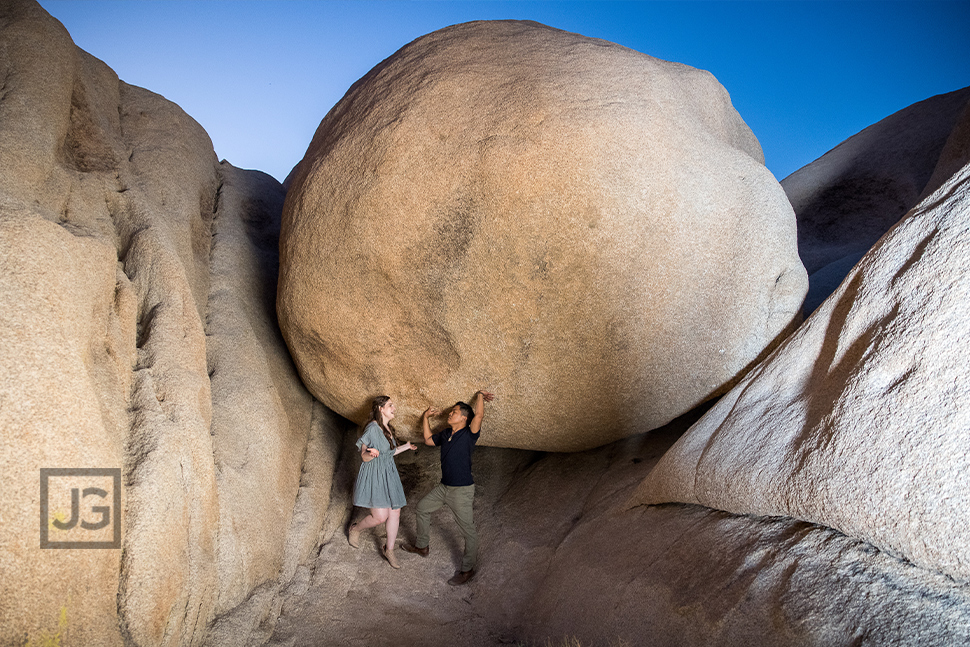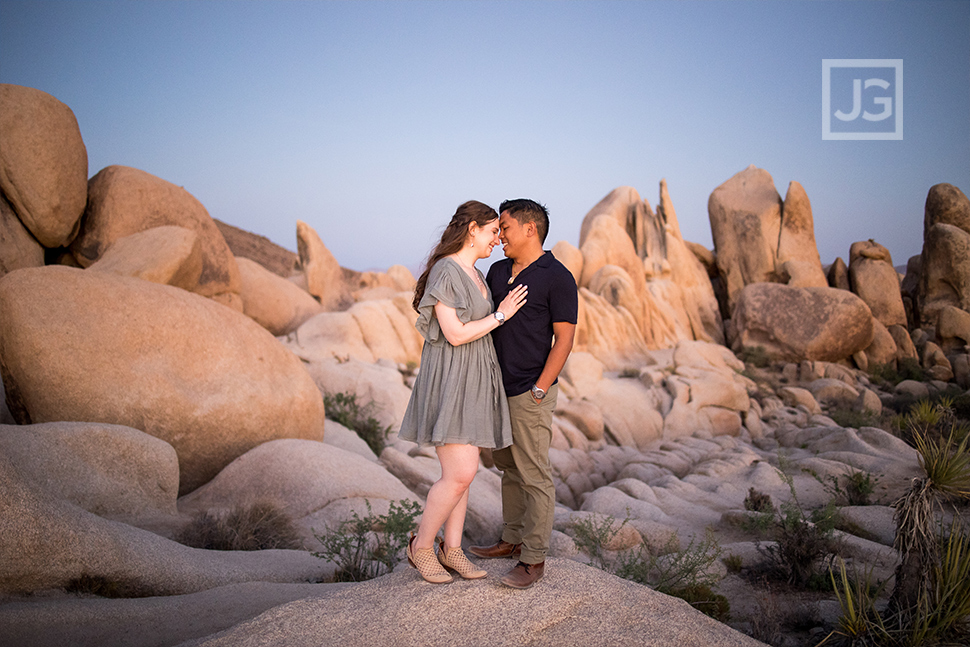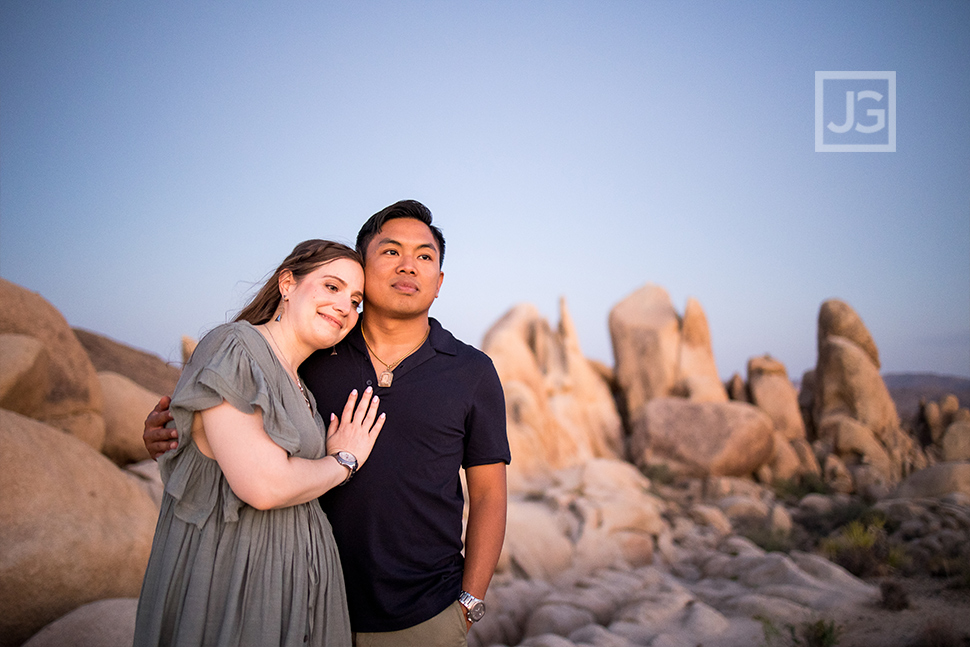 Astrophotography in Joshua Tree with the Milky Way
After waiting for the sun to fully set, we head back out into the desert landscape for engagement photos with the milky way care. Astrophotography in Joshua Tree is a beautiful thing! Of course we have to get a photo with an actual Joshua tree (or yucca tree).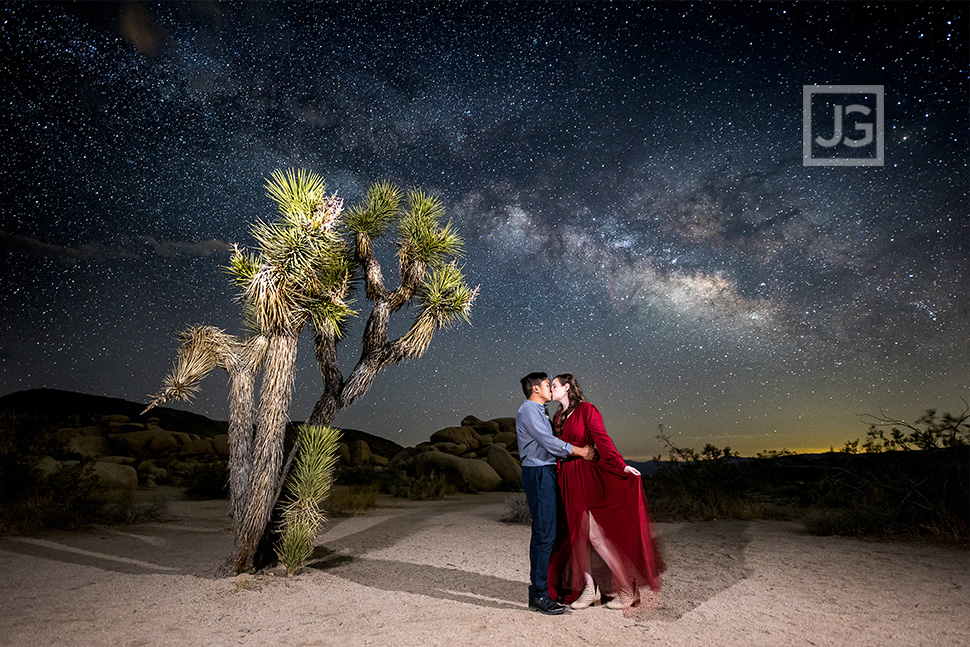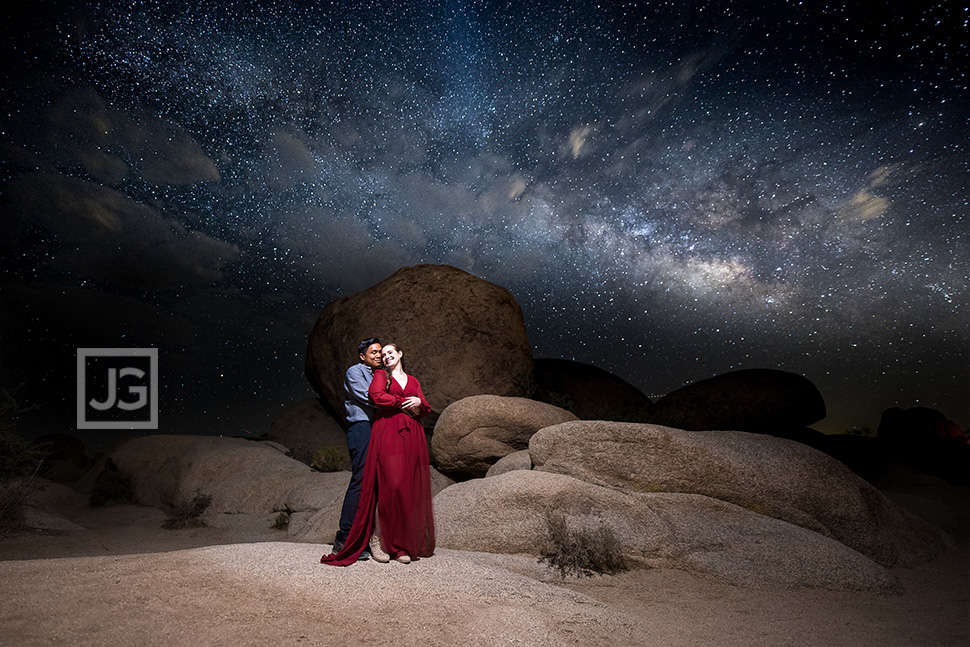 I really love this one with the large rock/boulder in the background.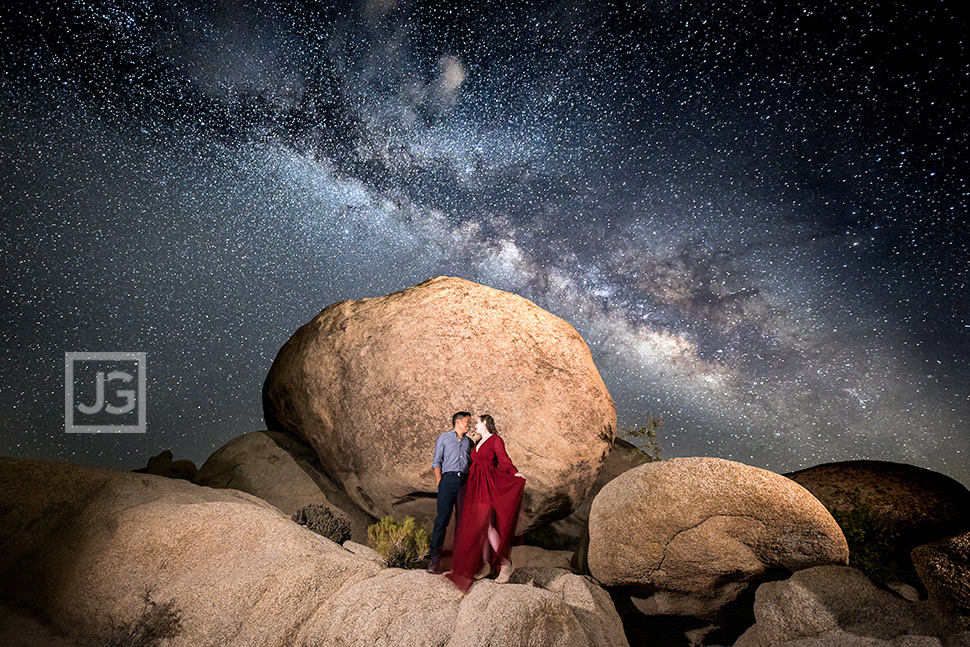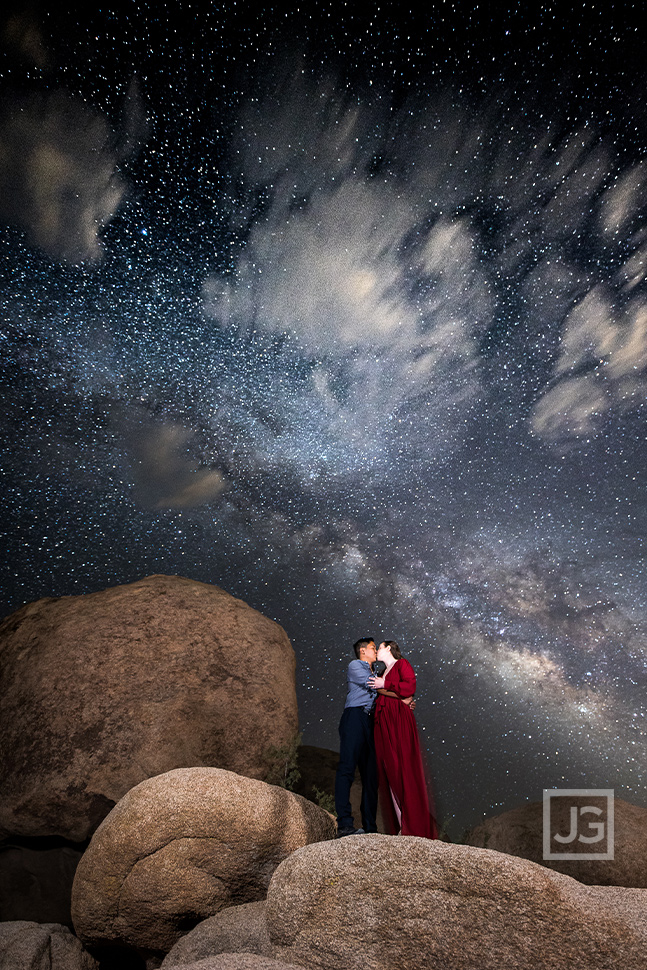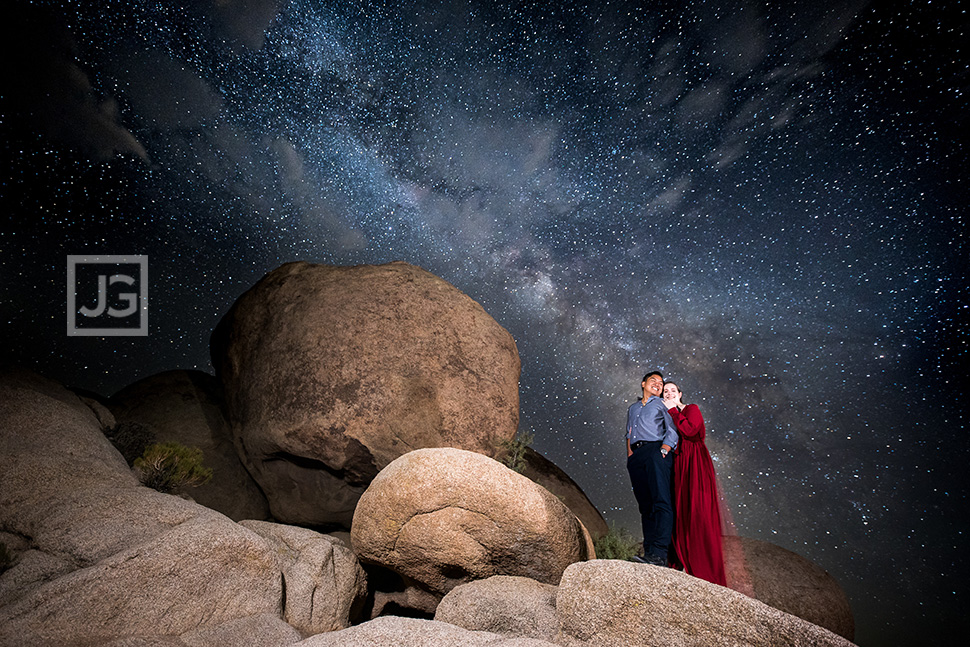 Doing Joshua Tree Astrophotography and Engagement Photos
When deciding to have a professional engagement photographer capture you with the Milky Way, it's important to have an experienced photographer that fully understands astrophotography. Wide-field astrophotography is one of the hardest ways to capture a couple, so it matters to have experience. Driving out to the desert and Joshua Tree National Park is a large time investment (not to mention tiring and sometimes super hot or cold). Take a look at many more examples of astrophotography and engagement photos with the milky way to know that we can definitely take care of you and complete your vision.