Gavin and I recently had the pleasure of traveling up north to Los Gatos, CA to photograph Lauren and Harris' gorgeous ranch wedding.  We love doing Destination Wedding Photography because it not only allows us to explore the hidden spots of another city but it another excuse for us to combine work with play.  =D  Stay tune for those awesome photos!!  
Those who know us… knows that we are TOTAL foodies!!  Gavin and I love to eat!!  In fact… I feel like that's all we do when we vacation.  So… are you guys ready for some food galore??
Our drive up to Los Gatos started bright and early on Thursday morning so we miss the nasty Los Angeles traffic.  The first stop was for some breakfast in Gilroy.  Gavin and I are Yelpers and we found this small hidden gem called Odeez Kitchen.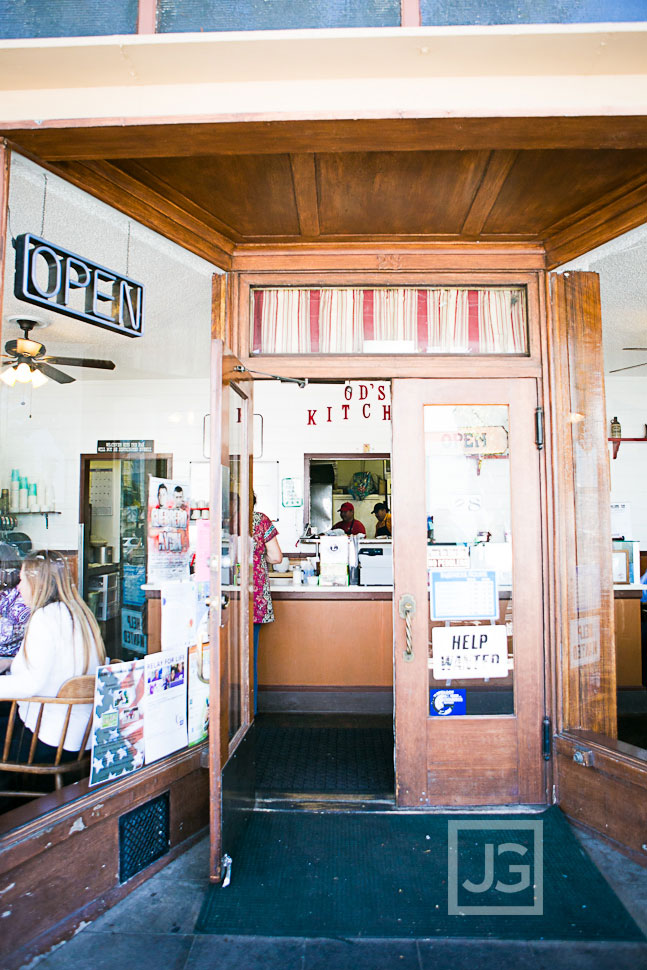 I got a delicious spinach, mushroom and garlic omelette with a side of hash-browns and pancakes.   I'm not a big fan of hash-browns so it was whatever for me, but the omelette and pancakes were perfect!!  Very generous portions as well.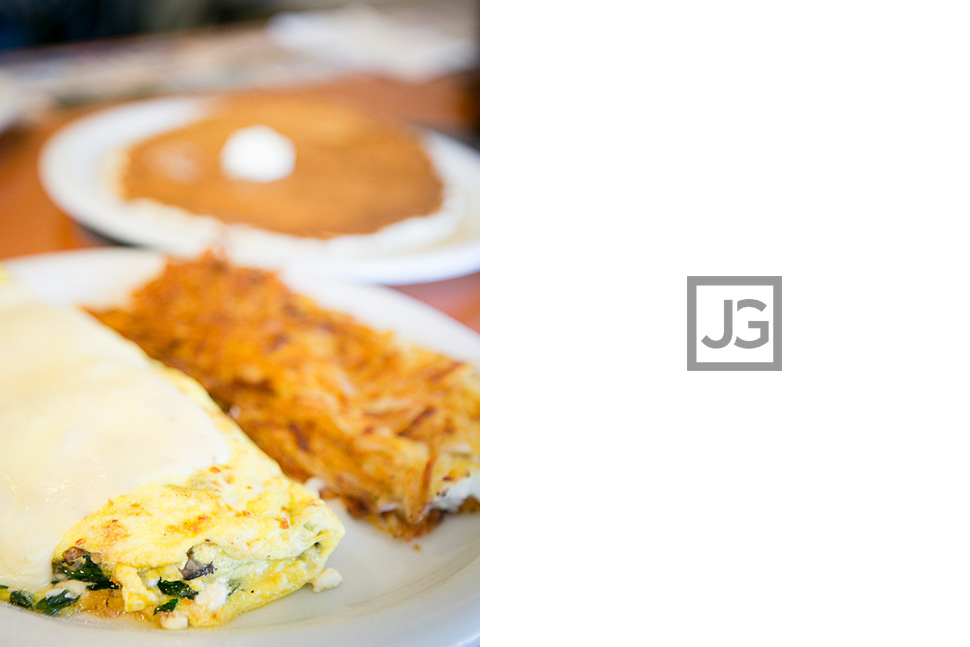 Gavin got what they call a "kitchen sink."  LOL  It's got fried potatoes, bell peppers, ham. cheese and topped with gravy and two over-easy eggs!!  Ohhhh… it was to die for!!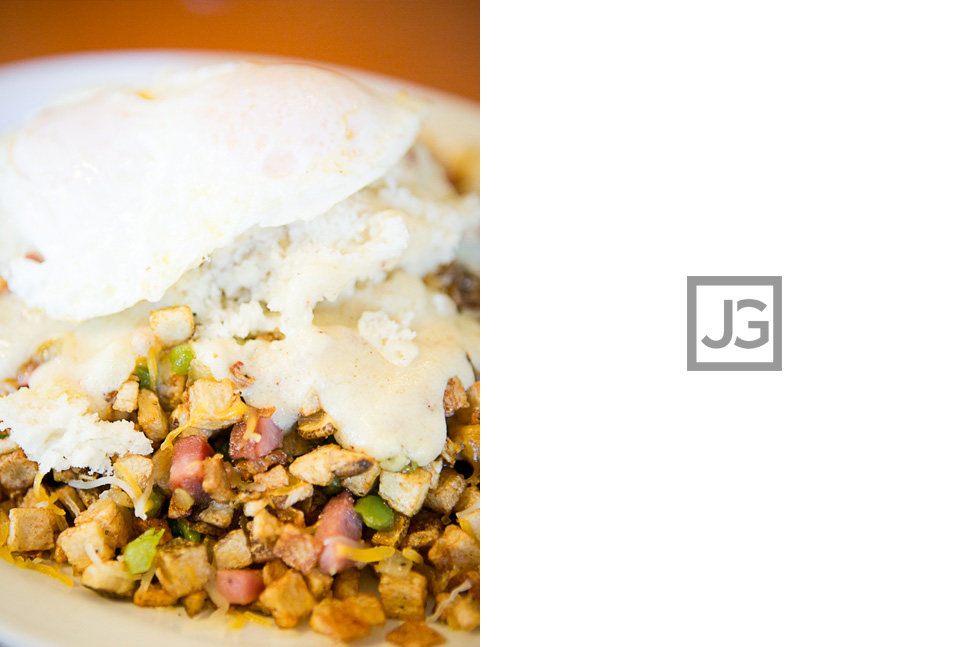 After breakfast, we explored Gilroy for a little bit and then headed over to our cousin's place in San Jose.   We did a short family portrait session for them (at their house).  It's great getting to spend quality time with family!!  They have three adorable kids and I can't get enough of them!!  Let's meet them… shall we??
These are the twins:  Connie and Claire at 12 months old.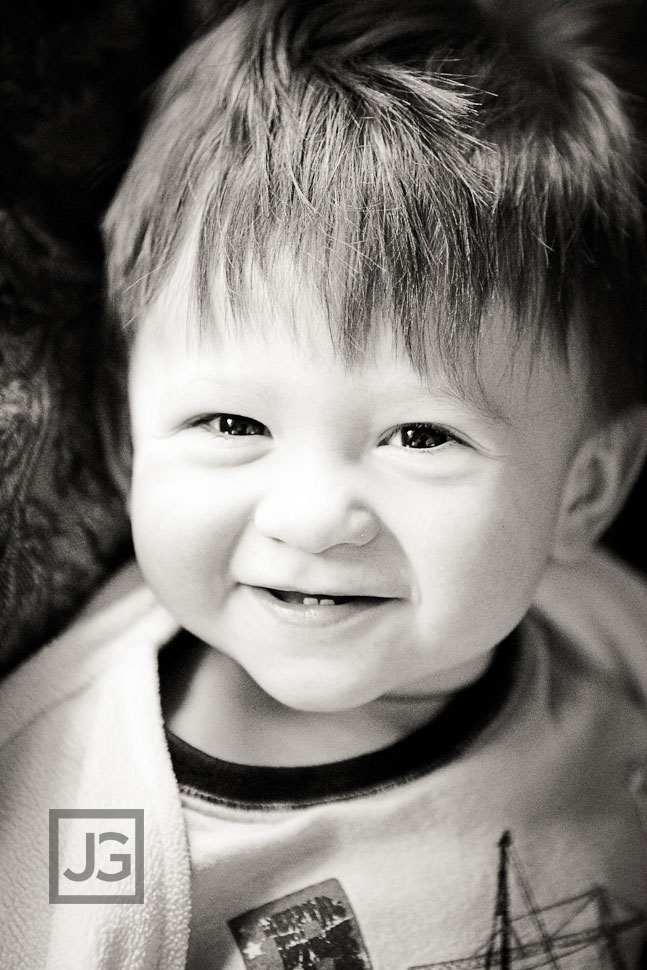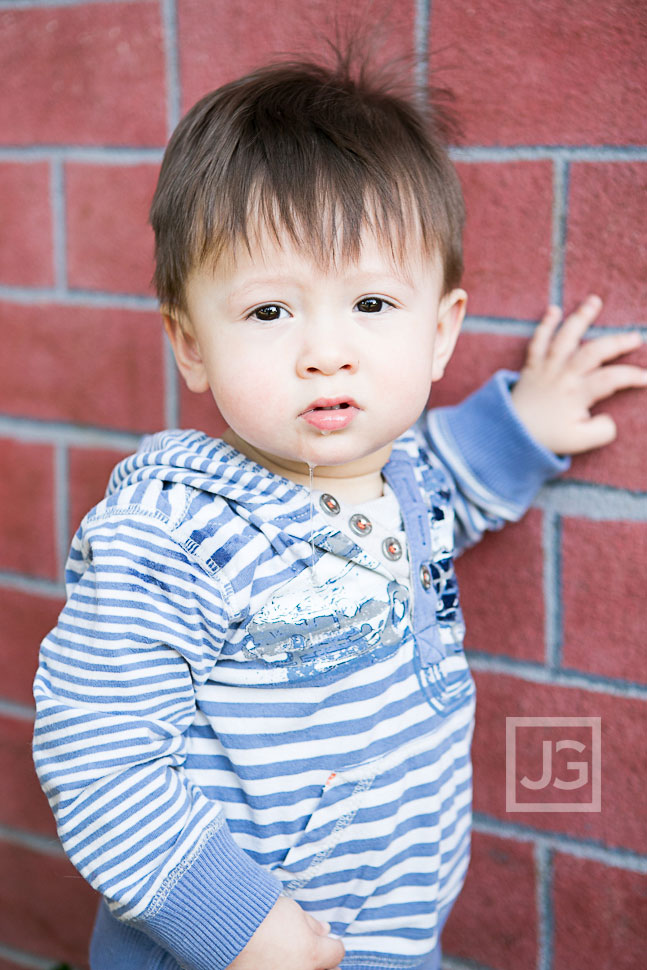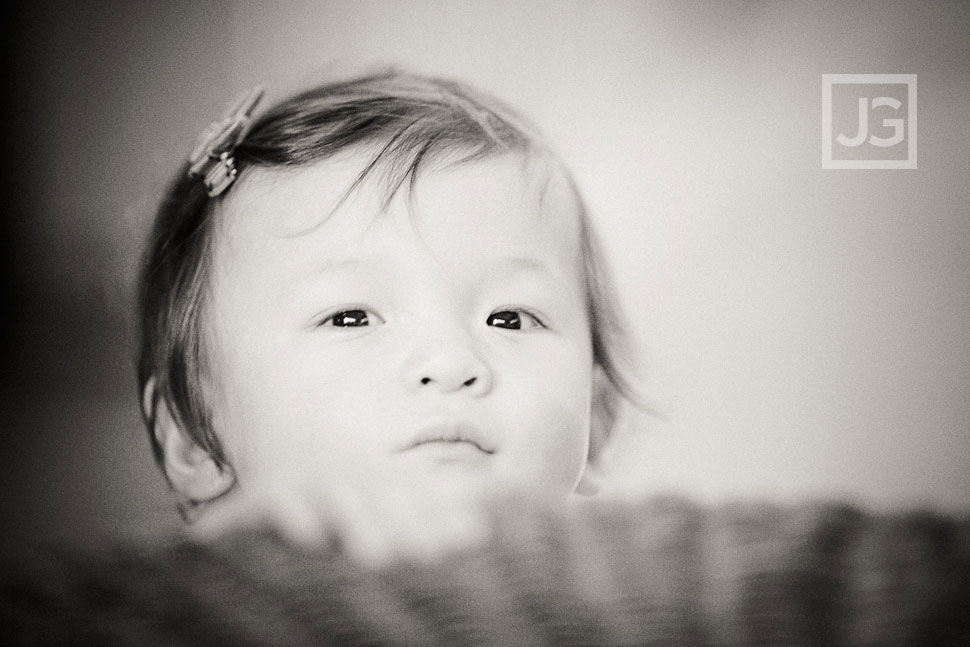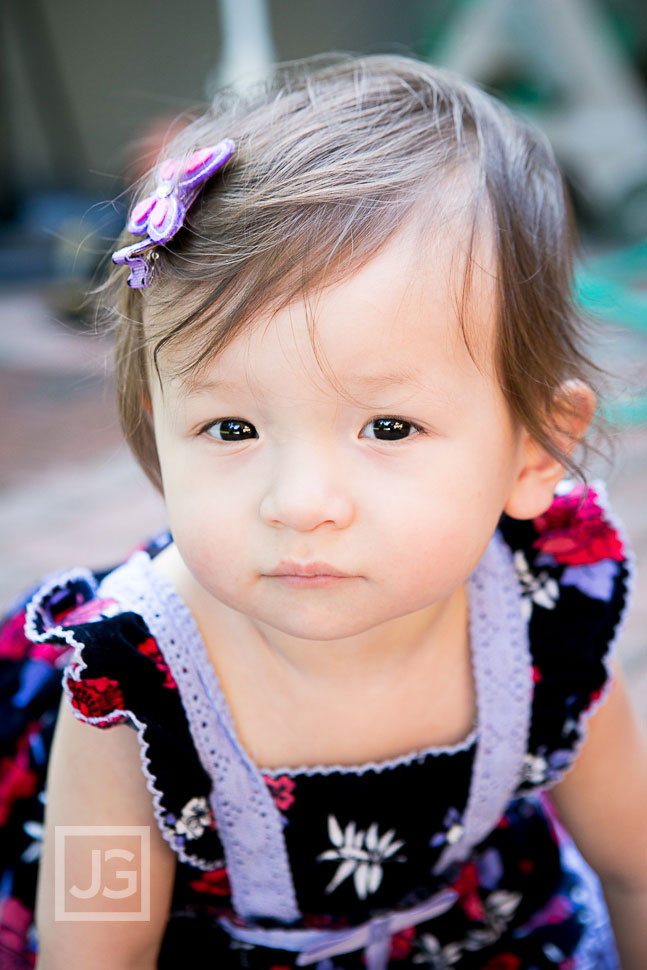 This is older brother, Tyler.  He's such a ham!!  =)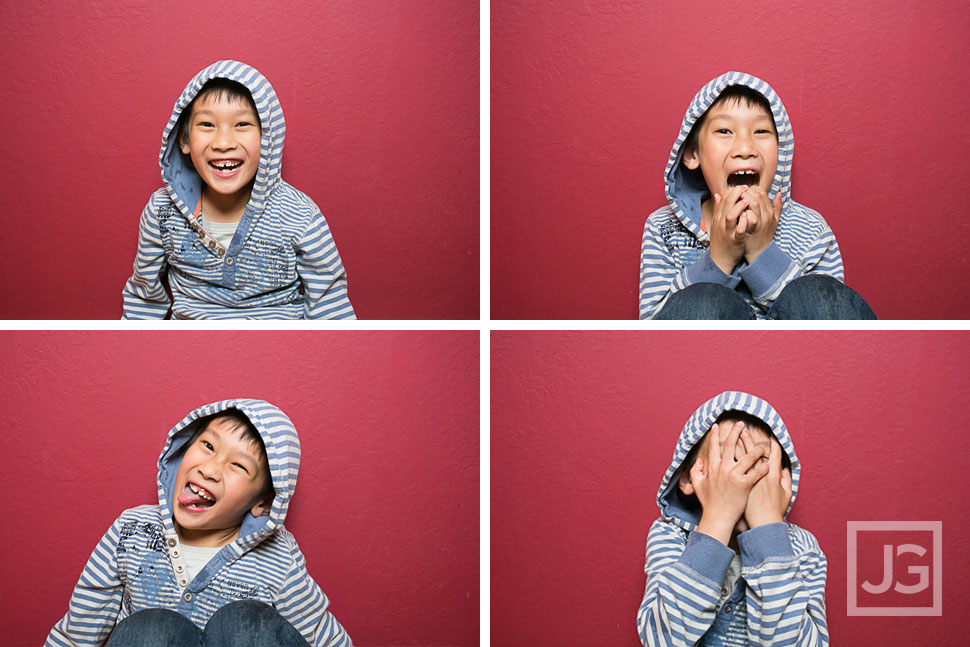 While their parents and Gavin were busy preparing our dinner… guess what I was in charge of??  Yes… feeding the twins!! YAY!!  I'm not exactly the cleanest "feeder" but I couldn't help myself.  They were sooooooo cute that I kept taking pictures of them as they went to town on the food by themselves!! LOL.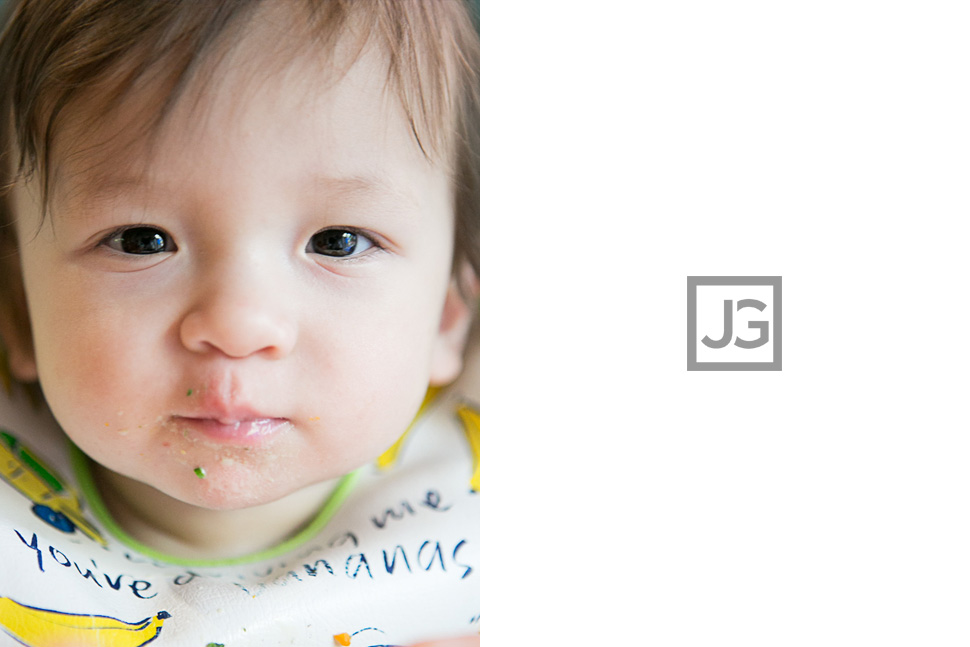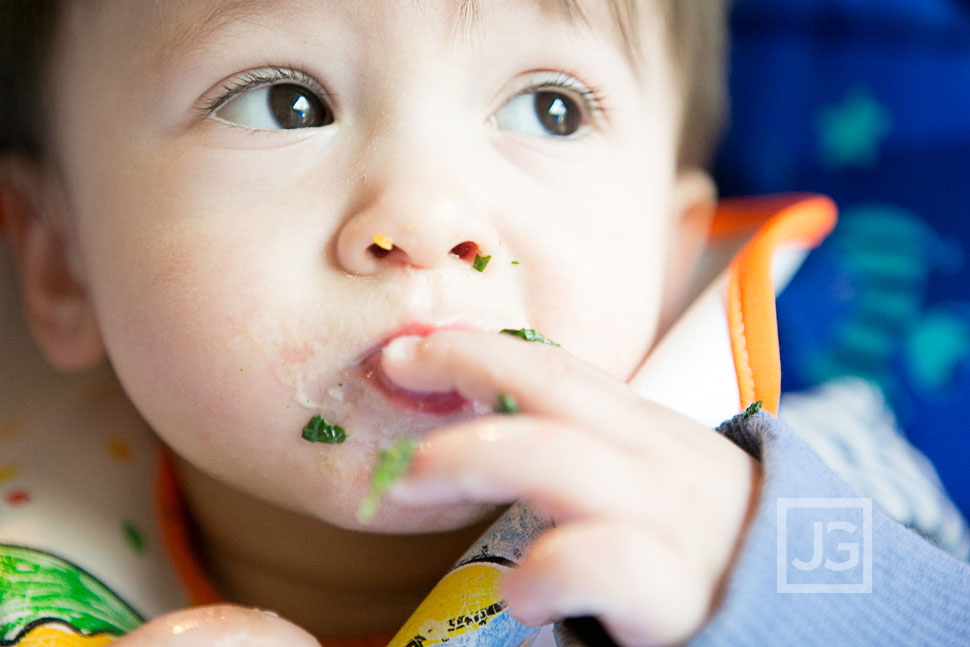 Brunch with the twins the next day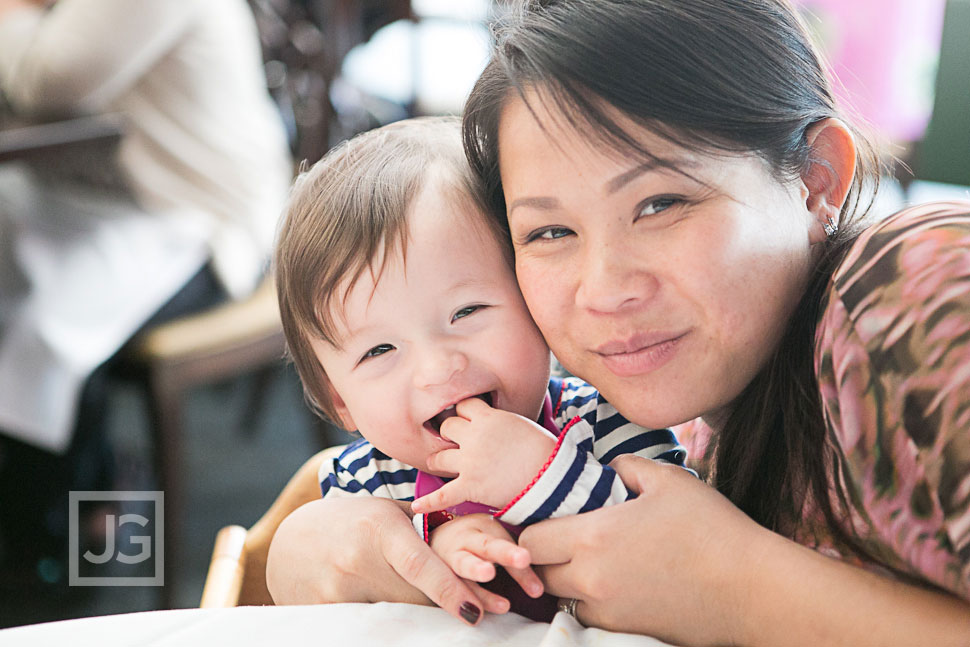 Don't they just melt your heart??  LOL… check out the look on their faces while waiting for our food!!  I can't stop laughing.
After Brunch, we headed out to explore the Winchester's Mystery Mansion.  I thought the admission ticket was a little over-priced for the attraction, but it was quite an interesting experience!!   It's definitely a one-time attraction (no need to see it a second time).  Unfortunately, they didn't allow photography inside the mansion.  Here are some interesting facts we learned during our tour of the Winchester Mystery Mansion.
The mansion was once a personal residence of Sarah Winchester, the widow of the great rifle-maker William Winchester.  After the sudden deaths of the daughter and husband, Mrs. Winchester consulted a "seer" who told her that she must build a house and never cease building it, otherwise the spirits that killed her family members would come after her, too.  And that's exactly what Mrs. Winchester ordered.  The mansion was under constant construction for 38 years (that's right… you read correctly.)  The mansion is (till today) maze-like and is full of twists, turns, and dead ends.  The 160-room estate has staircases leading to nowhere, doors that open onto brick walls or ten-foot drops.  Till today, many say that the mansion is haunted!!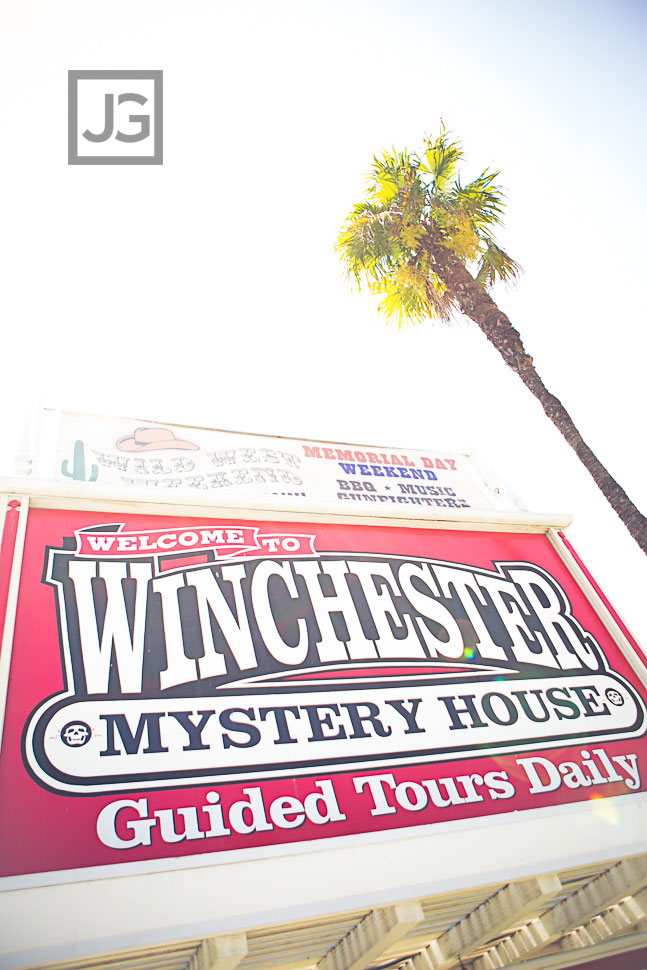 One day… one day…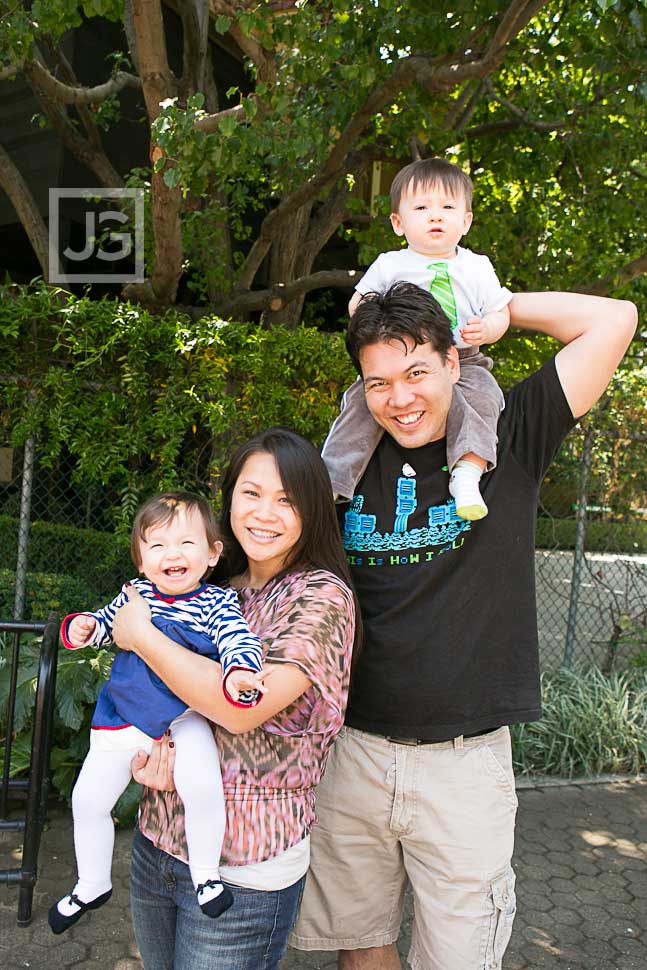 On Sunday, May 20th, we headed out to San Francisco.  Check out this awesome picture that Gavin took of the solar eclipse.  A solar eclipse occurs when the moon passes between the Earth and the Sun.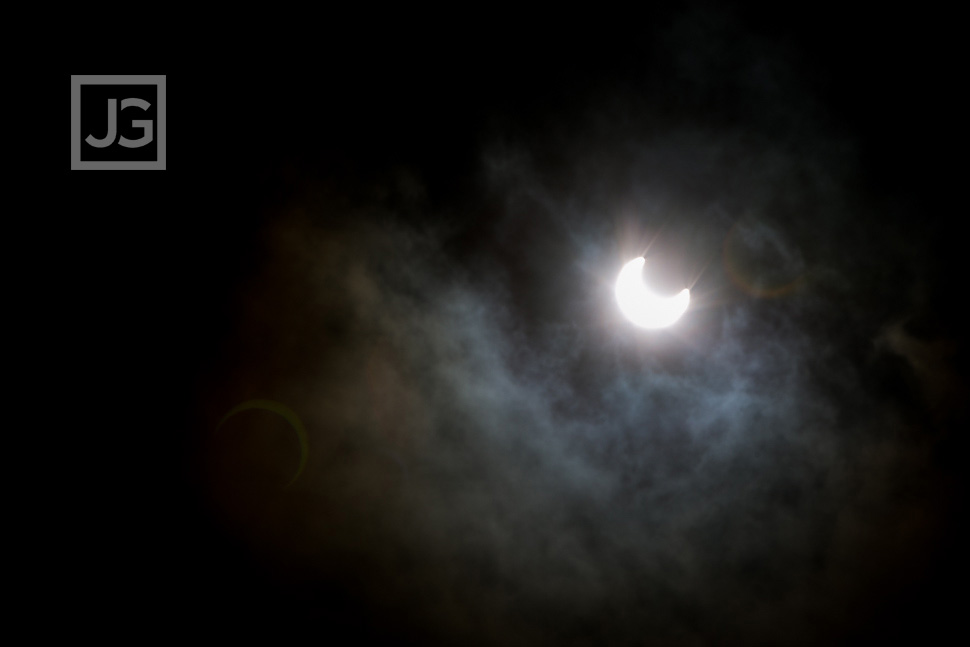 If you're in the Mission District in San Francisco, we highly recommend you stop by Mission Chinese (aka Lung Shan Restaurant).  We heard so many raves about this place (from the locals) so we decided to wait about an hour to eat here.  It was soooo worth the wait!!  Between the two of us, we ordered 4 dishes!! LOL… pigs… i know!!
1.  Salted Cod Fried Rice
2.  Tso's Veal Rib
3. Pork Belly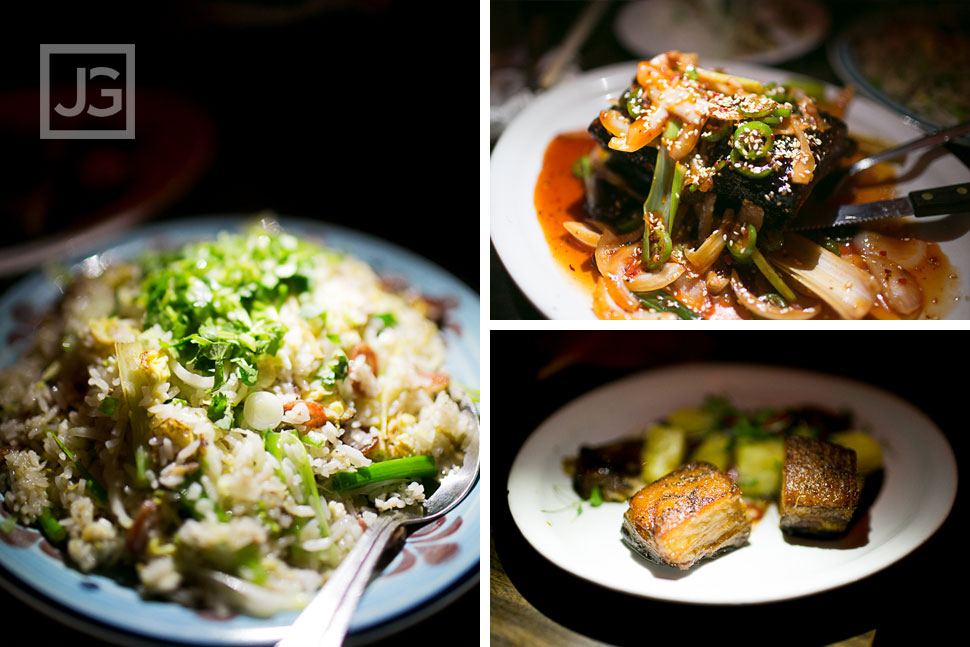 4.  My favorite… Tea Smoked Eel – pulled ham hock, Chinese celery, rice noodles, cognac, soy.  **Must Try**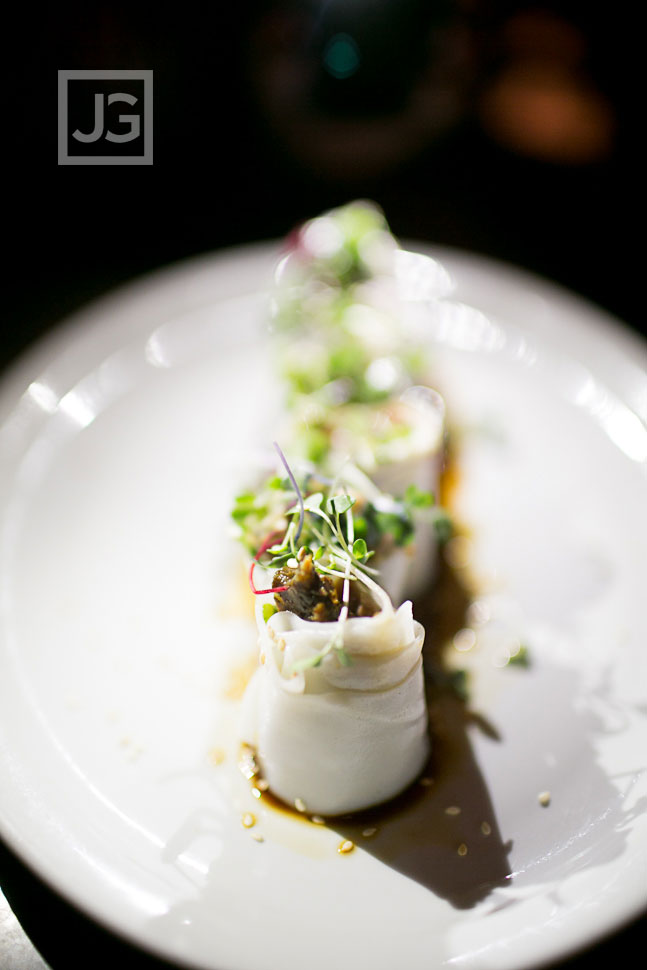 Gavin and I looooove oysters!!  I'm a little more particular with which ones (but Gavin just loves them all).  When we stayed the night with our cousins in San Jose, they recommend that we try Hog Island Oyster Co. when in San Francisco.  And so… guess what we did!??!  We drove 2 hours from South San Francisco to Point Reyes for some "shuck it yourself oysters!"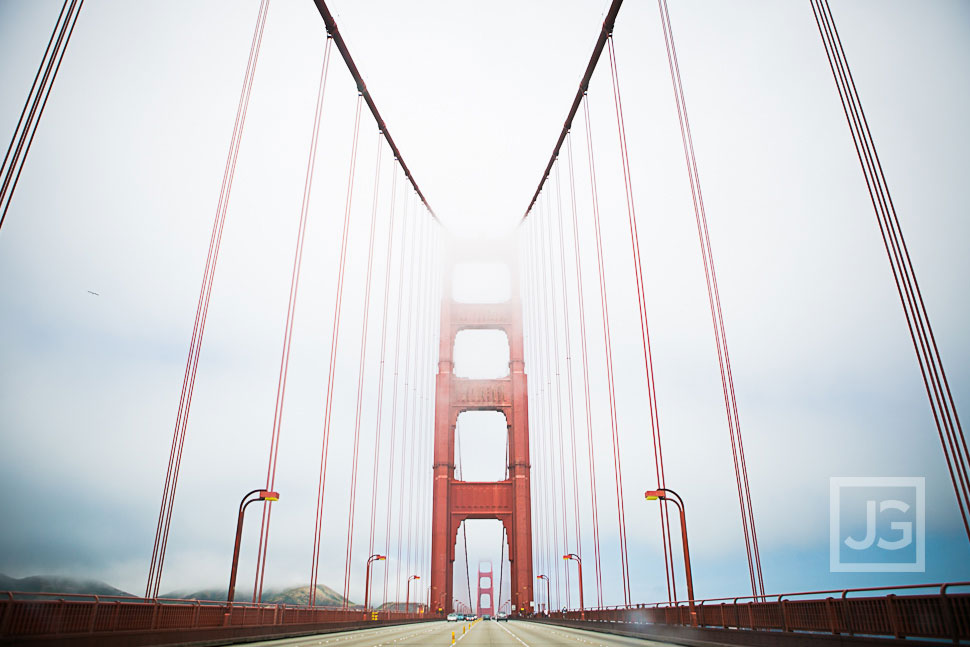 Hog Island Oyster Co. is actually a distribution point for their oysters.  You can order oysters straight from them, sit in their picnic area with a shucker and a think shucking glove.  They also have BBQ pits for grilling them, but we didn't have any charcoal on us that day.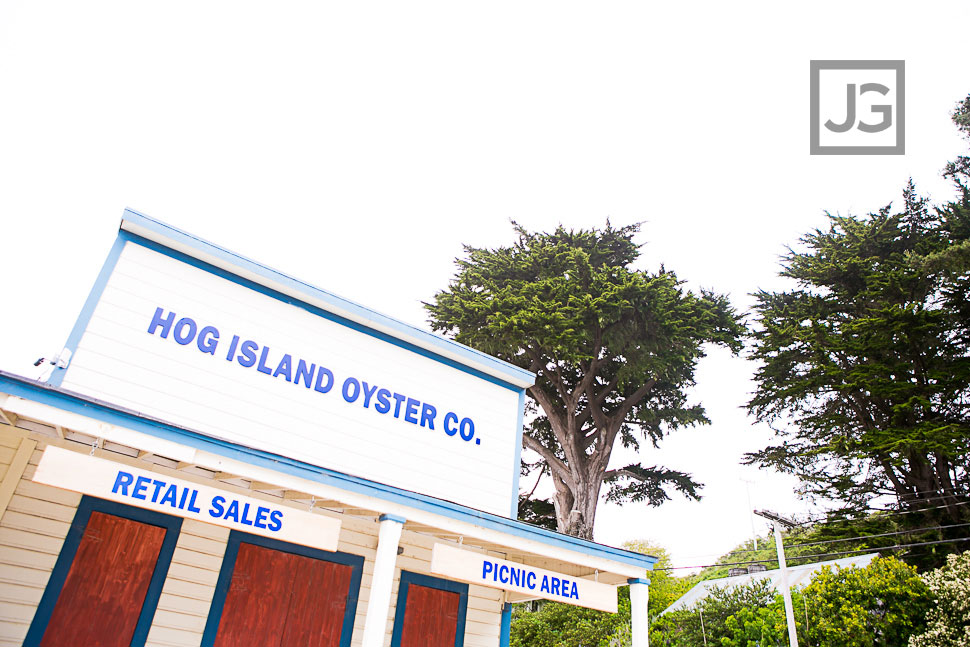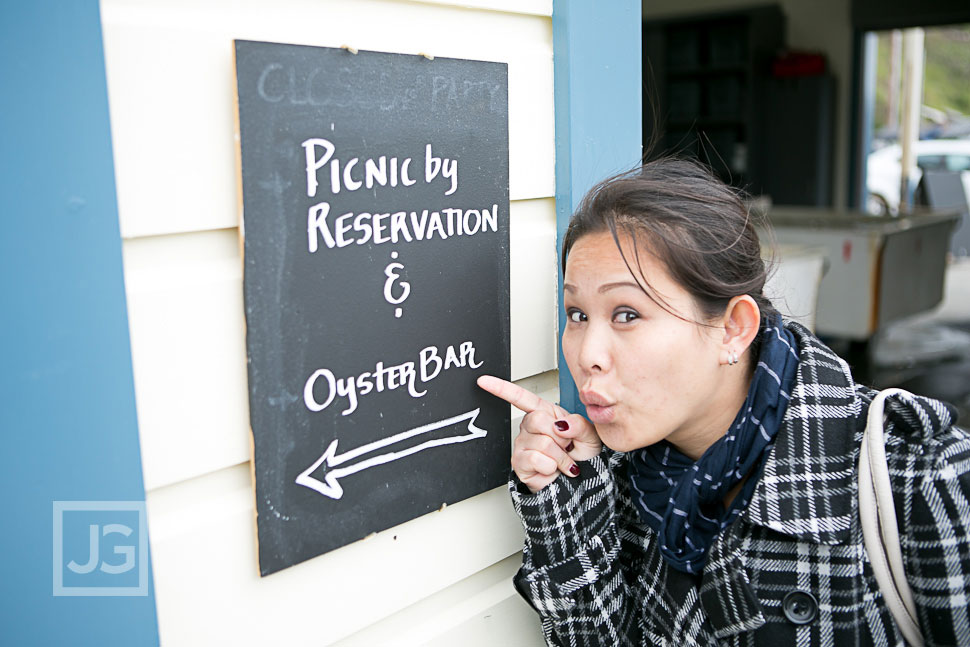 I don't even remember the names but they were all so fresh and delicious!!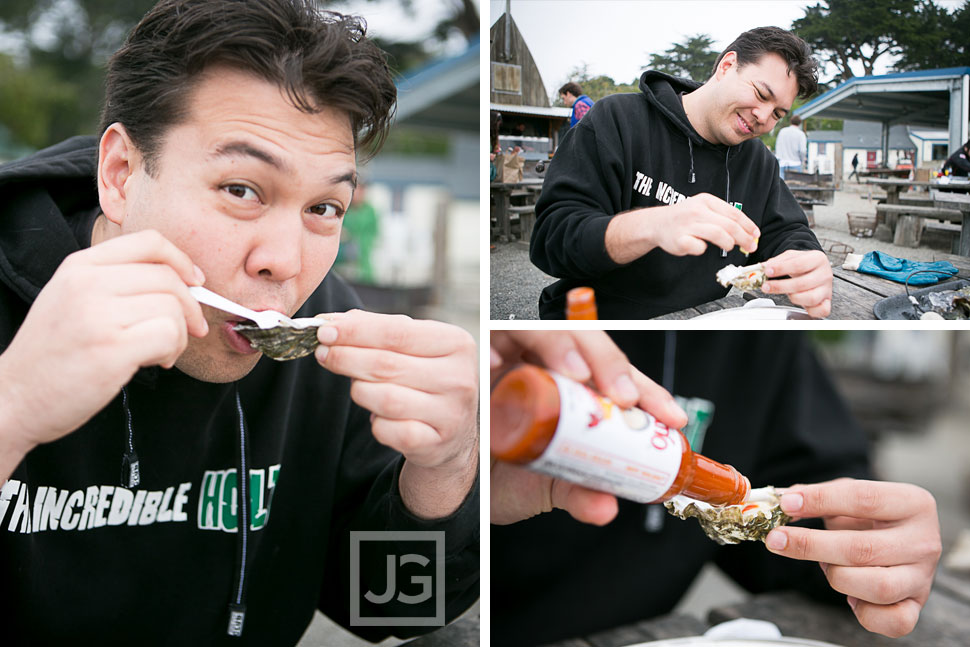 Shucking the oysters is definitely a skill to be learned and what better way to learn than when you are starving!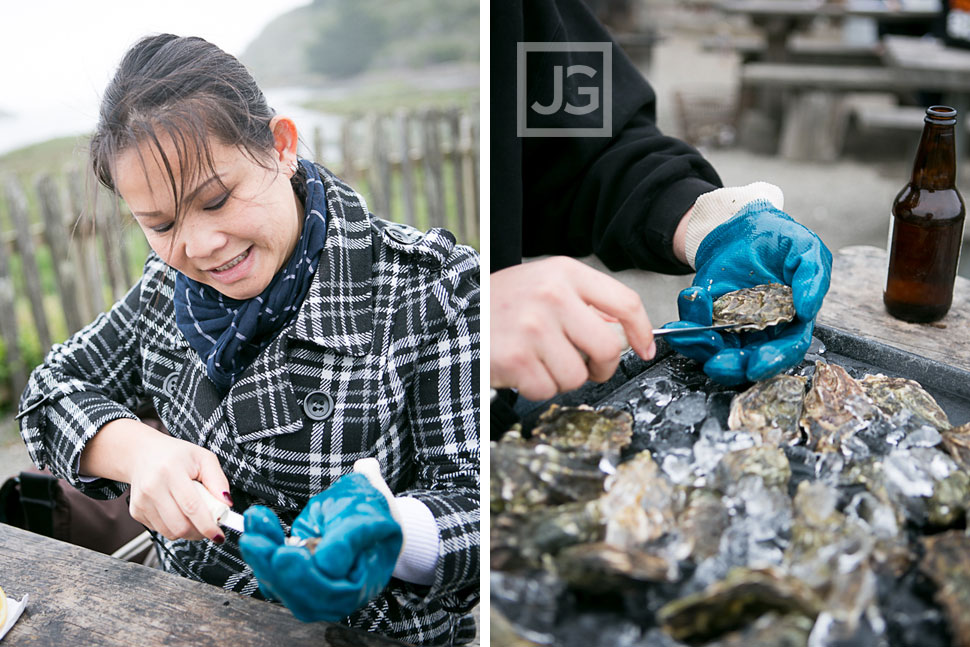 The key is getting the point in the right spot on the oyster, after which a simple twist cracks that baby right open.  We ordered some grilled oysters from their booth, where they used an awesome garlic-butter-chipotle seasoning.  Yummy!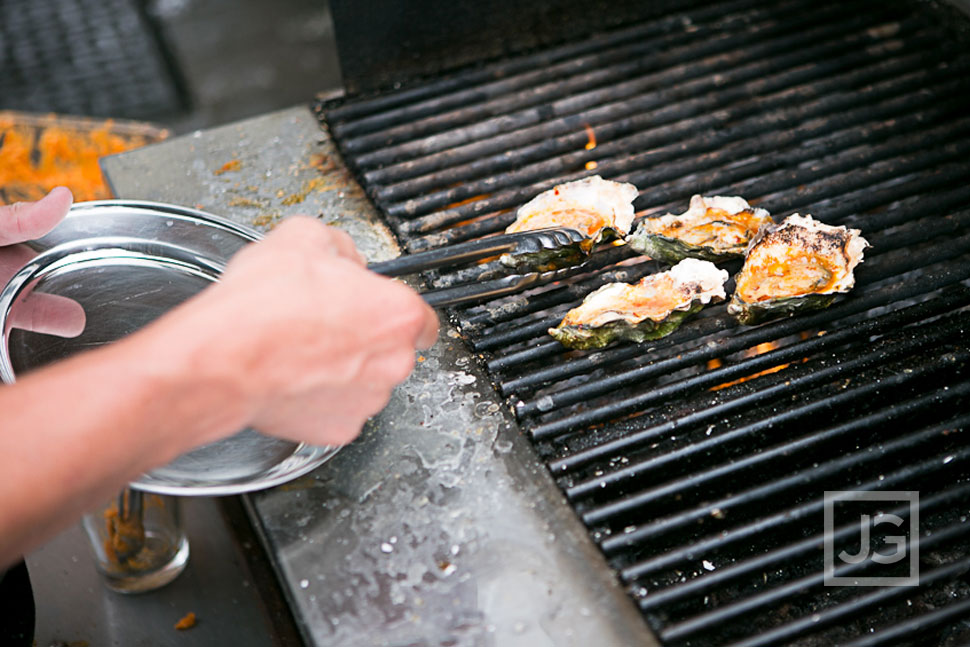 2 hours, 4 dozen oysters later = a happy, satiated couple!! =)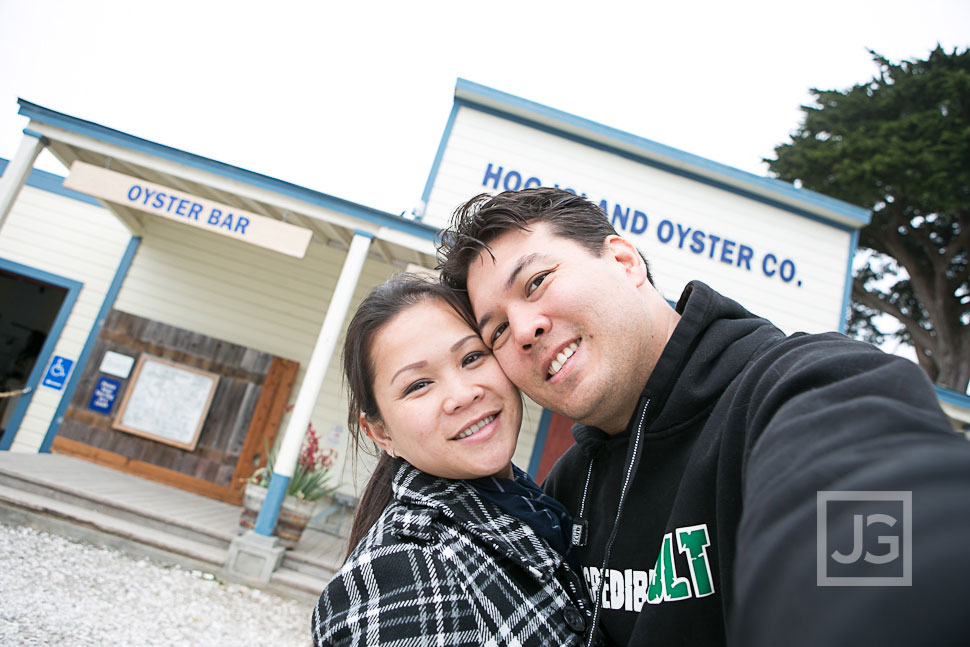 After that we stopped at Point-Reyes Station, a quaint town on the way back to San Fran.  I LOVE that small town feeling you get from these classic buildings.  What a great spot for a photo shoot….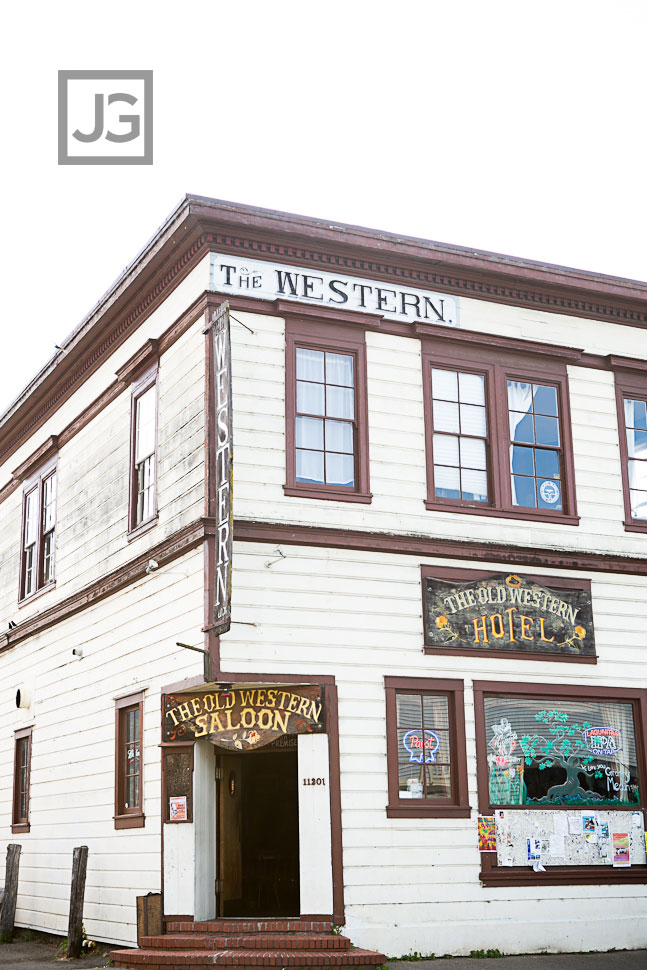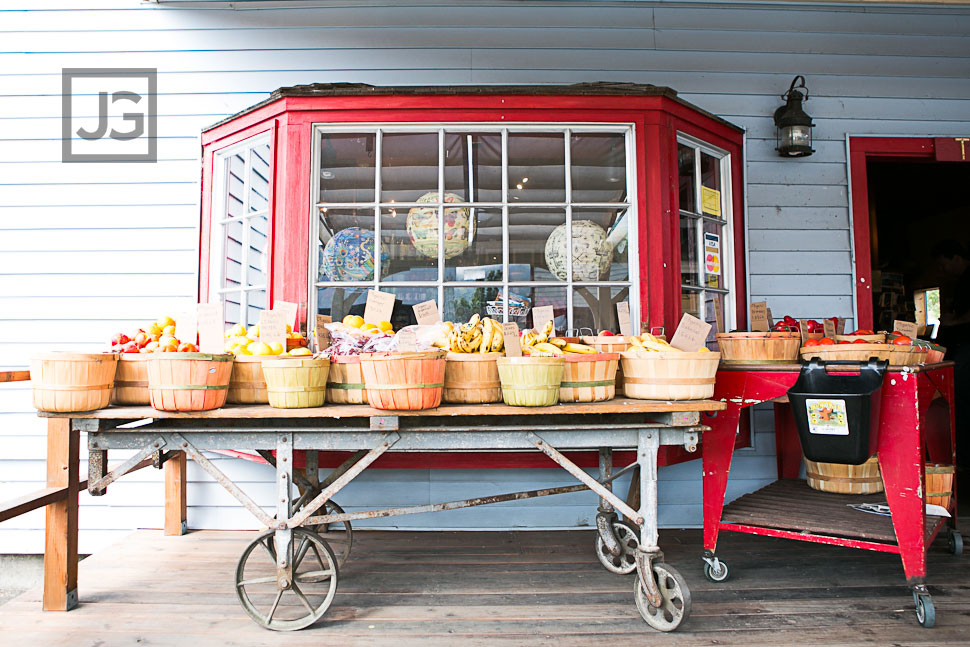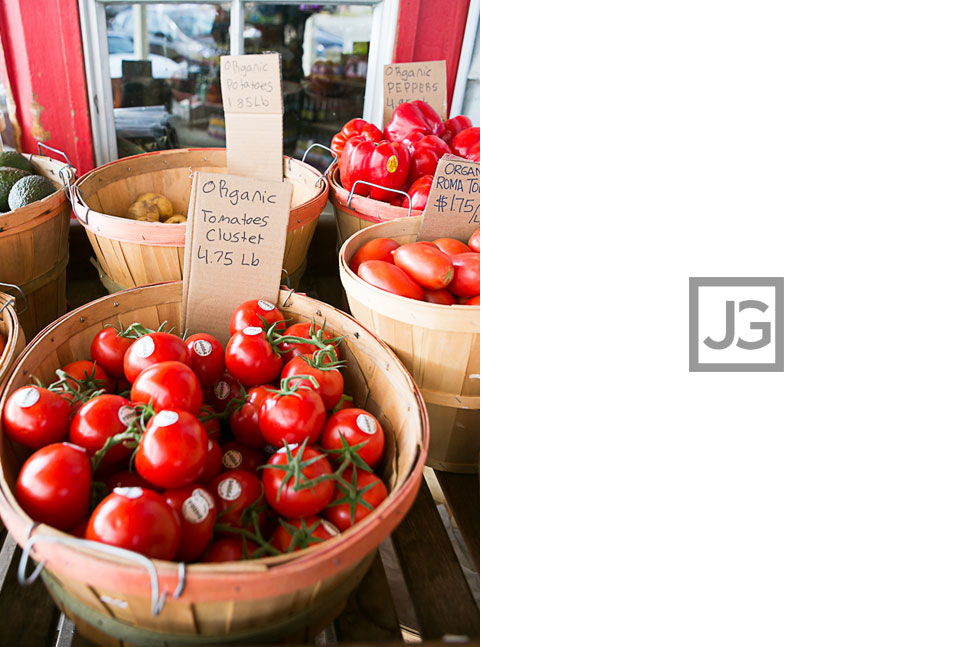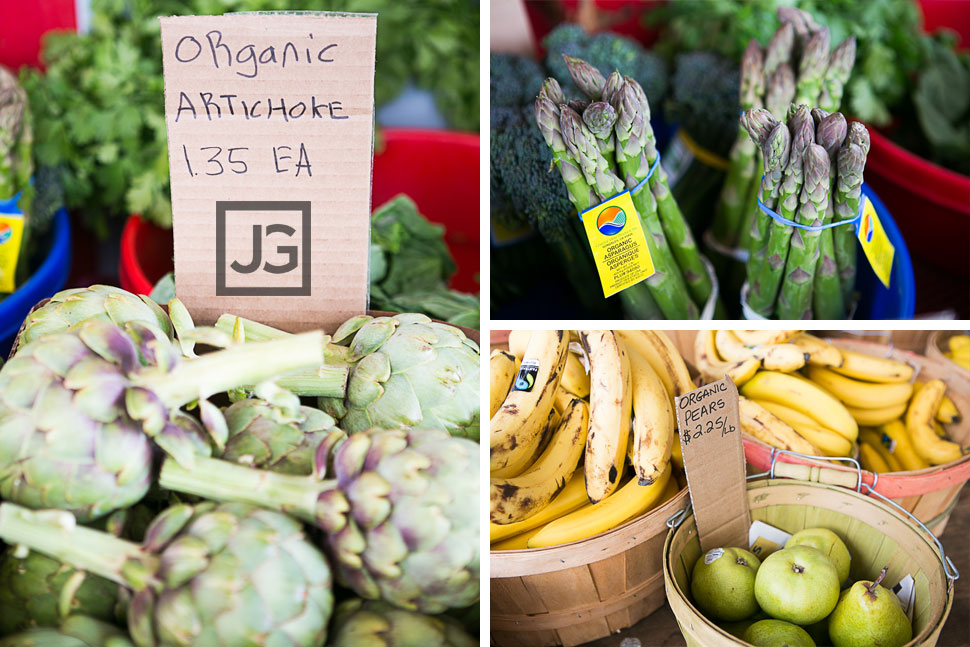 Gavin and I don't have a doggy yet, but we still love 'em!  Look at these two beauties…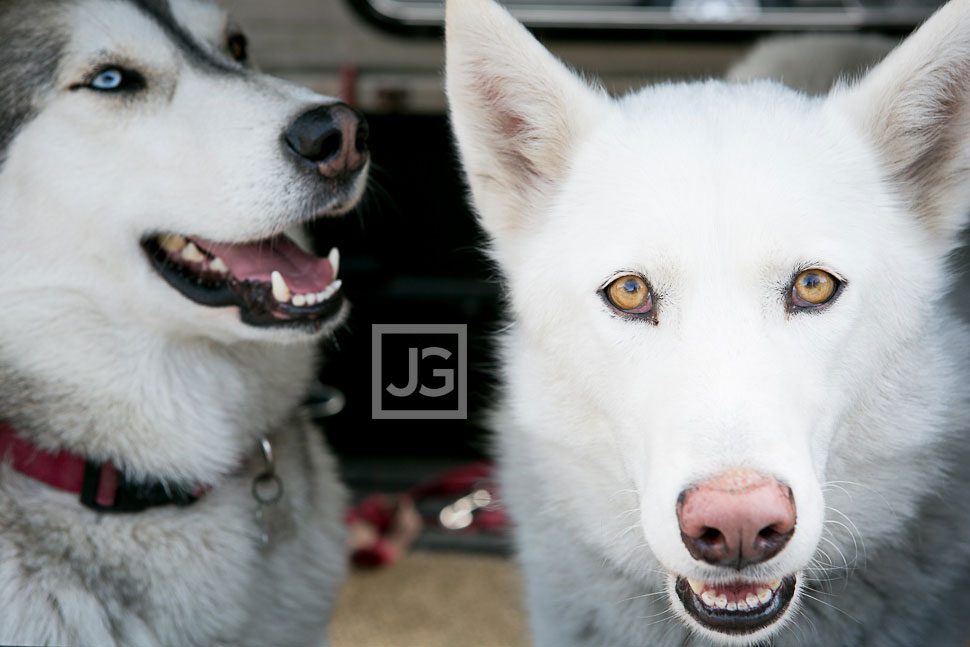 On the way back to San Fran, we stopped in Marin City at a place called "Fish" (cause you know… 4 dozen oysters didn't really fill us up). j/k.  Gavin and I, we are chowder heads and is always on the look for good chowder.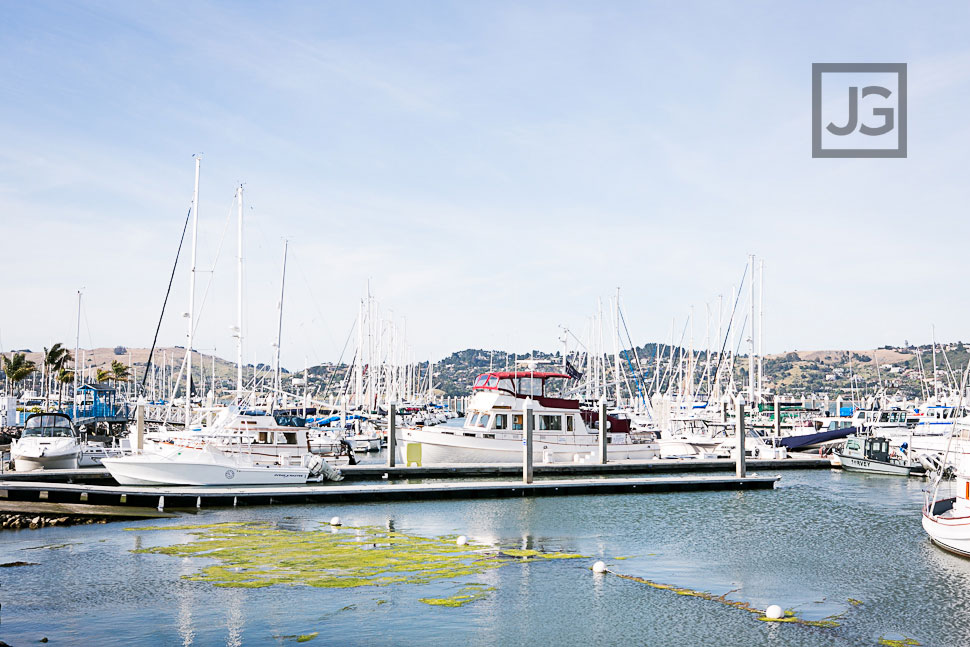 A cup of chowder, 3 really small oysters, and fish tacos!!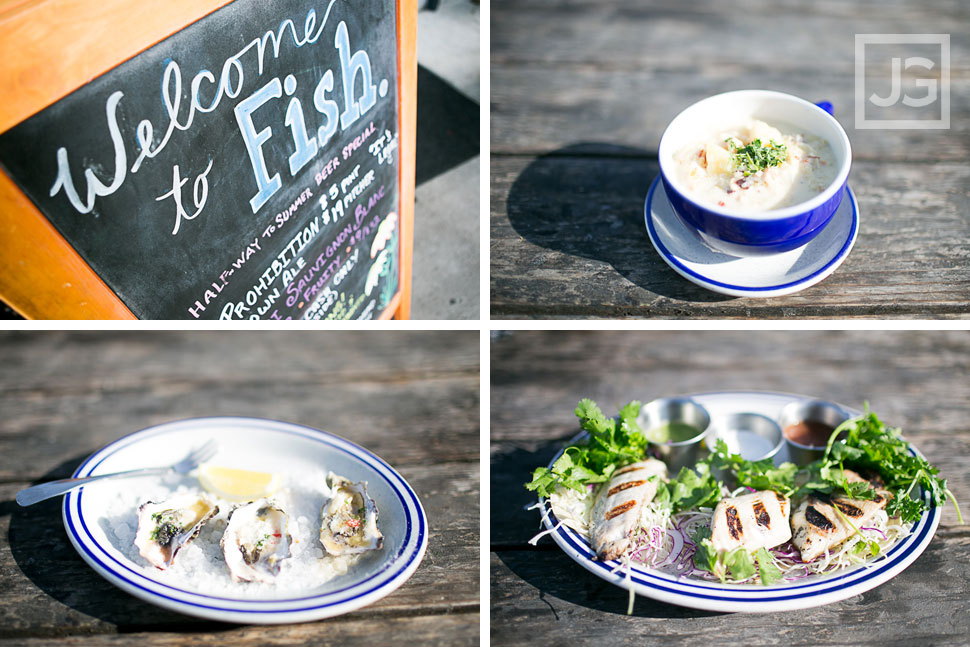 And for your entertainment…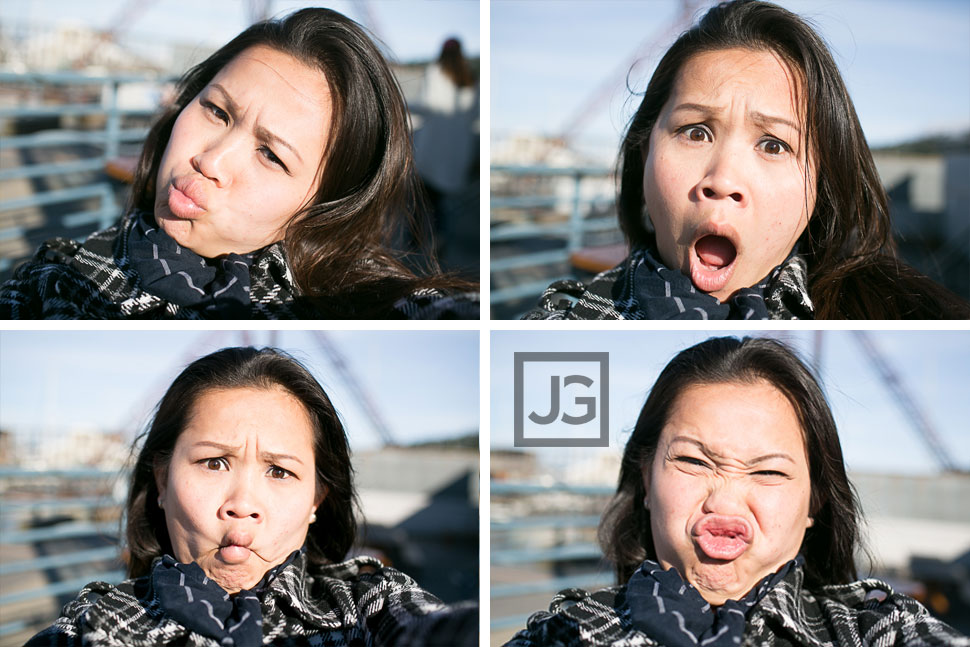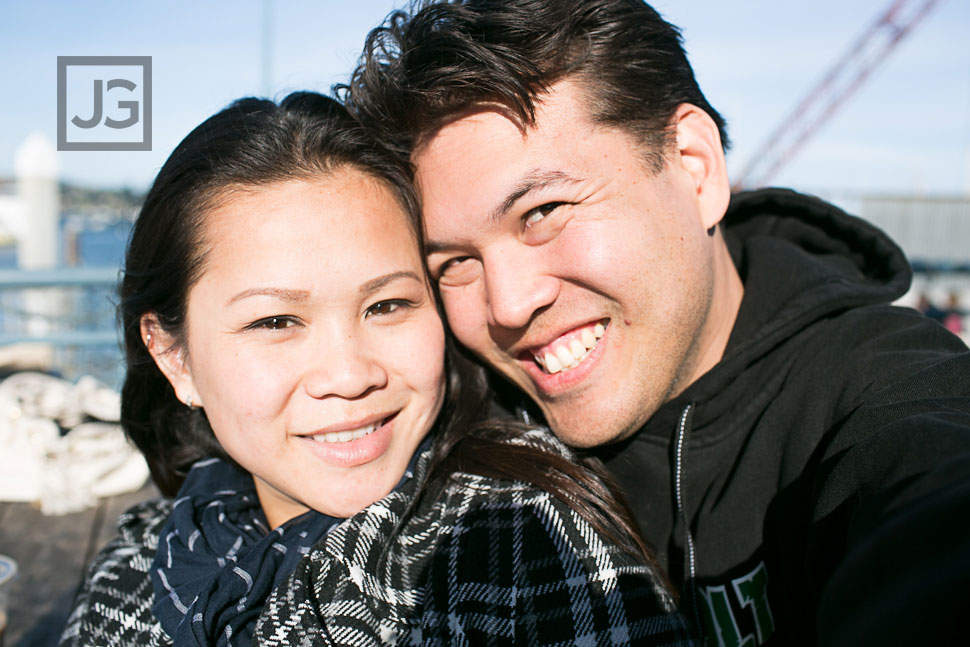 After the all the food… we HAD to get dessert!! No meal is complete without dessert!!   With the help of yelp (bless it), we found a cute little bakery called "Susie's Cakes".  OMG… their red velvet was ah-mazing!!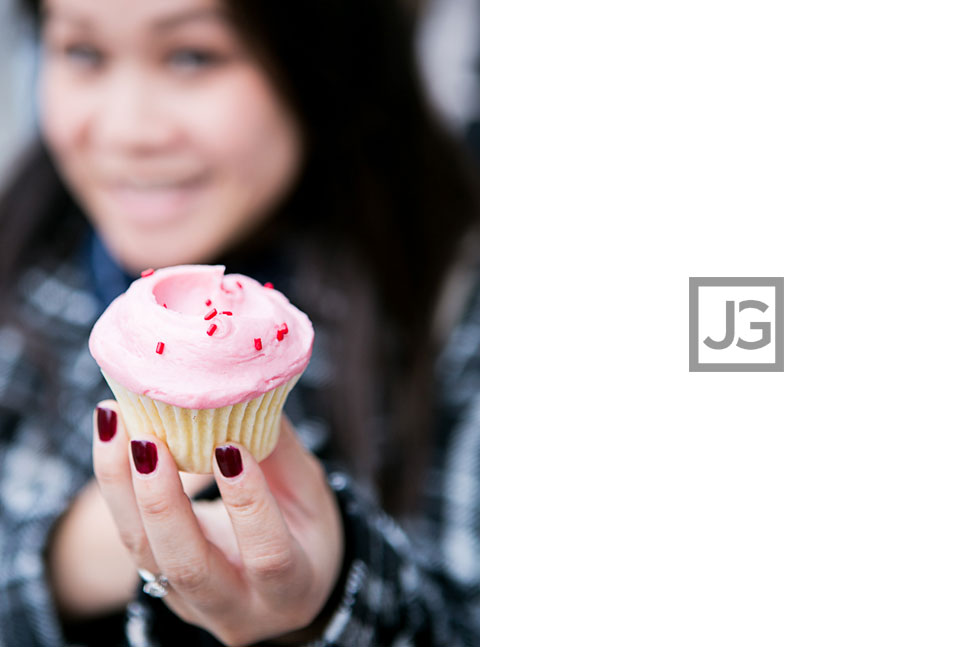 That night… we had dinner with some friends.  Crab cakes and grilled scallops.  The crab cakes were alright, but the scallops were delicious.

So… I've been raving on and on about all the delicious food thus far, BUT… here's the BEST-est I've had during the entire trip!! I'm not kidding… it's probably the best Roll/Sandwich I've ever tasted!!  New England Lobster Co. has the best Lobster Roll and Crab Sandwich!!  They are only open Tuesdays – Saturday from 11am to 3pm.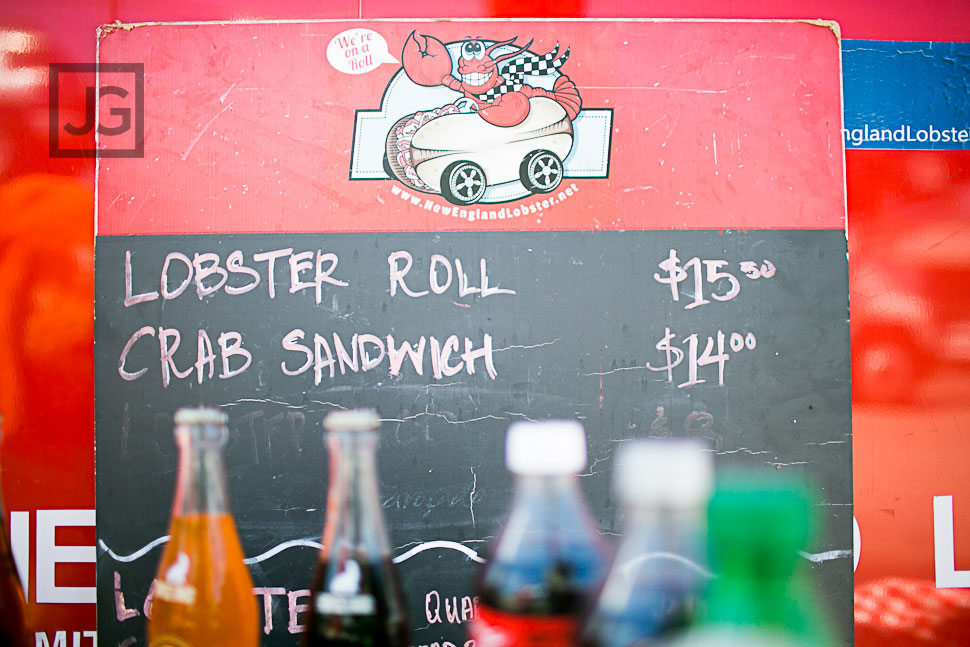 what's so good about it??  Fresh roll and large chucks of lobster!! My mouth waters thinking about it.

After we inhaled our sandwiches, we stopped by Lobster Shack for more… clam chowder (that is).  The Lobster Shack had Lobster rolls too, but we can't fit it into our stomach.  =(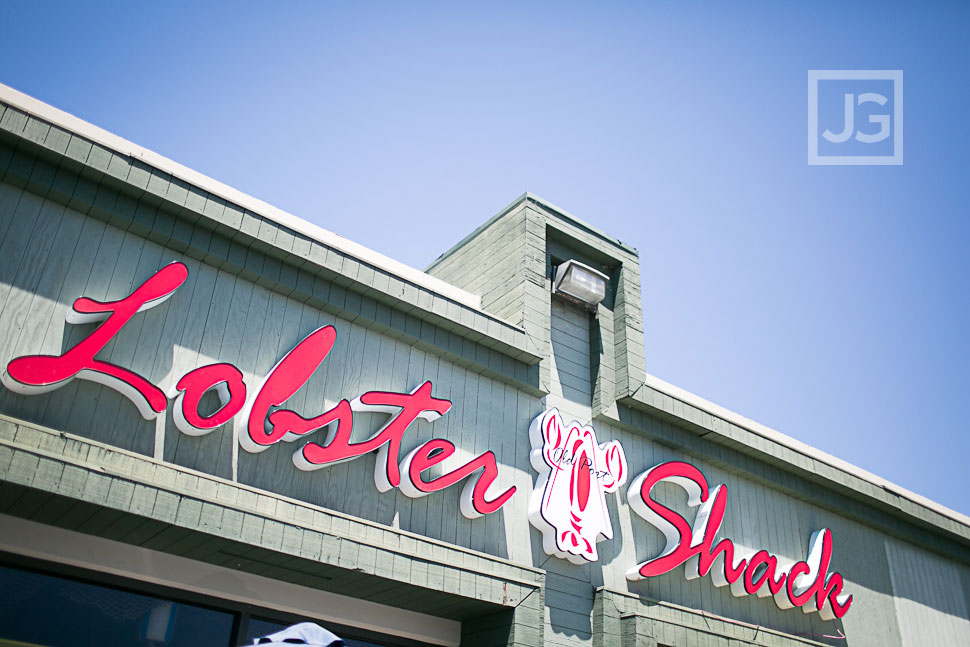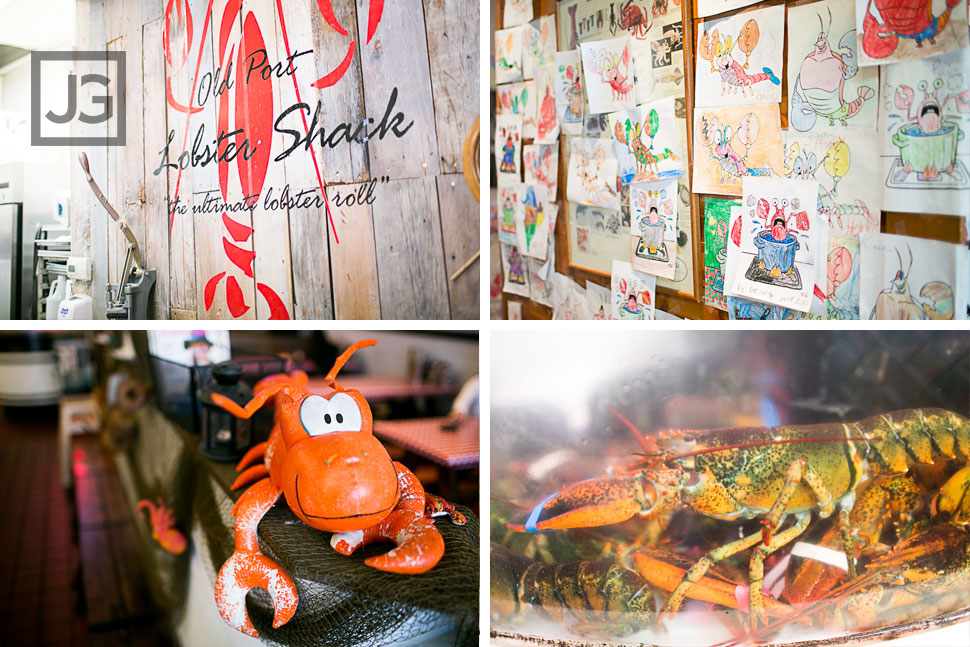 We got Clam Chowder and Lobster Bisque.  I like the bisque more.


We then left San Francisco and began our one and a half hour drive to Santa Cruz to visit the Mystery Spot!!  What is up with us and visiting "mysterious places" during this trip (i.e. Winchester Mystery House and now the Mystery Spot).  This place totally tripped me out (and caused a little nauseous as well).   The operators of this small attraction claims that The Mystery Spot is a place where the laws of physics and gravity do not apply.  HUH??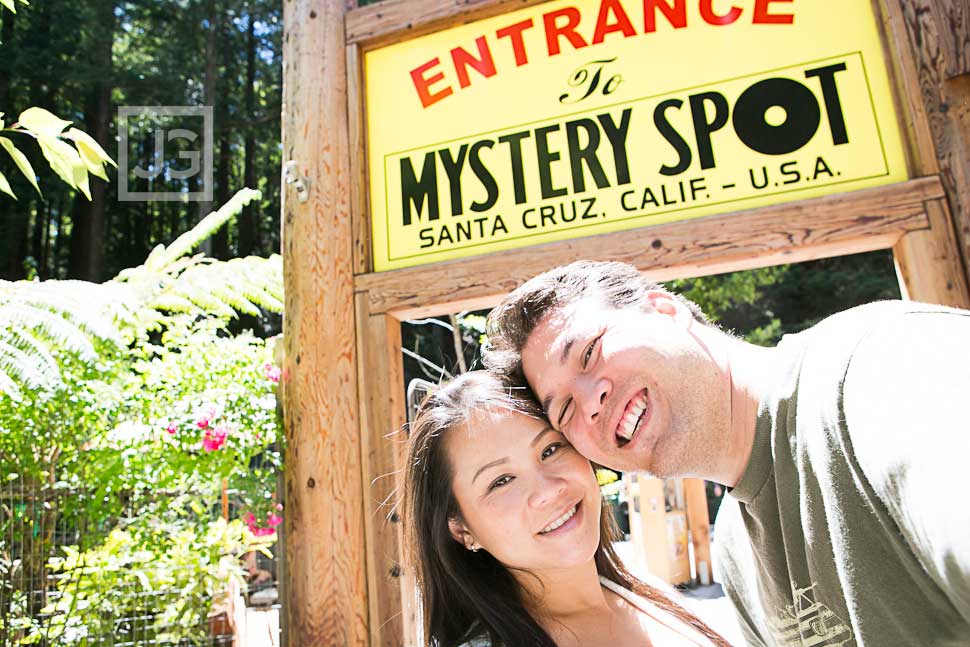 No camera tricks… our tour guide is leaning to one side!!  Don't ask me why?  You'll have to find out for yourself!!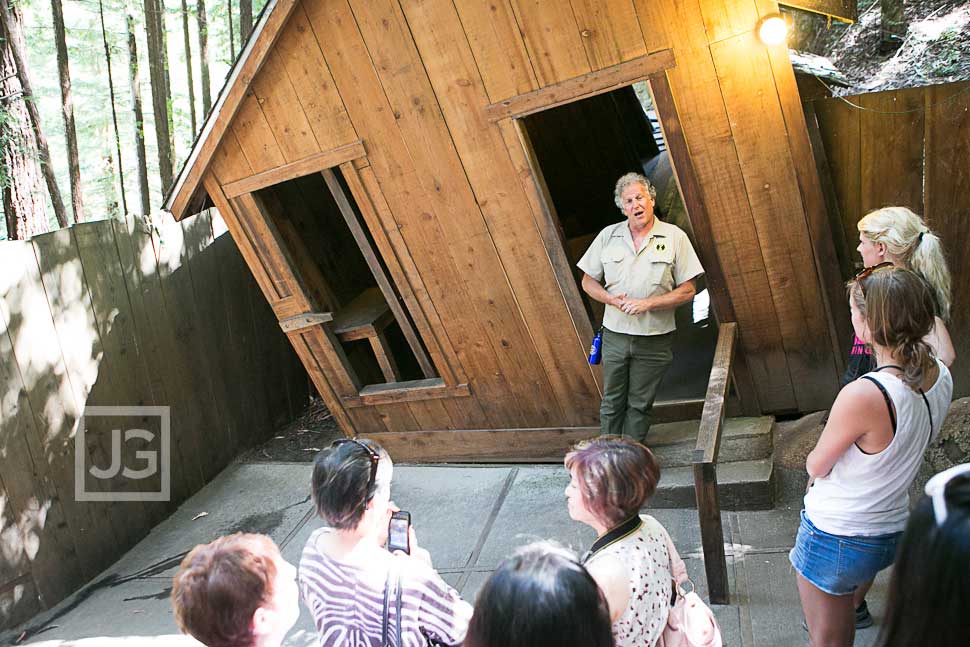 And so is everyone else!! Gavin too…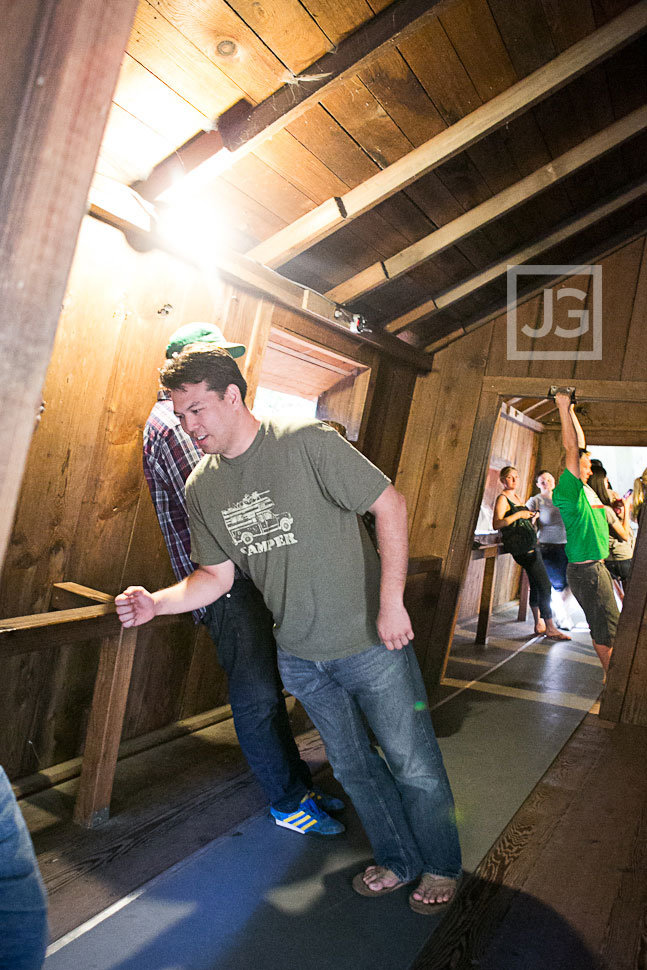 And me three!!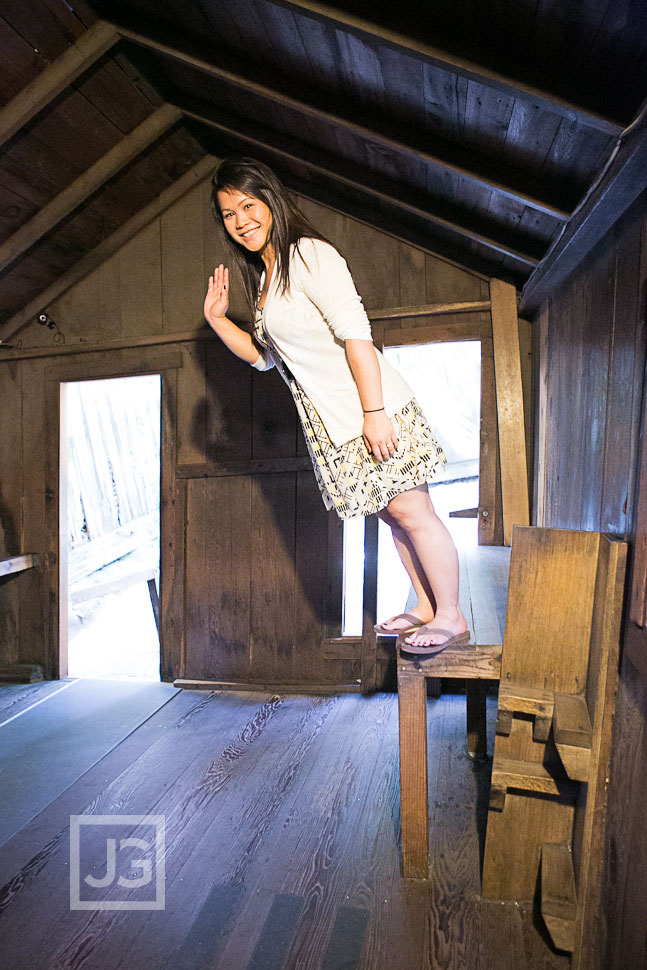 After the weird trip to the Mystery Spot, we headed to the pier where we enjoyed more seafood.  This time… oyster shooters, IPA, and a Dungeness Crab.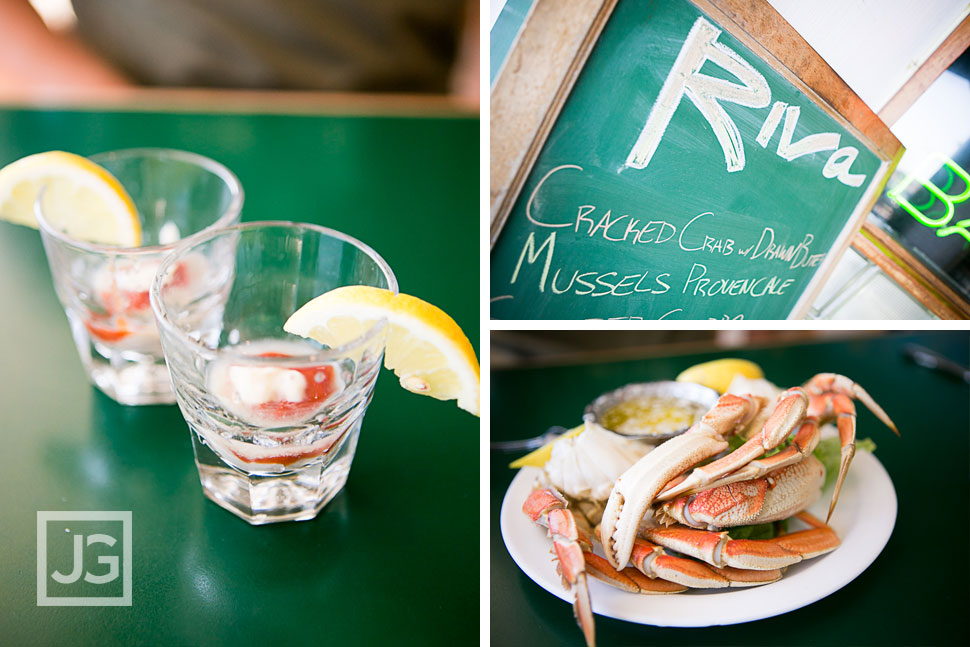 That night, we resided at a cute bed n breakfast place (Sea View Inn) in Carmel.  I love this place (compared to large hotels).  I think we're gonna do more bed n breakfast from now on.  It's very comfortable and welcoming.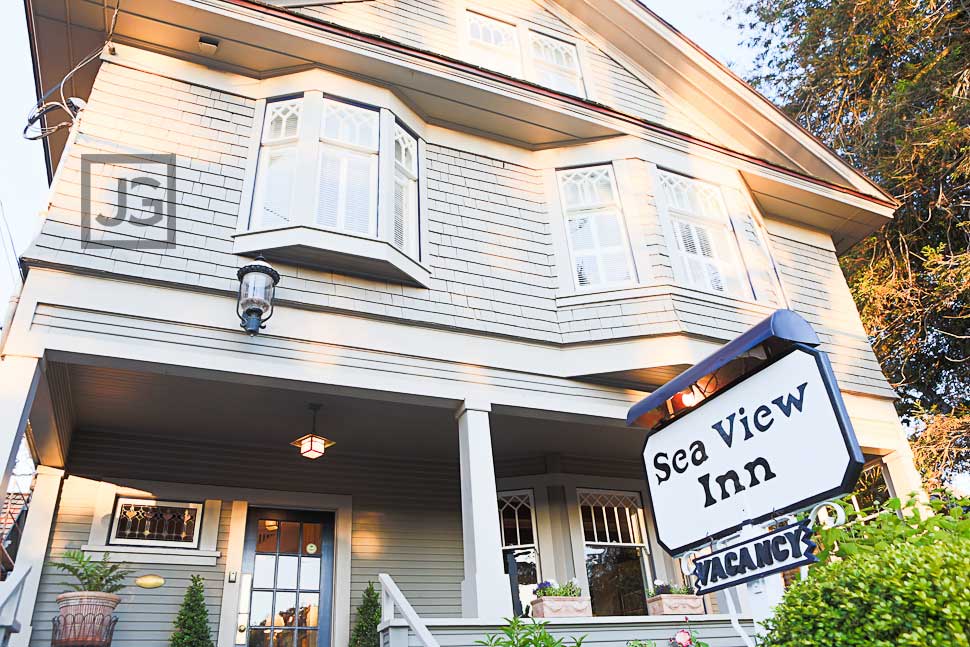 Our room was around 150 sq feet, but we didn't mind one bit!! It was rather very cute and cozy!!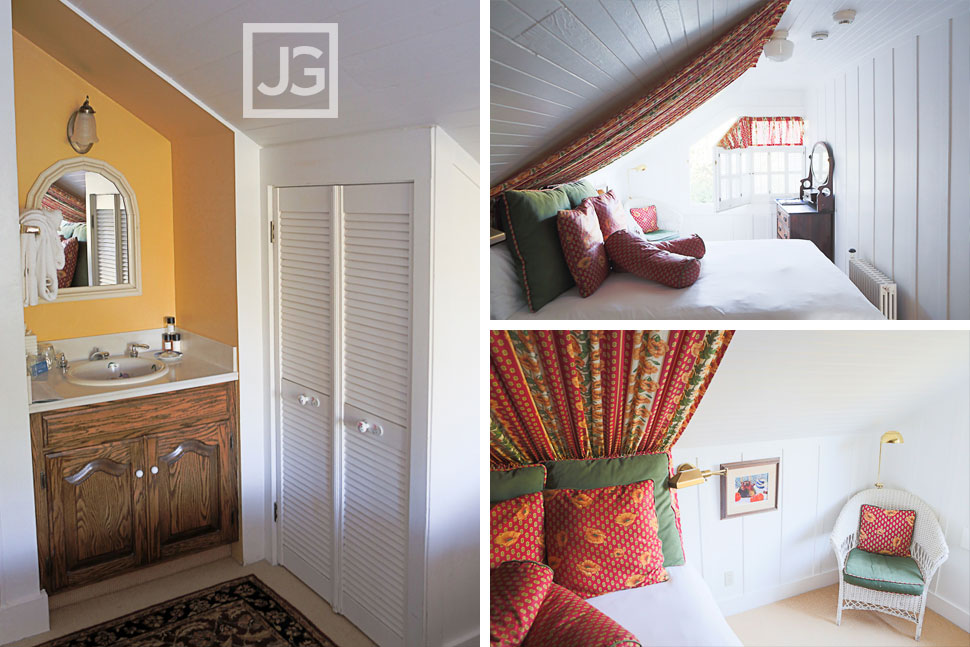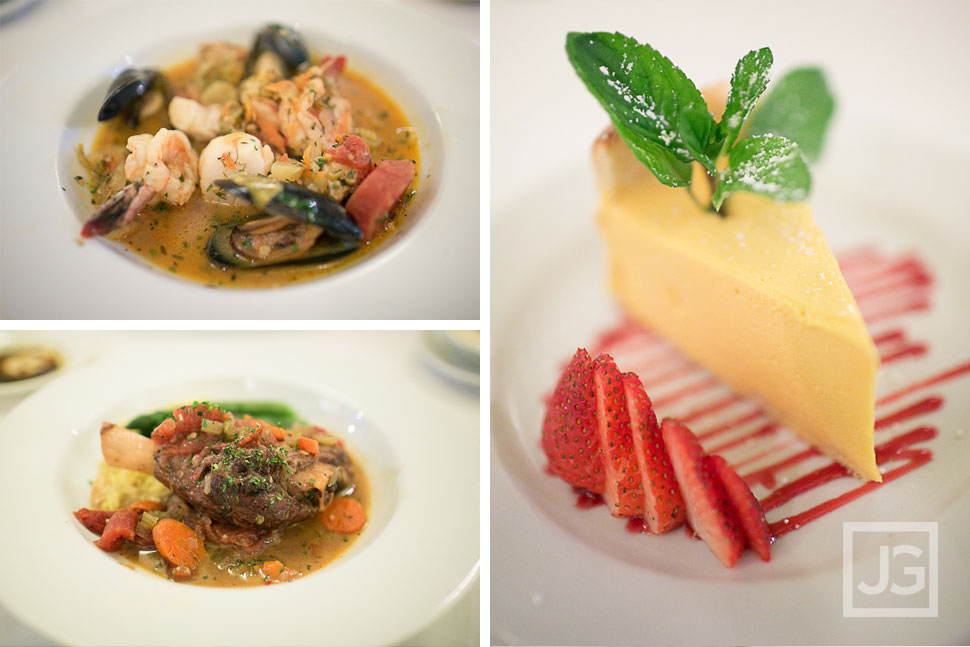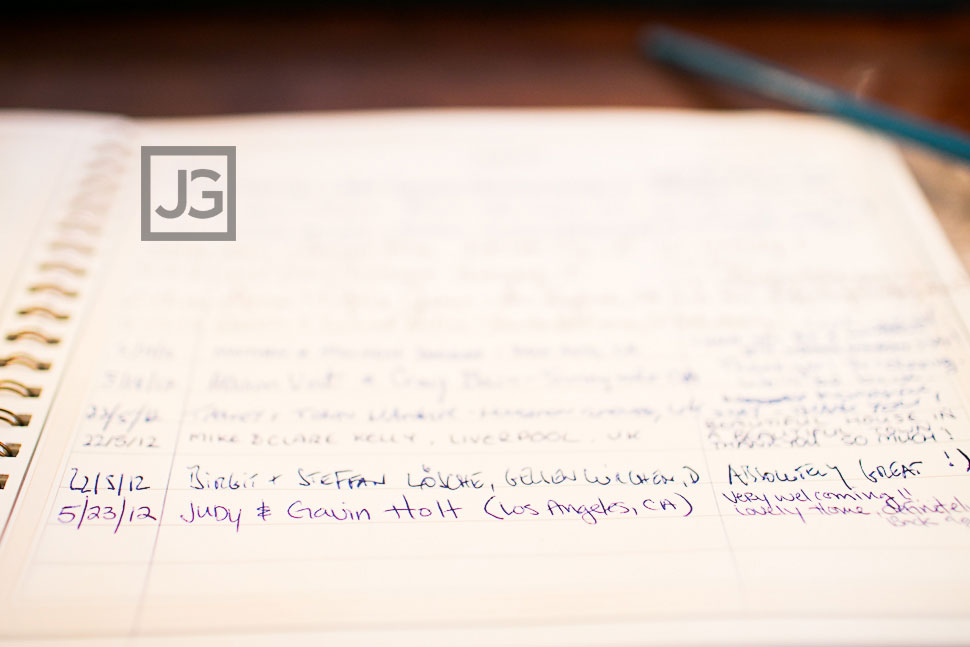 The next morning, we had lunch at Monterey's Fish House.  Gavin and I always stop by this place every time we visit San Fran.  Their smoked oysters are DELISH!!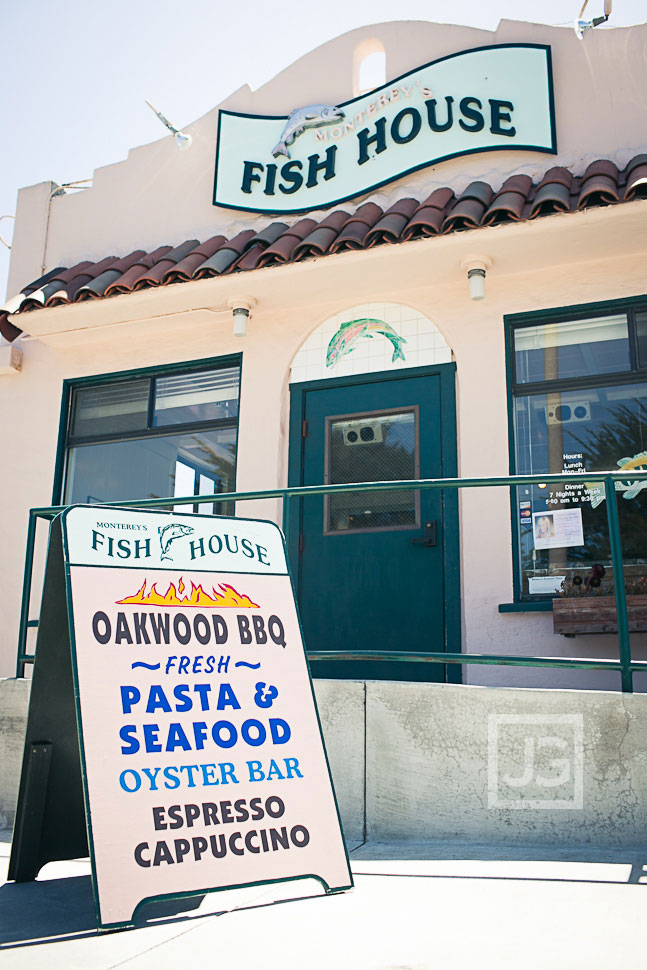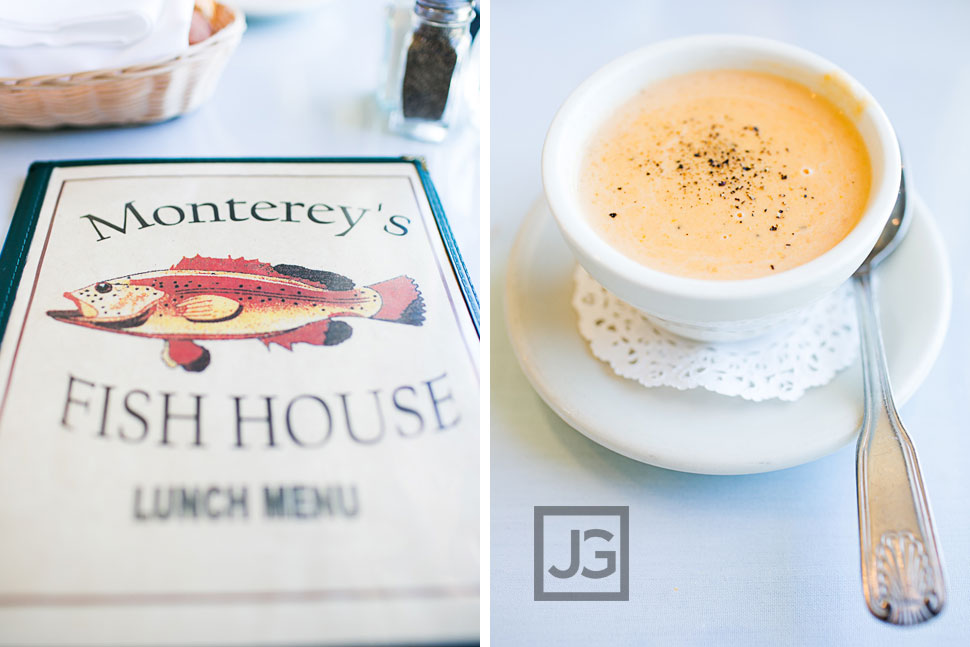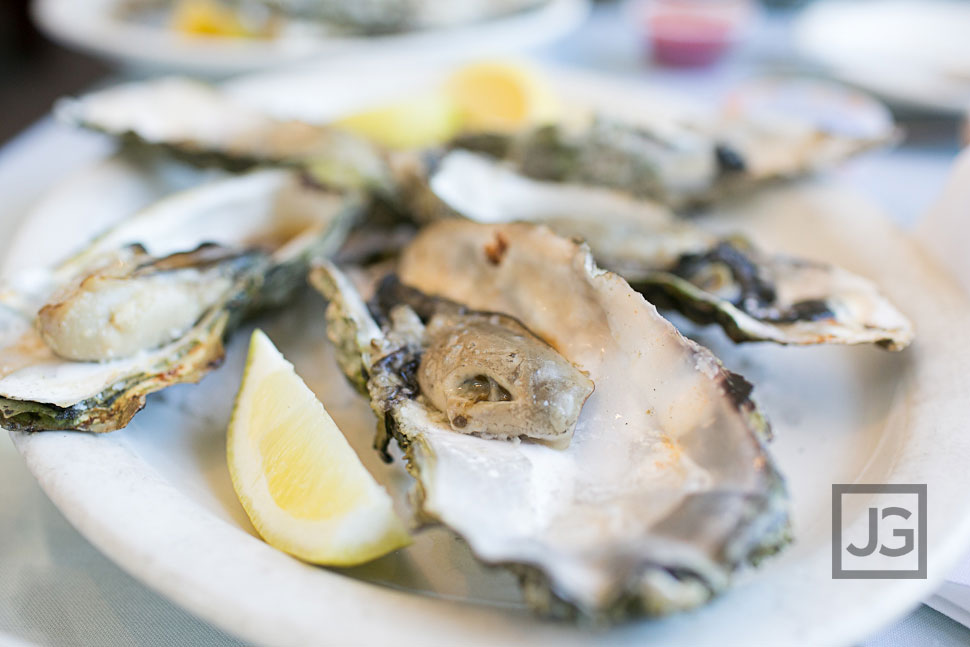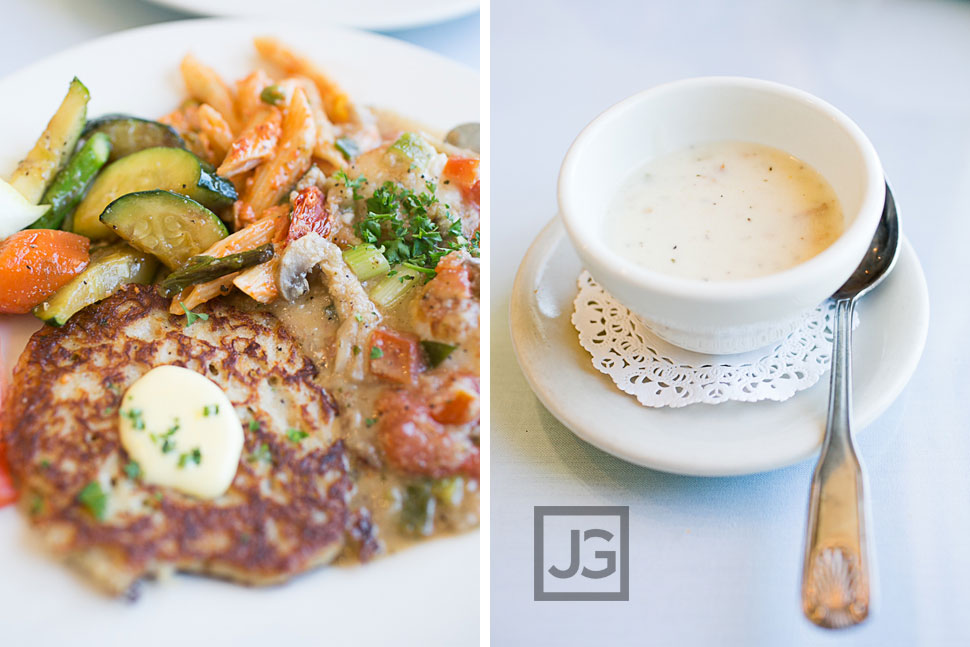 After our lunch, we began our 6 hour drive to Lake Isabella to visit Gavin's Grandparents.  On the way there, on a random highway in the middle of no where,  we saw a "Bra Tree."  LOL!!  I kid you not, this tree was filled with bras from random visitors.  Of course I had to add to the collection myself.  Shhhhh…  =)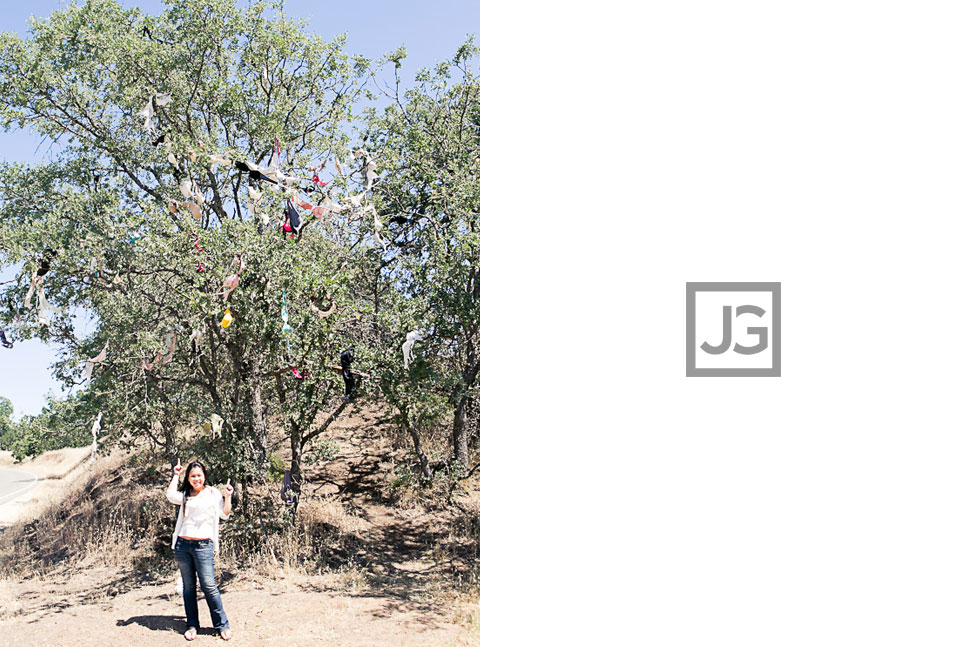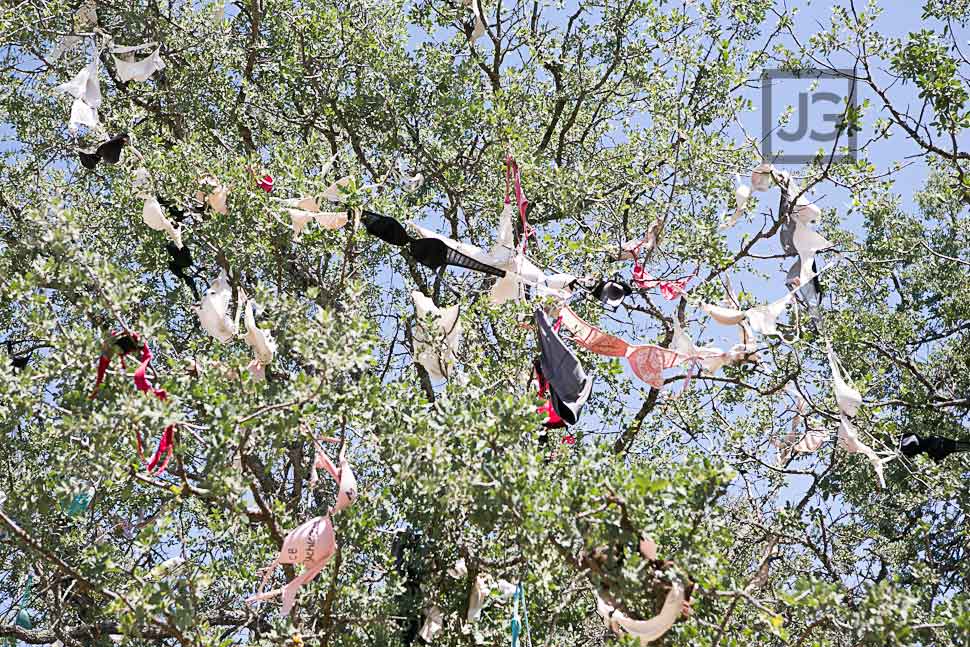 And finally the last stop of our trip… Lake Isabella.  We had a nice dinner with Granddad and Nanna.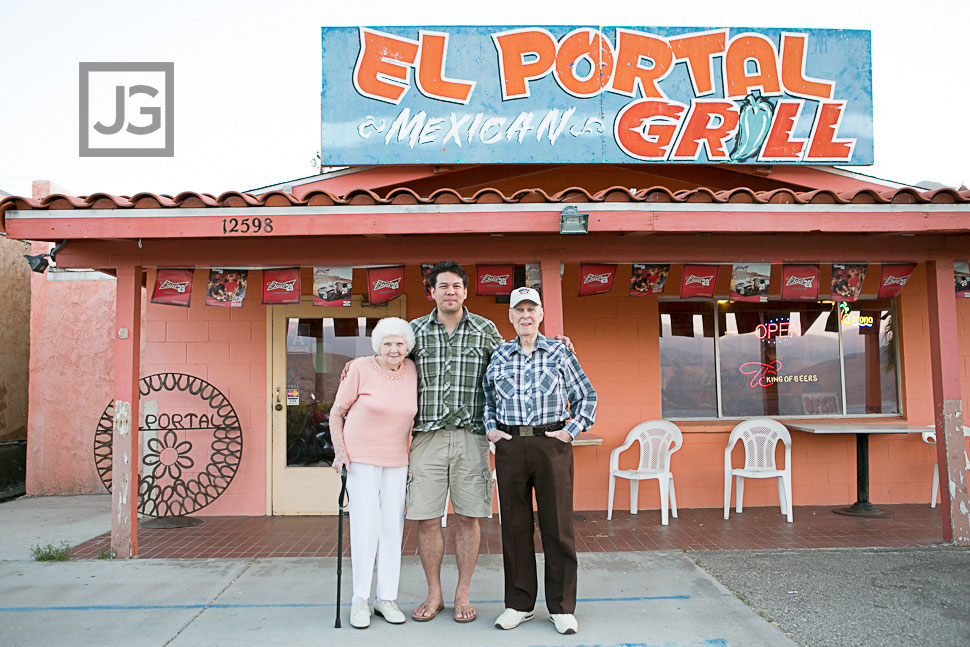 70 years of blissful marriage!!  "WOW… what's the secret," I asked.  "Marry the right person" they said!  And I know I certainly did!!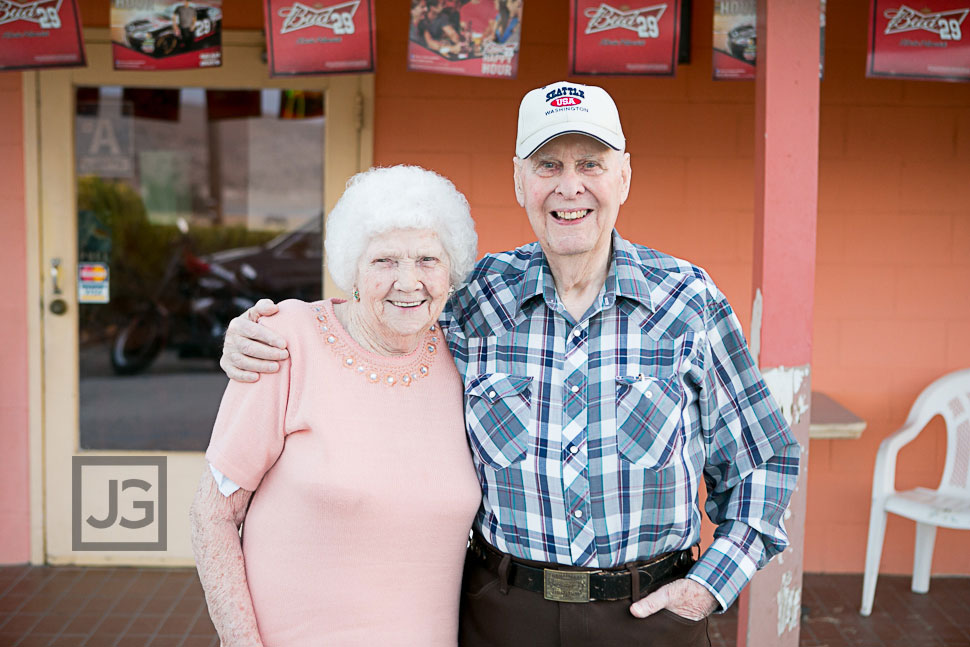 I love these photos of them!!
What an incredible trip!!  Can't wait to travel the world one day!!
Are you having a destination wedding and need a destination wedding photography??  Feel free to contact us, we travel locally, nationally, and internationally!!