Oh my… I can't believe that the month of March is almost gone!!  Where does the time go!?!???!! It seems like not too long ago, we celebrated Christmas & New Year and now we're following March Madness and preparing for Easter!!  The month of March also marks the start of wedding season for me!! I had a wonderful jump-start into wedding season already with 4 awesome weddings in the month of March!! Sorry, I'm a little behind on blogging those weddings.  I'll have them up soon though!  I'm so excited and can't wait to share all my weekend ventures with you all!!  Check back periodically for updates.
In the meantime, are you all ready for some major cuteness overload?!!!?!!  As you may recall, Gavin and I welcomed two adorable kittens into our Tran-Holt family last November.  When we adopted them, these two were in horrible condition.  Button was found in a dumpster and Powder was found wandering around in a vacant backyard.  Well… look at them now!!!  These two are my precious and I think they pretty much OWN me!!  Every time I feel down or is having a bad day, one look at my adorable babies and I can't help but to smile again!  What's even cuter is that every time I come home,  Button and Powder would run downstairs to greet me as I open the door.  They are usually upstairs sleeping and it's SO darn cute when they run downstairs to greet me with squinty eyes because they had just woke up from their nap.
We originally thought Button (first picture) was a Tabby, but the Vet says Button could be a Maine Coon.  Gavin did some online research and OMG we found out that female Maine Coons can weigh anywhere from 15 to 25 pounds!!!  LOL.. and I'm not surprised because she's definitely put on some weight since we got her.  You can see her their baby pictures here.
This is Button at 5 & 1/2 months.  How could you not fall in love with that face!!!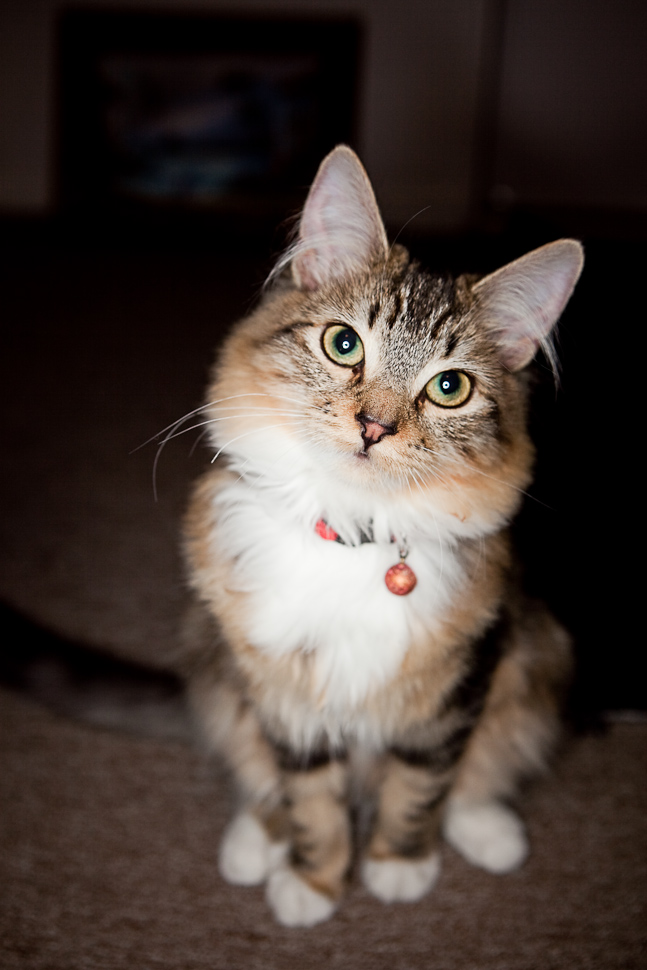 And this is Powder at 6 months .  I LOVE Powder's eyes; she's got some crazy awesome looking eyes!!  A Vet student once told me, "Be careful of white cats with green eyes… they are can be little crazy!" LOL… and boy was she right!!!  Powder is a handful.  She'll do the most funniest thing you'll ever see.  One time she plopped on the floor and then started dragging herself across the room with only her front paws!!  "Weird cat" or "Crazy cat" is her nick name… in addition to "Motorboat" because she purrs very loudly.  We found that Powder is very affectionate and more lovey-dovey with us then Button is.  Powder LOVES to be around people and LOVES to cuddle up and sleep with us at night.  She'll come up and put her face right next to ours or fall asleep on our chest or next to our shoulder.  She'll sometime be so affectionate that it becomes annoying when we're trying to sleep so I'll Gavin would not let her in our room.  She'll be meowing ALL night long!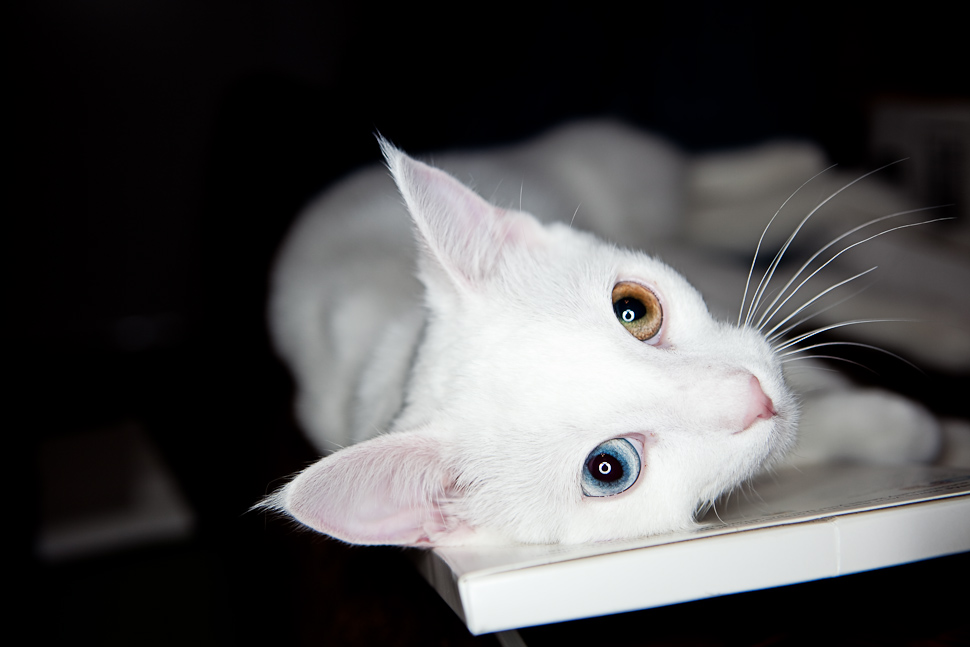 The following two pictures are done using a Ray Flash with a 15mm fish eye.  Cool huh???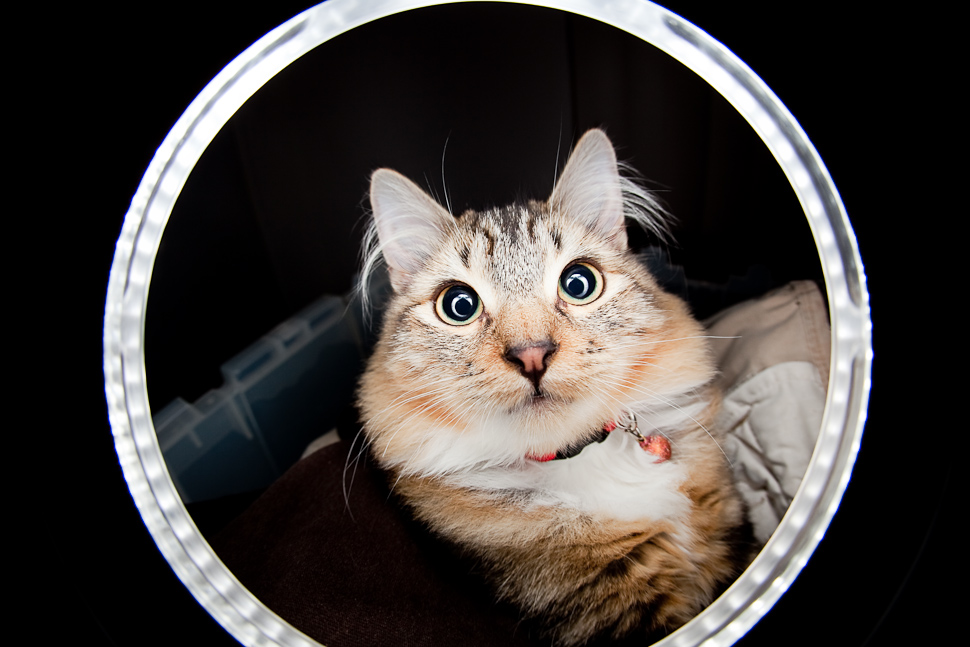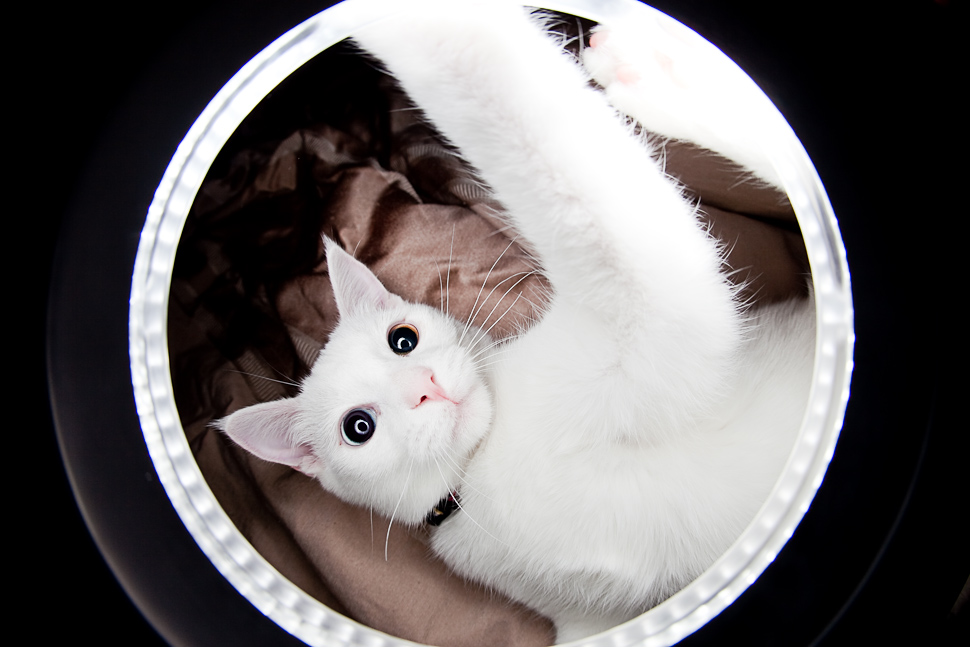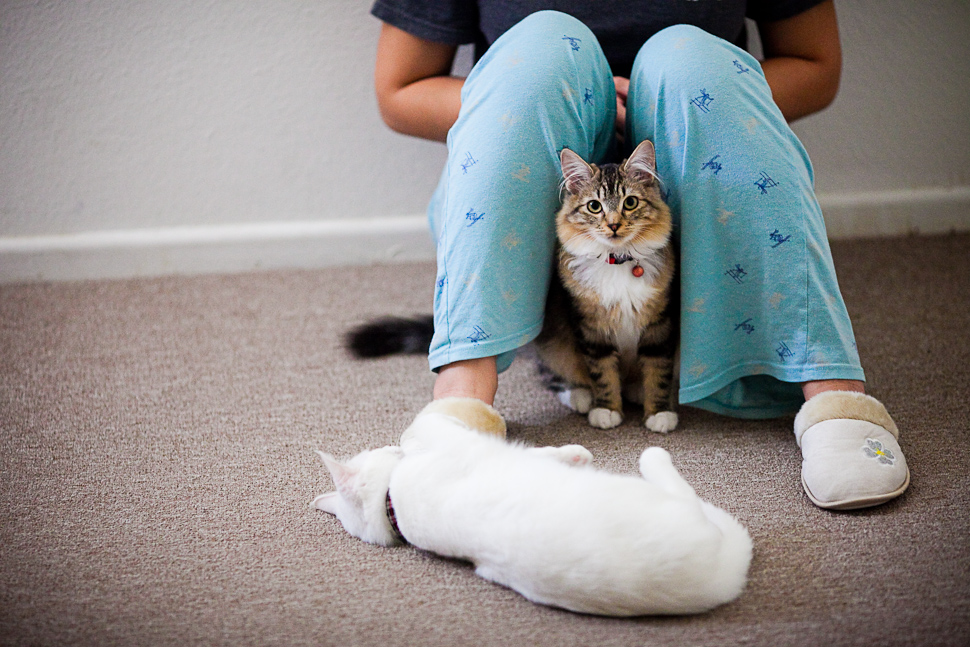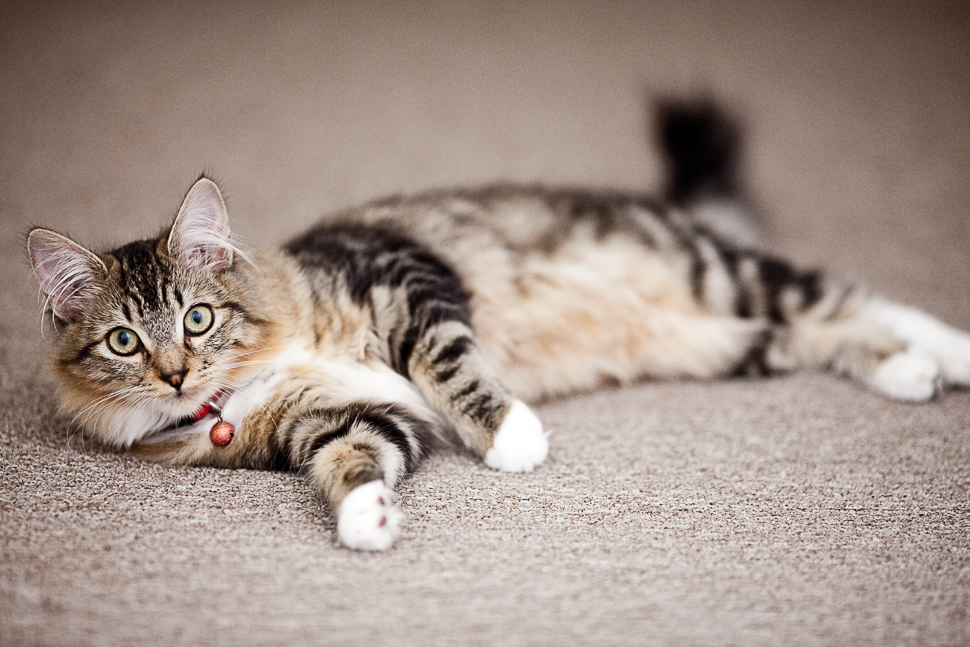 Here's Powder stalking something.  I don't know what.. but she likes to stalk little bugs and then attack them~!!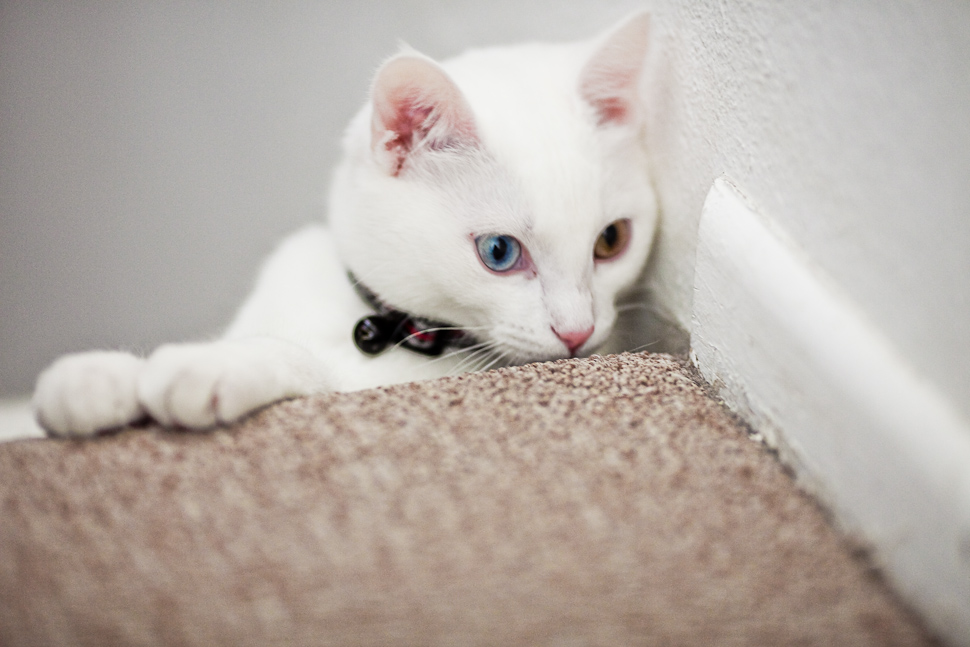 Button and Powder likes to rough play with each other a lot!  Sometimes we'll hear them chase after each other around the house (even in the middle of the night).  I read online that after 4 months kittens hit their peak in rough-playing and begin to mellow out.  Well…NOT these two!! They are so playful and full of energy!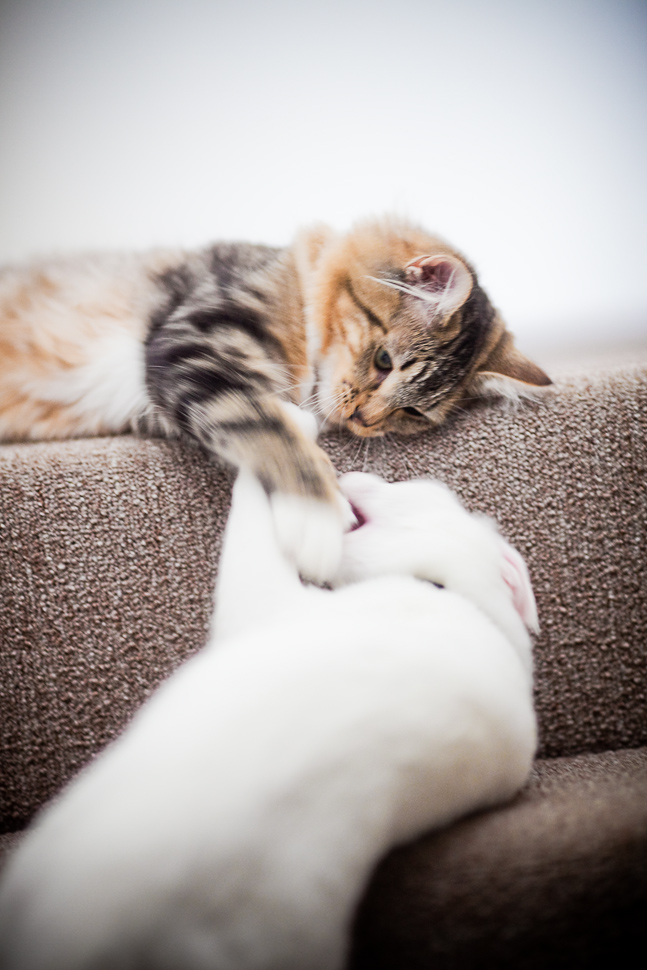 Awww….. And this is Gavin… he's my third baby!! heehee  Gavin, very much like Powder,  is a social butterfly and is very much like Button in that he sometimes can be quite mischievous.  He loves to be around people but more importantly he LOVES to play video games!!  I found him at Sav-on Pharmacy about 5 and a half years ago!!  And yeah… I think I'm gonna keep him too!!  =)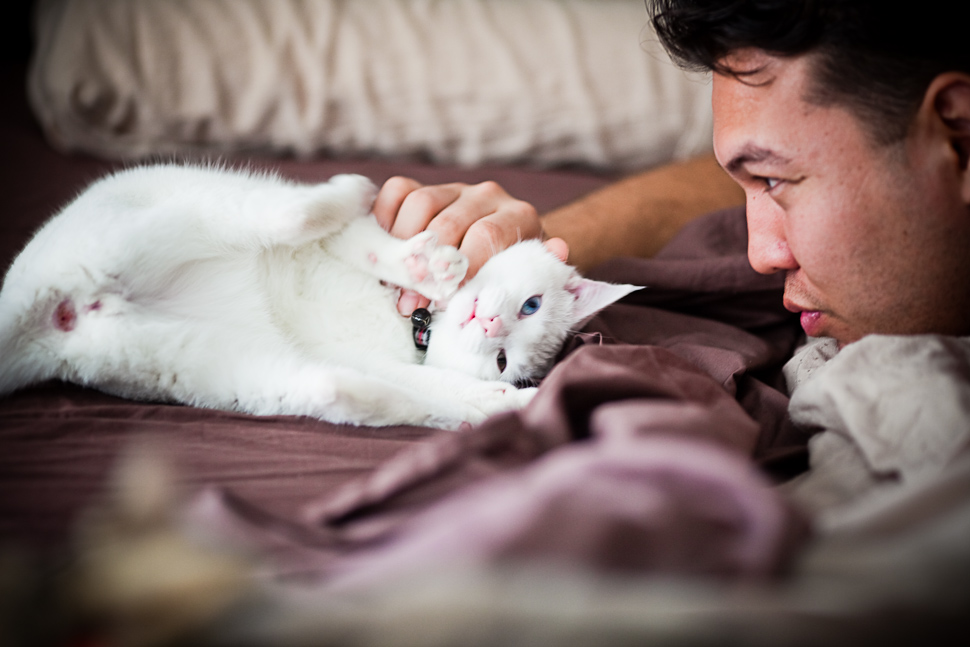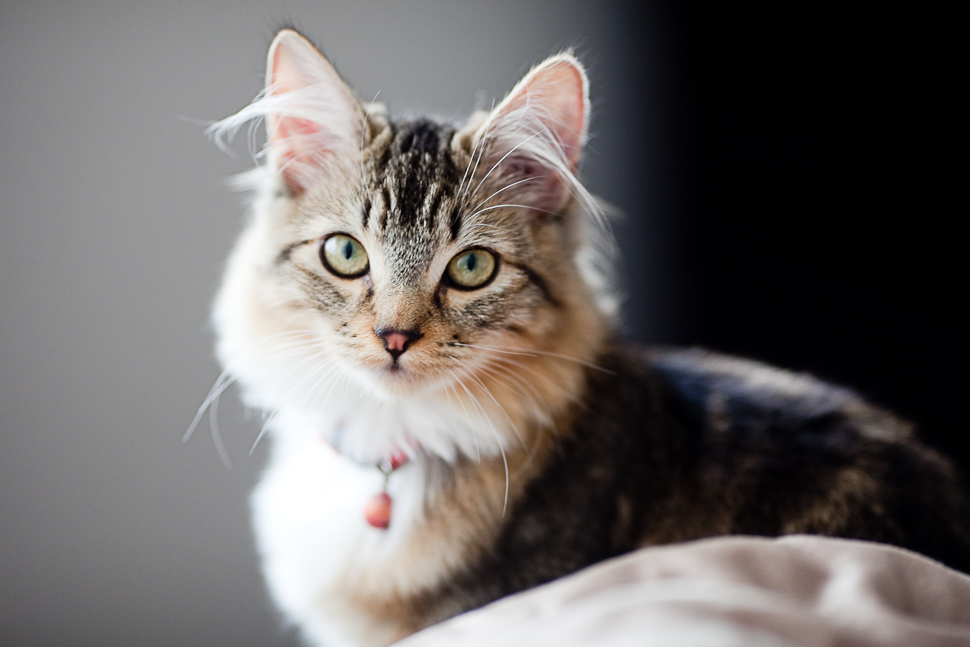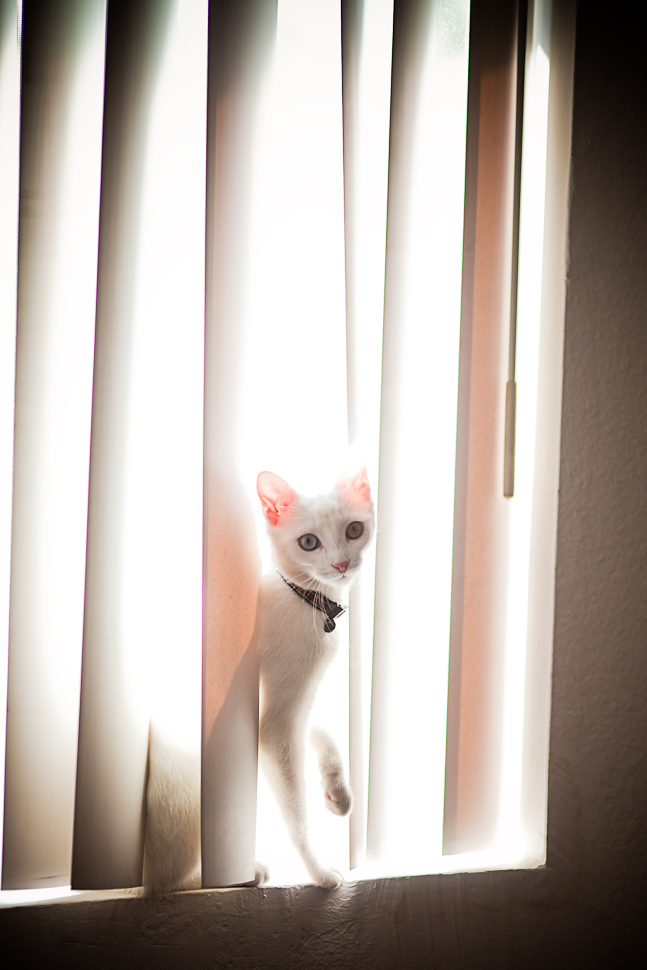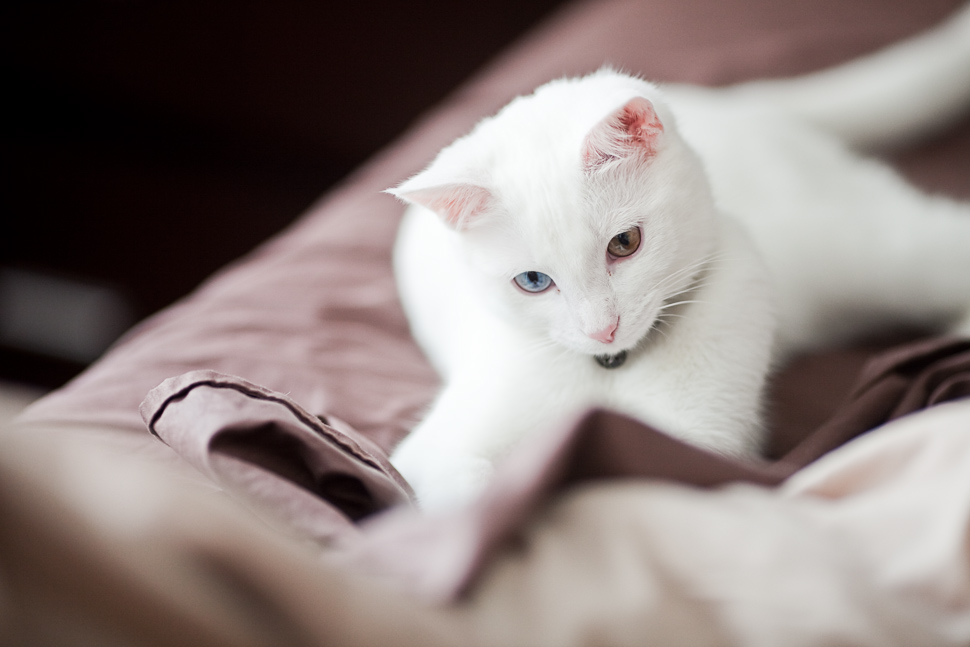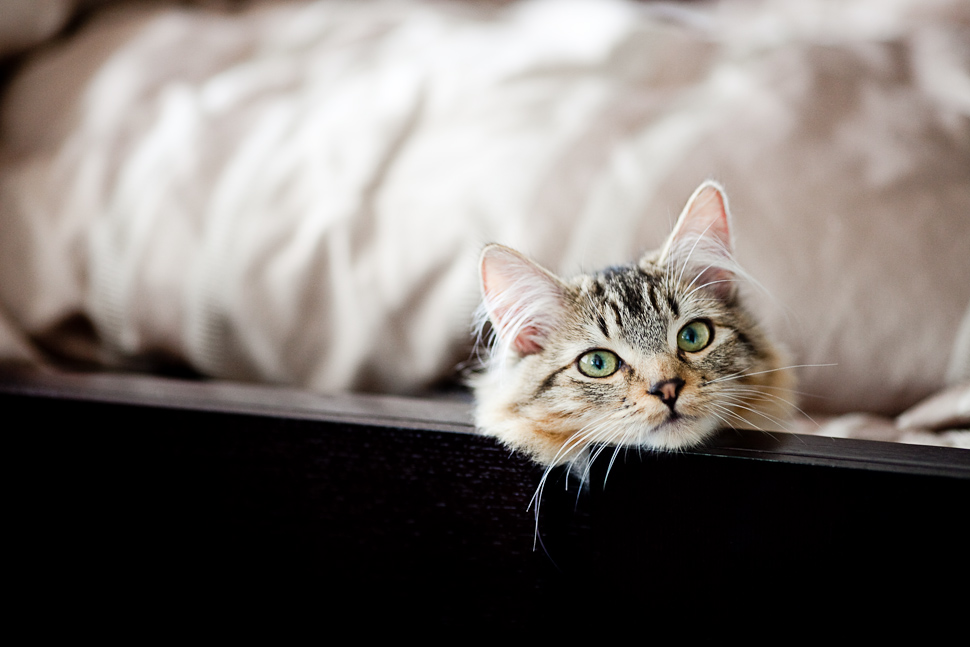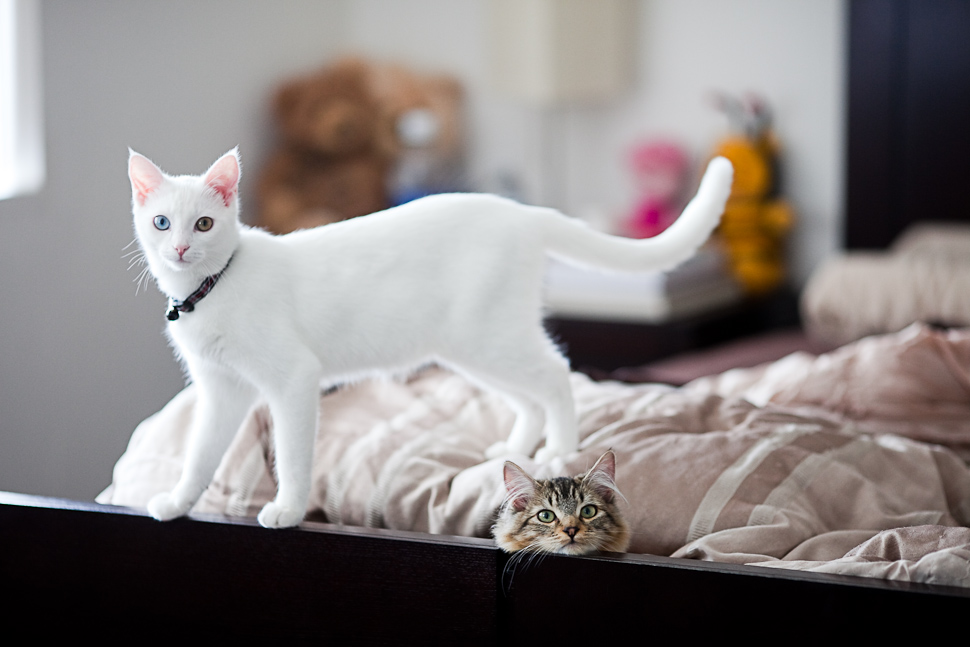 Peek-a-Boo— I see you!!!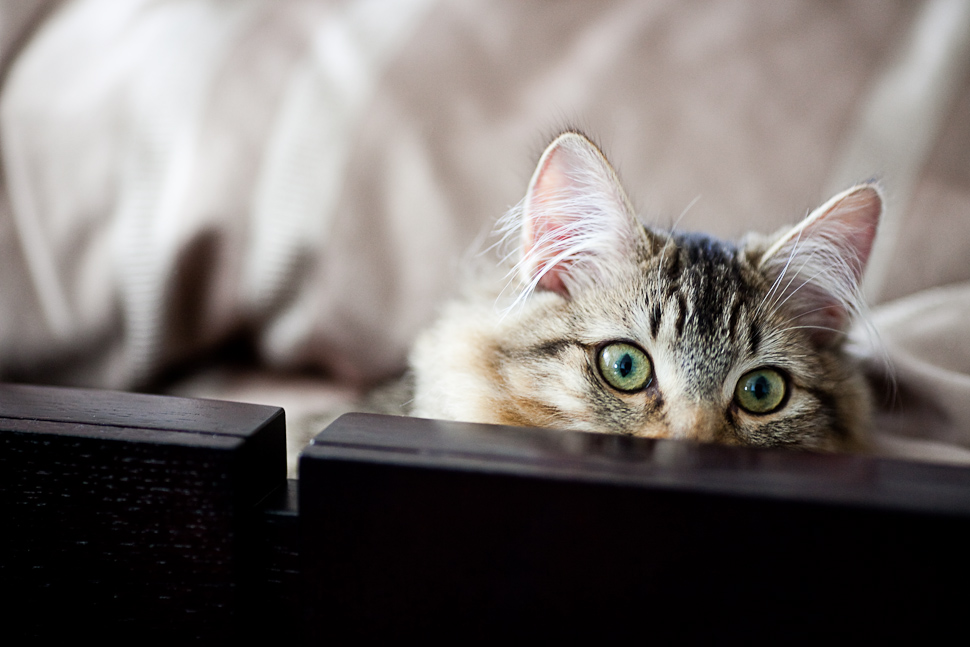 I am so glad to have Button and Powder in our lives!!  They add so much life to our home and so much love to our lives!!  I don't know what I'll do without them… they're my precious! Everyday I pray that other people would find it in their hearts and give these lovable animals a chance and making a difference in their lives as well.  Please let me know if you are interested in adopting a cat or dog!!! I can definitely send over Heather's information.  She has many dogs and cats who are in desperate need a home.
Cheers,
Judy