We are so excited to be featured in Wedding Paper Divas blog.  Wedding Paper Divas is one of the best and most trusted wedding vendors in the industry.  They not only specialize in wedding stationery (i.e. wedding invitations, save-the-date cards, favors, bridal accessories, but they also offer lots of inspiration ideas for a perfect wedding.  We are so honored to have them feature Karyn and Travis Palm Springs wedding photos on their blog. This is a great instance of us doing Palm Springs wedding photos at the Jackalope Ranch Restaurant.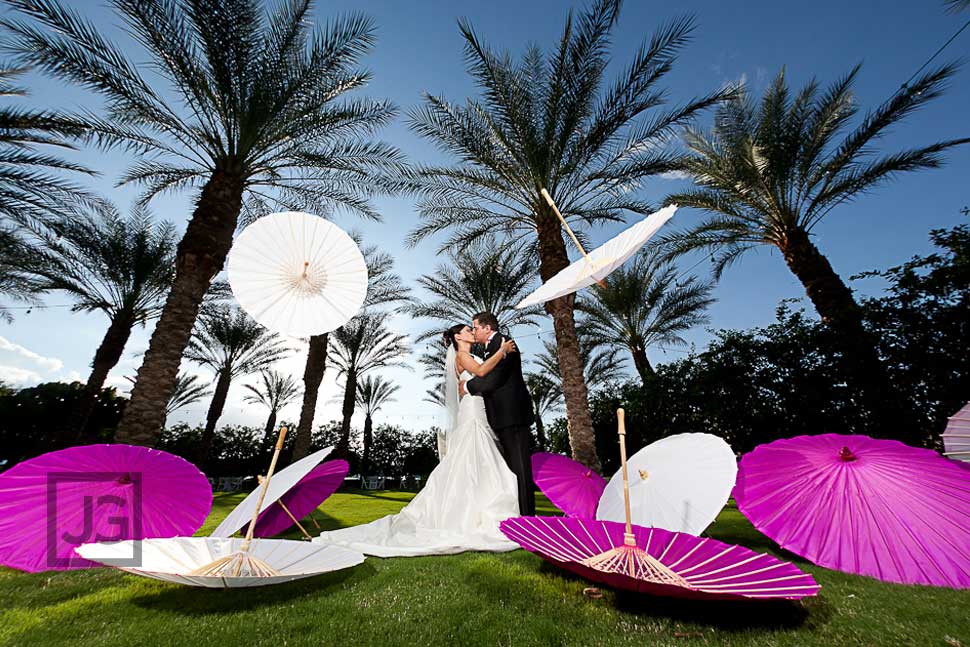 Here is one of our favorite photos from that day of capturing Palm Springs wedding photos. It was a very hot day in early October, but our couple stuck it out to get this amazing photo with parasols floating around them. This was truly a team effort by Judy and Gavin (Judy did the tossing, Gavin did the shutter press). Palm Springs is an iconic resort location in southern California. This couple was actually coming from Canada for their destination wedding in our warm weather. The palm trees are a staple of the resort town and we thought that it would be a great accent to the background of the wedding photo.

Make sure that you choose a wedding photographer that can pull off the type and style of photos that you want. We make images with bright colors, good lighting, and high dynamic range.
If you are interested in booking us for destination wedding photography in Palm Springs and the surrounding area (La Quinta, Desert Springs, Cathedral City, Indian Wells, Rancho Mirage), check out our wedding photography prices for Palm Springs. We shoot quite often in the region and we love the hot and dry ambiance of the resort town. Make sure to also check out the rest of our wedding photography blog to see many more examples of our work.