Happy New Year Everyone!!!  May the New Year bring you lots of love, warmth and happiness!!!  I hope you all had wonderful start into 2010!!
Gavin and I celebrated Christmas (12/25/2009), our wedding (12/26/2009), Gavin's Birthday (12/27/2009) and New Year in Binh Duong, Vietnam.  With 3 consecutive days of celebration and festivities with family, we couldn't ask for more!!!  I keep joking with Gavin that he's only gonna get one present for all three occasions.  Does that sound fair?!?!  =)  Vietnam is a BEAUTIFUL country… and I'm not saying that because it's my motherland, but because there were soooooo many beautiful photo opportunities! We had a great time and our wedding was AWESOME!  I can't wait to share all the pictures we that took in Vietnam!  Check back soon for those and more…
Jenn and Sang got married on Nov. 27, 2009 (Thanksgiving weekend) at the beautiful Rancho Las Lomas in Silverado Canyon.  As you may recall from their engagement session, these two have been together for 14 years!!  WOW… it's about time guys!!!
Here are a couple of wedding details: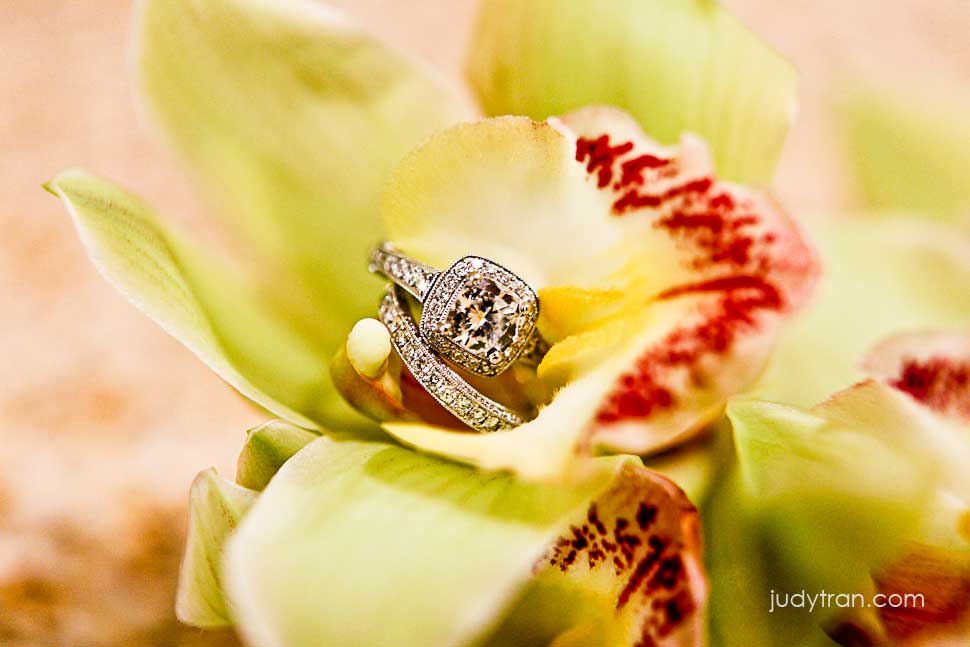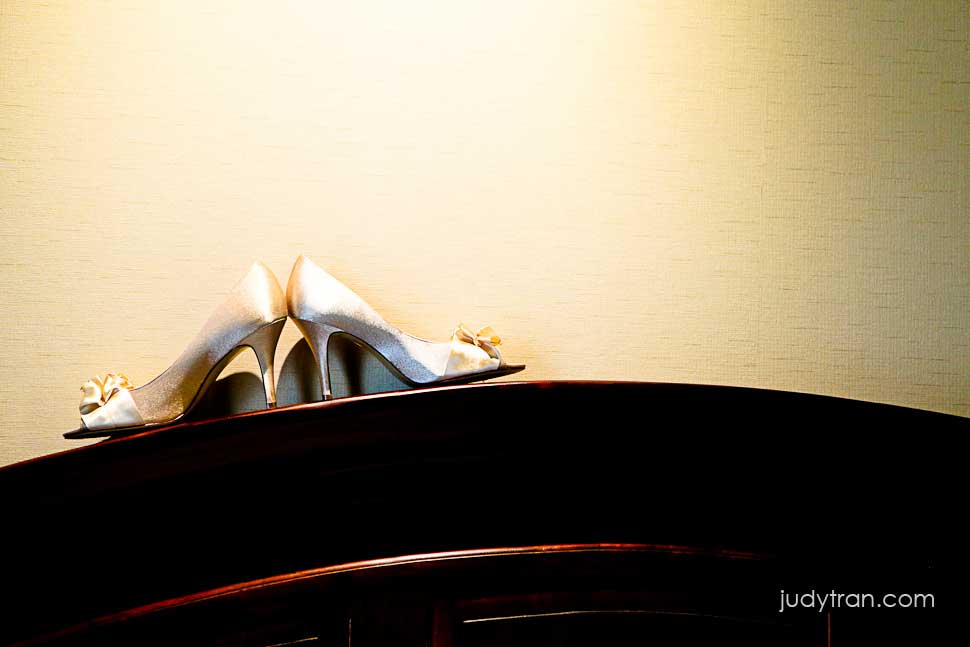 I meet Sang for the first time while working on the 7th floor (Rehab) at Cedars-Sinai Medical Center in Beverly Hills!  He came across as a little shy (to me) but he's a great and caring Pharmacist!  It was always very nice to work with him at the hospital.
And here he is getting ready for the big day!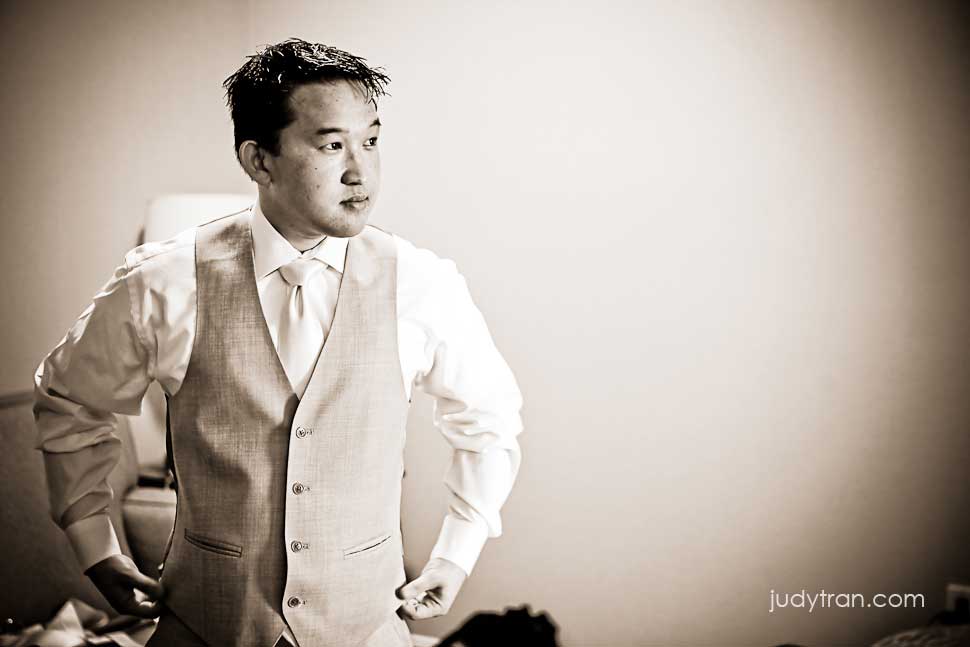 Emily (the little flower girl) is just too too cute!!!  She's is always in automatic mode.  For some reason, she would always seem to know when the camera is pointing at her!!! I can be far away and yet she can sense the lens of the camera! LOL…  Her dad (the best man) believes that she got that trait from him!!  hehehe… And I believe it because he's always ready for the camera too!!!  LOL
Cute huh??
Here is Jenn, ready to head out from the Ayres Hotel & Spa to Rancho Las Lomas.  I love her sweater… "Soon To Be Mrs. Chau"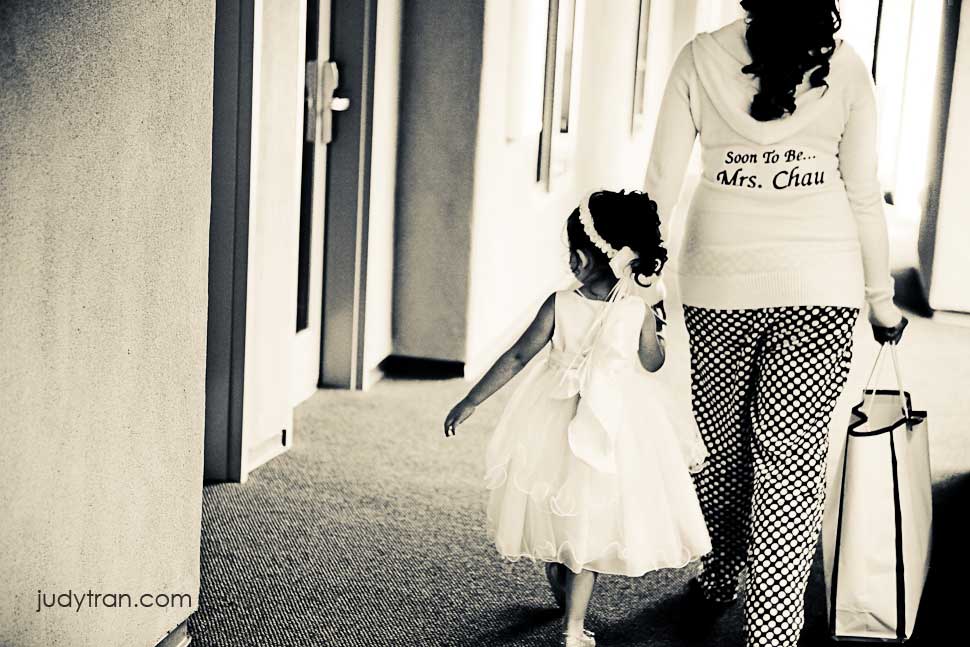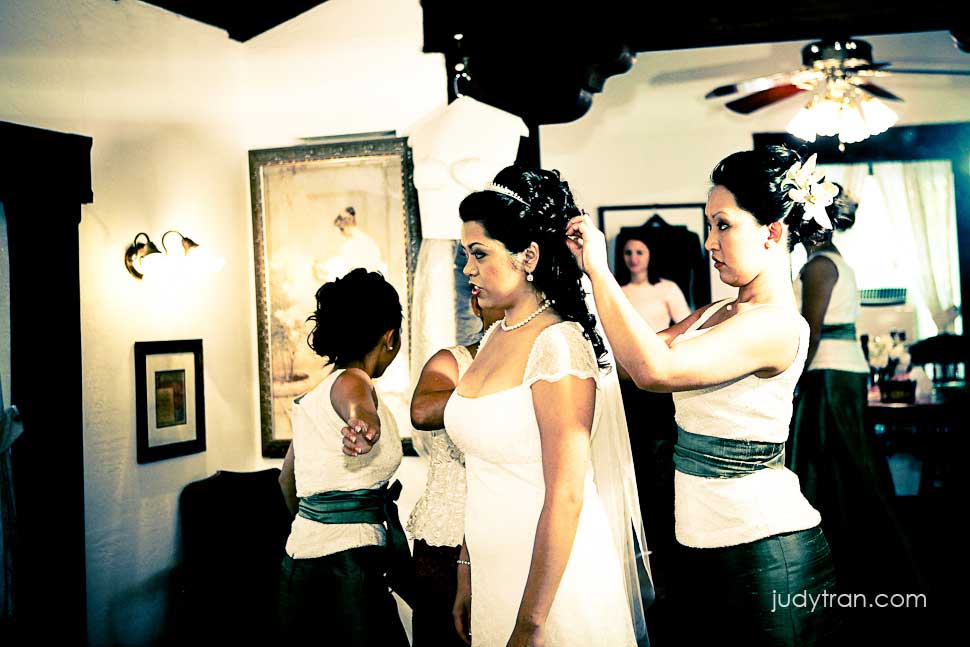 From there we hopped over to Rancho Las Lomas to get the wedding started.  The wedding ceremony site was beautifully decorated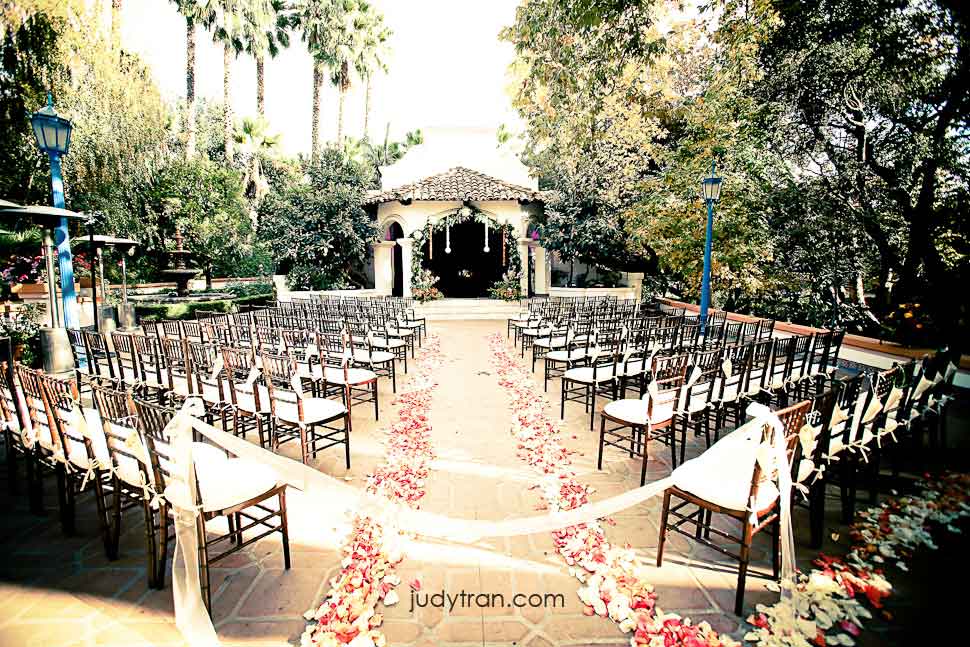 From start to end, the ceremony was super heartwarming!  Tears of joy and cheerful laughter flooded the room as Jenn and Sang exchange their vows.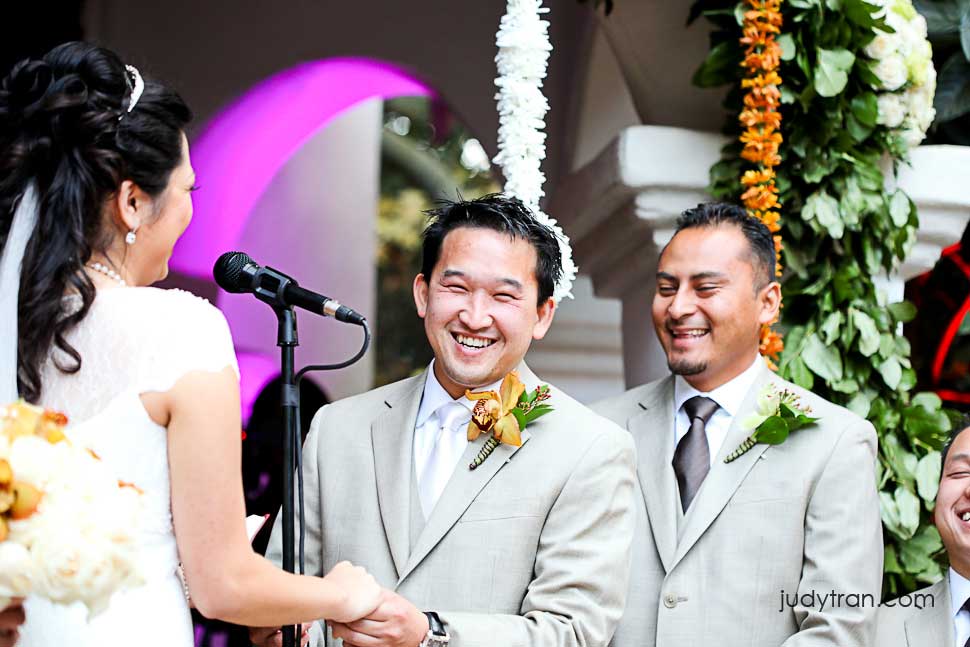 And here she is again… our lovely flower girl Emily… posing for the camera!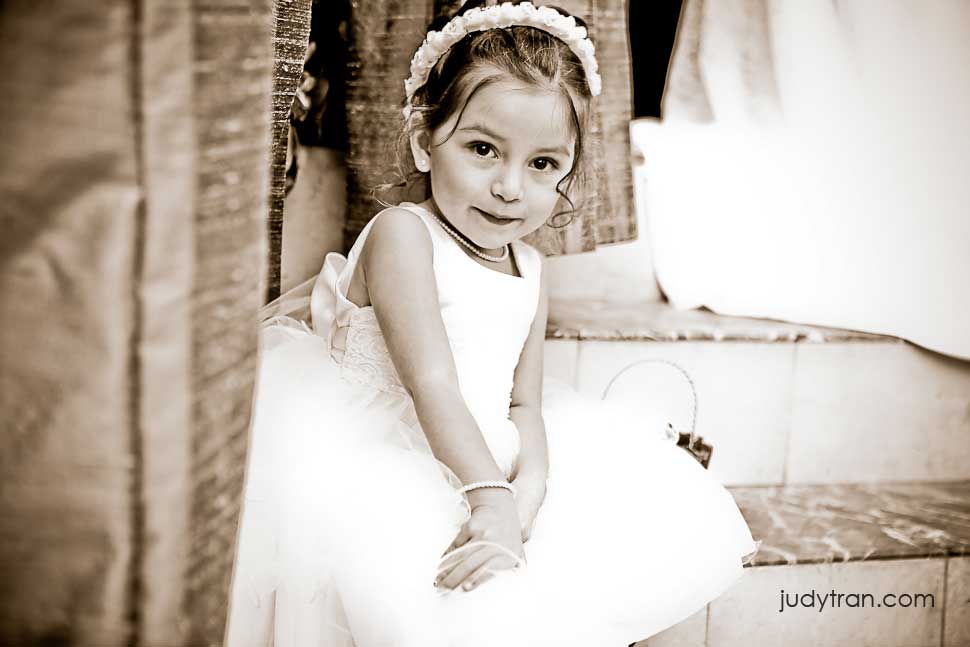 After the ceremony was such a special moment for the two families!  Sang's mom couldn't stop crying as she welcomed Jenn into their family!  I got a bit emotional and teared up myself seeing her hug Jenn so tightly while crying her joyful tears.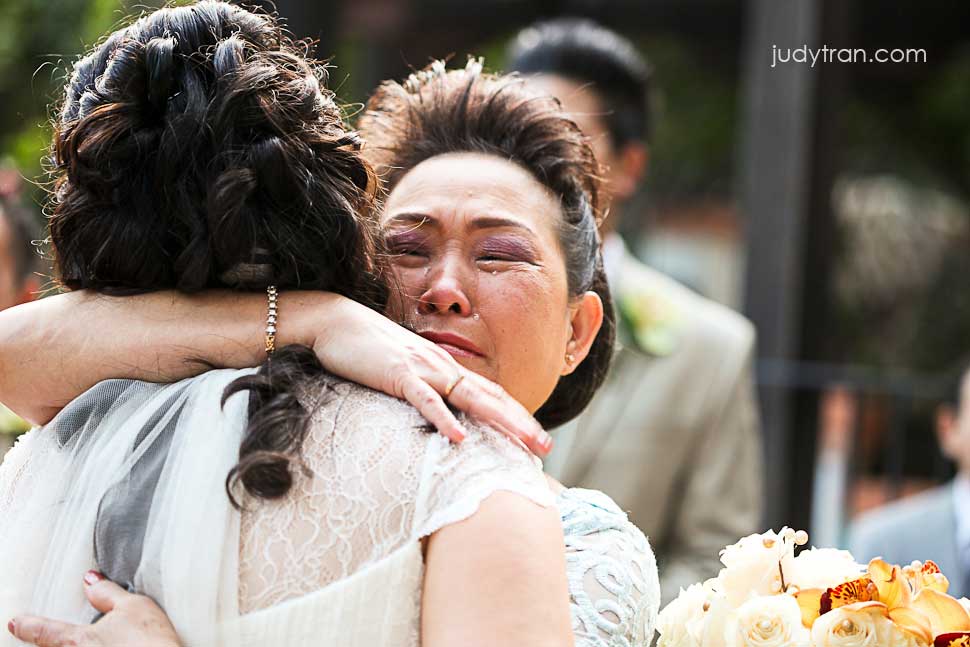 Emily and the Ring Bearer!  Isn't this just soooooo adorable!!!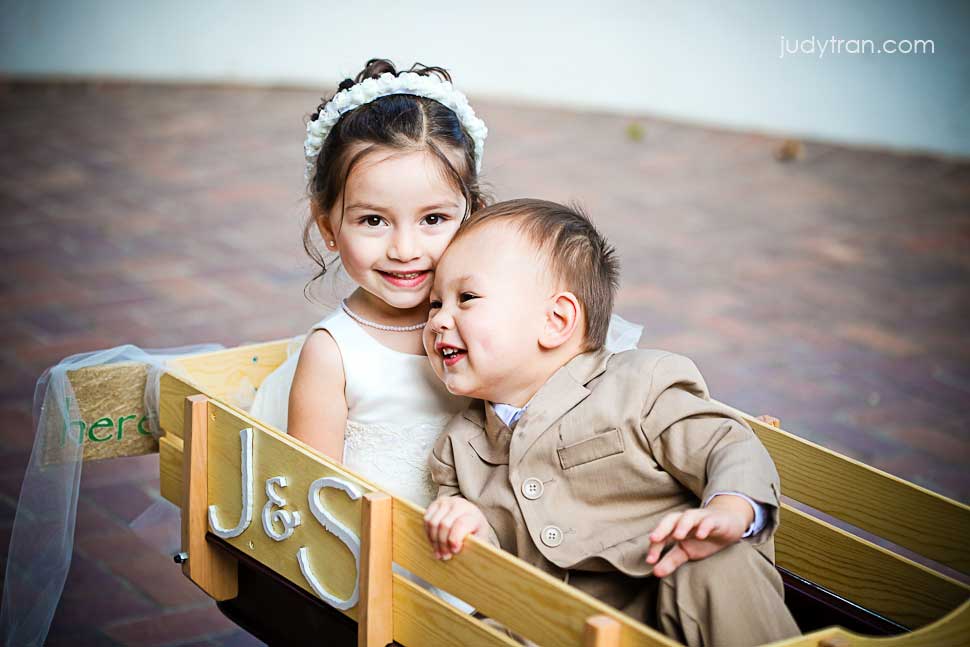 Got GAP socks?!?!  LOL… love it!!!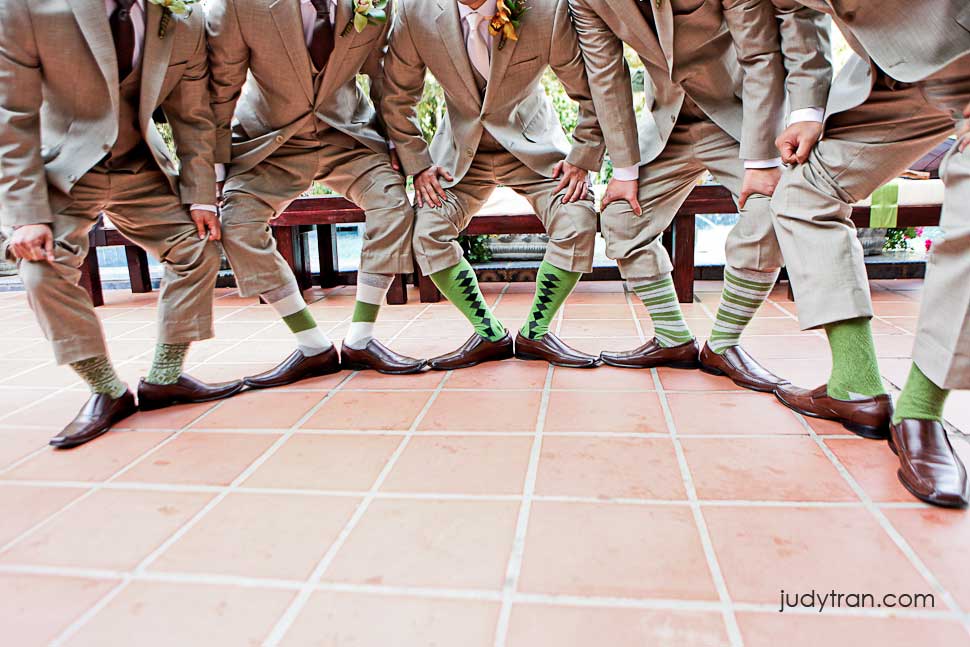 Rancho Las Lomas is an awesome location with so many wedding photography opps!  There was a red phone booth and I couldn't resist putting Jenn and Sang in there for photos!
So silly….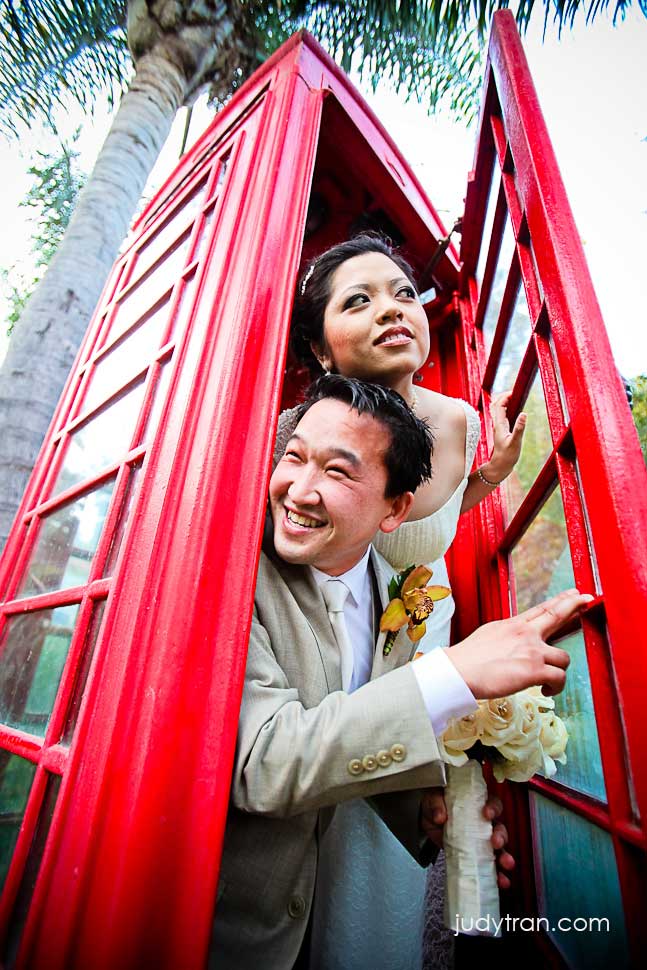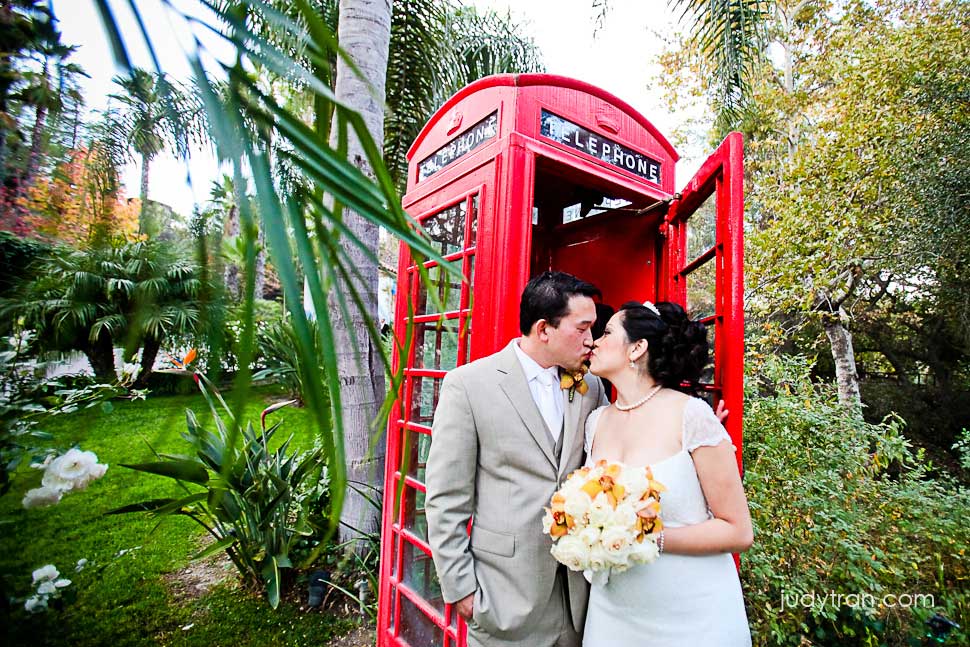 I just LOVE LOVE LOVE this picture!!  Love the look on Sang's face!  That's right Sang… Jenn will now pull you in any direction she wants to!! LOL… Literally!!!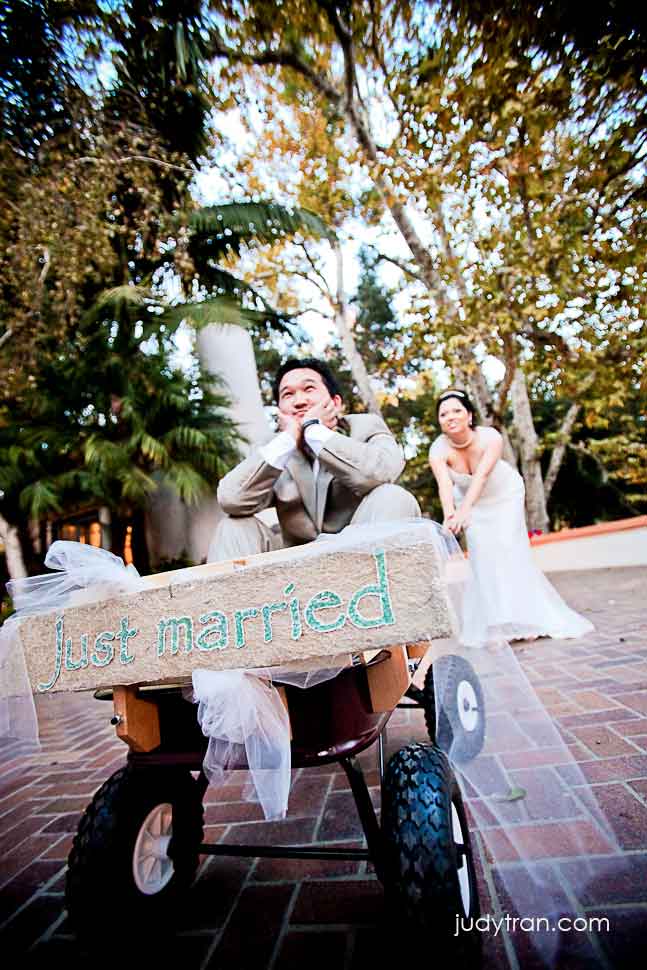 Check out the texture on the wooden wall! I love background that have texture!  It adds so much to the picture.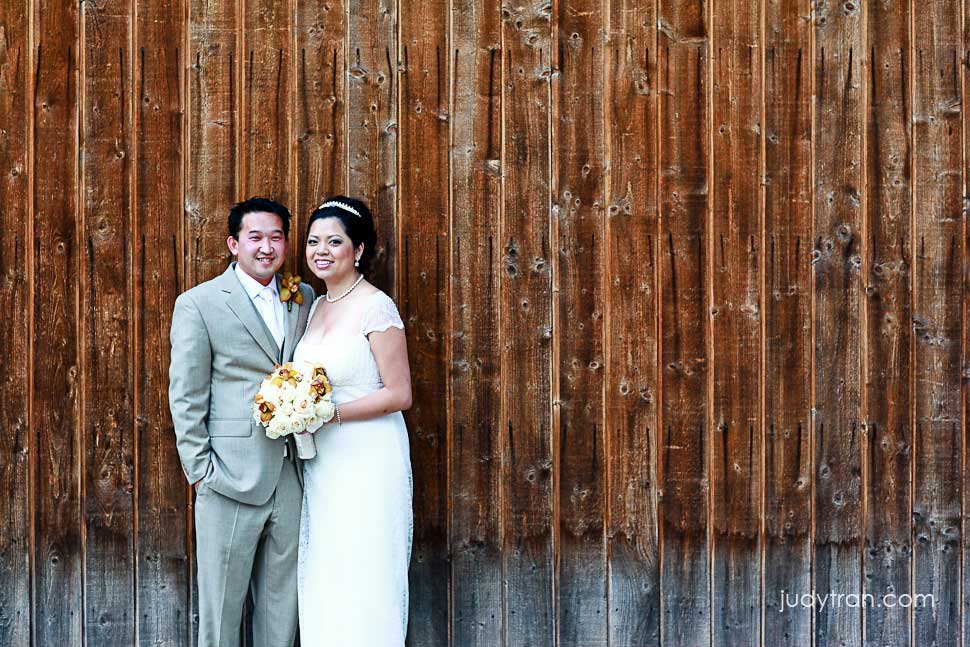 I wanted to have a picture where it looks like Sang was hanging from the wall!  Wouldn't you say that it's quite believable?!?!?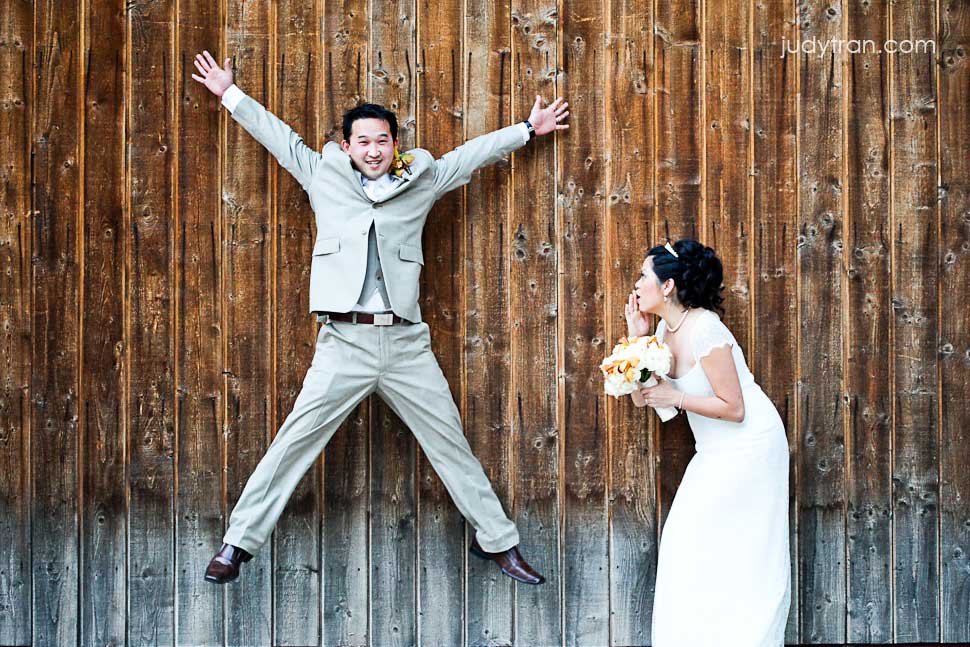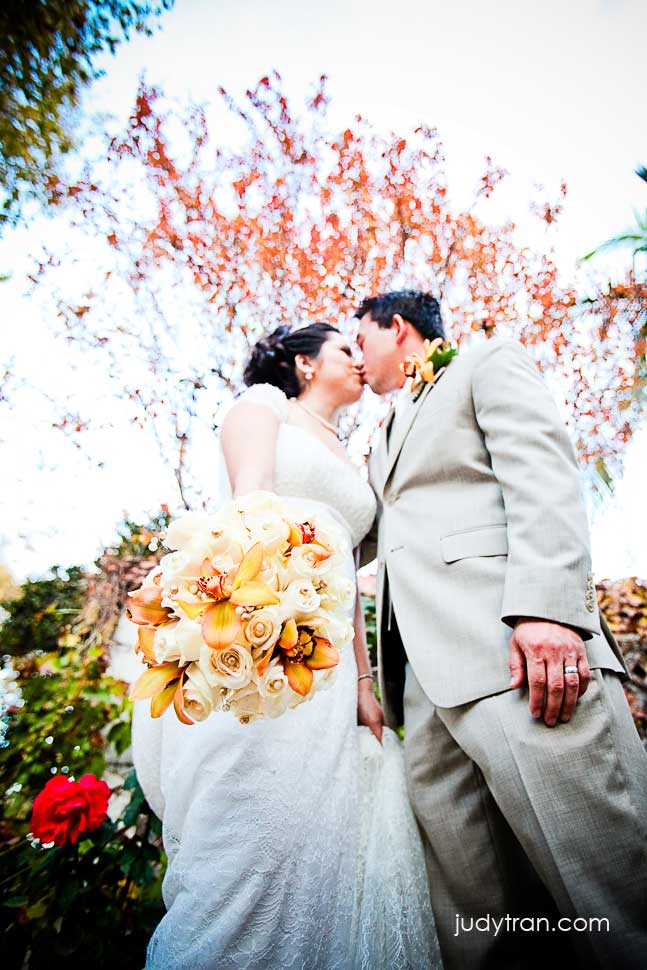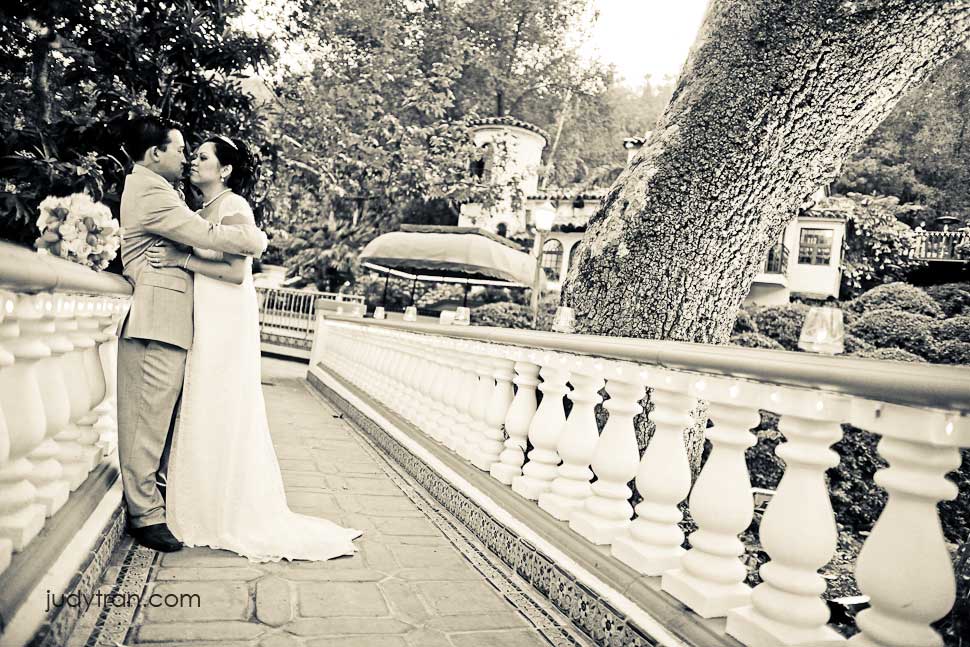 As it got darker, Gavin busted out some remote lighting and was able to get this awesome image!!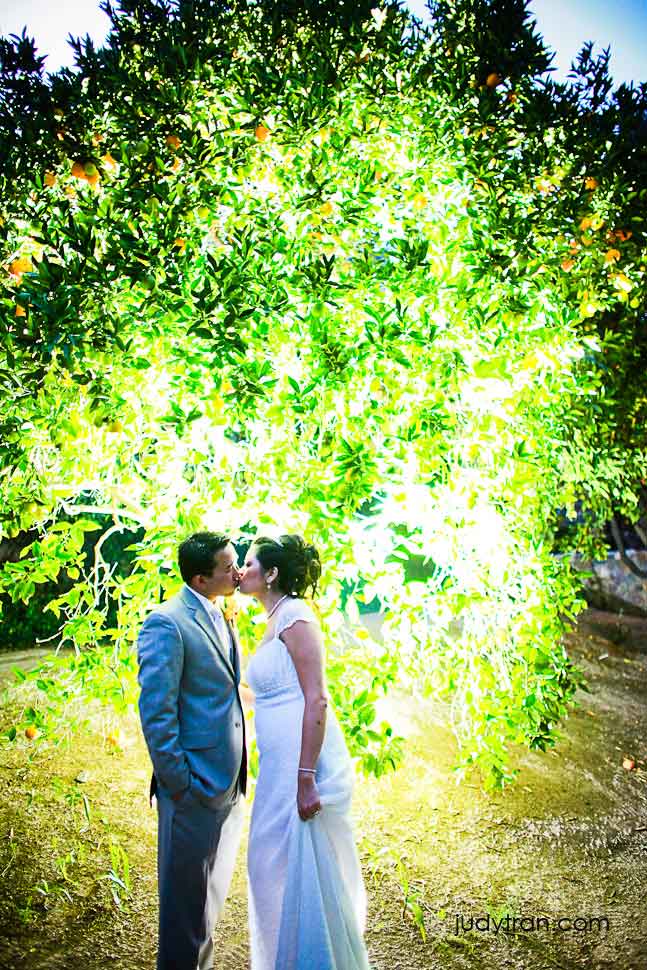 The Rancho Las Lomas wedding ceremony site was quickly changed into a reception hall as soon as the wedding ceremony was over.  Beautiful transformation huh?  I really like Jenn and Sang's choice of center piece… Manzanita trees make great center pieces.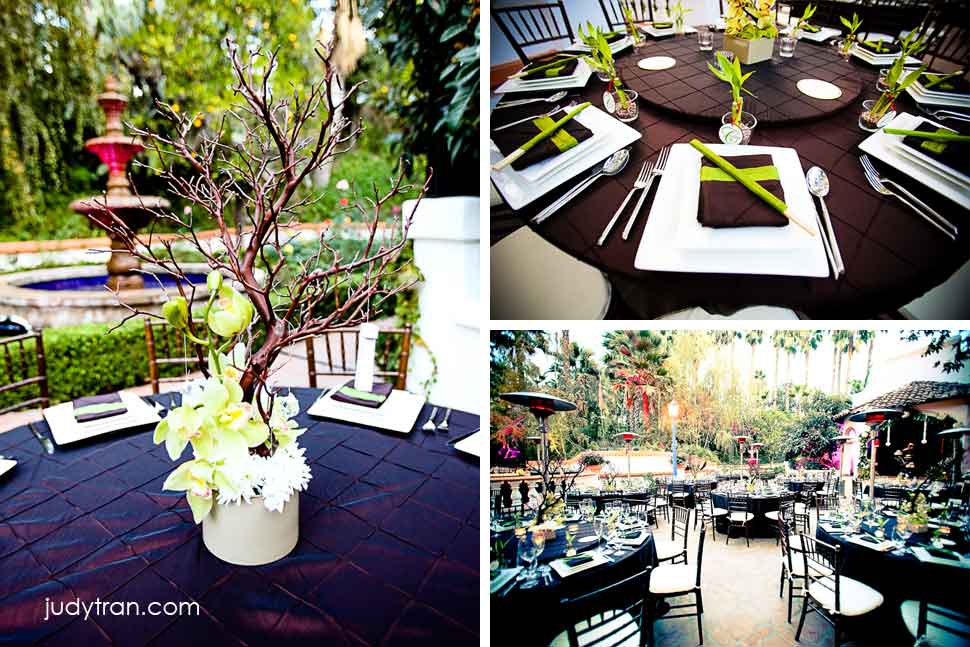 Their cake was different from all other cakes I've seen.  There were four different individual cakes placed on different levels of a huge Manzanita tree!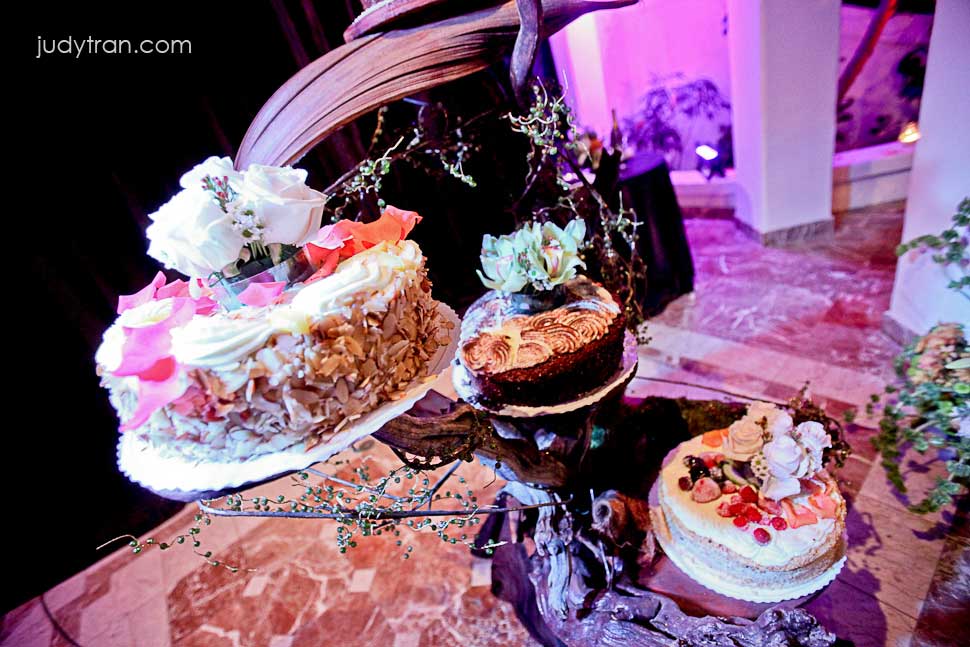 As soon as the outdoor reception dinner was done and the wedding party and guests started moving into the lounging/dancing area.  Not long after, it started to rain outside!  Perfect timing!!!
Sang is always so quiet and professional at work… but on his wedding day I saw a whole different Sang!!!  The saying is so true…. "it's always the quiet ones"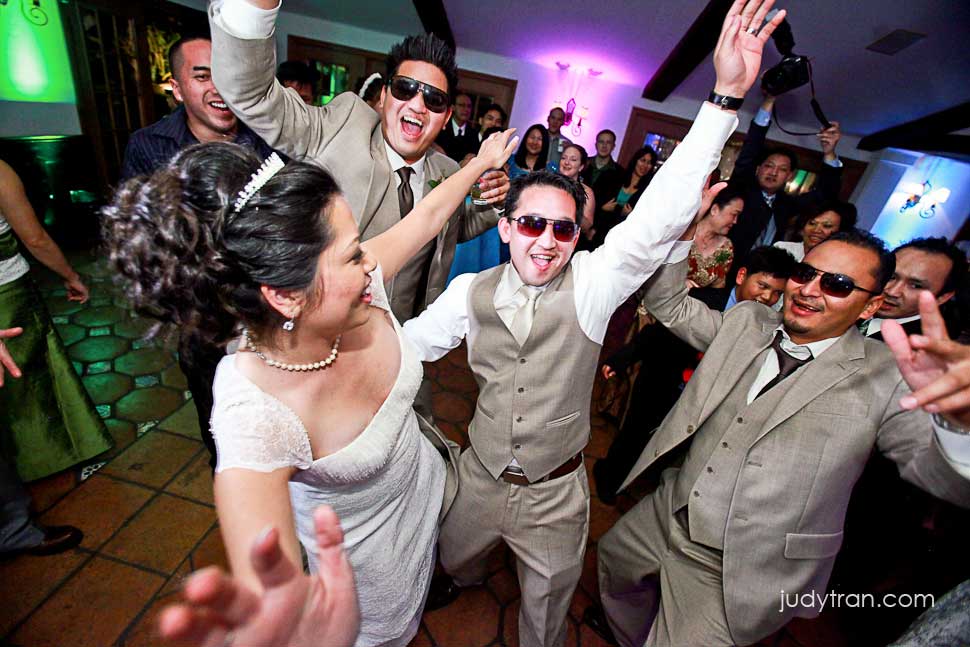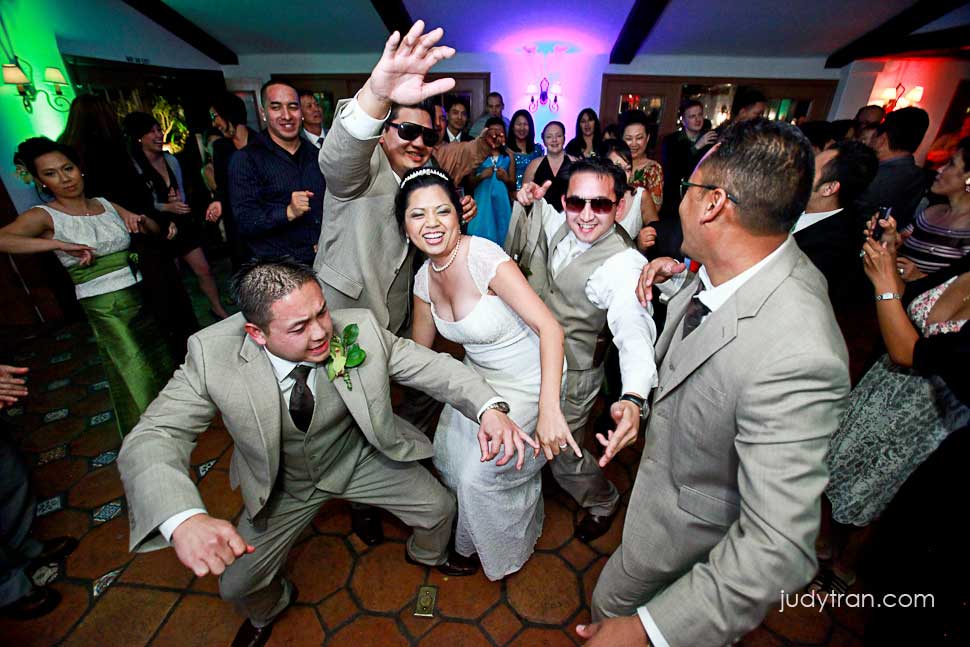 Congratulations Jenn and Sang!! I'm so happy for the both of you!  It was such a pleasure working with you both and being a part of your big day for your Rancho Las Lomas wedding!  Warm wishes and much love to you both!!!  We'll definitely have to get The Boiling Crab soon!!!  My mouth waters just thinking about it!!! =)