Here and there we get a request to shoot somewhere unique, somewhere remote, somewhere magical.  Mimi and Matt had a vision of dinner out in the desert and we luckily had them choose us to turn that vision into a reality.
We love the desert.  It's clean and open, untouched and pure.  It's desolate yet warm.  This past year, Gavin has made at least five trips out to the Mojave desert by himself to shoot landscapes and the Milky Way, so we already had spots scouted out for Mimi and Matt's desert engagement shoot.  We ended up choosing sand dunes to start the shoot and a salt flat to finish, where they could have "dinner" at dusk in the desert.  I have to give Mimi and Matt props for being willing to hike up a sand dune for engagement photos, but it was definitely worth it.  The sand dunes have these undulating curves and repetitive textures that are a photographer's playground.
One thing we've seen with many desert shoots is that most don't bring lighting.  Poor Gavin dragged up a light stand and two bags up one of the largest sand dunes in the western US, but it was totally worth it for photos like these!  We are suckers for deep, saturated blues, so lighting is pretty much essential to combine the desired elements of both landscape and portrait photography.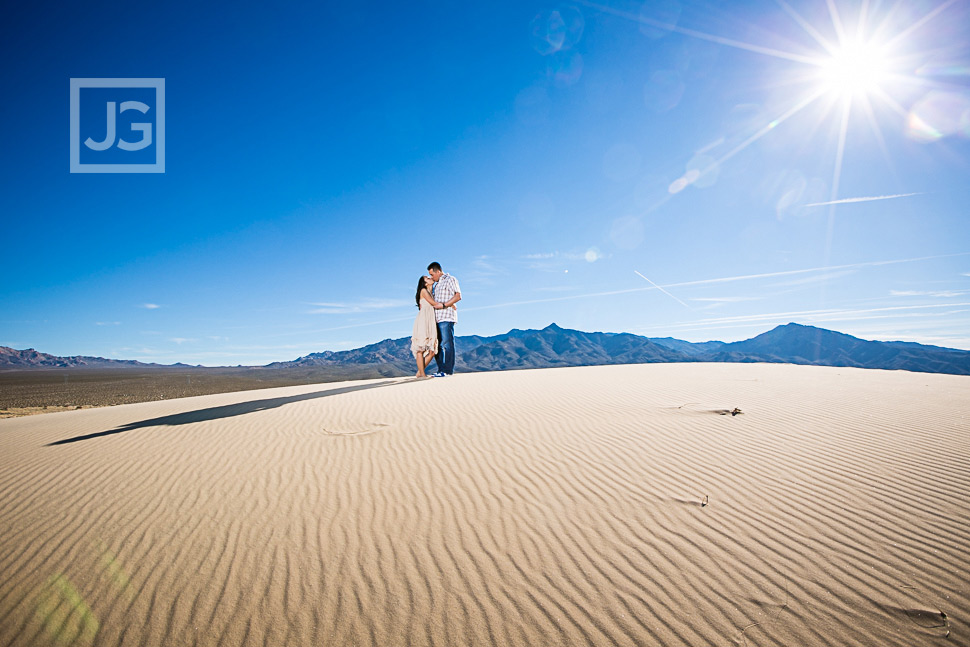 And they brought their adorable furry baby, Marley!!  Marley left little itty bitty paws prints in the fresh, untouched dunes.
Sometimes we look for candid moments while walking from one spot to another.  It's great seeing happy moments between two people in love.  I know that sounds cheesy, but we see it with each couple (and each couple has a different way of showing it).
So after a hike back down to the cars (I had no idea that sand dunes were so hard to climb), we headed to our next spot.  We got to the salt flat with perfect timing, where it was starting to be covered in shade from a nearby mountain.  Funny enough, it was Matt that wanted the dinner in the desert theme (apparently ever since he was little).  So they dressed up elegantly and arranged this awesome spread.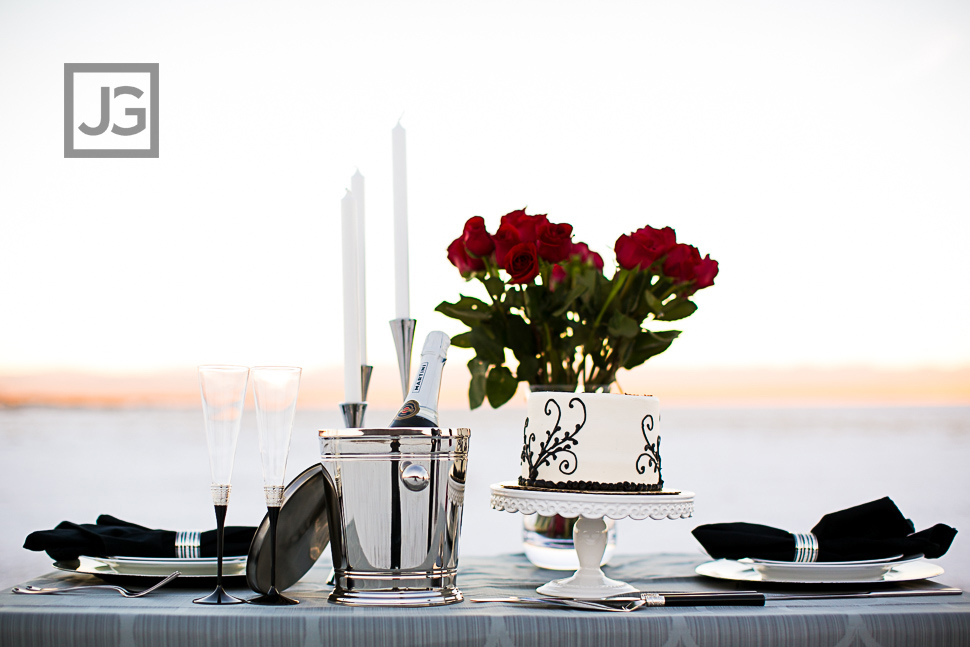 A nice little candid moment…
Chivalry never gets old.
One funny side note:  we played mellow, romantic songs off our cell phone while we were setting up.  We left it running for the rest of the shoot, since there was no one for miles around and it really added a nice backdrop to the shoot.  Here's Mimi and Matt showing off some of their moves!
Did I forget to mention that I LOVE, LOVE, LOVE the red dress Mimi wore that day?!  The red dress and black tux contrast amazingly with the expanse of salt (yes it is actually salt and not white sand).
Now, we love low light photography, so once dusk kicked in we set up lights to really make them pop out.
Again, thanks to Mimi and Matt for trekking all the way out to the Mojave desert with us for engagement photos.  We try to make something unique and genuine with every photo shoot we do, so having sand dunes and salt flats as a backdrop is a real treat.
Comments
comments